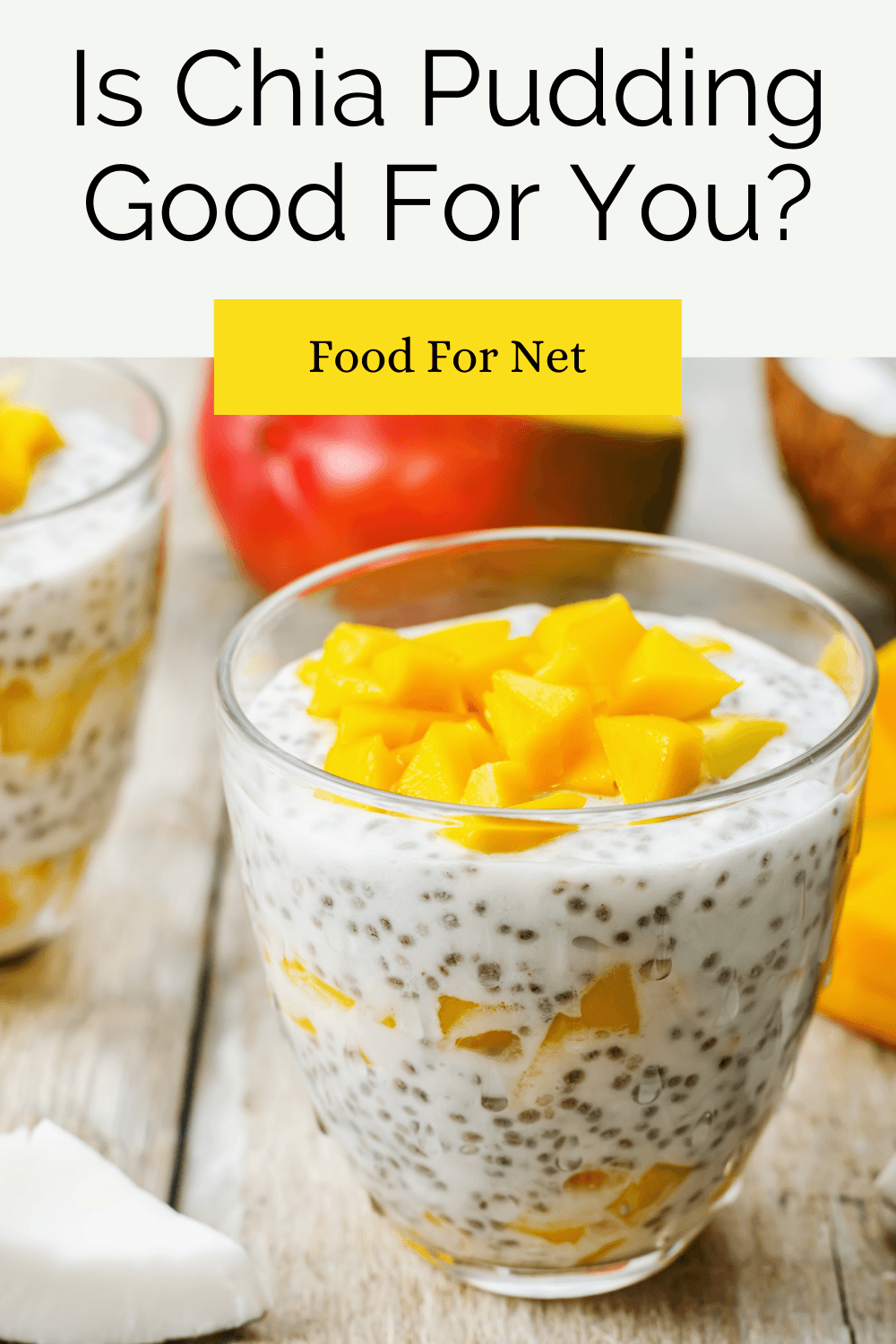 The word pudding conjures up images of sweet and heavily processed treats, ones that are delicious but aren't healthy at all. Chia pudding is an interesting exception to that pattern, as it's much less sweet and provides plenty of benefits. Is chia pudding good for you, then?
It's easy to see how it could be, as chia seeds themselves are packed with fiber and nutrients. Chia pudding doesn't need many other ingredients either, just some type of liquid and a few ingredients for flavoring.
The pudding is also something you can play around with. You can easily add powerful ingredients, like matcha powder or perhaps spirulina. Each variation offers its own interesting benefits.
Chia pudding doesn't even need to be a treat food. Choose the right combination of ingredients and it becomes something that you can have for breakfast or as a healthy snack.
Is Chia Pudding Good For You?
What Is Chia Pudding?
Benefits Of Chia Pudding
How Chia Pudding Could Be Harmful
Interesting Chia Pudding Variations
Final Thoughts
What Is Chia Pudding?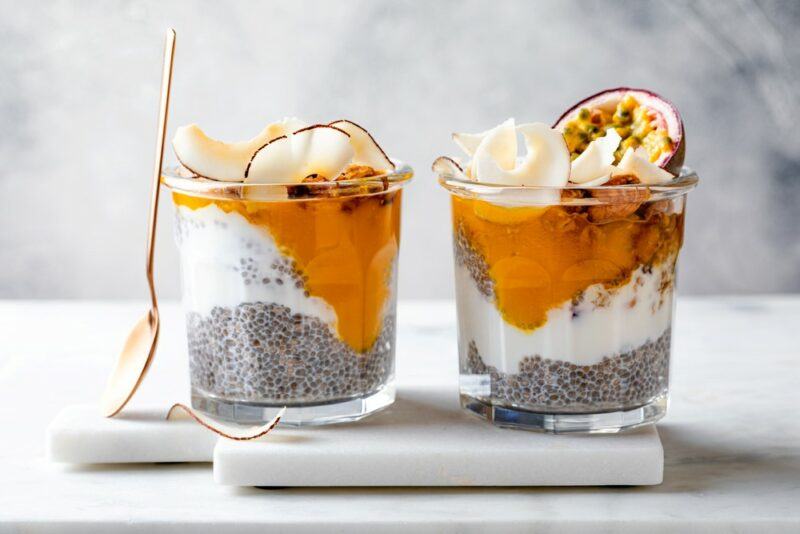 Chia pudding is an incredibly simple dessert. There are just two main ingredients – chia seeds and some type of liquid.
You're basically just mixing the chia seeds and liquid together, then allowing the combination to sit for at least a few hours, often overnight. This works because chia seeds absorb liquid and become gelatinous. Before long, you get an amazing pudding-like texture.
Plant-based milk is the most common type of liquid, but you can also use regular dairy milk, water, or even yogurt. The type of liquid really doesn't matter. Just pick your favorite. As such, you can easily create a vegan version of chia pudding.
Because chia seeds don't have much flavor of their own, most recipes add in some flavoring ingredients to give you a tastier dessert. The simplest option is to include some type of sweetener, like maple syrup or honey. Some recipes add vanilla extract as well.
After this, well, the sky is the limit. Some people mix other ingredients in with the chia seeds, like matcha, cocoa powder, or spirulina. Such ingredients make chia pudding taste better and look simply amazing.
Benefits Of Chia Pudding
Promotes Digestive Health
Chia pudding is surprisingly good for your digestion, due to the fiber content. You're often getting more than 11 mg of fiber in a single serving. That's seriously impressive, as most desserts don't contain much fiber at all.
Our bodies don't digest fiber. Yet, we need a decent amount of it each day.
Hitting our fiber targets has many benefits, such as lowering the risk of constipation, keeping cholesterol levels balanced, and minimizing blood sugar spikes. Some of these effects even mean that fiber could help to lower your disease risk.
Being able to get a decent amount of fiber in something that tastes like dessert is a stunning feature and a reason to choose chia pudding over most other treats.
It's Unprocessed
Desserts have often been through a considerable amount of processing and contain many additives. That's not the case with chia pudding.
Here, you're generally making the pudding yourself, using just a handful of ingredients.
Homemade food with whole food ingredients is always powerful. You're getting the maximum possible nutrients from the ingredients, while avoiding additives entirely.
Plus, you get to tweak your chia pudding however you want. This includes controlling the flavor, the amount of sugar, and your serving size. This level of control makes it much easier to stay healthy.
Great For Weight Loss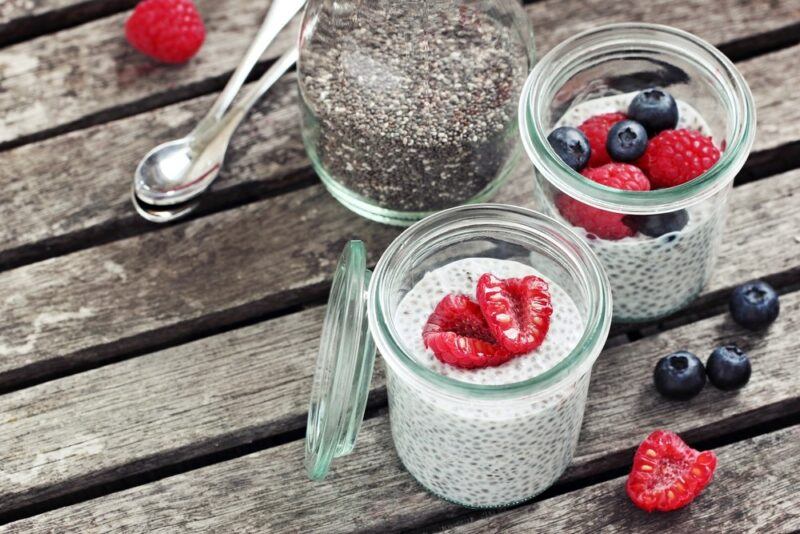 Chia pudding is perfect as a weight loss snack, as it contains a decent amount of fiber and protein, along with healthy fats. This combination of features helps to keep you full, without adding too many calories.
Of course, the full effect on your weight will vary depending on how you prepare the pudding. Using full fat milk, cream, or nuts, for example, would increase the calorie content, which could disrupt your weight loss plans.
It's A Healthy Make Ahead Breakfast
Like overnight oats, chia pudding is popular as a healthy breakfast. This is partly because you can prepare it the night before, then allow it to sit in the fridge.
Doing so gives you a delicious breakfast that's already made – one that gives you plenty of protein and fiber. It should keep you full for much longer than a bowl of cereal and tastes better too.
Plus, you can easily experiment with the flavors so that your breakfast is never the same twice.
Chia Seeds Are Packed With Nutrients
Here's another cool feature. While chia seeds are tiny, they also contain an incredible amount of nutrients, including zinc, potassium, B vitamins, calcium, and magnesium.
That's not including the nutrients you get from your milk and any other ingredients you add in.
The nutrient profile really is fantastic, as nutrients have endless roles throughout your body, promoting both physical and mental health. Not getting enough nutrients quickly leads to health issues.
So, relying on nutrient dense dishes like chia pudding is a fantastic way to stay happy, healthy, and doing well.
A Plant-Based Source Of Protein
Chia pudding is also fantastic as a way to boost your plant-based protein intake.
This is important for multiple reasons. First, protein is used throughout our bodies. It's relevant for metabolism, structure, repair, and so much more.
Most of us already get the protein we need for the basic functions of life. But, increasing your intake often provides benefits, like helping you to feel full, stabilizing your blood sugar levels, promoting muscle growth, and making weight loss easier.
Plant-based sources of protein are fantastic, as they fit into most types of diets. Most of them are also low in saturated fat, making them excellent for heart health and a perfect alternative to ingredients like red meat.
Plant-based ingredients also provide you with a range of antioxidants and other plant-based compounds. These are important for health too, giving you some benefits that you don't see with animal-based ingredients.
This isn't surprising. It's no secret that plant-based diets are linked to many health benefits.
An Excellent Source Of ALA
Chia seeds are fantastic for alpha linolenic acid (ALA), giving you more than a gram of ALAs in a teaspoon. This is important, as ALA is a type of omega 3 fatty acid, the only type that you'll readily find in plants.
Omega 3s are famous. They've been linked to improved heart health, better cognition, decreased inflammation, and plenty of mental health benefits. Exciting, right?
Now, ALA isn't as powerful as DHA and EPA. Those are the types that you find in fish, fish oil, and other types of seafood. Our bodies need to first convert ALA to DHA and EPA before we can take advantage of it – a process that's far from efficient.
Still, if you don't eat seafood regularly, you'll need some omega 3 fatty acids. Chia seeds are an excellent option. ALA may also have other benefits in the body, ones that we're still learning about. For example, ALA may also act as an antioxidant and perhaps even help with weight loss.
Could Promote Heart Health
Chia pudding may be particularly powerful for heart health. The ALAs are one reason for this, as they can decrease your blood pressure, along with other heart disease risk factors.
Then there's the fiber. Fiber helps to keep cholesterol and blood pressure levels stable, features that are highly relevant to your heart health as well.
How Chia Pudding Could Be Harmful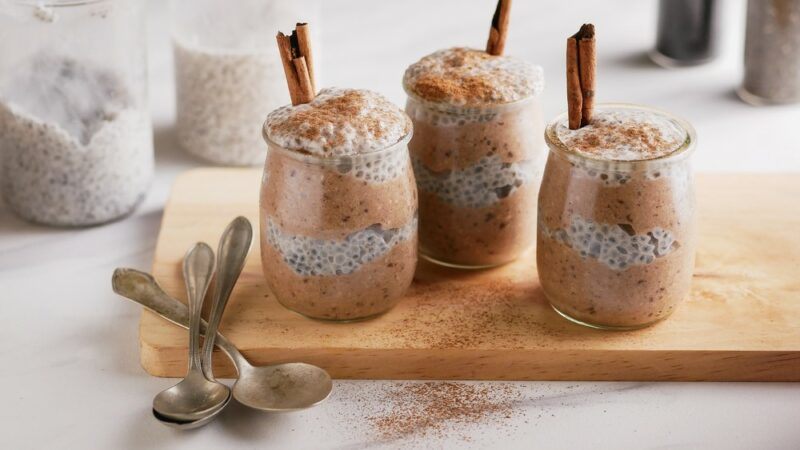 It May Give You Side Effects
The fiber in chia seeds is vital in many ways, but it can sometimes be an issue. Consuming too much fiber can easily lead to side effects. These can be even worse if your water intake is low.
Side effects to watch out for include gas, bloating, constipation, and stomach pain. These side effects are often mild, but they can be severe, especially if you're having a large serving of chia pudding.
You may also get side effects by increasing your fiber intake suddenly. To avoid this, start with small servings of chia pudding and increase your intake slowly over time.
Your total fiber intake is relevant too. If you're already consuming a lot of fiber from vegetables, legumes, and the like, then the fiber from chia pudding could simply be too much.
Extra Calories Can Add Up
The basic version of chia pudding is pretty low in calories. This can change, though, when you start adding other ingredients.
For example, a version made with almond milk and cocoa powder will be much lower in calories than one made using coconut milk and melted chocolate. Similarly, mixing nut butter into the pudding or using nuts on top adds plenty of extra calories. The extra calories mightn't seem like a big deal, but they quickly add up.
It's also easy to consume too much chia pudding in a serving, partly because the dish seems so healthy. If you do this and also add plenty of extra toppings, you could easily end up with a calorie dense dish.
Could Be An Issue For People With Diabetes
The fiber in chia seeds is useful, helping to decrease blood sugar levels. However, for people with diabetes who need insulin, this effect may sometimes be too strong.
This doesn't mean that diabetics need to avoid chia pudding entirely. However, it's best to talk to your doctor to find out the best amounts of chia seeds for your medication doses.
It's also possible that chia seeds could interact with blood pressure medication, dropping your levels lower than is safe. This effect hasn't been proven for most people, but it's still something worth keeping an eye on.
Interesting Chia Pudding Variations
The basic version of chia pudding is simple – just chia seeds, plant-based milk, and a sweetener like honey. But, that's just the base version. There are plenty of ways to make the dish much more interesting.
Mix In Flavor
The first trick is to mix in some ingredients to add extra flavor. Cocoa powder is an easy choice if you want a chocolate dessert. Vanilla extract, fresh fruit, coconut flakes, peanut butter, and orange zest are other options.
I've even seen some people use melted dark chocolate and coconut milk as ingredients, which gives you a decadent and creamy treat.
Use Superfoods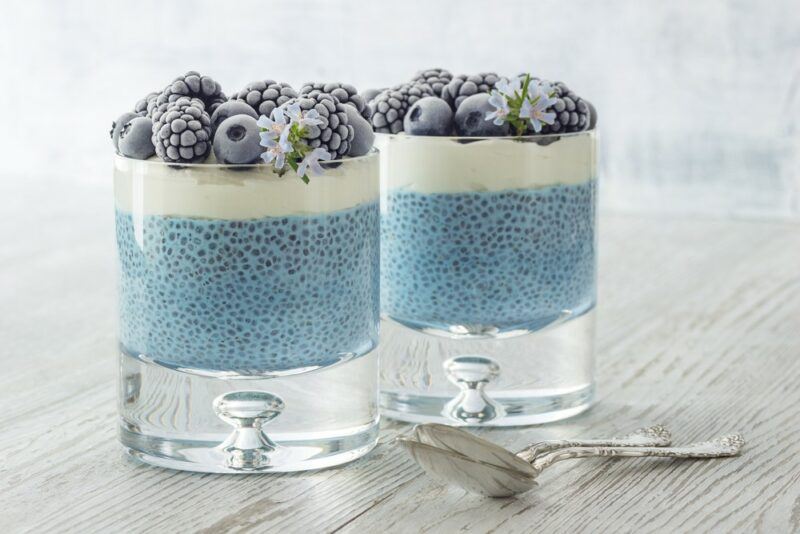 Superfoods are a fantastic addition to chia pudding as well. These boost the antioxidant content, while also providing other interesting plant-based compounds.
Some of them also add a burst of color or flavor to your chia pudding. For example, mixing blue spirulina into the pudding gives you a light blue color that looks stunning.
Alternatively, you might scatter some superfoods on top of the chia pudding, like brightly colored goji berries.
Layer With Other Ingredients
Another trick is to create a layered snack. Some people do this by having chia pudding interspersed with layers of chopped fruit. Doing so is enough to mix up the flavors without requiring much extra work.
Having a fruit puree layer works well too. This essentially gives you a chia pudding parfait. Why not include a layer of granola as well, while you're at it?
You can also create different chia pudding layers – like this one that has a layer of chocolate chia pudding and one of raspberry chia pudding. The dessert takes more work than regular chia pudding, but is well worth it.
Experiment With The Flavors
Don't be afraid to experiment with your chia pudding either. There are endless ways to vary the dish and make it much more interesting.
Some recipes keep things simple by using just a couple of ingredients for flavor. Others get much more complex, sometimes giving you a dish that tastes like dessert.
Here's a list of 32 recipes to try for yourself and it's just scratching the surface. Each of the recipes on the list could easily be varied, like by swapping to a different type of plant-based milk or using a different type of fruit.
Final Thoughts
Chia seeds are often promoted as being a superfood and it's easy to see why. The tiny seeds do have plenty going for them, including their protein, fiber, antioxidants, and nutrients.
Chia pudding is one of the best ways to use them, as you're getting a delicious treat that you can vary in countless ways. Plus, soaking your chia seeds before eating them helps you avoid any choking risk. The main issue is the fiber content of the seeds.
While this is often a good thing, too much fiber can cause side effects, as can sudden changes to your fiber intake. To avoid such problems, it's best to start slowly with chia pudding. Drinking plenty of water helps as well.
Frequently Asked Questions
Is Chia Pudding Keto Friendly?
Chia seeds themselves are keto friendly, as most of their carbs they contain come from fiber. As such, chia pudding can work on a keto diet too.
However, you'll need to be cautious about the recipe and ingredients you use to make sure everything is keto. This will normally involve using a keto sweetener rather than sugar and perhaps some low carb plant-based milk.
Can You Make Warm Chia Pudding?
While chia pudding is classically served cold, you can easily heat it up again once the chia seeds have soaked. Doing so gives you a tasty dish that acts as a comforting breakfast.
Is Chia Pudding Good For Weight Loss?
Chia pudding is often low in calories and high in fiber, making it fantastic for weight loss. It's much better than breakfasts like granola, which often leave you feeling hungry after a couple of hours.
How Long Does Chia Pudding Last?
Once prepared, chia pudding can last for five days in your fridge if stored in an airtight container. Storing the pudding in your fridge is essential though, as it's only good for an hour or two at room temperature.
Is Chia Pudding A Good Breakfast?
While chia pudding sounds like a dessert, it's actually a very healthy breakfast. Because there's plenty of fiber and protein, chia pudding ends up being filling and should keep you satisfied for hours.