There is no shortage of fruit flavors in the world of vodka – whether you want a refreshing sipper or a sweet cocktail, there's something out there for everyone. A neutral vodka is a perfect base for a fruity profile, too, because the fruit flavors will really shine. You can't stop at neutral, though. This is just the baseline, you want a well-crafted vodka with a smooth taste and a clean, crisp profile. This is the perfect recipe for a delicious and versatile fruit drink.
The best fruity vodka is one that can be sipped just as easily as it can be added to cocktails. If you can pour the expression over ice and enjoy it right away, that's the sign of a good effort. Take it a step further and add some soda water for a nice spritzer, or a splash of fresh citrus for some extra zing.
Whatever your chosen method of drinking is, the most important thing is that the flavors come through well with the right amount of sweetness and a balanced profile. Between high-quality base vodkas and top-notch processes, these are some of the best fruit-flavored vodkas on the market.
The Best Fruity Vodka
1. Grey Goose Essences Strawberry and Lemongrass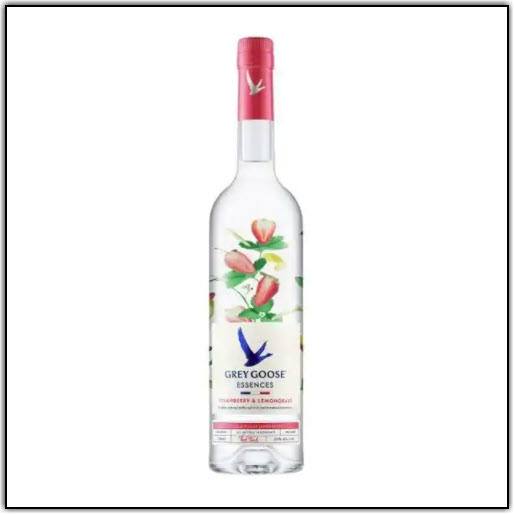 Grey Goose is known for being one of the most luxurious and premium brands of vodka out there. Their process includes locally obtained winter wheat, natural spring water, and filtration through Champagne limestone to create a pure, smooth, neutral expression.
This expression is the base for the delicious Grey Goose Essences Strawberry and Lemongrass Vodka. This fruit-flavored delight infuses the real essence of lemongrass, strawberries, and citrus for a bright and refreshing flavor profile that's just as smooth and crisp as the original. Not only do they use the real fruits but they carefully create unique distillation processes for each botanical to ensure they get the strongest, purest, and most potent flavor from each one.
The nose on this one is bright and citrusy with bold notes of strawberry coming through. The palate is juicy with gentle notes of sweet strawberry and a light minerality. The finish is light and refreshing with a fruity touch and hints of lemongrass.
2. Stoli Crushed Pineapple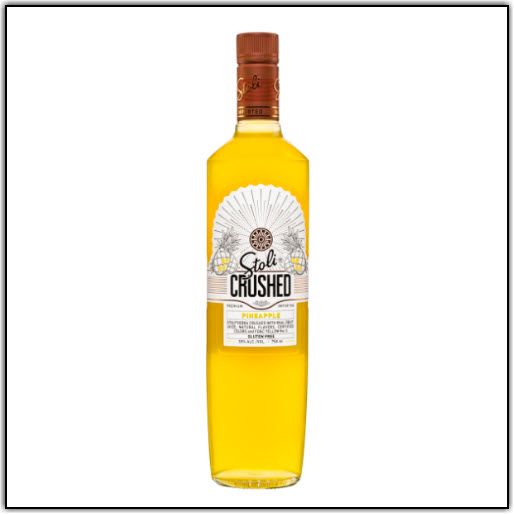 Already known for their smooth and exquisite original vodka, Stoli has been quite successful with its line of fruit flavors. Crushed Pineapple is a favorite among those who love the exotic and tropical nature of pineapple. Stoli uses real fruit juice for their expressions and combines it with a base of corn and buckwheat vodka – which is different from their usual base vodka. This one is entirely gluten-free.
The vodka is distilled three times and filtered through quartz, birchwood charcoal, and sand four times. Pure spring water from an artesian well is added to the mix for a premium, top-notch final product.
The bright yellow color immediately transports you to a beachy summer day and the aroma is sweet with notes of lemonade and pineapple sorbet. The palate opens with sweet pineapple and hints of vanilla. Mid-palate brings a juicier feel and a tangy pineapple peak which fades into a creamy taste and a warm, peppery bite on the finish.
3. Three Olives Watermelon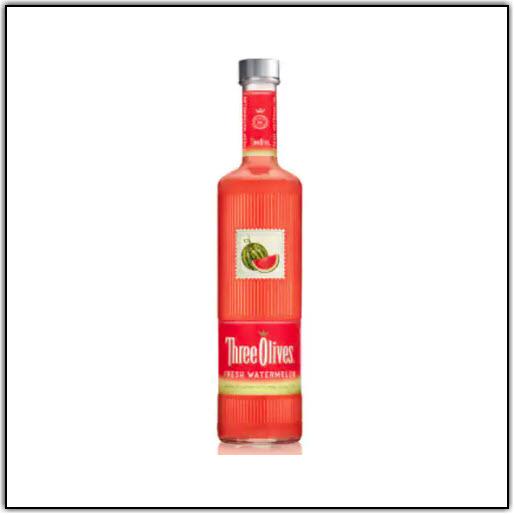 Three Olives Watermelon begins with a base of four times distilled and filtered vodka that has its natural impurities removed. This creates a beautifully pure, clean, and smooth vodka on which to build this lovely and refreshing fruity drink. Watermelon is one of more than 30 flavors in their impressive lineup, but it's a crowd favorite.
Once distilled and filtered, the vodka is sent to be finished, where natural flavors and certified colors are added. The color is bright red in the bottle, much like that of a real watermelon! A splash of citrus is added for the perfect finishing touch on this wonderfully mixable fruity vodka. A quick mix with soda water and you've got yourself a nice summer spritzer with minimal effort.
On the nose, you'll find fresh watermelon and hibiscus. The palate is bright and juicy with a fresh, authentic taste of watermelon. The sweetness builds into the mid-palate with vanilla and orange citrus blending with the watermelon before fading into a warm, peppery finish with just a hint of watermelon candy on the end.
4. Absolut Berri Acai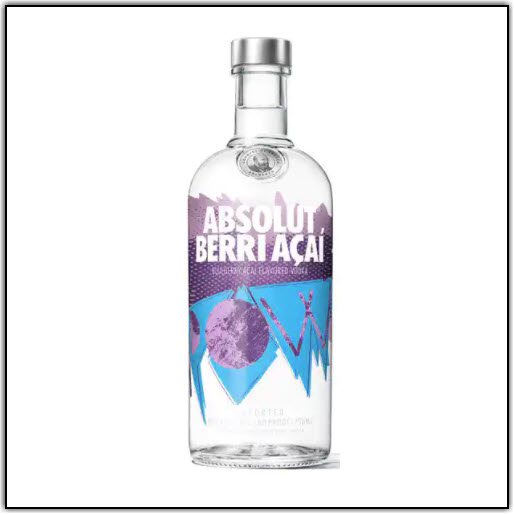 Acai berries have flown to stardom as a powerful superfood in recent years, their health benefits undeniable. What helped catapult them into popularity, though, is their unique and unbeatable flavor. Absolut quickly took advantage of the craze and came up with their delicious and fruit Berri Acai flavored vodka, which is a delightful addition to many berry-based cocktails.
Made with pure, deep well water and Swedish winter wheat. They use a continuous distillation process to purify the vodka before adding all-natural infusions of pomegranate, blueberry, and acai. No sugar is added before it's bottled at 80 proof.
The aroma is a sweet, fruity mix, offering notes of blueberry, grapes, and pomegranate upfront with a hint of raspberry. The palate starts a little more subtle, with mineral flavors and dry berries. Pomegranate and raspberry appear as it builds towards a blueberry and acai peak. It warms as it fades, bringing notes of chocolate and vodka flavor forward as it finishes on a peppery note.
Of course, this is just one of many flavored vodkas offered by Absolut.
5. Ketel One Peach and Orange Blossom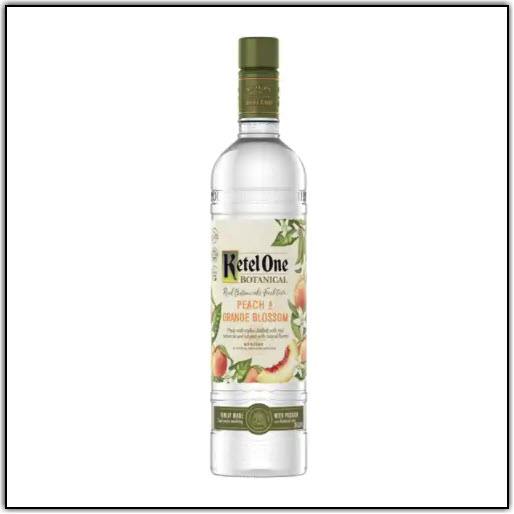 Ketel One is a popular brand of vodka not only because they offer great taste and quality but because they're a mindful line of spirits. With no carbs, artificial sweeteners, or flavors and its incredibly low calorie count, Ketel One offers a healthier way to drink vodka.
If that wasn't enough, Ketel One Peach and Orange Blossom is a real treat to anyone who's grown tired of cloying, syrupy sweet peach spirits that just go a little overboard. With real fruit and a balanced profile, it's the perfect expression for any lover of fresh, crisp, natural fruit. It's great in cocktails no doubt, but this one is also delicious when served on the rocks and sipped slowly on a hot summer day.
The aroma is rich and ripe with fresh peaches and floral notes of orange blossom. Fresh peaches are immediately apparent on the dry palate, with no overwhelming sweetness. It's wonderfully clean with notes of white and black pepper following and long, lingering notes of orange blossom on the dry finish.
Fruity Vodka Cocktails

Whether you're trying to cool off from the heat of summer or mentally transport yourself to a beach in the middle of winter, you can never go wrong with a sweet, fun, fruity cocktail. Whether it's berries, tropical flavors, or citrus that you love, mix up some of these fun cocktails for immediate summer vibes, no matter where you are.
The Watermelon Classic
With its delightfully sweet flavor and juicy flesh, the watermelon is often considered a staple summer fruit. It's no surprise that watermelon vodka is popular, and this drink is the perfect way to use it if you're really into watermelon.
Ingredients:
1 cup of seedless, cubed watermelon
1 tbsp fresh lime juice
½ tbsp pure maple syrup
1.5 ounces watermelon vodka
Instructions:
Start by blending your watermelon in the blender until it becomes juice.
Pour the juice through a fine-mesh strainer and into a clean glass.
Add watermelon juice and all other ingredients to a cocktail shaker with ice and shake well.
Pour your finished drink into your desired glass and garnish with a slice of watermelon.
If this feels like just a little too much watermelon, you can always use regular vodka instead. But, the flavors in a good watermelon vodka will add wonderful depth to this already sweet and flavorful drink. It's also incredibly easy to scale up if you're making it for a crowd! Simply blend as much watermelon as you want and adjust the vodka accordingly.
Pineapple Limeade
This one is for those who love a more tropical drink. It's easy to create a more tropical vibe when pineapple is in the picture, and the twist of citrus adds the perfect balance to this sweet, tangy summer treat. It's also another one that's very easy to scale!
Ingredients:
1 part pineapple vodka
2 parts fresh lime juice, or limeade
3-4 pineapple chunks
2 mint leaves
More mint leaves and lime slices to garnish
Instructions:
Muddle pineapple chunks and mint leaves in a shaker.
Add vodka, lime juice, and ice. Shake well.
Strain into desired glass.
If desired, garnish by adding mint leaves and lime slices directly into the glass.
If this one is a little too tangy for your liking, try using a sweeter limeade to tone it down a little. This may not be an issue if you're using Stoli Pineapple, though, as it's known to be on the sweeter side of pineapple without too much bite.
Related Content