Cucumber vodka is a unique flavor that straddles the line between sweet and savory. Many flavored spirits (including flavored vodka) are sweet and that's unsurprising, as most people have a sweet tooth and sweet flavors easy to add to cocktails. Spicy flavors and savory cocktails may be less abundant, but they're out there and people love them, too. You can even find cocktails that use hot sauce!
The best cucumber vodka offers the perfect balance between vegetal and sweet. The cucumber is earthy, fresh, and crisp, for the most part. However, if you pay attention, some sweetness comes through either in the background or perhaps on the finish. This is often natural, though it's sometimes accentuated with a touch of vanilla or citrus.
When done well, the sweetness will offer a nice, smooth finish. These vodka products are perfect for serving on the rocks or drinking chilled, especially in the summer. Adding mint never fails and many pair well with fruits if you're looking to amp up the sweetness.
The Best Cucumber Vodka
1. Pearl Cucumber Vodka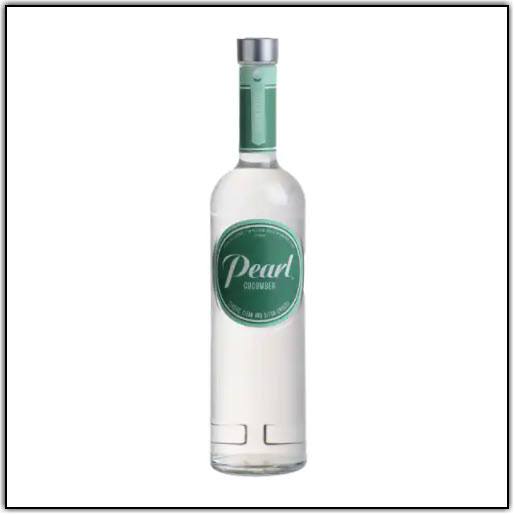 Pearl Cucumber Vodka is part of a Canadian project to create smooth, classic vodkas. It uses wheat from Alberta that's distilled five times and water from the Canadian Rockies. The spirit is then filtered many times to achieve an easy-to-drink vodka that tastes great and mixes well.
It goes exceptionally well with fresh citrus – particularly lime – as well as lemon-lime soda, or regular club soda. It adds a crisp, refreshing, and slightly vegetal touch to any cocktail.
Their base vodka is crafted from American corn and made in small batches to maintain quality and simplicity. They aim for clean, class flavors and the finished product is gluten-free. They have many flavors other than cucumber, all of which receive the same time, effort, and attention to detail.
The nose on this one features fresh cucumber flesh with a bit of green apple in the background. The palate follows with notes of vanilla underneath the earthy tones of cucumber skin. This fades into a bit of sweetness on the finish.
2. Skinnygirl Cucumber Flavored Vodka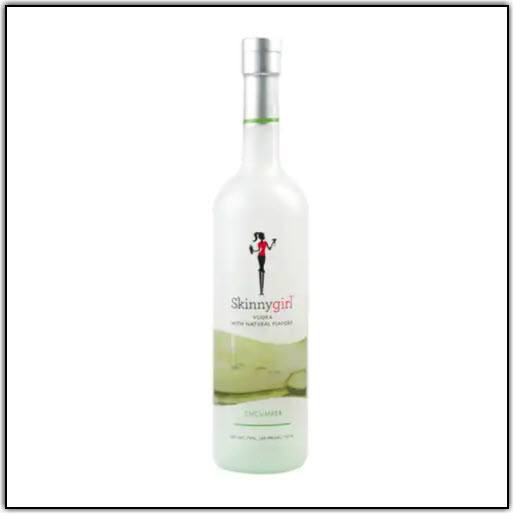 While vodka isn't exactly a health food, Skinnygirl Cucumber Vodka aims to offer the best possible option for those who want to enjoy some cocktails while staying as healthy as possible. It's a low-calorie drink made with natural flavors that tastes great on its own and goes amazingly well with soda water and a fresh cucumber garnish. It's one of many in a line of quality, health-conscious vodka.
The company started with their Skinnygirl margarita, a premade cocktail with similar goals of helping you stay healthy while enjoying cocktails. They soon expanded into more premade cocktails and eventually began creating their own vodka.
The cucumber expression is clean, crisp, smooth, and perfectly sweet all at once. The palate offers a nice blend of fresh and ripe green cucumber with a touch of vanilla in the background to offer that balance of sweetness.
3. Ketel One Botanical Cucumber and Mint
Most will agree that the combination of cucumber and mint is an iconic one. The two flavors go so well together in all contexts – alcoholic or not. The two make an incredible tasting glass of infused water, for instance. Ketel One displays another wonderful example of the two together in their Botanical Cucumber and Mint Vodka.
They begin by extracting the essence of each botanical individually from natural sources. Then, they go through an innovative distillation process that produces an expression that is beautifully fresh, sweet, crisp, and refreshing.
The aroma offers intense notes of cucumber to start with mint playing a more moderate role. The palate opens with softer notes of fresh cucumber that build towards a crisp, minty finish. You can serve this one alone with a bit of ice, but it's absolutely delightful mixed with club soda and a splash of grapefruit or other citrus.
4. Square One Cucumber Vodka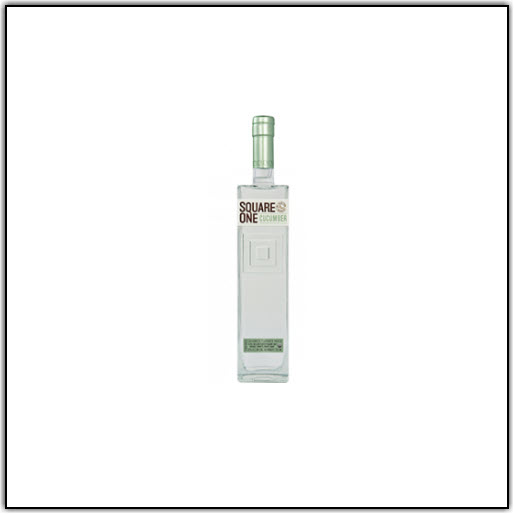 Square One Cucumber Vodka is named for the passion and dedication that founder Allison Evanow had when setting out to create a brand new vodka – from scratch, or, square one. She was always fascinated by spirits and cocktails, but her love truly sparked when she began working as a brand ambassador for Jose Cuervo.
She was inspired to create a spirit of her own and she sure had fun doing it. She loves the creativity that goes into spirits and cocktails, deciding on ingredients, creating cocktails, finding the best way to serve it – everything.
The cucumber expression is one of two flavors she's created thus far, both using the Square One Organic Vodka as a base. This vodka is made entirely from organic rye grains grown in the cool, dry climate of North Dakota. This vodka is infused with organic cucumbers to create the refreshing flavored drink.
The aroma offers nutty rye and fresh herbs that lead into a palate of bold cucumber with a bit of salt. The cool, refreshing finish is where you get some complexity with notes of cucumber, black pepper, and other spices.
5. Effen Cucumber Vodka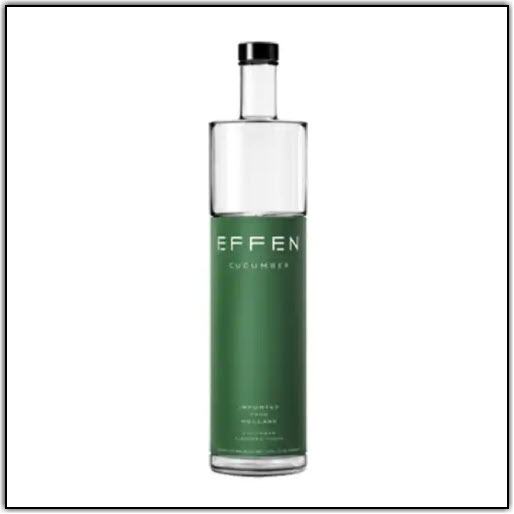 Effen is known for being innovative with its flavors, and their Cucumber Vodka really is something special. Their base vodka is made with premium French wheat and is infused with the essence of fresh cucumbers right off the vine.
They use a continuous distillation process when making the drink which imparts a wonderful smoothness to the final result. The aroma is rich and bright with strong notes of freshly cut cucumber. The palate is quite vegetal overall, with fresh notes of cucumber rind. It gets earthy mid-palate which leads to a burst of sweetness on the finish.
Add it to some soda water or tonic for a quick, refreshing sipper. It also goes well with melons like watermelon or cantaloupe if you want to sweeten it a little, or it'll add a nice crispy touch to a traditional martini.
Refreshing Cucumber Cocktails
When it comes to making cocktails, cucumber vodka is a wonderfully versatile option as it fits into savory cocktails as seamlessly as it does sweet ones – it all depends on what you pair it with. It's a simple flavor that's fun to experiment with, but if you're unsure where to start, try some of these tried and true recipes first.
Cucumber Bloody Mary
If you're already familiar with the bloody Mary cocktail then this one couldn't be any simpler. All we're doing here is substituting cucumber vodka for regular vodka. Doing so adds an extra layer of depth and a wonderful, refreshing touch. A slice of cucumber to garnish is the perfect way to finish it off.
Ingredients:
⅛ teaspoon celery salt, plus some extra for rimming
2 ounces cucumber vodka
1 tablespoon lemon juice
1 teaspoon lime juice
1 cup tomato juice, chilled
⅛ teaspoon hot pepper sauce
½ teaspoon Worcestershire sauce
⅛ teaspoon pepper
½ teaspoon horseradish – optional
Possible garnishes: pickle spear, olives, cocktail shrimp, cucumber slice, or celery rib
Instructions:
Begin by rimming the glass with celery salt, and set aside.
Fill both a shaker and your glass with ice.
Add all your ingredients to the shaker glass and shake well – until condensation forms on the outside.
Strain the drink into your prepared glass and garnish as desired.
Cucumber Basil Vodka
A little easier than the bloody Mary, this one has much fewer ingredients but that doesn't mean it tastes boring or bland. The flavor is quite herbal and fresh, with authentic ingredients and the perfect balance of sweet and savory.
Ingredients:
2 cucumber slices cut into chunks
4 fresh basil leaves
1 ounce simple syrup
2 ½ ounces cucumber vodka
¾ ounce fresh lime juice
Instructions:
To begin, put the cucumber chunks into a cocktail shaker and muddle well.
Add the basil leaves and muddle some more.
Add the vodka, lime juice, and simple syrup to the shaker and shake it well.
Strain the drink into a chilled glass and garnish with fresh cucumber and/or basil, if you want.
Cucumber Lemonade
This is the perfect summer party drink. Not only is it refreshing and delicious, but it's easy to create both virgin and alcoholic versions of this drink without changing the recipe or flavors much. The spiked recipe includes cucumber vodka, but you can easily take this out and serve it as is.
Ingredients:
3-4 ounces of lemonade
1 ounce cucumber juice
1 ½ ounce cucumber vodka
Mint and lemon for garnish
Another reason this one is perfect for making in large quantities is that it's easy! No shaking required – simply pour the ingredients into your jar or glass over ice and add your garnish!
If you do have time on your hands, though, you can go completely fresh and DIY with this recipe. If you don't have a juicer to juice the cucumbers yourself, you can add fresh cucumbers to your blender and blend them into a puree with some water and you're good to go!
You can also make your own lemonade:
Combine a half cup of sugar and half cup of water in a saucepan and bring to a boil. Reduce it to a simmer and stir occasionally until all sugar is dissolved.
Remove the mixture from the heat and let it cool.
Once cooled, at it to a pitcher with syrup and lemon juice, stirring to combine.