Smirnoff is a leader in the world of vodka and alcohol for a reason – they make good drinks. Whether it's their original, plain vodka, or one of their many flavors, it's backed by over a century of knowledge and experience.
Smirnoff can trace its history back to a Moscow distillery established by a P.A. Smirnov in 1864. He was known for filtering his vodka five more times through his charcoal columns than the competition, which set him apart straight away. Since then, Smirnoff has been breaking ground and creating the best vodka in many categories.
There were some rough times, including a ban on alcohol in Russia in 1914 which forced Smirnoff to close for a while. Thankfully, the brand survived and was able to live on to this day, where it's still the world's number one vodka. While their original vodka is legendary, their flavors are quite the experience too. Some of the best Smirnoff vodka flavors are featured in popular cocktails and many of them make delicious, sweet sippers, too.
Smirnoff's collection of flavored vodkas is like heaven to fruit-lovers or anyone with a strong sweet tooth. There are plenty of accessible recipes out there to use, or grab some things and come up with something on your own! The options are endless and Smirnoff makes it so fun with their incredible list of flavors.
The Best Smirnoff Vodka Flavors
1. Smirnoff Raspberry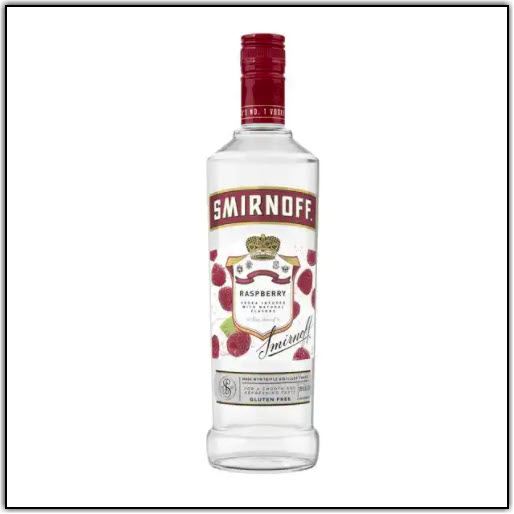 Smirnoff Raspberry is infused with natural raspberry flavors that give it a tart, fruity finish. The expression is triple-distilled and bottled at 70-proof. Its strong and robust flavors make it a great go-to vodka for berry-based cocktails, but it's also smooth enough to drink on its own if you love the taste of raspberry alone.
Raspberry dominates the nose, though there are hints of other berries in there, as well. The palate is big, bold, and bursting with candy-like raspberry flavors with some notes of raspberry sorbet. The finish is clean with a touch of alcohol spice.
For a quick and easy cocktail, mix this specialty vodka with simple syrup and lemon juice for a tasty Raspberry Breeze. It also goes well with soda water, cranberry juice, and lemonade. These are some of the most common uses, but its sweet, berry-filled profile makes the cocktail options truly endless.
2. Smirnoff Sourced Red Ruby Grapefruit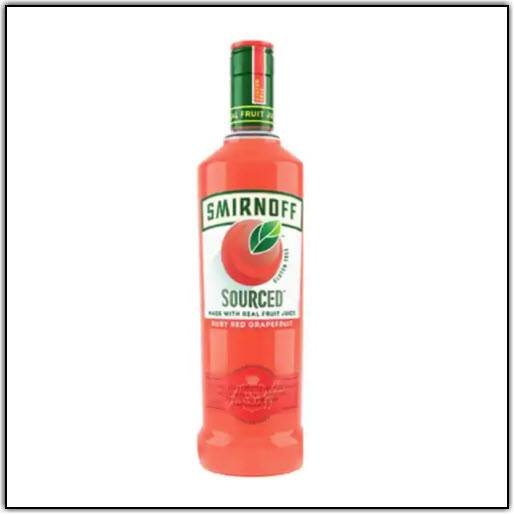 Sourced from real red ruby grapefruits, the Red Ruby Grapefruit Vodka from Smirnoff is a real favorite. It's also gluten-free and made with no high-fructose sugars, so it's an attractive one for those on a diet or just watching their health in general.
It's already attractive before you pour it, too, with its slightly cloudly light pink color in the bottle. The aroma is fresh and inviting with notes of citrusy grapefruit and a touch of mineral flavors. The palate is big on the fruit, offering a bold and rich taste of grapefruit, as promised, with very little vodka undertone.
Add this vodka to some tonic water and ice for an easy, refreshing drink to sip, or drink it alone for a more direct flavor. The citrus base also makes for a delicious additive to a variety of cocktails and other mixed drinks.
3. Smirnoff Red White & Berry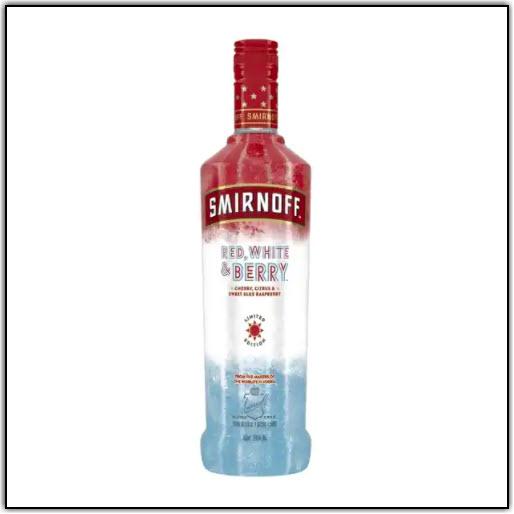 A wildly popular summer drink, Smirnoff's Red White & Berry offers a sweet taste reminiscent of summer and celebrations. Touted as a drink that offers a "taste of freedom" it's recommended to be taken as a chilled shot or in a cocktail.
Its best cocktail, according to Smirnoff, is the "Merica Mule" wherein you add the vodka to ginger beer and lemon juice in a mule mug. Garnish with red and blue berries for the full effect.
This cocktail is certainly one that brings out the distinct flavors of this well-loved vodka, but it's not the only one it does well in. Having a mixed berry flavor profile opens up plenty of options. Many also like to enjoy it straight as it's sweet and tangy like a popsicle.
The aroma is just as mixed as its flavors, offering red cherries, orange, and light citrus with a hint of lime. The palate offers a medley of berry flavors with raspberry being most apparent with a touch of cherry and orange in there, too. It's extremely sweet and makes a great punch as well as a great cocktail.
4. Smirnoff Pomegranate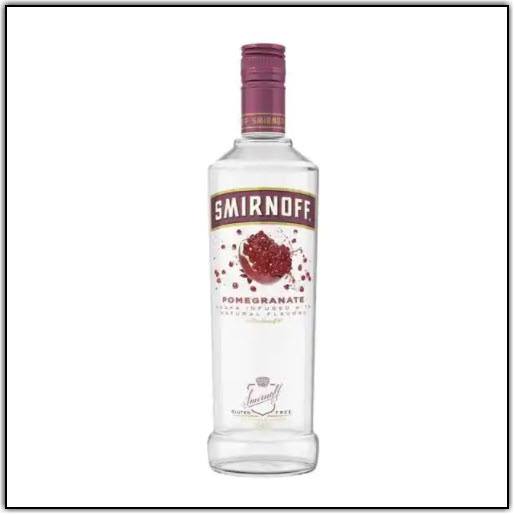 Pomegranate is already known as a superfood with a unique and interesting taste. Translated to a drink, it's no surprise Smirnoff Pomegranate is high on the list of best Smirnoff vodka flavors. Unlike many of the others, this one is only semi-sweet with a bit of sourness on the finish. It's perfect for balancing super-sweet cocktails or adding a refreshing twist to any drink that you don't want to overwhelm with sweetness.
Triple distilled and bottled at 70 proof it's smooth and tasty enough to drink on its own, as well. For an easy, proven cocktail, pour the pomegranate vodka over ice with some green iced tea, simple syrup, and mango juice for a refreshing and exotic mix of flavors.
Smirnoff was smart when making this blend, maintaining the tart nature of the pomegranate while adding just enough other flavors to balance it out. The pomegranate flavor is present on the palate along with notes of citrus, honey, apples, and a bit of orange. It's the perfect combination of tart and sweet and an incredibly popular choice for those who don't want the candy-like sweetness of many other fruit-flavored spirits.
5. Smirnoff Orange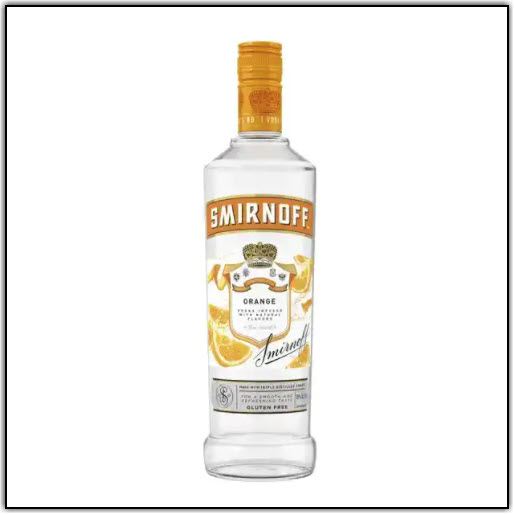 Smirnoff Orange is a delicious, zesty, citrus delight with its blend of six different orange varietals including mandarin, naval, and more. With a profile that's all about orange, it makes a fantastic and delicious shot as well as a refreshing sipper when enjoyed on the rocks.
For a sweet, tropical cocktail combine the vodka with pineapple and cranberry juice for a quick and easy summer treat. For a simpler mixed drink, add it to some soda water and garnish with an orange twist.
The nose on this one bears the sweetness of freshly squeezed oranges. The palate offers a sweet, natural orange flavor that builds to a tart peak. The mid-palate is slightly warm with a touch of pepper as it fades into the finish, where you get one final burst of orange.
The mouthfeel is soft with only the slightest touch of vodka flavor in the background.
Smirnoff Flavored Cocktails
With all the flavors out there, the options are truly endless. While these five flavors top the charts for most people, there's an audience out there for every flavor Smirnoff offers, and a drink to go with it.
Below are a couple of the best Smirnoff flavored cocktails using some of the top flavors, but don't be afraid to think outside the box. Grab your favorite Smirnoff flavor and use whatever you've got in the house to create something new and delicious!
Ruby Red Cocktail
The Ruby Red Grapefruit flavor is among the top because of how authentic it is. It's sourced from real ruby red grapefruits and has real fruit juice in it. The flavor is unbeatable and the slightly citrusy base makes it extremely versatile in cocktails.
This one is a simple, grapefruit-charged drink that's sure to refresh you on even the hottest days of summer!
Ingredients:
¾ cup ruby red grapefruit vodka
¼ cup lemon juice
¾ cup grapefruit juice
½ cup grapefruit sparkling soda
Coarse pink salt
Ice
Rosemary and/or grapefruit wedges for garnish
This recipe makes a decent amount of the cocktail – perfect for enjoying with friends or family around the pool!
To begin, rim each glass by wetting in with a lemon wedge and dipping it in your pink salt. Fill the glasses with ice and add all ingredients to a shaker with more ice. Shake until well chilled and strain into the prepared glasses. Add your garnish and you're good to go!
Red White and Berry Martini
Bright, sweet, and fun, this one is perfect for times when you want a sweet sipper that goes down easy. You can easily down a couple of these and forget it's even alcohol! Red White and Berry is wildly popular for its strong mixed berry flavors and versatility. There is much you can do with this flavor, this simple martini is just the beginning.
Ingredients:
1.5 ounce Smirnoff Red White and Berry
1 ounce Blue Curacao
4.5 ounces of lemonade
Sugar for the rim – optional
You don't have to rim the glass with sugar to enjoy this one, but it certainly adds that extra layer of sweetness. If you are rimming the glass, do that first. Then, combine the ingredients in the glass and stir well, until it's all mixed together. That's it!
Start with regular lemonade and see how you like it. From there, you can experiment with different flavors of lemonade to create all kinds of flavors with this one easy recipe.