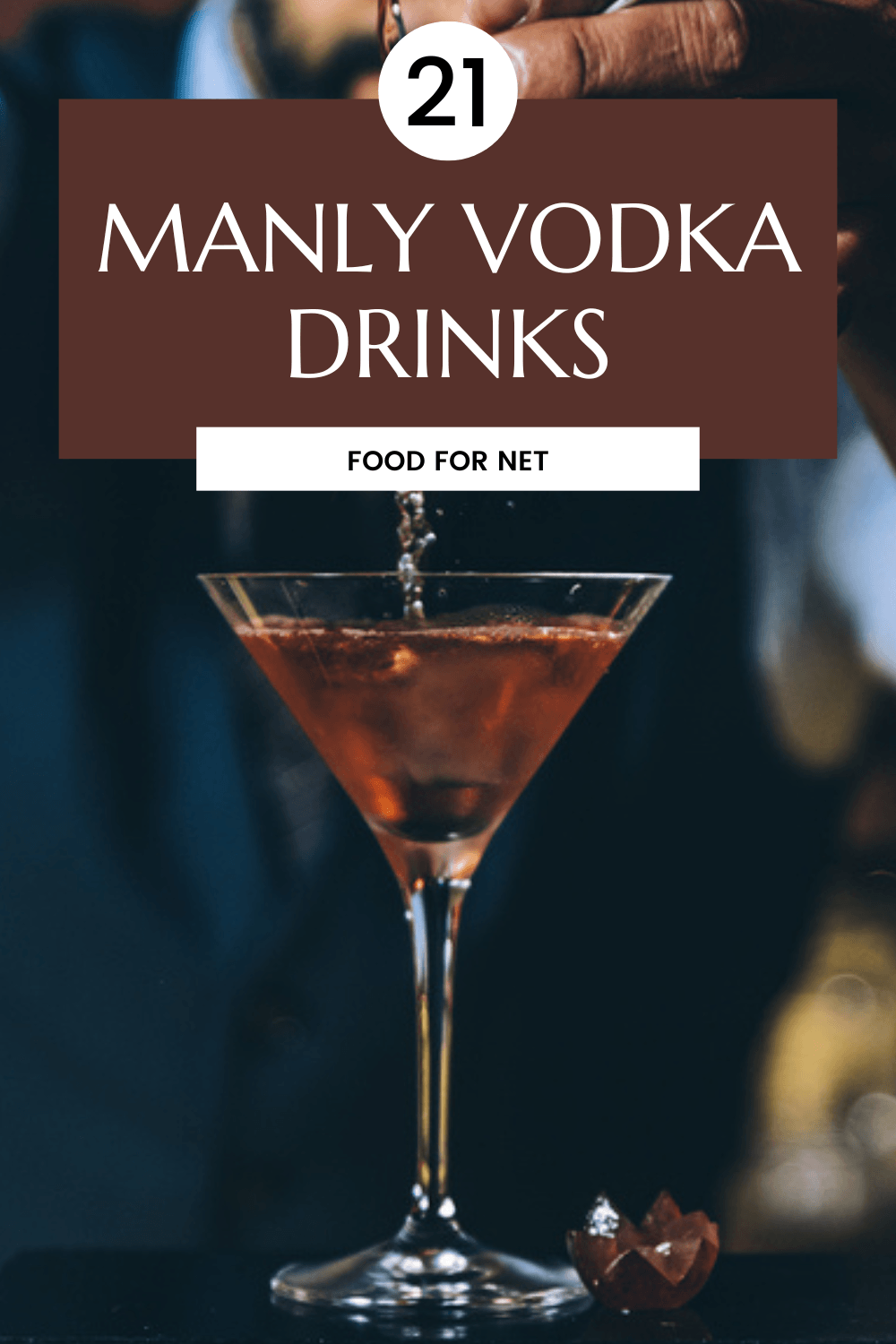 What do you drink when you're out on the town? What about at home? Many men stick to the classics, like beer or whiskey on the rocks, partly because cocktails seem too girly. That's a shame, as there are many manly mixed drinks out there – in every theme imaginable. Today, we're looking at manly vodka drinks.
Why vodka? Well, it's a neutral spirit, making it incredibly versatile. You don't need to stick to plain vodka either. There are plenty of flavored versions. You can even infuse vodka yourself.
There's also little doubt that vodka is manly. The name comes from the Russian word for water, after all. It's strongly associated with action heroes too, including the famous James Bond.
So then, what do we mean by manly drinks with vodka? Anything goes, really, as if you're confident in yourself, any drink automatically becomes manly (including a cosmopolitan, if you're daring enough).
That said, we're focusing on more traditionally manly drinks. This includes those that have complex flavor profiles, veer towards sour or dry rather than being overly sweet, and those with masculine names. The history of the drink and its strength are relevant too.
As you'll see, there are plenty of drinks to experiment with.
Manly Vodka Drinks (With Pictures!)
Moscow Mule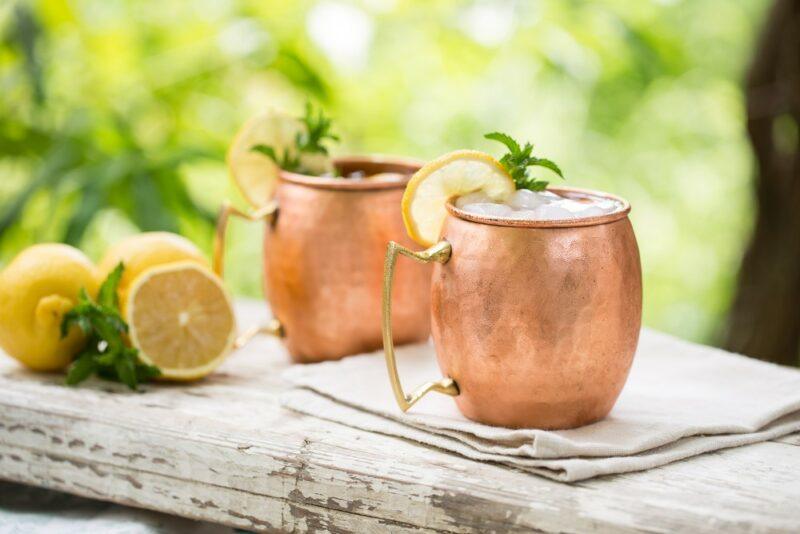 The Moscow mule is simple, famous, and delicious. It's a three ingredient cocktail that combines ginger beer, vodka, and lime juice.
The lime juice is particularly important, as this contrasts the sweetness of the ginger beer, giving your drink a surprising depth.
This drink is traditionally served in a copper mug, making it even more appealing. Copper holds its temperature well, so the mug helps to keep your cocktail cool for longer.
There's also something about the copper that makes the ginger beer fizzier than normal. That's a fun feature, making the drink stand out even more.
Long Island Iced Tea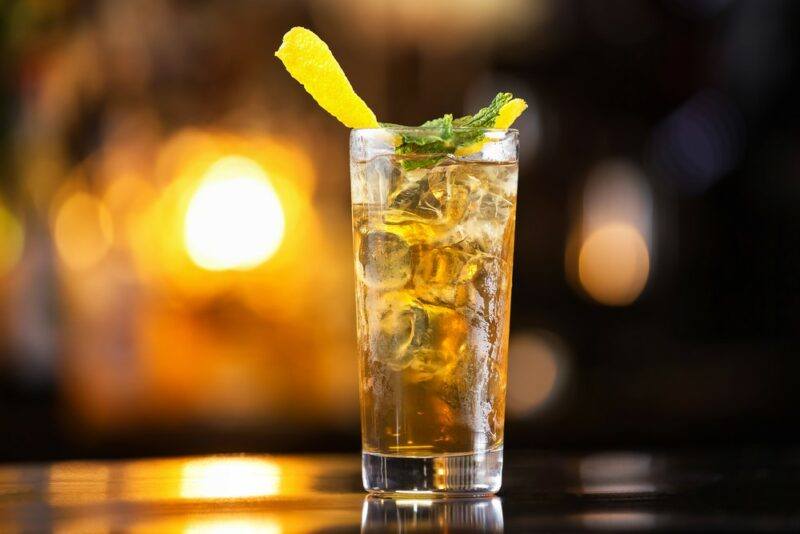 The Long Island iced tea looks much like a tall glass of iced tea. Yet, the cocktail doesn't include any tea at all.
Instead, the cocktail is a shocking combination of spirits, including vodka, white rum, gin, and tequila. There's some triple sec in there as well.
A little lemon juice and simple syrup are included too, then the whole thing is topped with cola. You often don't get that much cola though, as the glass is filled with ice and there's a lot else going on. As a result, this is one of the strongest cocktails you can order at a bar. Manly enough?
There are also endless variations to the cocktail. Some use blue curacao and swap the cola for ginger ale, which creates a blue version. There's even an energy drink version, just in case you need a still bigger kick.
Absolute Gangster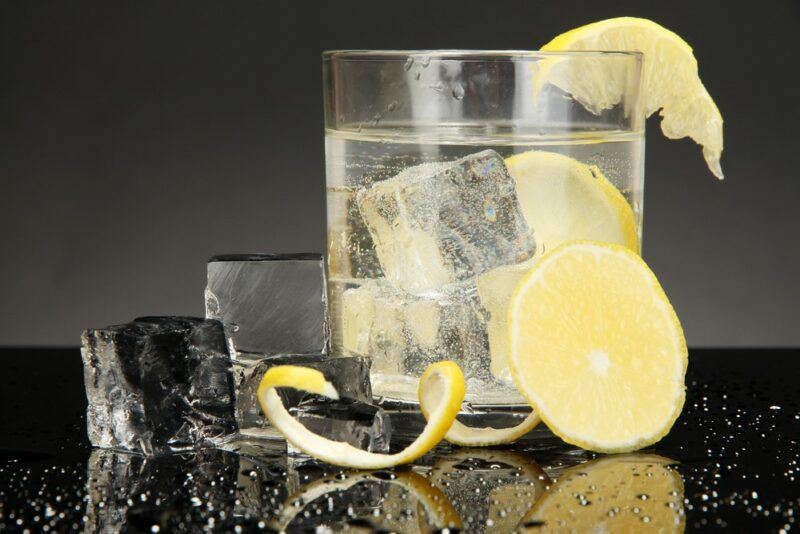 It's hard to go past a cocktail with a name like this. It's also a clear cocktail, making it the perfect antidote to all the brightly colored cocktails that get pumped out these days.
Vodka is the main ingredient here, which is balanced by an aromatized wine like lillet blanc and some Abbott's bitters. A little simple syrup is used as well.
The simple syrup provides a slight sweetness to the drink, while the bitters and aromatized wine offer complexity.
Greyhound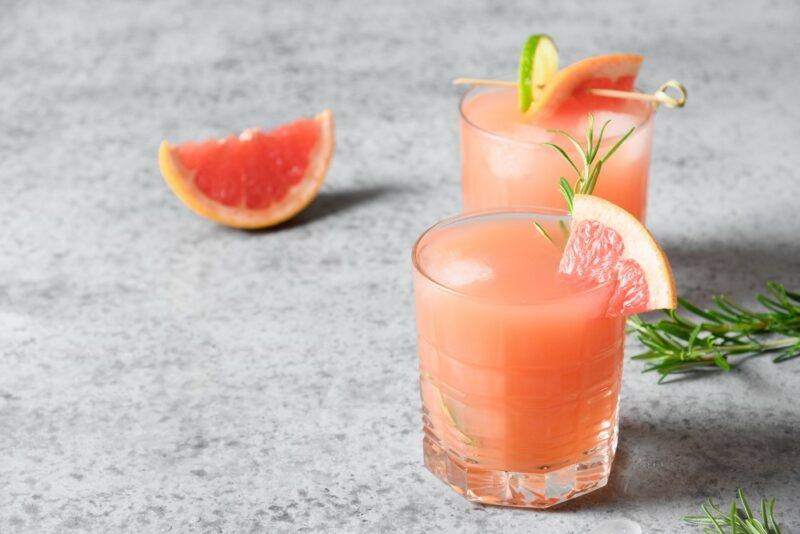 Cocktails don't need to be complicated. The greyhound proves that. It's simply a two ingredient cocktail made using grapefruit juice and either gin or vodka.
The tartness of the drink, plus the name greyhound, makes this a distinctly masculine cocktail. It's also a good one to make at home.
There's a catch, though.
Two ingredient cocktails don't leave much wriggle room. Low quality vodka or canned grapefruit juice will give you an inferior cocktail. You'll get much better results with decent vodka and freshly squeezed grapefruit juice.
Salty Dog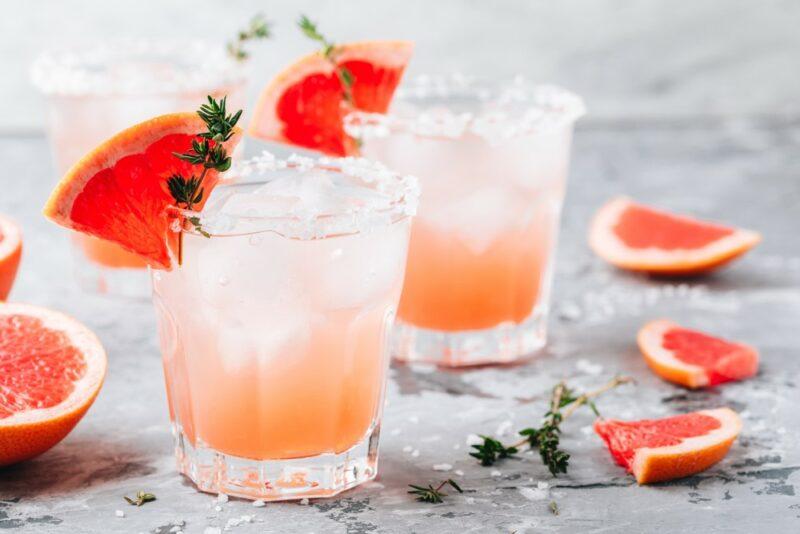 The salty dog is simple, classic, and surprisingly tasty. It's just a Greyhound with a salted rim.
The salt makes the cocktail stand out even more, while offsetting some of the grapefruit's bitterness.
Vodka Martini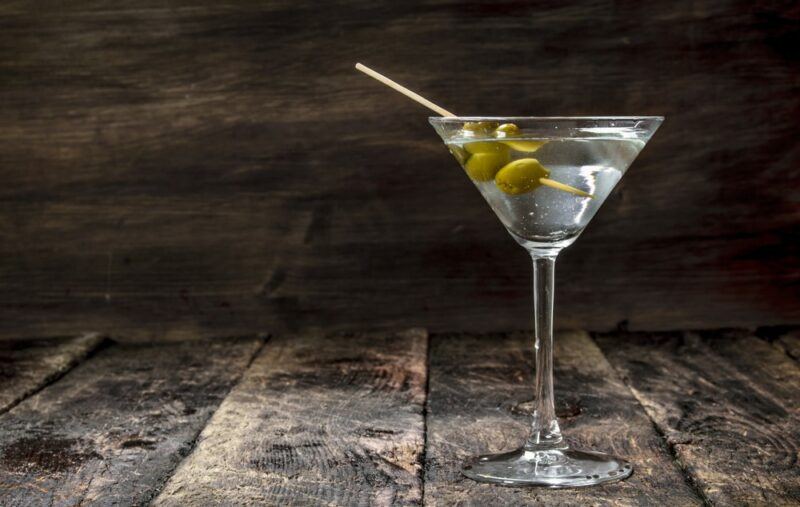 What could be more manly than a martini? It's only the drink of choice by the world's most popular fictional spy.
It's also a potent drink, with just two ingredients – gin or vodka, then vermouth. Gin provides plenty of botanicals, while vodka gives you a cleaner drink that's just as delicious.
As for the ratio of vodka to vermouth, that's up to you. However, a ratio of 3:1 or 2.5 to 0.5 is a good place to begin. Remember though, the more your cocktail is skewed towards vodka, the more potent it will be.
Vesper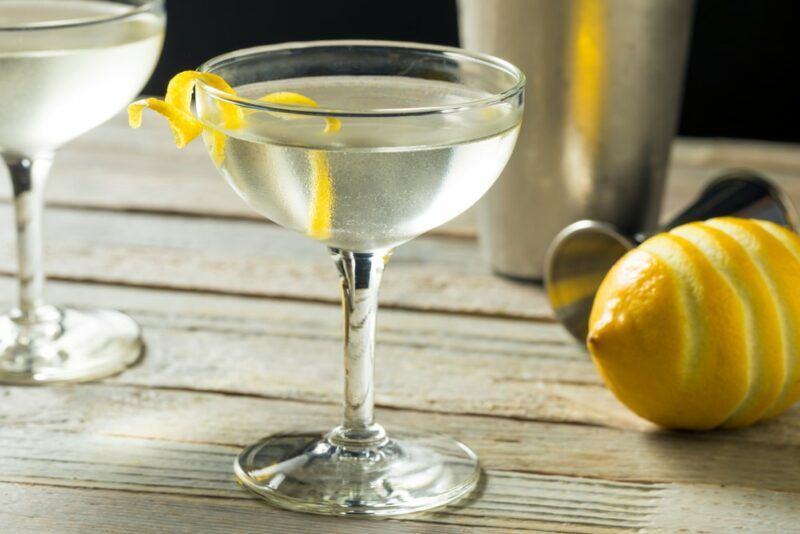 Following close on the heels of the martini is the vesper (sometimes called the vesper martini). This cocktail comes from Ian Fleming's Casino Royale, published in 1953. Of course, the drink has seen new life since the Casino Royale movie starring Daniel Craig.
In the book, Bond specifies three parts Gorden's gin, to one part of vodka and half a part of Kina Lillet. Kina Lillet was a white wine liqueur that isn't made anymore.
Many modern recipes call for Lillet blanc instead of Kina Lillet. Cocchi Americano can work as well. However, neither has quite the same flavor balance as the original recipe.
There's another area of debate too. Do you shake the cocktail or stir it? In the movies Bond regularly asks for his martinis shaken not stirred, which is surprisingly controversial. Many people say that shaking a martini ruins it, although you can take whichever approach you prefer. After all, you're the one drinking the cocktail.
Black Russian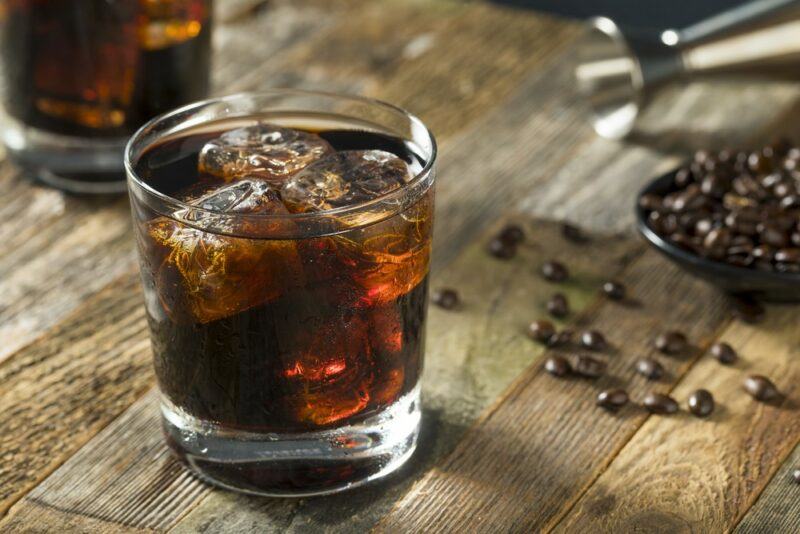 The black Russian cocktail is easy to make, yet still tastes delicious. It just combines coffee liqueur with vodka. That's it, two ingredients.
You're often looking at two parts of vodka to one part of coffee liqueur. Although, as always, ratios can be adjusted.
Clean Aviation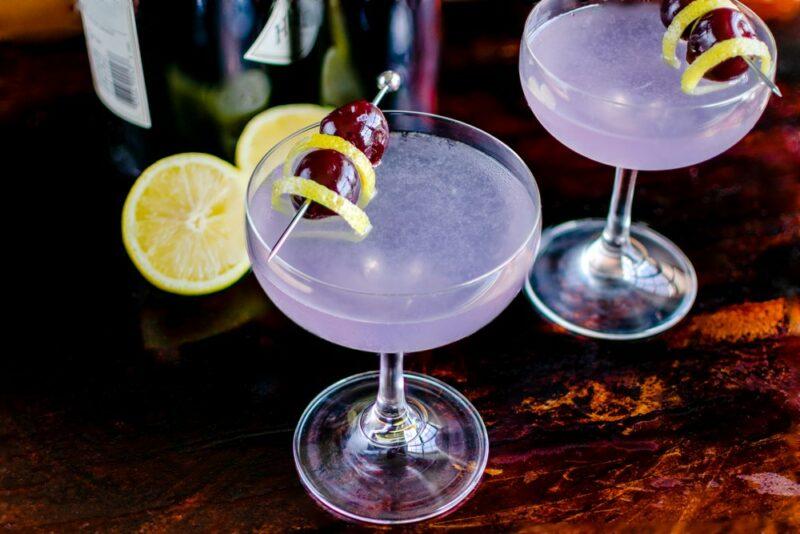 The aviation cocktail is a light purple drink that relies on crème de violette, maraschino liqueur liqueur, gin, and lemon juice. The crème de violette contributes herbal notes and a depth of flavor to the cocktail, while the maraschino adds cherry flavor.
This clean aviation is a modern creation. It still uses maraschino liqueur and crème de violette. However, the gin is swapped out for vodka and a touch of absinthe adds a licorice undertone to the entire drink.
Whether you're a fan of the original aviation or have never heard of it before, this cocktail is worth trying at least once.
Espresso Martini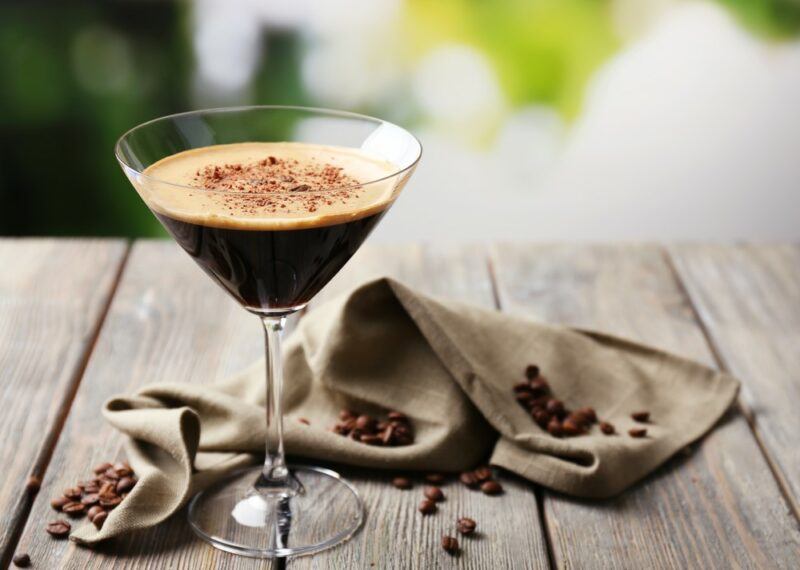 It's a dark drink that's contains both vodka and caffeine, how could an espresso martini not be manly?
Most versions rely on vodka, espresso coffee (freshly brewed) and Kahlua liqueur. The Kahlua provides some creaminess, while adding to the coffee flavor of the drink.
If you're making this one at home, you'll need to brew your coffee and allow it to cool. This takes a little patience, but it isn't long before the cocktail is ready to serve.
Great Gatsby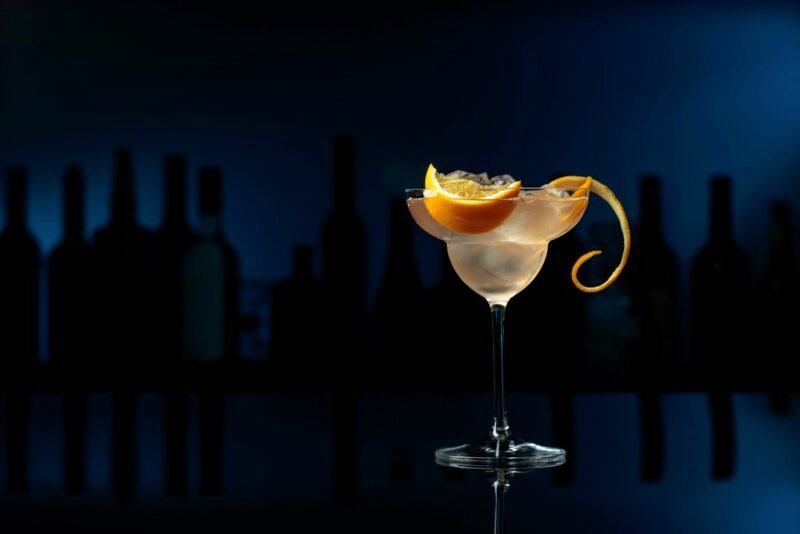 This cocktail gets its name from the Great Gatsby book, which is reason enough to try it out. It's a simple drink too, as you're just combining grapefruit juice, vodka, and lillet blanc.
The lillet blanc is what sets the cocktail apart from the greyhound, as it provides subtle citrus notes.
Kamikaze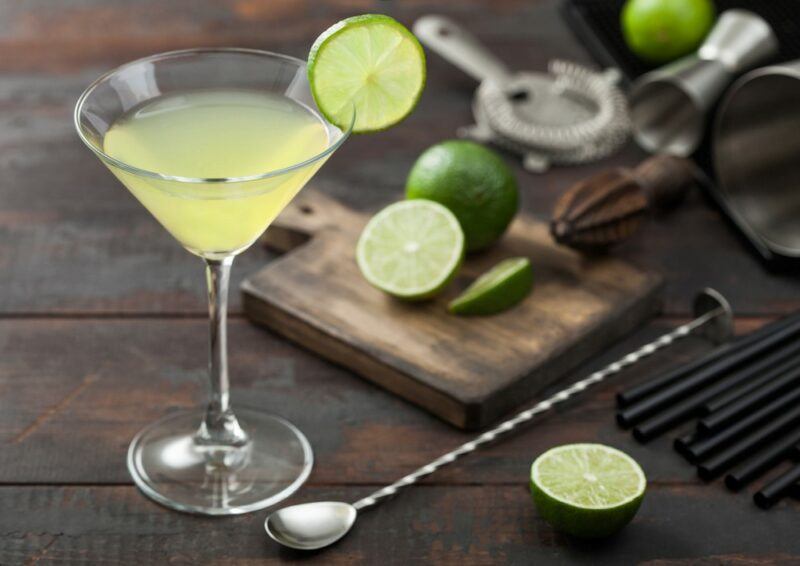 Here's another simple cocktail with a great name. The drink is popular enough that it's often served as a shot and has plenty of variations.
There are three simple ingredients here – vodka, triple sec, and lime juice. This combination gives you a bright drink with a sour edge to it. The light color is suitably elegant, making a great contrast to all the neon colored cocktails out there.
Milano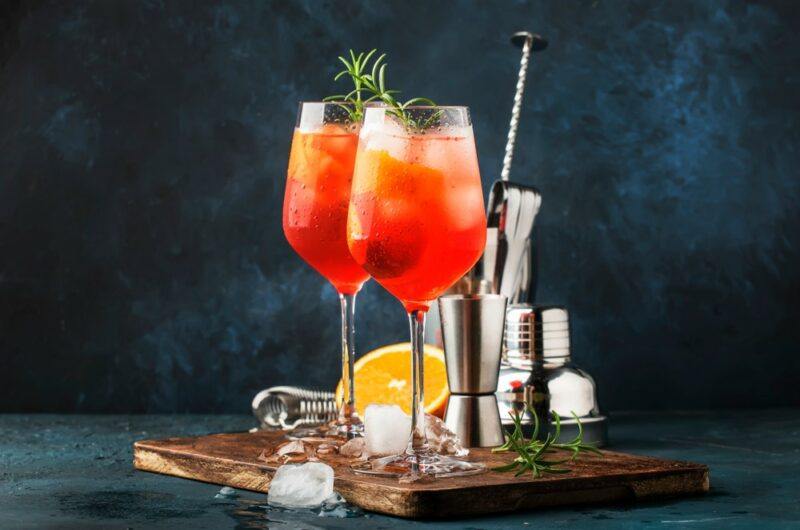 This drink goes by a few names, including the Milano or the negroski. Either way, it's similar to the classic negroni.
The difference is that here you're using vodka as the spirit of choice, rather than gin. But, whether you use vodka or gin, you still end up with an elegant and intense cocktail.
There's another variation on the recipe, which is the Milano-Torino. However, that's not a vodka drink, as it relies on equal parts of sweet vermouth and Campari.
Vodka Mojito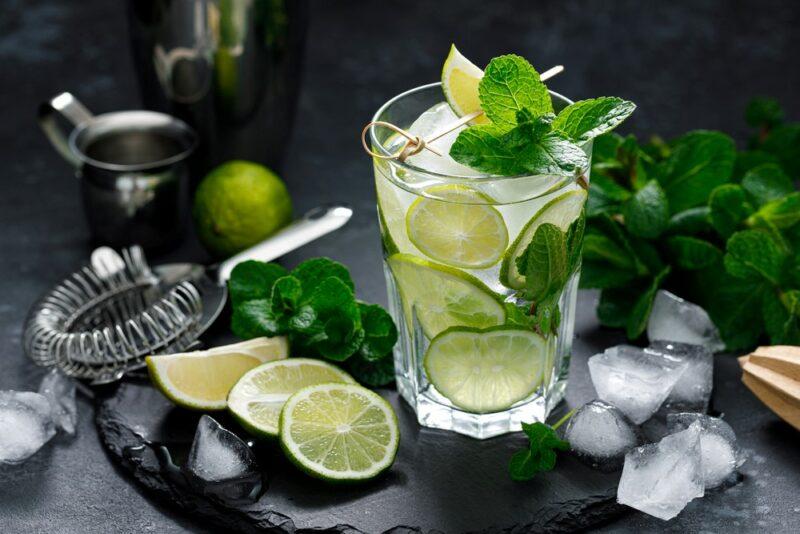 Many classic drinks can be tweaked to contain a different type of spirit, including the mojito. So, while the original recipe uses white rum, this version swaps out the rum for vodka.
The rest of the ingredients remain the same, so you still get the same mint and lime flavor combination. It's pretty hard to taste the rum in a mojito anyway, so why not use vodka?
Vodka Tonic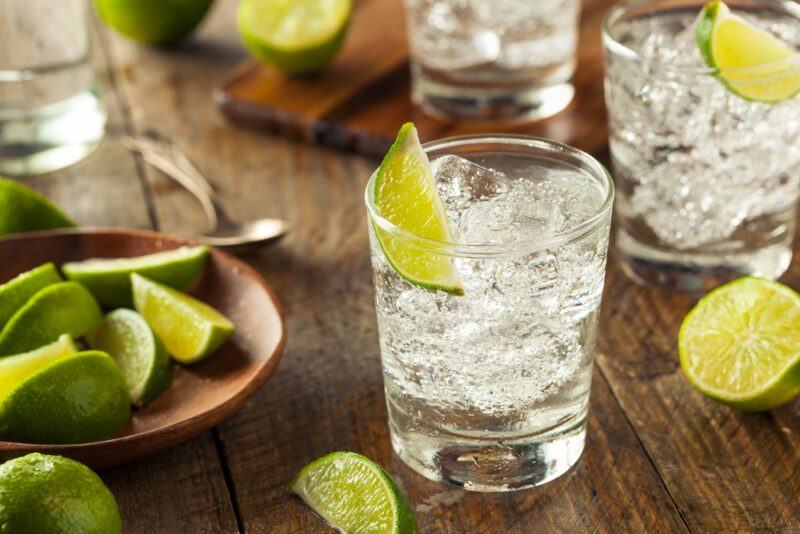 You've heard of the gin and tonic, so why not a vodka tonic? The idea is similar, but vodka doesn't have the same botanicals as gin, so the drink is much less complex.
The lack of complexity isn't a bad thing. Sometimes you just want a simple drink. Plus, every bar stocks tonic, so you'll always be able to order a vodka tonic.
Smoky Martini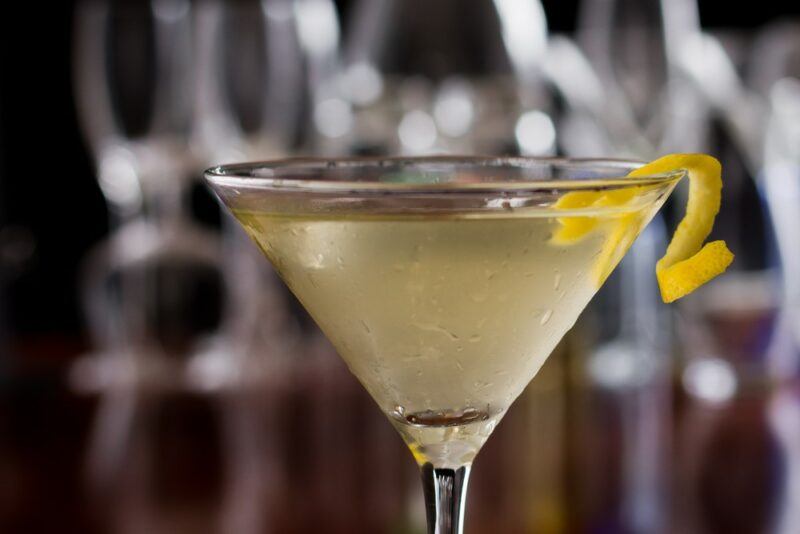 While the classic martini is popular, it can also be a bit intense and even a little boring at times. Why not mix things up a bit?
A smoky martini includes a little peated Scotch whisky, which adds the required smokiness. You could make this as a full vodka martini or add some gin in as well, to create a gin, vodka, and whiskey variation.
The Flaming Moe
This modern cocktail gets its name from Moe in the Simpsons. It's also a flaming shot, which automatically makes it fun and very manly.
There are a few variations of the cocktail, but this particular one relies on vodka, whiskey, blueberry schnapps, and crème de cassis. A little Bacardi 151 is used to top the cocktail off, which is the part you ignite.
The Graveyard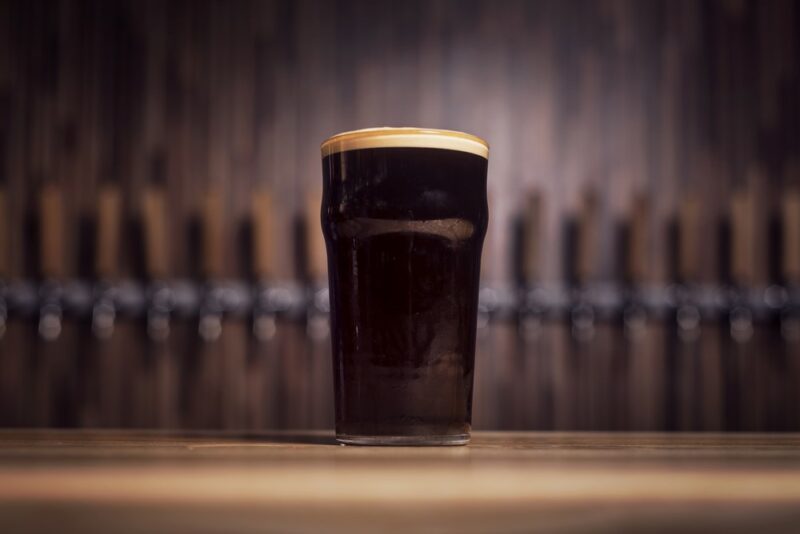 Here's another modern cocktail to experiment with. The name alone makes it masculine and the dark color helps too.
This is also a very intense cocktail. Seriously, it includes whiskey, Scotch, tequila, gin, rum, vodka, and triple sec, plus lager beer and stout.
The style is very similar to a Long Island iced tea, except that there are no mixers at all. Instead, every single ingredient is alcohol.
This is one cocktail to be very very careful with.
Bull Shot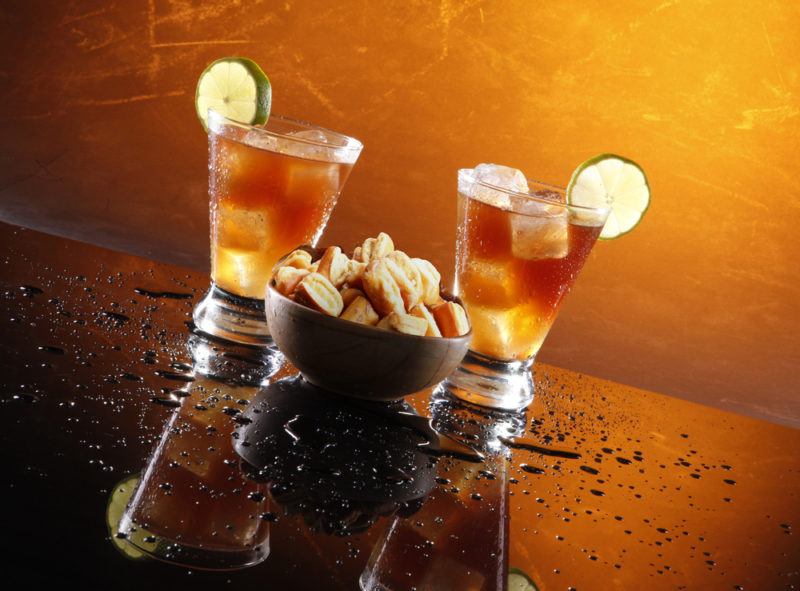 Here's the thing – this cocktail isn't for everyone. It's a savory cocktail, much like the bloody Mary.
This one, though, combines vodka, hot sauce, Worcestershire sauce, and beef bouillon. Yes, really, beef bouillon. It's not a typical cocktail ingredient, but somehow it works.
If this isn't your thing, you could also experiment with other hot sauce cocktails. There are plenty out there.
Spicy Bacon Martini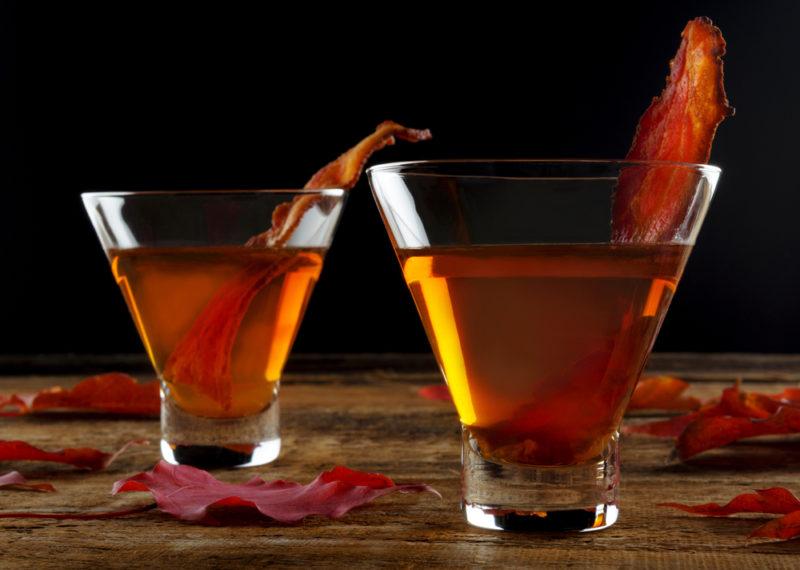 Speaking of hot sauce cocktails, here's another to try.
You're starting off with a regular vodka martini, then adding some bacon syrup and hot sauce. The bacon syrup is a bit tricky. You can look for Torani bacon syrup. Otherwise, you can try making your own.
The AMF Drink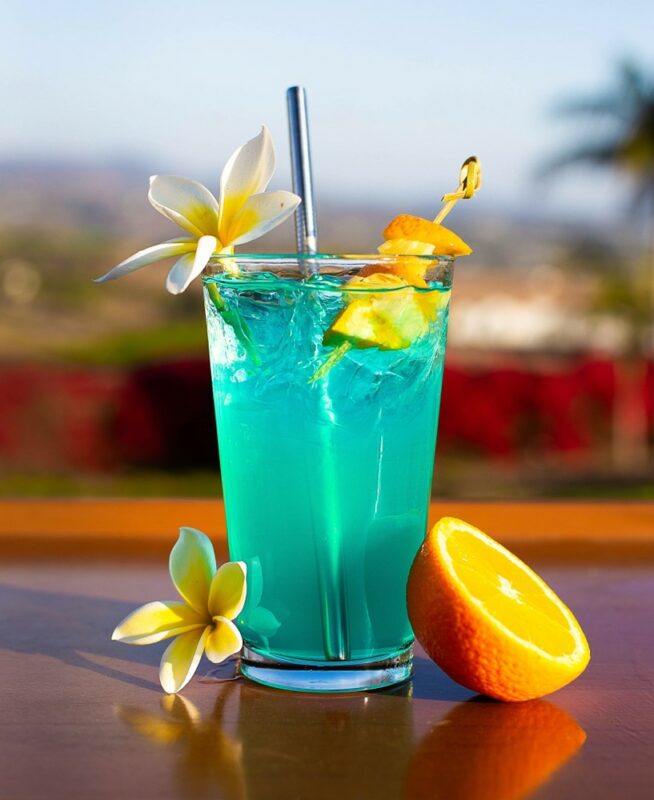 This cocktail looks like one of those cloying sweet cocktails served at many bars – and not manly at all. The appearance is part the fun though, as this isn't a sweet and easy drink, not at all.
Instead, the cocktail is a variation on the Long Island iced tea. It includes blue curacao, gin, rum, tequila, and vodka, plus some lemon lime soda and sweet & sour mix. You end up with 5 parts alcohol to 4 parts mixer, making this a potent drink.
Related Content