Brandy didn't originate in America but America has certainly made its mark on the world of brandy. The spirit first came to America through the coasts, where people were planing vineyards across the west coast wherever grapes could effectively grow. French and Dutch colonists were the first to create the earliest pot-stilled brandies out of these grapes. They also quickly began distilling orchard fruits as well, such as apples, peaches, and berries.
The west coast saw what is now California settled by a group of Catholics. They crafted sacramental brandy from their own wine, which they made with grapes they grew themselves. Initially, the brandy was either consumed immediately or stored in pots and jugs. Eventually, wooden barrels were used as the need for storage grew. It's thought that this is what inspired the idea of aging American whiskey.
For a while, the American brandy production was limited to just a few distilleries that dominated the market. Recently, though, a new wave of distillers have entered the scene and the best American brandy is still up for debate.
The "original" companies stuck to very traditional brandies. This isn't necessarily bad but doesn't leave a lot of room for creativity. New distilleries are getting braver and introducing new grape variables to the game, focusing on smooth, fruity palates. This is inviting and approachable for new brandy drinkers and has effectively given the spirit a new vengeance after many years of lacking sales.
The Best American Brandy
1. Bertoux Brandy

Bertoux Brandy comes from California and is designed especially for use in premium, delicious cocktails. They use a Solera style method of blending and aging wherein the Master Blender uses an expert combination of brandies aged for three to seven years. The brandies rest in either French or American oak barrels.
When cocktails first picked up steam in American culture, brandy was the star. So many classics called for a nice brandy and the results were beyond delicious. Bertoux encourages brandy fanatics to re-visit classic brandy cocktails with this particular expression – they promise you won't be disappointed.
The brandy is an elegant amber color with dried apricot and toasted stave on the nose. The palate offers much of the same with Christmas spice and buckwheat honey appearing mid-palate. The finish is rich and medium-bodied with a subtle oaky finish.
2. Laird's Bottled in Bond Apple Brandy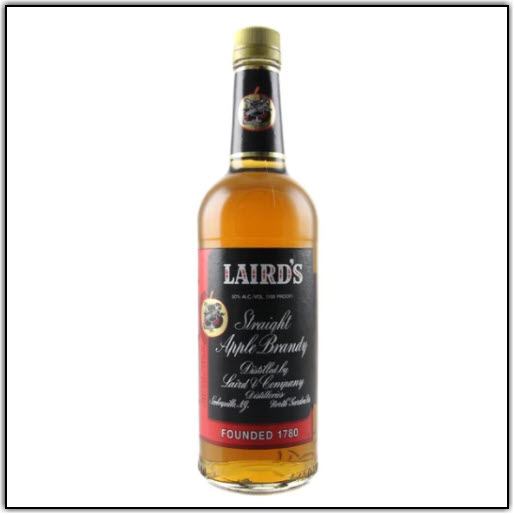 Laird & Company has been making premium aged apple brandy for longer than any other distillery in America with a recipe that's remained unchanged for more than 200 years. Laird's Bottled in Bond Apple Brandy is aged for at least four years in charred oak barrels and bottled at 100 proof.
The method and process are traditional, offering the most authentic type of apple brandy you'll find. Its unique flavor makes for a popular sipper while also being highly sought-after by many bartenders. The brandy adds a pleasant, sweet touch to many modern and classic cocktails.
The aroma is pleasantly sweet with noticeable notes of apple followed by a similarly sweet baked apple-flavored palate with spiced wood notes in the background.
3. Christian Brothers Sacred Bond Brandy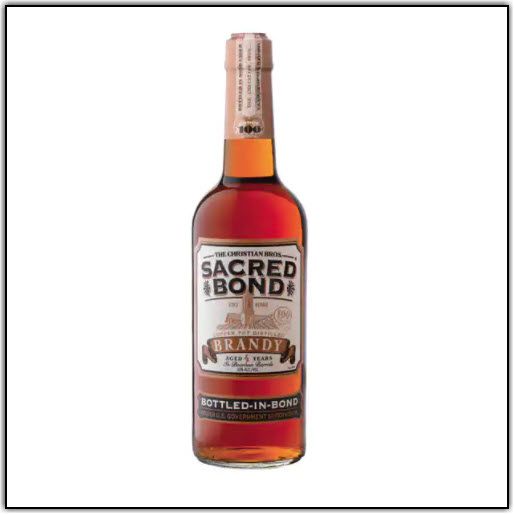 Christian Brothers Sacred Bond Brandy is the first grape brandy to be bottled in bond, making it a fan-favorite among brandy lovers. Contrary to many super-sweet brandies, this one tends to be oakier.
It's not nearly as common for brandy to be bottled in bond as it is for whiskey so this expression is taking some risks, but these risks are well worth it for most brandy drinkers. The drink is made for use in cocktails as it adds a nice balance to most flavors, but its whiskey-like flavors might appeal to some when sipped neat.
On the nose, you'll find a nice combination of caramel, vanilla, spices, and peanut brittle with a woody overtone on the front. Some apple notes are present after the sweetness sets in. The palate is slick on the mouth with heat and smoke coming first with a touch of fruit sweetness after the fact. The finish is smokey again. If you do choose to drink it neat, it'll be an intense, spicy experience.
4. Copper & Kings American Craft Brandy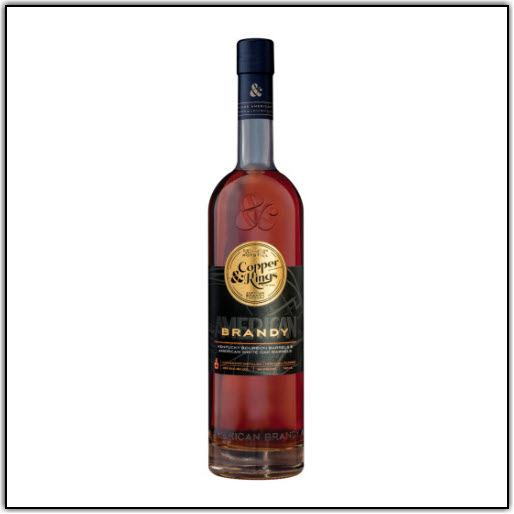 Copper & Kings American Craft Brandy has been dubbed "the brandy for bourbon lovers." The brandy company is located in Kentucky in a small town that's home to many artisans, artists, and other distilleries. Copper & Kings produce a range of absinthe, gin, and brandy.
The brand itself is inspired by "American whiskey and American music " hence the comparison to bourbon for those who appreciate a good whiskey. This doesn't just translate to the American Craft Brandy from Copper & Kings, though, it permeates their entire collection as well as their mindset.
Adhering to tradition, they use a "long and slow" technique when distilling to allow for more contact with the copper. This enhances the flavor and imparts stronger, more intense notes of fruit to both the flavor and the aroma.
The brandy then ages in oak for at least two years, adding even more depth and complexity to the profile. On the nose, you'll find honey, caramel, honeysuckle, and cherrywood in front with a touch of melon in the background, followed by floral notes if you pay attention.
The palate is thick and luscious with layered notes of honey, tobacco, dried fruits, toasted oak, with bold spices coming through mid-palate. The finish is smooth and lingering.
5. Germain Robin Alambic Brandy

Germain Robin Alambic Brandy is the perfect example of why Californian brandy in particular is so highly sought after. It's the brand's flagship expression and contains premium California-grown Colombard grapes turned into brandy through traditional methods.
The brandy is distilled only in Pruhlo Charentais pot stills before being aged in special Limousin oak barrels. This method brings out the best and brightest flavors from these classic grapes.
On the nose, you'll find a mix of fruit and oak spice followed by apples, pears, cherry blossom, and honeysuckle, all subtly weaving into each other. The palate offers a rich mix of peach and apricot with a hint of toasted oak. Cinnamon and brown sugar are present in the background with a full, rich, lingering mouthfeel. The finish is balanced and lingering.
American Brandy Cocktails
American Brandy
Brandy has always been the base for many amazing and classic cocktails, but American brandy adds its own signature flair. The following are some fun cocktails that go well with American brandy. If you're unsure, you can always start with the selections from this list. Beyond that, experimenting can be fun if you're already familiar with brandy and the different flavor profiles it offers.
Common Ground
This drink brings together the beloved flavor of coffee and the sweetness of American brandy. Bertoux Brandy is recommended for this recipe, though there are many that would work well. It's a drink that resembles a coquito or eggnog, but it's appropriate at any time of year!
Ingredients:
¾ ounce Bertoux brandy
¾ ounce coffee liqueur
¾ ounce Picon
¾ ounce cream
1 egg white
Expresso dust to garnish
Add all ingredients to a shaker and shake first without ice. Once mixed well, add ice and shake again until chilled. Strain into a chilled glass and sprinkle the espresso dust on top.
Golden Apple
This one was created by one of America's oldest distiller's – Laird's Applejack. They use their own brandy in the official version of the recipe, but you can substitute your favorite American apple brandy if you wish.
Ingredients:
1 ¼ ounce apple brandy
1 ¼ ounce dry vermouth
1 tsp Benedictine liqueur
¼ tsp absinthe
Dash of angostura bitters
Orange zest to garnish
Add all ingredients to a mixing glass with ice and stir well. Strain into a chilled glass and garnish with orange zest before serving.
Brandy Cocktail
The simple, self-explanatory name reflects a drink that is made to show off a great brandy. Any decent brandy will perform well here, with its flavors behind enhanced by a few ingredients proven to compliment a nice brandy.
Fun fact – this cocktail is upgraded to a "fancy brandy cocktail" with the addition of a lemon peel. Back in the 1800s, a bartender would skip the lemon peel if you simply ordered a "brandy cocktail." The lemon marked a fancy drink.
Ingredients:
2 ounces of your chosen brandy
½ ounce orange curacao liqueur
2 dashes aromatic bitters
2 dashes peychaud's bitters
Lemon peel to garnish
To make the drink, add the brandy, liqueur, and bitters to a shaker with ice and shake well. Strain into a chilled cocktail glass and garnish with your lemon peel. When choosing an orange liqueur for this recipe, you want to get a quality bottle to truly experience the cocktail. If the liqueur is too sweet, it'll overwhelm the other flavors in the cocktail.