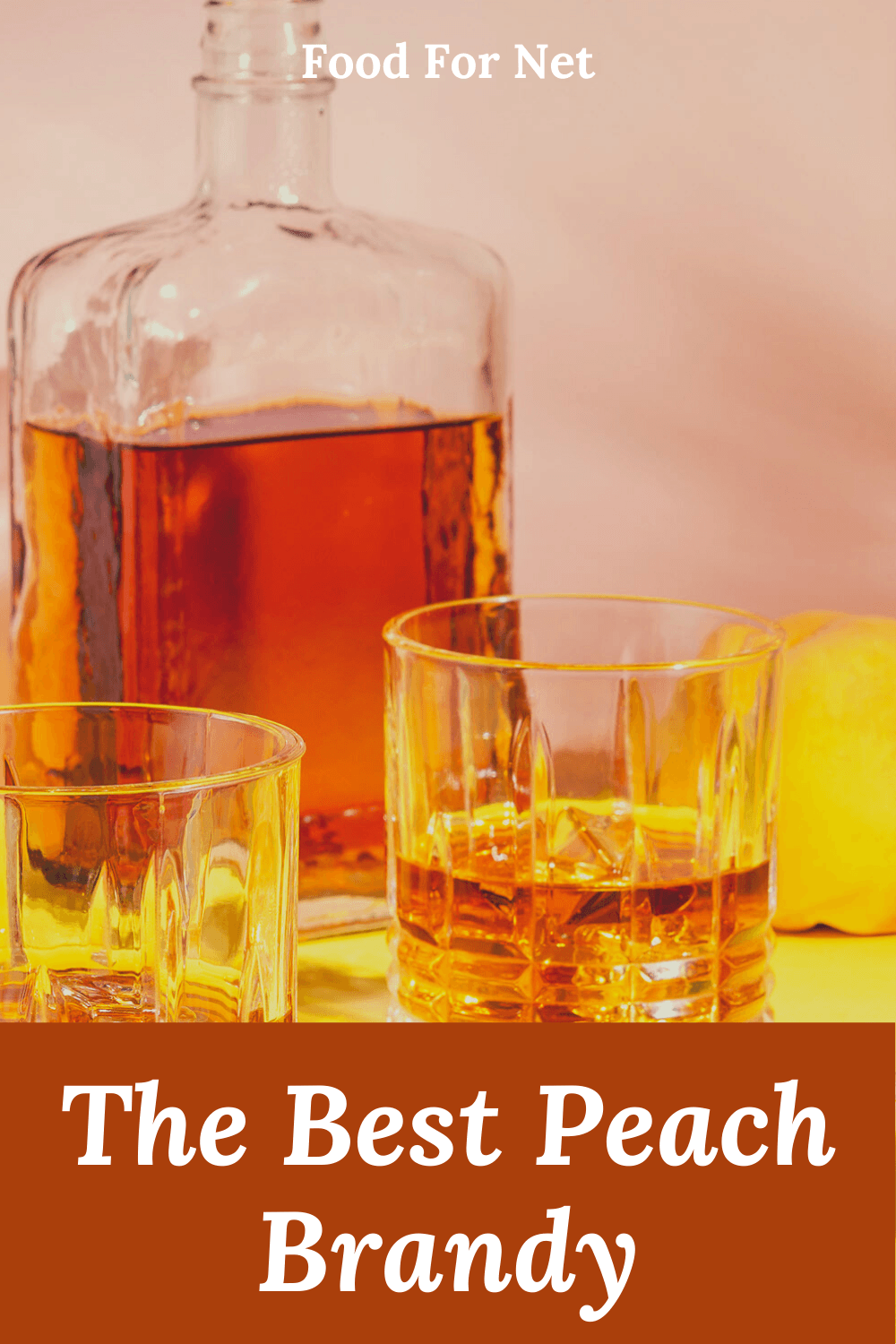 Countless fruits, herbs, spices, and more have been made into a variety of flavored spirits, but few have the long history of peach brandy. More than 200 years ago, peach orchards were being planted all across the country with the sole purpose of making peach brandy. It was such a popular endeavor that it was the selling point of many properties. An ad was placed in the Georgia Gazette in 1769, stating that the property contained an eight-acre peach orchard that would produce "a great quantity of peach brandy."
And then came prohibition. Like so many other lovely things, peach brandy was no more. Unlike other spirits, though, peach brandy didn't make such an enthusiastic comeback once prohibition was lifted. Apple brandy was popular, but the best anyone could find with peaches was a cheap grain spirit filled with flavoring – not a real peach in sight.
The best peach brandy is, without a doubt, one that is made with real peaches. Be it actually distilling the peaches or infusing natural flavors, nothing beats the real thing. Fortunately, the peach drought didn't last forever and we've started to see a comeback recently, especially as the popularity of craft distilleries is on the rise.
The Best Peach Brandy
1. Christian Brothers Peach Brandy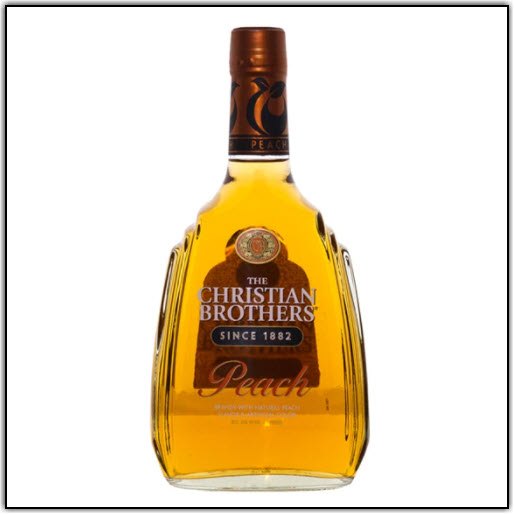 Christian Brothers' original brandy was first made in 1882 and it quickly became one of the most popular American spirits. They've taken their decades of knowledge and experience and built on this original expression to create an impressive line of full-bodied, drinkable smooth brandies to enjoy on different occasions.
The Christian Brothers Peach Brandy features their VS brandy as a base, infused with classic peach flavors. Peach is a popular flavor across many spirits and they try to honor this, carrying on the tradition while creating something unique.
The aroma here is as expected, full, fresh, and full of peaches. The palate is full-bodied, balanced, and deliciously sweet without going overboard. The finish is simple, sweet, and incredibly smooth. This spirit is easily enjoyed neat or on the rocks, in addition to doing well in many cocktails.
2. Short Hill Mountain Peach Brandy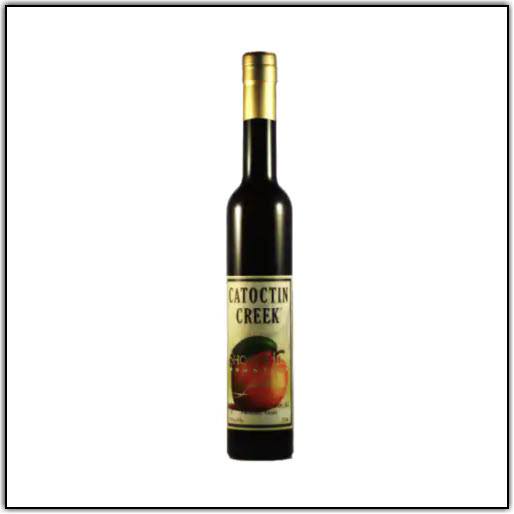 Short Hill Mountain Peach Brandy is produced by Catoctin Creek Distillery, located in the Catoctin Valley. Unlike other brands that simply infuse their brandy with the natural flavor of peaches, this spirit is made from properly distilled Loudoun peaches that are aged and then bottled once they reach peak flavor.
This creates a deep, rich profile on a brandy that pays homage to the local tradition of homemade peach brandy. The end result is often likened to "peach cobbler in a glass." It's an absolute delight to drink on its own, or it adds a wonderful touch to a premium cocktail.
The nose is bright and bursting with fresh peaches with notes of aged tobacco and honeysuckle appearing subtly in the background. The palate follows with a thick, rich mouthfeel and a delightful burst of sweet, fresh peaches with notes of fuzzy peach skin as well. The finish is smooth, well-balanced, and juicy.
3. Peach Street Distillers Peach Brandy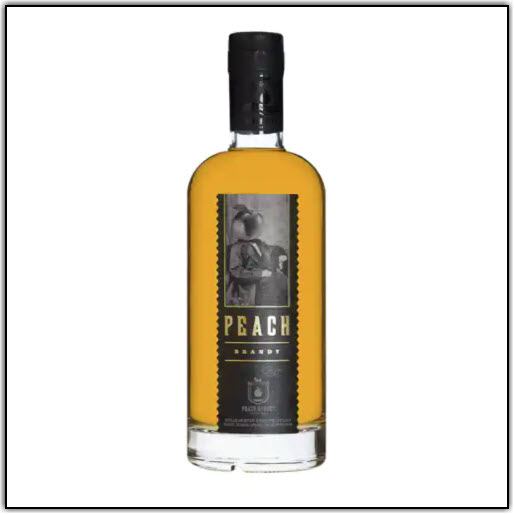 Peach Street Distillers Peach Brandy is for the true and dedicated fan of peach brandy. It's not one to take in shots or dump into any old cocktail – it's an expensive bottle but it's oh so worth it. It takes 26 entire peaches to create a single bottle of this delightful expression, and they use Palisade peaches no less – often called the best peaches on the planet.
If that wasn't enough to entice your tastebuds, this brandy is distilled and then aged very carefully. First, it spends between 6 and 12 months in French oak barrels before moving into decades-old cognac barrels for another 12 to 24 months. This imparts such deep and complex flavors that you may never want to mix this one with anything else.
On the nose, you'll find notes of lemongrass, honey, and stone fruit. The palate follows with a honey-sweet opening with notes of nutmeg and cooked peach mid-palate. The finish is smooth and lingering. It's worth noting that a quick dash of water opens up the palate quite a bit, adding notes of honeysuckle, butterscotch, and clove to the delicious array of flavors already present.
4. Cornelius Peach Applejack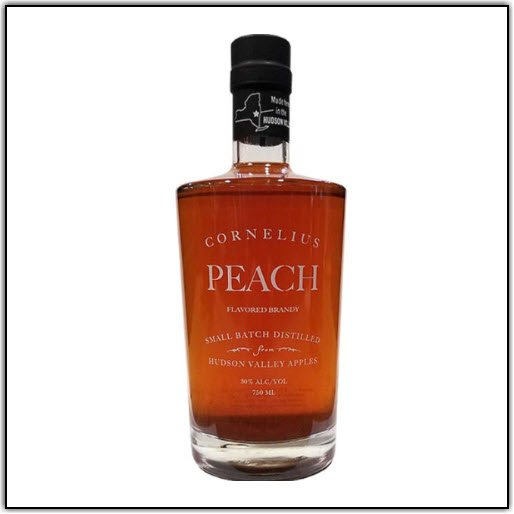 Cornelius Peach Applejack is a unique expression even among the uniqueness of flavored brandy. It begins with freshly picked peaches. The peaches are hand-pitted and left to soak in Cornelius Applejack – a delicious form of applejack that's made with just as much quality and authenticity.
Once adequately soaked, it's strained and put back into the barrel. This amazing combination of apples and peaches is distilled and then aged for a full three years and left entirely unfiltered. This lets the spirit retain all the wonderful flavors and textures of the peaches. No sugar or other additives are added – it's all peach.
This creates what is perhaps the freshest and most authentic aroma you've ever experienced. The palate follows with mellow, peachy sweetness and notes of oak and spice – a perfect balance. You may find some natural fruit sediment appears – this is totally normal and only a testament to its freshness and authenticity. This brandy is excellent served neat but also tastes divine when blended with tonic or added to a cosmo.
5. Paul Masson Grande Amber Peach Brandy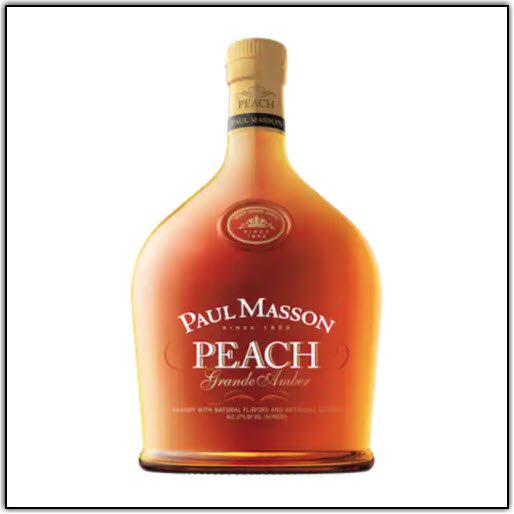 Paul Masson has been in the business of brandy for over a century. Their Grande Amber collection is crafted with all the experience and knowledge that comes with this illustrious background. Their classics include a VS and a VSOP brandy, both with unique flavors and varying levels of complexity.
From there, they've created a line of delicious flavors that use these classics as a base. In addition to their Peach Brandy, they also have red berry, mango, apple, and pineapple. The flavors are strong and focused, offering the best of each fruit.
On the nose, you'll find nothing but juicy, fresh peaches, with much of the same appearing on the palate. They recommend serving it on the rocks for the best experience or trying it with one of your favorite mixers.
Refreshing Peach Cocktails

Peach Brandy is a fantastic cocktail drink because brandy itself isn't terribly sweet by nature. So adding the fresh, bright sweetness of peach creates a nice balance and it does really well when paired with other sweet ingredients for a nice cocktail. A good summery, peachy cocktail tends to be as bright and refreshing as a peach itself.
Try one of these recipes and see for yourself just how amazing a peach brandy cocktail is.
Peach Tea
Perfect for a day by the pool or relaxing on the beach, this one comes from Paul Masson. They have, of course, created their recipes around their own spirits, but you can substitute any peach brandy you wish – or whatever you've got on hand!
Ingredients:
1 ½ parts peach brandy
½ part sherry
¼ parts fresh lemon juice
4 parts iced tea
To make this one, simply add all ingredients to a cocktail shaker with ice and shake well. Strain into a glass filled with fresh ice and garnish with a peach wedge. In addition to using different peach brandies here, you can play around with the iced tea. Regular iced tea is just fine and will create the intended flavor – but you can have fun with this, too!
For extra peach flavor, try a peach iced tea! Or you can use unsweetened iced tea if you want to tone down the sweetness. You can also try making your own iced tea to create the exact flavor you want.
Gillie Fix
This less than traditional cocktail features a list of ingredients you may have never imagined go together. But – it works! The creation comes from a Glenfiddich brand ambassador who created a sweet, tropical drink out of an unsuspecting Scotch whisky.
It's a boozy combination so make it at your own risk – but it's worth the effort. Drink it slowly and enjoy every sip!
Ingredients:
1 ½ ounces Scotch whisky
⅓ ounce aged rum
¾ ounce peach brandy
1 ounce simple syrup
1 ounce lemon juice
Lemon wheel for garnish
Instructions:
Add all ingredients to a shaker cup with ice and shake well.
Strain into an old-fashioned glass filled with crushed ice.
Garnish with your lemon wheel and enjoy!
The great thing about this cocktail is that the ingredients are proven to work well together, but there's so much room for experimentation. Good quality Scotch whiskies and aged rums are all over the place with plenty of flavor profiles. Every new combination of spirits will give you different flavor notes and nuances.
Peach brandies are a little more scarce, but you still have options. Start with your favorite renditions of each spirit and go from there. If you're at a loss, the recipe recommends Glennfiddich's single malt Scotch and a Flor de Cana rum. For the peach brandy, do your best to find one that is flavored naturally and made with a good-quality base spirit.