I've been finding that alcohol of the month clubs are a surprisingly fun way to learn more about different spirits and just expand my palate. I started out with beer of the month clubs and am now experimenting with whisky of the month clubs as well like bourbon clubs.
With this post, I'm narrowing that selection down further – to just Scotch of the month clubs. Why Scotch whisky? Well first, there are so many general clubs that lists for individual styles really are needed. Plus, Scotch whisky is increasing in popularity, with many more people trying it out.
The most obvious difference is that Scotch whisky is made in Scotland. It is also spelled as whisky not whiskey and must be aged for at least 3 years in an oak barrel. The whisky is primarily made from malted barley, although some other grains may be used as well.
As with all spirits, the flavor varies based on many factors. The age of the whisky, the manufacturer and the batch all play a role, and there are other aspects as well. But, in general, Scotch whisky very often has a smokiness that persists. That comes from the peat which is used to roast the barley. The smokiness means that Scotch whisky doesn't mix well but there are some cocktails that use it.
Not all scotches have smokey peat flavor though! Especially with Japanese Whiskys, they tend to not use peat, though they sometimes do filter through charred bamboo which can give it a unique, earthy flavor.
If you want to experiment with different types of Scotches, Flaviar has a great subscription program where you can get "tasters" of different whiskys from around the island (Highland, Lowland, Islay, peated, non-peated, etc), plus you have access to Japanese Scotch, and American bourbon. It also makes a great gift since you get to try multiple distilleries without committing to a full bottle.
For those who really want to go nuts, the Tasters Club PRO Scotch club is $184/month, and they promise to deliver rarest, fine scotch whiskys. At that price…they'd better! Scotch in general has a much higher "top end" than any other type of spirit, so the price of these clubs really span the spectrum.
The clubs on this list specialize in Scotch whisky, so you'll receive Scotch every time. I've also included some other options, such as gift boxes and baskets. These can also be good ways to get your whisky and could be gifts to someone else or to yourself.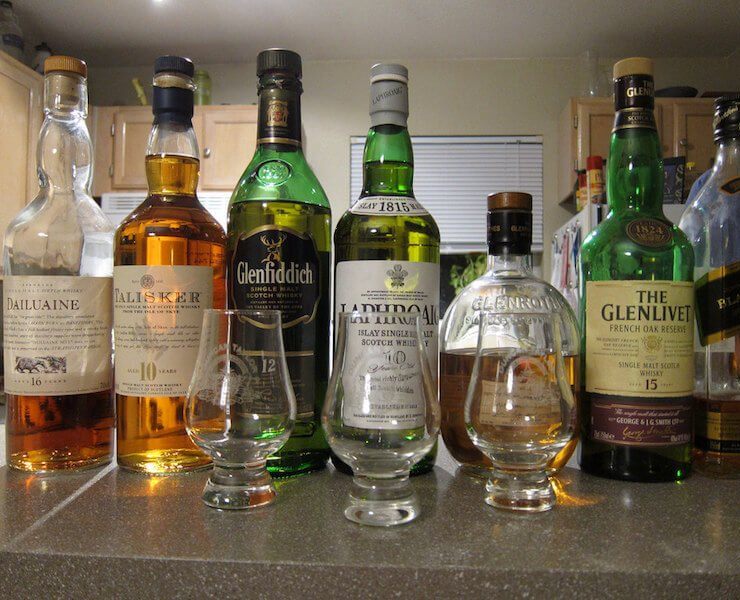 Scotch Of The Month Clubs
Open Ended Scotch of the Month Clubs

Mash & Grape
Pour More
Taster's Club
Blackwell's Wines & Spirits
The Scotch Malt Whisky Society
For Whiskey Lovers
Wine Globe
Aries Fine Wine & Spirits
Clubs Galore

Set Period Scotch Clubs

Spirited Gifts
Mel & Rose
1-877 Spirits
Send Liquor

Crates and Boxes

Spirited Gifts
The Bro Basket
Pompeii Gift Baskets
Master of Malt – Tasting Sets
Build a Basket
Mel & Rose
***Did you know?*** Flaviar has mini "taster kits" for many types of spirits including scotch, bourbon, tequila, gin, brandy, and more. Get 3 vials of your favorite spirits to try, plus free shipping. Then, get access to exclusive bottles and tastings of hard-to-find spirits at Flaviar.com.
General Scotch of the Month Clubs
Mash & Grape
Mash & Grape offers a Scotch Explorer Club, which starts at $89 per month. Each shipment contains a hand-selected single malt Scotch whisky, along with tasting notes and information about the whisky. The exact whisky you get will vary but the company does focus on independent bottlers and smaller distillers. This should give you access to some more unusual selections.
The club also offers some other bonuses too. One is first access to new products and the other is a concierge service, which can help you find specific items. Both are useful if you tend to buy high-quality whisky for your collection. Even if you don't, the club itself is worth trying.
Pour More
Pour More is a good company if you like having options. Instead of just one Scotch of the Month club, they have three! The clubs each give you a single 750ml bottle of Scotch each month, along with information on the production technique and history of the whisky.
The three options are Scotch Explorer ($89 per month), Scotch Enthusiast ($149 per month) and Scotch Connoisseur ($239 per month). The more expensive options focus on providing special and more refined whiskeys. These are perfect for people who strongly care about quality and like the style of monthly clubs.
Taster's Club
Taster's Club is another one with multiple Scotch of the Month clubs. The first of these is a basic club, which costs $79 per month. It offers a 750ml bottle from one of the famous whisky regions in Scotland. Members are also signed up for a Whisky101 course, which offers information and insight about whisky.
The second club is their Scotch Pro, which currently costs $184 per month. Once again, the club offers more unusual bottles of whisky and ones that are difficult to find. Members of this club become part of Whisky101 too, although they get more updates.
The Whisky101 aspect is useful because the information isn't just about the bottles you're receiving. Instead, you get other knowledge too. This includes details about whisky styles and production techniques, as well as how to taste and evaluate whisky. This is perfect for beginners and most clubs provide much less information.
Blackwell's Wines & Spirits
The club from Blackwell's Wines & Spirits is a little unusual as the company announces the monthly spirit first, typically a week or two in advance. There is also the option to skip months. This lets you skip any whisky choices that don't seem appealing. Of course, this means there's no surprise either, which may make the club less enjoyable.
The price for the club also changes based on the whisky. The company estimates that it should always be under $100 – but you may pay more some months and less other times.
For budgeting, the style is frustrating. Still, it means that you're paying roughly what the whisky is worth. With other clubs, you will sometimes be paying significantly more than that bottle would cost you somewhere else.
The Scotch Malt Whisky Society
Unlike most companies on this list, The Scotch Malt Whisky Society is a little exclusive. The society itself is an international club that hopes to promote discovery and education among Scotch whisky lovers. Members have various bonuses, including a magazine subscription and the ability to purchase exclusive whiskys. Membership costs $99 for the first year and $70 subsequently.
That cost may sound low – but it's just for membership, not for their Bottle of the Month club. You need to be a society member to join the monthly club and the price isn't specified on the site. Members of the club receive a bottle of 'Amanda's Selection' each month, along with a free bottle after 12 months.
If the society sounds interesting to you, then it may be worth looking into the club. If not, there is no shortage of other options.
For Whiskey Lovers
The club that For Whiskey Lovers offers is a little different. This time, it is a World Malts Club and doesn't exclusively offer Scotch whisky. If you pay month-to-month, the cost is $79.95 and you get a bottle of malt whisky every month. You can also buy a quarterly or annual subscription. Those cost less per month and send you 3 bottles every quarter.
The club is still focused on Scotch whisky drinkers, offering the chance to try similar types of whisky from other parts of the world. If nothing else, the club has more variety than most and is certainly interesting.
Wine Globe
The company Wine Globe seems legitimate and they sell many different types of spirits online, along with a selection of wines. They also offer a Scotch Tasting Club, which costs $80 per month. With this, you get a bottle per month, along with tasting notes.
That's all the information the company offers. It's not clear how the Scotch is chosen or what you can expect. I couldn't find any reviews of the club itself, so there's no way to know whether it is any good.
Aries Fine Wine & Spirits
The Beginner Scotch Whisky of the Month club from Aries costs $79.99 if you pay month-to-month, which is similar to other clubs. The price per month decreases if you pay for longer periods, like 6 months or a year.
The club offers a tasting glass and tasting journal when you initially sign up (which is cool!). On a monthly basis, you get a full-sized bottle of whisky, along with information about it and tasting notes.
As clubs go, this one isn't awful and you're getting a decent amount for your money. Even so, there isn't all that much detail on the website and it is a fairly basic WordPress site. With so many clubs out there, why take the risk?
Clubs Galore
One of the many options that Clubs Galore offers is a Scotch of the Month Club. This has a minimum period of 3 months and costs $94.99 per month. As usual, you get a 750ml bottle each month for that price. The club is relatively expensive compared to some of the other clubs but that could just mean you're getting better whisky.
Even so, the company itself isn't encouraging. Part of this is just that they focus on clubs. It's normally better to choose a company that at least emphasizes alcohol. After all, you want to be getting good whisky for your money. Clubs Galore also doesn't do well in reviews. This could make it an unreliable choice.

Set Period Clubs
These Scotch of the month clubs have a specific duration. Once that's finished, you would have to re-subscribe. In most cases, they are designed as gifts, although you could easily buy them for yourself too.
Spirited Gifts
Spirited Gifts offers two main choices if you want a Scotch club. The first is their Scotch Lovers Club, which costs $399 for 3 months. The other is their Scotch Single Malt Club, which costs $409 for 3 months. In both cases, you're just getting a 750ml bottle of Scotch whisky each month. This means you're not getting tasting notes or any extra information.
There is no option to extend the membership either. Even so, Spirited Gifts is a reliable company. If you like the style, it's not a bad one to rely on.
Mel & Rose
Mel & Rose follows a similar style with their 6-month Scotch Lovers Club. In this case, the total price is $650 and you receive gift wrapped bottles. Exactly which bottles you get are a surprise but the company states that they include brands like Johnnie Walker. This suggests that you're not getting unusual whiskys.
I think this membership would make a powerful gift. It could also be a way to restock your bar. But, it isn't perfect if you want to broaden your horizons.
1-877 Spirits
1-877 Spirits has a 3-month Scotch Lovers Club that costs $229. This one really is best as a gift – because the company specifies which whiskys you get in the listing. The Scotch for the first month is Johnnie Walker Black Label and you then get Dewar's 12 Year Old followed by Chivas Regal 12 year old.
Send Liquor
Send Liquor is on the questionable side of things. The website looks like it was designed 20 ago and it may well have been. Online reviews also suggest that it may be unreliable, with some people getting orders late or not at all.
The one reason you may want to use the site anyway is their selection. There are 3 different Scotch of the Month clubs to choose from based on the age of whisky. The options are 10-15 years, 18-21 years or 25-35 years. These are pre-paid only, with the shortest option being 3 months and the lowest price being $290.70. So, they're not cheap clubs. But, if you want quality whisky, Send Liquor could be an option.

Crates and Boxes
Spirited Gifts
For alcoholic baskets and boxes – it's hard to go past Spirited Gifts. Most of their Scotch whisky baskets offer a single full-size bottle of whisky, along with at least 6 snacks. Common snacks include chocolate, nuts, pretzels and truffles.
The baskets are premade but tend to feature different whiskys. This lets you choose based on which whisky you want to gift. As with most baskets, you're not getting extremely uncommon brands – but there are still decent ones in the mix.
The Bro Basket
Gifts from The Bro Basket tend to have much more variation and there are some premade Scotch whisky options. With these you're often getting more than just snacks.
For example, the Junior Executive box includes whisky stones, a cigar, Ghirardelli chocolate and Johnny Walker Black Label Scotch. On the other hand, The Scotch Collection has miniature bottles of Scotch, along with bar-style snacks.
The site also lets you build your own or customize other gifts. So, you could pick a different gift and change the alcohol to be Scotch.
Pompeii Gift Baskets
Pompeii Gift Baskets doesn't have a wide selection of Scotch whisky gifts but they do have some. The option I particularly like is Man Cave Essentials, which is a Scotch and beer gift basket. This would be a fun gift for many people or just for yourself.
Master of Malt – Tasting Sets
The products from Master of Malt are actually tasting sets. These give you the chance to try small amounts of whiskys that you would never normally buy. One example is their Regions of Scotland Set, which contains whiskys from 10 to 16 years old.
For the amount you get, these tasting kits aren't cheap. Even so, they're perfect for experimenting. They're typically much less expensive than buying even one full bottle of the samples included.
Build a Basket
Build a Basket may not focus on alcohol gifts but that doesn't make them a bad choice. The company has many whisky-based gifts to choose from, some of which contain Scotch whisky. One fun example is Dewar's Aberfeldy Single Malt Scotch Gift Case, which offers Scotch whisky, ice balls, glassware, peanuts and pecans.
Mel & Rose
Mel & Rose isn't all about alcohol either but they do have an extensive selection of gift baskets. Unfortunately, these are just grouped as spirits baskets and there is more than 150 of them to go through. In that mix are some interesting Scotch whisky baskets, such as the Single Malt Lovers Dream.