Lagavulin recently (2016) celebrated its 200-year anniversary since the distillery first opened in 1816. To celebrate they released an anniversary edition of their highly popular whisky, the Lagavulin 8 which is still in circulation today from both whisky retailers and exchanges.
You may be wondering, why a distillery would be creating an 8-year-old scotch when most others believe whisky tastes better at 10 or 12 years – but there is an intriguing and interesting answer to this.
Read on to find out why and also everything else you need to know in this Lagavulin 8 review.
Lagavulin 8 Review
About the Lagavulin Distillery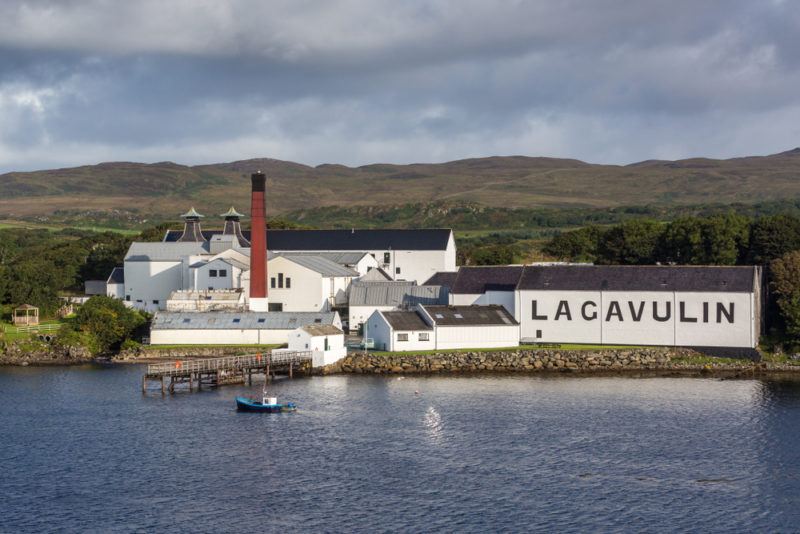 Before we delve into the history of Lagavulin, first let's talk about location and provide you with a little bit of a whisky fact. Lagavulin is an Islay scotch and the distillery is, of course, situated on Islay island, an island famous for its peated whiskies. But, Lagavulin also sits on southern Islay alongside distilleries like Laphroaig and Ardbeg.
The south of Islay is notorious for its highly peated whiskies and full smoky flavors so if you are intending to seek out heavily peated whiskies, your best bet is the south Islay distilleries.
Other distilleries in the region like Bowmore, Caol Ila, and Bunnahabhain still produce peaty whiskies but because the grain smoking occurs mainly on the south of the island, they tend to not be as smoky as their Islay counterparts.
Now onto the Lagavulin distillery itself, which has official records dating back to 1816 but has a bit of history that predates this. That history pertains to illegal distillation on the Lagavulin site as far back as the 1700s which due to the nature of the activities isn't considered 'official' Lagavulin activity.
In 1816, John Johnston set up the Lagavulin distillery local to another new distillery that would go on to tremendous fame: Laphroaig. Another second distillery was also built on the same site by Archibald Campbell Brooks (although this wasn't Lagavulin at the time).
In 1825, the second distillery was acquired by the Johnston family (the same family as the Laphroaig Johnstons) and the production of the second distillery was operated separately.

In 1836, John Johnston died and the Lagavulin distilleries were purchased by Alexander Graham who merges both and operates them as one from that point on.
Interestingly, it is not known which of the distilleries was the original Lagavulin one and which was the one that was incorporated and it isn't really clear why they were operated separately before this point by Johnston (who even stopped production in one for several years).
From that point, Lagavulin did reasonably well but wasn't considered to be as successful as other Islay distilleries. Towards the end of the 1800s, the distillery was taken over by Sir Peter Mackie who went on to found and create his own whisky White Horse which is a blend of Lagavulin and others.
Here the story gets complicated as depending on the source you will get a very different story. But for one reason or another, Mackie wanted to put an end to Laphroaig and stop production there as well as steal their product. In other words, he wanted Laphroaig's whisky under the Lagavulin name, and he wanted Laphroaig out of the picture entirely so that they couldn't compete with Lagavulin.
To do this, he stole production methods, blocked water access to the Laphroaig distillery, and went as far as to try and shut down their access to external markets. All of this resulted in a bitter legal battle between Lagavulin and Laphroaig that caused a hell of a lot of difficulty for Laphroaig financially.
Fortunately for Laphroaig, they had a completely bespoke product because they had their own peat fields, unique water composition, and Lagavulin couldn't replicate it no matter how hard they tried.
To modern whisky drinkers, this is all ancient history, but to whisky purists, Lagavulin is still considered a dirty word because of this. As a result, Laphroaig has been cemented as the superior brand because Lagavulin went to such extremes to copy them.
Lagavulin 8 Review

But that is all water under the bridge, what about the Lagavulin 8? Is it any good?
First, let's answer the question of why 8 years old rather than a more aged whisky? The reason is tied up in whisky history. Alfred Barnard, a world-renowned whisky historian and writer, wrote in his 1887 book The Whisky Distilleries of the United Kingdom that he enjoyed an 8-year-old Lagavulin on his tour. His exact words were that the 8-year-old Lagavulin was "exceptionally fine".
Of course, the limited edition Lagavulin 8 that is on the market with an estimated 80,000 bottles available is going to be very different from the 8-year-old mentioned in the book, but Lagavulin has stated they have tried to recreate it.
Because of the limited edition status, respectable price, and gift box packaging (which includes the handwritten statement from Alfred Barnard in the lid), the Lagavulin 8 is often gifted by those wishing to be a bit more generous (and interesting) than opting for the standard gift whiskies like Chivas Regal.
Tasting Notes

Appearance-wise, you will notice that the whisky is very pale and straw-like in color, something that is a tell-tale sign that it hasn't been aged for a very long time. It is also artificially colored (with sugar caramel) which sometimes creeps into younger whiskies to make them look more aged, and despite this it still looks pale.
This poor coloring is indicative of a second fill or a refill process because even at 8 years, the cask should have imparted much more character on the whisky.
A big alcohol initial burst
Lingering smokiness on the finish
Simple whisky with a fairly one-dimensional peaty body
Flavors: Smoky peat, faint sugar-sweetness, barley, smoked kipper, dry bitter spices.
On the nose, a light smokiness that is to be expected from Lagavulin, but this is an early alarm bell as the smokiness shouldn't be lighter than its older counterparts. This is because the smoky quality should diminish over time, not intensify in the barrel. Older Lagavulins have a much more distinctive smoky quality.

The smoke subsides fairly quickly and then there is a citrus and light seaside smell. The whole nose is reminiscent of a bonfire on the beach. The longer it sits in the glass the more the citrus sharp notes develop alongside a malty quality.
To taste it is a strong alcoholic burst which is unusual for Lagavulin but specially designed for the 8-year-old as it sits at 48% ABV as opposed to the 43% that is typical. The smokiness persists with the ethanol taste and in terms of other flavor notes, there is nothing particularly to write about.
It isn't a complex whisky and is very counter-culture for Lagavulin and scotch in general, with very little cask influence and no woody notes and a sharp smoky peaty flavor that showcases the Lagavulin peat smoking process and probably is the closest they could get to meeting Barnard's description.
It is for this reason they probably chose lighter casks such as refill casks, to make sure the limited edition was in keeping with the tradition.
Diluting the whisky allows for a much more rounded drinking experience with added fruit and spice flavors detected – but don't expect miracles, it isn't going to shine however you enjoy it. It is just better when poured over ice.
Pros and Cons of Lagavulin 8

Lagavulin 8 is a hugely interesting whisky with a lot of story behind it. Sometimes the origins of the story can be a little difficult to grasp but that only adds to its mystery and intrigue.
Lagavulin 8 seems to characterize everything that is good and bad about Lagavulin in a bottle and what better way to do it than a limited run anniversary edition.
Pros of Lagavulin 8
It makes a good gift at an honest price point.
It will one day be worth a lot more money.
It has tried to remain faithful to the vision for the whisky and clearly has had a lot of thought put into its production process.
Cons of Lagavulin 8
It is not enjoyable to drink and the Lagavulin 16 makes the 8 look like an amateur whisky.
It won't win fans for Lagavulin and might put people off the distillery.
It has been aged for 8 years but looks weak and has no cask flavors (likely where it has been stored in underdeveloped refill casks).
You Might Also Like…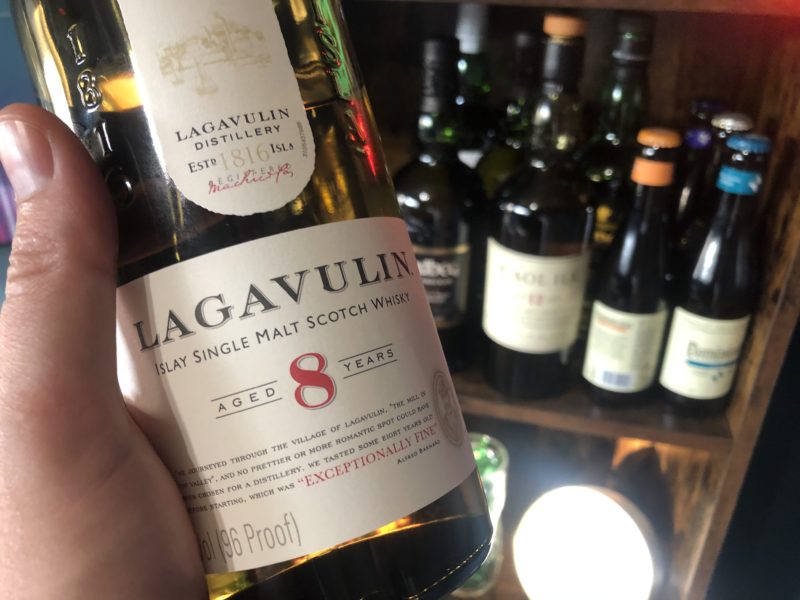 Lagavulin 8 is a limited run, anniversary whisky with very little time spent in the cask and as a result of this, there aren't too many whiskies that are going to be even remotely similar. In fact, Lagavulin 8 is as atypical a whisky as you can get.
The enjoyment for those that want to buy and drink Lagavulin 8 will undoubtedly come from the raw peated smoky flavors and the high alcohol content.
The whiskies that are closest (although still very different) are;
Laphroaig 10 – A big peaty smoky hit with less alcohol but still has the same basic flavor component.
Caol Ila 15 – A limited run distillers edition that shares the same cask character as Lagavulin 8 because it has been aged in refill casks. Caol Ila is unpeated though, so expect a different tasting whisky.
Lagavulin 16 – Lastly, the Lagavulin 16 is the whisky you should try to get a real sense about the capabilities of Lagavulin. At a similar (if not slightly cheaper) price, you would be mad to buy the Lagavulin 8 if you wanted to find an enjoyable drink over the Lagavulin 16.
The Lagavulin 8 Verdict

Lagavulin 8 is a different whisky drinking experience that isn't really a good whisky drinking experience. It has tried to remain faithful to a taste that was noted in a subjective manner over 100 years ago and as a result the final product is a bit lost and misguided.
That isn't to say that it hasn't been carefully crafted as it seems that Lagavulin has really pulled out the stops to try and replicate the old flavors. The problem is that to a modern palate, these flavors are too basic and too light to really be considered a good whisky.
In terms of buying Lagavulin 8, it might serve you well to do so and put it in the cellar for a few decades and see how much the bottle appreciates in value. A great investment opportunity it might well be but a great drink it is not. It will also be a good story to tell the grandkids about when you dig it out, years down the line.