The Ardbeg Corryvreckan heads up the Ardbeg range as the highest price of their core offering. It is an uncolored, non-chill-filtered whisky much like the Ardbeg 10 and it is considered the premium whisky choice for Ardbeg fans. The Ardbeg Corryvreckan gets its name from a whirlpool that lies north-west of the Ardbeg distillery on Islay and is another Ardbeg without a maturation age on it (something we will get to in a bit).
It is an award-winning whisky that has picked up many accolades in recent years, and it also has a lot of expectation to live up to, especially as the other Ardbeg whiskies are good as well! This Ardbeg Corryvreckan review will go into all of that and much more.
About the Ardbeg Distillery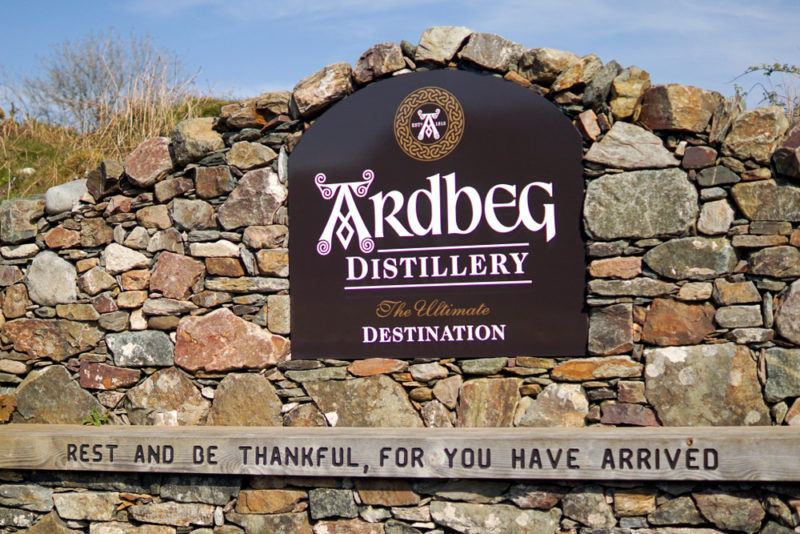 Ardbeg has a mixed history that you can read about in full in our Ardbeg 10 review. Beyond the history, it also finds itself in a very challenging and unpleasant situation today. Something that often gets overlooked among whisky drinkers, but actually greatly affects the produce coming out of Ardbeg. So, what are these challenges?
Well, you may have noticed that the Ardbeg 10 is the only frontline whisky produced by Ardbeg with a maturation age on it. This is because Ardbeg ceased trading in 1981 and only resumed production in the mid-late 90s. With that in mind, there is a finite limit on the age of any of the whisky in the barrels at Ardbeg.
Some have speculated that Ardbeg uses much older stock to top up reserves from before the distillery eased trading – but this stock is largely considered inferior because of the cheap production practices in force at the time.
Regardless, most Ardbeg has very obscure aging because they simply haven't been around long enough to store whisky for great lengths of time. This would be fine in the grand scheme of things if Ardbeg wasn't selling too much whisky, but that isn't the case.
In fact, Ardbeg struggles to meet demand every year around Christmas time, and it is fair to say they are operating close to their production limit. Which again means that any whisky that might be surplus and stored, isn't.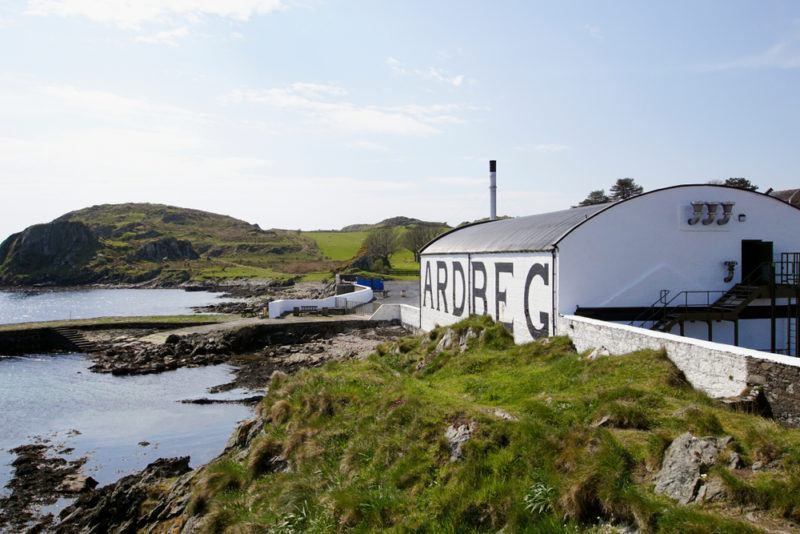 This way of using whisky as and when they have it means that the consistency across Ardbeg years is rocky and an Ardbeg Corryvreckan from one year might be fantastic but another from a different batch might not be so good. Ardbeg doesn't have the luxury of plenty of whisky stock to make the best whisky all of the time. Instead, they make the best whisky they can possibly make with what they have available.
Luckily, the distillers at Ardbeg have a very keen taste-sense and know what to identify and showcase in their whiskies so the whisky overwhelmingly is middling to good. Occasionally, they even have great years and win awards. You will notice that award years tend to be far and few between though and Ardbeg rarely (if ever) win an award three years in a row because the quality tapers off as reserves are used up.
Lastly, Ardbeg sits next to Lagavulin and Laphroaig, two monumentally successful distilleries that have long-established brands and reserves. Ardbeg naturally must compete with these two companies and ensure that their whisky is on par at the least with the whisky being produced by their neighbors. All of this means that Ardbeg as a distillery is under constant pressure to perform with fewer resources than their rivals and sometimes this pressure shows in the whisky – especially when quality drops a little.
Ardbeg Corryvreckan Review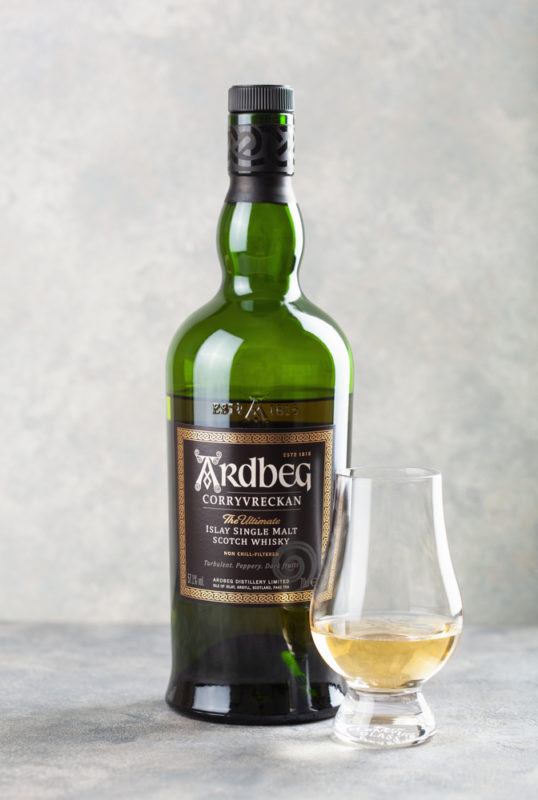 After discussing the challenges, it brings us onto the Ardbeg Corryvreckan specifically as we simply don't know how old it is. It could be around 10 years old like the Ardbeg 10 or it could be a very young whisky with a maturation age of 3 to 4 years.
On top of the age dilemma, Ardbeg doesn't disclose any information about the qualities of the whiskies at different ages that they produce so it becomes a complete guess as to how much value for money you're truly getting.
Fans dismiss this and say – well it tastes good, so what does it matter, but they miss the point that a good tasting whisky at 10 years old is not as valuable as a good tasting whisky at 25 years old. An example of this is that some whiskies at 10 years old taste better than whiskies at 25 years old, but the price of the 10-year-old will always be less.
With Ardbeg, you get no such assurance and in fact, the Ardbeg 10 which we can assume is at least equally as old as the other two whiskies in the core offering, is the cheapest. So, we are left with two whiskies that are most likely (much) younger at much higher price points – because Ardbeg said so. This kind of pricing is in part a representation of the challenges Ardbeg faces, but let's not get it twisted, it is also greed, with the preference being short-term profit margins over long-term brand development.
Why store a whisky for an extra 8 years at cost when you're Ardbeg and can sell a whisky for the same price as a 16 year Lagavulin and only put it in the cask for 10 years (or likely much less)?
In this respect, Ardbeg Corryvreckan represents everything that is wrong with Ardbeg and it definitely detracts from the product and the satisfaction of the customer.
Enough of the frustration, let's see how Ardbeg Corryvreckan tastes.
Tasting Notes

Batches from 2017/2018 are considered the best Ardbeg Corryvreckans and if you look for batch number L17 or L18 in the bottom right-hand side of the bottle you will no doubt be in for a treat. Other batches are of differing qualities, with most being good but some being weaker than others.
Color-wise, it is similar to Ardbeg 10 and is a pale golden straw color. Like the Ardbeg 10, it is uncolored.
Deep smokiness with sherry fruitiness
Sweeter than you might expect
Strong alcohol but smooth finish
Flavors: Spices, anise, mince pies, smoked cheese, fruit cake, chili pepper
On the nose, intense smokiness with a burning alcohol smell. Supplementary aromas are different from the Ardbeg Uigeadail and there is a much more bitter, rich, and tannin quality to the Ardbeg Corryvreckan. Bittersweet smells like dark chocolate, pitch tar, and deep fruitiness. It also has a woodland earthy quality that is complemented by the oakiness from the French casks it has been matured in.
Like the Ardbeg Uigeadail, the Ardbeg Corryvreckan should be diluted, but unlike the Ardbeg Uigeadail, diluting doesn't add cloudiness to the whisky. Diluting the whisky to around 50% ABV gets the best flavor profile.
To taste, the Ardbeg Corryvreckan is forthright spicy with an intense burst of flavors. The smokiness only serves to really kick off the spiciness and as those spices linger and the fruit flavors build, there is a distinctive taste reminiscent of spiced fruitcakes and mince pies.
Depending on the batch there are coffee notes, but some don't have this feature prominently. The finish is long and pleasant.
Overall, the flavor is extremely intense.
Pros and Cons of Ardbeg Corryvreckan
As you may have guessed, the Ardbeg Corryvreckan has some really big positives and some not so good elements. Here they are:
Pros of Ardbeg Corryvreckan
It is like a flavor explosion and has plenty of kick.
Award-winning whisky with a lot of character.
Spicy and fiery, this is an unforgettable dram.
Cons of Ardbeg Corryvreckan
This is without question an inflated price point from Ardbeg.
This can't be enjoyed regularly and should be for special occasions because the flavor would be overwhelming on a regular basis. Definitely not a daily dram.
Some years are poorer than others and the flavors are different between batches, so if you like a 2013, you may not like a 2014.
You Might Also Like…
There aren't many whiskies that are similar to the Ardbeg Corryvreckan, which means finding whiskies that you may like will be a bit of trial and error. Other Ardbeg whiskies carry the same core peatiness but all have very different characters.
Beyond that, Laphroaig is your best bet for those powerful and flavorsome bursts with a smoky base.
Laphroaig 10 – A big relentless punch of smoky whisky goodness that is every bit as intense as Ardbeg Corryvreckan with a much friendlier price point. Not as complex, but a very good cheap alternative.
Laphroaig Lore – A more complex Laphroaig that has as much character as the Ardbeg Corryvreckan and dare we say, tastes better too.
Ardbeg Corryvreckan Verdict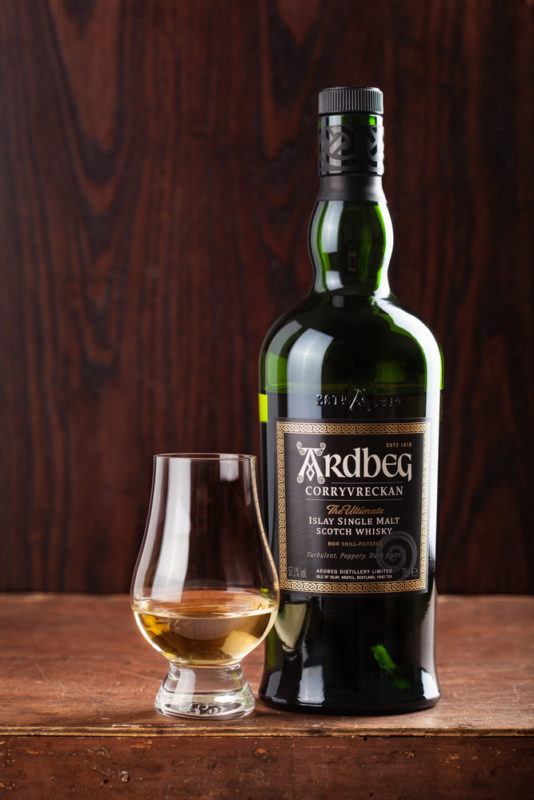 It is hard to argue with Ardbeg, the Ardbeg Corryvreckan is a full flavor dram that really hits the spot and then some. A great whisky to bring out for special occasions like dinner parties and introduce your whisky drinking friends to something quite different.
It is not as enjoyable as often as the Ardbeg Uigeadail and the price is frankly a bit insulting for what it is. Until Ardbeg start being transparent with their maturation age, they will never convince us that anything without an age isn't just a 3 to 4-year-old scotch that is grossly over-priced. After all, if you can sell a whisky that has been aged for 3 years (with less expenditure) at the price of a 15 year why on earth wouldn't you?
Ardbeg Corryvreckan is therefore a good whisky that is overpriced and with that in mind, it is a little hard to recommend it. Because it doesn't taste as good as its price suggests it should either.