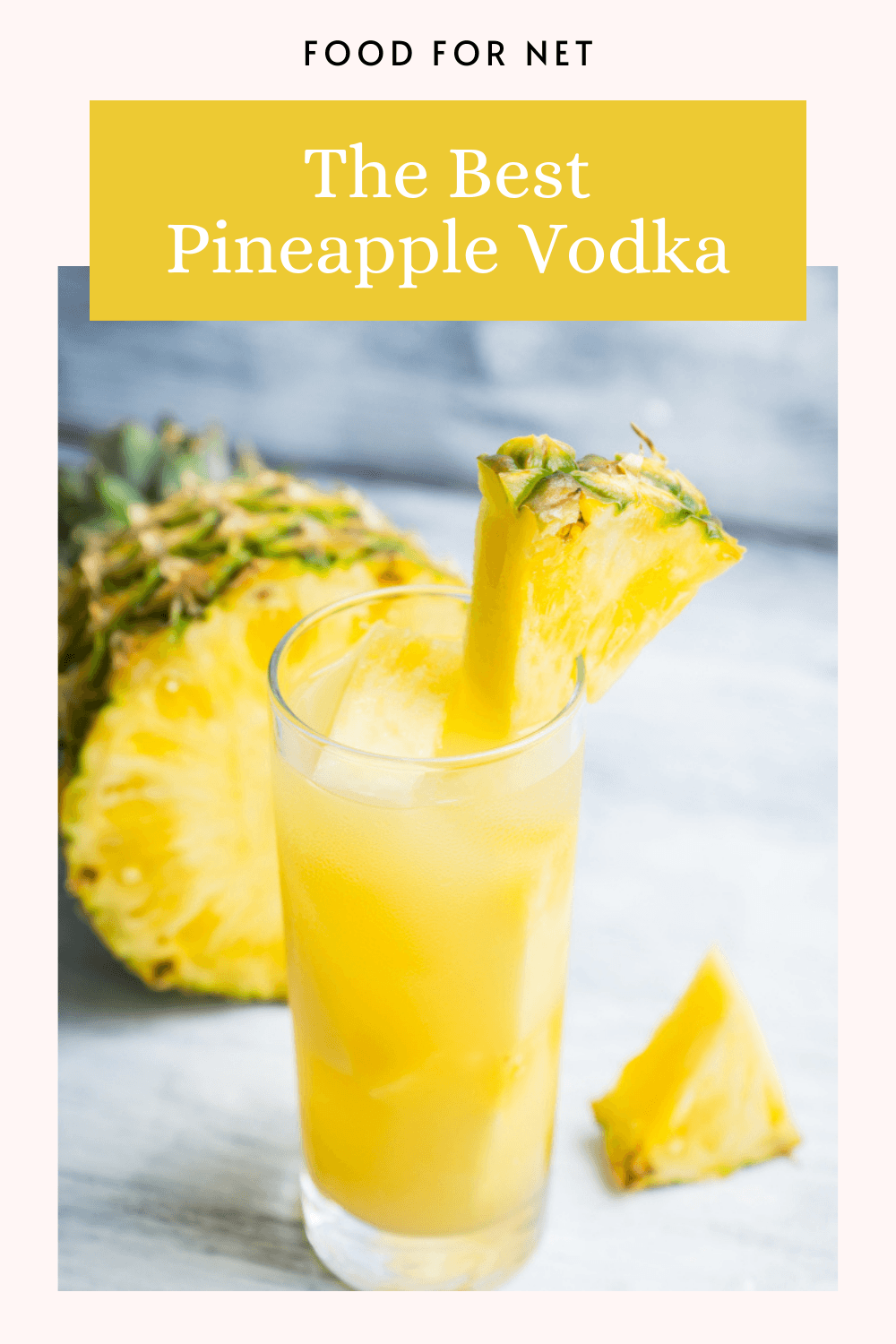 The pineapple is perhaps one of the most iconic symbols of the beach, the ocean, and tropical island getaways. This is because of where the fruit naturally grows and its bright, summery color and strong, sweet, delicious flavor. It's a flavor that goes with so many things and has become so strongly associated with the sun, water, and vacation.
It's no surprise, then, that the pineapple flavor is also so central to many tropical dishes, desserts, and drinks. Whether alcoholic or not, you can't go to the beach without seeing pineapple-flavored something.
The best pineapple vodka is one that's made with real, fresh pineapples and is ready for mixing. While you may want to sip your pineapple vodka chilled or on the rocks, what it's really made for are sweet and vibrant tropical cocktails. You want a vodka that's sweet but balanced and not overwhelming. Bonus points if there are some other tropical aromas and flavors woven in there, too – coconut is a popular pairing! You may even find some cocktails that combine pineapple vodka with coconut rum.

The Best Pineapple Vodka
1. Smirnoff Pineapple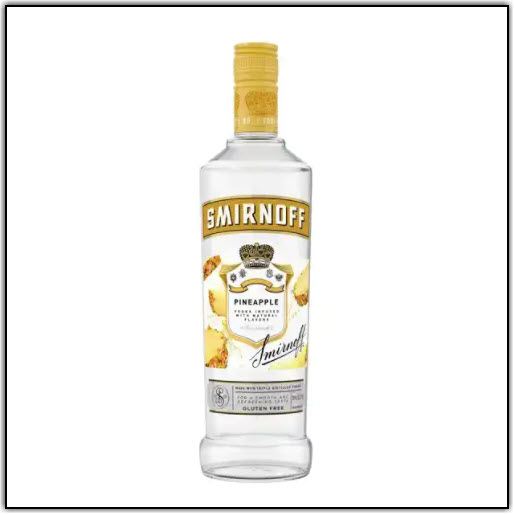 Smirnoff Pineapple is one of many incredible flavored vodkas from Smirnoff, perfect for taking shots, drinking on the rocks, and most importantly – making incredible cocktails. This one is triple-distilled for wonderful smoothness and bottled at 70 proof. It was made to be smooth enough to sip neat or if you want a quick mixer, lime and orange juice work well and are easy to throw in.
It also goes well with a splash of lemonade and pineapple juice for an intense tropical experience. The vodka is infused with natural pineapple flavors for an authentic taste and proper island vibes.
The drink itself is a rich golden color and the aroma is intense with sweet and sour pineapple notes. The palate follows with a bright and natural pineapple flavor that is well-balanced and ready to be made into tropical, beachy, summer-inspired cocktails. The mouthfeel is rich and creamy and even when sipped neat it doesn't taste much of alcohol or have much of a burn.
2. Van Gogh Pineapple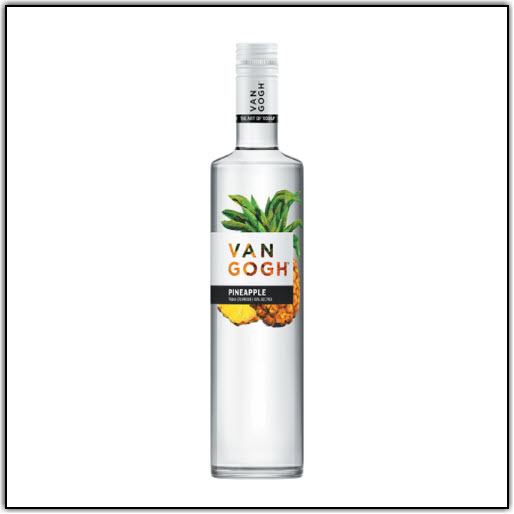 Van Gogh Pineapple is carefully and expertly crafted in small batches to ensure its premium quality remains consistent. It's made from only the best, freshest, juiciest, and tastiest tropical pineapples that, when distilled, produce an enticing, tropical profile of irresistible aromas and flavors. The company is run by a family who has been distilling for many generations and to date has produced a large, impressive, and trusted portfolio.
Van Gogh created this vodka to be drinkable straight, in a cocktail, or even mixed with their other fine vodkas for a variety of unique flavors. While there are many options, this one really shines in a tropical martini.
The profile is rich and full with aromas of apples, butter, and sour grape in addition to the strong and inviting notes of pineapple. The palate follows with similar flavors along with some nuts and butterscotch in the background. The drink is smooth and has some warmness on the finish.
3. Ciroc Pineapple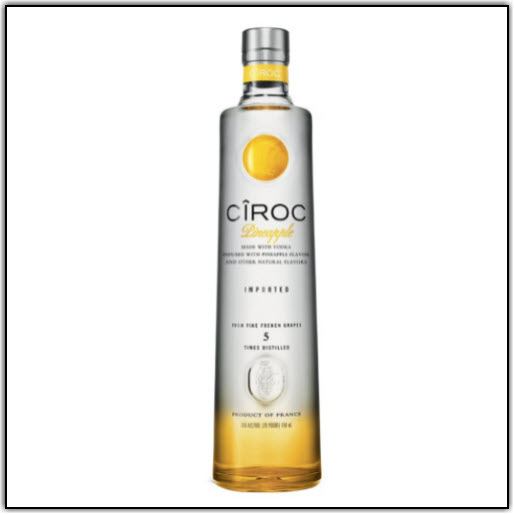 Ciroc Pineapple is a super-premium pineapple vodka that stands out from the crowd just a little with its hint of vanilla infusion as well. Ciroc vodka is distilled from ugni blanc ad mauzac blanc grapes that work together to create impeccable smoothness and freshness. Ciroc made some waves with this as they were the first mass-produced vodka to be made with grapes, but it worked out well and it's now among the most popular vodkas.
The grapes are cold-fermented and five times distilled before the drink is carefully infused with sweet, fresh pineapple and a small amount of other tropical fruits. It's lovely when served chilled or with a splash of orange juice if you want a simple, refreshing drink on a hot summer evening.
The aroma is rich with freshly cut pineapple and a subtle medley of other tropical fruits. The palate is filled with notes of juicy pineapple and soft vanilla undertones that lead into a silky smooth finish.
4. Skyy Infusions Pineapple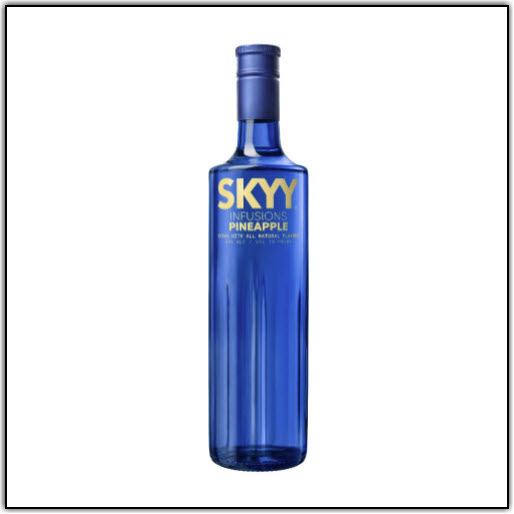 While there are many great pineapple vodkas on the market, Skyy Infusions Pineapple is often regarded as the pineapple vodka. Many see it as the best option and treat it as their go-to every time. Their original vodka is delicious and has won awards, so the infusion of real pineapple flavor only serves to make it better.
The company was founded in 1992 by the innovative mind of Maurice Kanbar and his mission to make the perfect classic martini. It began with determining the perfect process, which now includes quadruple distilling the vodka and filtering it three times through California Limestone.
Beyond the original, they've created several amazing flavors all of which are made with only the highest quality ingredients and a variety of juice, extracts, and essences.
The pineapple expression is bottled at 70 proof and offers a rich, bright, pineapple-filled profile. The aroma is that of freshly cut pineapple and highly tropical undertones. The palate is bright, juicy, and bold with ripe pineapple and a medium body. The sweetness is pleasant but never overwhelming.
5. New Amsterdam Pineapple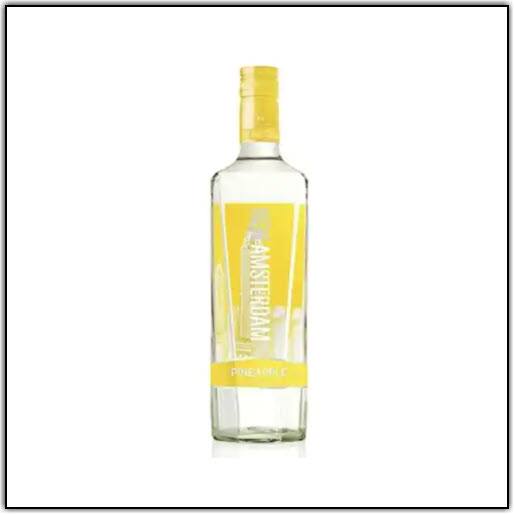 New Amsterdam as a brand is fast becoming well-loved for its low price point and high quality. Their gins and vodkas are both doing quite well and many of their flavored expressions are successful as well. They put lots of effort into all of these expressions and it shows in the careful, complex, and unique profiles of each one.
New Amsterdam Pineapple is a bright and tropical addition to their flavored line with notes that take sweetness to a whole new level. The aroma begins with cherry-almond notes followed by raspberry, pina colada, and tinned pineapple.
The palate is smooth and warming with notes of shortbread, honey, and apples coming in behind the candy-like pineapple sweetness. Notes of coconut show up in the background and the finish is just as sweet. It's perfect for easy and extra-boozy pina coladas or a nice tropical vodka martini.
Refreshing Pineapple Vodka Cocktails
When it's cold out, many yearn for the heat of summer, when they can relax on the beach and sip a cold, refreshing drink. Pineapple is a common flavor as it reminds us so strongly of tropical, exotic getaways and gives off some adventurous vibes. If it's pineapple you're after this summer, try your favorite pineapple vodka in one of these easy recipes:
Pineapple Screwdriver
The classic screwdriver is already sweet, citrusy, and great for summer – why not give it that extra tropical punch? Adding pineapple is the perfect way to ramp up the sweetness and tang without overtaking the flavor or the orange juice.
You can make this drink with plain vodka and rely on pineapple juice for the added flavor, but pineapple vodka will not only play up the flavors but it makes the drink extra boozy, too!
Ingredients:
3 ounces pineapple juice
3 ounces orange juice
2 ounces pineapple vodka
Mint, orange peel, and/or pineapple chunks for garnish
Instructions:
Mix the juices and vodka together in a shaker and ensure they're well-combined.
Fill your chosen glass with ice and strain the mixture into the glass.
Garnish as desired, adding mint and pineapple chunks into the drink and hanging orange peel off the side.
And that's it, super easy! This is a great one to make for parties and gatherings as it's so easy, delicious, and boozy. Simply scale up the ingredients as much as desired to make a larger batch all at once.
Pineapple Cranberry
It's not a combination you'd necessarily expect, but when done right, this quick little tropical drink is quite something. You can also adjust the amount of each ingredient to create the exact balance of flavors you want.
To make this little mixer you only need a few things:
1.5 ounces of pineapple vodka
3 ounces of cranberry juice
Slice of lime to garnish
Ice
Simply fill a glass with ice and pour each of the cranberry juice and pineapple vodka in and stir a little. Put a slice of lime on the side for a nice garnish and enjoy! This is another easy one to scale up if you want to create a larger amount of it for entertainment purposes.
Grilled Pineapple Moscow Mule
The Moscow mule has made a real name for itself over the years, garnering loyal fans all over the world. Like most things though, adding a tropical touch never hurts! It doesn't take away from the traditional Moscow Mule, you're still free to make these! Adding a touch of pineapple makes for a whole new experience, though.
Ingredients:
A few chunks of fresh pineapple, diced and grilled
2 ounces of pineapple vodka
6 ounces of ginger beer
½ a lime
Instructions:
Add your pineapple chunks into your copper mug or cocktail glass.
Muddle the pineapple.
Add the vodka and ginger beer.
Squeeze the lime into the drink and stir it well.
Fill the glass with ice and enjoy!