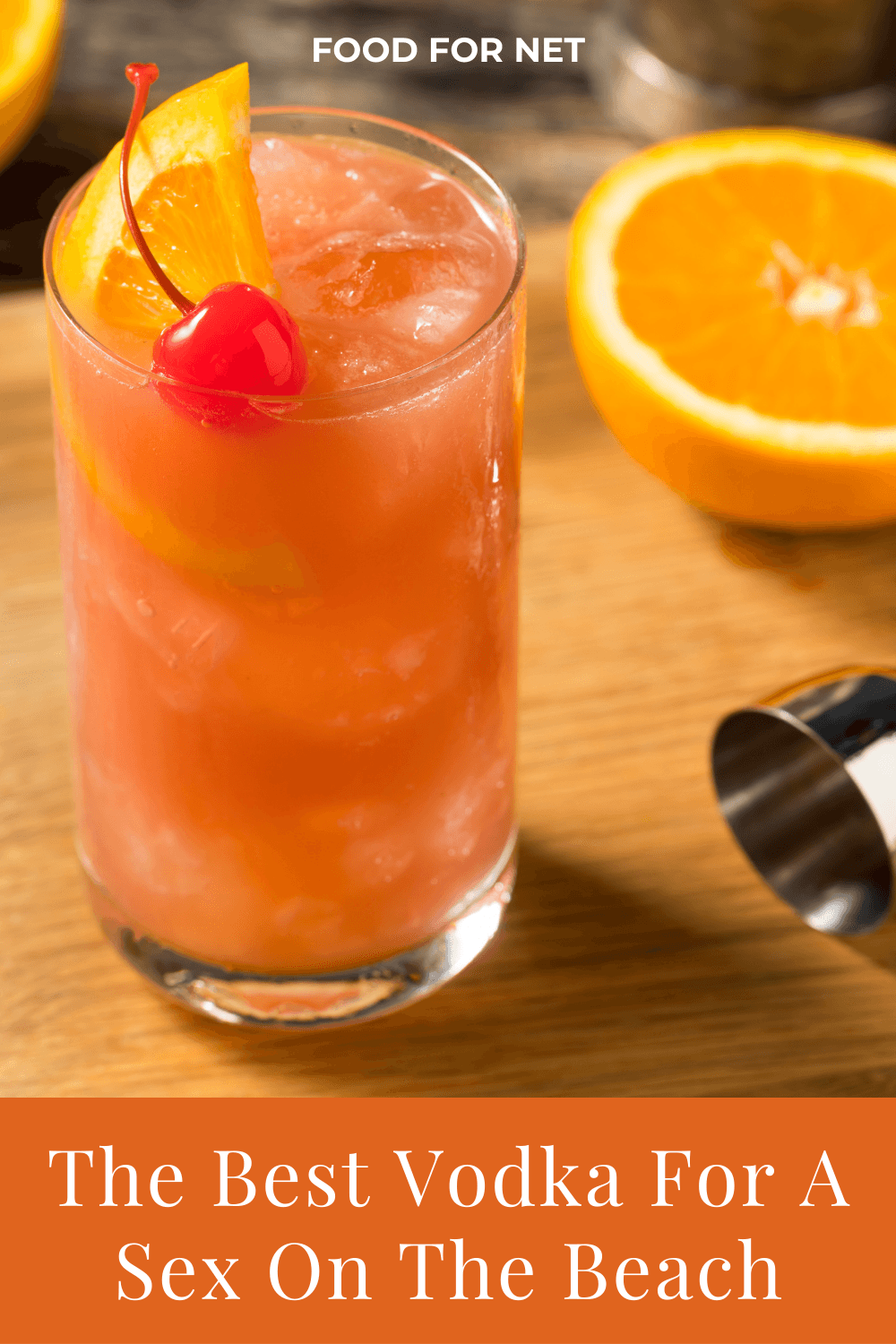 Made with peach schnapps and fruit juice, the sex on the beach cocktail is sweet, fruity, and absolutely delicious. It's wildly popular at bars, restaurants, clubs – pretty much everywhere. It's so easy to make that many enjoy it at home, too. So how did something so classic and so popular get such a controversial name? It's kind of a fun story, actually, despite what you might think of the outcome.
As the story goes, a peach schnapps company once held a promotion/contest to see who could sell the most of their product in a certain timeframe. Wanting to win, a bartender named Ted took it to the next level with his job at Confetti's Bar in Florida. He created a brand new cocktail featuring peach schnapps and named it after what he thought most tourists came to the area for.
What started as a tongue-in-cheek way of winning a contest became a worldwide sensation and whatever anyone thinks of the silly, provocative name, it stuck. You can order it pretty much anywhere these days but it's also easy to make at home. The best vodka for a sex on the beach is simply one that's light and neutral, allowing the sweet flavors to shine and ultimately going down smooth.
The Best Vodka For a Sex on the Beach
1. Tito's Handmade Vodka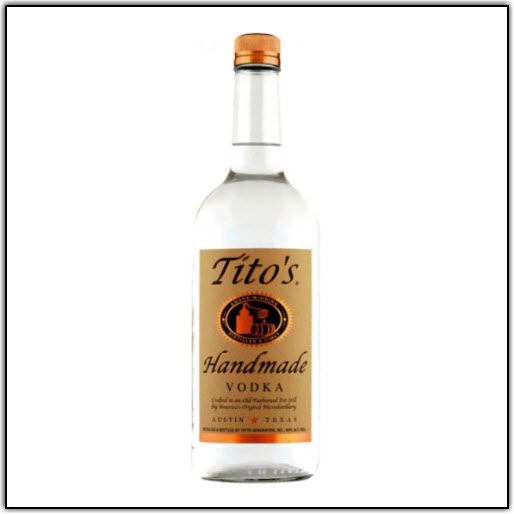 Tito's Handmade Vodka was founded in 1997 and is proud to be the very first legal micro-distillery open in Texas since prohibition ended. Founder Bert "Tito" Beveridge was born and raised in Texas and he received degrees in geophysics and geology before spending time in the oil industry. He held a job as a data processor, mortgage broker, and a few other things before finding his passion in distilling.
When he did finally pursue his real passion, it started as a modest, small-batch operation that used a handmade pot-still. He began making it mostly for fun, packing up bottles as gifts for his friends and family. This didn't last long though as it soon became obvious that he had a talent, so he quickly turned the endeavor into a full-blown business – which wasn't as easy for him as it has been for others after him. This is because the laws in Texas didn't actually allow for distilleries at that time, but he fought and persevered, and finally got the allowance he needed, also setting precedent for future distilleries that wanted to open.
Tito's has a clean nose with the aroma of spice and corn. The palate is sweet and creamy with similar notes of corn and spice on the tongue with spice and nuts on the finish. The balance of sweet and spicy is the perfect base for a sweet, juice-filled sex on the beach.
2. Absolut Vodka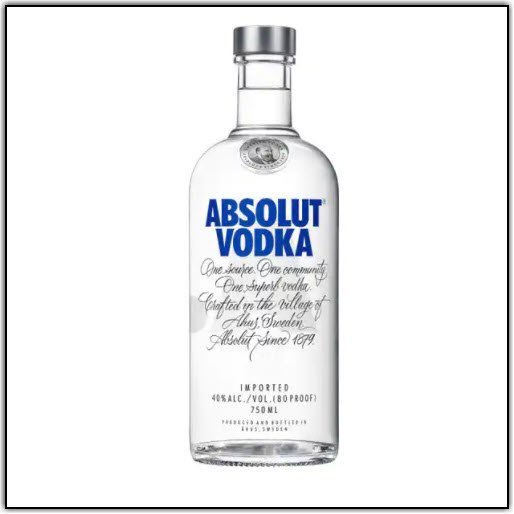 Absolut Vodka was first launched in 1979 in New York, where word spread like wildfire and it soon became one of the most popular drinks. It spread to the rest of the world just as quickly, and the rest is history. It remains one of the top contenders in the vodka world, consistently delivering smooth sips and fantastic cocktails.
The recipe is actually much older than the vodka, though. It was inspired by an 18th-century medicine bottle that was found in an antique shop in Sweden. This random little find is what inspired the legend that is Absolut Vodka. They use only high-quality, natural ingredients like winter wheat and the recipe contains no sugar. This dedication to quality and the carefully-crafted recipe remains despite the huge popularity and mass-production of the drink.
It's subtle on the nose, offering a simple, soft aroma of wheat. The palate is soft on the tongue with mild notes of wheat and a touch of spice near the end with an extremely smooth texture. It's a classic neutral vodka, perfect as the base of just about any vodka cocktail.
Don't forget that Absolut also has plenty of flavored vodkas. These are great for making your cocktail a little different.
3. Sobieski Vodka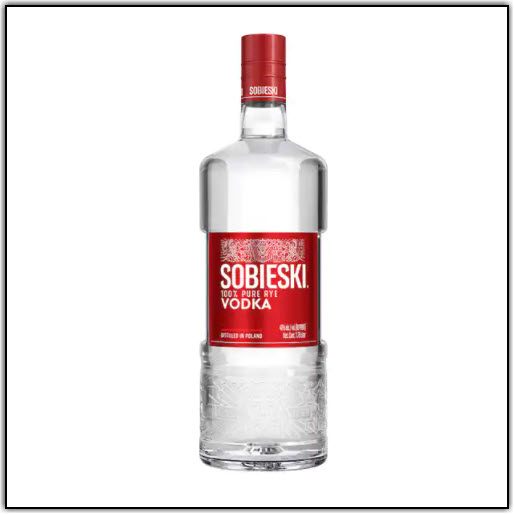 Sobieski Vodka is made from 100 percent rye and represents the power and strength of its namesake, the historic King Sobieski, who fought hard to defend Europe against the Ottomans. As is fit for a king, this vodka is made in the highest known column still in all of Europe. The result is one of the smoothest and purest vodkas you'll ever taste. Many tough critics refer to it as "real vodka," a name not many get.
Due to its pure nature and quality craftsmanship, it's smooth, tasty, and incredibly versatile. Many enjoy it both in cocktails and on its own in many forms. It tastes great at room temperature, it does well chilled and is wonderful on the rocks. Of course, it's an amazing base to many cocktails, allowing flavors to shine without overwhelming anything or adding any undesired burn to the experience.
The aroma is extremely mild with just the softest notes of rye. The palate is also mild, with gentle notes of grain, lemon, and spice. The finish brings forward some vegetal notes for balance.
4. New Amsterdam Vodka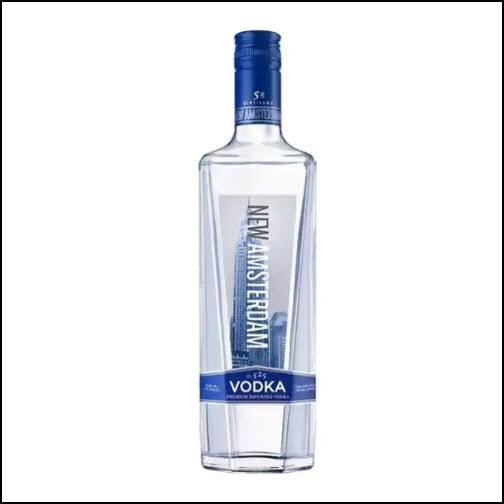 New Amsterdam Vodka has a simple origin, it was born from a raw and dedicated passion to making great vodka. Every single step of the process is done with great care and attention to detail, while only the highest-quality, most carefully-selected ingredients are used, from the grain right down to the water.
New Amsterdam is a fairly new vodka, only emerging in 2011. Despite the great competition, it was up against from the very beginning, it was the fastest brand of spirits (not just vodka!) in history to sell a million cases. It's distilled five times and filtered three – the perfect combination for delicious, smooth flavor. It's tasty and distinctive, with a smooth enough texture for either sipping or mixing. Its quality and versatility earned it a score of 93 points from The Tasting Panel in 2016.
It's subtle and soft on the nose with just a touch of sweetness. The palate is medium-bodied with a moderate sweetness similar to the nose. The mouthfeel is slick with a clean, crisp, smooth taste. The finish is bittersweet and well-balanced.
5. Wodka Vodka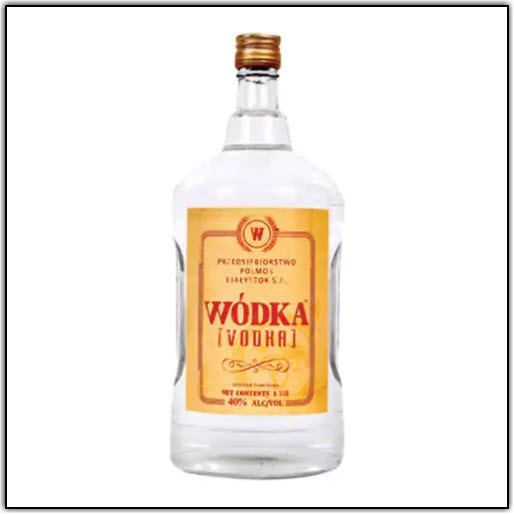 Wodka Vodka is the ultimate cocktail vodka because it's well-made, very smooth, and quite affordable. It's about as close to premium vodka as you can get without a nice premium price tag. This makes it perfect for anything from shots, to cocktails, or even sipping if you like its taste. Such versatility is a tough feat for vodka to achieve.
It's distilled five times and filtered through charcoal twice. Made from the finest Polish rye, the result is incredibly clean, no-fuss vodka with good character.
The nose offers subtle notes of spiced rye grains followed by an average body on the palate. The taste is clean and largely neutral, with a touch of spice and a little alcohol heat on its clean, crisp finish.
How To Make a Sex on the Beach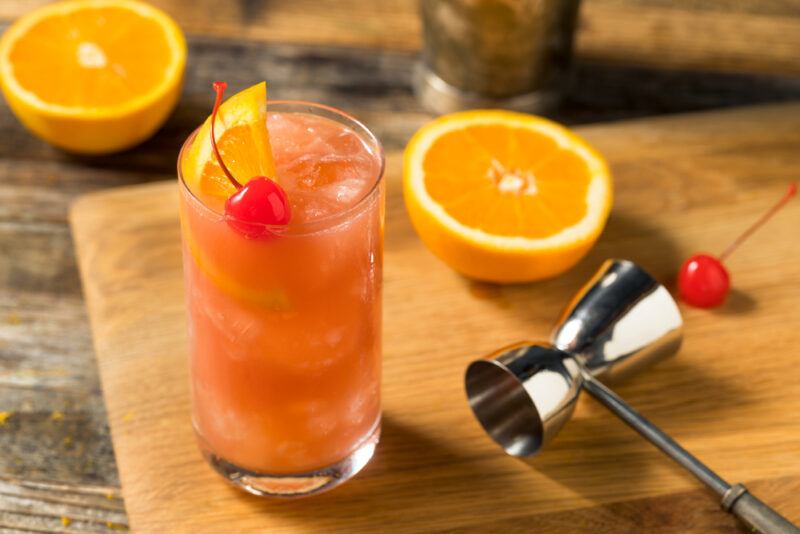 With its simple ingredients and simple process, it's no wonder this is such a popular drink to make at home and at parties. You probably have the necessary pieces at home already. As with any cocktail, you can play around with ratios to adjust the taste as desired, but here is the recipe for a basic sex on the beach:
Ingredients:
1.5 ounces vodka
2 ounces cranberry juice
2 ounces orange juice
0.5 ounces peach schnapps
Orange slice and/or cherry to garnish
Instructions:
Fill your chosen glass with ice.
Add the ingredients in this order: vodka, peach schnapps, juices.
Add garnish(es) and enjoy!
To get the most out of this drink, use freshly squeezed orange juice if possible. If you want to take the flavor a step further, prepare some ice cubes out of your cranberry or orange juice instead of plain water. Regular ice is fine, but the juicy ice cubes will prevent any and all watering down of the flavor!
You can also easily make this drink a safe sex on the beach, by omitting the vodka if you'd prefer a virgin drink. The remaining ingredients will make a tasty, refreshing treat on their own.
This recipe is so sweet, fun, and easy, that you can take it in all kinds of different directions if you want to mix things up a bit. For example, add a little extra juice and blend it up for a sex on the beach slushie! Or, mix it all up with some orange jello for sex on the beach jello shots!
Lastly, you can also try making the drink with other spirits. Tequila is a popular alternative and adds a different spin to the flavor. Other exotic juices like pineapple juice can also be subbed in for the same structure but new flavors. At the end of the day, sex on the beach was meant to be a fun drink, so go crazy and have some fun with it!