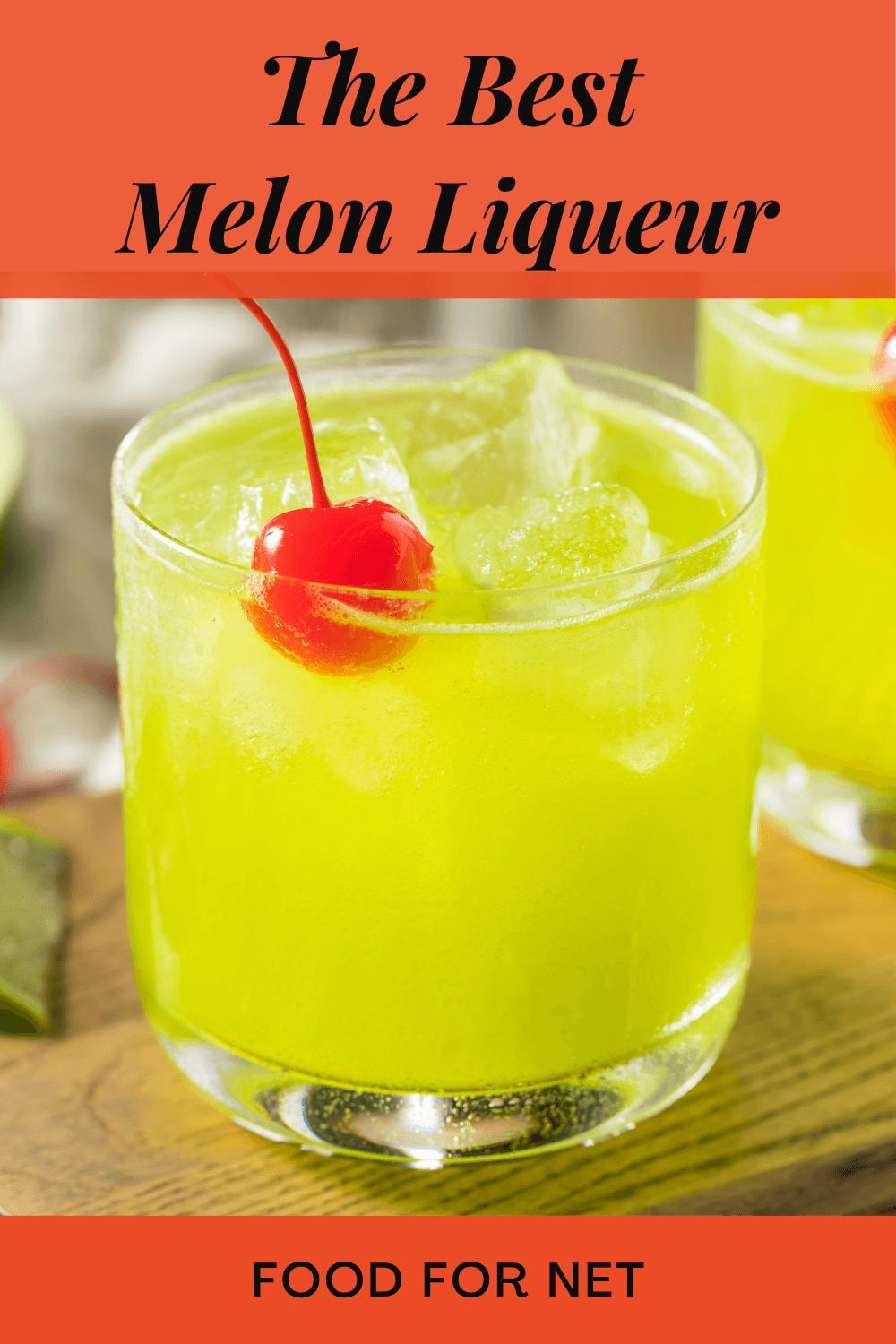 Although its exact origin is a bit of a mystery, honeydew melon is native to the Middle East and Western Asian areas. They've been grown in the Middle East for quite some time and were considered sacred by the Egyptians. Though unmistakably sweet, their flavor is unique in that it's subtle and lowkey. It's not overwhelming or candy-like, which many appreciate.
The best melon liqueur reflects this in its flavor profile while offering a fresh, juicy body. Melon liqueurs are the perfect sweet element to any sweet and sour cocktail. It also does well to balance any combination that may be a little too sweet – or you can add it purely for its green color! Whether it's Saint Patrick's Day or a Christmas celebration, or green is someone's favorite color – melon liqueur gives you more than enough green in any drink.
While Midori is the original and perhaps the most well-known, it's not the only melon liqueur worth a few sips. It's an excellent expression, no doubt, but others have unique profiles of their own and bring different nuances to the table.
Best Melon Liqueur Brands
1. DeKuyper Melon Schnapps Liqueur

For decades, Dekuyper has been passionate about cocktails – and making them the best they can be. They want to contribute the best possible flavors to your cocktail journey, and they do so with dedication. Their collection features 20 different flavors, all of which are refreshing and authentic.
DeKuyper Melon Liqueur offers an extremely fresh flavor with a subtle but recognizable sweetness. It's a versatile flavor that goes well with vodka, tequila, or rum. Melon also goes well with sour apple, so pair it with a sour apple liqueur for the most amazing sweet and sour cocktail.
The nose on this one is intense with the aroma of fresh melon – inviting, refreshing, and sweet. The palate offers fresh, juicy, and authentic melon flavors with perfectly balanced sweetness. The finish is consistent with the taste of long, rich, and lingering fresh melon.
2. Midori Melon Liqueur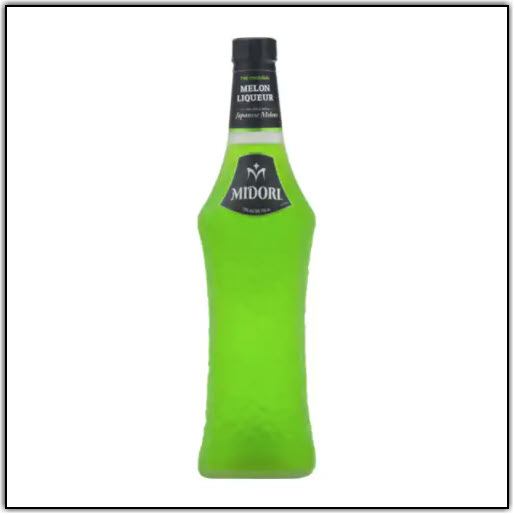 Midori Melon Liqueur is among the oldest of its kind, releasing for the first time in 1978 at a famous club in New York with John Travolta himself in attendance. After this though, the expression seemed to disappear and could only be found in Japan, where its melons are sourced.
Midori means "green" in Japanese, which fits due to the drink's bright, intense green color in the bottle. The melons used to create the expression are also from Japan – and only found in Japan.
Midori is added to some cocktails purely to achieve a green color, while others benefit greatly from its fresh, delicious taste. It's also an easy one to drink on its own, going down smooth with strong flavors coming through. This makes it popular among beginners who want something sweet.
The aroma is a fun, fruity one with notes of cantaloupe, green apple, bananas, and Jolly Ranchers along with the unmistakable honeydew melon itself.
The palate is sweet right away with a full luscious body. Candied honeydew melon is present along with cantaloupe and more green apple. The finish is simple, clean, and medium length with the perfect final burst of fresh melon. Overall, it's a simple profile that's perfect for melon-flavored mixed drinks or any cocktail that needs to balance its sweetness.
3. Bols Melon Liqueur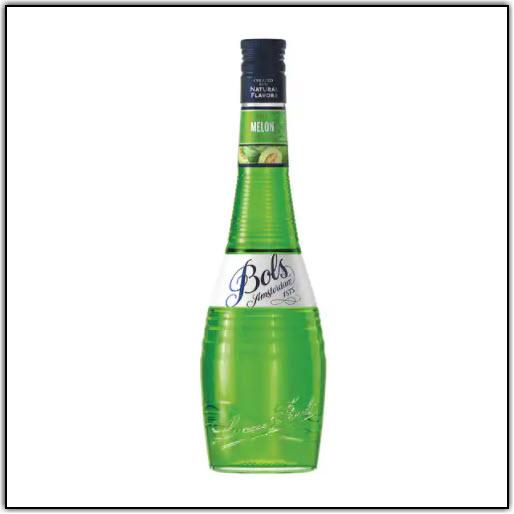 Bols is a well-known, self-proclaimed "cocktail brand." Not only do they offer an extraordinary line of flavored spirits meant for making cocktails, but they have tools, other ingredients, gift sets, and even some ready-made cocktails of their own.
They don't stop at tools and ingredients, though! Bols Bartending Academy teaches aspiring bartenders everything they must know to kickstart their careers.
Bols Melon Liqueur is an affordable expression with a translucent, bright green color and uniquely crisp profile. The aroma is clean and filled with notes of rich, freshly cut melon and notes of boiled sweetness. The palate is syrupy and sweet with notes of extremely ripe honeydew melon. Banana, peardrop, and mint appear in the background and lead into the long finish.
4. Gaetano Melon Liqueur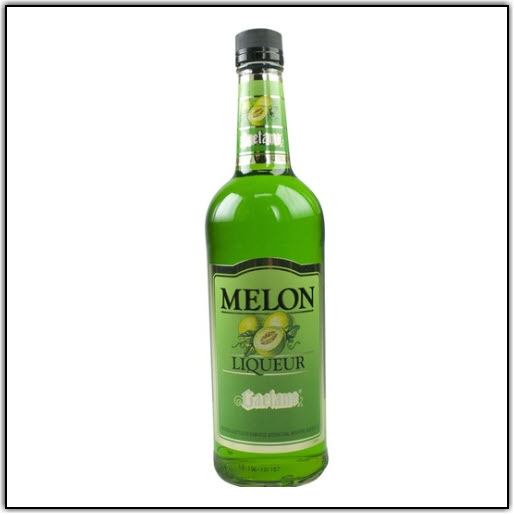 Gaetano Melon Liqueur is a versatile and refreshing spirit that's perfectly designed to fit well into many cocktails. It goes well with plenty of fruit juices, it works well to balance the flavor profile of overly sweet drinks, and it creates a beautiful green color. Sometimes, it's used solely for this purpose – making drinks green to celebrate a specific occasion – or just because!
Common drinks that use this expression include the Jolly Rancher and the melon ball. It also goes down nicely on its own and is best when paired with some fresh fruit. Both the aroma and palate are filled with the strong, dominant presence of honeydew melon. Fresh flavors fill the tongue and a clean, crisp, sweet finish makes this a wonderful addition to your cabinet. It's also worth noting that its 42 proof is a little higher than most in its category.
5. Hiram Walker Melon Liqueur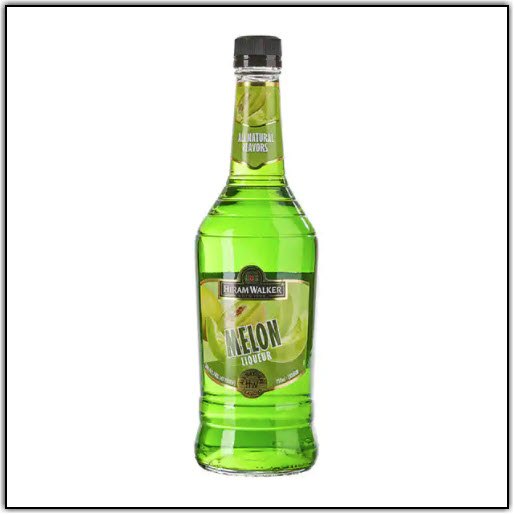 Well-known for its beautifully flavored fruit liqueurs, Hiram Walker Melon Liqueur is, unsurprisingly, fresh, delicious, and authentic. The bright green color in the bottle is fun and inviting and its low price tag gives you a premium experience without the cost.
While it's drinkable on its own, this is the perfect addition to all your melon-based cocktails, super-sweet drinks in need of balance, or your favorite sweet and sour mixed drink. Like other melon drinks, it adds potent color to any drink it's in, too. The sweet but subtle flavor means that you can use this one solely for color purposes, as well.
Hiram Walker Melon Liqueur has a fresh aroma of ripe and juicy honeydew melons that invigorate the senses. The palate follows with similar, strong notes of fresh, sweet, juicy, melon. Test it out on the rocks and add it to some fruit cocktails. This one was meant for fun, so have fun with it!
Classic Melon Cocktails

Melon liqueur was popular around the 1980s and with it came some infamous cocktails. Most recipes you find may call for Midori liqueur and this is largely because it was the original melon liqueur and the most widely available back then. If you prefer another melon liqueur, though, or perhaps only have one option on hand – that's fine! Any melon liqueur will do and each one will add its own flair to a drink.
Midori Sour
A true classic of the 80s, this cocktail even has Midori in the name. When done correctly, it tastes just like a melon Jolly Rancher – the perfect balance of sweet and tart. If you want to make a true classic Midori sour, you'll need a sweet and sour mix that you can make with lemon juice, lime juice, sugar, and water.
However, you can also just use lemon and lime juice for a fresher, more refined flavor, with the added bonus of less sugar!
Ingredients:
2 ounces melon liqueur
2 ounces soda water
½ ounce lemon juice
½ ounce lime juice
Cherry and lime slice for garnish
Instructions:
Pour the liqueur, lemon juice, and lime juice into a lowball glass filled with ice.
Stir until the ingredients are well-combined.
Top with soda water and add garnishes.
Serve and enjoy!
This candy-sweet cocktail is perfect for your next dinner party, happy hour, or girl's night! It also works during an afternoon by the pool, or you can mix it up and enjoy it on your own. It's versatile and sure to be a hit.
Japanese Slipper
Sophisticated, cultured, and balanced – this melon cocktail is bursting with delightful flavor and a fantastic kick of alcohol. The drink spans three countries – the melon liqueur has Japanese origins, the drink was invented in 1984 in Australia, by a French bartender.
Though the flavor is complex on this one, the process isn't. Three simple ingredients make you this wonderful, versatile, bright green drink.
Ingredients:
1 ½ ounce melon liqueur
1 ½ ounce Cointreau
1 ½ ounce lemon juice
Cocktail cherry for garnish
The process is even simpler: Add all the ingredients to a cocktail shaker with ice and shake until well-chilled. Once done, strain the drink into a martini glass and garnish. Any cocktail glass works here, but the martini glass has a very fancy and sophisticated look and should be your choice if you're serving a party!
While Cointreau is recommended here, any orange triple sec or curacao will work well too. The best part about this recipe is the adjustability. The above recipe makes one drink, but all ingredients are present in equal parts, meaning it's easier than ever to scale up and make several!