While there are many drinks and cocktails in the wide world, they're not all created equal. Some are traditional Christmas drinks, ones that you will see turn up around the same time every year. Others might be served throughout the year.
If we want to be technical about it – you can serve any drink you like at Christmas. There are no strict rules, after all. Everyone has their own holiday traditions anyway and these can be quite different.
Even so, some drinks seem to fit the season much better than others. For those of us enjoying a winter Christmas, the best drinks are often rich and warming. Some will feature seasonal flavors too, like cranberries, cinnamon, or even pumpkin spice. You could even bring some of these drinks along to a winter picnic.
One quick note before we get started – this list focuses on alcoholic Christmas drinks. We're including plenty of fan favorites and classics, along with some more unusual ideas. We have a separate list of non-alcoholic holiday drinks if you're trying to steer clear of the booze.
Christmas Drinks
Eggnog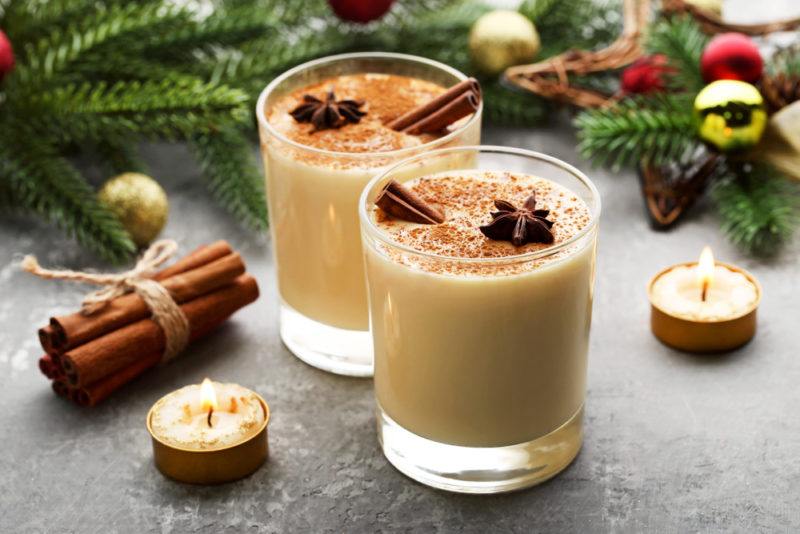 Eggnog remains one of the most famous holiday drinks, especially towards Christmas time. There are countless variations of the drink, including hot and cold eggnog, along with eggnog that you buy from the store and versions that you make at home.
Despite the name, some versions of eggnog even skip the egg entirely, although most do not. You can even find dairy-free and vegan versions of eggnog. While these don't taste quite the same as the traditional recipe, they're close enough that many people will love them.
When it comes to alcohol and eggnog, there are multiple options. Brandy remains the most traditional choice, but including rum in your eggnog is popular too.
The type of spirit that you use will change the flavor profile of the drink. You'll even see strong variations between different kinds of rum. For example, a dark spiced rum will dramatically change the flavor of your eggnog, while the flavor impact of a white rum will be more subtle.
Tom and Jerry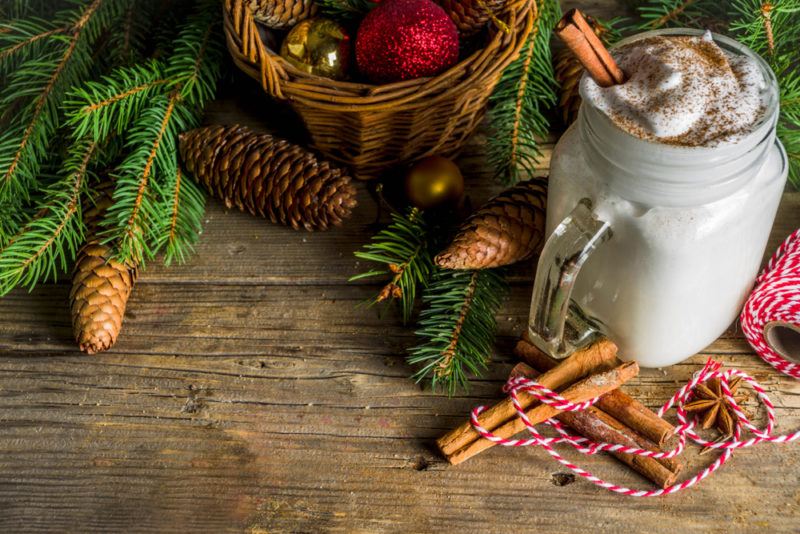 The Tom and Jerry cocktail isn't as well-known as eggnog. Still, it's a similar drink that is just as good for Christmas.
The biggest difference is that eggnog is traditionally served cold, while Tom and Jerry is a hot cocktail instead. The drink ends up with a different texture too. It tends to be whipped and silky, while eggnog can feel quite dense at times.
This cocktail does take a while to make, as you first need to prepare a batter made using eggs, sugar, and spices. Once the batter is made, you just need to add cognac, rum, and some hot milk.
You can make things easy for yourself by preparing the batter ahead of time. Doing so is perfect if you want to serve the cocktail at a party or want to serve the drink quickly.
Coquito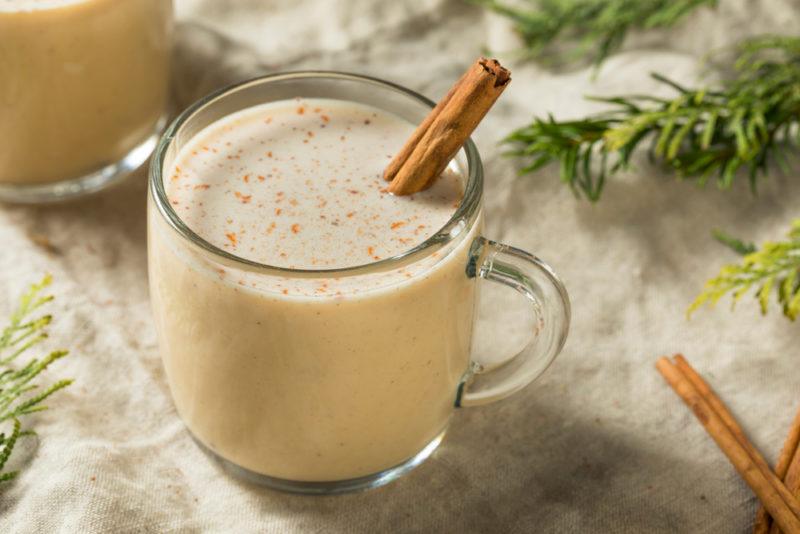 The coquito hails from Puerto Rico and is an exciting alternative to eggnog (don't worry, there are no eggs in sight). The cocktail has four key ingredients: white rum, condensed milk, cream of coconut, and evaporated milk.
This choice of ingredients provides you with a milky coconut drink that allows the flavors from the rum to take center stage.
A key advantage is that this cocktail can be easily prepared in advance for multiple people. Most of the ingredients come in cans anyway, making the process faster still. The ingredients are simply blended together and then chilled for anywhere from four hours to three days.
You'll get the best results by chilling the cocktail for at least two days – if you can do so without taking a sneaky glass every so often.
Hot Buttered Rum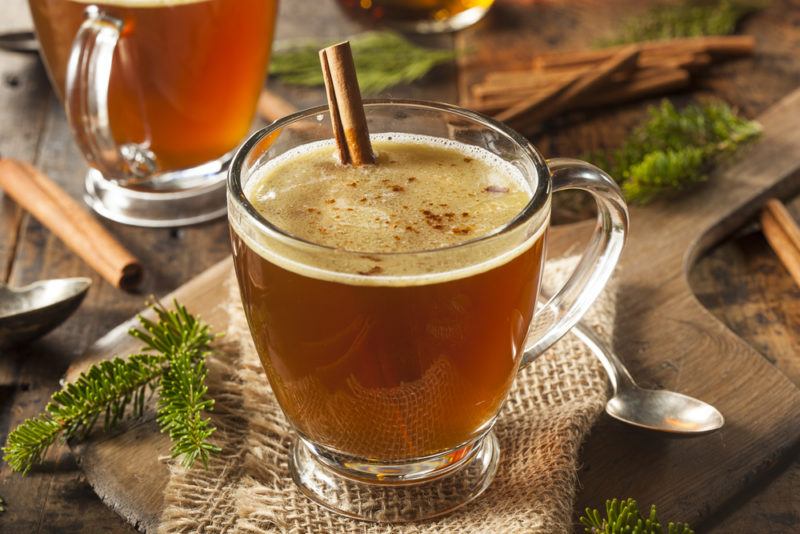 Hot buttered rum is another creamy and milky drink, one that's perfect for cold evenings. As the name suggests, hot buttered rum uses rum as the spirit of choice.
You're also making and using a butter batter. This simply includes butter, sweeteners, and some spices. Brown sugar is a popular sweetener to include, as this gives your cocktail a rich flavor. As for spices, cinnamon, nutmeg, and allspice are all popular.
You can make a full batch of the butter batter and use this to prepare individual cocktails as they are needed. To do this, you simply combine the batter with the whiskey and some hot water.
Rum might be the traditional spirit here, but you can make hot buttered whiskey too. This can taste just as good, if not better, than the rum version.
Hot Toddy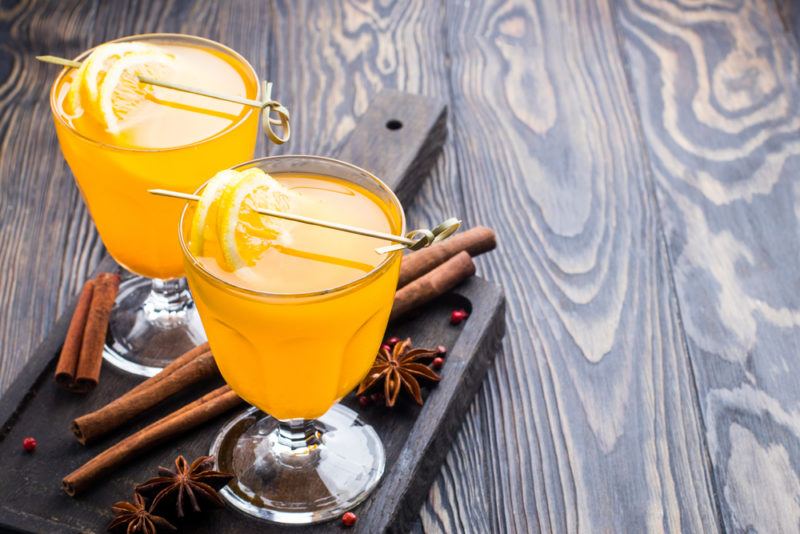 The hot toddy is a classic winter drink. This isn't surprising, as it's a warming cocktail that can be made any number of ways.
The basic recipe involves hot water, lemon, honey, and a dark spirit like rum or whiskey. Spices are sometimes included too. Cinnamon and ginger are perfect choices, as they both add complexity to the drink.
Some versions use tea as the base of the drink, rather than hot water. This gives the drink more depth. You might need to play around to find the best combination of tea, spices, alcohol, and other ingredients.
Another approach involves using apple cider as an ingredient or adding extra sweetener. This creates a much sweeter cocktail, one that might taste a little like juice. It's best to avoid this version, as the added sweetness doesn't improve the cocktail at all.
Kahlua Hot Chocolate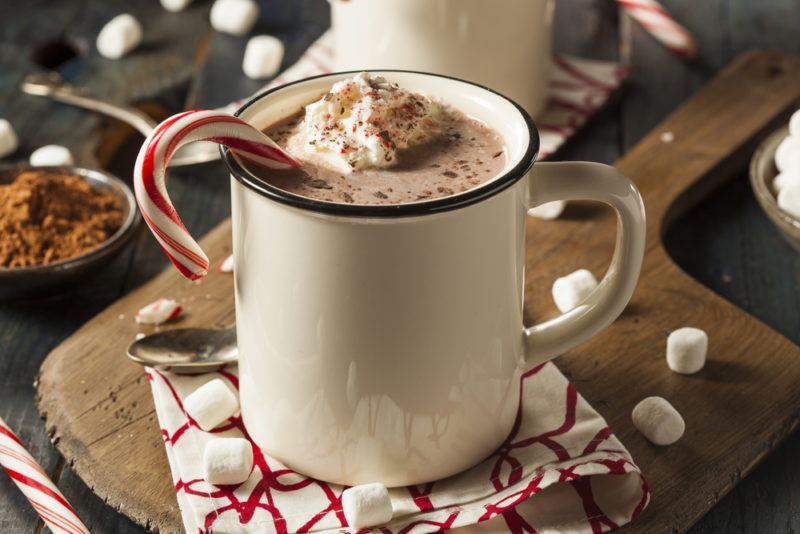 Spiking hot chocolate with Kahlua gives you a delicious winter warmer. Plus, you're dealing with complementary flavors – chocolate and coffee. What's not to love?
This drink could be as simple as relying on hot chocolate mix, then adding hot water and the Kahlua. Or, you could start from the basics, using cocoa powder, cream, and sugar, then preparing the hot chocolate on the stovetop
Adding some whipped cream and chocolate shavings on top of the cocktail would just complete the deal.
Mulled Wine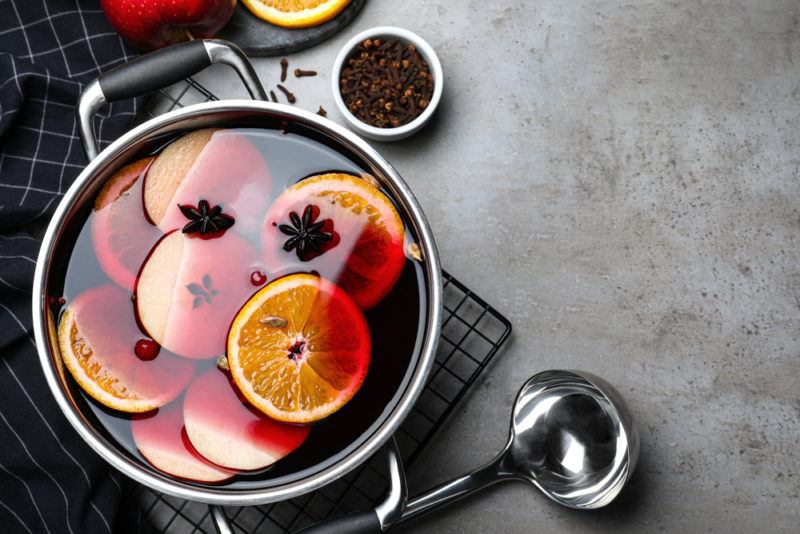 Mulled wine is another winter classic that is especially common over Christmas. The drink is simple to make – as it just relies on red wine and spices. The goal is to heat the red wine up with the spices, which infuses their flavor into the wine.
But, be careful not to boil the wine, as some of the alcohol will evaporate off when you do so.
Mulled wine isn't just a delicious warming drink. It's also a fantastic way to enjoy a cheap bottle of wine. The warmth and the spices in your mulled wine help mask any limitations of that original bottle of red.
You can also add in a spirit like whiskey or brandy. This helps with the flavor of your drink and kicks the alcohol content up as well.
If you struggle to prepare mulled wine without boiling it, try using a slow cooker. The slow cooker gently heats your wine and there's no risk that it will boil. It's also safe to leave the mulled wine in the slow cooker during a party, giving people the chance to enjoy the wine at their leisure.
Brandy Alexander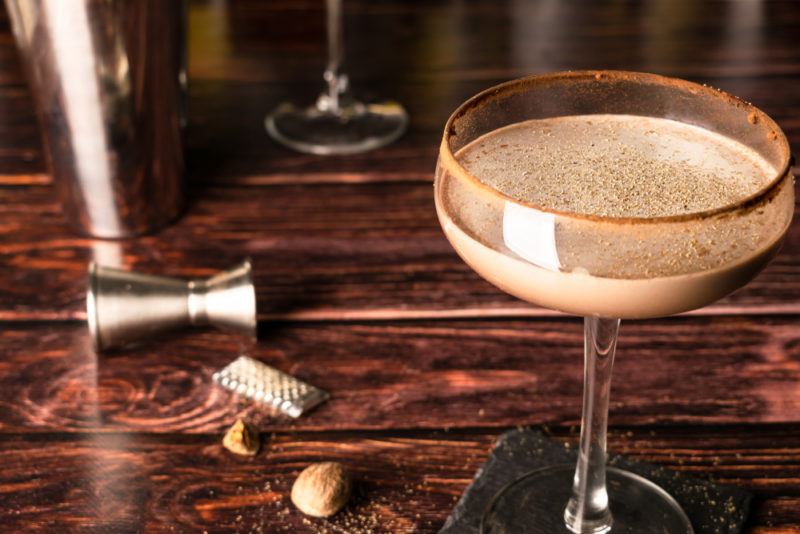 This cocktail mightn't be as well-known as our other Christmas drinks, but don't write it off just yet. The drink is delicious and creamy. If you haven't tried it before, the brandy Alexander might just become your new favorite.
There are only three ingredients to find for the cocktail – crème de cacao, brandy, and cream. This gives you a chocolatey creamy combination, with an extra kick from the brandy.
Salted Caramel White Russian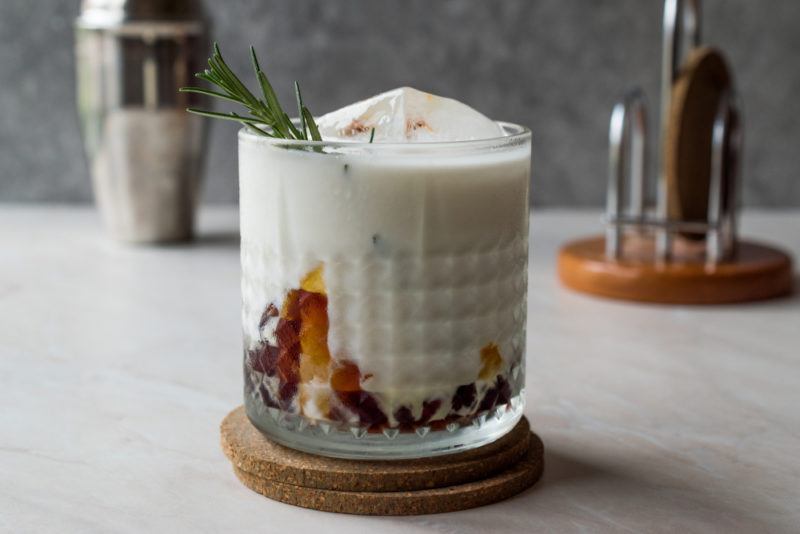 It's always fun to mess around with the classics. A regular white Russian cocktail combines Kahlua, vodka, and heavy cream (although some people use half and half or even milk instead).
To create a salted caramel version, simply turn to salted caramel Kahlua and salted caramel vodka. Both of those products exist and shouldn't be too difficult to find.
You could make the drink even more exciting by running salted caramel sauce down the inside of the glass before pouring the cocktail in.
Chai Spiced White Russian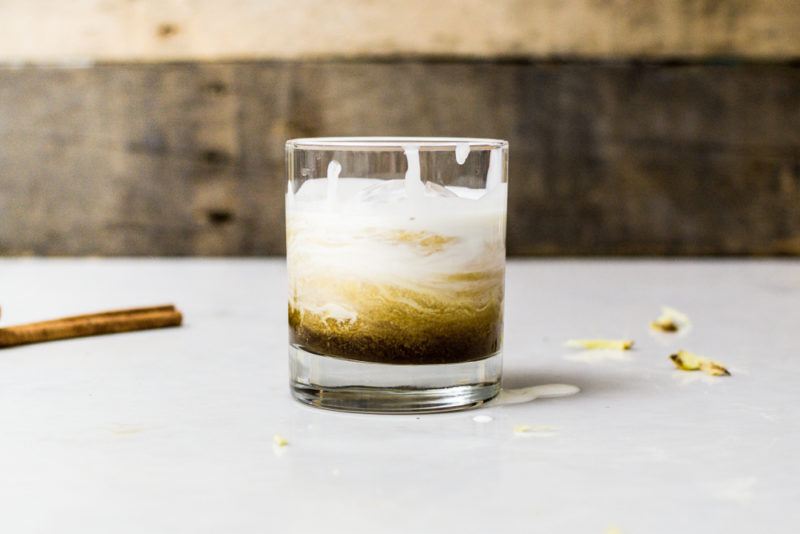 Changing the flavors of a white Russian is pretty simple. After all, cream and vodka don't have intense flavors and Kahlua isn't all that strong either.
A chai-spiced white Russian is another version that's perfect for the holiday season. This time you need to flavor the vodka yourself. Doing so is very easy. Just leave a couple of chai tea bags in your vodka for a couple of hours.
You can remove the tea bags after that and the vodka will end up with a strong chai flavor. Using this vodka in your white Russian will give you a distinct chai flavor, perfect for the season.
Toasted Marshmallow Shots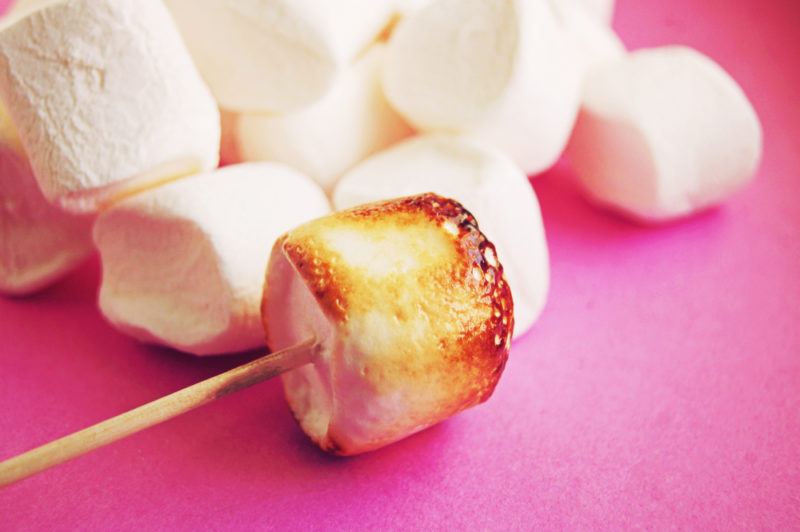 These shots are very seasonal. They're also delicious and flexible.
The basic idea is that you're turning a large toasted marshmallow into a shot glass. Doing so is easy. You just need to toast the marshmallow, allow it to cool, and then remove the interior using a melon baller or something similar.
Once that's done, you have an edible shot glass to play around with.
As for what you put in the glasses, well, that's up to you. Many people opt for a shot of Bailey's or Kahlua. The flavors of either liqueur are a lovely contrast to the marshmallows. You could try flavored vodka or even whiskey if you want something stronger.
Eggnog Martini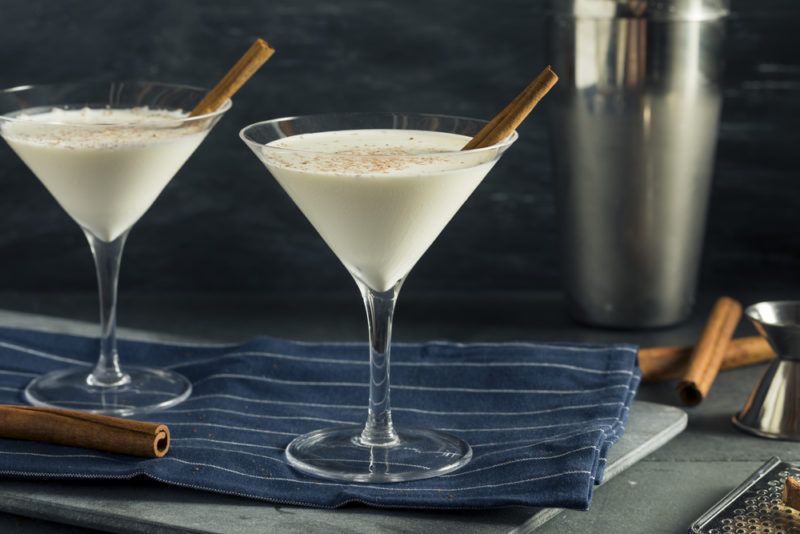 This Christmas cocktail is a nice step down from regular eggnog. After all, eggnog is an intense drink and it can sometimes be too much.
Eggnog is still the main ingredient in this drink, but you're also including vanilla vodka and amaretto. These additions help to make the eggnog less intense and add in some engaging flavors.
You could also create a brown sugar rim for this cocktail. This adds a little sweetness and complements the other flavors well.
Christmas Punch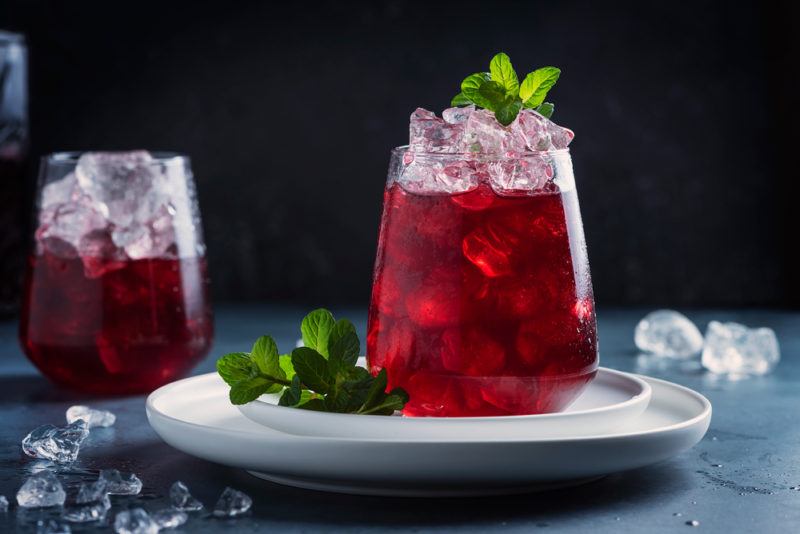 Punch recipes are never in short supply – as this type of Christmas drink is very forgiving. You can easily change the ingredients to suit your favorite flavors and the ingredients you have on hand.
The general theme is that you're going to be including some fruit juice, some type of soda, and some alcohol.
Cranberry juice is exceptional for a Christmas punch, as cranberry is such a Christmas flavor anyway. There's a fun recipe from Inspired by Charm that takes this approach. The recipe uses tequila as the main spirit. While tequila might sound like an odd choice, the spirit does pair well with citrus and tart fruit, so it works well in the cocktail too.
Or you could try a different spin. Vodka always works well, as it doesn't add much flavor to the cocktail.
Cranberry Old Fashioned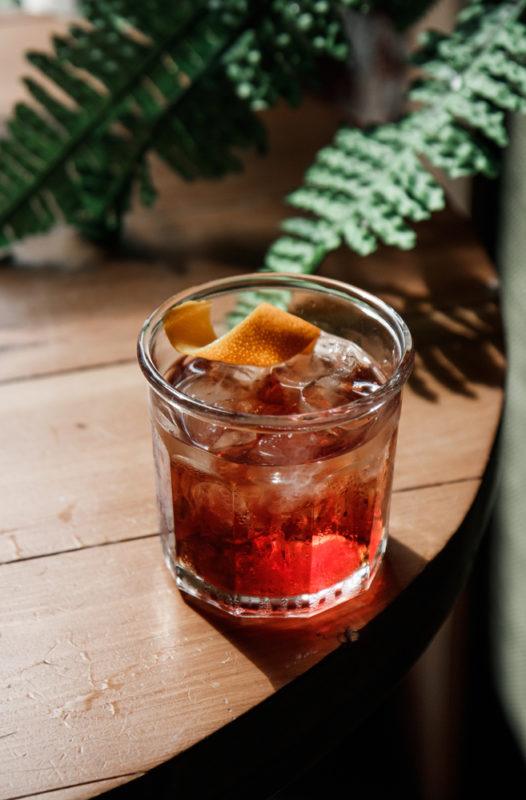 You could serve a regular old fashioned cocktail for Christmas, but a cranberry old fashioned is even better. All you're doing is swapping out regular simple syrup for cranberry simple syrup.
If you haven't already guessed, cranberry simple syrup is made the same way as simple syrup, except that you're adding a cup or so of fresh cranberries in when you're boiling the syrup.
The cranberry simple syrup is a clever trick. This adds a little cranberry flavor to the cocktail, but much less than if you used cranberry juice. So, you still taste the bitters and the bourbon.
Cosmopolitan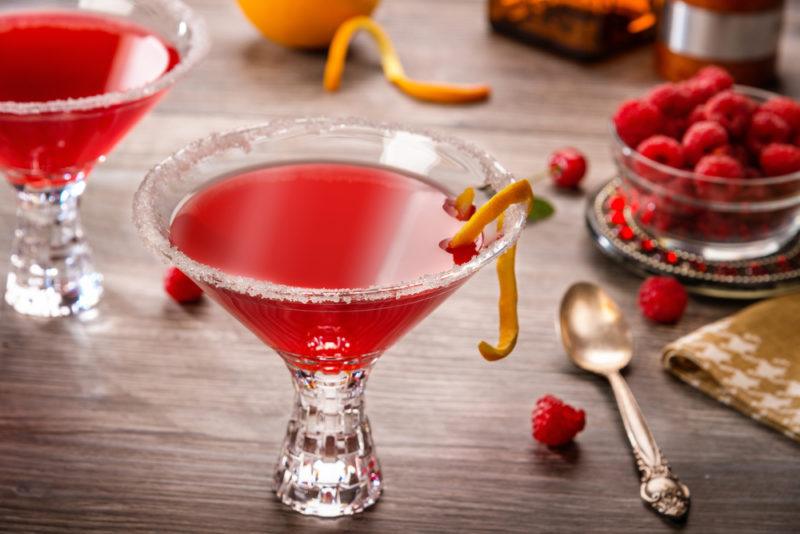 Sex and the City made the cosmo into the popular cocktail that it is today. You'll see the cocktail served throughout the year, as it is delicious, easy to make, and more potent than you might expect. Of course, there are plenty of stronger cocktails out there.
This is also an ideal Christmas drink, as it already relies on cranberry juice. The other ingredients are vodka, triple sec (or Cointreau), and lime juice.
You could easily mix up a batch of cosmopolitans to serve during Christmas lunch. The cocktail is so popular that you can now find premixed versions. These make the cocktail even easier to enjoy.
Glögg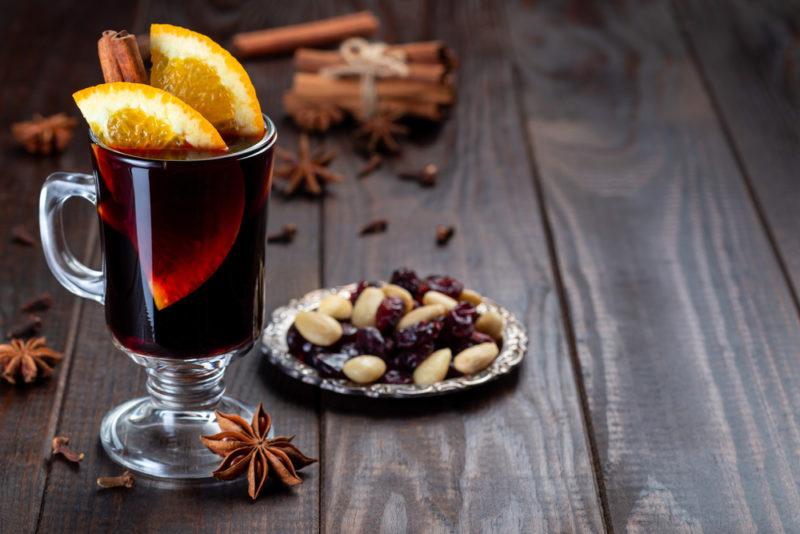 This Swedish cocktail should look familiar, as it is basically a twist on mulled wine. Recipes vary, but you'll often see brown sugar, brandy, cinnamon, and cardamon feature in glögg.
Raisins and almonds are often included too. These are the most unusual feature, as those ingredients aren't common in other types of mulled wine.
Peppermint Martini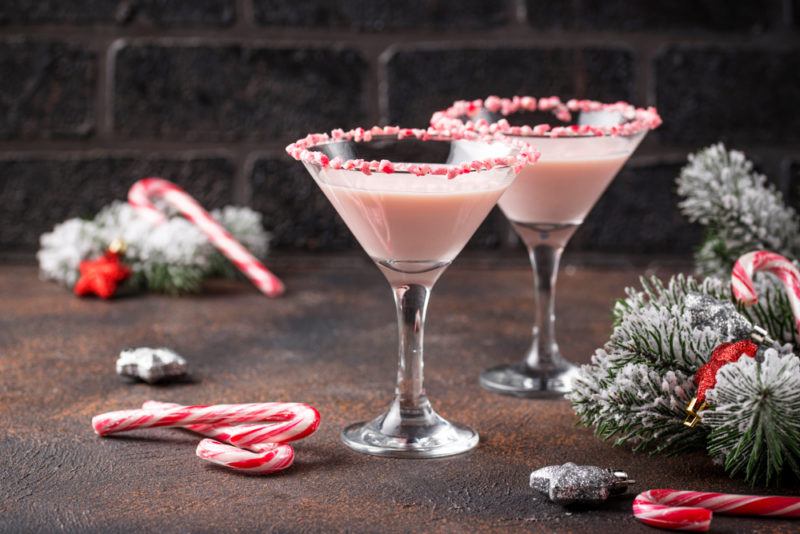 While this drink might not technically be a martini, it is still a holiday favorite. Most versions rely on vodka, white chocolate liqueur, and peppermint schnapps, although there is plenty of room for variation.
For example, you might use a little cream in the cocktail as well to create a richer drink. Or you could turn to flavored vodka rather than plain vodka. Vanilla vodka is perfect, although you could play around with other flavors too.
White Martini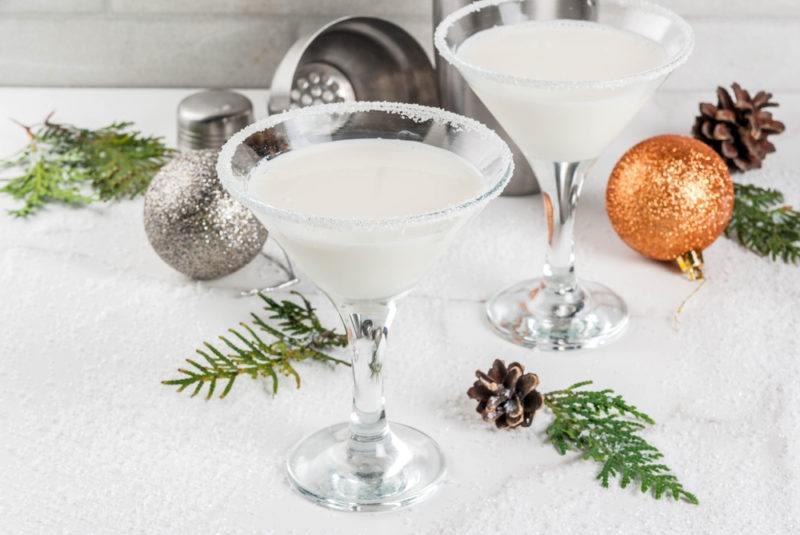 Here's another martini variation that's not really a martini at all. This type of cocktail tends to rely on vanilla vodka, crème de cacao, white chocolate liqueur, and cream.
As with most similar cocktails, you can easily substitute the cream for half and half or even milk to make the drink less rich. You could even choose a plant-based milk instead.
Regardless, the cocktail ends up tasting like a creamy milkshake – one that comes with a decent hit of alcohol. You could give your glass a sugar rim to make the whole thing look even more stunning.
Cranberry Mule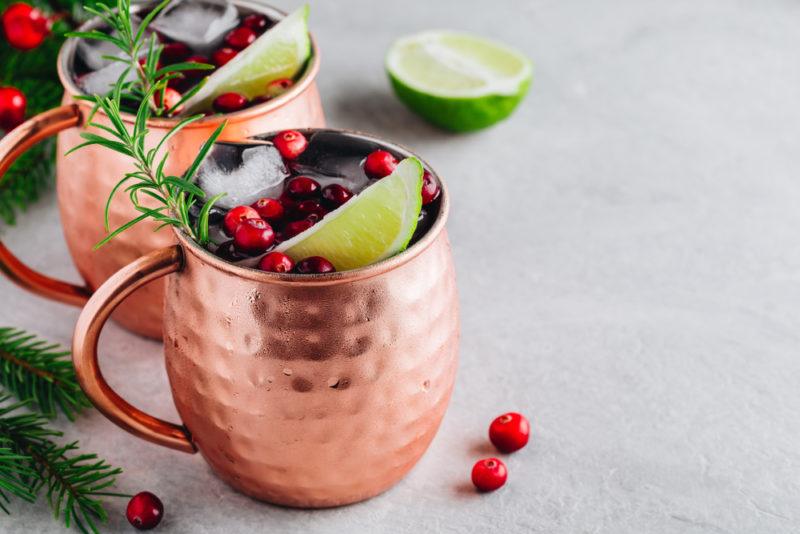 It's not surprising that the Moscow mule is a classic cocktail. It's simple to prepare and tastes good. There are many variations too, including this cranberry mule version.
Here, you're merely taking a regular Moscow mule and adding cranberry juice to it. The finished cocktail is a combination of cranberry juice, lime juice, vodka, and ginger beer.
The ginger beer makes the cocktail more complex than a cosmopolitan, but just as seasonal. This is also a fantastic cocktail for serving during the day, as the ABV isn't high.
Santa Shot

This layered shot was designed with Christmas in mind. It uses equal parts grenadine, crème de menthe, and peppermint schnapps. This combination gives it a peppermint flavor that is perfect for the season.
You'll need to be gentle when pouring this shot to ensure that the layers stay in place. Even then, the crème de menthe and peppermint schnapps may mix together. Don't worry if they do. The shot will still taste outstanding either way.
You can play around with other green and red shots, such as one that uses a creamy layer between the green and the red.
Mimosa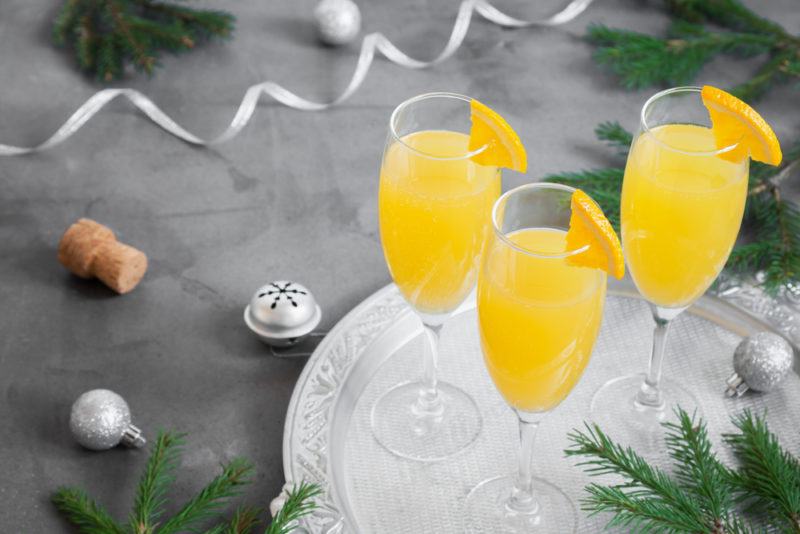 This addition is for anyone who wants Christmas drinks earlier in the day – and for those who are spending Christmas in a warmer country. A mimosa is a two-ingredient cocktail, so it's a breeze to prepare.
You're just combining orange juice with champagne. Or, if you would like, use a different type of sparkling white wine instead.
The ratio of white wine to orange juice can be changed based on your preference. If you're drinking early in the day, you might want more orange juice than wine. Later in the day, you might want more wine instead.
Because this drink only uses two ingredients – quality matters. Your mimosa will taste best if you use freshly squeezed orange juice. If this isn't an option, look for high-quality orange juice from the store. Make sure the juice isn't from concentrate and doesn't use many artificial ingredients.
Honestly though, once you've tried a mimosa with fresh orange juice, it's hard to enjoy the cocktail any other way.
French 75

For those who love sparkling cocktails, the French 75 is another fantastic way to go. This one was named for the French 75 mm cannon, because the cocktail is said to pack just as much of a punch.
It's a simple drink to make, as you're just combining gin and champagne. As with the mimosa, you can choose the ratio of the two ingredients. You can replace the champagne with another type of sparkling white wine too.
Aperol Spritz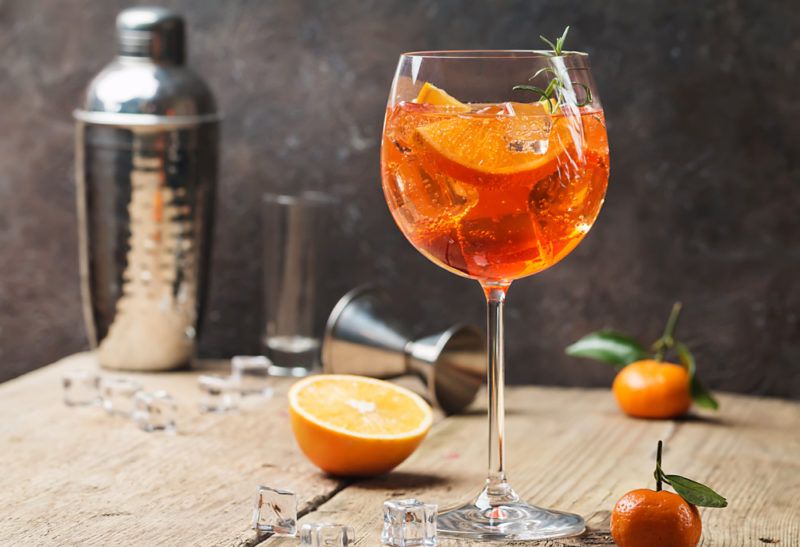 Here's another bubbly two-ingredient cocktail. An Aperol spritz simply combines Aperol with some type of sparkling white wine. Prosecco is the most popular choice here, as Aperol and prosecco are both Italian products.
To make this cocktail, simply combine equal measures of the two ingredients. The prosecco helps to balance out some of the bitterness of Aperol, making the cocktail much more appealing than the aperitif is on its own.
You can add a little soda water to the cocktail too. This makes it more refreshing.
If you're making an Aperol spritz at home, think about the sparkling wine that you're using. Many people turn to sweet prosecco, which can create an overly sweet drink that looks better than it tastes. Try a dry or off-dry sparkling wine instead. The result will be much better.
Spiked Hot Chocolate

We mentioned a Kahlua hot chocolate earlier in this list, but that's not your only option. Why not change the type of alcohol that you add to your hot chocolate?
Whiskey is a classic choice here. The spirit adds a decent kick to your drink, along with a rich flavor. Bourbon can be excellent, as it is often sweet with some smokiness. These features both complement your hot chocolate well.
Vodka can work too, especially if you choose a flavored one. Vanilla vodka, for example, easily pairs with the chocolate.
Or, how about a crème de cacao or crème de menthe? These products aren't as alcohol-heavy as a straight spirit, which can be a good thing. The crème de cacao will heighten the chocolate flavor of your drink. In contrast, crème de menthe offers a delightful mint contrast.
Cranberry Rum Punch

This modern cocktail is similar to a cosmopolitan, except that it relies on white rum as the main spirit, rather than vodka. The rum adds to the flavor complexity of your drink.
You could make the cocktail by mixing together cranberry juice, white rum, sugar, and lime juice in a glass. If you want something less intense, try making cranberry simple syrup by boiling cranberries with your simple syrup.