Many cocktails have a long and illustrious string of myths and stories attached to them, with the actual truth behind their incarnation being unclear. So, before we talk about the best vodka for Moscow mules, we need to talk about the drink itself.
The Moscow mule does have some level of mystery to it but it doesn't date nearly as far back as some of the drinks we still enjoy today.
It's said to have been invented around 1940. It's by who that remains a slight mystery. The first to claim the recipe was a man named John Martin who was an executive at a drinks company. His firm had just acquired Smirnoff vodka and he soon began visiting many bars and taking photos of himself with the vodka in one hand and a copper mug in the other.
It's said that his girlfriend owned a company that made copper products, making copper mugs easy for him to get. This could explain why the Moscow mule is only served in copper mugs.
Vodka wasn't popular in the States at this point, so a marketing campaign like this is likely to have taken place. They angled their new drink as the best vodka for Moscow mules – another fun new thing to try.
So, we know that John Martin was set on getting Americans to drink vodka and he had easy access to copper mugs. It's also a known fact that he had ordered too much ginger beer for his own bar and was struggling to get rid of it. Put these pieces together and you've got a pretty likely story.
But there's another man who lays claim to the recipe. A bartender by the name of Wes Price says he had a similar overstocking issue and created the concoction to clear out the basement. He says he made the mix for the first time and served it to actor Broderick Crawford and it caught on quickly after that.
Like Morgan's tale of marketing meets ginger beer, it's believable. Price's story surfaced in 2007 via an article in the Wall Street Journal. As a result, we're not sure exactly where the cocktail came from. What we do know is that it wasn't a calculated stroke of genius but rather something that happened because someone ordered too much ginger beer.
Ginger beer and vodka is an unlikely combination but once you add a touch of lime, it works. The drink is still well-loved today. It works well with many types of vodka, including Russian vodka and anything you get in a vodka of the month club. Still, the options in this list are some of the best places to begin.
The Best Vodka For Moscow Mules
1. Prairie Organic Vodka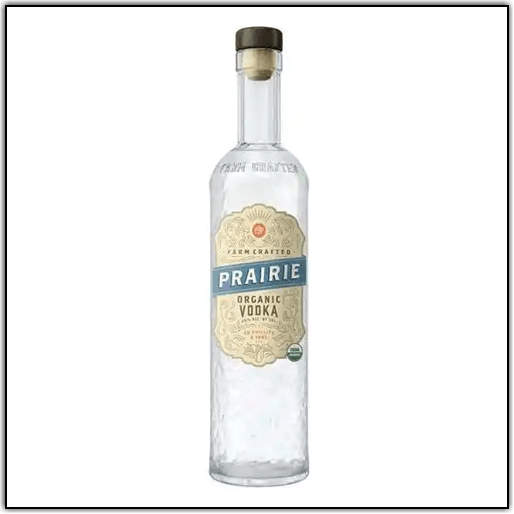 Prairie Organic Vodka is simple, clean, and smooth. It makes it a great base for any cocktail, meaning it's a staple in many bars. It's a corn-based vodka that lives up to its organic label. It's certified organic as well as gluten-free and non-GMO.
As vodka goes, it's a pretty healthy choice you can feel good about considering the eco-friendly methods with which it's made.
The distillery makes quite the effort here, seeking out the most efficient water sources, re-using and recycling as much as possible, and using locally grown grains. After fermentation and distillation, they use the dried grains to feed farm animals so they don't go to waste.
Organic vodkas can be hit or miss but this one is solid. It's got a smooth, creamy, luxurious texture and a clean flavor strong with corn. It goes well with fresh, natural ingredients like watermelon or sugar snap peas.
Overall, it stands up to any other organic vodka on the market but offers better accessibility with an affordable price tag.
2. Ocean Organic Vodka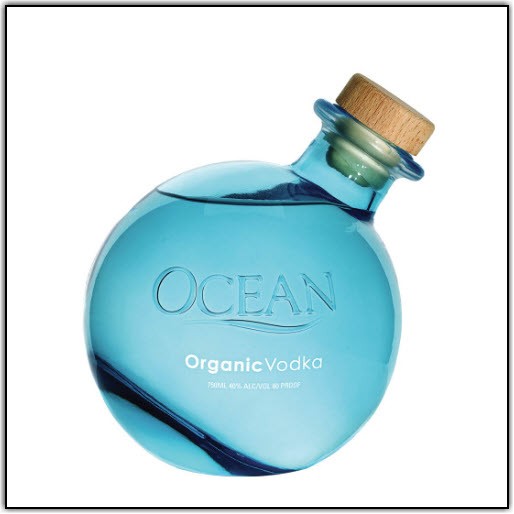 Ocean Organic Vodka is another standout in the organic category, made with organically grown sugar cane. Made in Hawaii, it has a unique complexity to it thanks to the mineral-rich ocean water that's drawn from 3,000 feet down before being desalinated for use in the vodka.
This amazing water and the high-quality sugar cane work together to create an amazingly smooth and sweet vodka perfect for counteracting the sharp flavor of ginger beer in a Moscow mule.
The company is also proud of its eco-friendly practices and is always looking for ways to be even kinder to the environment. The facility is run with solar power and they offer guided tours that let you see exactly how they create their delicious, organic masterpiece.
The texture is creamy and the flavor is sweet with simple, subtle notes of vanilla. The finish is incredibly smooth and quite crisp.
3. Luksusowa Potato Vodka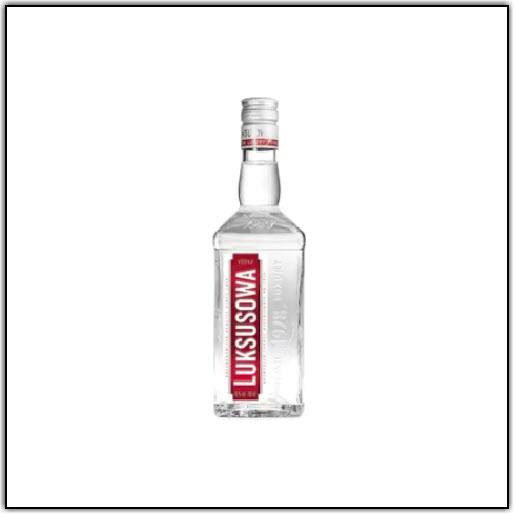 Made with potatoes in Poland, this vodka is exceptionally clean and its milder taste lends itself well to the flavors of a Moscow mule. While the flavor is mild, the texture is super creamy, taking the drink to the next level of luxury.
The potatoes are carefully monitored and hand-picked to ensure only the best are used and the vodka remains consistent in its unique character. It's notably more expensive to make vodka with potatoes, but it's done because it's worth it. It creates such a smooth taste that even the most casual vodka drinker will enjoy sipping on it slowly.
Luksusowa Potato Vodka is a medium-bodied drink with a warm, sweet flavor that's best when chilled. The aroma is mild and sweet with no trace of oils or esters. Of all the potato vodkas out there, this one is among the best, especially if you're on a budget.
4. Ketel One Vodka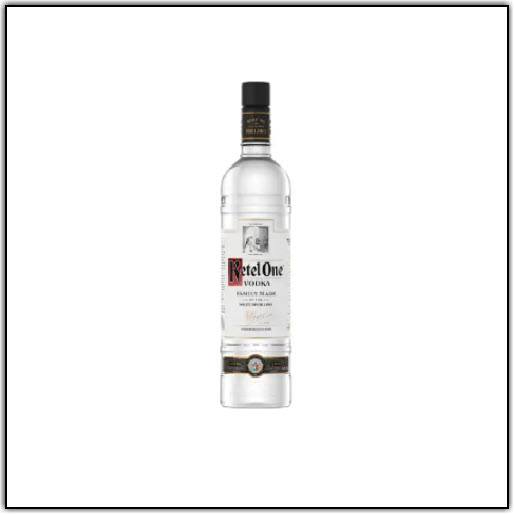 Ketel One Vodka is a family-made vodka bottle at 80 proof and made using only 100 percent non-GMO wheat from Europe to ensure maximum smoothness and neutrality. Ketel One is an impressive family operation, having been run by 11 generations in a row since their beginnings in 1691.
Their dedication to high-quality ingredients and top-notch spirits has never wavered and their excellent vodka is proof of that. It's inspired by the traditional distilling expertise that's been passed down through so many fathers and sons.
They still use traditional copper pot stills but they've modernized their distilling process a little to give their vodka a unique and distinctive quality that is unmistakably Ketel One. The flavor is crisp and mild throughout but with a strong finish.
The mild flavors in this clean, crisp vodka disperse extremely well into the sweet and tangy flavors of a Moscow mule, offering a standard and straightforward version of the drink. It's perfect for those that like it traditional.
5. Absolut Elyx Vodka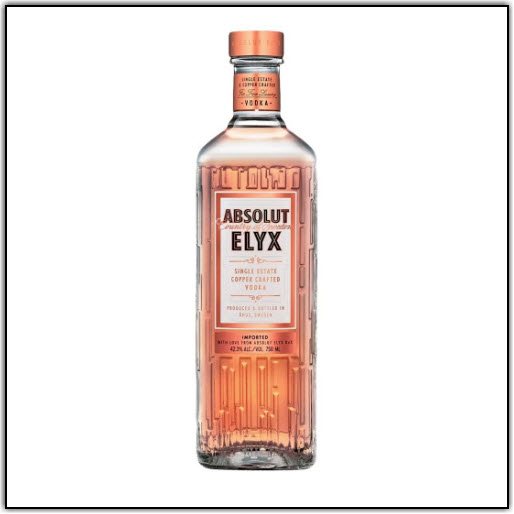 Absolut Elyx is a luxurious blend of winter wheat from Sweden, crafted in a vintage copper column. The bottle is eye-catching thanks to the beautiful and eloquent design, and the vodka has a flavor to match.
With a fresh, crisp offering of macadamia nuts on the palate, it creates a flavorful and well-balanced Moscow mule for those that like to mix it up just a little.
This wheat used for this vodka is grown on a single estate in Sweden where the climate is optimal for the strain. They've been growing it there since the 1400s so you can have full confidence that they know how to grow and select the absolute best quality grains for the best possible bottle of vodka.
The texture of this vodka is unbelievably smooth and rich. This is made even more impressive when you consider that the entire process, from seed to bottle, happens in a 15-mile radius. This means everything is almost under one roof and can be monitored closely for compliance and quality.
The vodka is pure and clean which comes through on the nose, offering aromas of fresh bread, cereal, white chocolate, and mild spice. In addition to macadamia nuts, you'll notice subtle notes of white chocolate and a buttery undertone. The finish is warm and gentle with additional nuttiness and spice.
How to Make the Perfect Moscow Mule

A Moscow mule has a simple recipe with only three ingredients, but you have to get everything just right. It's true that many variations of the drink have been created and continue to circulate, but the original three-ingredient recipe will never fully go out of style.
What you'll need:
The right kind of vodka
The perfect ginger beer
Half a lime
A copper mug
To make the drink, follow these steps:
Squeeze the lime into your mug and drop the lime in when done.
Fill the mug with ice.
Pour in your vodka and ginger beer in your desired amounts.
It's pretty simple. The key is using the right kind of ingredients.
What is Ginger Beer?
Not to be confused with ginger ale, ginger beer is carbonated but it's made from real, fermented ginger spice meaning it's much spicier than its ale counterpart. Despite having a name like beer, it's not generally an alcoholic drink on its own.
The best ginger beer for a Moscow mule is one that's heavy on the ginger flavor. You should be able to notice the ginger even once you add the alcohol.
The Best Vodka
Choosing the right vodka is just as important. You want something fairly mild so it mixes well with the spicy ginger and tangy lime. At the same time, you want a little sweetness in there to balance out the sharpness of everything else.
So, you can't really make a Moscow mule with just any vodka. You need to find something that's the perfect balance of mild and sweet.