You can't have a well-stocked bar without including some orange juice. It just isn't possible, as orange juice features in countless classic cocktail recipes.
The list of cocktails with orange juice doesn't stop with the obvious additions like the screwdriver and mimosa either. Orange juice features in plenty of more complex cocktails too, adding a little more nuance to their flavor.
Orange juice is surprisingly versatile too. It combines well with many different types of spirits, including vodka, tequila, and even rum. This is why it's such a perfect cocktail ingredient. If you're not convinced, try a few of these cocktails out and see for yourself.
Orange Juice Cocktails
Mimosa
Buck's Fizz
Screwdriver
Hurricane
Monkey Gland
Harvey Wallbanger
Tequila Sunrise
Russian Sunrise
President
Sex On The Beach
Sunflower Highball
The Madras
White Madras
Orange Crush
The Roosevelt
Scorpion
Tequila Sunset
Kentucky Sunrise
Ward 8
Fuzzy Navel
Cantarito
Orange Margarita
Abbey Cocktail
Bocce Ball
Belmont Breeze
Orange Creamsicle
Mimosa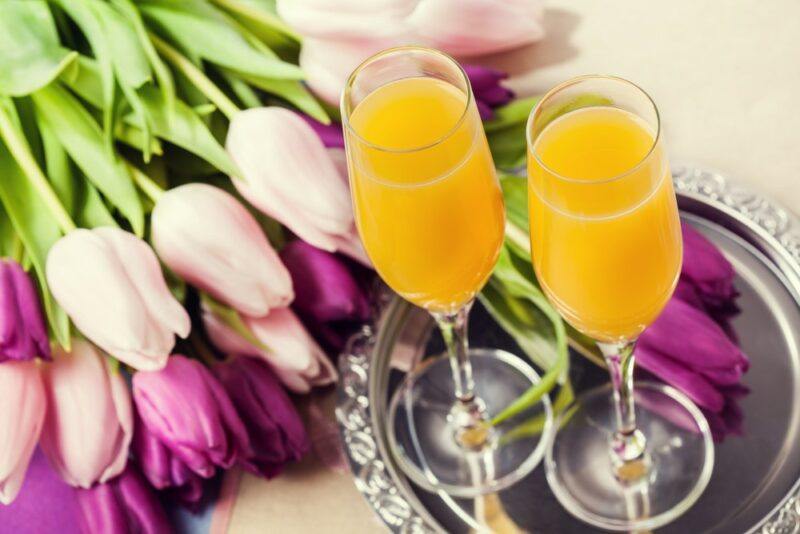 The mimosa is one of the classic orange juice cocktails, so let's begin with it. Most versions use just two ingredients – orange juice and sparkling white wine.
The wine you choose matters here. After all, there are just two ingredients, so any inadequacies will show up. While traditional mimosa recipes often call for champagne, the cocktail ends up tasting better if you use prosecco or cava. These are both dry sparkling wines and, as a bonus, happen to be cheaper than champagne.
The ratio of orange juice to wine matters too. Half and half is a good place to begin. You can then adjust this to match your flavor preferences.
There are plenty of mimosa variations to experiment with too. Some add Grand Marnier or triple sec to provide an extra kick and some more flavor, while others swap the orange juice for a different type of fruit juice.
Buck's Fizz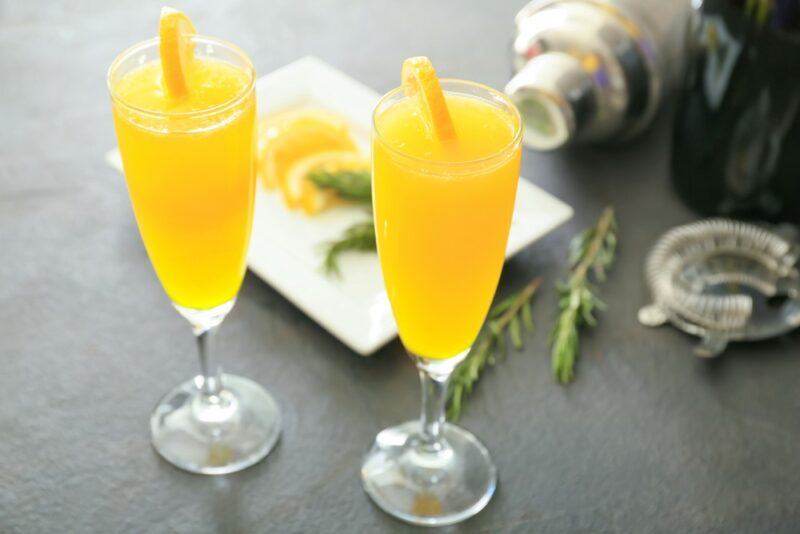 A buck's fizz is basically a mimosa, except it uses a different ratio of ingredients. With a mimosa, you're often using a 50-50 mixture of sparkling wine to orange juice or perhaps a bit more orange juice.
On the other hand, a Buck's fizz tends to use two parts champagne and one part orange juice. This gives you a stronger drink, where the orange juice provides extra flavor, rather than being the main attraction.
Screwdriver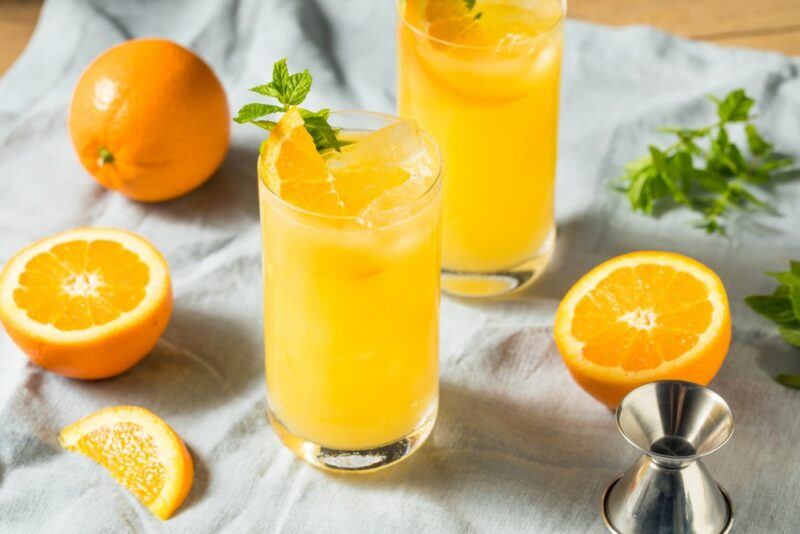 Like a mimosa, the screwdriver is a classic two-ingredient cocktail. This time, you're using vodka, which gives you a still drink that's a breeze to prepare.
Using good orange juice is absolutely essential here, as vodka doesn't have much flavor. Even the best vodka does nothing more than add a little nuance.
You should also think about the ratio of orange juice to vodka. You could make the drink with a shot of vodka and a full glass of orange juice. Many people do. But, that combination gives you a weak drink that just tastes like orange juice.
For a better balance, try one part of vodka to two parts orange juice. This ratio gives the vodka the chance to shine through.
If a screwdriver is too boring on its own, try adding an extra ingredient. A dash or two of bitters, for example, adds a herbal tone to the drink, while soda water dilutes the cocktail and makes it bubbly.
Hurricane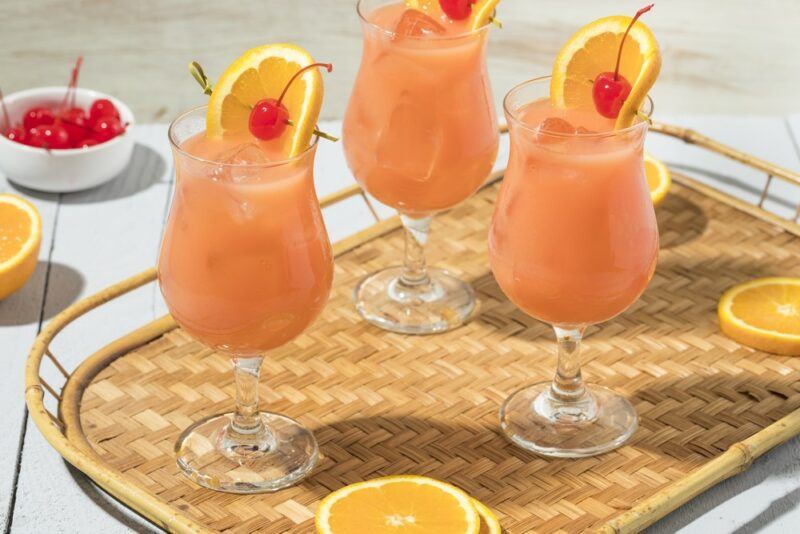 The hurricane cocktail is a New Orleans creation – and a famous one at that. While the cocktail can be very fruity, it also packs a surprising punch, partly because two types of rum are included. In fact, the hurricane is stronger than most other cocktails, so order with care.
Aside from the rum, other cocktail ingredients include grenadine, orange juice, and passion fruit juice. Simple syrup can be added for some extra sweetness.
This combination of fruit juice and simple syrup means that you can barely taste the rum at all – making this a perfect cocktail if you have bottom-shelf rum on hand.
Remember though, this is a strong cocktail. The alcohol will hit you soon enough, even if you can't taste it.
Monkey Gland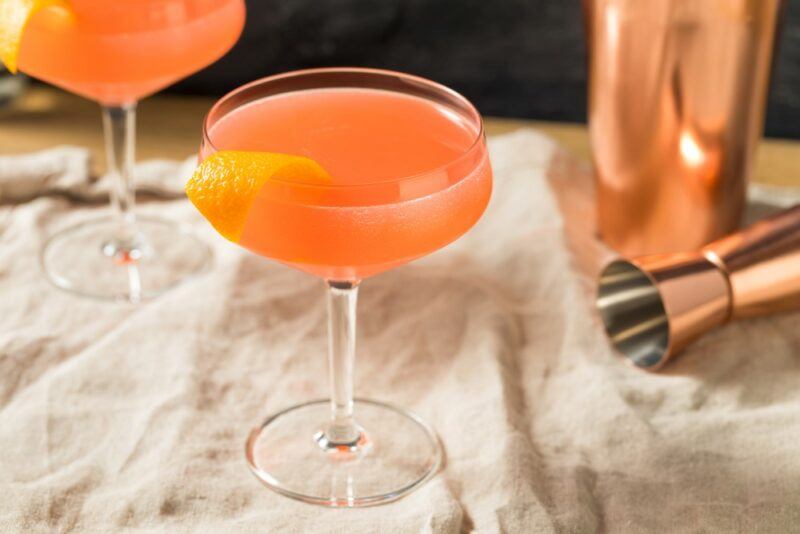 This drink has a long history. It was used during Prohibition as a way to mask the taste of low-quality gin, but you can still make it with high-quality gin too.
The cocktail is similar to some others on this list, combining orange juice with gin and grenadine. The most interesting part is the addition of a little absinthe. A little goes a long way here, so don't use too much. The absinthe adds an interesting complexity to the drink.
Combine all of this with a little tonic water and you have a cocktail that isn't soon forgotten.
Harvey Wallbanger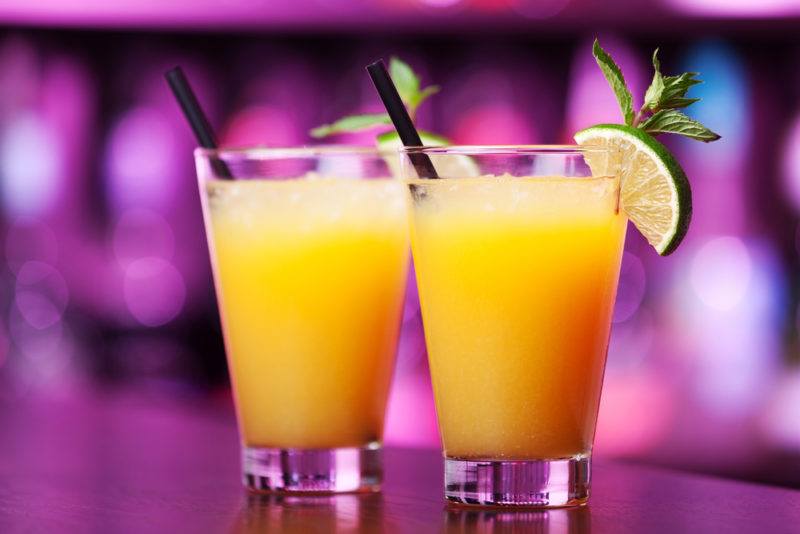 Here's another classic to try for yourself. Just like the screwdriver, a Harvey Wallbanger relies on vodka and orange juice. This time a little Galliano is used as well.
To make the cocktail properly, mix the vodka and orange juice together, then float the Galliano over the top, using the back of a spoon. The Galliano float doesn't stand out, but it gives the cocktail an edge over the standard screwdriver.
Tequila Sunrise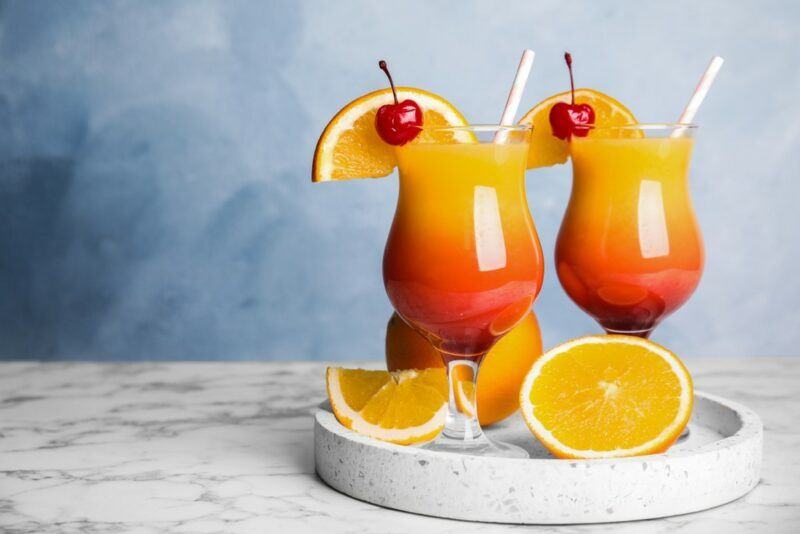 This cocktail is the go-to drink when you're on holiday at the beach, although it's just as delicious in any other situation too. The drink's name, and fame, come from its layered appearance.
Surprisingly, you only need three ingredients – tequila, orange juice, and grenade. To begin with, add ice, tequila, and orange juice into your glass, followed by the grenadine. Avoid stirring the drink. Even a little stirring will destroy that layered effect.
Russian Sunrise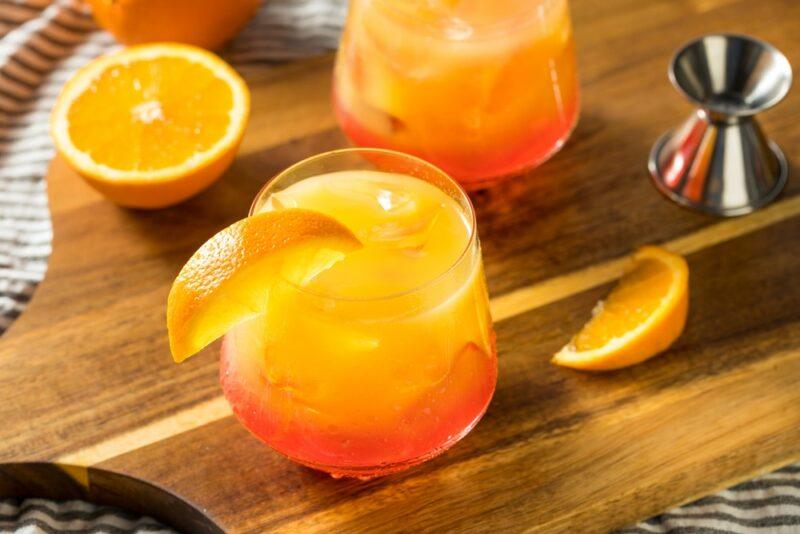 While the Russian sunrise isn't as well-known as the tequila sunrise, both are delicious and stunning to look at. The Russian part of the name comes from how this drink uses vodka instead of tequila. Once again, orange juice and grenadine are the other ingredients.
You make the cocktail in the same way as a tequila sunrise, with one difference – once all the ingredients are in the glass, you need to gently stir it. The stirring gives you the sunrise effect.
President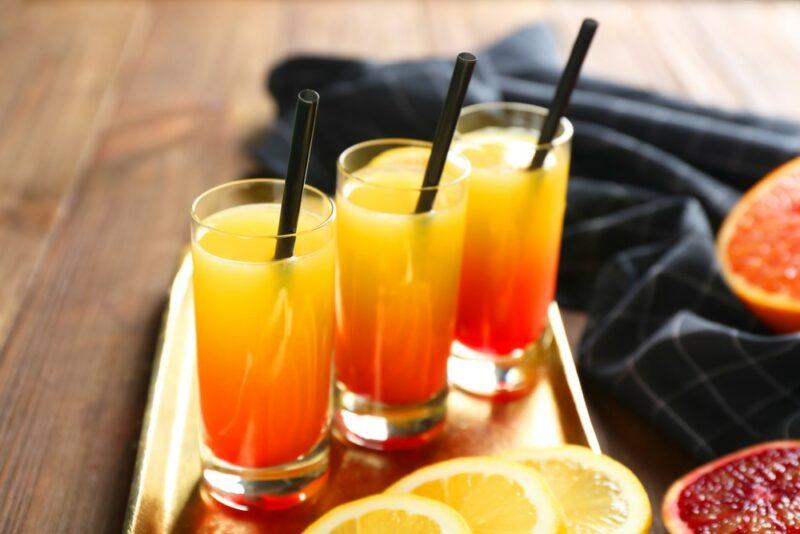 It's always surprising how many cocktails take something famous and change one ingredient. That's what happens with the President cocktail. Once again, you're basically making a tequila sunrise, but this time you use white rum instead of the tequila.
The steps are the same as the tequila sunrise too, so you mix the rum and orange juice, then pour the grenadine over top. While swapping tequila for rum doesn't have a dramatic effect on the cocktail, you do end up with a delicious drink. You can get more creative with this idea too. For example, the Barbados sunrise adds blue curacao into the mix too. This increases the alcohol content of the drink and brings in a delightful blue color as well.
Sex On The Beach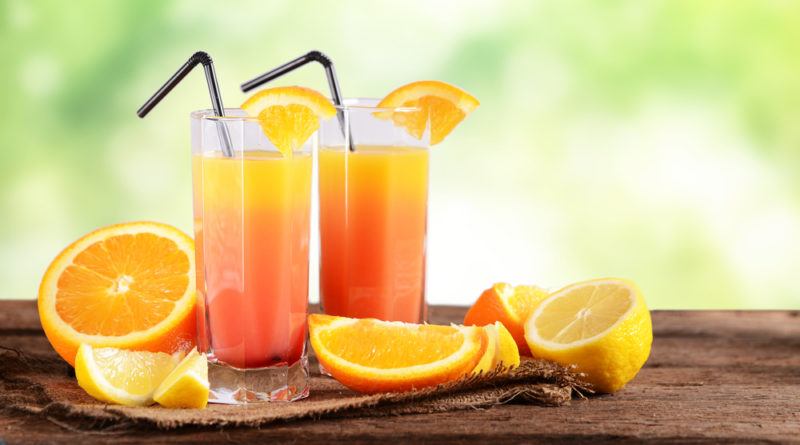 This cocktail has a fantastic name, doesn't it? Then again, it was invented in the 1980s, so the name isn't too surprising.
The basic version of the cocktail includes vodka, orange juice, peach schnapps, cranberry juice, and a little lemon juice. Some recipes change the ingredients slightly, like one that uses Chambord rather than lemon juice.
Regardless, you end up with a sweet and fruity cocktail, one that's surprisingly delicious. The peach schnapps is the only slightly unusual ingredient and even this isn't difficult to find. If you don't have peach schnapps at home, don't worry, most bars will make the cocktail, as it's a crowd favorite.
Sunflower Highball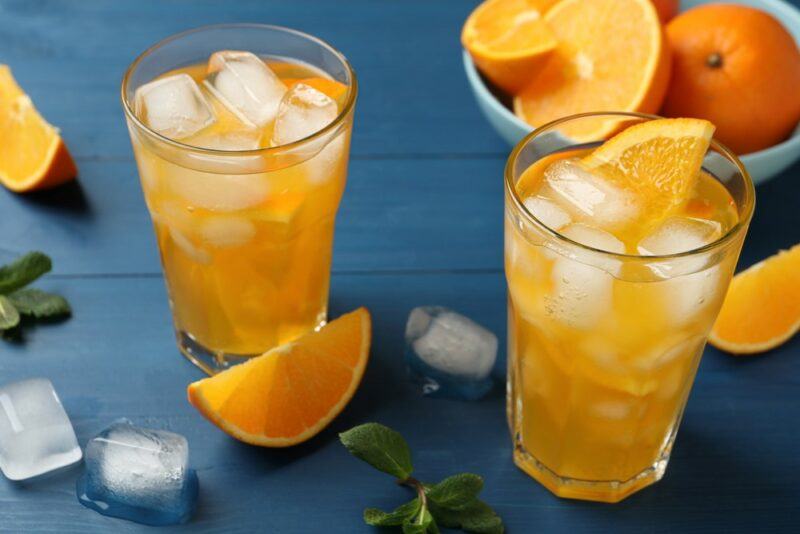 A sunflower highball can be made just like a Harvey Wallbanger, where you mix orange juice and vodka together, then pour the last ingredient on top, over the back of a spoon. But, while a Harvey Wallbanger uses Galliano as that top layer, a sunflower highball uses vanilla liqueur instead.
Using a layer of vanilla liqueur like this means that you get a hit of vanilla with every sip. The vanilla would end up quite diluted if you mixed it in instead.
The Madras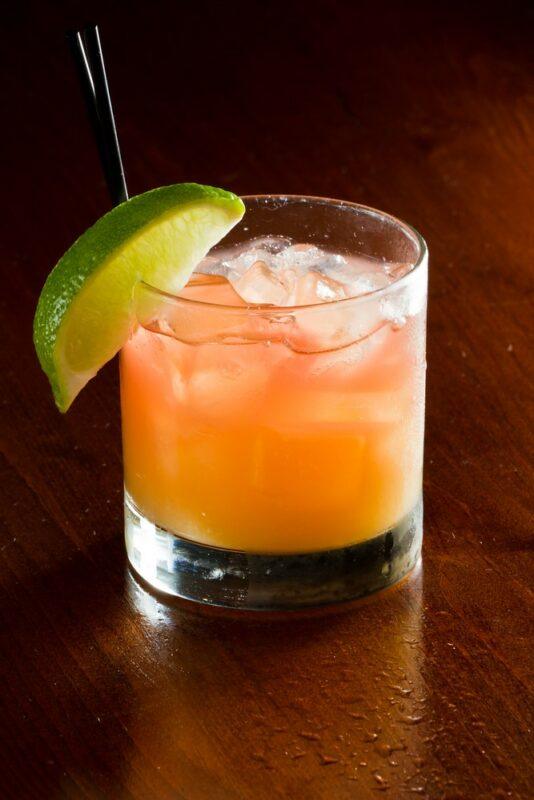 If you like sex on the beach (the cocktail, that is) but want something simpler, then the madras could be ideal. This cocktail just uses three ingredients – vodka, orange juice, and cranberry juice.
The combination of cranberry juice and orange juice is an excellent one. You still get a delicious fruitiness, with the tartness of the cranberry nicely offsetting the sweetness of the orange juice.
Plus, vodka, cranberry juice, and orange juice are all common cocktail ingredients. Any bar will have them. You might even have them all on hand already.
For some variety, try using flavored vodka with this drink. Mandarin vodka gives you a mandarin madras, where the mandarin flavor is excellent next to the orange and the cranberry juice.
White Madras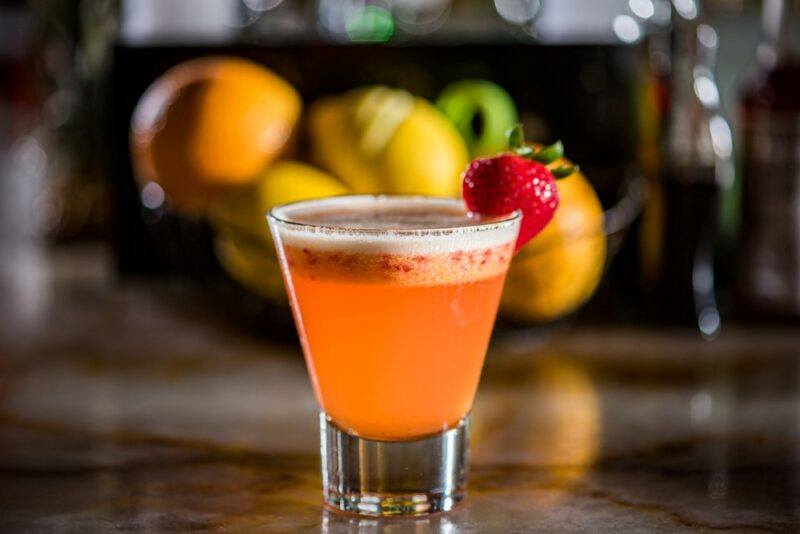 How's this for an interesting variation? A white madras is similar to the previous cocktail, except that you're using white rum instead of vodka. The rum provides a whole new layer of flavor, one that you'll never get from vodka.
Of course, it's only worth trying if you enjoy white rum to begin with.
Orange Crush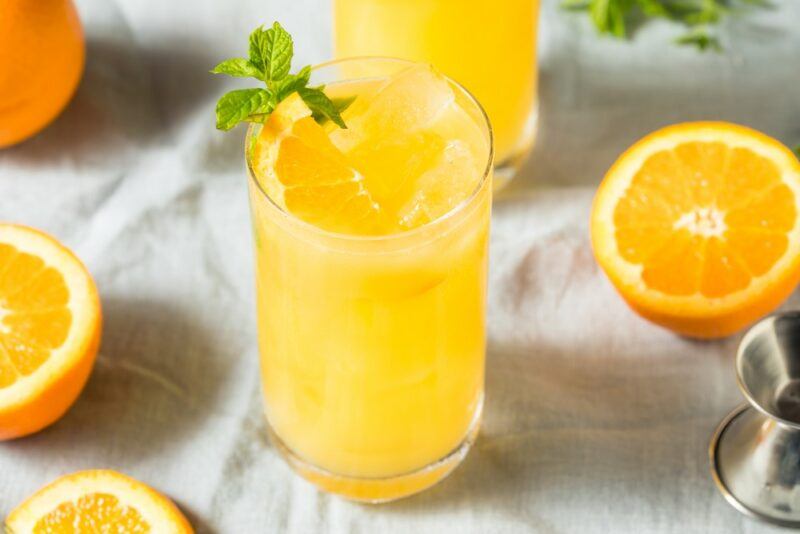 Love oranges? If so, the orange crush is hard to beat. The cocktail uses three parts of orange juice, plus one part of mandarin vodka and one of triple sec.
These ingredients are all shaken together over ice, then poured into a glass. Or, if you don't have a shaker, stirring them together is almost as good. Either way, you get a cocktail with plenty of orange flavor to go around.
The Roosevelt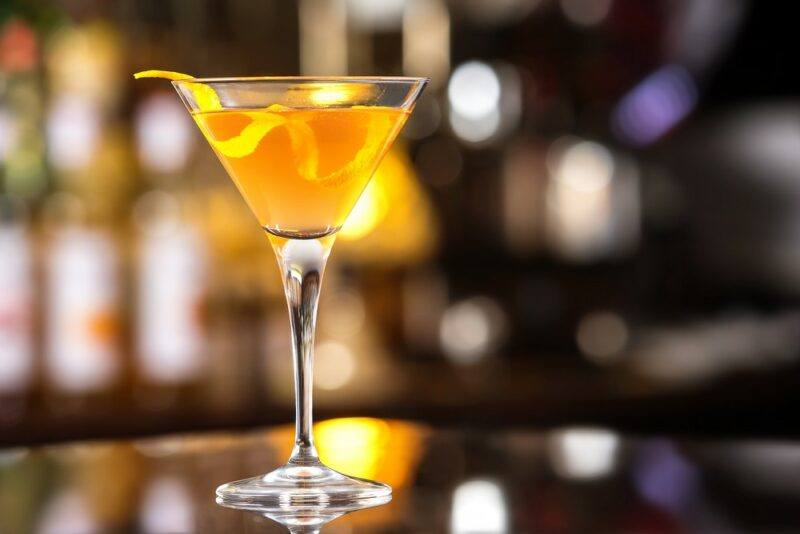 This cocktail isn't the only one to be named after President Roosevelt, nor does it seem to have much to do with the man, aside from sharing a name. It's not even clear whether President Roosevelt even tried this cocktail.
This particular version includes dark rum, dry vermouth, sugar, and orange juice. You're not using much orange juice here – just a quarter of an ounce, along with almost 2 ounces of rum. As such, the orange juice isn't the dominant flavor. It simply adds nuance to the drink.
You can play around with ingredient ratios too. For example, one version uses an ounce of dark rum, 0.75 ounces of vermouth, and 0.25 ounces of orange juice.
Scorpion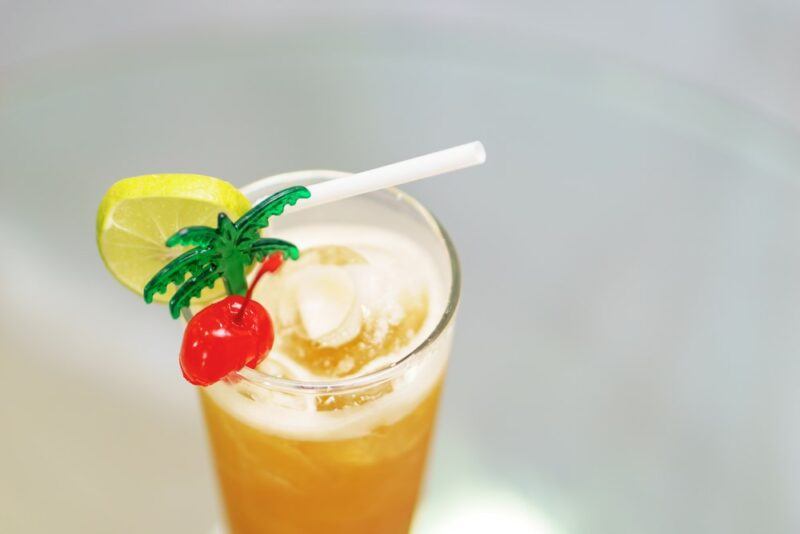 Speaking of rum and orange juice, here's another cocktail to consider. This one certainly packs a punch, as it includes rum (Bacardi works well), brandy, and Cointreau in the same drink. Orange juice features too, of course, and sometimes some lemon or lime juice as well.
Interestingly, this cocktail is often served over crushed ice. The ice helps to make it a little less intense. After all, this is one potent cocktail.
Tequila Sunset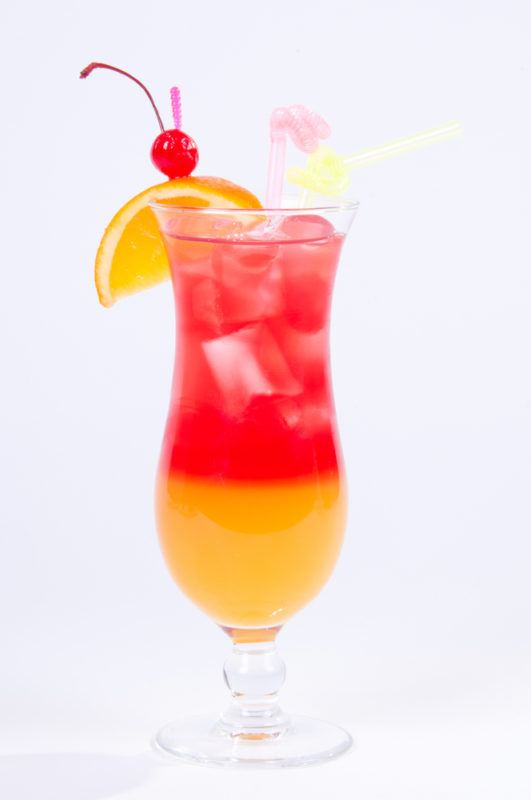 The tequila sunrise is a classic cocktail, but what about a tequila sunset instead? The idea is to have the same gradient of red and yellow in your cocktail glass, but to invert the colors. So, with a tequila sunset, the red should be on the top of the glass, rather than the bottom.
To do this, the ingredients need to be a little different. One version drops out the grenadine and uses soda water mixed with red food coloring instead. This way you get the same colors, just with a little less sweetness.
Another option is to use blackberry brandy instead of grenadine. The brandy ups the alcohol content a little, while also changing the flavor profile. However, you do end up with a delicious drink.
Kentucky Sunrise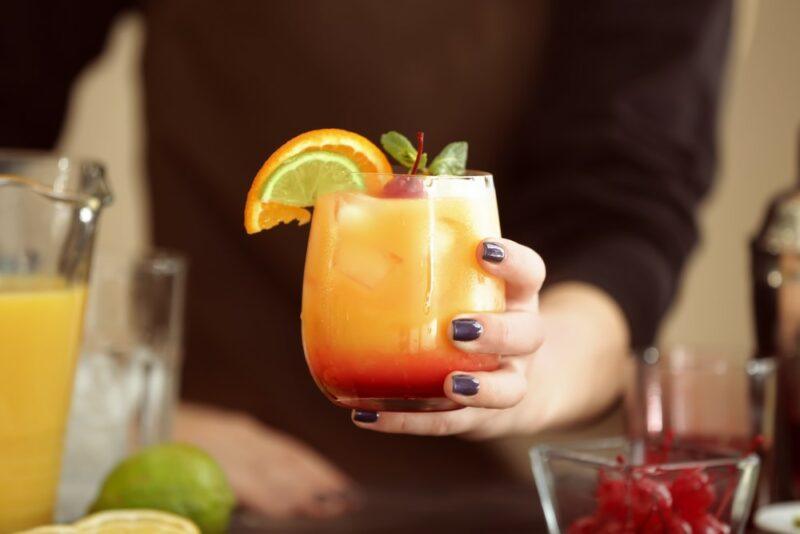 There's a shocking number of drinks inspired by the tequila sunrise, most of which just change the main spirit. As you can probably guess, the Kentucky sunrise swaps the tequila out for bourbon.
Doing so dramatically changes the flavor of your cocktail, making it taste richer and smokier. Combining orange juice, grenadine, and bourbon like this sounds like it shouldn't work. Yet, the drink is a delicious one that you don't want to pass up.
Ward 8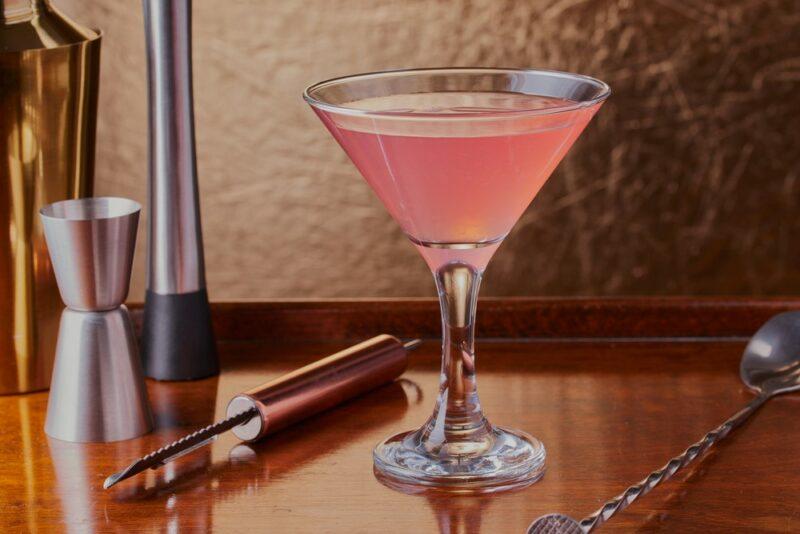 This cocktail takes the Kentucky sunrise and makes a few tweaks.
First, you're using rye whiskey rather than bourbon. This changes the flavor profile a little.
Second, you're changing the ratios. A Kentucky sunrise often uses around 3.5 oz of orange juice to 1 oz of bourbon and a little grenadine. With a ward 8, you're including 2 oz of whiskey, 0.75 oz orange juice, 0.75 oz lemon juice, and just a splash of grenadine. The difference in ratios gives you a stronger cocktail, with a more intense whiskey flavor.
Finally, there's the lemon juice. This contrasts against the sweetness of the orange juice, giving your cocktail an interesting balance of flavors.
Don't be afraid to play around with the whiskey. The Kentucky sunrise and ward 8 can both be made with your favorite type of whiskey. The flavors will be a little different depending on the whiskey that you choose, but this is half the fun.
Fuzzy Navel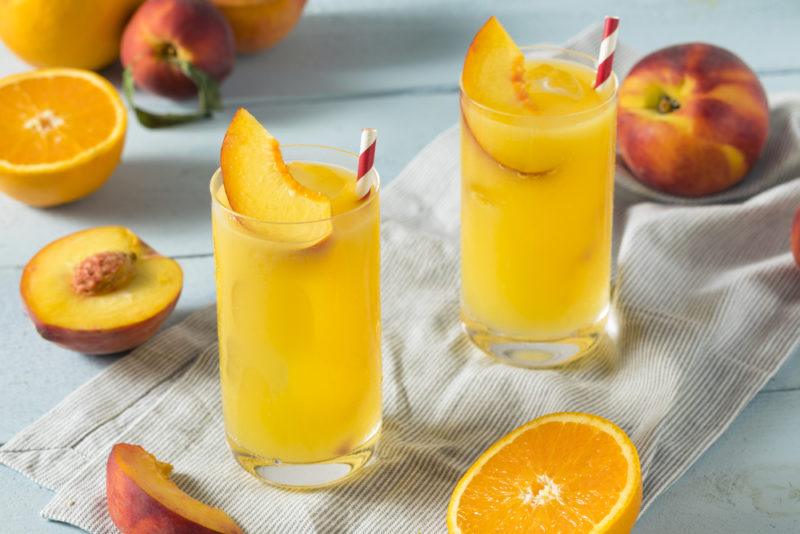 Strange name or not, this cocktail is delicious, light, and easy. There are just two ingredients to rely on – peach schnapps and orange juice.
The combination of peach and orange works perfectly, giving you a tasty and refreshing drink. Most versions are heavy on the orange juice and include only a little peach schnapps. Doing so gives you the best flavor balance, while helping to keep the alcohol content low too.
Cantarito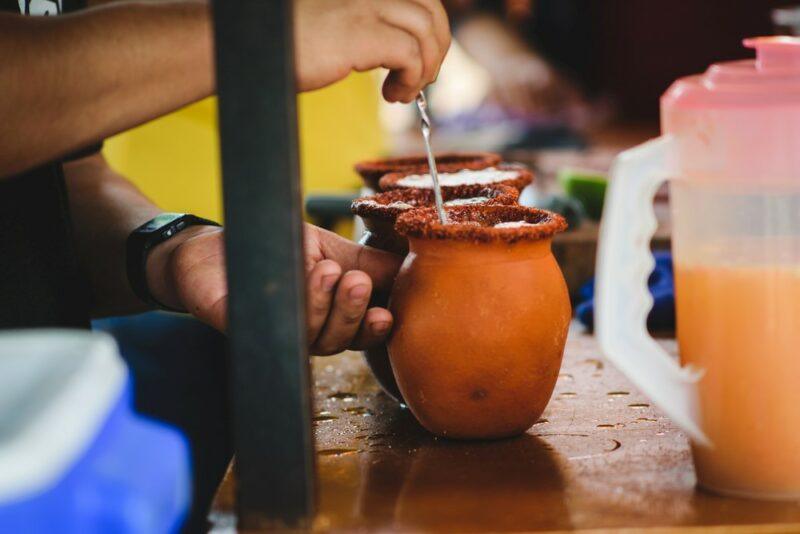 This Mexican tequila cocktail is a popular choice that you can easily make at home. It's similar to a paloma in that you're using tequila, grapefruit soda, and lime. However, orange juice and lemon juice are added as well, giving you a refreshing citrus-heavy drink.
It's easy to see why this cocktail works so well. After all, tequila is always excellent with citrus, and you have plenty of tart flavors to prevent the drink from becoming too sweet.
Orange Margarita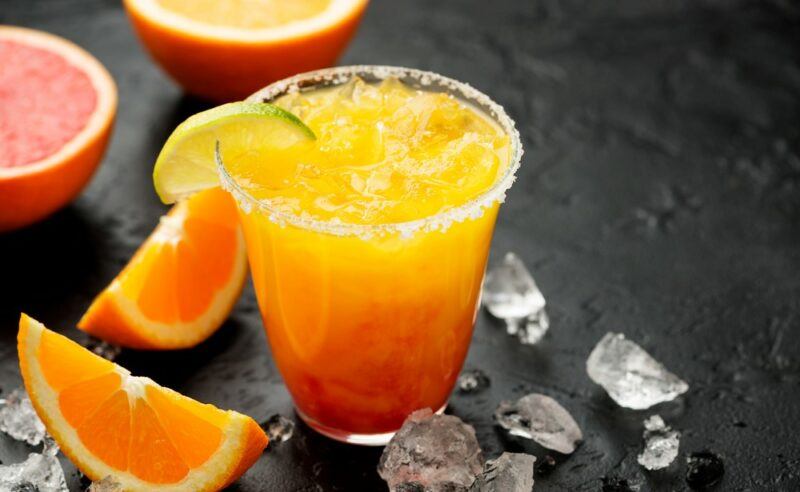 An orange margarita is just what the name suggests – a margarita that heavily relies on orange juice. One version uses orange juice, lime juice, tequila, and triple sec as ingredients, giving you a vibrant drink.
An orange margarita is perfect for anyone that fits regular margaritas too sour or intense.
Abbey Cocktail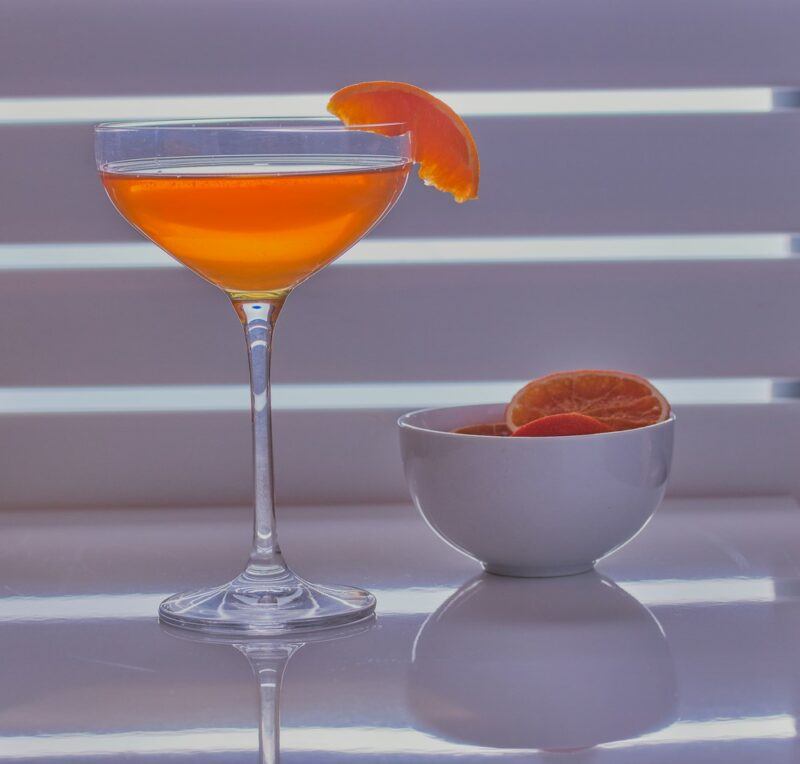 Are you a gin lover? If so, the abbey cocktail might be your new favorite cocktail. The drink combines gin and lillet blanc with orange juice and orange bitters, giving you distinct orange flavors that don't overwhelm the gin.
While the ingredients are different, the abbey cocktail is like a martini in that the gin shines through. Many gins that work well for martinis are excellent for this type of cocktail too.
Using fresh orange juice is essential here. Thankfully, you don't need much, so even the juice from one orange should be more than enough.
Bocce Ball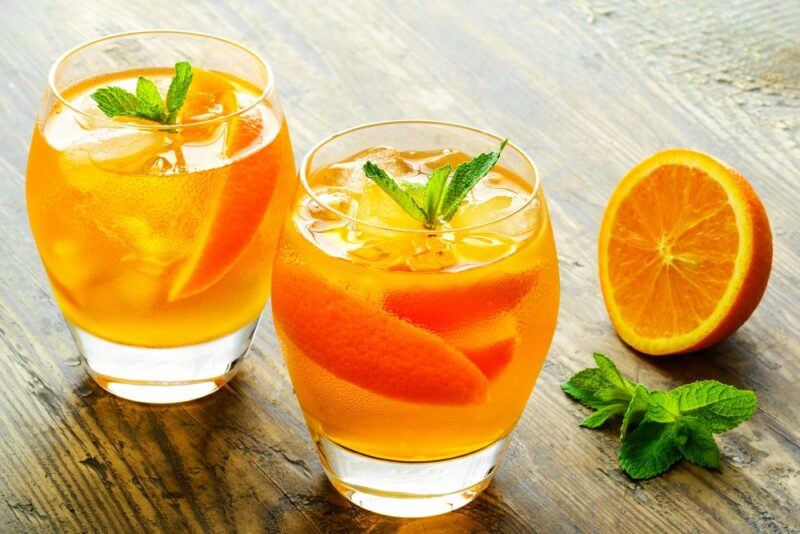 This simple cocktail takes a screwdriver and changes it up, just a little. You're still combining vodka and orange juice, but this time you're adding some amaretto too.
The amaretto provides an almond background to the drink, making it taste more interesting than a regular screwdriver.
Belmont Breeze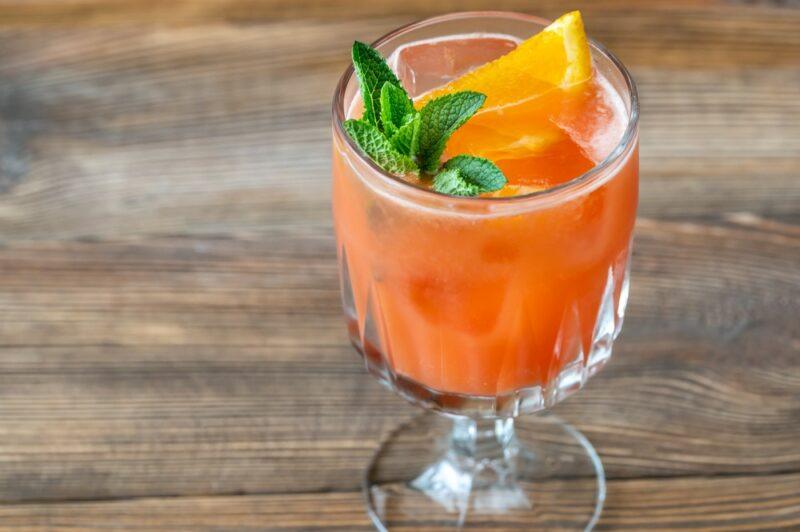 This drink shows that orange juice cocktails don't need to be simple or boring. It combines bourbon and orange juice with cranberry juice, lemon juice, and sherry.
The combination of ingredients gives you a drink that looks and tastes delightful. Mint leaves are the traditional garnish, which provide a little extra flavor as well. If you have the ingredients on hand, this drink is worth trying for yourself. You won't regret it.
Orange Creamsicle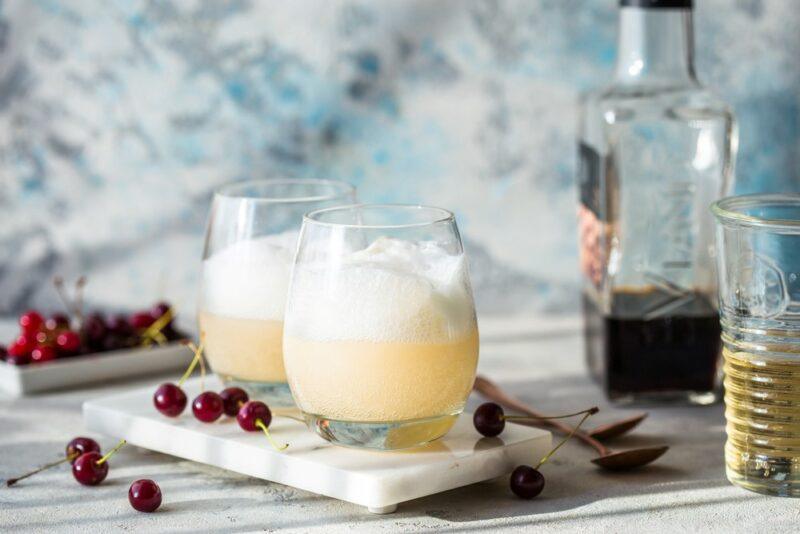 You can probably guess the flavors of this cocktail from the name alone. The drink really does taste like an orange creamsicle treat. Some versions even include ice cream to complete the experience.
Flavored vodka is the spirit of choice here. You'll want either vanilla vodka or whipped cream vodka to create the right flavor balance. The orange flavor comes from orange juice and triple sec, while some half-and-half is included to make everything creamy and delicious.
How To Make The Best Orange Juice Cocktail
Most of these cocktails can be made using any type of orange juice. But, the type of juice you use strongly influences the final result.
To make the best cocktails, you need to stick to freshly squeezed orange juice. This adds a brightness to your cocktail and has some tartness that you don't find with orange juice from a bottle.
In contrast, bottled orange juice can make your cocktails taste far too sweet.
If you don't want to squeeze oranges each time, look for high-quality bottled orange juice. The best products will use just orange juice as an ingredient and won't say from concentrate.
You might get away with the cheap orange juice if your cocktail contains four or five ingredients. But, if you're making something like a mimosa where there are just two ingredients, fresh orange juice is essential.