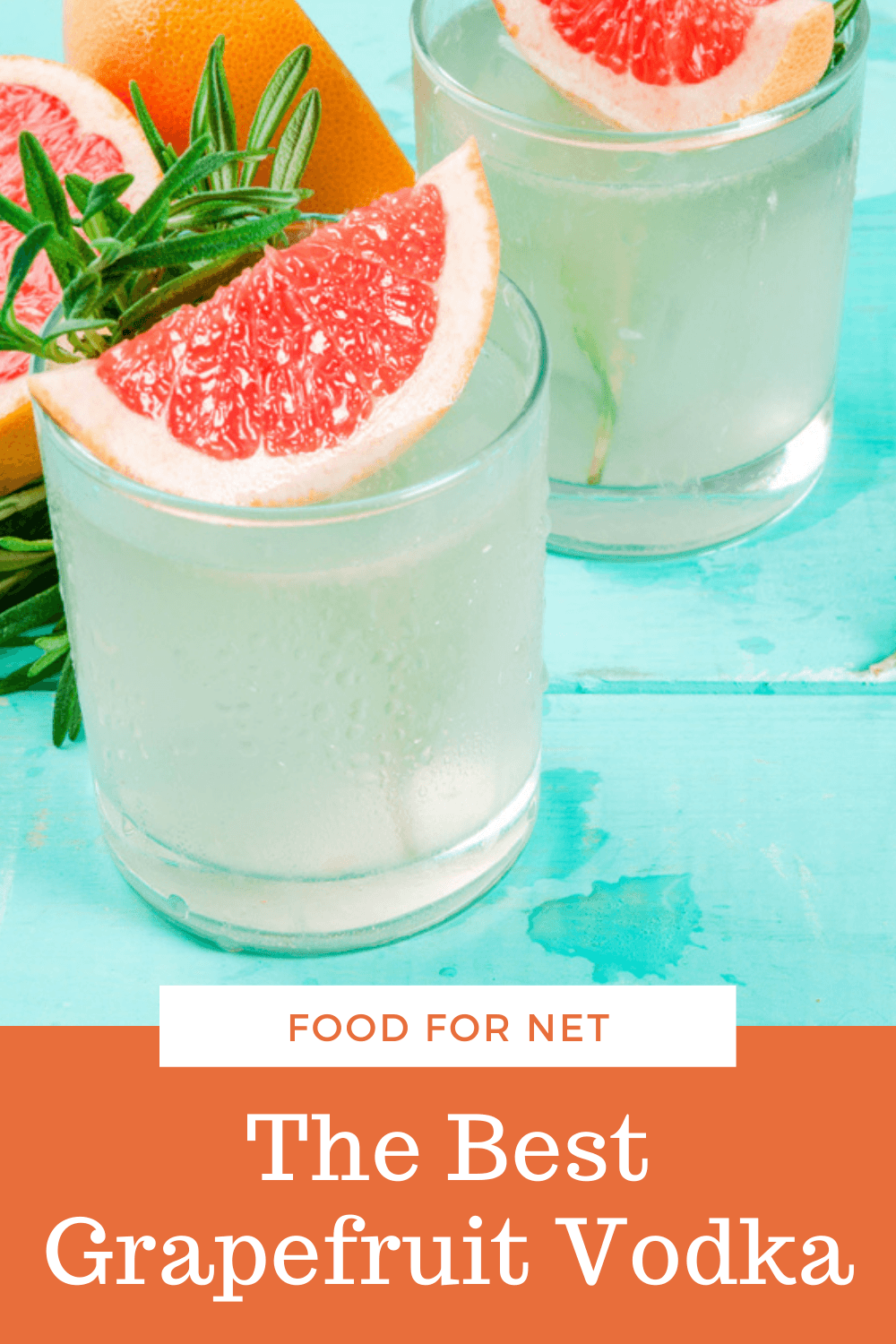 While still part of the citrus family, grapefruit vodka stands out a little because it's inherently less sweet than other types of citrus vodka. It's got some sweetness in there, no doubt, but grapefruits also have a little bit of tangy bitterness to them as well. It's the nature of the fruit and when the vodka is made correctly, that bitterness transfers into the spirit. This makes a drink like a grapefruit vodka perfect for those zesty cocktails or ones that need a bit of balance brought to the sweetness.
For this reason, the best grapefruit vodka is usually one that uses natural flavors and doesn't have too much else going on. Occasionally you'll find a bottle that's been sweetened and is still good, but the natural bitterness is part of grapefruit.
If the palate is on the complex side, you'll often find bittersweet, slightly spicy pepper notes on the end. This doesn't always go well with fruit, but with grapefruit, it works well. Below, we have a list of exceptional, natural grapefruit vodkas to choose from. Some are spicier, some focus on grapefruit's sweet side, but all are smooth and well-crafted.
The Best Grapefruit Vodka
1. New Amsterdam Grapefruit Vodka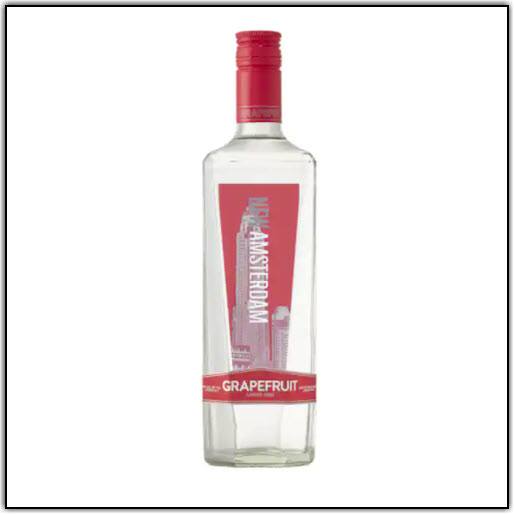 New Amsterdam Grapefruit Vodka is one of many flavored expressions in this fairly new but super impressive line of drinks from this emerging premium distillery. New Amsterdam was launched in 2011 and promptly became the first brand in history to sell one million cases.
Since then, they've continued growing and expanding their passion for good-quality and delicious vodka. Their hard work and commitment produce a vodka that is crisp and clean with unmatched smoothness after being distilled five times and filtered three. It's clean and smooth enough to drink straight but it really shines in a good cocktail. This expression earned 93 points from Tasting Panel Magazine in 2018.
The aroma here is that of smashed ruby red grapefruit with vodka backing. Ruby red grapefruit bursts through the front of the palate backed by strong sweetness. The sweetness intensifies through the mid-palate where notes of tart grapefruit peel appear. The finish retains the grapefruit's sweetness but offers a subtle peppery bite at the very end.
2. Absolut Grapefruit Vodka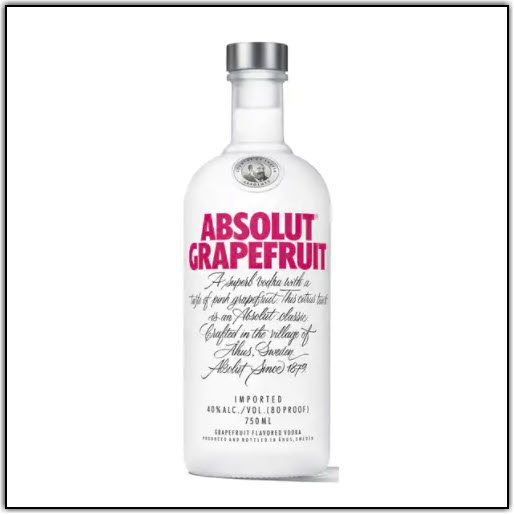 Following the success of their original vodka, Absolut has created a solid line of flavored vodkas as well, many with a citrus theme. Absolut Grapefruit Vodka is the perfect addition to this with its fresh profile and no added sugar.
The drink has the perfect balance of bitter, sweet, and tangy that lends itself so well to a wide range of cocktails. Absolut themselves have come up with a few basic recipes to start you off, including a simple grapefruit and tonic to more complicated drinks that they promise are worth the effort.
The aroma is bright and fresh with grapefruit coming through bold and strong. The palate follows with the perfect levels of sweetness, tartness, and a touch of bitterness. It refreshing and extremely well-balanced, as it should be for use in cocktails. It's not without sweetness, but the sweetness is subtle which may come as a welcome relief to those who drink a lot of sweet spirits and want to mix it up.
3. Ketel One Grapefruit and Rose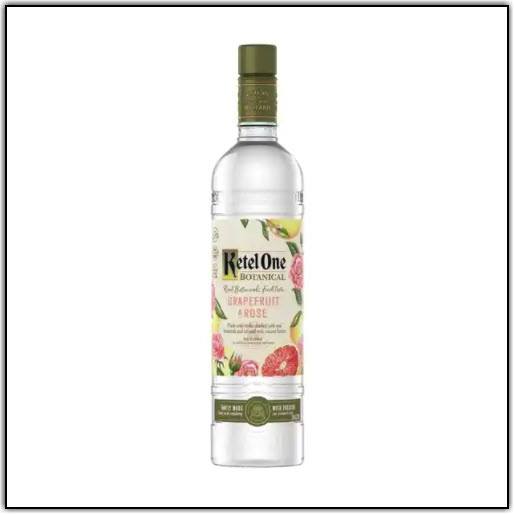 Ketel One is widely known as one of the best organic vodka brands out there, with their original expression doing quite well and being featured in many cocktails. They've since branched out and created a wonderful collection of spirits, including this delicious Ketel One Grapefruit and Rose.
This expression takes the bright and inviting notes of grapefruit and combines them with the elegant, refined notes of rose petals. It creates a beautiful harmony of floral, fruity, and zesty. Each botanical used in this drink is naturally sourced and carefully distilled to retain as much freshness and potency as possible.
The aroma is really bright and offers intense notes of grapefruit to start. The rose is subtle on the nose. The palate follows with grapefruit, to begin with, followed by the floral note of rose on the finish, where it's met with a crisp, bittersweet end. It's great in cocktails but this is one that really shines when sipped on its own or with some ice and club soda added.
4. Deep Eddy Ruby Red Vodka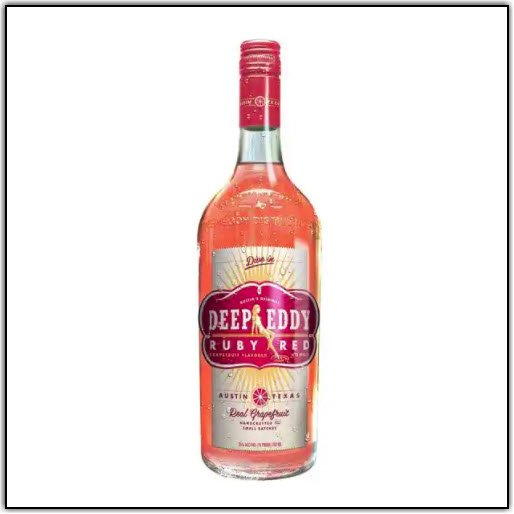 Deep Eddy is serious about quality and smoothness. Their Ruby Red Vodka is handcrafted in their distillery and distilled a total of ten times in a top-notch column still. They use only the finest water and purify it through reverse osmosis before filtering the vodka eight times through their special system. All of this ensures optimal smoothness and no bite whatsoever.
The final product is a mixture of their original vodka, juice from real, fresh ruby red grapefruits, and a touch of natural cane sugar. No high fructose corn syrup or other harmful additives are found in any of their drinks.
The drink is a beautiful bright pink color in the bottle and the aroma is ripe with heavy, rich grapefruit. The palate follows with similarly strong notes of fresh grapefruit and plenty of sweetness. You can taste the essence of their original vodka in the background. The mouthfeel is a little tingly as it reaches the end. The finish becomes a bit savory with just a touch of mushrooms. It's delicious on its own and even better served with something sparkling.
5. Western Son Grapefruit Vodka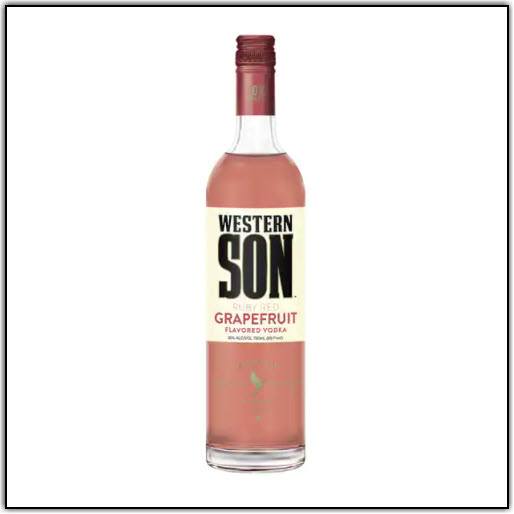 Western Son Grapefruit Vodka is made in Texas with only the finest grains available and is distilled ten times to ensure maximum smoothness. This grapefruit vodka is particularly sweet with no bitterness on the profile.
The original vodka from Western Son is carefully made and then blended with the natural essence of ruby red grapefruit essence which is extracted through a special juice concentration process. The finished product is bottled at 60 proof and comes out a cloudy, pale pink color.
The aroma is simple and straightforward with strong notes of peeled grapefruit. The palate follows with sweet grapefruit with a hint of sugar. The flavor builds to a juicy, tart peak that fades into a warm, mild sting and fresh watermelon. The sweetness is not cloying but it is akin to the soft sweetness of sorbet.
Refreshing Grapefruit Vodka Cocktails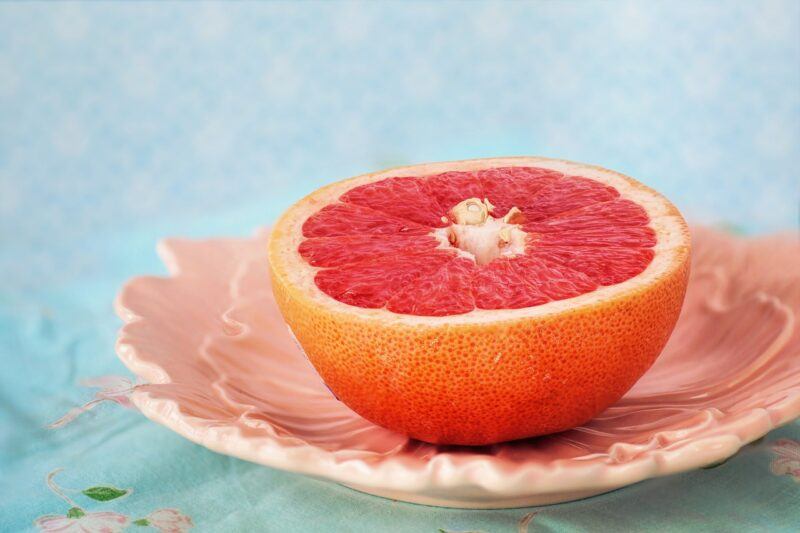 The refreshingly tangy and bittersweet flavor of grapefruit does extremely well in many cocktails. It's tasty on its own and balances the drink to prevent it from getting too sweet. Try some of these recipes to get started and then have fun creating your own flavors!
The Swedish Paloma
This fun paloma rendition comes straight from Absolut, so you can be confident that it's good. If you have a bottle of Absolut Grapefruit to use, that's great! But, any grapefruit vodka will suffice.
Ingredients:
1 ½ ounce of grapefruit vodka
1 ½ ounce ruby grapefruit juice
⅓ ounce freshly squeezed lime juice
Soda water
Grapefruit wedge to garnish
Instructions:
Salt the rim of your chosen glass and set it aside (use a flavored salt here to spice things up even more!).
Add grapefruit vodka, grapefruit juice, and lime juice to a shaker with ice and shake it well.
Fill your glass with fresh ice and strain the mixture into the glass.
Top with your soda water and garnish with grapefruit, and enjoy!
Not only is this drink simple and easy but it's heavy on the grapefruit – perfect if you really love the fruit. Crisp and refreshing, it's just what you need for making a big batch on a hot summer day.
Grapefruit Cooler
This one gives the "grapefruit" in the name a double meaning. Featuring grapefruit vodka and a handful of fresh grapes, it's a tangy, fruity, boozy delight.
Ingredients:
9 fresh, whole grapes
⅔ ounces lemon juice
⅓ ounce agave nectar
1 ½ ounce grapefruit vodka
2 ⅔ ounce white wine
Ingredients:
To begin, muddle six of the grapes in a cocktail shaker.
Add lemon juice, white wine, agave nectar, and grapefruit vodka into the shaker with ice and shake well.
Strain into a glass filled with more ice.
Garnish with the remaining three fresh grapes.
This delicious cooler offers up an amazing combination of flavors, with plenty of sweet, sour, and tangy to go around. Your choice of white wine will also play a major role.
Some whites are incredibly sweet, which will make this drink a sweet one, overall. Other white wines are dry and crisp, which will also translate into the cocktail.
You can also turn this into more of a sangria if you add more fruit and maybe top it with some soda water. It's a versatile recipe with many options so don't be afraid to play around with it. Once you find the best combination, make a huge batch for your next party!