I'm sure you've heard about beer of the month clubs and whiskey ones – but what about tequila monthly clubs? There aren't as many of these out there, partly because there are fewer tequila connoisseurs.
But, why not? Like bourbon or Scotch, tequila has its own nuances and there are various types and manufacturing processes. A tequila of the month club is the perfect way to learn more about the differences between tequilas and to appreciate the individual styles more. Plus, the clubs are also simply fun and you're guaranteed to learn some new things.
On this list, I'm featuring various clubs, along with alternatives like gift boxes and samples. Many of the clubs don't even have a minimum membership period. So, you can simply join one and see if it's right for you that way.
Personally, I like Flaviar. Each quarter you get a taster kit (three vials), plus a full bottle of tequila for $95. That means you get to try FOUR different tequilas.
Tasters even come with tasting notes so you can "learn" to drink good tequila.

You can also browse their selection of mezcal and tequila to order your own bottles, with one bottle shipped for free per quarter as well. Of course, each delivery is an option to learn about a new distillery, new style, and expand your palate.

The cost is just $95, and that includes shipping. Other clubs are advertised for much cheaper, but they do not include the shipping price!
Another awesome option is Taster's Club. They actually have TWO options. Including $15 shipping, the Basic club is only $69/month, and the Pro club, which includes rare and hard to find tequilas, is $102.
Keep reading to learn more about Taster's Club, and other options for tequila lovers.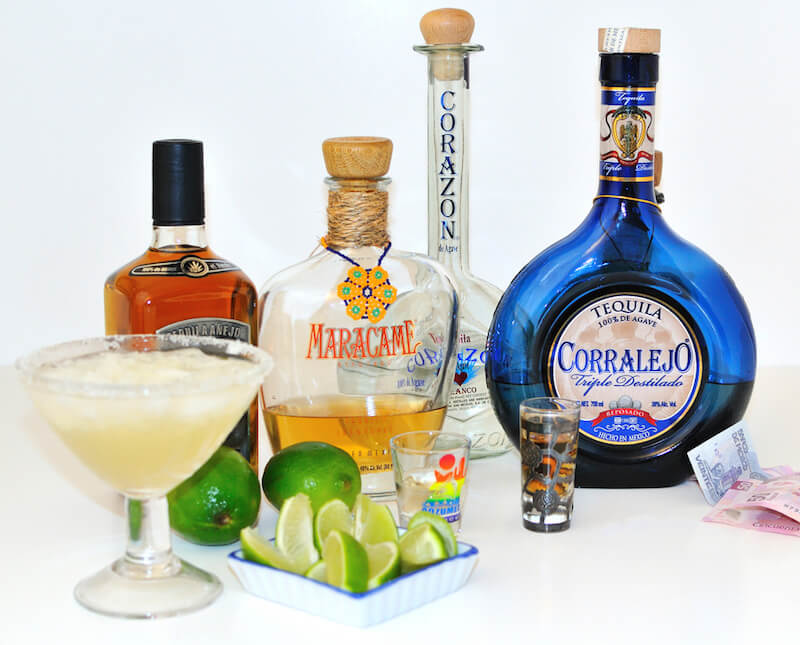 Tequila Of The Month Clubs
Monthly Clubs

Tasters Club
Mash & Grape
Spirited Gifts
Send Liquor
Wine Globe
Pour More

Crates & Boxes

Spirited Gifts
The Bro Box
Pompei Gift Baskets
1-877 Gifts
Build a Basket
Mel & Rose
***Did you know?*** Flaviar has mini "taster kits" for many types of spirits including scotch, bourbon, tequila, gin, brandy, and more. Get 3 vials of your favorite spirits to try, plus free shipping. Then, get access to exclusive bottles and tastings of hard-to-find spirits.
Monthly Clubs
Taster's Club
If you want to learn, Taster's Club is always a great choice. Each of their memberships offers a 101 course on the spirit in question. That course includes information about how to taste the spirit effectively and what you're looking for, along with history lessons and trends.
Their basic Tequila of the Month club currently costs $44 per month and you receive a full 750ml bottle for that price, along with the Tequila101 course information. There is also a Tequila Pro version that costs $87 per month instead. This version offers tequila from a curated list, which should be higher quality.
Both styles have no minimum length, so you can cancel whenever you want to.
Mash & Grape
Another club is Tequila Explorer from Mash & Grape. This one costs $59 per month and sends out a full bottle of small batch tequila. Mash & Grape also mentions having access to independent bottlers and small distillers, increasing the chances of getting unusual tequila.
The club also provides you with bottle notes, which are a combination of tasting notes and bottle information. As with other Mash & Grape clubs, Tequila Explorer also offers early access to new products and a concierge service that can help you with gift recommendations or with sourcing specific products.
All-in-all, this is an appealing club and the company is a reliable one.
Spirited Gifts
The clubs from Spirited Gifts are always a little different. For their Tequila of the Month club, the only option is a 3-month subscription, which costs $349. Even though you're paying all at once, you get a bottle each month. The cost averages out to around $115 per month. That's fairly expensive for what you're getting.
The chosen brands vary but they are probably more commonplace than the previous two clubs. For example, one image for the club has Jose Cuervo, along with other popular brands. As a gift, the club is still interesting but it mightn't be the best choice if you're looking for uniqueness or variety.
Send Liquor
Send Liquor has an old-fashioned site that I don't particularly like. They also get mixed reviews when you search online. That being said, they are another option. And with so few tequila of the month clubs out there, some people may find Send Liquor appealing.
In this case, you join the club for 3, 6 or 12 months. For the 3-month membership, the price is $282.60, which calculates to around $95 per month. That's more expensive than Mouth & Grape or Taster's Club and some of the brands offered are relatively common.
Wine Globe
With Wine Globe's Tequila Tasting Club, you're paying $60 a month and getting a hand-picked bottle. There are also tasting notes provided. However, the company doesn't offer much information beyond this.
To me, it seems that both Mash & Grape and Taster's Club are better choices. Those two companies have reasonably priced clubs and it's clear that they know what they're doing. In contrast, Wine Globe feels like a shot in the dark. The club might be amazing, of course. But, there's no way to tell from the site.
Pour More
Pour More is a spirit-focused company that currently offers 8 different subscriptions for you to try. These all follow the same general theme. The main difference is the type of alcohol that you're ordering.
Two of their clubs are worth talking about here. The first is a Tequila of the Month Club. This costs $49 per shipment and you can receive a bottle of tequila once a month or twice a month. Paying upfront for 3, 6, or 12 months slightly decrease the monthly cost of the club.
The other option is a Mezcal of the Month Club. This costs the same as the tequila version and you have the same options. The only difference is that you're receiving mezcal. Tequila is a type of mezcal, so you might receive tequila periodically with the club, but you'll often be getting other types of mezcal instead.
Crates and Boxes
Spirited Gifts
I'm never very impressed with the clubs from Spirited Gifts but they do offer amazing Tequila gift baskets. There are currently 29 different choices and many types of tequila on offer. The general style is a 750ml bottle of tequila and at least 6 different snacks. The specific snacks vary depending on the gift and may also depend on the season and what's in stock.
The idea is perfect if you have a specific tequila you want and you're not looking for a themed product.
The Bro Basket
On the other hand, gifts from The Bro Basket are strongly themed. For example, The Paloma is focused on the cocktail of the same name. Likewise, the Hooray Jose! is themed around margaritas and offers tequila, margarita mix, limes, salt and popcorn.
You can also customize baskets or build your own entirely. So, you don't have to stick to their designs if you have a better idea.
Pompei Gift Baskets
At Pompei Gift Baskets, there are 12 different options that contain tequila. Some of these use tequila as the only alcohol present, such as the Margarita Party Tequila Gift Basket or the Tempting Tequila Gift Basket.
There are also other styles on offer, including some that offer everything you need for cocktails and others that contain mini bottles of many different spirits.
1-877 Gifts
1-877 Gifts doesn't have many gift baskets that offer tequila. But, there are a few cool ones on offer. The first is their Fiesta Gift Basket, which includes Jose Cuervo Gold Tequila, along with various snacks.
There is also a Jose Cuervo Especial Silver Tequila Gift Basket – and the tequila choice there should be obvious. In both cases, the included snacks are color themed around the tequila, creating a visually appealing gift.
Build a Basket
Build a Basket normally has a large selection but they only offer 6 different tequila gifts to choose from. Even so, the baskets would be perfect for the right audience. I especially love their Patron Cafe Tequila & Chocolates Gift Basket, simply for the selection of treats it includes.
Mel & Rose
Mel & Rose has many different alcohol gift baskets, although they don't separate these out based on the individual spirit. This makes the list a little tiring to go through and their selection is extensive.
Even so, I did find a few interesting tequila options in the mix. One is the Tequila Sunrise and another is the Serious Tequila Connoisseur. The two baskets have very different styles from one another but they both make good gifts for yourself or someone else.