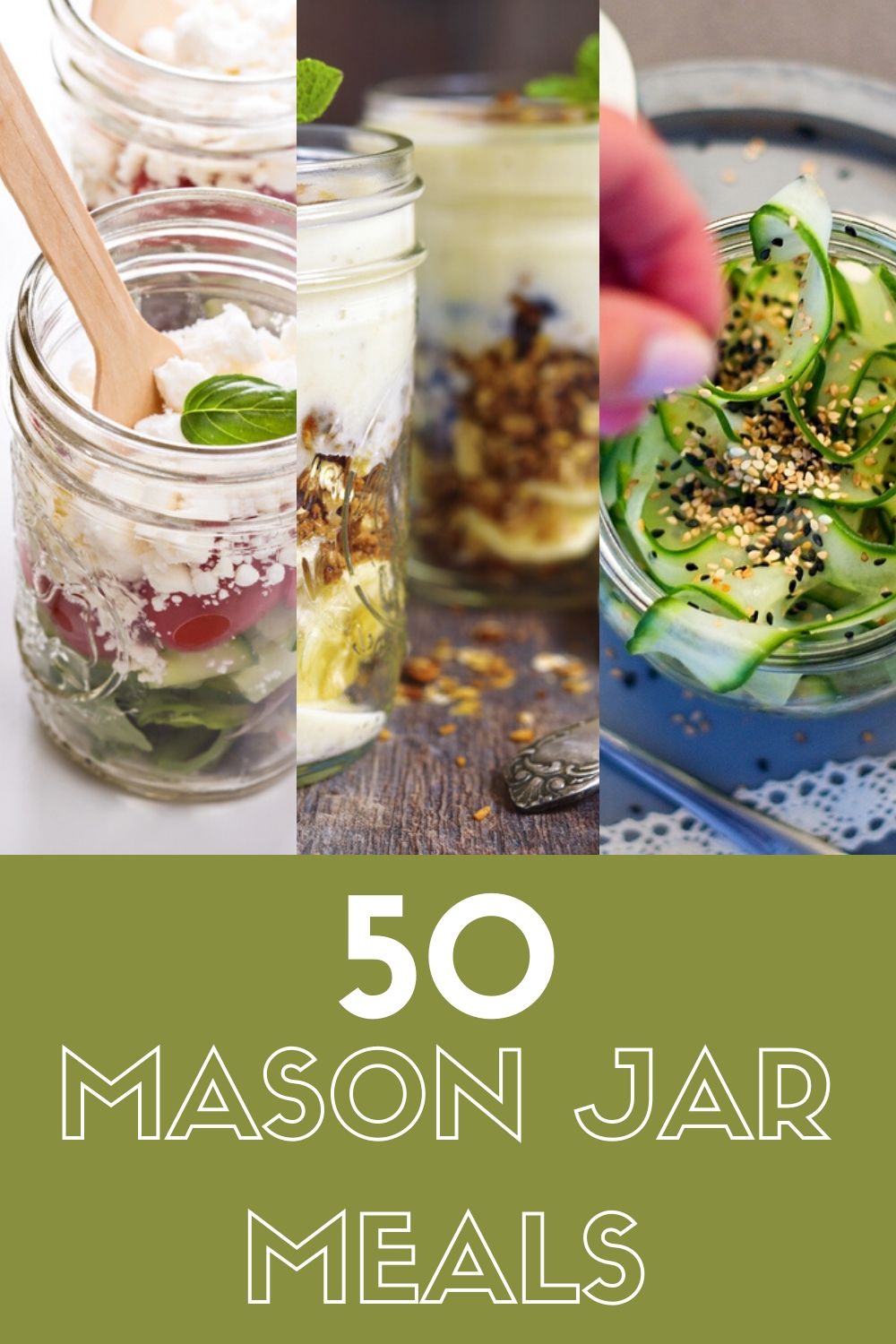 Traditionally, mason jars have been almost exclusively used by people making jams or pickling food. Now though, the jars have become exceptionally popular for a completely different reason – as containers for meals.
Who knew that mason jars would be so useful?
They are fantastic for making portion-controlled meals that are easily taken on the go. Many of those meals don't even need to be cooked. Plus, a lot of the dishes out there just look brilliant. It turns out that the clear sides of the jar are good ways of displaying colors and layers in food.
Some people have taken the jars even further, turning them into gifts or using them to create 'just add water' type of recipes for things like cookies or hot chocolate. There is just so much variation out there.
Personally, I like have them as a snack on hand I know dinner will be later than usual, and they might even be a fun lunch for picky kids.
This recipe roundup focuses on some of the best examples of mason jar recipes out there – for all sorts of meals. And if you dig these, you should check out these overnight oat recipes, which you can also stick in a mason jar!
Mason Jar Meals
Raspberry Jam Overnight Oats
This recipe is one example of just how amazing things can look in mason jars. The color contrast of the oats and the raspberry jam works very well, although it kind of reminds me of the hat from Where's Waldo.
This breakfast in a jar uses oats and raspberry jam to create a meal that should taste just as good as it looks. Because of the oats, it would also end up being a very filling breakfast, which is what we all need.
The versatility of mason jars is also important here. This means that you can eat the oats cold if you wanted to, but you could also pop them in the microwave to heat them up. That's great for those of us who tend to eat on the run or actually at work. You can find the full recipe over at vegekate.com if you want to give the breakfast a try.
Strawberry and Goat Cheese Salad
Salads are one of the most common choices for mason jar meals, and looking at this one it's not hard to see why. The layers of bright red and green make the salad very appealing visually, and you would probably make a few people jealous if you brought this into work. To be honest, I'm not really a salad person, but this is one that looks appealing even to me.
It's also a really good place to start with mason jar meals, as the recipe is pretty simple. Mirabella hosts the full recipe at her site myfoodandotherstuff.com along with a range of other appealing recipes.
Mango Black Bean Salad
Who said salads have to be boring? This salad doesn't have as much color contrast as the ones previous ones, but it does still look pretty cool in the jar. Don't let appearances fool you though – the real beauty of this salad is in its complex flavors. Not only does it use mango and black beans, but the dressing also has flavors of lime and honey.
This is definitely one salad you have to try, because there simply aren't the words to describe the taste. Michelle details the full recipe on yagottahaveahobby.com along with instructions about how to make mason jar salads work in general .
Fruit and Yogurt Breakfast Parfaits
Parfaits make a fantastic breakfast, but this recipe is a variation on that theme. Most parfaits use dry oats, which means you have to eat them pretty soon after they are made. This recipe uses overnight oats and these end up being soft and chewy. The end result is a breakfast in a jar that can be made in advance and will keep in the refrigerator.
Plus, the combination of fruit, yogurt and oats is a brilliant option for breakfast. Personally, I'm sold on the recipe because it means less work first thing in the morning – and that's always a plus. You can find out all the details at iowagirleats.com.
Mini Pot Pies
Who says that mason jars have to be reserved for cold foods? One of the fantastic things about these jars is that you can actually bake them in the oven and you can reheat them just as easily. These miniature pot pies are just one example of this approach.
Arena is actually using short and squat jars for the dish, but I imagine you could make something similar with the larger jars if you were so inclined. She goes through the steps, along with cook times at thenerdswife.com.
Chili and Cornbread in a Jar
Here's an example of a really hearty meal in a jar. This would be perfect on a cold autumn or winter night, especially if you didn't have the energy to cook. Like many of the recipes on this list, you can pick the size of jar you use, based on your own needs.
So, for an adult male, you might make a much bigger jar of chili and cornbread, especially if that male loves chili. Heather notes that you can use pretty much any recipe for the chili and the cornbread, but on whipperberry.com she highlights two of her favorites.
Breakfast Cassarole in a Jar
This recipe does involve a fair amount of preparation – but I've included it in this list because it really is worth the effort. With this recipe, you get many of the classic breakfast tastes including eggs, bacon and cheese. Once made though, all people need to do is heat up the jars to have a nice hot breakfast. The video can also be found on Kisha's blog kjaggers.com.
Cobb Salad with Raspberry Vinaigrette
I think this is a perfect salad for people who don't especially like salads. It does have the standard greens, but at the same time, there is so much more to it. I love the use of raspberries and chicken. That's a flavor combination that you don't see too often, but it is one that works really well. The high protein nature of this salads means that it will be much more filling than many other types of salads.
Plus, the raspberries really make the salad taste a little like summer, which is great as we start to get into the colder months. You can find more details on this recipe and links to similar ones on fitfoodiefinds.com.
Carrot Noodle Salad
This one has a bit of a deceptive name. It isn't a salad that involves carrots and noodles. Instead, it uses noodles of carrots – along with a host of other ingredients.
Like most mason jar salads, you can see the dressing at the bottom. This helps to keep the greens nice and crisp. So, you end up with a fresh-tasting salad, even if you made it the night beforehand. That makes it a fantastic option for eating salads out of the home, as transporting the salad becomes so easy.
This is also a great salad for health, because it has so many different healthy ingredients. The bright colors are a good indication of this. The full recipe is available at noshandnourish.com, so head over and check it out.
Blueberry, Banana and Oatmeal Smoothie
Most mason jar meals are solid food of some type or another. But, they don't have to be. This banana and blueberry smoothie shows that you can also use the jars for smoothies.
In fact, if you have an immersion blender, you can make the smoothie in the mason jar itself – no mess, no fuss. That's a fantastic option for anyone looking for easy smoothies (cleaning out most blenders can be a major pain).
The oatmeal in the smoothie also makes it more filling, while also giving a nice taste to the whole thing. At jessicanwood.com, Jessica provides directions for making the smoothie with an immersion blender and with a normal blender.
Mini No Bake Cheesecakes
These mini cheesecakes look so perfect. Essentially, they are just a normal cheesecake but miniaturized and portion-sized. This particular recipe involves no baking, so the cheesecakes are very easy to throw together for a party or a gift.
Theoretically, you could make these cheesecakes in larger mason jars, but that doesn't seem to be necessary. The small jars are a perfect size for a single person and have a good ratio of crust, filling and sauce.
The one downside is that these won't look nearly as pretty with their lids on for transport, but hey, that makes them an even better surprise if you are serving them to others. The full recipe can be found over at tasteslovely.com and is surprisingly easy to follow.
Spicy Kimchi Beef Instant Noodles
Instant noodles are the staple food of broke students and for many people without much in the cupboard – but they don't have to be a budget food. As this recipe shows, you can also make a version of instant noodles that is both satisfying and healthy.
In some ways, it's surprising that so few people have caught onto this idea, because there are a number of types of noodles that only need a little hot water to be fully cooked. This means that you can make a portable lunch that actually has a decent amount of flavor.
This particular recipe has a strong flavor. The flavor partly comes from the sauce and partly from the other ingredients. The exact ingredients and steps for making the meal can be found at seriouseats.com, along with a few more instant noodle recipes that offer different flavors.
Sesame Noodle Salad
This noodle salad doesn't have the cool layering effect that many mason jar recipes have, but that doesn't stop it from being an appealing dish. Personally, I love noodle salads, especially as recipes like this one can be eaten either cold or warm.
As you can see from the image, the recipe uses a range of different ingredients, all of which contribute to the unique flavor of the meal. It is actually a vegetarian dish too, relying on ginger-baked tofu as the main source of protein. However, for those of us who like meat, substituting the tofu for chicken would probably work very well too.
The size of jar for this salad entirely depends on how much you want to eat, because the salad is made first, then put into the jars. For more details, check out the recipe at kristaandjess.wordpress.com.
Chocolate Covered Cherry Cake
Cake in a jar! The sweet tooth in me loves this idea. Cake tends to be a bit messy to eat, so having the entire thing self contained in its own jar is a really neat trick. Making cakes this way also works really well for traveling, and it's better than having half of a cake going stale before you get to it.
Cakes are always a little bit challenging to make, so your best bet with this one is to use the same sized jar and follow the recipe precisely the first time around. Jolena goes through her recipe in detail at therubykitchen.com, giving all the information you need to make your own sweet jar cakes.
Pomegranate and Pear Salad
This salad is a great example of just how pretty healthy food can be. You have the dark green from the spinach, the red from the pomegranate seeds, the brown from the nuts, the white from the cheese and the yellow from the pears.
It almost looks like you were trying to turn your lunch into art, rather than something you plan to eat. Despite this, the recipe does make an especially good salad. After all, why wouldn't it? There is a mixture of sweet and tart, along with a bit of crunch.
The end result is a portable lunch that will probably make a lot of people jealous. And why not? You could do a lot worse than eating great looking food. Lori hosts this recipe at fakefoodfree.com and judging by the comments on the post – she isn't the only one who loves the salad.
Quinoa in a Jar
I love the idea of preparing breakfast in a mason jar. Because I work from home, I don't have the challenge of trying to bring a packed lunch into the office.
However, I often find myself being a bit lazy with breakfast, which can be a major problem. This mason jar meal uses quinoa as one of the key ingredients. This relatively obscure grain has been getting more popular recently. Most of time it is used like rice, but it doesn't have to be. In fact, it can work just as well for breakfast, as Chrystie shows with this recipe.
The combination of flavors works well here and most of us are very familiar with using yogurt, almonds and fruit for breakfast. Even if you aren't that familiar with quinoa this recipe is still worth trying. You can find the full thing over at masonjarbreakfast.com.
Coconut and Quinoa with Cherry Compote
Here's another recipe that heavily relies on quinoa as a breakfast food. This one focuses on coonut flavor in addition to a cherry compote. The recipe does take a little work to make, but like most mason jar recipes, it can be made in advance.
This means that first thing in the morning you just have to pick up the jar and take off running. Plus, you can even eat it out of the jar, which makes for a low mess breakfast. You could technically make this breakfast in a lot of different containers, but mason jars work especially well because you can see their contents and because their lids seal tightly.
The breakfast can be eaten warm or cold, for added flexibility. If you like the look of the breakfast, take a look at the full recipe on whatscookinggoodlooking.com.
Layered Cheesecake Jars
I know I mentioned cheesecake in a jar earlier, but this one deserves a special mention. Unlike the mini cheesecakes mentioned earlier, this one is made in a normal mason jar, and is best eaten with a long handled spoon. It is also a fairly decadent dessert, especially as it has a raspberry layer and chocolate ganache (yum!).
With that in mind, this isn't a dessert that you would want to eat too often if you were trying to watch your waistline. Still, of all the recipes on here, this is the one that makes me drool the most. You can find all the details at thecafesucrefarine.com, along with more photographs of the dessert.