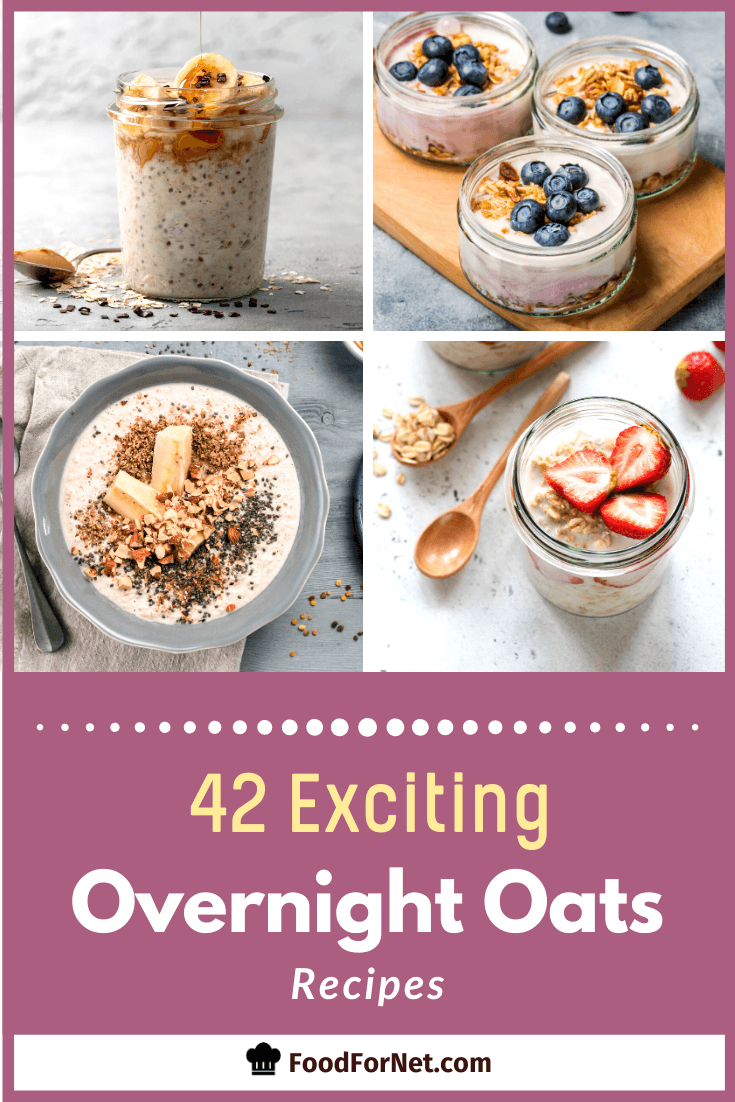 Breakfast is supposed to be the most important meal of the day, yet far too often we find ourselves running out of time. Besides that, figuring out what we want for breakfast often isn't as easy as we think it should be.
I mean, have you tried eating healthy for breakfast every day? You find yourself faced with fairly limited options, and those get repetitive quickly.
Overnight oats are one alternative option for breakfast and they've been becoming pretty popular lately. The basic premise is simply oats soaked in some kind of liquid (typically they are soaked overnight). So, when it comes time for breakfast you end up with a premade meal that is already in its own to-go container.
Now, all you need is some coffee ready to brew, and you'll be out of the house in 20 minutes!
But, that's only part of the story.
The amount of possible variation with overnight oats is basically endless. There are just so many different ways that you can make them to suit your own particular tastes and preferences. You can also stick them in a mason jar for a breakfast ready to go.
In this post, I've gathered a range of different recipes and styles of overnight oats from all over the internet – and there are lots of options to choose from.
Overnight Oats Recipes
Like this style of cooking? Check out these smoothie bowl recipes.
Caffee Mocha Protein Overnight Oats
This recipe from ifoodreal.com really illustrates the way that overnight oats often end up looking at tasting like dessert. This one uses coffee and protein powder, and both of those things are great at giving you energy first thing in the morning. Besides, including coffee in breakfast itself is a great option for serious coffee lovers, like myself, and what better way to do it than in overnight oats?
Green Goddess Oats
Most of the time overnight oats tend to be to have a dull color, but that's certainly not the case with this recipe from themuffinmyth.com. The overall color of the recipe is certainly impressive, and the ingredients chosen also mean that the recipe tastes a little different than more traditional overnight oats recipes. That can be a good thing though, especially if you are sick of the same boring breakfast every day.
Maca, Almond Butter and Cacao Oatmeal
This particular overnight oats recipe uses maca, almond butter and cacao, and all of these are great options for energy first thing in the morning. The combination of flavors is also absolutely perfect, especially if you are someone like me who loves the taste of chocolate. The recipe itself comes from blissfulbasil.com and it offers a satisfying and energizing start to the day.
Overnight Oat and Chia Breakfast Oats
Chia is a fairly common addition to overnight oats and the combination seems to work well. I think it's a great option for people who want something a little different than the texture of just oats, and chia seeds are also a great source of protein and other nutrients.
The recipe is from tohercore.com and it does also use some other ingredients to make the overall flavor interesting and enjoyable. But, you'll have to go over to the recipe to find out what those ingredients are.
Carrot Cake Overnight Oats
As you might have guessed, these overnight oats take on the flavor of carrot cake, which is a great alternative to some of the more traditional overnight oat flavors.
I find that this recipe reminds me just how versatile overnight oats can be – because you wouldn't expect this flavor combination, but it seems like it would go perfectly. Besides, you're getting some added nutrients from the carrot.
If you want to give this one a go, you can find the recipe at ameesavorydish.com.
Pina Colada Overnight Oats
Before you ask, no, this recipe for pina colada overnight oats doesn't actually contain rum, but honestly I don't think rum would work well in this type of recipe. Regardless, the recipe from healthylivingrevelations.com makes good use of the flavors of coconut and pineapple to create a great dish for the early morning.
This combination would be great for anyone who loves pina coladas or who just wants something fresh to start the day off with.
Choc-Covered Strawberry Overnight Oats
Chocolate and strawberries is a very traditional combination of flavors for food, but also a very appealing combination. I love the way these oats look too, because you've got a layer of fresh fruit down at the bottom. It is important to note that the recipe doesn't actually use chocolate covered strawberries, but it does end up tasting like them.
So, if you want to give this one a try, you can find all the details at fitfoodiefinds.com.
Salted Caramel Mocha Overnight Oats
I swear, a dish with salted caramel and mocha flavoring sounds like dessert, but this one isn't – it's breakfast.
The recipe is actually a clever one, and uses natural ingredients to create an appealing flavor for these breakfast oats. I found the recipe over at breakfastdramaqueen.com and the author also offers a couple of slight variations so you can tweak the recipe to meet your own tastes.
Hawaiian Overnight Oats
Here's another example of coconut in overnight oats, although this time the recipe uses a Hawaiian theme. I love overnight oats flavored like this, because you end up with something that tastes so fresh and vibrant.
That's really important first thing in the morning when you don't really want to be awake anyway. The recipe comes from sugardishme.com and it's a perfect recipe for someone unsure about whether they should try overnight oats.
Blueberry and Lemon Parfait
This recipe is a little bit different, because it's basically a parfait, but made with overnight oats. That approach could work really well, because it helps to break up the texture of overnight oats. The flavor combination is also a bit unusual, with both lemons and blueberries. Still, it's a flavor that would be great for breakfast.
As usual, you can find the recipe over at the site it came from, which was slimpickinskitchen.com in this case.
Mocha Overnight Oats
Here's another overnight oats recipe that is great for all of you coffee lovers out there. Seriously though, being able to include coffee in a natural and healthy breakfast is quite and achievement, and this recipe really does it well. Besides, it's a good option if you run out of time for coffee and breakfast in the same morning. The recipe comes from thehealthymaven.com and the end result simply looks great.
High Protein Eggnog Overnight Oats
We have pretty much gone past the eggnog season, but honestly, who says you can't have eggnog during other times of the year. This particular version of overnight oats is also a high protein recipe. That means it is going to be a filling breakfast. That's something I always find appealing, and the eggnog flavor is just an added bonus.
If you want to give this one a try, head on over to theseasonedmom.com for the recipe.
Chocolate Chia Overnight Oats
Here's another overnight oats dish that combines both oats and chia seeds. The combination does seem to be a good one, and personally I think the overall texture does look more appealing when chia seeds are included.
This recipe, from beginwithnutrition.com is a fairly simple version of chocolate overnight oats. Don't let that put you off though, because it is still a very good recipe. It's also a great option for people without a lot of ingredients in their cupboards, or people just getting started with overnight oats.
Overnight Oats with Lavender
Now, here's an unusual flavor combination for you. From time to time I do see lavender included in food, and it is a flavor that can work well. Still, it might seem a little strange if you have never tried it before.
The recipe comes from iquitsugar.com and it's also a layered recipe. So, there is the overnight oats component to it as well as the chia pudding. That approach is a little uncommon, but it probably works quite well, especially when you get some of each type on your spoon.
Chocolate Chip Cookie Dough
As a flavor, chocolate chip cookie dough is an extremely popular one, so having it for breakfast just seems indulgent. This recipe, from boysahoy.com is deceptive though, because it isn't actually indulgent at all.
Instead, most of the ingredients (excluding the chocolate chips, of course) are pretty healthy and the overall dish would even be a good option if you were on a diet. Even the chocolate isn't something to worry about, because the recipe doesn't call for much chocolate at all.
Almond Butter, Strawberry and Banana Overnight Oats
I found this recipe at ambitiouskitchen.com and it combines some pretty appealing flavors, including strawberries and almond butter. Seriously, what's not to love?
The recipe is surprisingly simple, and you might even find that you have most of the ingredients at home. It's also another overnight oats recipe that uses chia seeds. That makes this recipe a good way to get those seeds into your diet.
Chocolate Pudding Overnight Oats
I know the color of these oats seems a little unusual for chocolate overnight oats, but there's a good reason for this and that reason is avocado. Avocados are a natural choice for a breakfast food, offering a good source of energy and nutrients.
They also pair surprisingly well with chocolate and add a creaminess to the overall recipe. You can find all the details at omnomally.com, so go ahead and give it a go.
Blueberry Chia Overnight Oats
In her recipe at flavorthemoments.com, Marcie talks about how overnight oats are great because you don't really have to do anything in the morning. She's right too.
One of the biggest advantages of overnight oats is that you prepare them the night before, you know, when you actually have time. Recipes like this one are great ways to get a healthy start to the day without having to stress about cooking breakfast. Besides, who doesn't love blueberries in the morning?
Chocolate Protein Overnight Oats
Overnight oats are known for their creaminess, and I think the image for this recipe sums that up nicely. The image itself comes from amyshealthybaking.com and is of a recipe for chocolate protein overnight oats.
To me, this recipe feels like a great starting place for people new to overnight oats because the recipe itself just contains 5 ingredients. Besides, what's not to love about basically eating chocolate pudding for breakfast?
Honey Cinnamon Overnight Oats
I always feel like honey and cinnamon go together naturally, even though recipes will often use one or the other. This recipe offers a great combination of the two flavors, along with coconut milk for the liquid component of the recipe.
The whole thing works together well, and you can choose your own topping if the one in the image doesn't work for you. The full recipe comes from laurendamarie.com if you're interested in giving it a try.
Green Apple, Cinnamon and Chia Oats
The use of green apple and cinnamon for these oats would probably lead to a dish that tastes a bit like apple pie – which is pretty cool for breakfast.
The recipe comes from slenderkitchen.com and it's another simple one, perfect for giving overnight oats a try. Kristen also has the nutritional information for the recipe up on her site, which is absolutely fantastic if you are counting calories.
Caramel Apple and Chia Oats
These overnight oats look particularly, although that is at least partly because of the caramel. If you are making the recipe, I would suggest not filling the jar quite that much, or you might face a lot of challenges actually eating the breakfast. That aside, this dish would be a great way to convince someone to try overnight oats. After all, the finished product really looks like a dessert.
You can find the directions for the recipe at destinationdelish.com, and yes, that includes the information for the caramel apple part of the dish.
Persimmon Coconut Overnight Oats
Here's a flavor combination that you don't see too often. This recipe is for a persimmon and coconut overnight oats dish. This is another recipe where there is some layering going on and the recipe ends up looking fantastic in the dish.
The recipe comes from diettaste.com and the flavors would be cool to try out. The recipe doesn't really explain the layering side of things, but that would be pretty easy to figure out.
Kat's Vegan Overnight Oats
The vegan nature of these overnight oats makes them good for anyone following a vegan diet. In reality, you could take the approaches of this recipe and add in your own flavors to make your own vegan recipe.
In this case, Dave from hurrythefoodup.com uses berries and chopped almonds to impart some flavor into the dish. Those are also pretty healthy options, but honestly, your options are almost endless.
Cinnamon Bun Style Oats
The flavor of cinnamon buns is already perfectly suited for breakfast, so why not use this flavor in overnight oats? This recipe from withsaltandwit.com does just that. To make things even better, this recipe is much lower in sugar than actual cinnamon buns are. So, it would be a great choice for anyone who loves cinnamon buns but probably shouldn't be eating them often (which is most of us, I suspect).
Mango Chia Overnight Oats
This recipe is another example of fresh fruit as part of an overnight oats breakfast. This time the fruit is mango, which is great if you're a fan. Mango can actually be used from frozen, so this is a recipe that you can make at any time of the year. You can find the recipe at mindfulmomma.com and it's also a very healthy recipe, which is great for your health.
Pumpkin Overnight Oats with Cinnamon Vanilla Pudding
This recipe is a little bit different than the other types of overnight oats on the list, but it is also a very cool variation. In this case, the recipe is for pumpkin overnight oats, along with a chia seed pudding that uses vanilla and cinnamon.
The recipe is too good to be true, even if you hate the concept of pumpkin spice as much as Katie from twistoflemons.com does.
Cocoa Banana Overnight Oats
You have to admit, the flavors of chocolate and banana do pair together so naturally, which is why I'm pretty excited about this recipe. As Ciara (this is her recipe!) from myfussyeater.com notes, overnight oats really are simple, and use a 1:1 ratio of oats to liquid.
So, there are lots of ways you can tweak the dish, even if you follow a recipe like this one here. The end result looks pretty cool, although personally I would use a bigger jar or less oats.
Lemon Blueberry No-Cook Overnight Oatmeal
This overnight oats recipe seems bright and sunny. That would be a good choice for breakfast if you are facing a miserable morning. The recipe comes from wonkywonderful.com and the recipe page actually contains a second recipe as well.
That second recipe is for a chocolate, almond and coconut version of the overnight oatmeal, which sounds like it would taste just as good. I think I'd have trouble deciding which recipe to make first.
Chocolate Coconut Overnight Oats
Here's another fun looking overnight oats recipe. The key flavors for this one are chocolate and coconut, although almond plays a supporting role as well.
Of course, all of that was obvious just from looking at the image. In the photo, it looks like Cassie has layered the overnight oats in between layers of coconut, giving a fantastic looking result. I imagine you could skip the layering if you weren't a huge coconut fan.
Either way, the recipe can be found at backtoherroots.com.
Peanut Butter and Chia Jelly Overnight Oats
This recipe is a flavor that I really didn't expect to find in overnight oats. Peanut butter and jelly is pretty common in sandwiches and on toast, but it's rare to see the flavor combination anywhere else.
Still, I have to admit, the finished dish does look really neat. The recipe comes from leahsplate.com and it calls for a basic homemade jam. You could also use jam from the store, but I suspect the end product wouldn't be as good.
Apple Cinnamon Chia Oats
Here's an overnight oats recipe that is perfect for cold weather and will strongly remind you of apple pie.
Like most overnight oats recipes, you could also stick this one in the microwave for 30-60 seconds and warm it up a little. That might be a good idea on cold mornings, and warm apples and cinnamon are a pretty good combinaiton.
Regardless of whether you eat the dish warm or cold, you can find the full recipe at happinessishomemade.net.
Vegan Overnight Oats
This is another vegan overnight oats recipe and also a very simple one. Simple is good though, because it gives you the base approach for overnight oats and you can go from there.
For example, the recipe at thevietvegan.com gives a list of optional addons, showing readers how they can tailor the recipe to their own taste. That amount of versatility really is the great thing about overnight oats.
Blueberry Lemon Overnight Oats
This is actually the third set of blueberry and lemon overnight oats on this list, which should show you just how popular this flavor combination is. I hadn't honestly thought about it before, but there is a certain logic to the flavor. After all, blueberries are sweet and the sourness of the lemon helps to lower that sweetness a bit.
This recipe comes from breakfastdramaqueen.com and actually uses lemon yogurt rather than lemons to get that part of the flavor. However, the author does note that you could use normal yogurt with lemon juice and lemon zest instead. Regardless of the approach taken, it does look like a good choice for breakfast.
High Protein Chocolate Banana Oats
High protein breakfasts are always a great choice because of the energy they give you. One of the best things is that a high protein breakfast will keep you going for much longer than something like a few pieces of toast.
This recipe, from loveandzest.com, is a high protein approach to overnight oats and seems like a pretty appealing one at that. I mean realistically it's pretty hard to go wrong with chocolate and banana regardless of what dish you're making.
Super Green Overnight Oats
You may have noticed already that green overnight oats really aren't that common. That's not too surprising, because you get green smoothies by blending a lot of green vegetables, and you can't really do that with overnight oats. Well… that's not strictly true, because this recipe, from nutritiouslyrooted.com, actually does blend spinach along with a host of other ingredients.
This recipe does look strange, but it sounds like it would taste good. If nothing else, at least you could be sure that you were getting a lot of nutrition from your overnight oats.
Cinnamon Chocolate Overnight Oats
Cinnamon and chocolate are wonderful flavors, but they aren't used together often enough. This recipe combines the two very well, and the end result is a container of overnight oats that just looks divine.
I think the topping in the image works very well too, just because it offsets the dark color of the oats. The recipe comes from wholefoodrealfamilies.com, so you can head over to that site if you want to check it out. This is certainly an overnight oats recipe that would taste good warm or cold.
Pina Colada Overnight Oats
The idea of serving these overnight oats in a coconut shell sounds like a lot of fun, although I imagine not all of us would go to the trouble. This recipe for pina colada oats even includes the rum flavor, although that comes from rum extract and not from actual rum.
Still, the end result is a pina colada breakfast that would taste surprisingly close to the real thing. You can find the recipe at oatgasm.blogspot.com and as the author notes, you can make it in a jar instead if you are so inclined.
Dark Chocolate and Almond Overnight Oats
Oatmeal itself is a good option for health, and that's probably one of the reasons that overnight oats have become so popular in recent years. But, this particular recipe also includes almonds, which are another healthy ingredient.
They are also good sources of protein, which is always a good thing as you are starting off your day. The recipe is a nice and simple one, but it ends up tasting like dessert, even though the recipe is actually pretty healthy.
If you want to give it a go, you can find the recipe at somethingswanky.com.
Blueberry Pie Overnight Oats
This recipe for overnight oats is a bit of a fun one, and relies on layers of overnight oats and blueberry chia jam. That approach helps to make the recipe that bit more interesting, and breaks up the texture of the overnight oats nicely.
The recipe of the recipe is straightforward, but it does highlight on that blueberry flavor, resulting in a nice fruity breakfast. If you look at uprootkitchen.com you can find the whole recipe along with all the directions that you might need.
Apple Pie Overnight Oats and Quinoa
While we're on the subject, here's another layered recipe for overnight oats. This time the theme is apples, and the whole recipe really does seem like it would taste like apple pie.
I love the overall appearance too, especially as you are probably serving it in a clear jar. Even with the layers, the recipe isn't too hard to make, and you could even go simpler with the layers if you wanted.
To see the full ingredients and instructions, check out the recipe at superhealthykids.com.
Chocolate Mint Brownie Overnight Oats
To round this all off, here is one breakfast oats recipe that doesn't look seem like it should be a breakfast item at all. After all, chocolate and mint dishes are normally reserved for dessert.
But, this is still an overnight oats recipe and a pretty healthy one as well. So, there's no reason why this couldn't be a breakfast food. Plus, it's a great way to win over any mint lovers.
The recipe is hosted at organizeyourselfskinny.com and there is also a large range of other healthy recipes on the same site if you want to go exploring.