There is something wonderful about world food. Each country has its own rich history and traditions, which has led to a distinct selection of foods. Nearby countries are often influenced and inspired by one another, but there are still many distinctions between them. Trying foods from different countries is a fantastic way to broaden your palate. It also helps to learn more about the individual types of food. So, let's talk about Egyptian food.
We're focusing on Egyptian food for two reasons. First, it's delicious. You've probably eaten and enjoyed Egyptian dishes and variations on them before, even if you didn't realize know that you were. The other reason is that this post is part of a series on world foods. We've covered Russian foods and Thai foods so far, and Egyptian food is next on the list.
Egyptian foods tend to rely on the vegetables, legumes, and fruit that commonly grow in the Delta and Nile Valley regions of Egypt. Meat features as well, with chicken, lamb, and pigeon being key examples. Despite this, many Egyptian meals are vegetarian, making the dishes ideal for vegetarian eaters.
Because there's so much overlap between countries, the foods that we're featuring here aren't all exclusively found in Egypt. Some of them were even developed elsewhere. Nevertheless, these are all foods that you'll find served in Egyptian restaurants, sold by street vendors, or eaten in Egyptian households.
Delicious Egyptian Foods
Tamiya
Ful Medames
Pigeon
Baklava
Baba Ganoush
Kanafeh
Macaroni Béchamel
Koshari
Shawarma
Fattah
Mahshi
Mulukhiyah
Bessara
Sayadiyah Fish
Feteer Meshaltet
Umm Ali
Hawawshi
Kofta and Kebab
Kebda
Feseekh
Eggah
Tamiya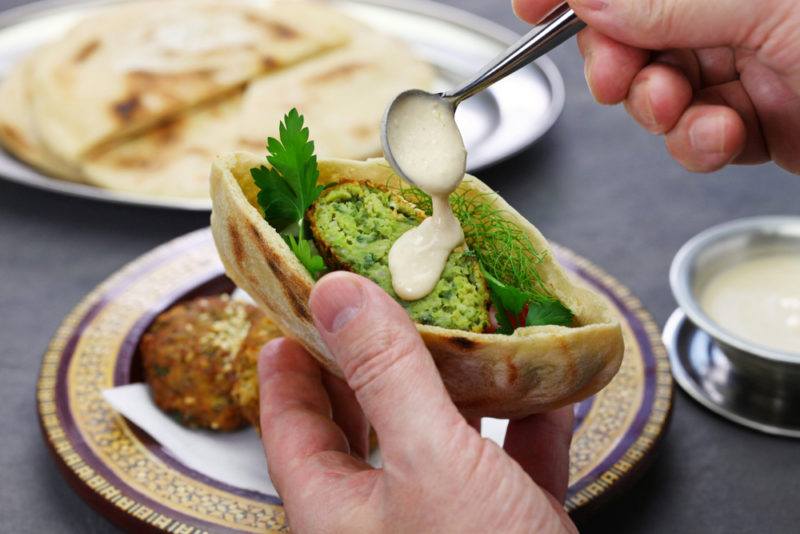 Tamiya should look familiar, as the dish is a variation on falafel, which is now found throughout the world. The main difference is that while falafel relies on dried chickpeas, the Egyptian tamiya uses fava beans instead.
The difference between the two styles isn't dramatic, but the Egyptian version tends to be a little lighter and moister. You'll also find that tamiya is often created in a flat disk shape, while falafel is often rolled into a ball instead.
You can use tamiya and falafel interchangeably. Try including them in a pita pocket or cut them up and serve them with salads.
Ful Medames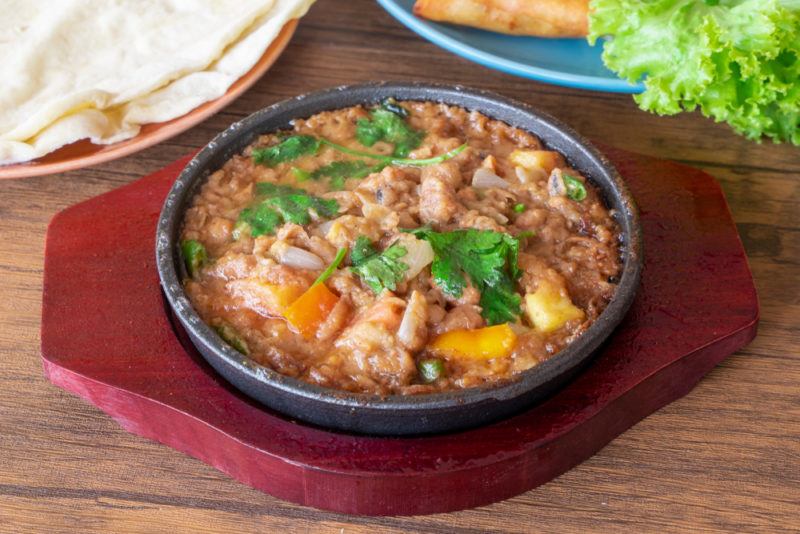 You'll see fava beans show up in a variety of Egyptian meals, including ful medames (the name is sometimes simplified to just ful). This simple dish is a blend of mashed fava beans, along with a variety of spices. It's traditionally cooked in a clay pot and can be found almost everywhere.
You'll often find it served with some type of flatbread. The flatbread isn't just something to complement the ful. It also doubles as your utensil for scooping the ful out of the bowl and eating it.
If you purchase ful medames from a street vendor, then you might find it served inside a pita pocket instead. This gives you a portable meal that you can easily eat on the go.
Pigeon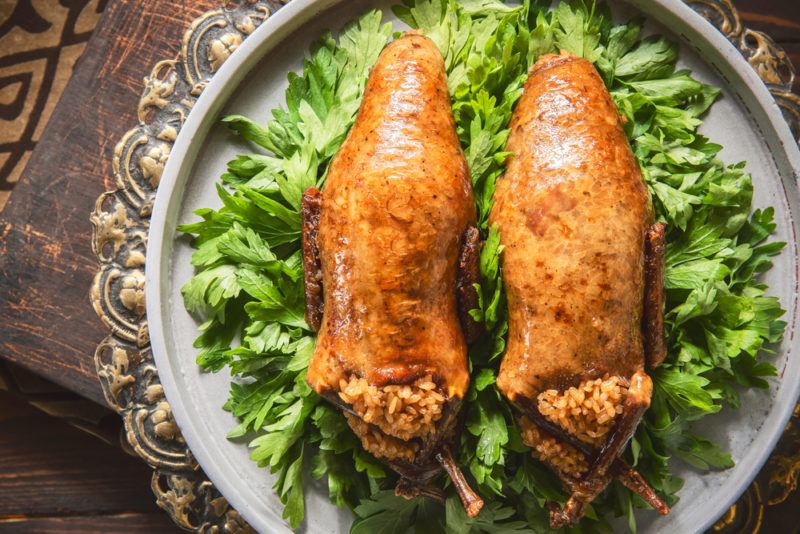 While you might not think of pigeon as something you eat, it is a delicacy in Egypt. Sometimes the bird is served under the name squab, which refers to a domestic pigeon that's under four weeks old.
Not surprisingly, pigeon meat is often described as tasting like dark chicken meat. Many of the nutrients are similar to other types of poultry, making pigeon a good source of quality protein.
There's no need to worry about hygiene. While pigeons are a pest, you're not going to be eating the ones that are making a nuisance of themselves. Instead, pigeons that are going to be cooked and served are raised for that purpose. This makes them much like other domestic poultry species.
In fact, pigeons that are raised for food may be safer than many other types of poultry. For example, pigeons don't carry as many pathogens as chicken. This can even mean that pigeon meat doesn't need to be cooked to well done – a feature that helps to keep it moist.
Baklava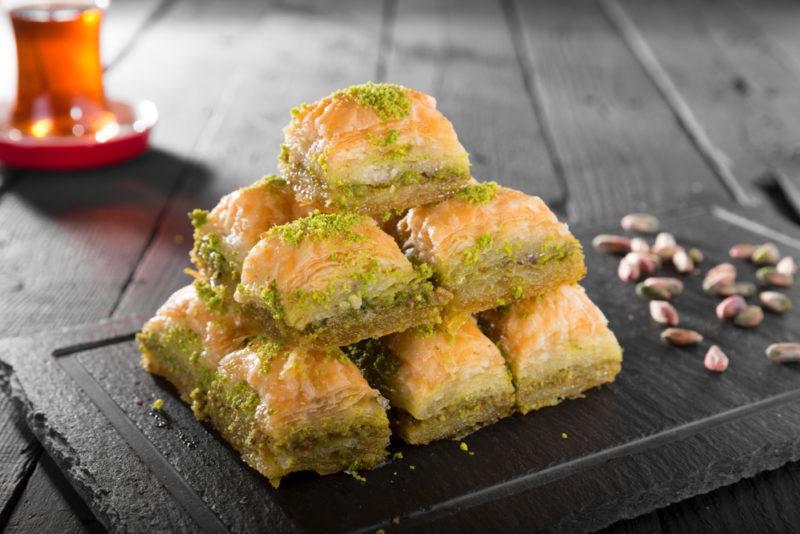 Baklava is a popular dessert that can be traced back to the Ottoman Empire. It is now enjoyed in many parts of the world, including Egypt.
The best way to describe baklava is as a layered pastry dish that relies on honey and nuts. There are multiple variations, such as pistachio baklava that uses pistachio nuts, sometimes in the form of a green paste.
There's also a version that's distinct to Egypt, which has been soaked in syrup, filled with a sweet cream filling, and topped with both raisins and nuts. Needless to say, this dessert is a decadent experience.
Baba Ganoush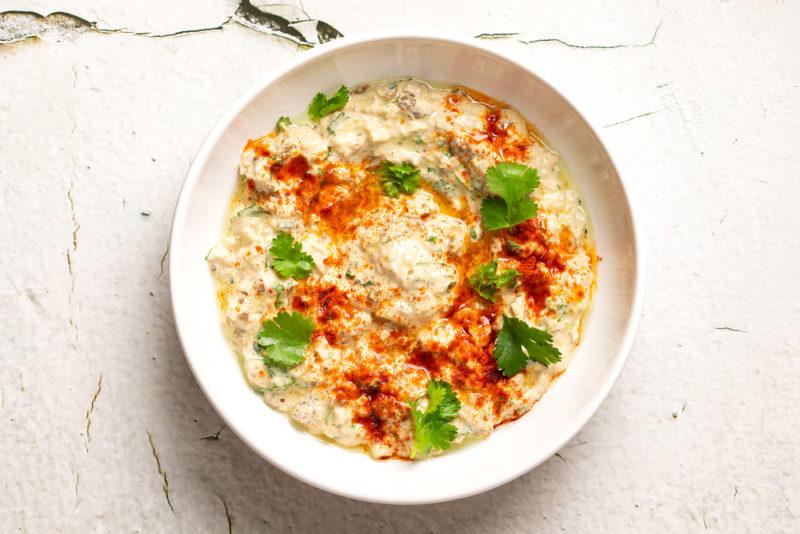 Baba ganoush is another dish that features in multiple cuisines. It's a roasted eggplant dip that has a similar texture to hummus but is creamier. Along with eggplant, the dip relies on olive oil, tahini, lemon, and garlic as ingredients.
The similarities to hummus don't stop with texture either. The dip is also eaten in the same way as hummus, which means you'll need some pita bread on hand.
Kanafeh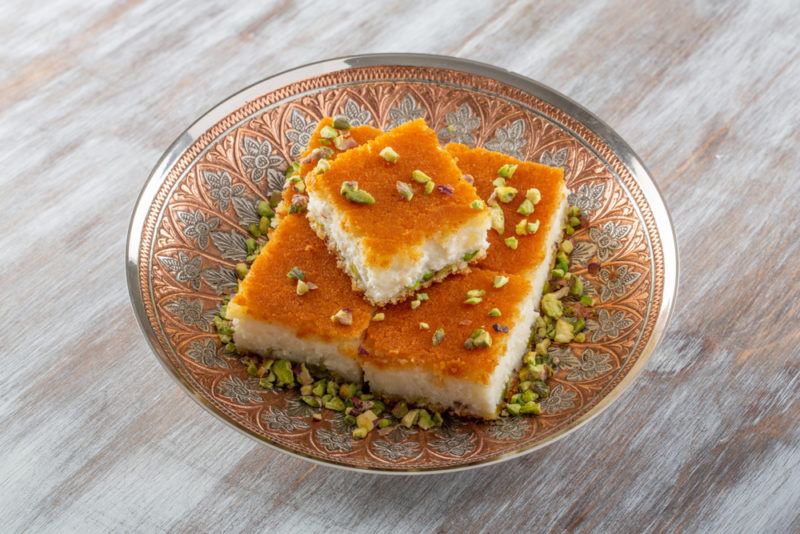 Kanafeh is an unusual Middle Eastern dessert. It sounds strange to describe, yet can be delicious when you try it for yourself.
First of all, the dessert is very sweet – because it has a sugar-based syrup poured over it.
The texture is unusual too, as kanafeh relies on fine noodles made from semolina. This is bound together with a special type of melted ricotta cheese. You end up with a sweet, cheesy, cake-like dessert that has fine strands from the noodles.
There is plenty of room for variation too. Some versions use nuts and clotted cream as ingredients. This probably isn't a dish that you'd make at home, but if you ever find somewhere that sells kanafeh, it's seriously worth trying the dessert out for yourself.
Macaroni Béchamel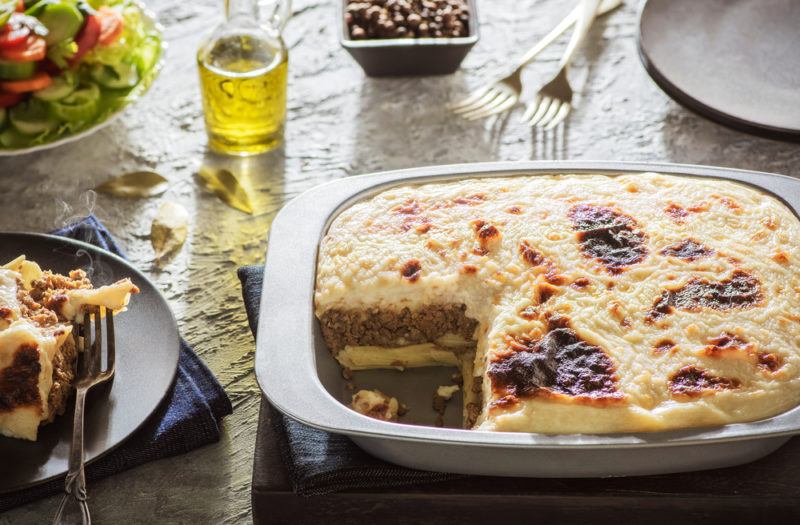 Don't be fooled by this dish. It's a classic Egyptian comfort food, even though it sounds like something that you might find in America instead.
The dish itself is almost a middle ground between macaroni cheese and lasagna, as it has features from both dishes. You're often looking at a bottom layer of pasta with béchamel sauce, then a middle layer of minced meat with a tomato-based sauce, and then a top béchamel sauce and pasta layer.
It's a pasta bake, so the whole thing is baked in the oven until it is solid and the cheese on the top has melted.
Koshari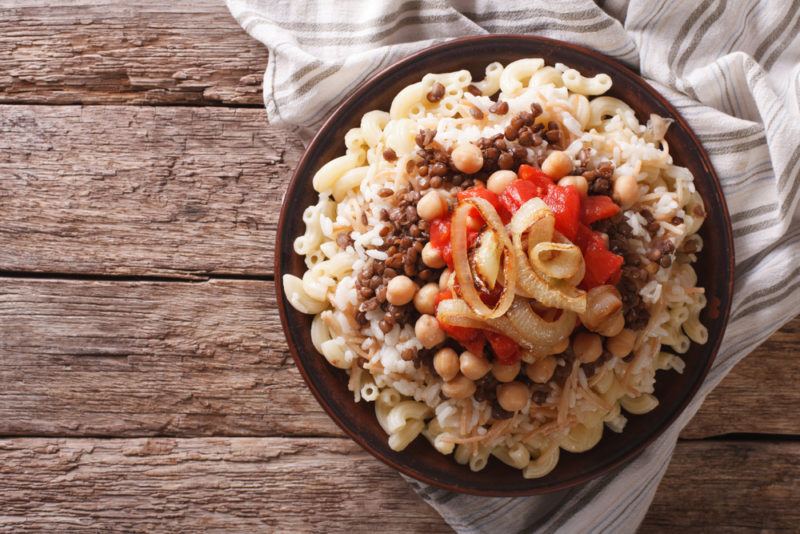 Koshari is a traditional Egyptian dish, one that's a staple for many families. It's also a delicious and nutritious choice, as it relies on a variety of healthy plant-based ingredients, including lentils, onions, chickpeas, and pasta.
The most notable aspect, however, is the spicy tomato sauce. This sets the meal apart from anything else.
You can find the dish as a type of street food or at most restaurants. Some people go as far as to call this the national dish of Egypt, which reinforces just how significant it is. Thankfully, the ingredients are all easy to source, so you could try this dish out for yourself at home too.
Just be warned though, while the dish has plenty of nutrients, it's also a carb bomb. Seriously, there are more sources of carbs here than in most other meals.
Shawarma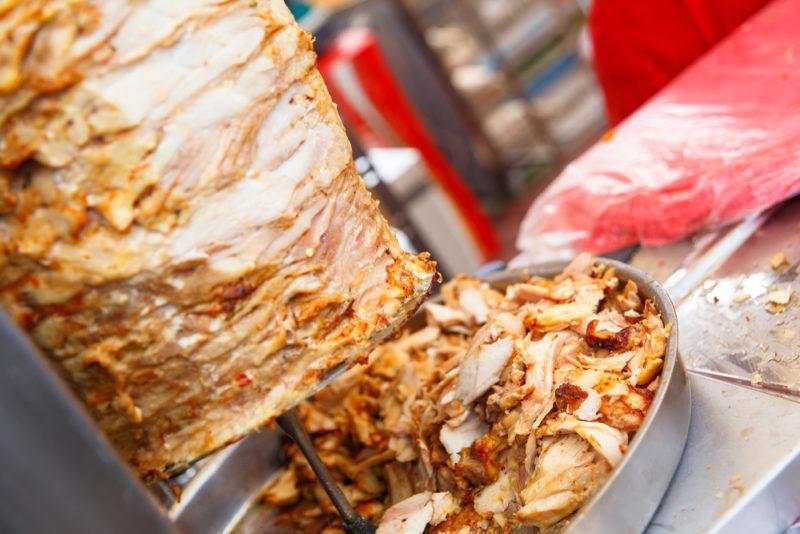 Shawarma is one Egyptian food that you've almost certainly heard of. The term refers to meat that's been marinated and roasted on a spit, typically with fat melted over the top. This approach to cooking creates a distinct flavor and texture to the meat that you simply don't get otherwise.
Shawarma traditionally focused on lamb or mutton, but modern versions feature other meat too, like chicken, beef, or turkey. It's often served in the form of a wrap or in pita bread, along with a selection of fresh ingredients.
Of course, shawarma isn't just found in Egypt. It has become an incredibly popular street food and can be found throughout the world.
Shawarma can be an extremely healthy meal too, as the meat is grilled and is served with a variety of vegetables, sauces, and legumes. You end up with a filling meal that contains plenty of nutrients.
Just be aware that shawarma can vary dramatically depending on where you buy it. Some versions, particularly in the United States, end up being little more than fast food. Here you might be getting greasy meat and dressings that are loaded with calories.
Choose your vendor wisely too, as you want to be certain that the meat is well-cooked and hasn't been there too long.
Fattah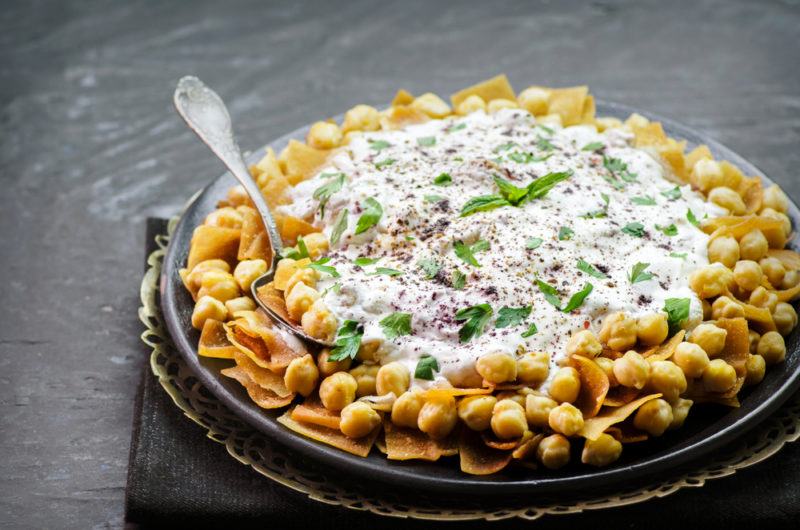 This traditional Egyptian dish is often used for celebrations. It starts off with a layer of dry flatbread. This might be toasted, grilled, or even stale, and has often been soaked in a broth.
Other ingredients are then layered on top of the flatbread. Possible additions include chickpeas, rice, meat, garlic, tomato sauce, and herbs. The Egyptian version of the dish tends to focus on a garlic tomato sauce and rice as the main grain.
The style might sound a little strange at first. Still, you end up with a delicious dish that's worth trying for yourself.
Mahshi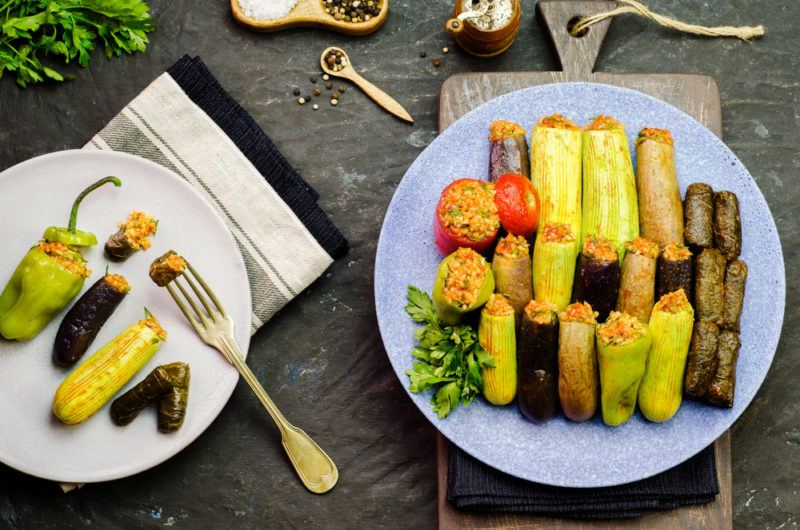 The simplest way to describe mahshi is as Egyptian stuffed vegetables. Most of the time, you're looking at multiple types of squash and zucchinis that have been stuffed with rice and perhaps minced meat.
Occasionally other types of vegetables might be stuffed instead, such as bell peppers, eggplants, or cabbage leaves.
Seasonings are often added too, including herbs and tomato sauce. You may even see cinnamon in the mix.
If meat is used in the dish, then the stuffed vegetables tend to be served hot, as a main course. On the other hand, the meatless version can be served warm or at room temperature.
Mulukhiyah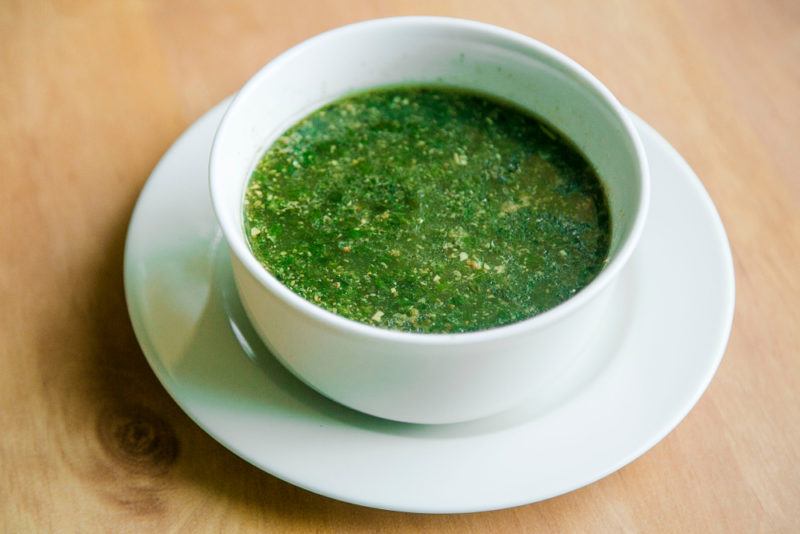 This is one dish that might take you a few tries before you start to enjoy it. Even then, you might not be convinced.
Mulukhiyah is basically a soup, one that's made from mallow leaves. These give it a distinct flavor that, honestly, isn't too appealing. The soup also has a thick texture, which can surprise first-time eaters as well.
The soup is often served alongside meat, like rabbit or lamb. Sometimes you might even see the meat served in the soup instead.
Still, while the soup has a famously difficult taste, many people do find it delicious. It's certainly worth experimenting for yourself to find out what you think of the soup.
Bessara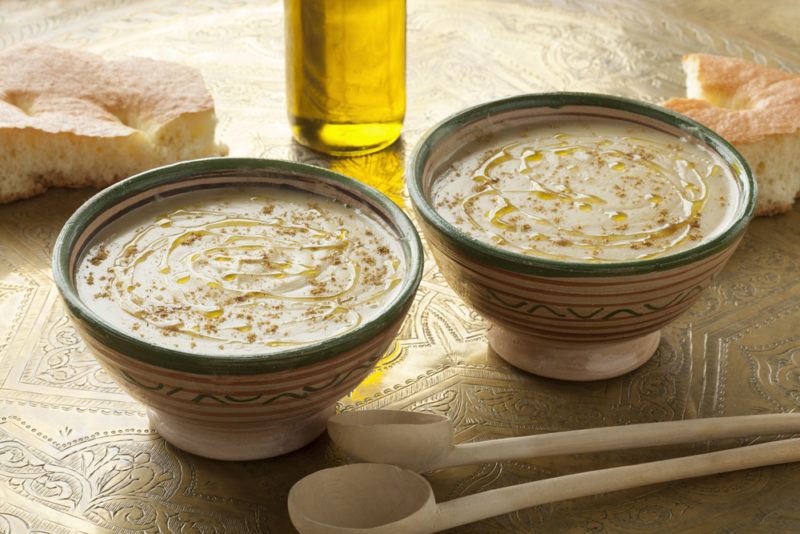 This dish is sometimes known as bessara and other times as besarah instead. Either way, it's a creamy dip that relies on fava beans, green pepper, and a selection of herbs. Fried onions are classically served on the top, as a nice contrast to the meal.
While the color of the dip is distinctive and might not be that appealing, it does end up tasting very good. The various herbs provide a complexity of flavor that will have you coming back for more.
The unusual color of the dip makes it an excellent choice for parties. After all, why not serve something completely unexpected?
Sayadiyah Fish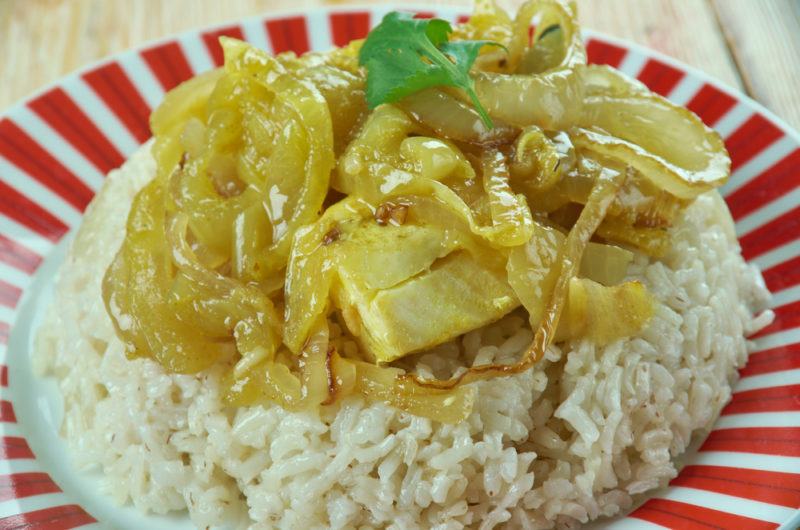 This dish is most common in coastal cities, as this is where fish is easily accessible. The dish relies on a type of white fish that is cooked as a casserole. Other ingredients include tomato sauce, spices, and yellow rice. These provide it with a fantastic depth of flavor.
The style makes this an easy meal to prepare at home. If nothing else, it's nice to try something different than just pan frying fish. The fish is often served over rice as a delicious meal.
Feteer Meshaltet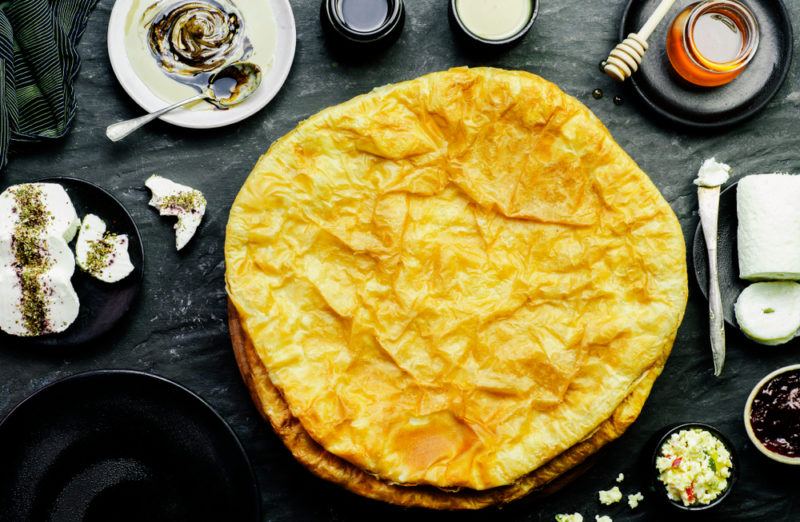 This dish sometimes goes by the name Egyptian pie. It's a multilayered dessert that uses thin layers of pastry with ghee between them. A filling might be added as well, like cheese or even minced meat, but this isn't essential.
It's always interesting when you see pastry dishes like this, ones that can have a sweet or savory filling. The style gives you plenty of flexibility when preparing the treat. It also means you need to be a little careful if you're ordering it at a restaurant, as you won't always know what style to expect.
Umm Ali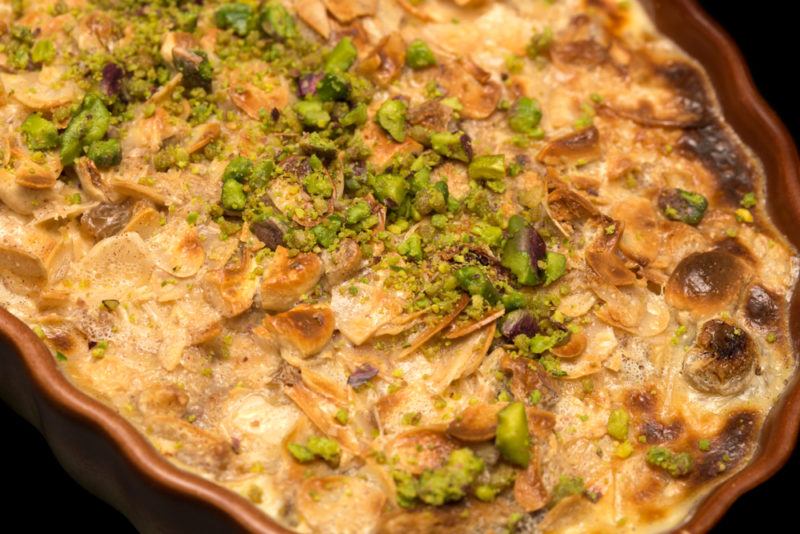 This dish has a few similar names, including umm ali, omali, and oumm ali. They all roughly translate to Ali's mother. It's a strange name for a dessert, but there you go.
Names aside, this dessert is a must-have if you're ever visiting Egypt. It's even sometimes called a national Egyptian dish.
The basic recipe relies on pastry that is blended with nuts, sugar, coconut flakes, and raisins. Milk or cream can then be poured over and the resulting dish baked. There are many variations to the recipe, such as differences in the type of pastry used and whether cream is included.
Regardless of the specific ingredients, you're generally getting a sweet dish that's a little similar to a bread and butter pudding. It's a dessert that you're not going to forget any time soon.
Hawawshi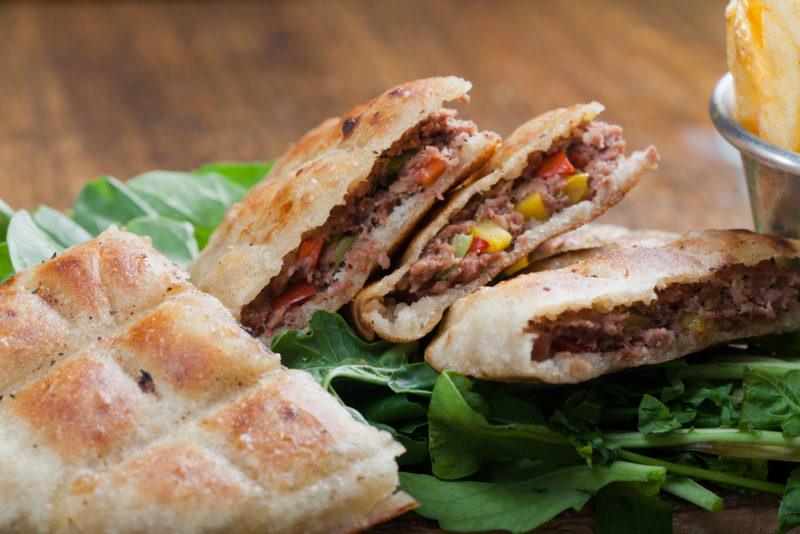 You could call hawawshi an Egyptian sandwich. It's basically a piece of pita bread that has been stuffed with minced beef, along with ingredients like onions and bell peppers.
There are two main versions of the dish. The traditional one can be found in most parts of Egypt and is as we described above. The second version can be found in Alexandria. Here, the ingredients are sandwiched between circles of dough and then baked.
The seasonings can change between the two styles as well, although both versions are delicious.
The style makes this a fantastic snack to grab on the go – perhaps for eating while you sightsee. Just be careful if you order a spicy version, as the level of spice might be too much.
Kofta and Kebab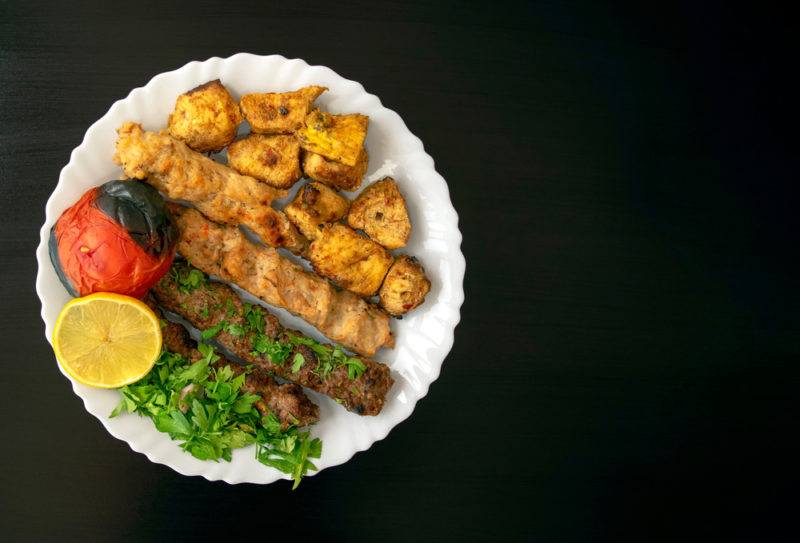 Kofta and kebabs are both dishes that can now be found throughout the world, particularly in countries that were once in the Ottoman Empire. The Egyptian version of a kebab is made from chunks of lamb that have been threaded onto a skewer and grilled.
Kofta, on the other hand, uses ground lamb instead. You'll often see kebabs and koftas served in a flatbread or alongside one, with a salad that includes ingredients like cucumber and chopped tomatoes.
Of course, these days lamb isn't the only meat that is used. A kofta might be made with ground beef instead of ground lamb, while beef or chicken are common choices for a kebab.
Kebda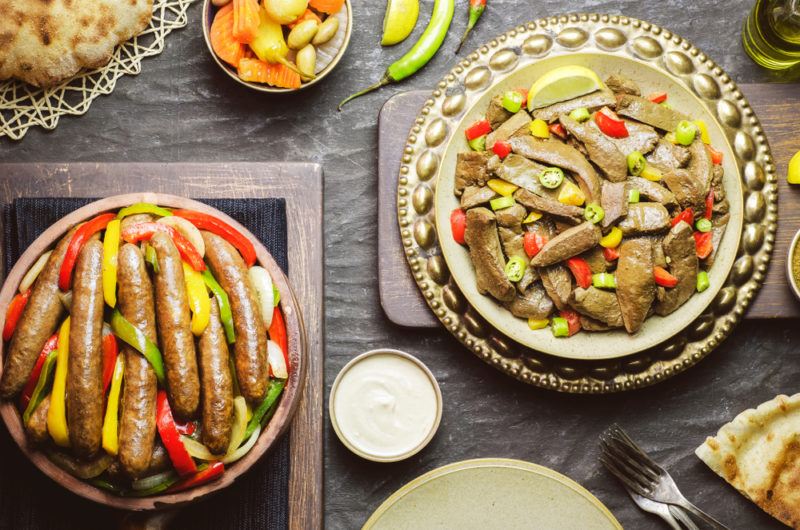 It's hard to find a more filling breakfast than kebda. That's not too surprising, as the dish relies on seasoned liver that's fried in oil. It's often served as a sandwich, perhaps in a piece of pita bread. Alternatively, you might find rice or pita bread served on the side.
Some versions of the recipe use sheep or goat liver instead. The dish can be varied in other ways too, like frying hot green pepper and garlic along with the liver.
Feseekh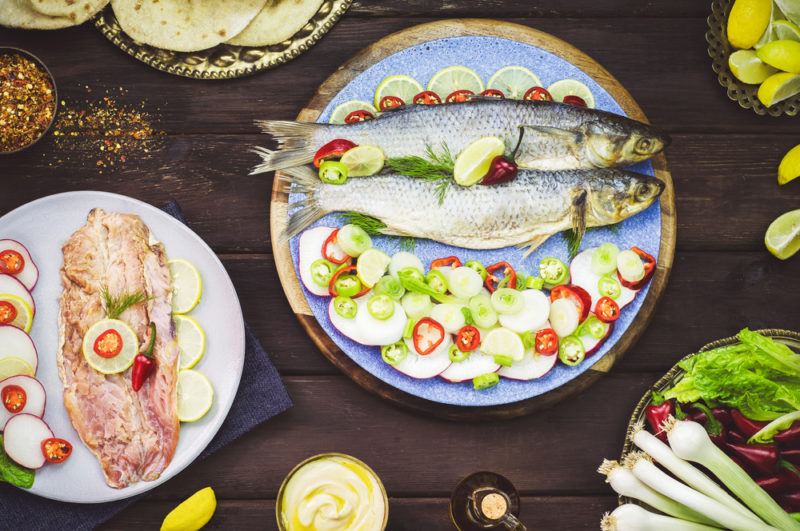 Feseekh isn't something that you'll find throughout the year. Instead, it is mostly eaten during the Egyptian Sham El-Naseem festival. Even so, we can't ignore the dish – as it's both fascinating and famous.
The main feature is a mullet that has been salted, fermented, and fried. Bread, lemon, and onions are commonly served along with the dish.
While feseekh remains popular, you should be careful with it. The fermentation process doesn't always go as it should. If there's a problem, the fish can end up being spoiled, which may leave you with botulism. In rare cases, the delicacy can even be fatal.
Interestingly, the popularity of the fish remains unaltered, despite the risk of botulism and the fact that many Egyptians don't even like the way it tastes. There's simply something traditional in the dish. Perhaps eating it regularly is almost a badge of honor.
Eggah

Eggah is basically an Egyptian omelet. It's like the omelets that you might be familiar with, except that it is more densely baked. It ends up being somewhere between a quiche and an omelet. Just like our omelets, the recipe can vary dramatically. Some versions are heavy on the eggs and use relatively few other ingredients. Other recipes end up focusing so strongly on the vegetables, that the eggs are mostly there to act as a binding agent.