Many of us rely on microwaves to reheat food and that's pretty much it. There's even this stigma that using a microwave is lazy and unhealthy. Yet, microwaves are much more powerful than we often assume there is plenty of food you can cook in the microwave, including many healthy options.
The biggest advantage is, of course, time. Preparing meals in the microwave often takes a fraction of the time of doing so in the oven. You don't need to wait for the thing to heat up either. And sure, you can turn to a toaster oven, but a microwave is still going to win when it comes to time and effort.
Honestly, most foods can be cooked in the microwave if you get the settings just right, but that's not what we're focusing on here. Instead, in this list, we're talking about delicious food that you can make – meals that turn out well. While you'll probably be familiar with some of the entries on this list, we're hoping that others will be entirely unexpected.
Food You Can Cook In The Microwave
Bread
Macaroni Cheese
Spaghetti Squash
Processed Foods
Salmon
Baked Potatoes
Scrambled Eggs
Enchiladas
Rice Risotto
Mushrooms
Granola
Toasted Nuts
Potato Chips
Cake
Bacon
Quinoa
Other Grains And Pseudograins
Ratatouille
French Toast
Monkey Bread
Cinnamon Apples
Other Types Of Fruit
Roast Garlic
Ropa Vieja
Chili
Bread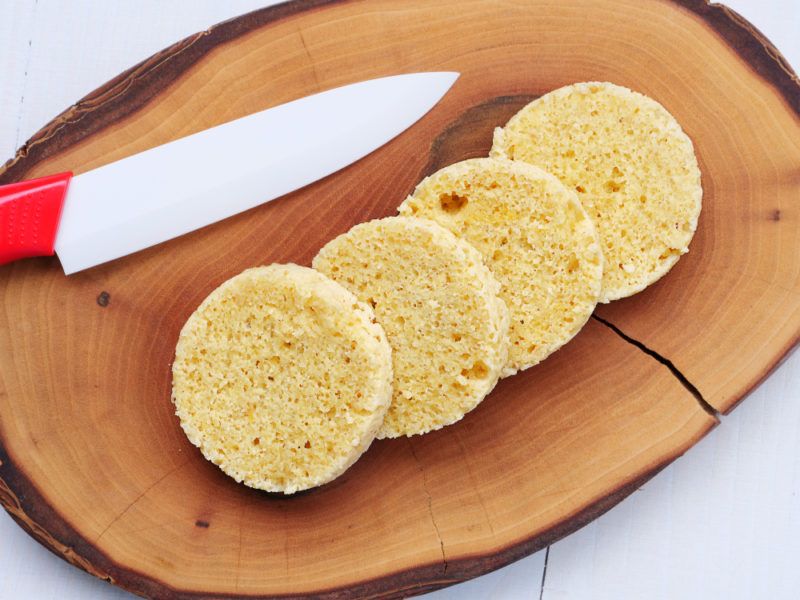 Making bread in the microwave is a surprisingly common technique. The process can give you light and airy bread that has an appealing texture. However, you're not baking the bread, so the crust ends up being soft and doesn't have the same color and distinctive crust as bread made in the oven.
There are two general techniques to try. One is where you are making a loaf of bread. This means that you are making dough that is then 'baked' in the microwave. While the baking process is fast, you do need to leave the dough to rise, so this type of bread still takes two hours or so to prepare.
The alternative is mug bread recipes. These skip the dough entirely and can be made in a matter of minutes. Many recipes rely on an egg as a key ingredient, although there are egg free versions as well.
Mug bread is popular among people who cannot eat regular bread, as it's easy to create versions that are suitable for any diet. For example, many mug breads are keto friendly and/or gluten free.
Macaroni Cheese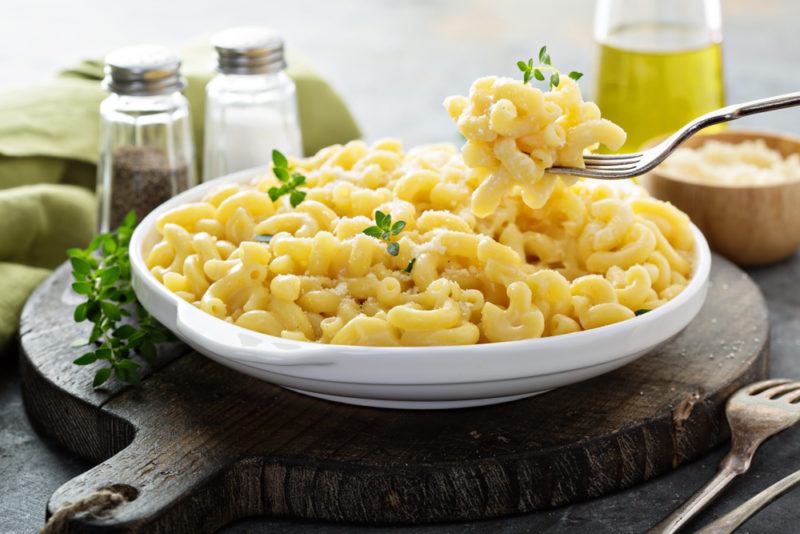 Despite common assumptions, you can cook pasta in the microwave without it going mushy. Doing so isn't even that difficult. The main trick is to get the cooking time right. Following a recipe for the first few times can help, until you get the hang of the timing for the type of pasta you're using.
You also need to think about what you're cooking the macaroni cheese in. You need the water to boil when you're cooking pasta, so you can expect it to flow up and over the sides of the container that you're using. This can get messy unless you plan for it.
If you're cooking for one, try using a mug for your pasta and it in a bowl. This way you can stop the microwave periodically, tip the liquid back in the bowl, give it a stir and set it off once again.
Once the pasta has been cooked, the rest of the meal should be easy to prepare. You don't have to stick to mac and cheese either (though you can). Other pasta-based meals work well too.
The trick is to look for meals where the ingredients don't need much cooking. For example, it only takes around 30 seconds of heating to wilt spinach and melt cheese, if the heat of the pasta doesn't do this on its own.
Spaghetti Squash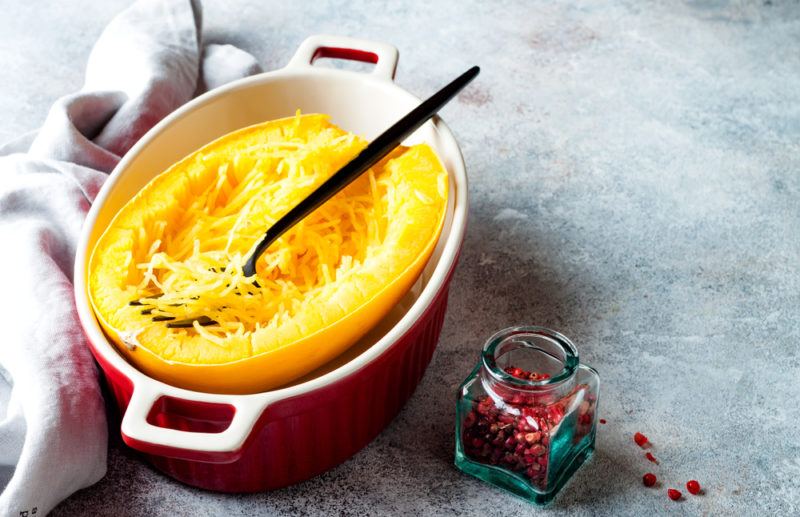 The interior of a spaghetti squash is often used as a low carb pasta alternative, but the vegetable can be a bit of a pain. It takes quite a while to cook. Using the microwave makes the cooking process much faster and easier.
Starting off is simple. You just need to pierce the squash with a sharp knife. Microwave it on high for around 10 or 15 minutes. The goal is to cook the squash until the outside is soft. How long this takes will depend on the size of the squash.
Once you've reached the desired softness, you should let the squash rest for 10 minutes or so. Then slice it in half, scoop out the seeds, and shred the flesh. That's all there is to it.
Processed Foods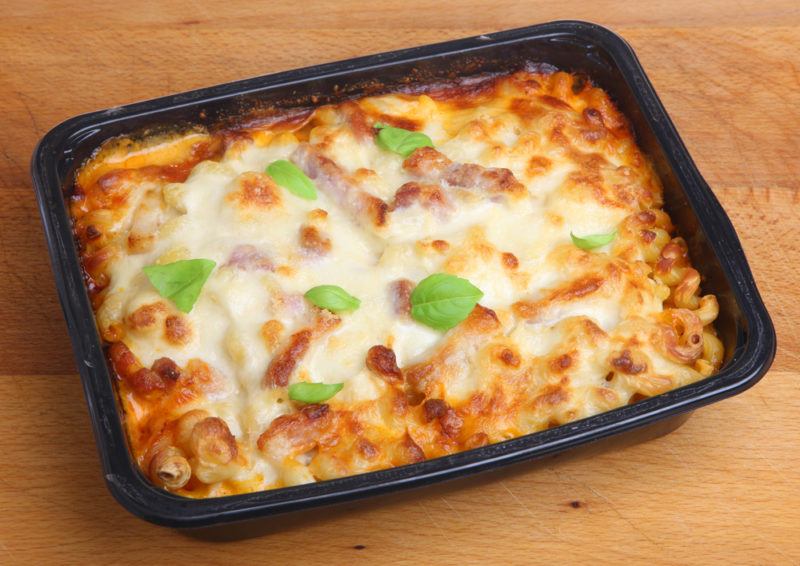 Let's get this one out of the way. Many processed foods can be cooked or reheated in the microwave. Some will even be designed for microwave cooking and may provide you with specific instructions about time and temperature.
Processed food has one main advantage – convenience. Most of the work is done for you, which can seem perfect at the end of a busy day. The problem is that the food you're eating often isn't very healthy at all. It's likely to be high in sodium and may contain many additives as well.
The thing is, you're not really saving that much time anyway. Many of the foods on this list are almost as easy to prepare. They also taste nicer and are much better for you than anything processed. So, why not give some of them a try? See what you can make for yourself while giving your microwave a whole new lease on life.
Salmon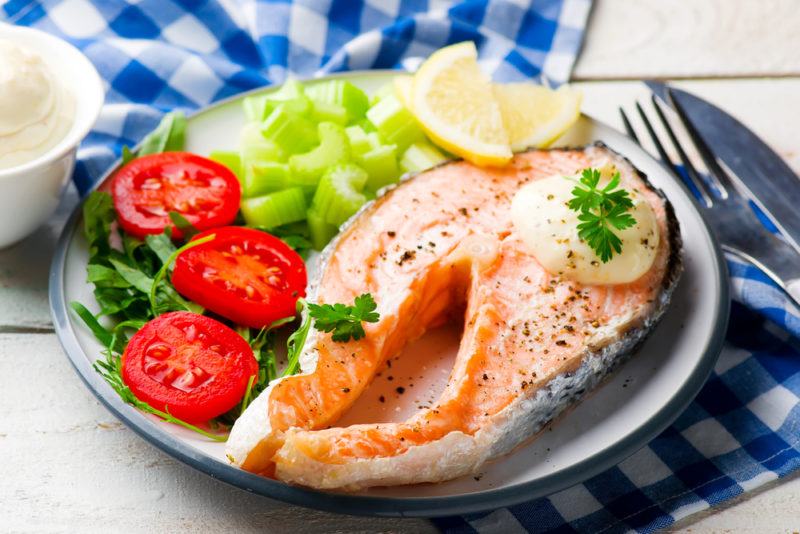 If you thought fish was fast to cook before, wait until you try making it in the microwave. You get to skip all of the mess and clean up too.
For salmon, start by brushing the filet with oil then place it skin-down in a microwave-proof dish. Season it how you like and then cover the dish in plastic wrap. You can then microwave it for 3 or 4 minutes. This should be all it takes to fully cook the fish.
Of course, this technique isn't limited to salmon. Most types of fish can be easily cooked in the microwave. For delicate white fish, a 125 gram fillet is only going to need around 2 minutes on high to cook it fully. Few other meals can be prepared that quickly.
Baked Potatoes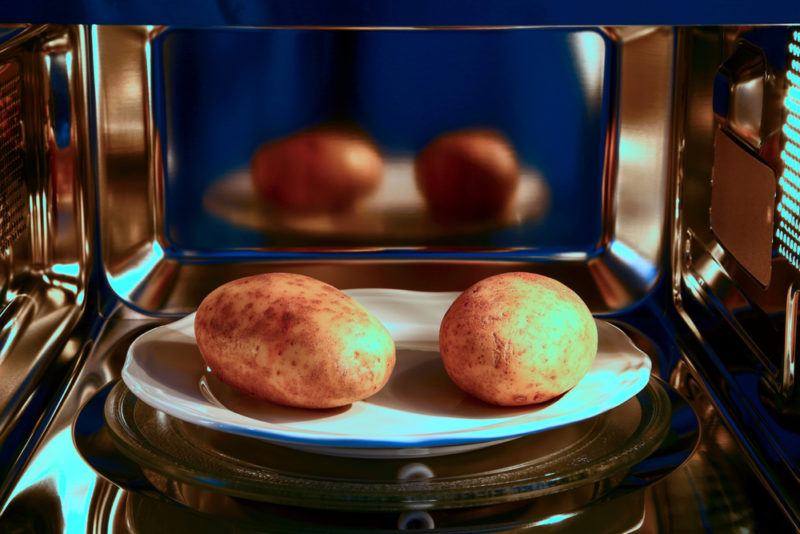 You can bake potatoes (and sweet potatoes) in the microwave with not much effort at all. You simply need to make sure that you've cleaned the potato well and pierced it multiple times with a knife or fork.
Rub some oil over the potato, season it if you want to and then throw it in the microwave. It normally takes from 7 to 10 minutes on high to fully cook the potato and you'll need to flip it once during the process.
The end result isn't exactly the same as potatoes that you've baked in the oven, but the process is so easy that it's hard to care about the difference.
Scrambled Eggs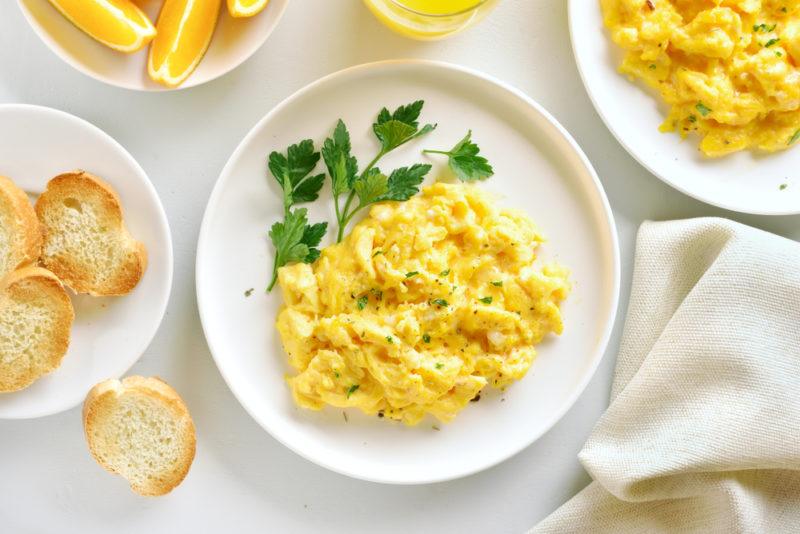 While eggs in their shell don't tend to work well in the microwave, scrambled eggs are very easy to prepare. All you need to do is beat the eggs in a microwave-safe container. Microwave them on high for 45 seconds, stop and stir, then put them back in for another 45 seconds.
You can easily add in other ingredients too, like chopped ham, diced red peppers, or some spices. Cheese works too, although it's best to add this before the second microwaving step, rather than right at the beginning.
Many people end up making their eggs in a mug, as the size and shape work perfectly for this type of meal.
Enchiladas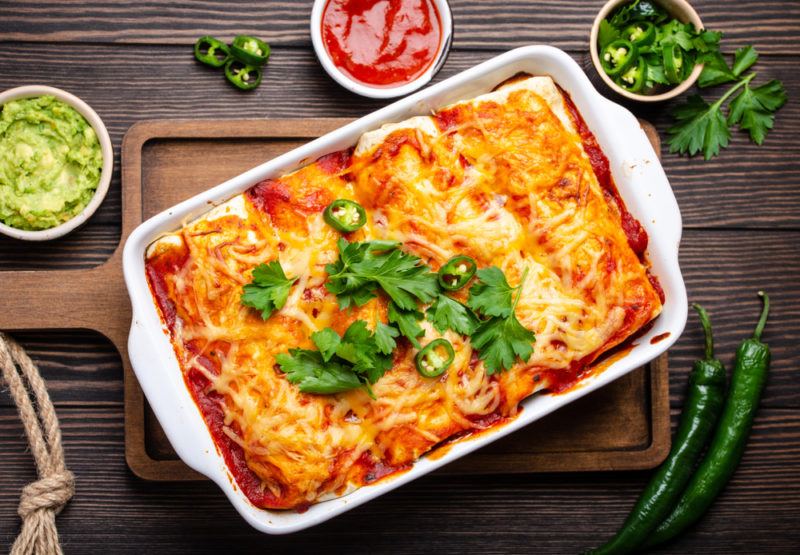 Simple meals aren't all you can prepare in the microwave. Complex dishes like enchiladas can work too. The main trick is to think carefully about the steps to make sure that the finished meal turns out well.
To make enchiladas easy, try relying on pre-made enchilada sauce. Spread a little on the bottom of the dish and dip your tortillas in the sauce before you fill them. You'll want to be using pre-cooked ingredients, like shredded chicken, to make sure that everything cooks through.
Once you have the tortillas filled and rolled, you can add sauce to the top, along with some cheese and then microwave the meal. It should take less than 10 minutes on high to make a piping hot meal.
Rice Risotto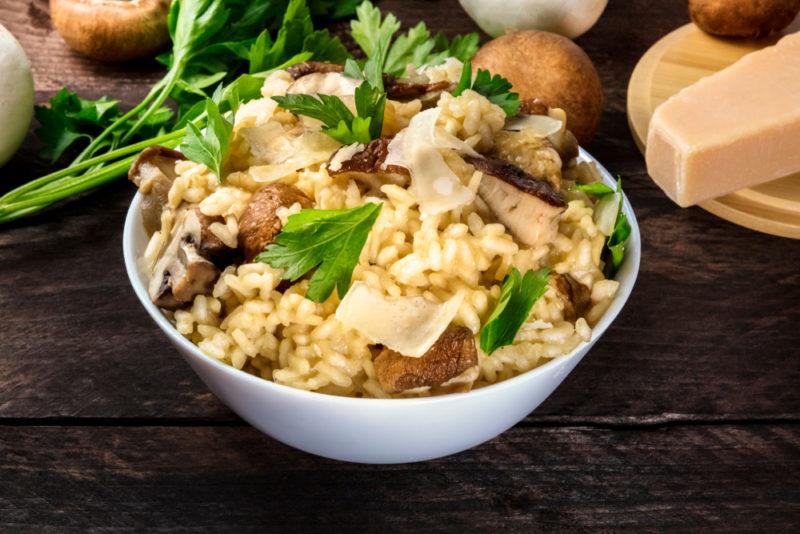 Risotto is another meal that you can make in the microwave. You'll need to stop and start the process a few times, but the end result is certainly worth the effort.
To begin with, dice some onions and microwave them with some butter. Then add the rest of your risotto ingredients, including some type of broth, rice, and whatever seasonings you would like.
Loosely cover your bowl and then microwave it on medium for 2 minutes or so. Stop, stir, and put it back on for the same length of time. You'll need to do this a few times until the rice is fully cooked and the risotto has the right texture. You can also add broth during any of the stirring stages, if more is needed.
Mushrooms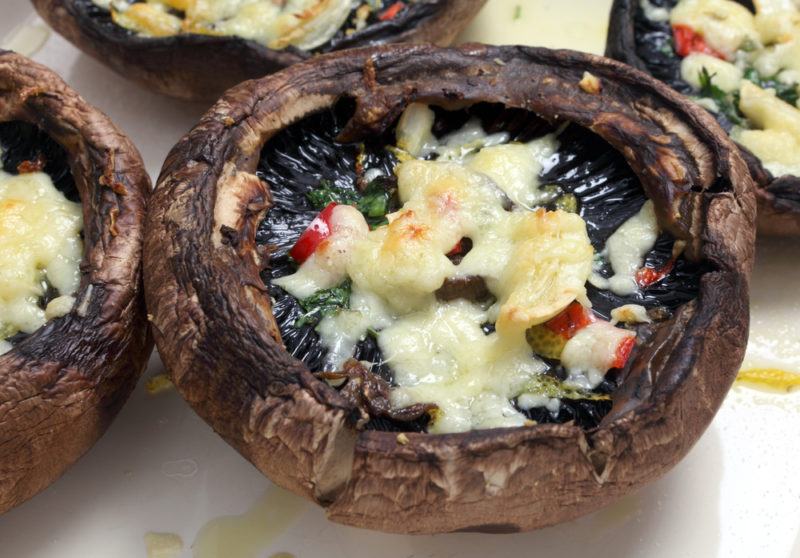 Mushrooms can be quickly cooked in the microwave, making for a nice and easy snack. Try using 2 whole portobello mushrooms and cook them for 2 minutes on high. Add a little cheese on top and put them back in for the same length of time.
You could try something similar with other toppings or other types of mushrooms.
Granola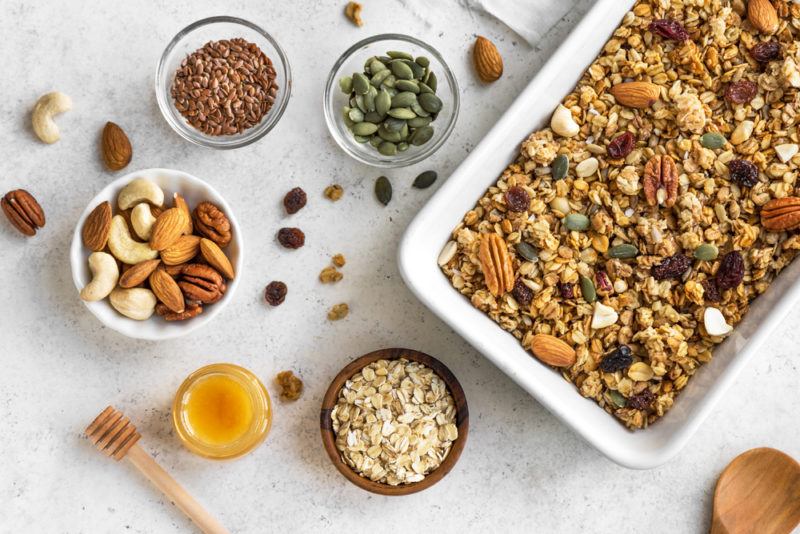 Making granola at home generally involves baking the ingredients in the oven. But, in practice, most granola recipes can be made in the microwave just as easily. This is perfect if you're only making a small amount of granola or if you're experimenting with a new recipe.
To make this work well, you need to take the process in stages. Heat the basic ingredients together first, including butter, spices, sweetener, and a little hot water. Once this is piping hot, you can add the rest of your ingredients, like oats and nuts.
Just be sure to leave the dried fruit out. You can mix the dried fruit into the granola once everything else is cooked, as the dried fruit shouldn't be cooked in the microwave at all.
Toasted Nuts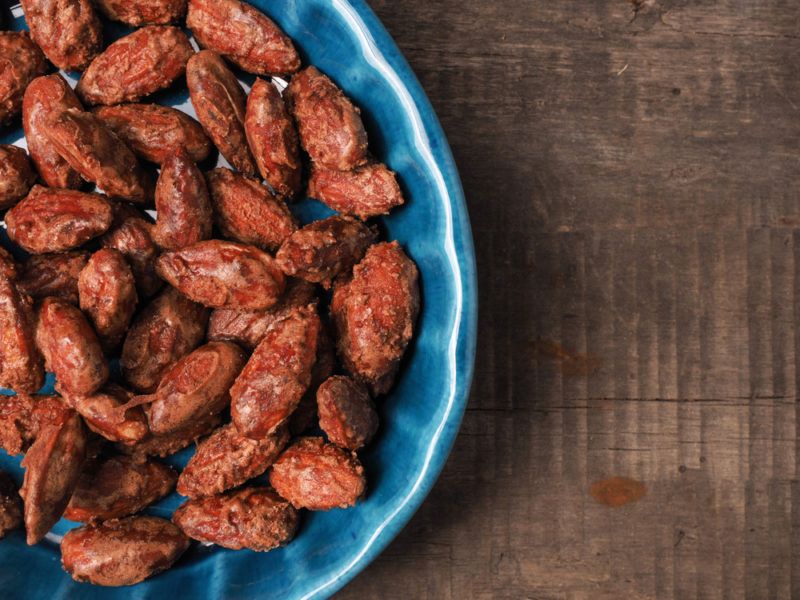 A similar idea is true for toasted nuts. Of course, this approach is even simpler, as you don't have many ingredients to worry about. Simply spread out your nuts on a plate and heat them for 1 minute on high at a time.
Then stir the nuts and repeat until they're perfect. It might take 4 or 5 times through the microwave to get the right level of toasting, but this approach is still faster and easier than toasting nuts in the oven.
Potato Chips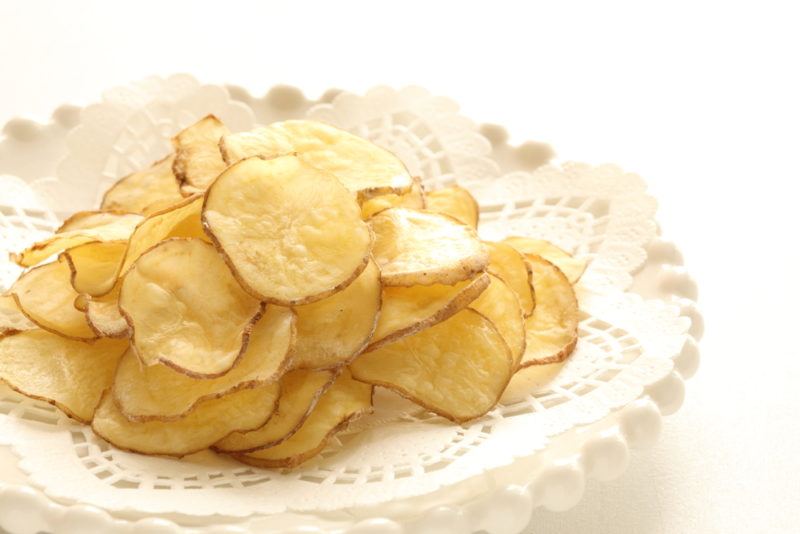 Here's an unexpected one. The microwave isn't normally a tool for making crispy food, but it is still possible to make potato chips. To do this, you need to slice your potatoes as thin as you possibly can. A mandolin is the perfect tool for doing this.
Once you've sliced the potatoes, toss them in oil and seasonings, then spread them out on a microwave safe plate that has been covered in parchment paper. Cooking the potatoes for 5 minutes on high should be all you need to create a crispy and delicious snack.
This approach isn't limited to potatoes either. You can make crispy chips from thinly sliced vegetables too in exactly the same way. Zucchini, for example, makes surprisingly delicious chips.
Cake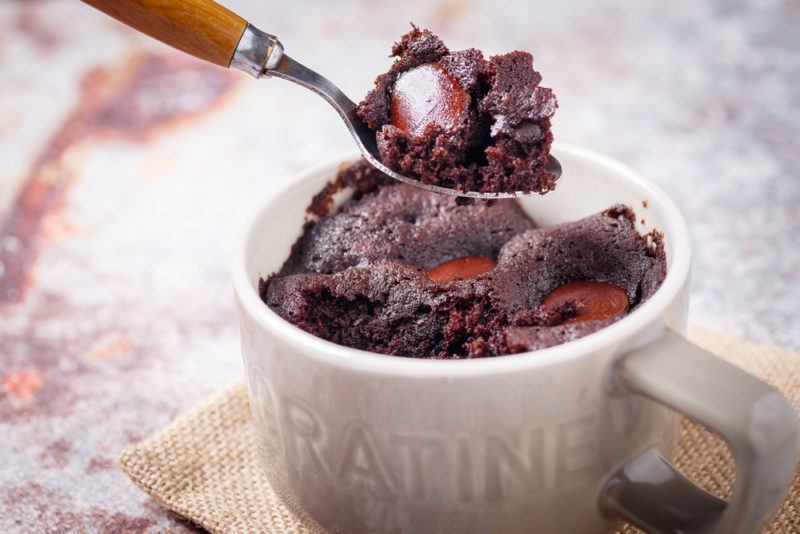 Making a cake for one (or two) is one of the oldest tricks in the book. You're often relying on the classic ingredients for making a cake, just in much smaller quantities. Most people make the cakes in a mug, which has earned them the name mug cakes, although you can use a small ramekin or something similar instead.
Mug cakes generally aren't as amazing as a real cake, but they do have advantages. After all, you can prepare them very fast, while a conventional cake takes hours. Mug cakes are small too. You can eat the whole thing without worrying about overindulgence.
And finally, there are countless styles of mug cakes out there. This includes ones that work for specific diets, like vegan, gluten-free, keto, or even paleo cakes.
Bacon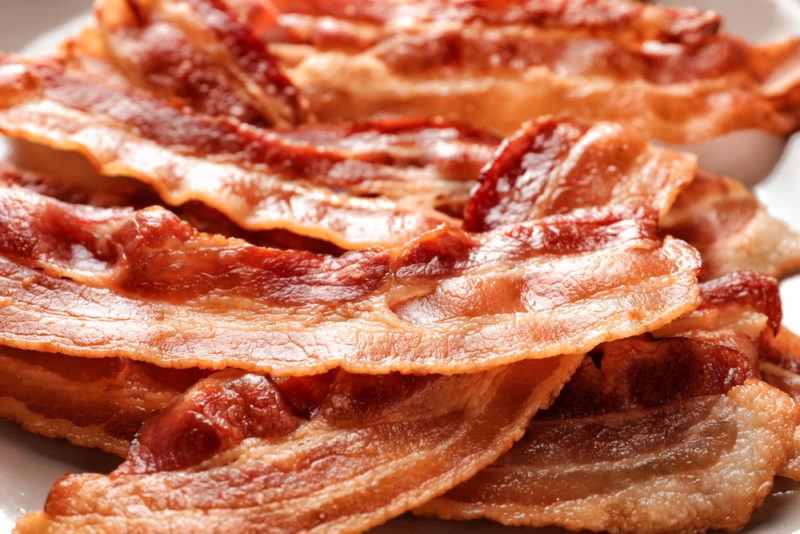 Bacon can be easily cooked in the microwave and it doesn't need to be soggy either. One trick is to use paper towels so that the fat is siphoned away from the bacon. You can also use a rack or an upturned bowl so that the fat drips down.
In fact, any approach that moves the fat away from the cooking bacon will tend to produce crispy bacon every time.
Quinoa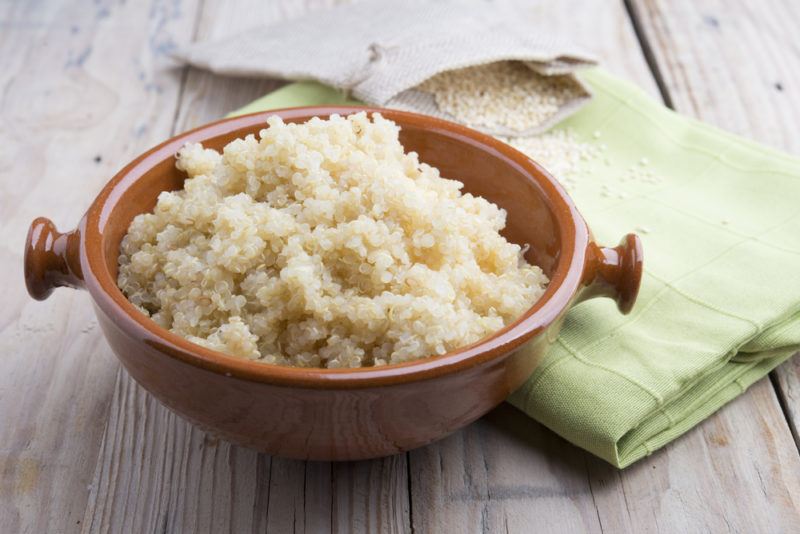 Quinoa can be cooked in the microwave in the same way as pasta. Simply place the quinoa in a microwave safe bowl with the appropriate amount of water and heat it on high for 5 minutes or so. Stir the quinoa and then heat again. The goal is to cook until all the water is absorbed and then stop.
Getting the timing right might take a little trial and error. However, once you've been through the process a couple of times, you should have a good sense of how long each step takes.
Other Grains And Pseudograins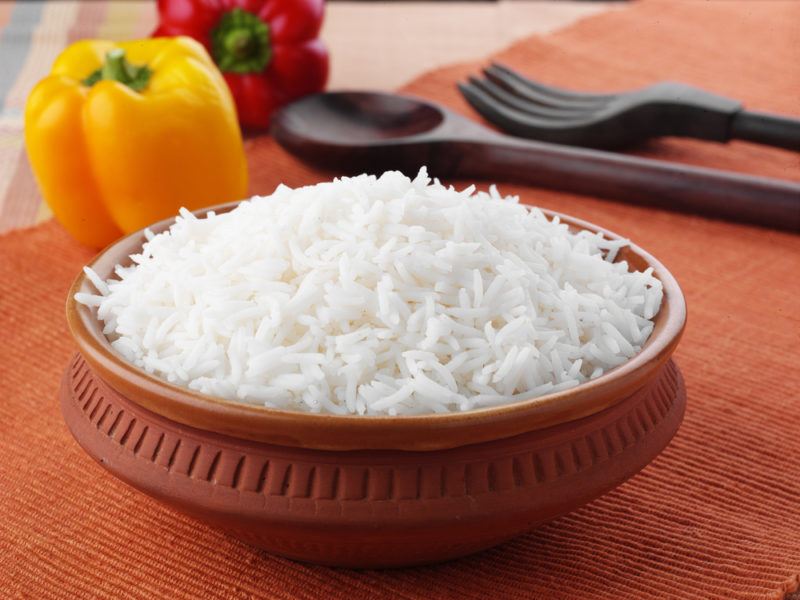 Many grains and pseudograins use a similar cooking approach where you are basically boiling them in water. Any such approach can be easily adapted to the microwave.
As with quinoa, the most important thing is to work out the timing. This can be a little finicky at first, as every type of grain has its own cooking requirements.
You can start by heating your grain in water for a little bit at a time, perhaps a few minutes. Then stop the microwave, stir and go again. It won't take long until you know exactly what to expect from each type of grain.
You could also take a look online. You're probably not the first person to want to cook a specific type of grain in the microwave, so instructions about timing shouldn't be too difficult to find.
Ratatouille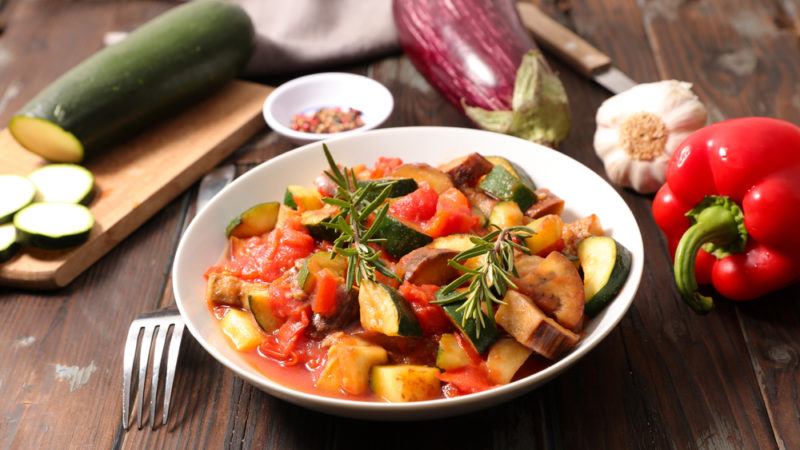 While there are many variations on ratatouille, the dish can often be made in the microwave. The first step is to thinly slice or dice the vegetables that you are using, such as zucchini and red capsicum. You can then heat these in the microwave on high for a couple of minutes.
After that, add in chopped tomatoes from a can, along with whatever seasonings you're interested in. Heat the resulting mixture on high for another two minutes and that should be it.
French Toast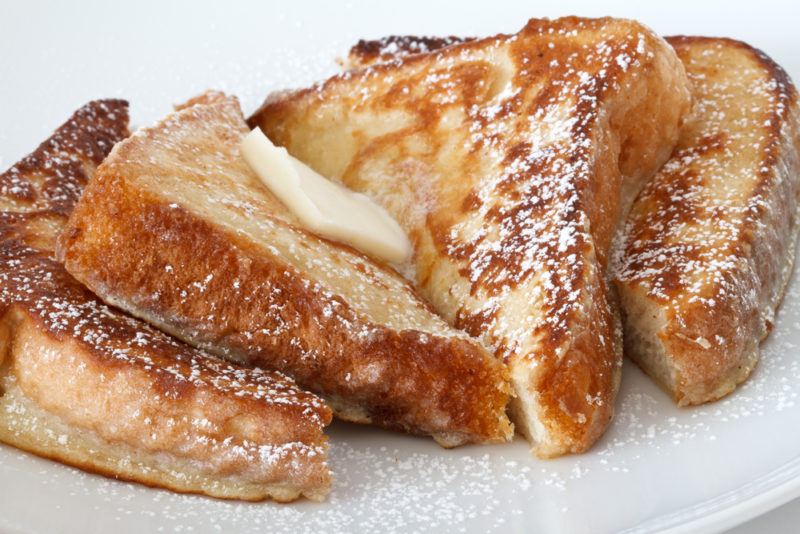 With a little work, you can make French toast in the microwave too. The meal is a little like a mug cake, so you get familiar flavors, but you're not going to be eating your French toast with a knife and fork.
The first step is to butter a mug and then add in the bread that you want to use. Chop it up so that you have fairly small pieces and then stuff it into the cup.
In another container, combine the ingredients that you need to make French toast, including cinnamon, milk, and eggs. The mixture can then be poured into the cup with your bread. Let it sit for a little so that the bread absorbs the liquid and microwave the cup on high for a minute.
After that, keep microwaving on high in 10 second increments until the French toast is cooked just how you like it. It won't take long to reach this point. After all, many mug cakes cook in 90 seconds and this French toast follows a similar idea.
Monkey Bread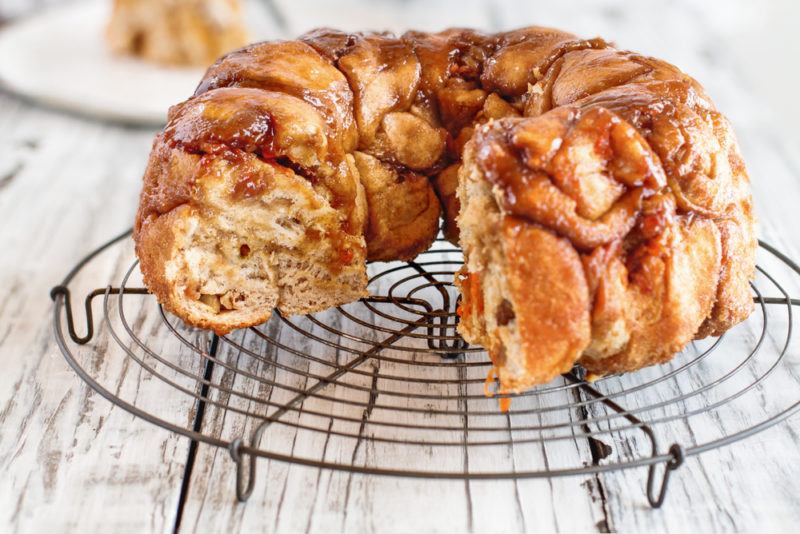 You can make monkey bread in the microwave too – and we're not just talking about making a single serving of the bread either.
To make the bread, you're going to need the right type of mold. A silicone bundt pan is perfect, as bundt molds are often used for monkey bread and you can't use a metal one in the microwave.
The bread itself simply involves cans of biscuits that have been cut up, along with a small selection of ingredients, including butter, brown sugar, cinnamon, and vanilla. Those four ingredients are heated and mixed together.
You can then pour this over the cut up biscuits and cook the combination on high in the microwave. It only takes 5 minutes or so to pull the whole thing together. Making monkey bread in the oven takes much longer.
Cinnamon Apples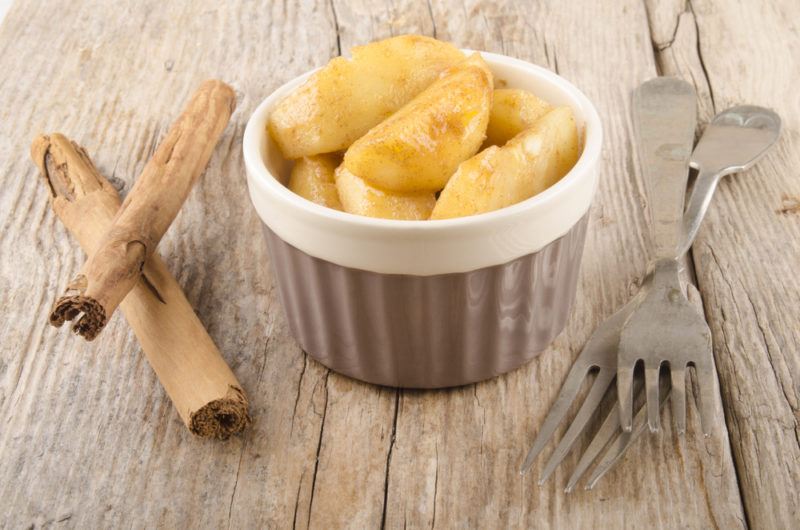 If you want an easy and sweet treat, the microwaved cinnamon apples could be about perfect. All you're doing is peeling, coring, and slicing the apple then adding a little cinnamon, cornstarch, water, and sweetener.
The idea is to steam the apple slices, so it's best to cook the apple in a bowl with a loose lid or in a sealed Ziploc bag. The result is the same either way, although the Ziploc bag does cut down on the amount of cleanup.
If you're using a single apple, then it will take around 2 minutes on high to fully cook the apple. You could easily cook multiple apples at a time, although the cooking time would increase with each additional piece of fruit.
Other Types Of Fruit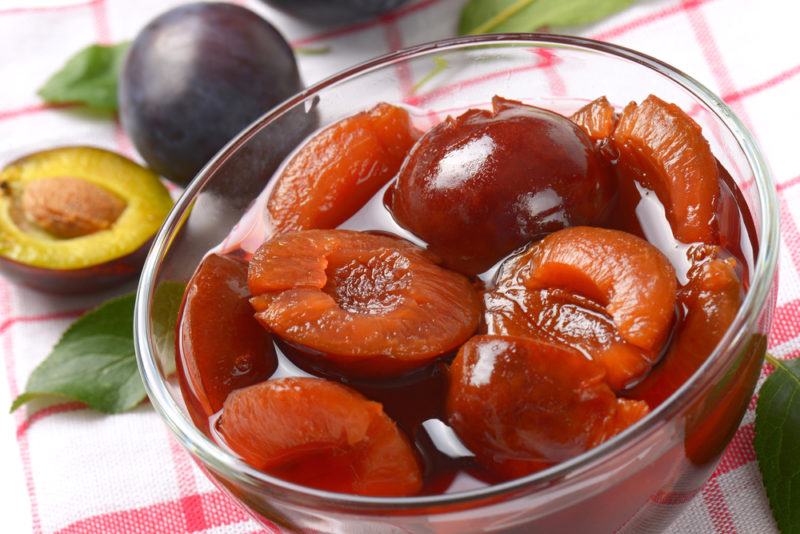 Some other types of fruits can be cooked in the same way as apples. Pears and cinnamon are classic examples. You can even stew plums in the microwave.
For that matter, did you know that you can cook dried fruit in the microwave? To do this, you'll need to heat the dried fruit with fruit juice for a few minutes and then leave the dried fruit in the liquid until it plums up.
While cooking dried fruit in this way isn't quite as tasty as fresh fruit, the idea is worth trying for yourself. This is an especially good option if you don't have much fresh fruit at home.
Roast Garlic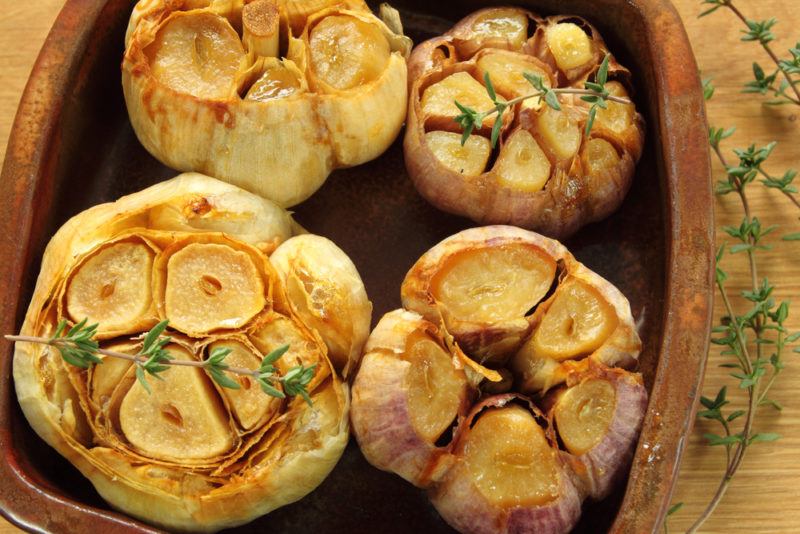 A microwave can't roast garlic in the traditional sense, but you can end up with a similar flavor profile. This is a fantastic trick, as roasted garlic has an amazing sweet garlicky flavor that is ideal in many meals, but roasting garlic in the oven takes time and heats up the room.
Using your microwave is the perfect way to get the benefits of roast garlic, without any of the hassle.
To begin with, simply take a head of garlic and lop the top off. This exposes the garlic cloves. You can then sprinkle the garlic with olive oil, some salt, and some pepper.
Place the garlic head (or heads) in a baking dish, with roughly 1.5 tablespoons of water per garlic head. Put a lid on the dish and microwave it for 3 minutes at half power. Check the garlic and then cook it again.
After 6 minutes or so, you can switch to 1 minute increments instead to be certain that you don't overcook the garlic. The goal is to make the garlic cloves very soft.
The garlic can be used like this or, if you don't mind the extra effort, you can finish the garlic off in the oven until it develops a rich color. This takes around 10 to 15 minutes and adds extra flavor to the garlic.
Ropa Vieja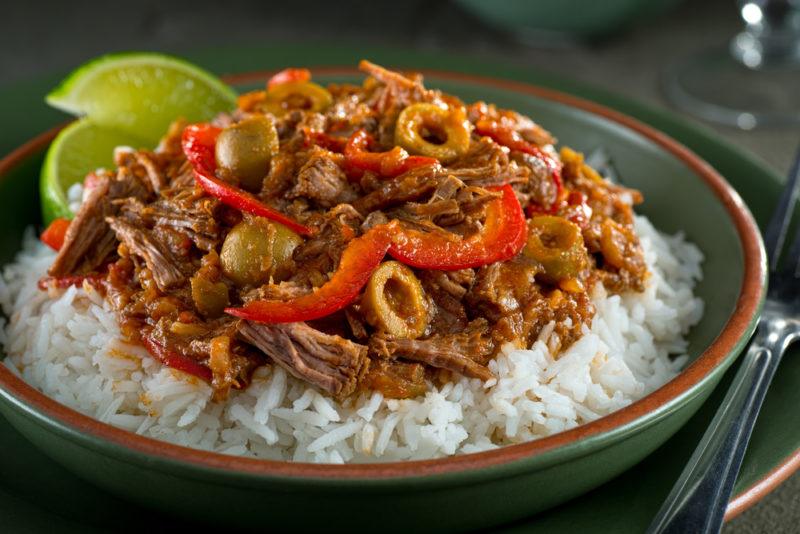 Most of the foods that we've featured here involve pre-cooked meat or no meat at all. But, you can also make meals that start off with raw meat. Recipes like this are inherently more complicated, as you need to be sure that the textures are exactly right and that the meat is fully cooked.
If you're doing this, it's generally best to focus on recipes that use red meat, as you can safely eat rare red meat, while undercooked chicken is dangerous.
One such recipe comes from Food Network and is for Ropa Vieja. You can check the recipe out here. The entire meal is prepared in the microwave and involves quite a few steps. The meal also serves four people and has a 50 minute cooking time, so it's much more comprehensive than other microwave meals.
While the finished meal looks amazing, most people probably wouldn't bother. You could create something just as delicious on the stovetop with much less effort.
Still, recipes like this have their place. They're ideal for situations where you don't have an oven or times when you want a delicious meal without heating up your entire kitchen.
Chili

Chili seems like the perfect dish to round this list off with, as it is such a popular meal. While chili made in the microwave often won't have the same depth of flavor as stovetop chili, the meal is still delicious and can be perfect if you want something fast and easy.
Start off by microwaving chopped onions, garlic, butter, and spices together on high for a minute or so. You can then add in the rest of your ingredients, including beans, chopped tomatoes, and perhaps a stock cube.
The combination can then be cooked on high for a few minutes.
This meal works best if you cook it in a loosely covered container of some type. If you don't have a lid that's going to work, you can cover your container with cling film instead. Pierce the cling film a few times so that steam can escape and then you're good to go.
You may need to add a little tomato juice into the chili if it starts to dry out during cooking. However, you're likely to lose much less liquid than if you cooked the meal on a stovetop.