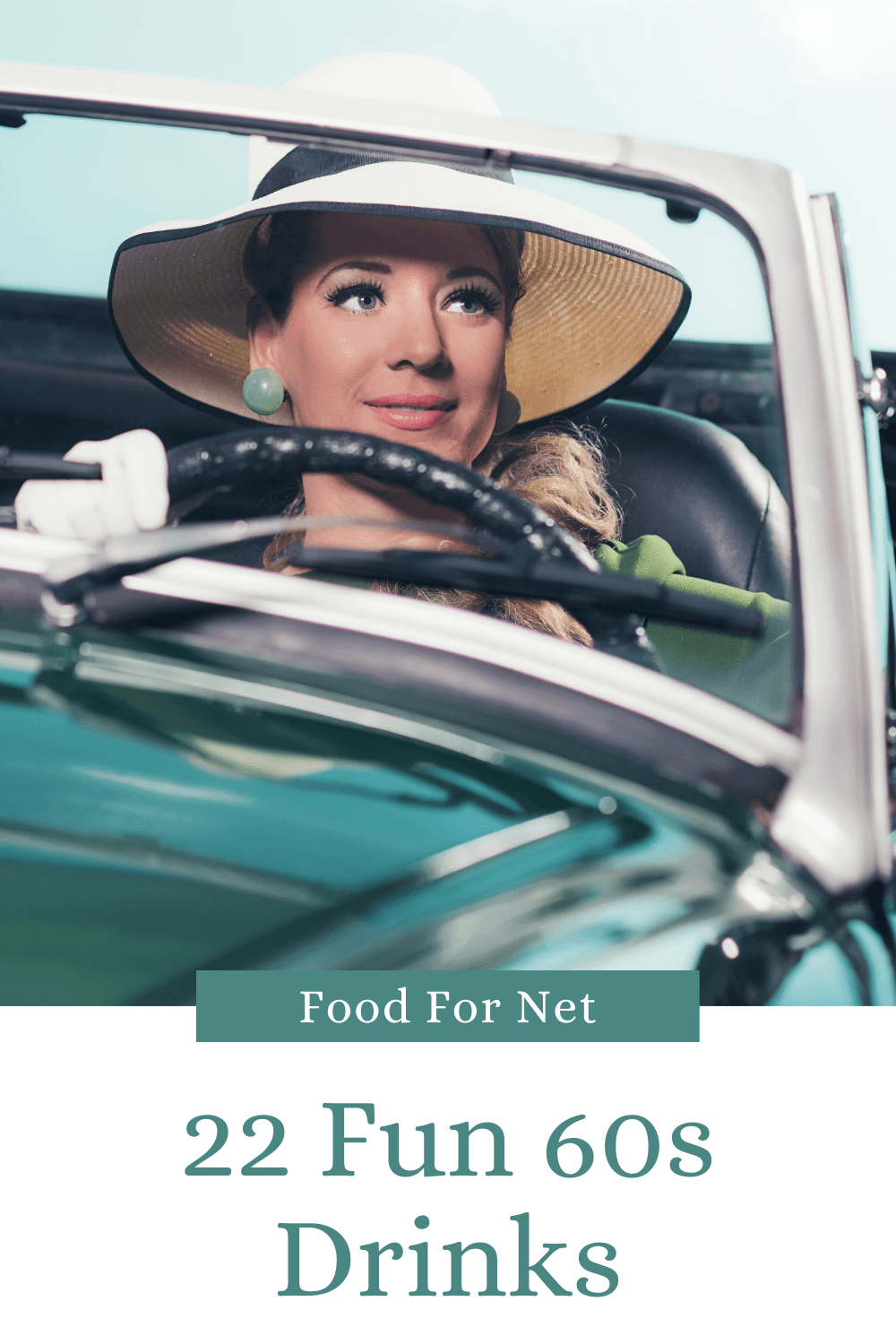 The 1960s was a fascinating era. There were simply so many changes and it was a time so different from our own. The show Mad Men has made the era even more popular, which has led to growing interest in the classic 60s drinks.
There were certainly some drinks worth celebrating in that era, including the old fashioned, the Manhattan, and the ever-popular martini. At the same time, there was a growing cocktail culture, including new glassware and even clothing choices.
Still, the drinks aren't just the ones you've seen on Mad Men. There were plenty of sugary cocktails as well, ones that weren't nearly as refined or balanced.
In this list, we're looking at some of the most popular cocktails from the 60s, covering plenty of styles in the process. Many of these drinks are worth reviving and trying out at home for yourself. For even more ideas, we have other posts on the classic eras of cocktails, including the 70s, 80s, and even the 20s.
60s Drinks (With Pictures!)
Sidecar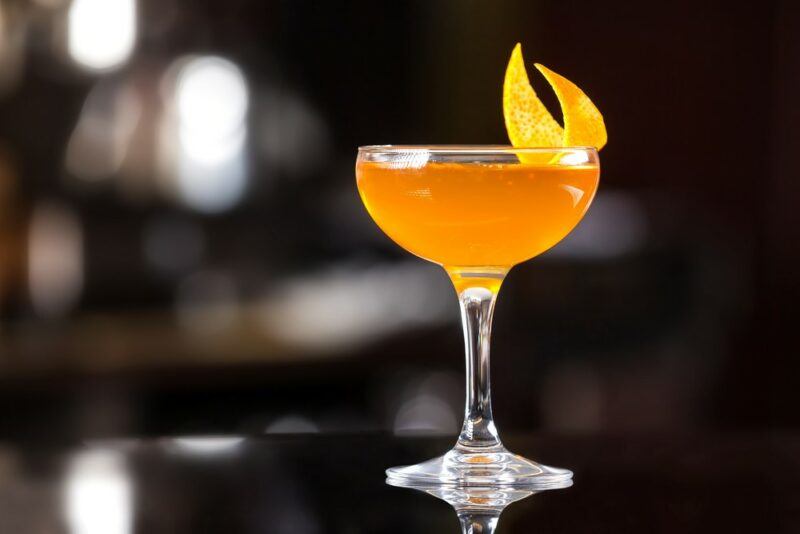 The sidecar was actually developed in the 1920s, but became popular again in the 1960s. The cocktail is a variation on the classic sour, one that's extremely well-balanced and is exceptional when made well.
Traditionally, the cocktail relies on cognac, with triple sec for sweetness and lemon juice for a tart contrast. Some versions have a sugar rim, which provides a hit of sweetness. The sugar rim is optional, but does make the cocktail so much better.
Martini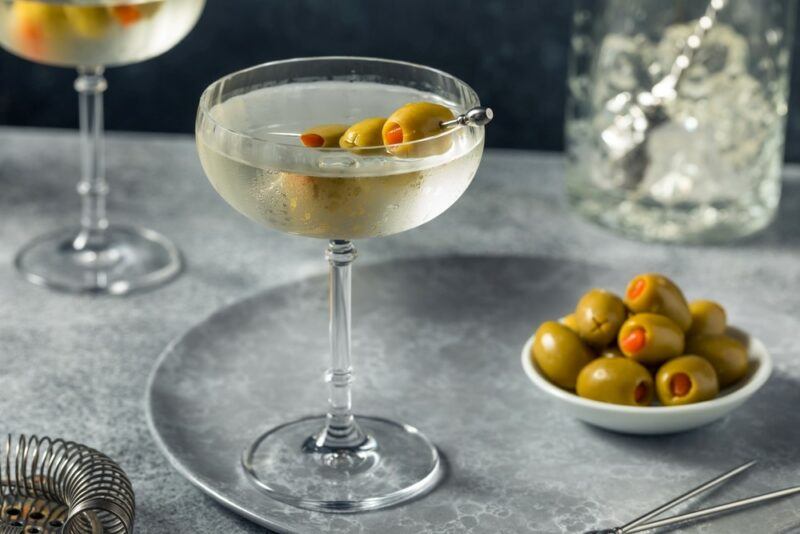 Few drinks are more classic than the martini. No one knows when it was created, although there are many competing theories.
Regardless, the cocktail has bounced in and out of popularity through the years and was a trending choice in the 1960s.
While the martini can be made with gin or vodka, the vodka version was much more popular in the 60s. Barmen often made the cocktails shaken rather than stirred (an approach that causes a flurry of debate every time it is discussed).
Manhattan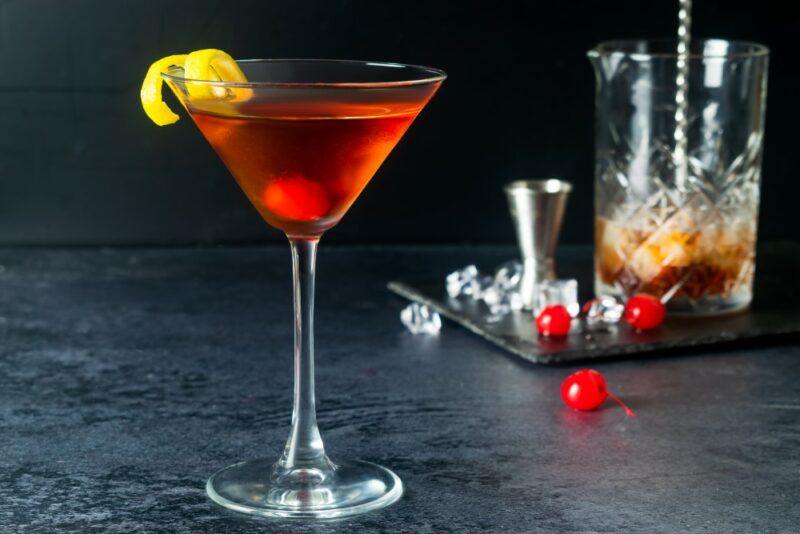 Few whiskey cocktails are as iconic as the Manhattan. The earliest mentions of the cocktail go back to the 1880s, even though there's much debate about who first developed it.
The cocktail itself combines either rye whiskey or bourbon with sweet vermouth and bitters. This combination provides rich flavors and slight sweetness, creating a cocktail that's interesting and is still approachable for novices.
The simplicity of the Manhattan means there's plenty of room for variation. For example, the perfect martini uses both sweet and dry vermouth. There's also the black Manhattan that swaps the vermouth for Amaro Averna (creating a more aromatic cocktail).
French 75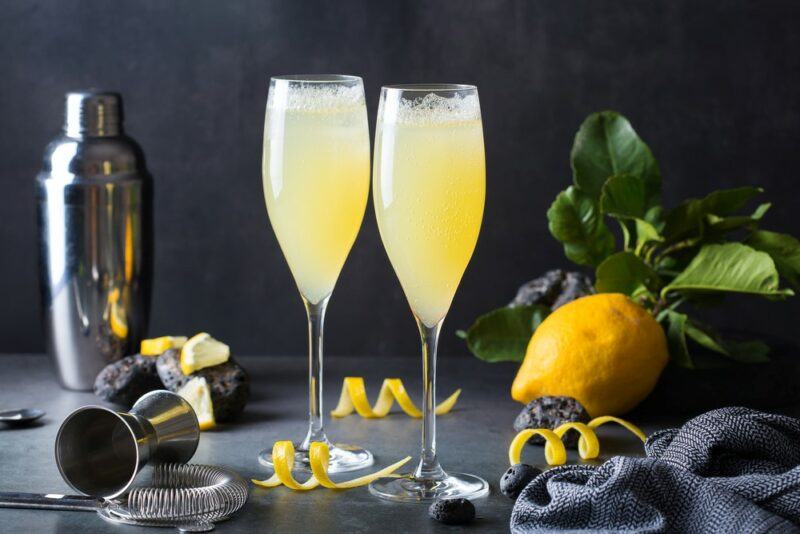 This classic cocktail was developed around 1915, making it a popular choice during Prohibition. It has featured in other decades too, including the 60s.
This is an easy cocktail to prepare at home, as you just need sparkling white wine (ideally champagne), dry gin, lemon juice, and sugar syrup. The cocktail packs a punch too, as you're getting plenty of alcohol from the wine and from the gin.
Interestingly, the base spirit of the cocktail is sometimes switched to cognac. Doing so changes the flavor profile, making the drink less botanical and giving it a richer flavor.
Grasshopper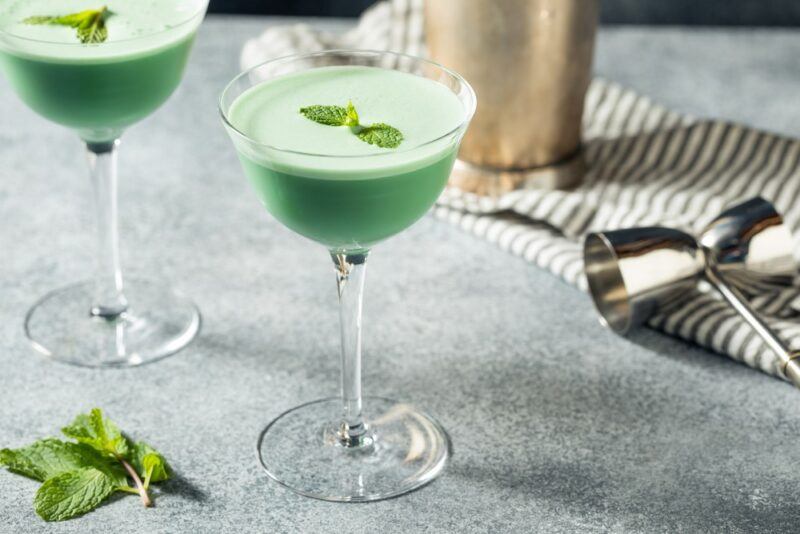 The grasshopper is a Prohibition-era cocktail, linked back to New Orleans in 1918. The creamy drink has only a few ingredients – crème de menthe, white crème de cacao, and milk or cream.
It's not a boozy drink, not at all. Instead, it's rich, creamy, and quite sweet. You might only be able to have one (or possibly two) in a serving.
Pink Squirrel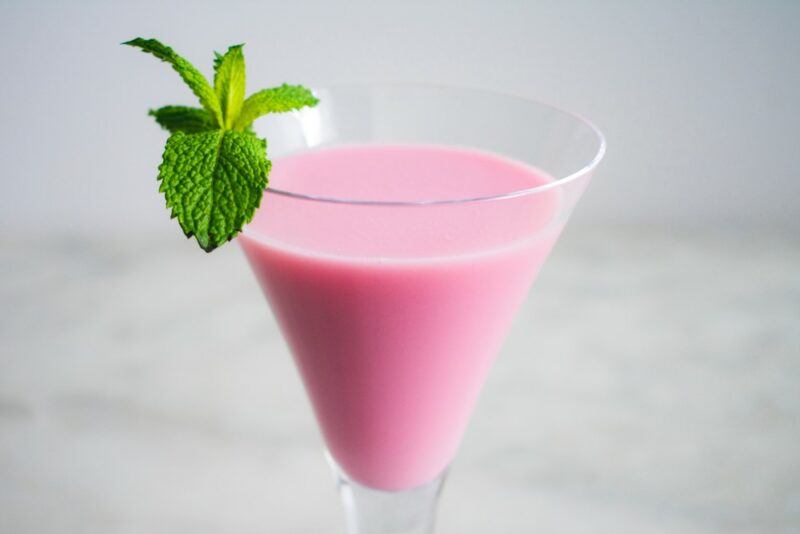 This cocktail follows a familiar theme. Again, it uses white crème de cacao and cream. But, instead of crème de menthe, the pink squirrel relies on crème de noyaux instead.
Crème de noyaux is an unusual liqueur that has a pink color and tastes like almonds. The combination of this, crème de cacao, and cream, creates a cocktail that tastes much like melted ice cream.
You can even riff on this flavor profile by skipping the cream and blending the other ingredients with ice cream. This gives you a boozy pink ice cream treat.
The Brandy Alexander

This cocktail became popular towards the end of the 60s and into the 70s. It's another creamy one – this time relying on dark crème de cacao, brandy, and cream.
These ingredients create a rich and delicious drink that isn't nearly as sweet as the grasshopper. The cocktail can be made using a 1:1:1 ratio of ingredients. Or, if you prefer stronger drinks, you can easily increase the brandy content.
Bee's Knees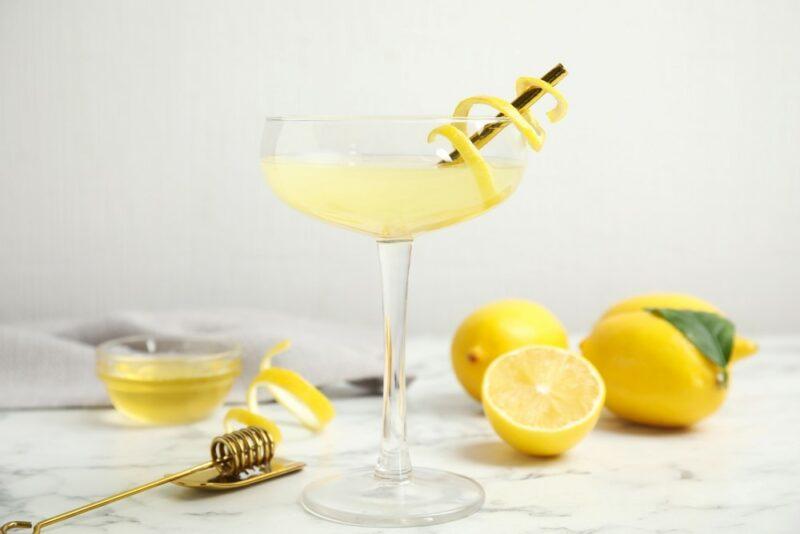 This is a Prohibition-era cocktail that saw a revival in the 60s. The use of honey and lemon worked well during Prohibition, helping to mask the taste of low quality gin.
A key feature is that you don't use honey directly. It generally clumps when mixed with cold liquid. Instead, you need to first make a honey simple syrup, then use this in the cocktail.
Dry gin works well for making a bee's knees. However, the flavor will change depending on the botanicals in your gin.
Rob Roy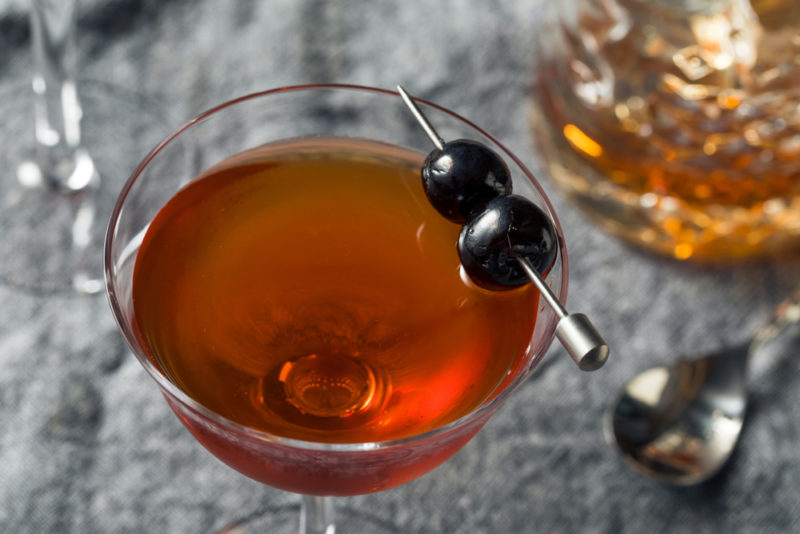 The Rob Roy is a classic sipper. It was named as such in 1894 when a Rob Roy operetta was released, although versions of the cocktail had existed before then.
Like the Manhattan, the Rob Roy simply combines whiskey with bitters and vermouth. The only difference is that the Rob Roy relies on Scotch whisky, while the Manhattan can be made using whatever type of whiskey you like.
Regardless, the Manhattan and the Rob Roy are both delicious cocktails. They make your whiskey a truly unforgettable experience.
Old Fashioned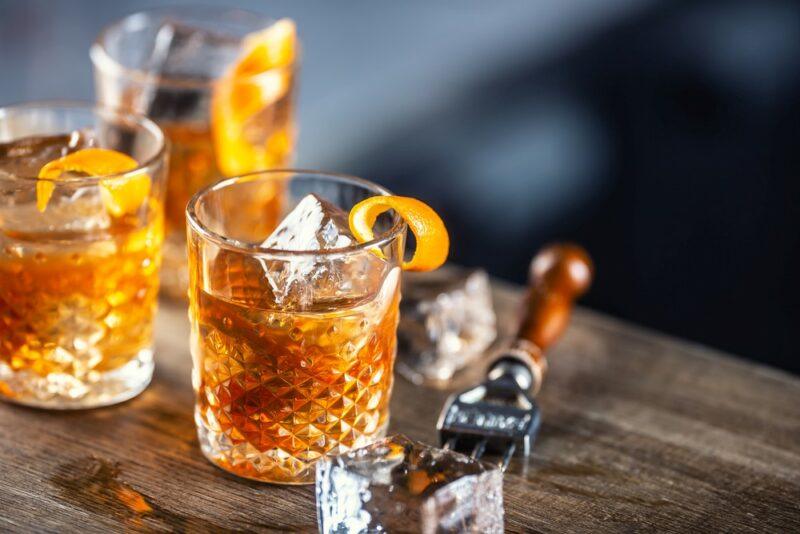 The old fashioned was an iconic drink in the 60s. The simple cocktail offers a fantastic balance of sweet and bitter flavors.
Preparing an old fashioned is simple. You just muddle together a sugar cube, angostura bitters, and sometimes a little water, then pour whiskey over the top.
That's it. Some versions add extra ingredients, but those additions aren't needed. Sometimes simple really is best.
Plus, with so few ingredients, the old fashioned gives your whiskey a chance to shine.
Sazerac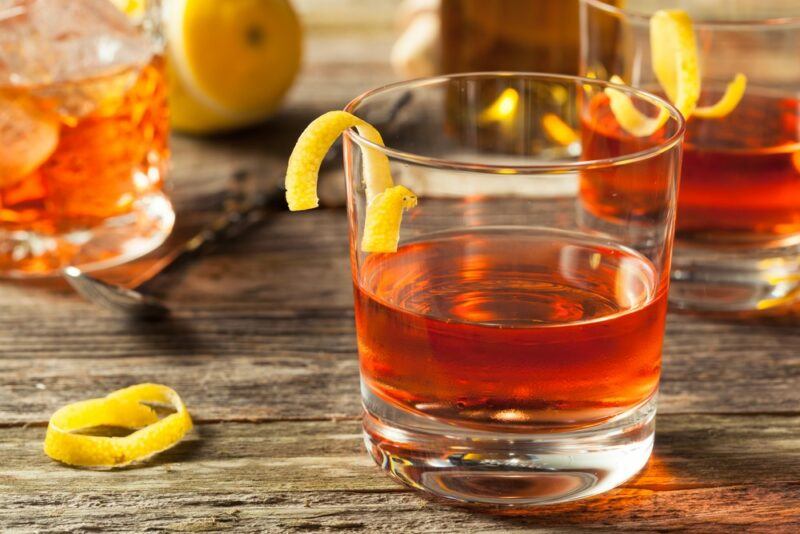 The sazerac is another classic and hails from New Orleans. The style is similar to an old fashioned, except that you're using Peychaud's bitters instead of angostura and rinsing the cocktail glass with absinthe before you begin.
Then there's the alcohol. An old fashioned is often made using bourbon whiskey, while a sazerac focuses on rye whiskey instead.
That said, you can also make a sazerac using cognac. This approach is less common, but is truer to the traditional version of the drink.
Tom Collins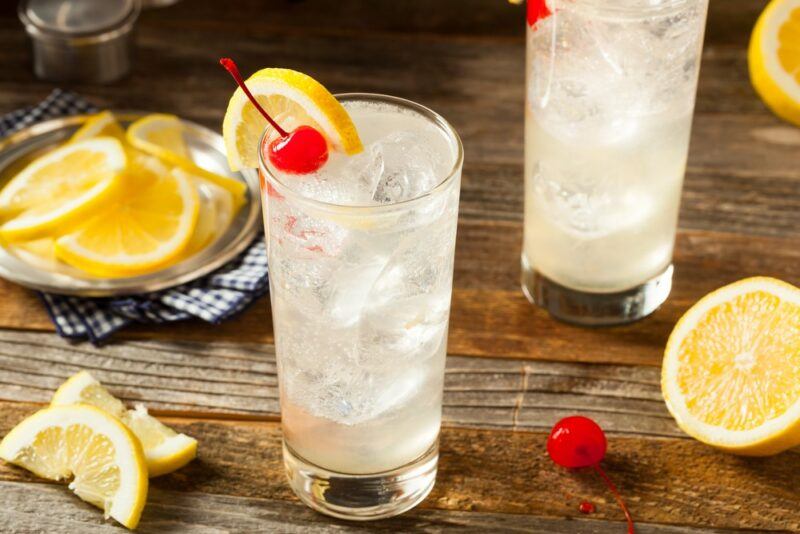 Tom Collins is fantastic as a simple, yet delicious, drink. It's a highball that combines gin with lemon juice, sugar, and plenty of soda water.
The lemon juice and the sugar help to balance each other out, giving you a delicious sweet-sour balance.
Margarita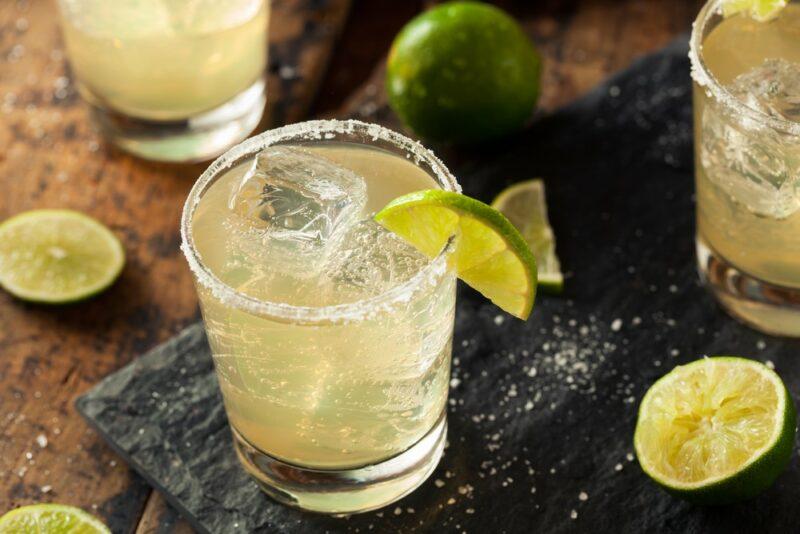 It's easy to see why the margarita is such a classic. Not only does the cocktail taste good, but it also relies on just three simple ingredients – tequila, orange liqueur, and lime juice.
This combination creates a tart drink, especially as the triple sec is the main source of sweetness. If this version is too intense, you can easily add some simple syrup or even agave syrup to make it less sour.
The margarita is still going strong, but it was particularly popular during the 60s and the 70s. Indeed, even in the 60s, almost every Mexican restaurant in the United States offered the cocktail.
Planter's Punch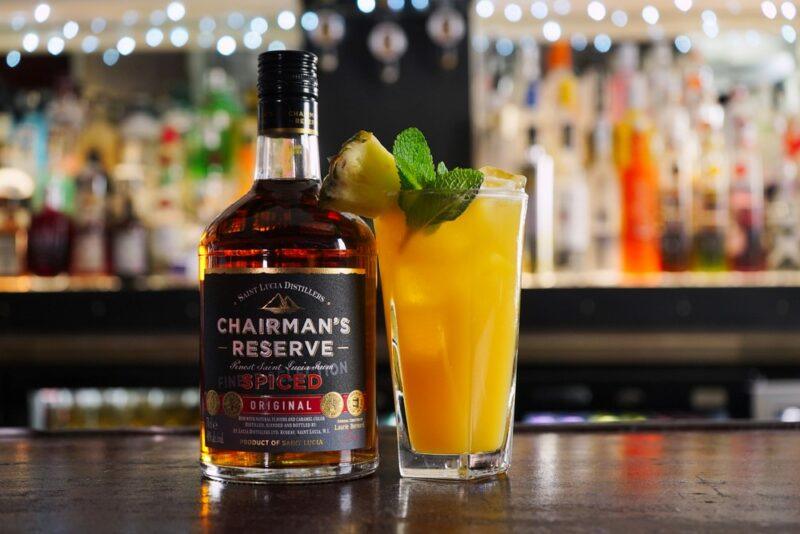 Planter's punch is one of those cocktails that is varied in plenty of ways. The classic version often combines overproof rum, lime juice, sugar syrup, and angostura bitters.
This ingredient balance allows the rum to really shine through. Grenadine can be added in too for a little extra flavor and color.
Other versions of the punch take a tropical approach, often using pineapple juice and orange juice along with the rum, lime juice, and bitters. Either way, it's a delicious drink.
Bloody Mary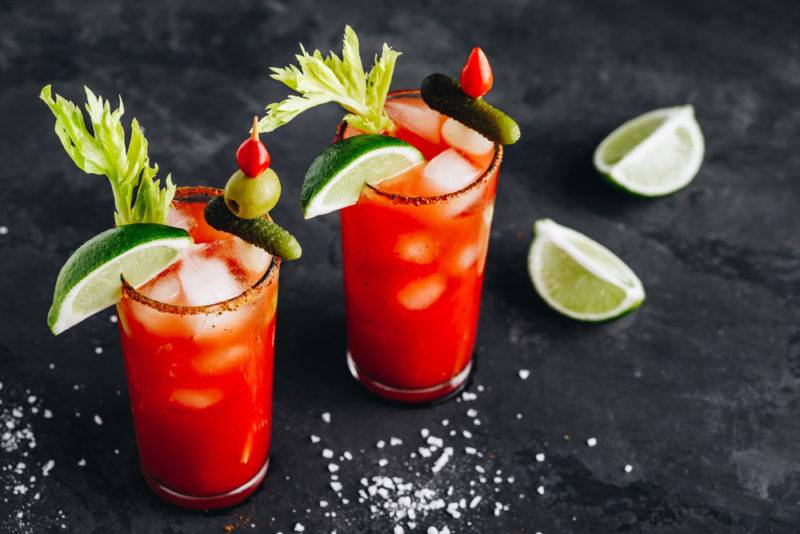 The bloody Mary isn't just a modern drink. It was popular back in the 60s as well.
The biggest challenge is the number of ingredients, as you're not just relying on vodka and tomato juice. The cocktail can also include lemon juice, celery salt, hot sauce, Worcestershire sauce, and pepper.
Thankfully, the cocktail is popular enough that most bars will have the ingredients on hand. These days you can find bloody Mary mixes too, but these are never quite as good as preparing the cocktail fresh.
B&B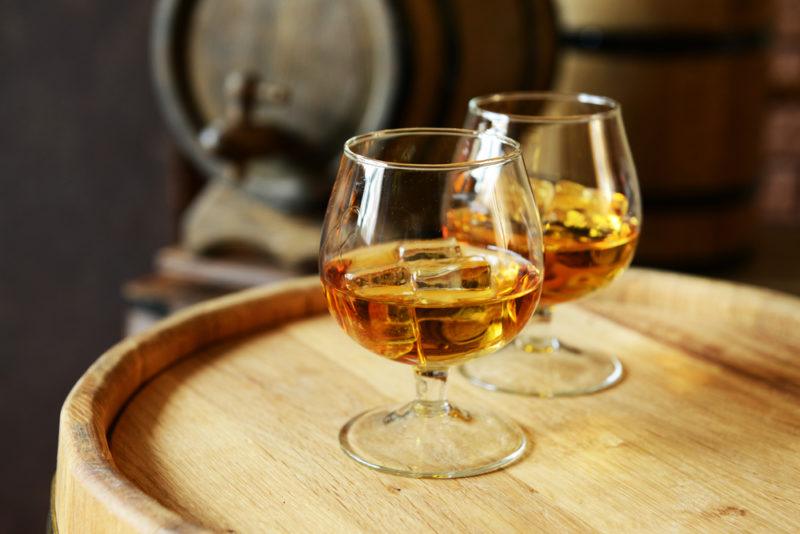 Here's one of the simplest 60s cocktails. You're just combining brandy and Benedictine, often in a 1 to 1 ratio.
The cocktail can be served on the rocks, straight up, or even warmed. The experience is slightly different each way, allowing drinkers to experiment and find which style they like the best.
You can also find premixed B&B from the creators of Benedictine. However, it's much better to make your own. This way you can use your favorite brandy and can experiment with the ratios.
Gimlet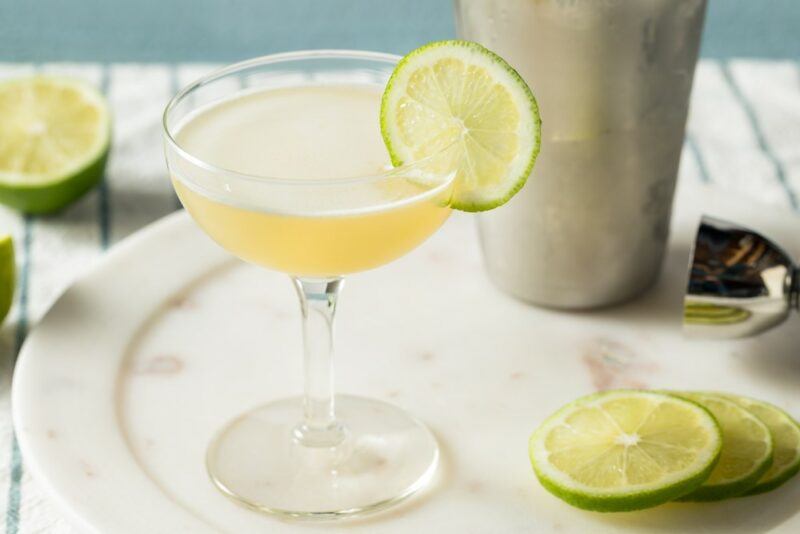 The gimlet is a simple sour cocktail. The most basic version combines gin with lime juice (or sometimes lime cordial).
Using lime helps to offset the intensity of the gin, giving you a more well-rounded drink. With so few ingredients, the cocktail's flavor is heavily influenced by the gin. So, choose well.
Mint Julep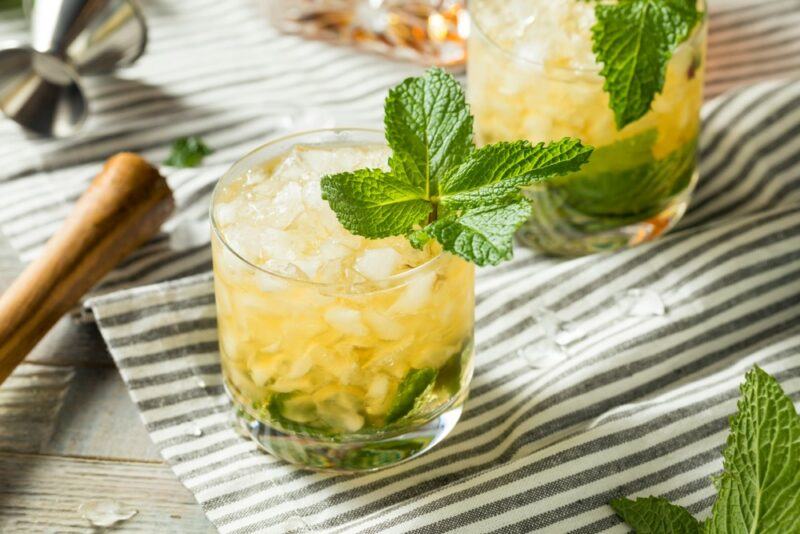 The mint julep continues to go strong, often as the drink of choice during the Kentucky Derby. The cocktail is often served in silver cups, which help to maintain the right temperature.
It was a popular cocktail in the 60s as well – and not just at the racetrack. Many bars sold (and continue to sell) mint juleps.
It's also an easy cocktail to make at home, as it just relies on bourbon, mint leaves, sugar, and crushed ice.
Whiskey Sour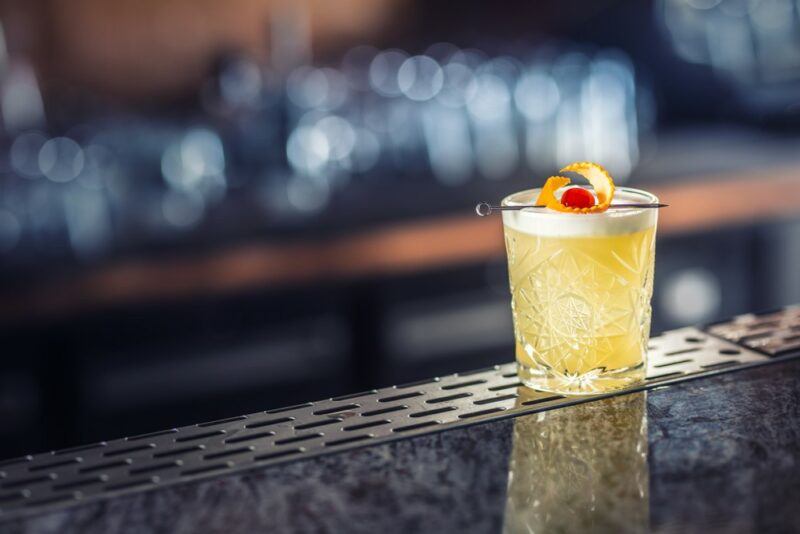 The sour family of cocktails is extensive. The basic recipe relies on a spirit, lemon or lime juice, and sugar syrup. There are endless variations, including those that use honey syrup and more complex sours that rely on sweet liqueurs.
A whiskey sour is one of the classics, providing plenty of flavor from the whiskey and a delightful contrast from the sweet and sour ingredients.
While the whiskey sour can indeed be sour, it doesn't need to be. You can tweak the ratios of sweet and sour ingredients until you find a version that works for you.
Rusty Nail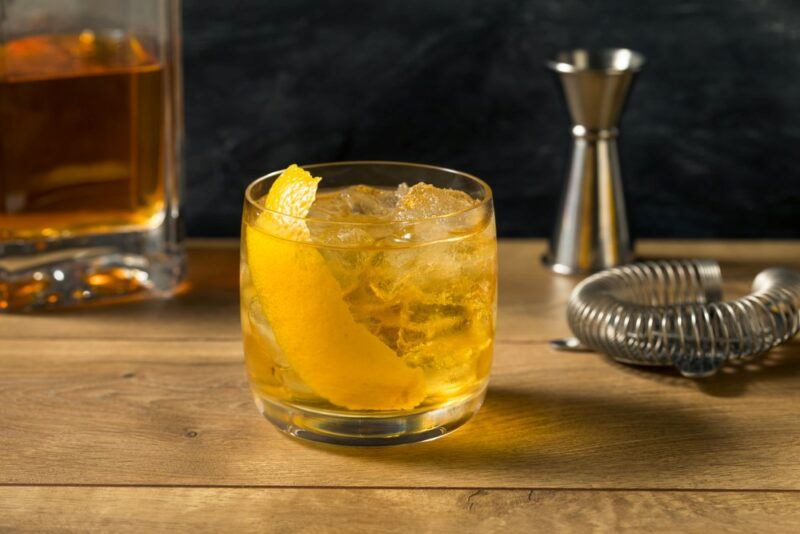 Rusty nail is hardly the most appealing name. Yet, the cocktail itself is delicious and surprisingly simple.
Most versions simply rely on Scotch whisky and Drambuie, which an aged honey Scotch whisky. Doing so gives you a drink that's heavy on the Scotch, with just a hint of honey.
A 50:50 mix is often suggested for the cocktail, but drier versions are common too, such as a 4:1 ratio of Scotch to Drambuie. You can also add some bitters for extra nuance.
Sloe Gin Fizz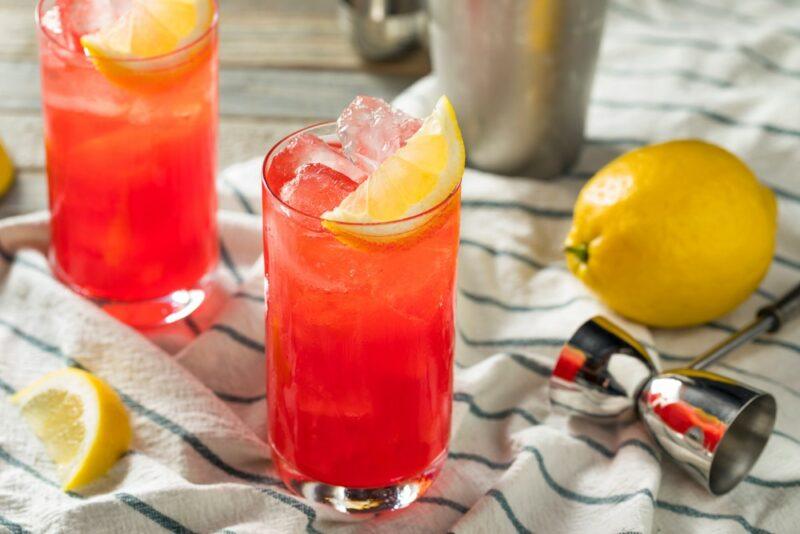 Fizz cocktails are a twist on the traditional sours. As such, they use a combination of spirit, lemon or lime juice, and simple syrup. An egg white is often included too, which provides texture.
The big difference is that fizzes tend to be topped with soda water, making them a taller drink.
The sloe gin fizz mixes things up again. For one thing, it uses sloe gin. This isn't a type of gin at all. Instead, it's a plum flavored spirit.
The traditional version also relies on grapefruit juice rather than lemon juice. The egg white is optional, so the cocktail is sometimes made with it and sometimes without.
White Russian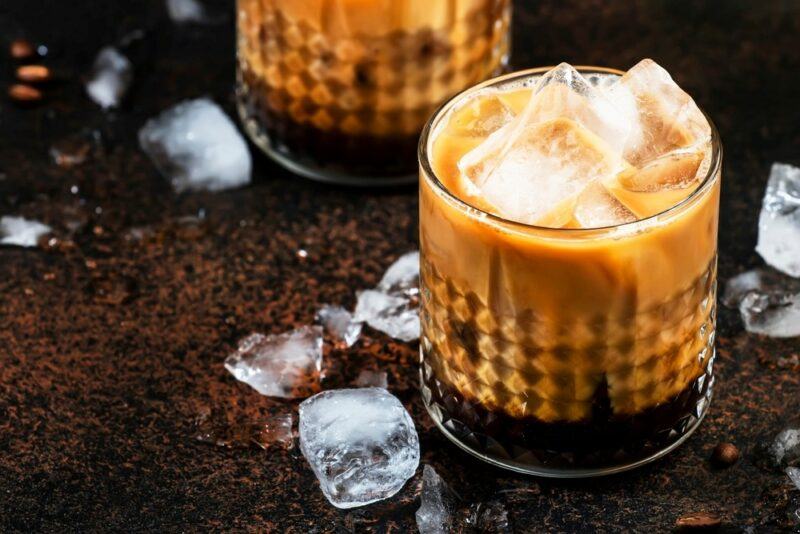 The white Russian remains one of the most popular vodka cocktails. It's a simple one too, as it just combines vodka with coffee liqueur and cream.
The cream gives the cocktail its creamy texture and sense of decadence.
There's also the black Russian. This version skips the cream, so it can just be a vodka and coffee liqueur drink. It's sometimes topped up with Coca-Cola to create a taller cocktail, which is delicious too.