In the last ten years or so, Laphroaig has undergone a few changes, including a complete re-work of their core offering. Gone are the lower age statement whiskies that are expensive to produce and take a long time to see a return on investment, and in place a selection of younger, experimental whiskies. Three to be exact; Laphroaig Quarter Cask, Laphroaig Lore, and the Laphroaig Triple Wood.
For those wishing to find out about the aforementioned two, there are separate reviews for those. Today's focus is on this Laphroaig Triple Wood review.
Laphroaig Triple Wood Review
About the Laphroaig Distillery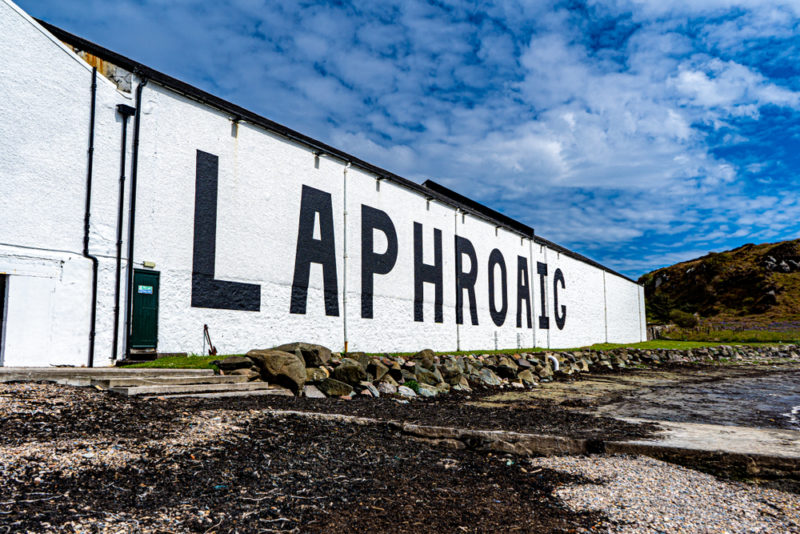 In 1815, two brothers (known as the Laphroaig Johnstons) built and opened the Laphroaig distillery on the southern coast of Islay. It is not exactly known how Laphroaig got its name but there is another location to the east called Proaig, which is speculated to be the origin. This, however, isn't certain and whatever the distillery's name origins are, it certainly stands out.
Laphroaig (pronounced 'Laff-roig') is often a whisky that confuses whisky drinkers. For a start, people rarely pronounce the name correctly, and secondly, the intense peat-smoked whisky is a dram that most don't like. For the few that do, it is their favorite whisky.
This presented Laphroaig with a bit of a problem because they didn't have a wide enough and dedicated enough customer base to keep producing the outlandishly smoky Laphroaig 10-year-old as their core product. After all, if your core product is such an acquired taste that it might dissuade punters from buying the more premium products, it has failed as a core product.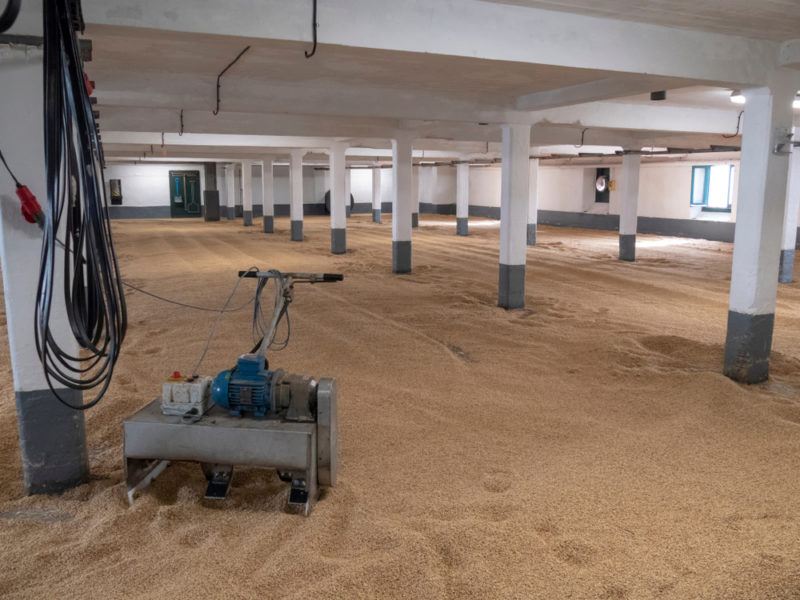 Laphroaig set about trying to change the brand and the whiskies they produced, still wishing to retain the smokiness but also opting to balance the whisky with more care and injecting more flavors. This meant changing production processes significantly and even dismantling and reconstructing casks to hold less volume (the quarter cask).
With the Laphroaig Quarter Cask being the new entry-level Laphroaig, they realized they had a bit of a problem (if you can call it that). They found themselves with many other barrel types available – a fantastic problem for a distiller, as casks are expensive and hard to come by. This led to some very nice experimentation to produce the Laphroaig Lore and also, as you will find out, had a lot to do with the Laphroaig Triple Wood.
Many of these brand changes have occurred following an acquisition by Suntory, a Japanese multinational drinks company who bought Laphroaig in 2014. Incidentally, Suntory also owns the Bowmore distillery on Islay which produces a less smoky more balanced scotch. Both the Laphroaig Triple Wood and the Laphroaig Quarter Cask were indeed launched before 2014, but fans of Laphroaig have been quick to point out that since the acquisition the standards of Laphroaig are seen to be dropping.
This is something that is telling in the final products made by both Bowmore and Laphroaig. While most other Islay distilleries are removing artificial coloring, the Suntory distilleries use it across their product range.
How Suntory and the respective brands do in the coming years remains to be seen, one interesting thing is that Laphroaig is making whiskies now that more people can enjoy, and not only that, they're enjoyable more often.
So, what's the Laphroaig Triple Wood all about?
Laphroaig Triple Wood Review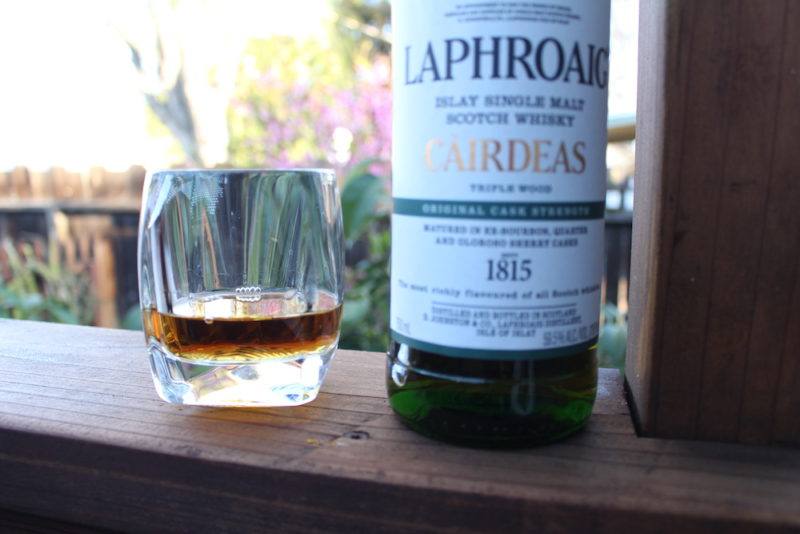 As you may have guessed, the Laphroaig Triple Wood uses three different cask types to mature the whisky. It was launched after 2010 and uses ex-bourbon barrels (these were previously used for the Laphroaig 10), the now-famous quarter casks which are American oak, and finally European oak casks. The benefit of using the quarter cask is that it can instill oak into the whisky in a shorter period.
This leads onto a scotch whisky fact, as you may have guessed, the whiskies that go into Laphroaig Triple Wood are moved from one barrel to another and then onto another which is unusual. This tends to be more common with premium scotches, especially if they are older or single barrel varieties that don't drink well and need finishing. Laphroaig Triple Wood is made by storing a whisky in multiple barrels though, and then Laphroaig blends the whisky at the end of the process which must be over three years long to qualify as scotch.
How long over three years, only Laphroaig know, but you shouldn't expect anything but a very young scotch with Laphroaig Triple Wood. The fact is that providing that the distillery is blending the whisky themselves, then it can be classed as a single malt because it is the product of that distillery only. This shouldn't be confused with blended whiskies which are the product of multiple distilleries to make the final product.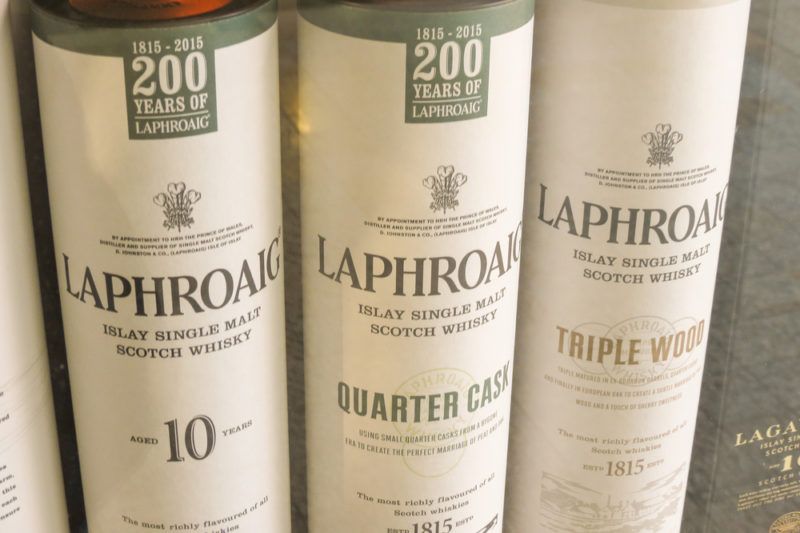 It is, for this reason, Laphroaig Triple Wood can use the words blend and single malt on their packaging with no problems whatsoever. The process looks like this:
Ex-bourbon barrels (cheapest most abundant) filled for three years to qualify as scotch.
Whisky transferred to quarter casks for the fast flavor injection (expected to be around six months).
Finished in the European oak vats, which are big sherry butts (approx. one or two years).
From start to finish the process takes about four and a half to five and half years, making Laphroaig Triple Wood one of the youngest Islay single malts and even younger than the Ardbeg no age statement whiskies which are informally aged at six years.
All in all, the Laphroaig Triple Wood is a bit cheeky by Laphroaig because they know they are charging an eight to ten-year premium on their product that has cost them much less to make. The real deciding factor though, is if five and a half years in a weird cask combination will be enough to produce a decent whisky.
Tasting Notes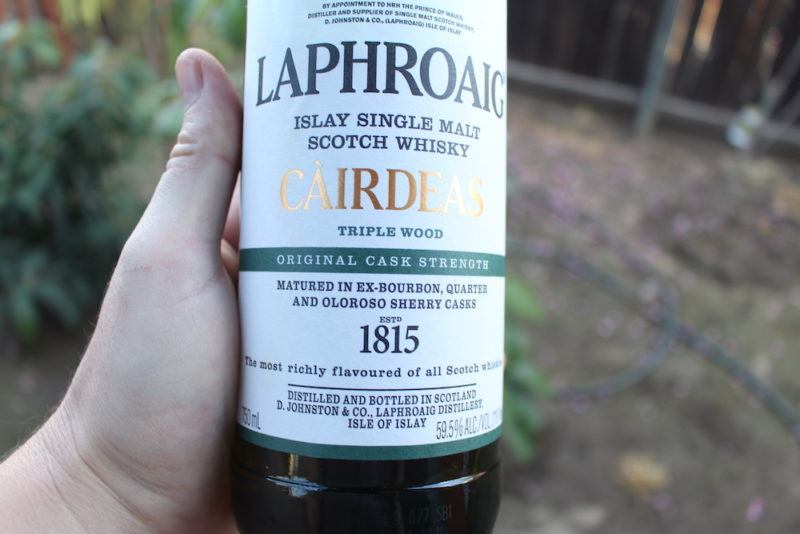 It is a non-chill-filtered whisky that is bottled at 48% ABV. It has been artificially colored, first to mask the young age and secondly because the triple barrel process brings about inconsistencies in the final whisky coloring which makes it hard to blend at the same color.
Appearance-wise, it is a deep caramel color, partly due to the caramel coloring that has been added, but also there will be influence from the sherry casks.
Fantastic balance
Light smokiness with no medicinal quality
Citrus, oranges, and rich fruits
Flavors: Smoky woodchips, ash, red fruits, spices including vanilla and cinnamon
On the nose, it is surprisingly not overly smoky, peaty, and a little medicinal. Oak and sweetness from the sherry cask and hints of vanilla are at the back. For a Laphroaig, it has a very deep and complex aroma which makes the Laphroaig Triple Wood without question one of their best smelling whiskies.
To taste, Laphroaig Triple Wood is as surprising as the nose. It has the usual bold smoky flavor of a Laphroaig, but it really plays second fiddle to the fruit punch sweetness from the sherry butt and the spiciness from the oak casks. They duel in your mouth for dominance with neither managing to overpower the other. It is fairly well-balanced, and the spices don't lead to bitterness which can happen with longer oak maturations.
The finish is middling in length and very smooth, and the alcohol is subtle so there is no burn and no long or lingering aftertaste.
Pros and Cons of Laphroaig Triple Wood
Laphroaig Triple Wood is similar to Laphroaig Quarter Cask when it comes to pros and cons. You will always be looking back at the Laphroaig 10-year-old to compare. Also, due to the no age statement on both, you will be equally drawn to compare with the award-winning Ardbegs, that unfortunately, in the case of the equally smoky Uigeadail, is better tasting.
Laphroaig may well have dropped the ball a little here. Here are the good and bad points.
Pros of Laphroaig Triple Wood
Still feels and tastes like a Laphroaig.
Well-balanced and interesting.
If you like smoky whisky, then Laphroaig Triple Wood is great for you because it has lots of complexity too.
Cons of Laphroaig Triple Wood
It has no age statement which is taboo in scotch whisky making.
Overpriced for its presumed age.
Will still be too smoky for some.
You Might Also Like…
There are three solid recommendations for whiskies to try if you enjoyed the Laphroaig Triple Wood. These are:
Ardbeg Uigeadail – A heavily peated, award-winning whisky that was created to beat the Laphroaig 10. It might not be quite that good, but it certainly beats the Laphroaig Triple Wood.
Ardbeg Corrywreckan – If you want your whisky to have more of those fruit notes with the smoke, then the Ardbeg Corrywreckan is the one for you.
Laphroaig 10 – Unfortunately, the Laphroaig Triple Wood isn't as memorable as the Laphroaig 10. And if you liked the Laphroaig Triple Wood, you would likely LOVE the Laphroaig 10.
The Laphroaig Triple Wood Verdict
Laphroaig Triple Wood is a frustrating whisky because it does showcase how clever Laphroaig can be with casking to get a young product and make it appear (and taste) as if it had been aged a little longer.
I suspect the Laphroaig Triple Wood will turn out to be the problem child of the new three. The Laphroaig Quarter Cask is cheaper and is equally as good. And alarmingly, the Laphroaig Triple Wood is over $10 dearer than the Laphroaig 10 but is considered to be half the age.
It is really difficult to see where that extra money is going because it certainly isn't going on the maturation process. Of course, Laphroaig says the Laphroaig Triple Wood is more labor-intensive, but they can't reasonably say that the additional labor equates to a full five years of extra warehouse costs. And if they do, they're nuts or they're paying their staff an eye-watering salary.
For those not concerned about age statements, price, and value for money, or that you can get much better whiskies from Laphroaig for much cheaper, the Laphroaig Triple Wood will be a good whisky.
For those that don't like having the wool pulled over their eyes, Laphroaig Triple Wood will be a bit difficult to stomach, no matter how sweetly it washes down your throat.