Cooking for just yourself can be a seriously frustrating experience. You have to do all of the work, including the planning, shopping, meal prep, cooking and cleaning up.
The process doesn't even seem worth it some days. To make matters worse, many fresh ingredients are packaged with a whole family in mind. You'll often end up buying too much of some items and struggling to use them all before they go bad.
That's why meal kits for single people make so much sense.
Meal kits can solve many of these problems when you cook for one. They cut down the amount of time that you need to spend in the kitchen, especially as some of them even prepare the ingredients for you.
There's no waste either, as you're provided with the right amount of ingredients to begin with. There are also some amazing recipes to try, ones that you might never have considered on your own.
Most of the time, meal kits aren't targeted towards singles. The smallest sizes tend to cater for 2 people. That's not as bad as it sounds. A recipe with 2 servings simply gives you a meal you can reheat for lunch or dinner the next day. This style helps to stretch out the meal kit too, making it cheaper to feed you for an entire week.
There are many different meal kits out there and most could be used for singles, if you don't mind eating leftovers the next day. In this list, we're taking a step further and focusing on kits that are an especially good fit for singles. Take a look. You might find the perfect solution for your needs.
Meal Kits For Singles
Sunbasket
If you're wanting healthy food, Sunbasket is a good company to consider. They have a strong focus on clean eating, along with organic, non-GMO and sustainably sourced ingredients.
Another great thing is the meal plans, there are plenty of options to choose from, including different diet types like paleo, vegan and diabetes. There is even a Quick& Easy plan, which could be perfect for singles who don't want to spend much time cooking.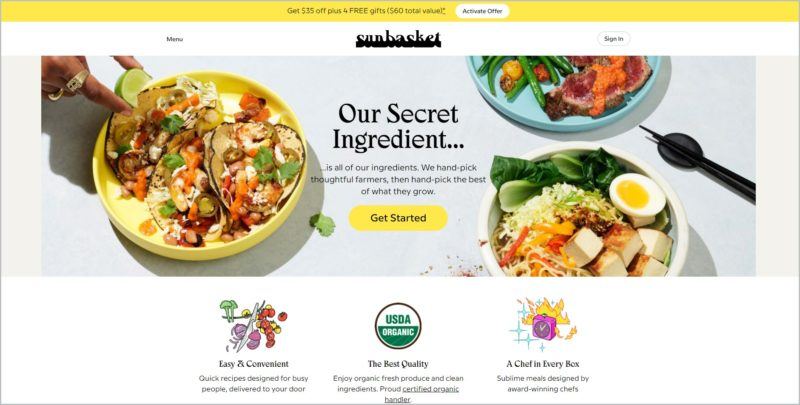 The flexibility applies to meals too. Sunbasket has a weekly rotating menu for you to select from. For their non-family plans, this includes around 18 different recipes. These won't all be suitable for every diet. Still, it's more flexibility than you'll find with most other companies.
I was pretty impressed with Sunbasket when I tried the service. The recipes have a nice combination of flavors and styles, while still being easy to prepare.
Gobble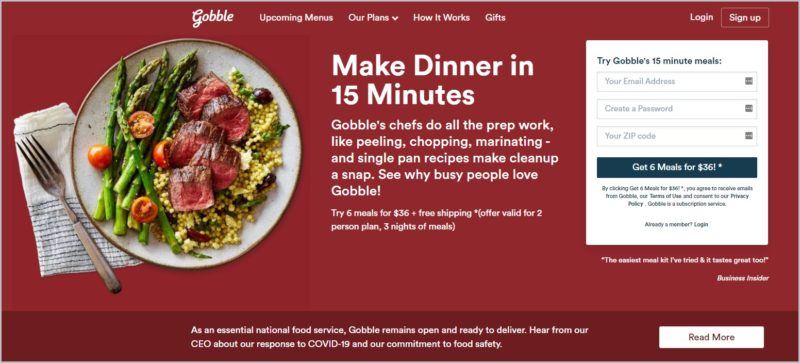 Gobble works well for singles for one key reason, the meals are fast. That's not just a random claim that they make either. Each meal kit is carefully designed so that there is little work on your end. This was particularly notable when I tried out the kit for myself and the dishes often take around 15 minutes to prepare.
The meals are able to be this fast because Gobble does some of the work for you. This includes chopping some ingredients and marinating them. You're also provided with the sauces that you need, rather than having to make them from scratch.
How well this works depends on your preferences. On the plus side, the style means much less time in the kitchen. That's perfect if you're on your own. However, you might find the meals a little bland (I did, but my girlfriend didn't). The service certainly isn't a good choice if you're wanting complex dishes or if you plan to learn new cooking techniques.
Blue Apron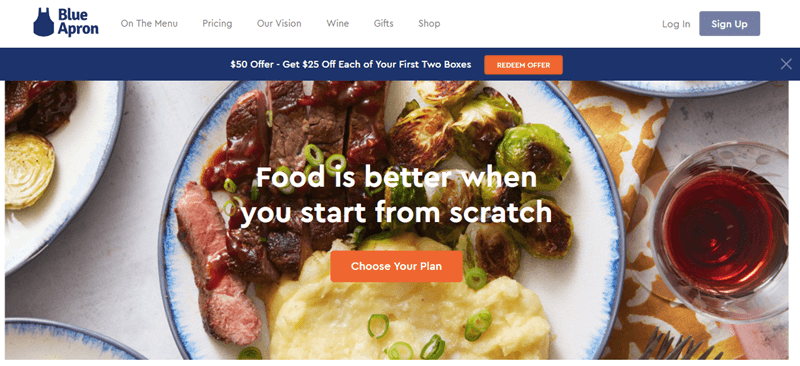 Blue Apron is probably the most well-known meal kit service, the one that really kicked off the current meal kit trend. There are some other more interesting and unique meal kit options out there, but Blue Apron has been in the game for a while, is inexpensive, and can be the perfect place to kick off your meal kit experience.
Like many companies, Blue Apron has a 2-person plan, which would be great for singles as well. You can order either 2 or 3 recipes a week for $9.99/serving. Shipping is free if you choose 3 recipes each week and costs $7.99 for 2 recipes.
While I personally found that Blue Apron's recipes get a bit boring over time, the company does have a wider selection than many others. The 2-person plan typically includes 8 recipes to choose from. Many of these take around 30 minutes to cook, which isn't too bad. There is even a wine club if you want to enjoy a glass of wine with your meal.
Dinnerly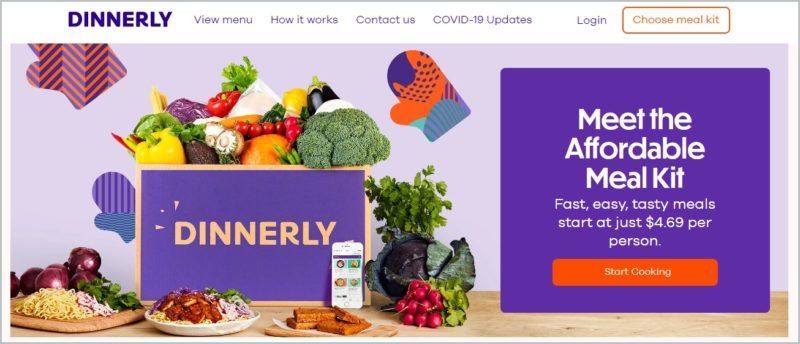 Dinnerly is promoted as the most affordable meal delivery service and they're not kidding. You're only paying $4.99 per serving (excluding shipping), which is much less than any other company. Dinnerly manages this by making their recipe cards digital and reducing the number of ingredients in each recipe.
Despite this, the meals from Dinnerly are surprisingly good. I noticed this when reviewing the company. The service is certainly a good choice if you're on a budget. The recipes are also easy to prepare, helping to save you time.
The low cost and ease of preparation are key reasons why Dinnerly would work well for singles. There is also a 2-person plan, which gives you 3 recipes per week, which each contain 2 servings. That gives you 6 servings each week for less than $40. That's pretty impressive.
However, there are some downsides. Dinnerly only has 6 meals to choose from each week and there aren't any options for specific diets or food allergies. The meals may also be too simple for some people, especially if you love being in the kitchen.
Green Chef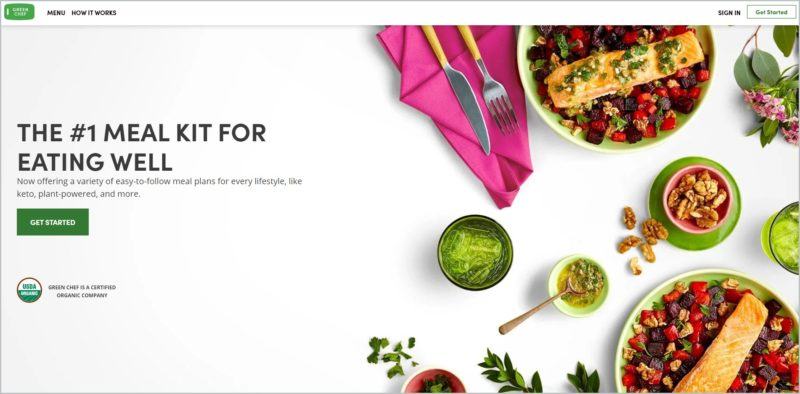 Green Chef provides relies on premium organic ingredients to help you create healthy and delicious meals. It is an effective option for singles, as Green Chef has a 2-person plan that includes 3 different recipes each week. All of the meals take around 30 minutes to prepare.
An unusual aspect is the different types of 2-person plan. There are 7 of these to choose from, including keto, paleo, vegan and omnivore. Each plan has its own distinctive weekly menu, which can contain anywhere from 3 to 6 recipes.
When I tried Green Chef, you weren't able to choose the recipes included in your order. That doesn't seem to be the case now, although there aren't many recipes to choose from. Still, the style isn't bad. It's unusual to have so many dietary options in a meal kit company.
Martha & Marley Spoon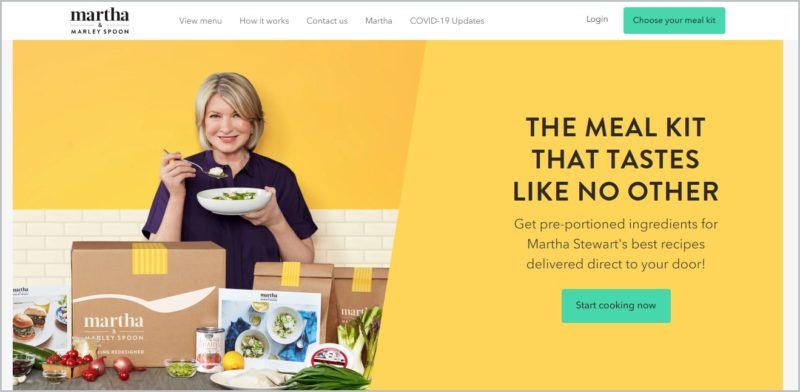 Martha & Marley Spoon is a little different, allowing you to choose either 2, 3, or 4 meals per week. If you're just cooking for yourself most of the time, 2 meals per week might be all that you need.
Another useful feature is the selection. Martha & Marley Spoon uses the common style of a menu that changes each week. This menu contains 10 different meals in various styles. That's an impressive range of recipes, more than most other companies.
The dishes themselves are often variations on comfort food and many are versions of familiar American food. That's not a bad thing. The style would be perfect for many people. While the company isn't my all-time favorite meal kit service, I can see why it would be popular, especially if you want recipes that are easy to prepare.
Home Chef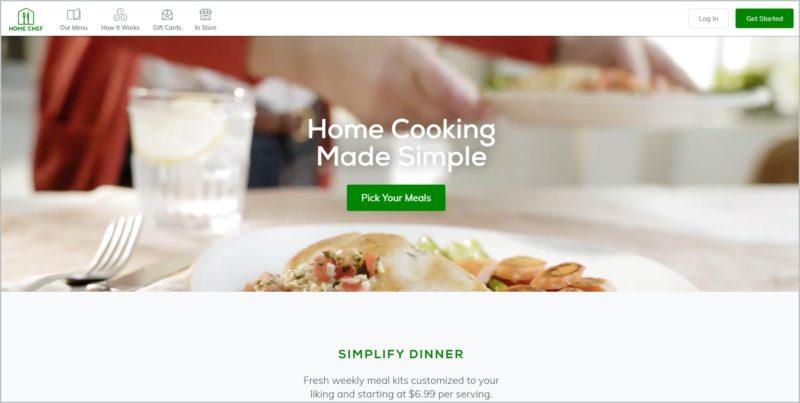 Home Chef is another meal kit choice to consider. Their meals start at $7.99 per serving, which is a reasonable price. There are also plenty of options. This includes the ability to set a taste profile and to customize the number of servings and recipes you receive each week. These aspects are great for singles, helping to make sure that you get the amount of food that you want.
Another cool thing is the selection. You get to choose between 15 meals each week or let Home Chef choose for you. You can make selections up to 5 weeks in advance. That works well for anyone who loves planning. You can even add-on a smoothie or a fruit basket to your order.
When I tried Home Chef myself, I noticed that the meals were interesting, but not extremely unusual. The style would be perfect for many people, especially if you don't want to be cooking anything too complicated. In fact, the meals typically take less than 30 minutes to make and don't require much cleanup.
HelloFresh

HelloFresh doesn't exactly offer meal kits for singles but their meal boxes allow one to cook healthy and delicious meals that you can simply refrigerate half of the portion for another day. The big-sized meal can simply be split into a number of servings and you're pretty much covered for days of lunches or dinners.
Meal plans for one person from HelloFresh allow you to become creative with your dinner without having to spend hours because everything is basically prepped already. You also save time shopping at your local grocery store – which can get very time consuming when you don't have a plan in place.
With their easy-to-cook recipes and pre-prepared ingredients, you are sure to enjoy delicious meals for one, that last for days. Their meal kits for one person include more than 23 delicious recipe choices every week. It varies from gourmet and vegetarian options to low-calorie meals.
What a Crock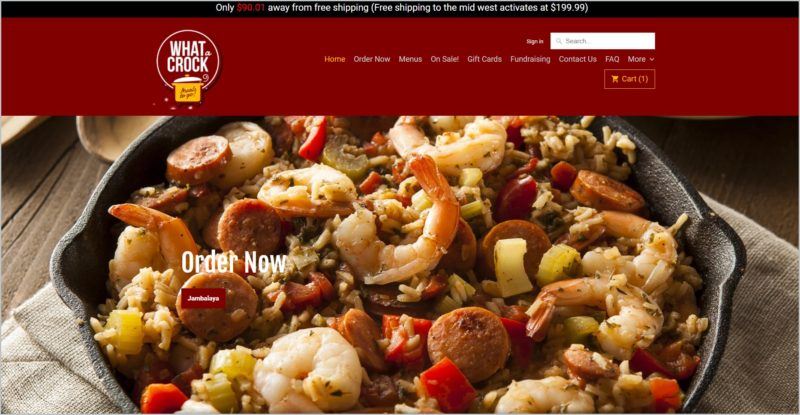 What a Crock makes all meals fresh from scratch using only the finest ingredients. The meats and veggies are trimmed, seasoned, browned, and then blanched or seared to lock in all the flavors – ensuring each ingredient cooks perfectly in your slow cooker. Meals are sold by portion, one portion is good to feed one person with a large appetite or two light eaters. On average it weighs between 1.5 and 2 pounds.
Their meals are meant to be cooked on low in slow cooker, and cooking times for meals of course vary. Instruction card will be included in the bag but if you have questions when cooking, or misplaced your instruction card, you can simpy call them for assistance. You can choose from low carb, low calorie, no gluten, low sodium, or dairy free meals. They also have
What a Crock is a family-owned and operated business that is all for wholesome home-cooked meals and quality dinner time. They make sure you're having a meal with real, natural ingredients prepped by a family that cares.
Daily Harvest


Daily Harvest is a little difficult to define. This isn't your traditional meal kit company, where you get fresh ingredients delivered to you that you can then turn into meals. The company does things a little bit differently.
They have multiple different types of products and the common theme is that these contain a range of superfoods. As such, their dishes always taste amazing and they can improve your health too.
The products on offer include protein smoothies, harvest bowls, soups, lattes, overnight oats and chia parfait. Each type comes in a proportioned cup that you put in the freezer. What you do next depends on the meal. Some of them, like the protein smoothies, are blended, while the harvest bowls are slightly heated.
The style could work very well for anyone on their own. It means that you don't have to worry about traditional meal prep. You're also getting highly nutritious food with little effort onyour part. Many of the meals get amazing reviews too, which is another reasonfor considering the service.
Takeout Kit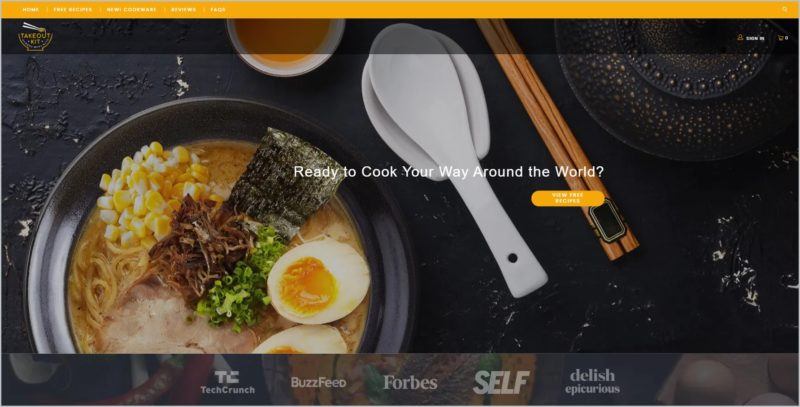 You might not have heard of Takeout Kit before, as the service doesn't follow common meal kit styles. The biggest difference is that all of their meals are designed to be shelf-stable. The ingredients will often last a month or more, giving you plenty of time to use them at your leisure. That's a powerful idea for singles, as you often don't know when you're going to need a meal at hand.
The meals from Takeout Kit follow an interesting style too. The service focuses on international cuisine, including various curries, pad thai, and noodle dishes. Some of the recipes come with shelf-stable protein (e.g. cured meat), while others allow you to add your own. Another cool thing is ordering. You can buy the meal kits individually or be on a subscription. It's entirely up to you.
The shelf-stable style won't appeal to everyone and it does mean that you're not getting fresh ingredients. Even so, the company goes to lengths to find the healthiest possible products to include. You're not just getting low-quality cans of food.
A final thing to mention is the meal size. While they may change this later, Takeout Kit currently only offers 4 serving meals. Those meals might be too large, even if you do want leftovers. Of course, you could simply freeze some of the cooked meal to get around the problem. Doing so would give you fast and easy meals for later on too. That's always a bonus.
Munchery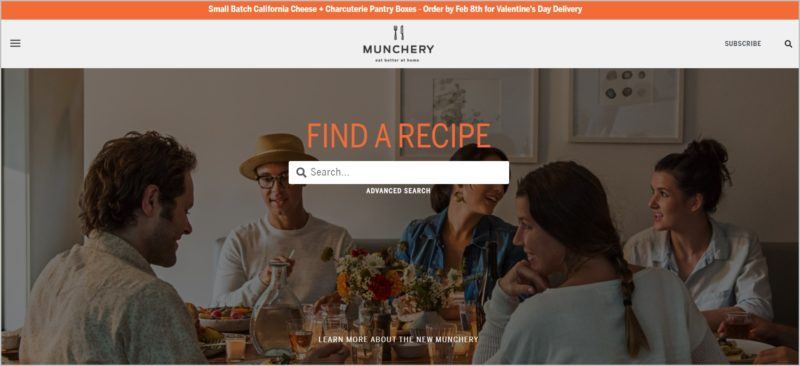 Munchery is an unusual service, as it offers both meal kits and fully prepared meals. It is also a fast prep meal kit company. This means that all of the recipes can be prepared with relative ease. For example, their Bavette Steak meal involves 2 pans and takes just 15 minutes from start to finish. This isn't unusual either. Most of the Munchery recipes take around 15 minutes to make.
The style is especially good when you're just coming home. You won't want to spend an hour in the kitchen at the end of a long day, especially not if you're only cooking for yourself. When I tried the meal kit myself, I did notice that some of the meals are on the simple side. While that approach didn't appeal to me, it could be perfect for people who are living on their own.
Another cool thing is the selection. Munchery has a decent selection of recipes to choose from. This makes it easy to find the recipes that suit your taste preferences. The main limitation is that you need to sign up before you can even view the meals currently being offered. Signing up isn't difficult, but the style is always frustrating.
Purple Carrot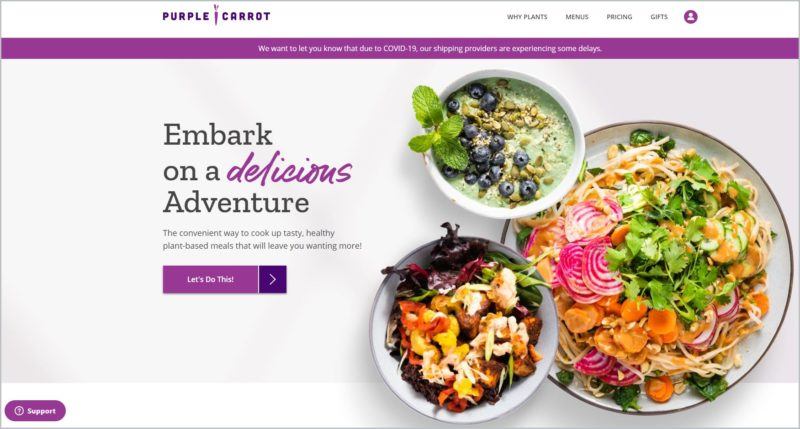 The vegan style of Purple Carrot means that the company won't suit everyone. Still, it's perfect if you want to get more plant-based foods into your diet. The company strongly focuses on making vegan meals interesting and inspiring. Purple Carrot is perfect for singles because each of their 3 meal plans provides 3 dinners with 2 servings each week. The amount is perfect if you're on your own and gives you plenty of leftovers.
The plans themselves are interesting. They're called Quick & Easy, High Protein and Chef's Choice. The Quick & Easy plan works like the name suggests, with the meals taking no more than 30 minutes to cook. The High Protein dishes are heavy in plant-based protein, while the Chef's Choice plan provides gourmet options, ones that often take a little longer to prepare.
You don't need to rely on Purple Carrot's choice of meals either. You're able to mix and match each week from their rotating menu. This gives you the chance to try out new meals that you mightn't have even considered before.
Hungryroot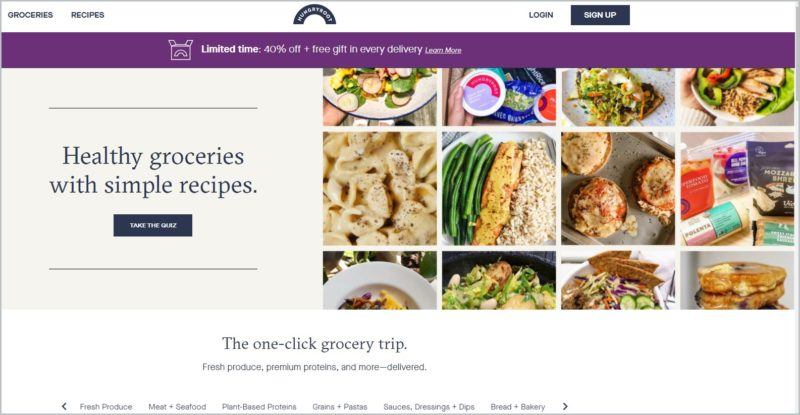 Hungryroot doesn't follow the same style as other meal kit services. To be honest, it's barely a meal kit service at all. Instead, it's a personalized grocery service that is geared towards helping you eat more healthily and saving you time and money while doing so.
You simply take some sort of quiz with a series of questions that will allow them to learn more about your preferences, health goals, dietary needs, and somehow gauge your eating habits. They will then create a grocery plan along with recipes that fit your needs. You can of course take their suggestions or you can pick exactly what you want after checkout.
Their meal plans start at $59.94 which consists of three, 2-serving meals which you can have either for lunch or dinner. The size of the course varies depending on the number of breakfast, lunches, dinners, snacks, or sweets you want for the week. They have a very flexible plan, it allows you to skip, pause, or cancel the next delivery. The delivery fee is $6.99 for plan sizes that are less than $70 but it's absolutely free for plan sizes that are more than $70.