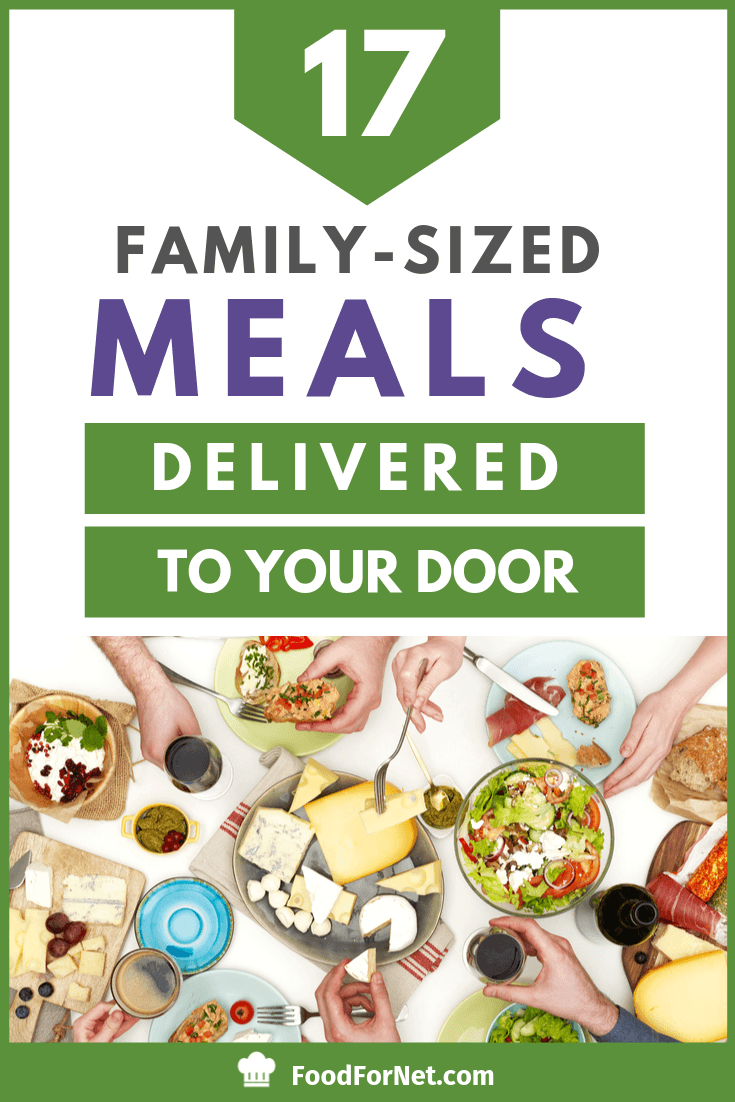 Meal delivery services are reinventing the dinner ritual. Working, busy families who care about eating fresh and healthy food can now enjoy the benefits of delivered ready-to-eat meals.
For working parents who do not have enough time to shop for groceries and plan family meals but still have little mouths to feed, meal delivery services are the go-to solution. With an excellent service in your arsenal, you can have a healthy family meal on your table every single night without having to cook.
These services have a variety of perks to fit every different tastes and budget. They offer options for family members with allergies or those observing a specific diet. You also get to enjoy higher-quality of foods, tasting better than you would typically prepare; unless of course, you are a seasoned chef!
Finally, meal delivery services provide you the flexibility you need to work through a crazy schedule or to simply take a break from cooking. For example, they can be delivered during a family vacation instead of having to take everyone out to expensive restaurants!
So, you really don't have to commit to having someone cook for you every night. Having prepared meals in the fridge or freezer for just 1-3 nights per week can give you 5-10 hours of extra time to do chores, help with homework, or just spend time hanging out with your family.
Here is a list of prepared meal services that specialize in kid-friendly meals or family sized portions, or both. Bon Appetit!
But don't forget, that if you do have extra time, teaching your kids how to cook can be a really rewarding experience. Many families have chosen to opt for meal kit delivery for their families. This can really help out a mom or dad struggling to find new recipes ideas their kids will eat, or provide a new hobby for the family – cooking together!
Family-Sized Meals
Nurture Life

Feeding kids can be tricky, especially if they have allergies. Kids are picky and will be bored by a meal quickly which means that they need variety. Nurture Life prepares fresh and ready to eat meals for babies, toddlers, and kids.
The subscription-based service allows you to access eight to 20 meals every week. These accommodate various dietary restrictions and allergies. Nurture Life even offers a strictly vegetarian plan that you can choose.
The company focuses on high-quality organic ingredients and avoids artificial ingredients, trans fats, high fructose corn syrup and partially hydrogenated oils. So, you can be sure that the meals are very healthy. All meals are delivered chilled rather than frozen to help retain quality. They can be easily reheated using the stovetop, microwave or oven.
They have three meal plans. Babies (6-12 months old) get baby foods in convenient jars. The food ranges chopped up veggies to proteins like salmon or turkey.
They are perfect for days when you are going out with your baby and have little time to prepare meals. Toddlers (1-3 years old) get a separate plan. This focuses on meals that are easy to eat and aren't too complex. Yet, the dishes still offer interesting flavors and get toddlers trying out new foods.
Finally, kids (4-14+ years) have the most complex plan. This is split up into different age groups, with older kids getting more comprehensive meals. All of the meals offer a good balance of food types, while still being appealing to kids. Parents get to choose for their kids, whether they are a picky eater or have an adventurous palette. You can swap and play around with the meals to feed your kids healthily all the way into adulthood.
The cost and size of meals tend to increase as kids age, ranging from $35 to $119 per week. You can also choose between eight or 14 meals per week for babies and between five and ten meals per week for the other age groups.
Sunfare

Sunfare focuses on healthy family dinners that taste homemade. They also have a strong diet angle, including a meal plan that promotes weight loss and a cleanse-based plan. However, they do also have a family meal plan. This offers meals suitable for both adults and kids that are interesting and well-proportioned.
Their family-friendly dinners come with an entrée and four sides. They serve up to five people, but you can play around your order to suit the number of people in your family. There are many styles to choose from, including different ethnic options like Asian, Mediterranean, African, American, and Mexican. Their portions per order are fixed for the number of people being served.
This meal delivery service relies on all natural, hormone-free, GMO-free and antibiotic-free proteins and organic market produce making them ideal for families that want to eat well and preserve the environment as well. They also offer breakfasts, lunches and evening snacks for anyone who may be interested.
The downside to this service is that they have no baby-friendly meals. The service also assumes that adults and kids will be eating the same food, just in different portion sizes. So, if you're looking for a family plan that will suit your young family, Sunfare may not be very appropriate. However, kids above five years of age can enjoy meals from Sunfare without any qualms.
Top Chef Meals

Top Chef Meals is not a subscription service, so you don't have to commit. Instead, you pick and choose meals individually. There are various options to choose from, including gourmet, low sodium, gluten-free, dairy-free, low fat, kids and paleo meals. They also cater to dietary restrictions with their diabetic, renal, seniors and weight loss offerings.
To ensure your meals retain their texture and flavor, they are flash frozen the night before shipping and not any earlier. The meal delivery service tries to source sustainable ingredients as often as they can. They are a full service with an array of breakfasts, lunches, dinners, desserts, and smoothies.
They have a family style package which you can customize to suit your preferences. The plan can have two, four, six or eight servings.Meals take about 90 seconds in the microwave and just over ten minutes in an oven.
The starting price for lunches and dinners is $5.95 per meal. Breakfast will cost you a minimum of $4.95. For desserts and smoothies, you will fork at least $2.95. Shipping is $9.95 and $19.95 for orders more than and less than $110. You will not pay for shipping if you order more than 21 meals. Senior over 60 years get a 15% discount on all their purchases.
The service seems to work well but the meals are more basic than many other options. Some reviewers suggest that they can be bland at times and it is easy to overcook entrees. Even so, the meals could be perfect for picky kids and for families who want to stick to the basics. Many of the prices are lower than other brands as well.
The Good Kitchen (formerly modPALEO)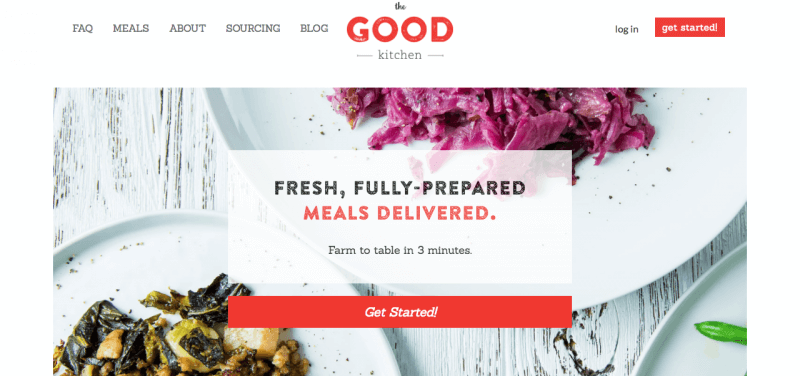 The Good Kitchen focuses on fast and high-quality meals. The company uses a seasonally rotating menu, where your meals are prepared using organic produce, heirloom grains (gluten-free), and grass-fed, pastured proteins.
Since moving away from the modPALEO brand, the company has stopped focusing on paleo meals. The meals are still gluten-free and free from processed sugar, but legumes, dairy and some other non-paleo ingredients are used.
The Good Kitchen works well for families because they offer a separate section of kids meals, called lunchboxes. These are all pre-packaged and the boxes look similar to Lunchables. Unlike Lunchables, they actually contain healthy, whole food ingredients.
There are plans for 7, 14 and 21 meals per week, starting at $48.93 per week (free shipping). You can also create your own plan, choosing the number of boxes per week and the frequency.
Beyond this, the company offers regular adult meals and there is the same flexibility in plans. You might choose to order separate meals for adults and for kids, or have everyone eating the same. Some of the adult plans also suit families. For example, the All in Plan costs $231 per week and provides one meal per day for three people. Because the plans are customizable, it's easy to find a balance that works for your family.
Regardless of the plan, you get to choose which meals you want with your order. But, make sure you get in fast. The company often sells out of meals, so it's best to be organized.
Finally, you can buy meals in bulk. There is less control with the bulk meals but the cost per meal is lower this way. The meals arrive fresh and can be frozen for up to six months. All meals also have a Use By/Freeze By date, telling you exactly how long the meal will last for in the fridge.
Eatology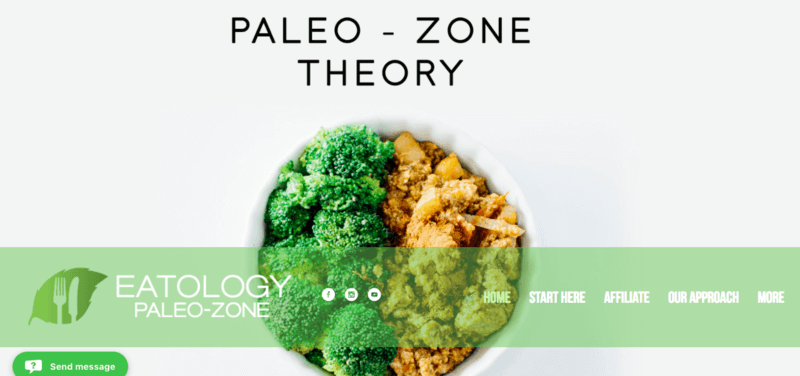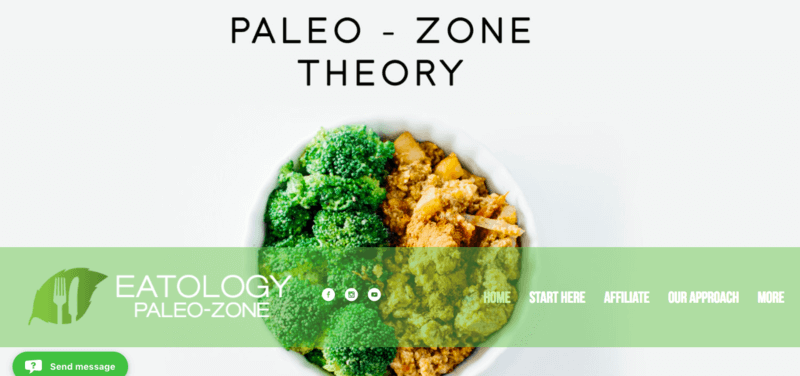 Eatology first caught our attention as a paleo-focused company, one that offers nutritionally balanced meals. All of their dishes follow a ratio of 30% protein, 40% carbs and 30% fat, which is a good balance for health and even for weight loss. The company maintains a strong focus on quality too, although the ingredients aren't organic and there are few details about sourcing.
Eatology works well for families because they sell party platters. These contain 12 to 15 blocks of nutrients (compared to two blocks for a regular meal). That makes them large enough for a family of four or more. You could comfortably serve six with a single platter or use them for events. The patters cost $35, which isn't too bad for their size.
This is powerful, simply because most services don't go that high. Many of the others are suitable for three or four family members. But, if you have a larger family, your options are more limited.
However, the menu for these patters is very small. At the time of this post, there were two breakfasts in the list and nine lunch/dinner meals (although one is actually just a side). The meals may change over time but the limited selection is still a problem. In practice, the service might be perfect if you want just one or two meals a week – to free up your busiest evenings. But, it wouldn't work as well if you wanted family meals for every night of the week.
Magic Kitchen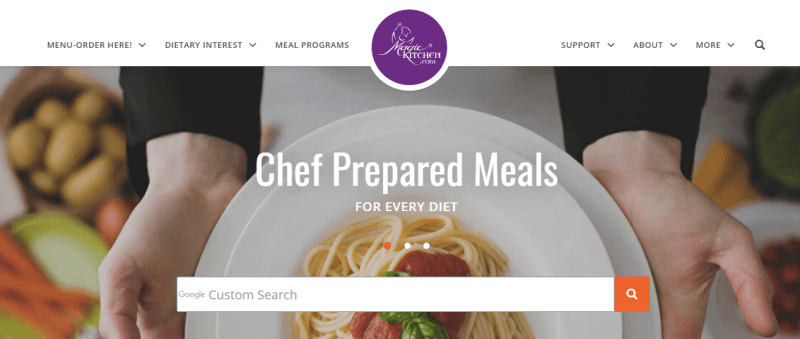 This is a particularly diverse company, offering meals that are suitable for many diet types. But, Magic Kitchen is also very relevant for families. One reason is that they offer family-sized meals. There is a limited selection of these, but they include options like Chicken Pot Pie and Sliced Hickory Smoked Honey Glazed Turkey Breast, along with various desserts.
You can also buy individual-sized meals in bundles. These are a good way to feed a family and offer plenty of variety. If nothing else, the meals can easily be stored in the freezer and can be a perfect backup for a busy day.
There is also an A la Carte menu. This allows you to order meals individually. Many of these provide at least two servings, with some offering four or more servings.
Finally, Magic Kitchen offers customizable meal plans where you talk to staff members to find the best plan for you. This approach may allow you to set up a family-based plan, one that provides you with the number of meals and servings that you need.
The price per meal (and per serving) varies considerably depending on what you order. With so many different options and styles, it's difficult to even give an estimate. As such, you'd need to check it out yourself to see whether the service would suit you.
Schwan's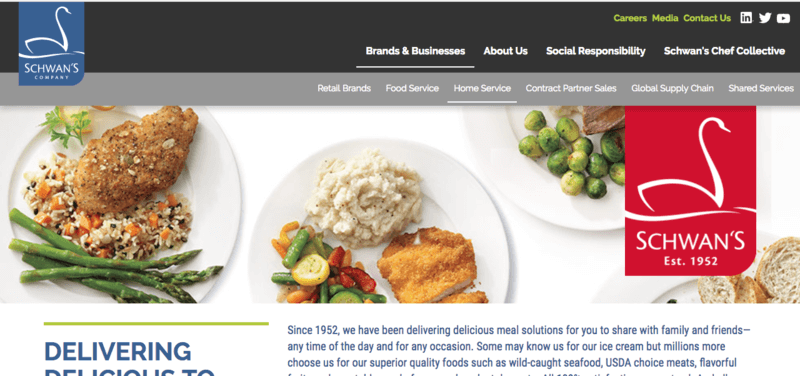 This is a good company if you want a hassle-free option. Unlike most others, Schwan's doesn't deliver meals weekly or on a set plan. Instead, you order them individually of the company's website or app and have them delivered. The focus on quality isn't as high as with some other brands but Schwan's does still use fresh ingredients, USDA-certified meat and wild caught fish. Meals are flash frozen to maximize nutrition.
The meals are a perfect way to stock your freezer. If you buy them regularly, you can be sure that you'll always have an easy meal, regardless of the challenges of the day.
Schwan's is also perfect for families for two key reasons. First, they have an extensive selection. There are more than 80 meals in their LiveSmart range alone, which focuses on healthier options and supports various dietary needs. The entire range from Schwan's contains around 300 different products. With this selection, you're bound to find some products that work for you.
The second reason is serving size. Many of the products contain multiple servings, making them perfect for families. Some are entire meals, others are sides or protein that you can combine. One example is their Signature Chicken Breast Fillets for $17.99, which serve ten.
Admittedly, the meals aren't as amazing as the options from some other brands. But, they're perfect as a backup plan when you need something healthy and tasty at a moment's notice.
MamaSezz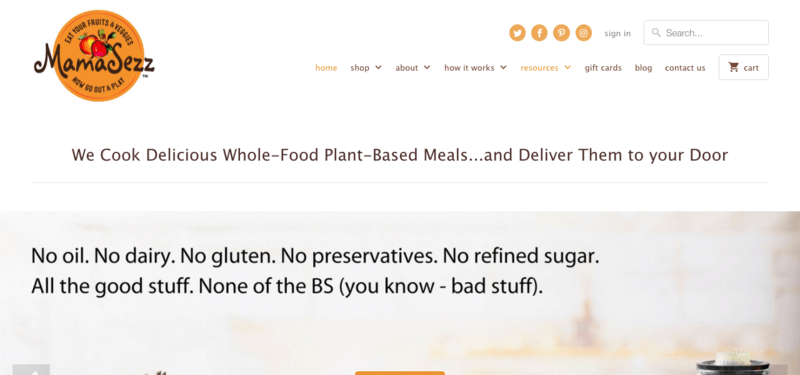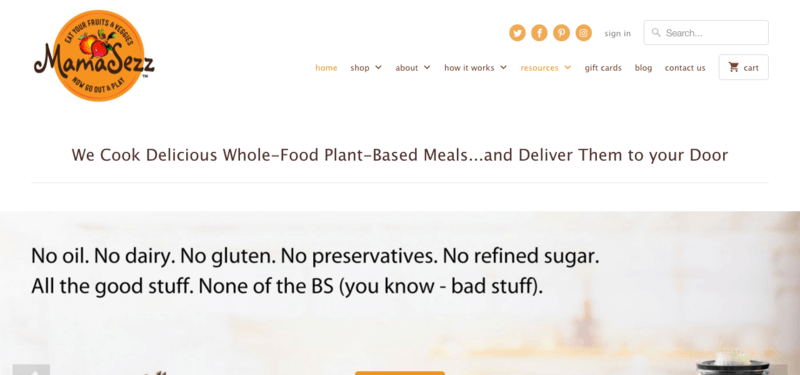 This is one of the few companies that offers larger serving sizes by default – making it particularly relevant to families. All of their dinners offer three serving sizes. This means you don't have to buy individual meals for each family member. This is a surprisingly unusual style and is certainly a powerful one.
The meals themselves cost $15.99. That's reasonable for three servings and is less expensive than having to buy three individual meals.
Another advantage is the bundles. MamaSezz offers multiple themed bundles. One of these is the Family Bundle, which costs $99. It is designed to feed two adults and two children for four or five days – and contains 18 servings in total. The meals are all ones that would suit kids, including Mac Attack and Kid-friendly Love It Loaf.
There is also a Lunch Box Bundle, which offers lunch-sized versions of meals. The dishes do still need to be heated but they would be appealing for many family situations.
The meals from MamaSezz are also healthy. They're all entirely vegan and the company also avoids gluten, oil, refined sugar, and preservatives. So, you can be sure that you're feeding your family meals that will improve their health and wellbeing.
The one complicated aspect with MamaSezz is shipping. The cost of shipping varies dramatically depending on your location. Full details are available on their site and they're too complex to cover here. But, in general, you pay the full price for shipping for your zone if your order is less than $89. If it is above that level, you either get free or discounted shipping, depending on where you are.
NutriFit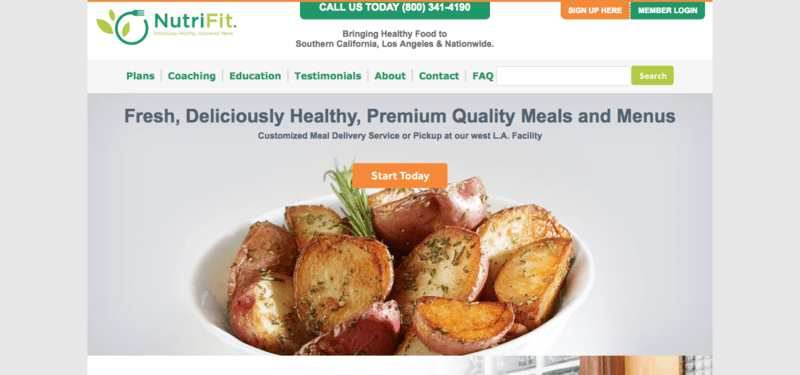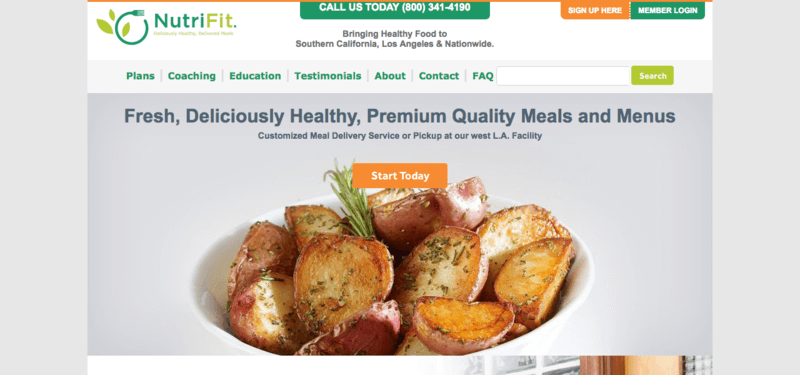 Most of the plans on this list have an obvious fit for families. NutriFit is a little more difficult. The service does have a specific section for family meals. The problem is that they offer almost no details about what they actually provide or how suitable their options are for families.
For example, they start off by saying they provide "delicious, nutritious calorie controlled meals for your family". That's great but this is true for pretty much every meals service out there. After all, you could buy multiple meals from any company and give them to your family.
NutriFit doesn't talk about how many servings you get in a meal or even the style of meals that are offered. Instead, you're meant to contact the company for that information.
There isn't a specific family plan either. NutriFit focuses on two main plans: Essentials and Premium. The Premium is designed to be entirely customizable, so it's probably the one you would choose for a family. It also lets you see the meals that you're going to receive and make substitutions as you need.
The company only provides sample pricing for the plan – due to the customization. In practice, members might end up paying more or less for a given plan. Based on the standard pricing they provide (for a 28-day plan), choosing dinner only would cost $28.95 per day. Having breakfast, lunch, and dinner would be $54.95.
Those prices are high and they're probably designed for a single person. If you are able to order for a family, the prices are likely to be higher again. The best way to find out would be to talk to the company directly because honestly, they are incredibly vague across their website.
Send a Meal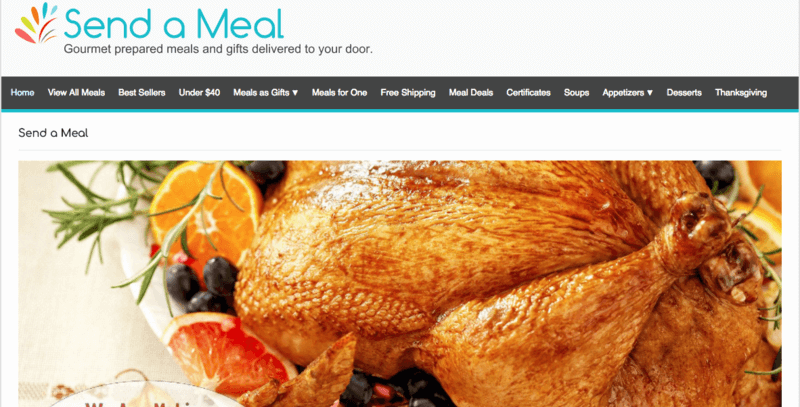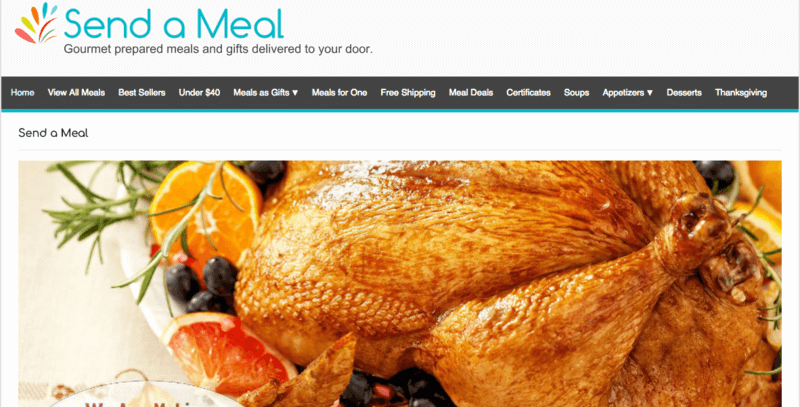 Send a Meal focuses on one-time orders and doesn't offer subscriptions or many meal plans. Instead, you buy meals individually or in a bundle. All meals (with the exception of steak) come fully cooked and frozen. You just need to reheat them. The idea works well for stocking your freezer, or if your needs are likely to change each week.
There is no specific family meals category on the site. But, most of the individual meals serve multiple people. For example, the Mom's Meatloaf Meal, Pot Roast Dinner, and Marinated Salmon Meal all serve four people each.
Meals also come with the main component and two sides. For example, the Mom's Meatloaf Meal has four small meatloaves, two trays of green beans, and four packages of smashed red potatoes. That style is a natural fit for families.
You can also order five meals at a time through their meal plan option, which saves you 10%. This is the only type of meal plan option and it is non-recurring.
The biggest challenge has to be the price. For example, the Mom's Meatloaf Meal from before costs $49.95, while an Oven-Roasted Chicken Dinner costs $36.95. That's pretty expensive for a family dinner – especially as most meals are on the boring side. The company doesn't use organic ingredients either and their meals contain some additives.
In total, there are around 17 meals that serve an entire family, along with some dessert options. There is no filter for these on the site, which makes them difficult to find. But, they are all briefly explained under the meal plan option.
Veggie Vibes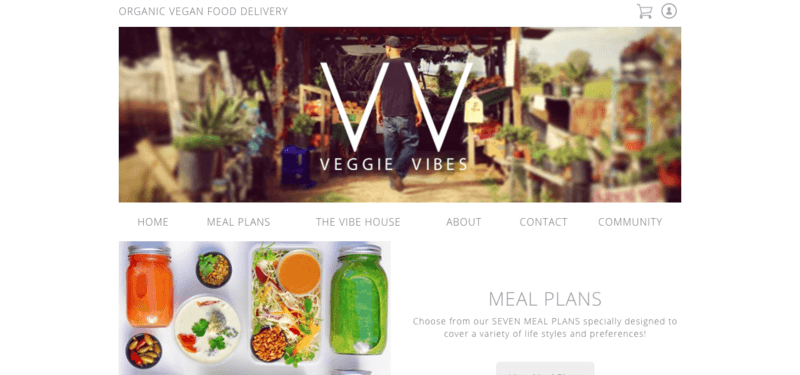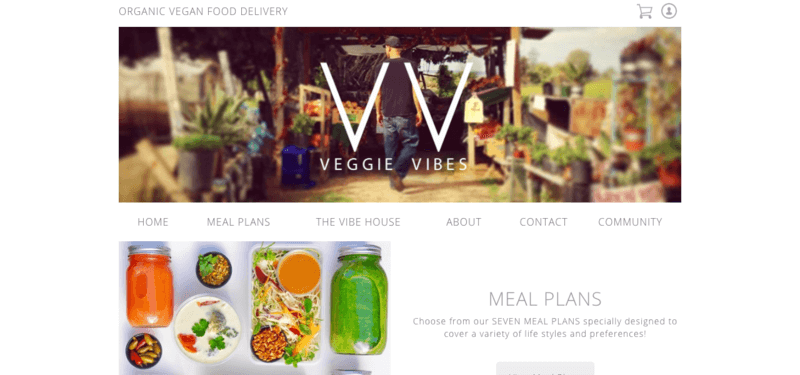 This is a vegan, organic, and raw food company, which makes Veggie Vibes an unusual choice for family meals. But, it does give you the ability to avoid many unhealthy ingredients. The meals are a great way to get back to nature and they can help to expand the palates of your entire family.
Veggie Vibes offers multiple meal plans, which can get somewhat confusing. But, only their Your Selection plan applies to families. If you order through subscription, this costs $163/week for three days, $254/week for five days, or $336/week for seven days. The prices are higher if you just want a one-off order.
In this plan, you get 12, 20 or 28 individual items, based on the length of your subscription. You can then choose what items you want. Veggie Vibes has a decent selection to choose from as well, including smoothies, entrées, soups, and snacks. This makes it easy to find a balance that works perfectly for an entire family.
The Vegan Garden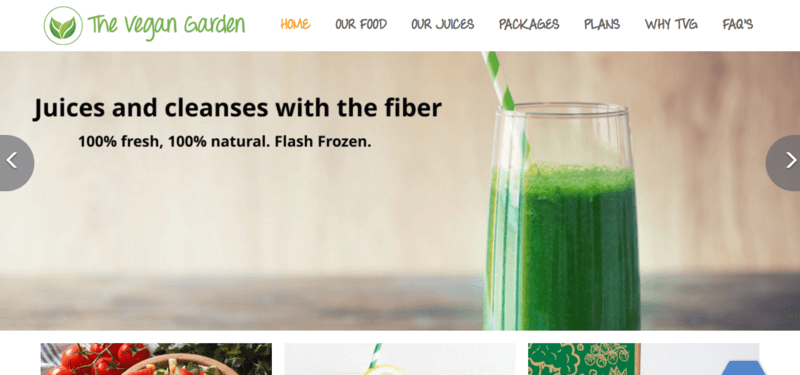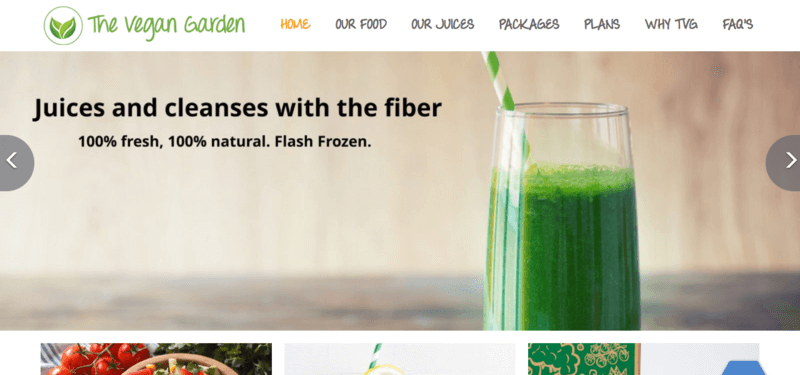 The Vegan Garden is another vegan choice (no surprises there). However, it is vastly different than Veggie Vibes. For one thing, The Vegan Garden isn't organic. The meals tend to be more conventional recipes as well, ones that would appeal to adults and kids alike.
Many of their regular menu items come in multiple servings. For example, Lasagna Napoletana costs $8.50 for a single serving or $31.00 for four servings. Their Mac and Cheese is $7.50 for a single serving or $26.50 for four servings. These options make it easy to provide for your entire family, without needing to order four individual meals.
The main limitation is that none of the meal plans or packages are designed with family in mind. Instead, they all seem to focus on the single-serving versions of meals only. This means that you'd need to order meals individually via the A la Carte menu, rather than using a meal plan.
Regardless of what you order, shipping from The Vegan Garden is $19.00 if you're in California and $29.00 elsewhere in the United States. This suggests you should order multiple meals at a time.
This style isn't ideal. But, the meals are frozen and it would be easy to keep them stored until you were ready to use them. They're also relatively inexpensive for family dinners.
Pete's Paleo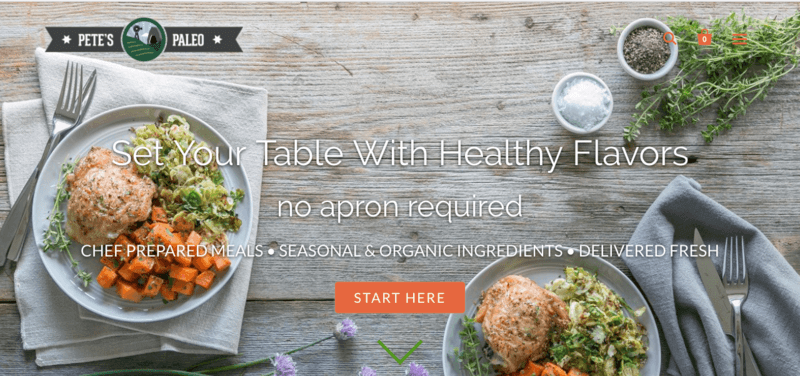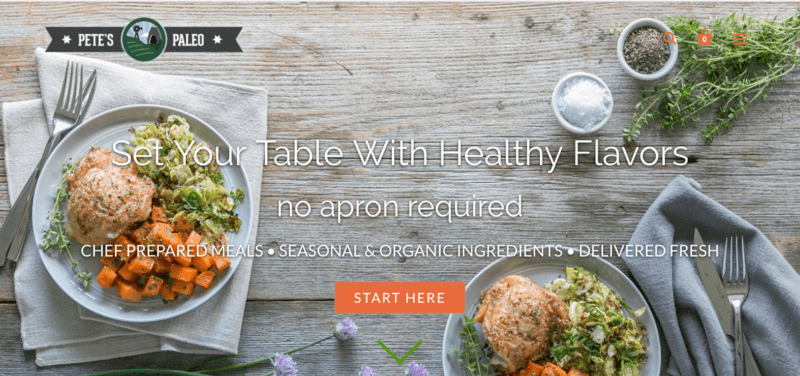 Even though this is a paleo company, Pete's Paleo is still a good choice for families. After all, the paleo diet is mostly about relying on whole food, so you end up with healthy and nutrient-dense meals. Pete's Paleo also relies on seasonal and organic ingredients, meaning you get plenty of variation and the meals are always full of flavor. The menu is even changed to reflect what is currently being harvested.
The only way to order is through a weekly subscription and there are five variations to choose from. For this list, we're just interested in one of those, the Family Plan. This provides you with five meals of four servings each. You can choose to get this weekly or every second week. There is also the choice to include or exclude pork.
The price for this plan is $324. That calculates out to $64.80 per meal (or $16.20 per serving). You don't get to choose your meals – they're based on the weekly menu.
As plans go, this is certainly expensive. Feeding a family always costs more than feeding a single person. But honestly, it would be cheaper to order four individual meals per day with many services. There is no way to change how many meals you get a week either.
If you're prepared to pay the price, I have no doubt that the food here is simply amazing. There is a strong focus on quality and you have meals like Rosemary Chicken Thighs with Roasted Acorn Squash and Baked Fennel. But, it's certainly not for a family on a budget (or one with picky eaters!).