When you are trying to lose weight and to make changes in your eating habits, it can be tough to break out of your routine. I know from experience – my weight fluctuates up and down on a yearly basis. Once you slip into a bad habit of overeating, or buying high-calorie foods from the supermarket, it takes a lot of willpower to make the first step towards weight loss. Weigh loss meal kit delivery services help you to set good habits by making good habits easy.
Meal kit delivery services in the same style as Blue Apron can provide you with a jump start to your new lifestyle, as well as keep consistency for weeks or months down the road. Though they don't deliver every day, so you'll need to do some work yourself, they do provide 2-5 meals per week (depending on which service you choose).
Of the options below, my personal favorite was Sun Basket because they have very tasty, healthy meals, popping with flavor and lots of customization options. However, they are not focused on weight loss at all. This would be a DIY option.
If you want an an actual plan, with guidance, then Medifast is the best option on the list IMO.
Meal kits for losing weight provide two advantages. One, they give you a limited amount of food. Even if you eat the entire 2-person portion, the calories are still somewhat limited (it's still best to eat just one portion). The portions are easy to size out as well, leaving little room for "cheating". Simply divide the meal in half and save the other half for later.
The second advantage is that they are generally healthier than what a lot of us eat on a day to day basis. Not all meal kits are like this, so I've chosen 11 down below that I think provide healthier options than normal. However, even the "not healthy" versions of meal kits usually have pan fried foods at worst, rather than deep fried, high calorie, high fat, greasy meals. In addition to calorie reduction, you always have veggies and carbs to pair!
Some services, like Green Chef, may have Paleo, Keto, or Gluten free options for specialty diets. Personally, I've had a lot of success with the keto diet.
Weight Loss Meal Kits
Sun Basket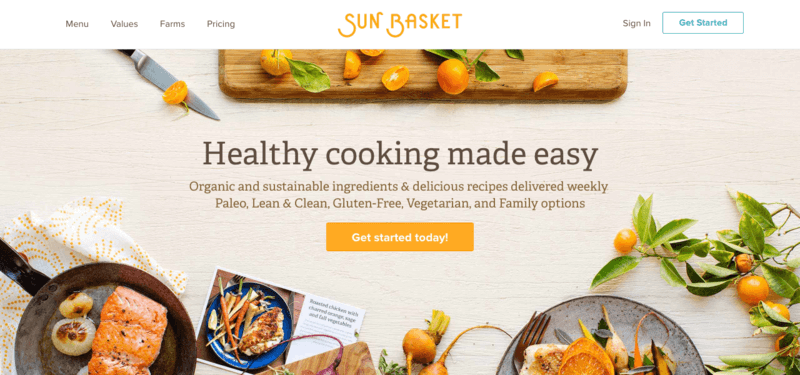 Started in 2014 by Chef Justine Kelly, Sunbasket has an emphasis on providing sustainable and organic ingredients. They allow you to choose from a selection of meals each week and strongly rely on seasonal and flavor-filled dishes.
The style is perfect for weight loss, especially as the meals involve so many fresh and healthy ingredients. Plus, they are currently running a promotion where you can get $35 off your first order for the Lean and Clean meal kit service.
Sun Basket offers different dietary meal options including paleo, gluten-free and vegetarian. Their meals are typically between 500 and 800 calories, making them perfect for anyone counting calories. For anyone intending to lose weight, this is a good amount to consume per day. However, they do not stop there.
They have meal plans aimed at weight management. You can also read my full review for more information about what Sun Basket offers and how this compares to other services that I've tried.
The best weight loss option would be their Lean & Clean plan, which offers meals that don't contain gluten or dairy and come in at around 550 calories per serving. You could also turn to the Paleo plan for weight loss. That one works best if you plan to follow the paleo diet with the rest of your eating too.
The other plans are Gluten-Free, Vegetarian and Chef's Choice. The Chef's Choice simply means you have no significant dietary preferences, so your meals are picked by the chef. The plan is still very healthy and highlights seasonal flavors and house-made sauces.
Green Chef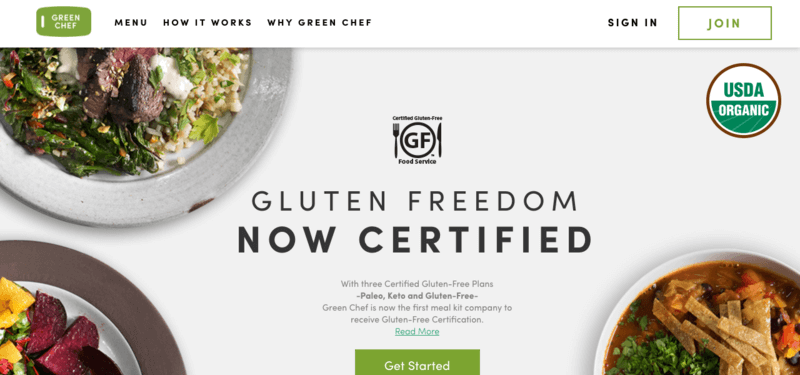 Green Chef is an organic, non-GMO meal kit service is best known for its sustainable sources of ingredients. As the name suggests, they are firm believers in going green. All their packaging is either reusable or biodegradable. This is perfect for anyone who focuses on these areas. Plus, it's a good way to ensure you're getting high-quality ingredients every time.
They have plans for paleo, vegan, gluten-free and ketogenic diets, along with offerings for carnivores, pescetarians, vegetarians, and omnivores. This is fantastic if you're trying to lose weight through one of these styles and don't know where to begin.
Green Chef maintains a strong focus on creating meals that are full of nutrients and taste amazing, while still fitting into the organic and non-GMO focus. Some of the provided ingredients are even chopped to save you time.
The meals also take just 30 minutes or less to make, making this a great service for people who don't have much time. There are many other advantages too. This is actually a service that I've tried myself and you can read my full review to see which aspects I enjoyed the most.
Their delivery flexibility is unique; they allow you to choose time and days that are most convenient for you. You can also change your plan anytime you like. Their only downside is the lack of customizing; meal plans come as a whole.
So, you have few options about the specific meals you receive. Despite this, the meals are powerful for weight loss. The lack of customization isn't all bad either, it would help you get out of your comfort zone and try new dishes.
Vegan meals cost a minimum of $11.99. It will cost you at least $10.49 for a vegetarian meal. If you opt for the carnivore or gluten-free offerings, you will part with $13.49. Shipping is $9 for all orders.
Hello Fresh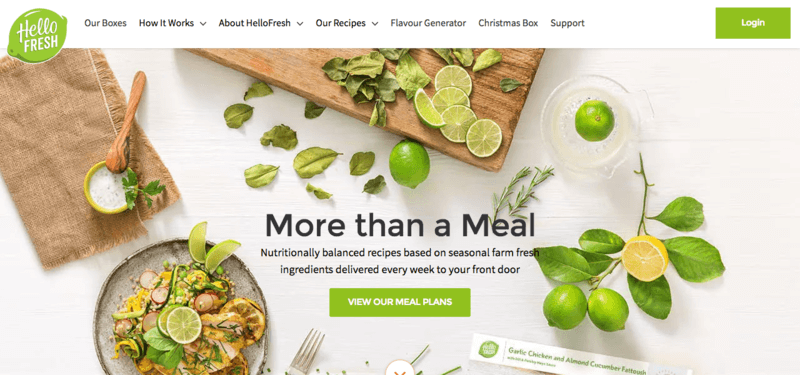 If you are focused on calorie intake, Hello Fresh has got you covered. All of their meals have between 500 and 800 calories, and are perfect for any weight loss plan. The meal kit service sources fresh, natural ingredients directly from the farm.
They also ensure you have all the nutrition information you need with regards to their meals. This works well if you're tracking your calorie or macronutrient intakes. In contrast, many other companies don't offer as many details.
Unlike their counterparts, they have very basic meal options. The food service is ideal for those who are creative but do not have the time to source for ingredients. They help you make healthy meals without the planning and shopping hustle. This is another service that I've tried out myself. So, you can check out my full review to see the various advantages and disadvantages the company offers.
The food delivery service has three plans; Vegetarian, Family, and Classic. They only have dinner recipes, no breakfasts or lunches. To ease the cooking process, they provide you with meal cards with instructions. The vegetarian plan is rigid and doesn't allow you to choose which means you want. The others are more flexible. They also have a dietitian who can assist you to pick a selection that will support your health goals.
Their plans allow you to order either two or four servings per week. The least you can order is two servings which can be wasteful if you live on your own. However, you can always keep the leftovers for lunch the next day. Prices for the Classic and Vegetarian plans start at $8.99 per serving. The Family plan can cost you as little as $7.89. Shipping is free for any order amount.
eMeals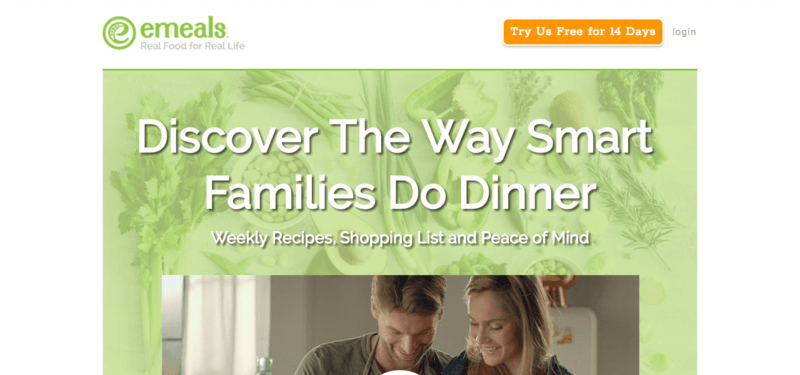 Food is Medicine, Dr. Josh Axe says. But I don't always feel like planning healthy, home-cooked meals, he quips. Dr. Axe launched the weekly meal plan app with eMeals to help people prepare to eat better.
The service is a good fit for anyone wanting to lose weight, especially as there is a focus on nutrition as well. The website, claims that this is more than a weight management system and I would tend to agree.
The catch is that eMeals isn't a meal delivery service, not in the strictest sense of the word. Instead, the service provides meal plans and recipes that you can choose from. It then gives you a list of ingredients that you can shop for.
You can also send your grocery list directly to services like Instacart, Amazon Fresh or Walmart Grocery, to get the ingredients delivered to you. Of course, you won't always get the perfect amounts and the ingredients won't be prepared in any way when you receive them.
You also don't get any printed recipe cards to work with. Instead, you'd be following recipes off the app.
This may seem less appealing overall but the style has key advantages. For one thing, it gives you much more control over the meals you end up with and the ingredients that they contain. You can also substitute when you're shopping, so you'll never end up with ingredients that you don't want.
The style gives you more options as well. There are many more recipes available and filters to sort through them. So, you can find ones recipes that suit weight loss, as well as ones that fit specific wants or needs, such as clean, paleo, gluten-free, portion-control, gourmet or vegan.
While it may not offer all of the advantages of a full meal kit delivery service, eMeals does work well. If nothing else, it is a cheaper option and gives you much more flexibility. As with meal kit services, it does teach you new recipes as well and makes weight loss easier and much less stressful.
Purple Carrot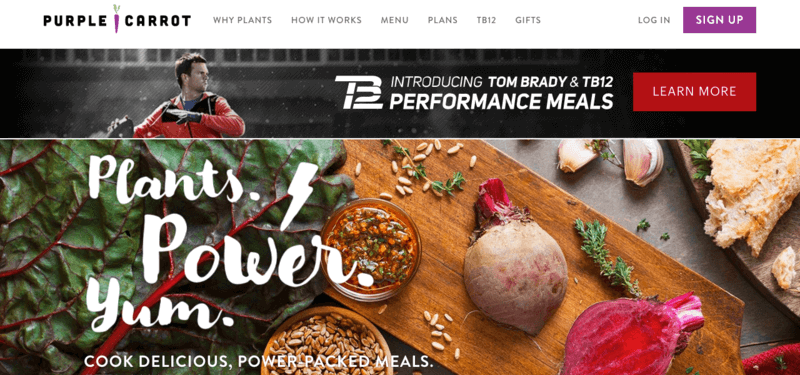 If you are a vegan who wants to lose weight, then Purple Carrot is the meal kit service you need, offering 100% plant-based ingredients. The company gives you healthy ingredients with lots of fiber, whole grains, and legumes. Their ingredients are also non-GMO and organic as often as possible. These features all make for extremely healthy meals.
Purple Carrot also delivers well-illustrated and easy to follow recipe cards will all their meal kits, along with meal preparation guides. These can be powerful for making sure your meals taste amazing each time. The style also helps you learn new recipes and techniques. You can then apply what you've learned to your own recipes.
The food delivery service, however, has a problem with the simplicity of meal preparation. Their recipes call for the use of very many kitchen appliances that may be daunting for newbie cooks.
Purple Carrot does not always include enough vegetables in their meals, and you may find yourself buying more. They do, however, take care of calories and their meals will help you lose weight without compromising on nutrition.
Their recipes are very creative and take vegan meals to a whole new level. They only have two plans. One offers three servings for three meals, while the other provides four servings for two meals each week. The plans cost $68 and $74 respectively.
Daily Harvest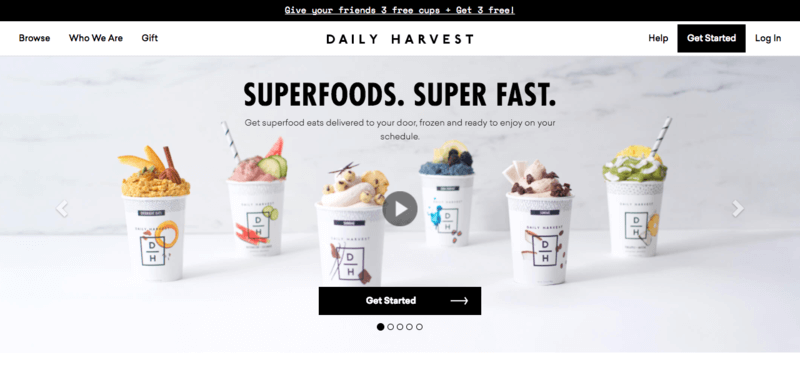 Based in New York City, Daily Harvest delivers pre-measured, pre-chopped frozen healthy ingredients. Many of these are considered superfoods. There are various styles on offer, including sundaes, smoothies, parfaits, and soups.
There are also curated boxes that contain multiple options in one. Daily Harvest offers various different combinations of flavors. Some are conventional but most are a little unusual. One example is their Turmeric and Lemongrass detox soup. They set out to give convenience without compromising health or flavor along the way.
While this company has not sold itself as offering weight loss products, it still is a go-to choice for anyone trying to lose weight. Smoothies are powerful for portion control and can even help replace meals. The other options are also healthy and can act as alternatives to calorie-laden snacks. The options all contain many healthy ingredients. You would get various health benefits from those and some may even promote weight loss.
Daily Harvest's ingredients are sourced directly from farmers. As much as it is possible, they choose organic produce which is frozen on the farms to keep it fresh. This means that you get access to some seasonal ingredients even during their off-peak seasons, without any compromise to their freshness.
They use ingredients such as papaya, galangal, natural ginger, avocado, tamari, and hijiki seaweed; each of which has its additional benefits to the body besides weight loss. According to the founder of Daily Harvest, Rachel Drori, the service makes it much easier to eat food that is good for you.
Smoothies from Daily Harvest are so fresh that they are Instagram-worthy, says Drori. Other than social media buzz, their products offer many options, so you'll never get bored.
PlateJoy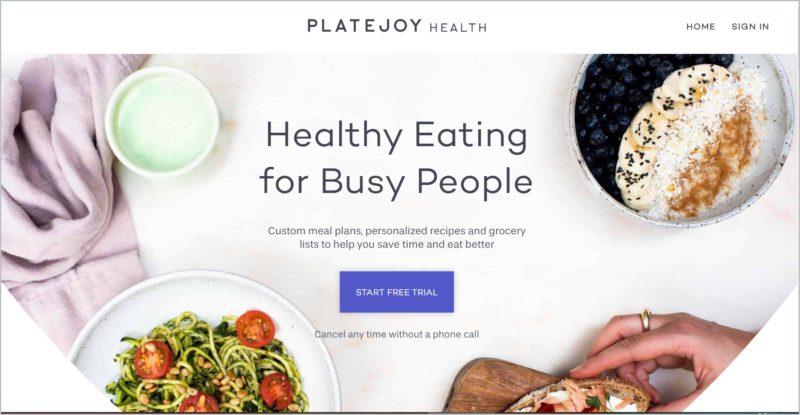 Unlike many other prepped ingredient delivery services, PlateJoy does not deliver ingredients but instead helps you with planning meals. You take a lifestyle quiz on their website which helps them determine your goals and preferences.
You can also tell them know how much time you can afford for meal preparation for each meal. The service will then prepare nutrition plans and recipes that fit your lifestyle.
When I reviewed Platejoy, I learned they have offerings for various dietary options including paleo, vegetarian, gluten-free, low carb weight loss, and clean eating. They also accommodate pre-diabetes, those that do not eat red meat and most allergens. If you are looking to use the plan to lose weight, you only need to talk to their nutrition coach. They can also synch the program to your Jawbone or Fitbit.
PlateJoy is also conscious of food waste and pair meals to minimize your grocery list. You will need to furnish them with details of what is in your pantry, and they will ensure your list excludes what you already have.
Their only downside is their ingredients are only available on Instacart, which just delivers to 31 states. But, the company does send the shopping list (and recipes) to your phone. So, you could simply go to the store and pick the ingredients up as well.
They only have two plans with six months and annual options. Their semi-annual program costs $69 while the yearly one costs $99. These amounts are not inclusive of ingredients purchased on Instacart.
Home Chef


Unlike many other companies, Home Chef doesn't offer specific meal plans. Instead, they use a weekly rotating menu. They choose your meals from this menu based on your taste preferences, although you have the ability to swap out meals as well. I have also tried the company myself and my review is based on the selection of meals that I received.
The taste preferences aspect is why Home Chef is featured on this list. Home Chef allows you to make various selections about your meals, including whether you want meat, vegetables and/or seafood, along with which specific ingredients you would like to avoid.
You can also select low-calorie or low-carb meal options. This should mean that you get healthier meals that help to promote weight loss. And, of course, any meal kit helps with weight loss because the dishes rely on fresh ingredients and are naturally portion sized.
One limitation is the lack of details. Home Chef doesn't specify how they are defining low-calorie or low-carb, so their definition might be different than yours. For example, the low-carb options might be suitable for a regular low-carb diet but probably not for a keto diet.
Thankfully, meals are relatively inexpensive, starting at $9.99 per serving. You can choose between two and six meals each week, as well as between two and six servings per meal. But, you do need to hit their minimum order size of $45.