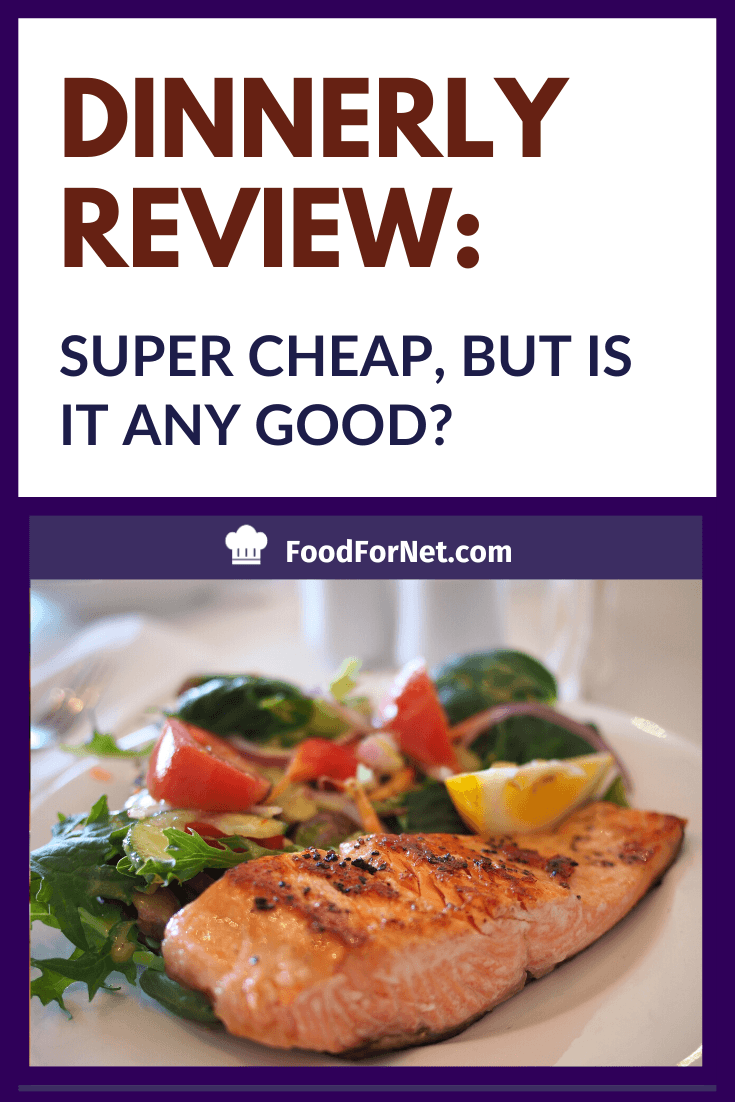 Dinnerly Review
Deliciousness - 92%
Pricing - 100%
Easy To Prepare - 100%
Variety - 90%
Dinnerly lives up to their tagline as being the cheapest meal kit around, and surprisingly, they also delivery delicious meals. Even when comparing to some of the more well known, or more exotic meal kits, Dinnerly managed to convince me they are not only worth joining, but very much worth keeping my deliveries going for more than a tester for this review.
Food Allergen Options? No
Cost Per Meal: $13 (including shipping)
Wine Option? No
Additional food option? Yes
Dinnerly lived up to and exceeded my expectations for a meal delivery kit, making it one of my favorite choices to recommend of the cheapest meal kits out there.
That being said, they will not be for everyone! Although I liked their meals, there's a bunch of complaints in the comments on this page. Plus, Dinnerly seems to be struggling with orders since meal kits have become so popular these days (food delivery is a must for many families).
For now, I'm recommending you check out EveryPlate instead. It's less than a dollar more expensive per serving, the meals are pretty much similar, and they are handling high volume of orders like a champ in 2020.
Ordering Dinnerly
Dinnerly is one of the cheapest, if not the cheapest meal kit service out there. In total, including shipping, I paid $39 for three meals. That's just $13 per meal, or $6.50 per serving including shipping!
Their advertising is a little deceptive, since they claim to charge just $5 per serving, but they do not factor in the $8.99 shipping.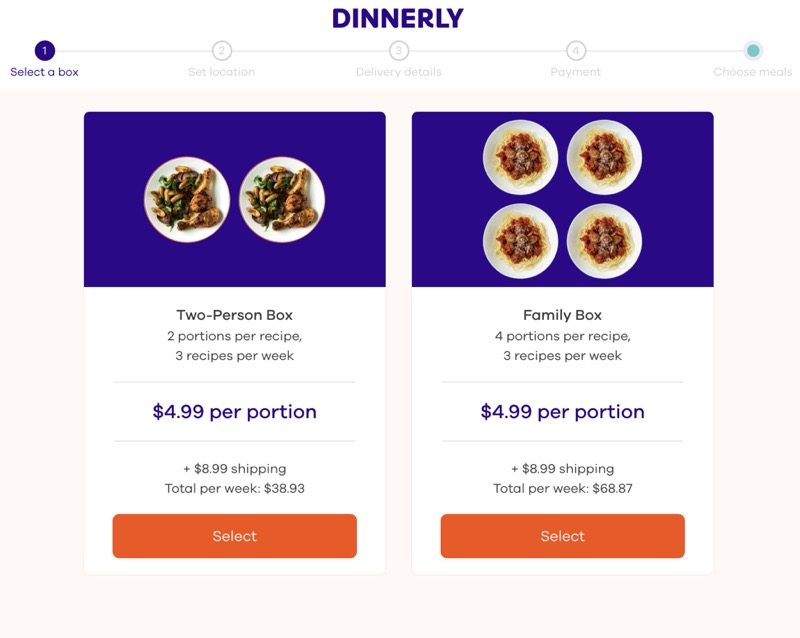 However, even when you add in shipping, $13 per meal is still super cheap. Sun Basket has some meals which are $13 per serving, making them a whopping $26 per meal! Even more pricey, some kits cost more than $30 per meal! (they are tasty, just costly)
The cheap price of Dinnerly's meals does come at a cost though!
There are no fancy allergen choices like Home Chef. They don't have dietary restriction options (paleo, keto, etc) like Green Chef. There are only six meal choices, unlike some other kits which may have as many as 20+ options at a time.
But with all these concessions, you get a cheap, delicious pack of meals delivered to your door, and that's kind of the point, isn't it?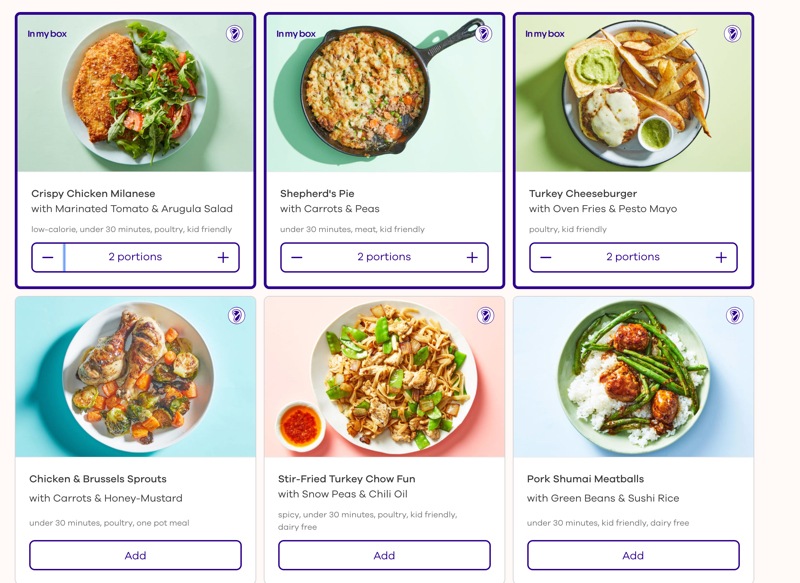 You can see that the meals are interesting enough, but not super exotic. They are basically meat and veggies or meat and car. Options include chicken & brussel sprouts, ground beef and lettuce, or turkey burgers with green beans.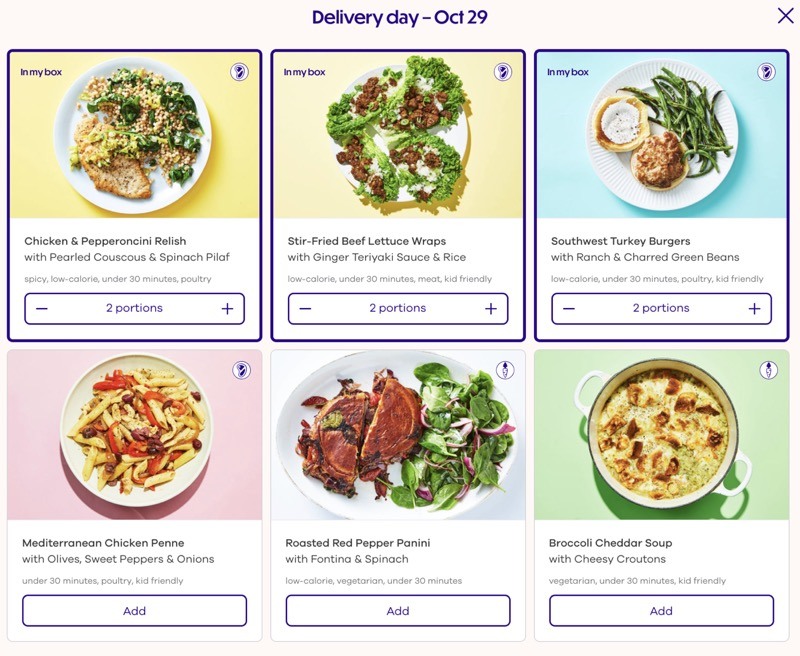 Shipping & Packaging from Dinnerly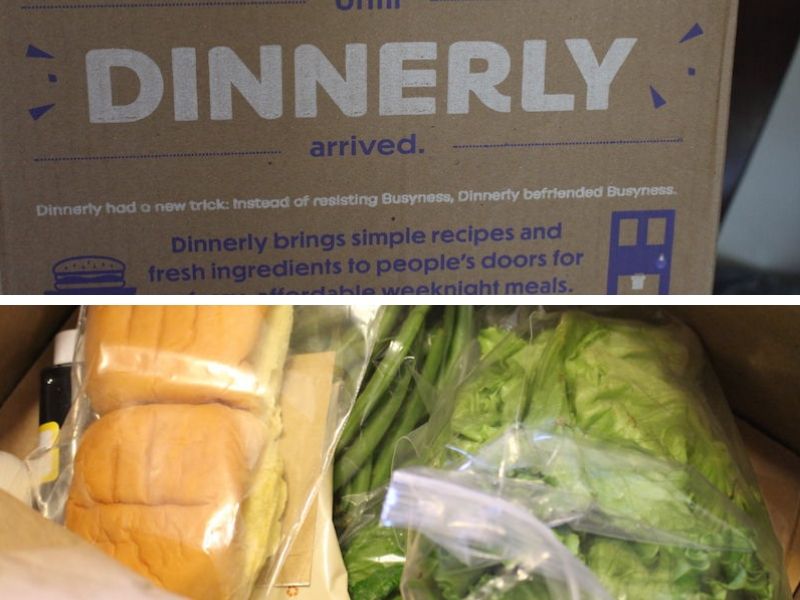 Dinnerly comes fast, and on time. Though I do prefer the individual bags for each meal because they are simpler to cook during dinner time, the "all in one box" is clearly better for the environment.
I don't have anything against a loose potato in my box! LOL
As you can see in the image below, everything is recyclable, so goes perfect in your recycle can or even the paper could go into green-waste trash can (at least in my California county)
The veggies were fresh and crisp (not wilted), and the meat did not leak, despite only having one layer of plastic packaging!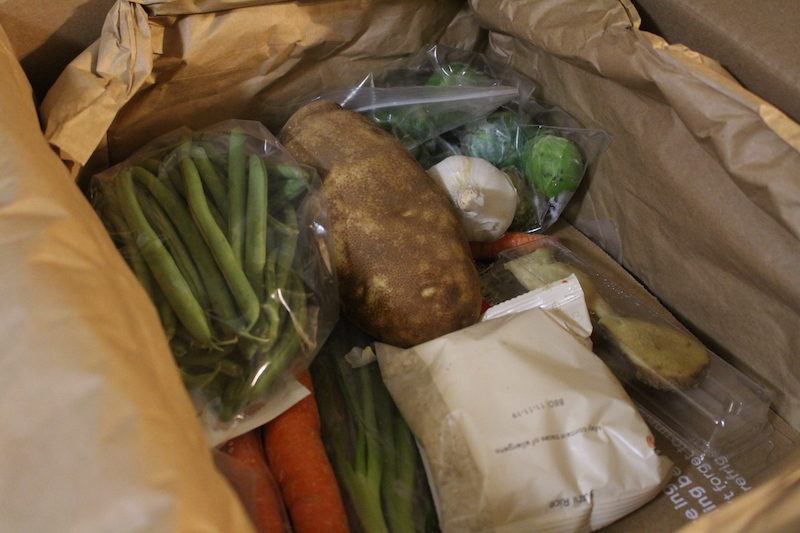 Cooking with Dinnerly
Dinnerly is also missing one other thing to help cut back on costs – recipe cards. Not having a recipe card was kind of annoying, since I had to log into my phone to follow the recipes. However, it was a minor inconvenience to be able to save paper.
I'm not an enthusiastic environmentalist, but there is so much waste with many meal kits when you count the ice packs, delivery boxes, individual packaging, advertisements, and then on top of that recipe cards.
Plus, I'd rather save a couple bucks each week and deal with the inconvenience of not having a recipe card.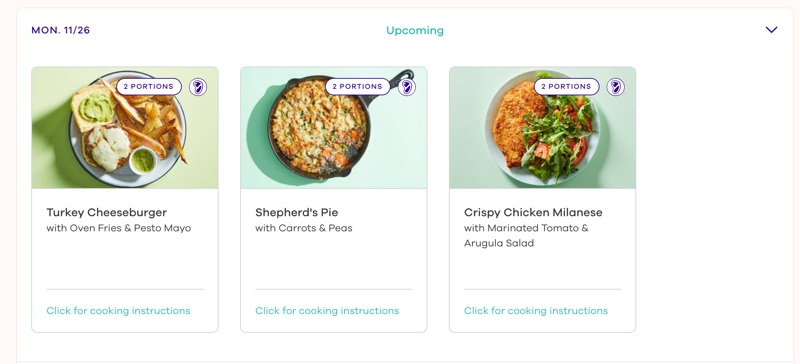 The meals inside my Dinnerly box were simple, but tasty and filling. You don't get the exotic and exciting meals like with Blue Apron but the food is still good, and a lot more interesting than what I make on the daily.
Meal #1: Stir-Fried Beef Lettuce Wraps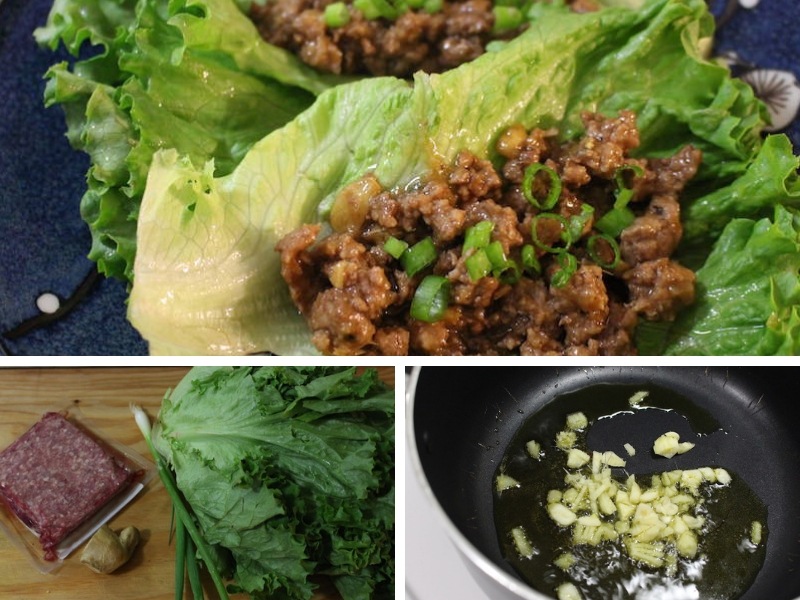 Simple, fast, and easy to make Keto. I like meals that I can later recreate on the fly without having to look up recipes. Good find!
Meal #2: Chicken & Pepperoncini Relish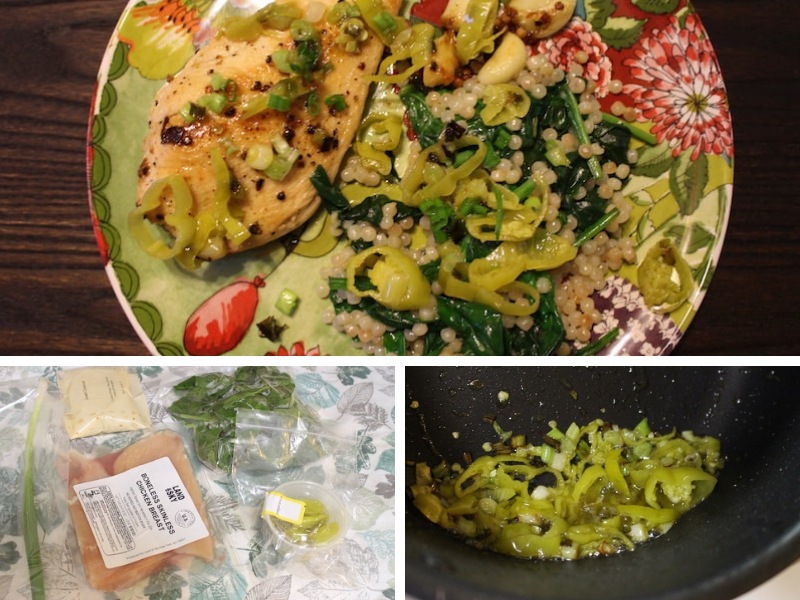 The pecceroncini relish for this meal was absolutely delicious. I'm on keto, but love pearl cous cous, so I cheated a bit tonight. This was a perfect example of how simple ingredients can make a delicious meal.
Meal #3: Pork Shumai Meatballs

Super quick and easy, meatballs are a healthy way to get fat and protein into your diet. I usually don't do ground pork on my own (I prefer beef), but these were still great.
With some pan seared green beans, keto rice, and a little asian influence with the seasonings, this was a perfect and easy meal.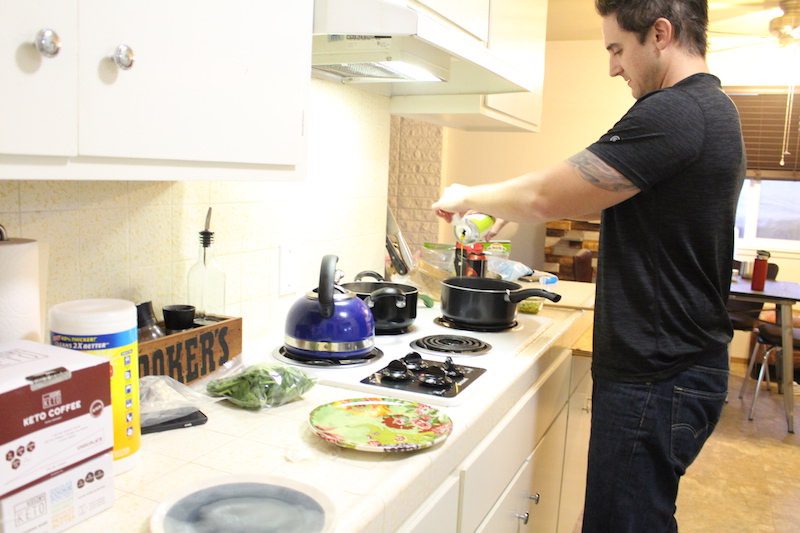 As you can see, my girlfriend got a hold of the camera this time, and well, who can resist a selfie.
Oh yeah, and ignore my ugly kitchen. We just moved, and a remodel is scheduled for next year.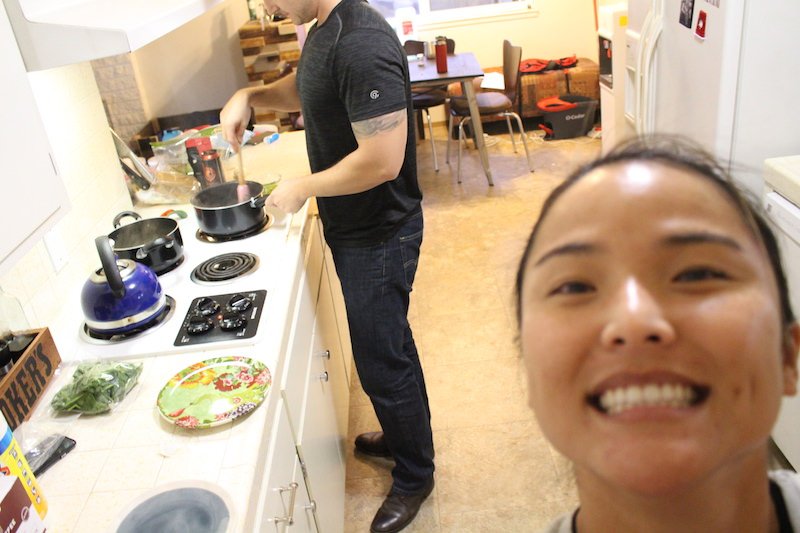 Canceling Dinnerly
Following with the trend of Dinnerly's easy-of-use, it was simple to cancel. Unlike some services which make you jump through hoop, simply log into your account, go to account settings, and stop subscription.


One thing I did not like about Dinnerly was the large amount of emails I need to unsubscribe from. As someone that works online and gets a TON of promotional emails from all the services I try, it's kind of annoying to have to manually unsubscribe, rather than choosing to manually subscribe.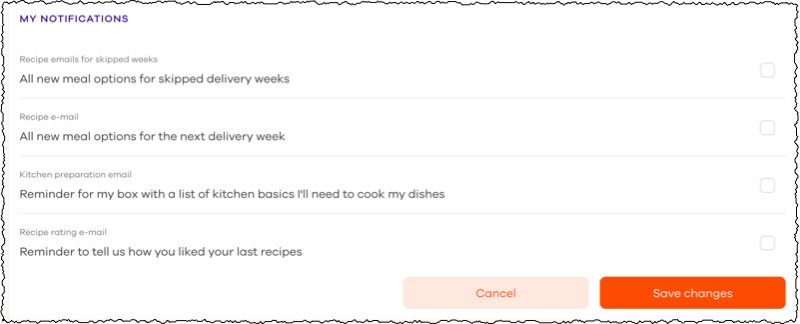 Comparing Dinnerly To Other Meal Kit Services
We've done a lot of comparisons so far thought this post, so I'll just recap here.
First, I haven't discussed portion size. While the meals here were filling, they are not the biggest portion sized I've tried, and although there was an option to add portions to each meal during the ordering process, you can't add more than six, so 2x one meal is 1x less another meal.
Overall, you can expect simpler ingredients, simpler cooking, and fewer choices. However, you also pay significantly less, and the quality of the food is not "worse" in any way (just not a fancy-schmancy).
Final Thoughts
Overall, I loved Dinnerly and it was one of the few meal kit delivery services I could picture myself ordering frequently and consistently. My main gripe with these kits is that the price is hard to stomach. Why pay $20/meal when I could just get restaurant food for a similar price?
Anyway, Dinnerly is cheap and tasty. It's a great option for families or couples on a budget who want to also enjoy the meal kit trend and save some time cooking (or just spice up the kitchen routine).