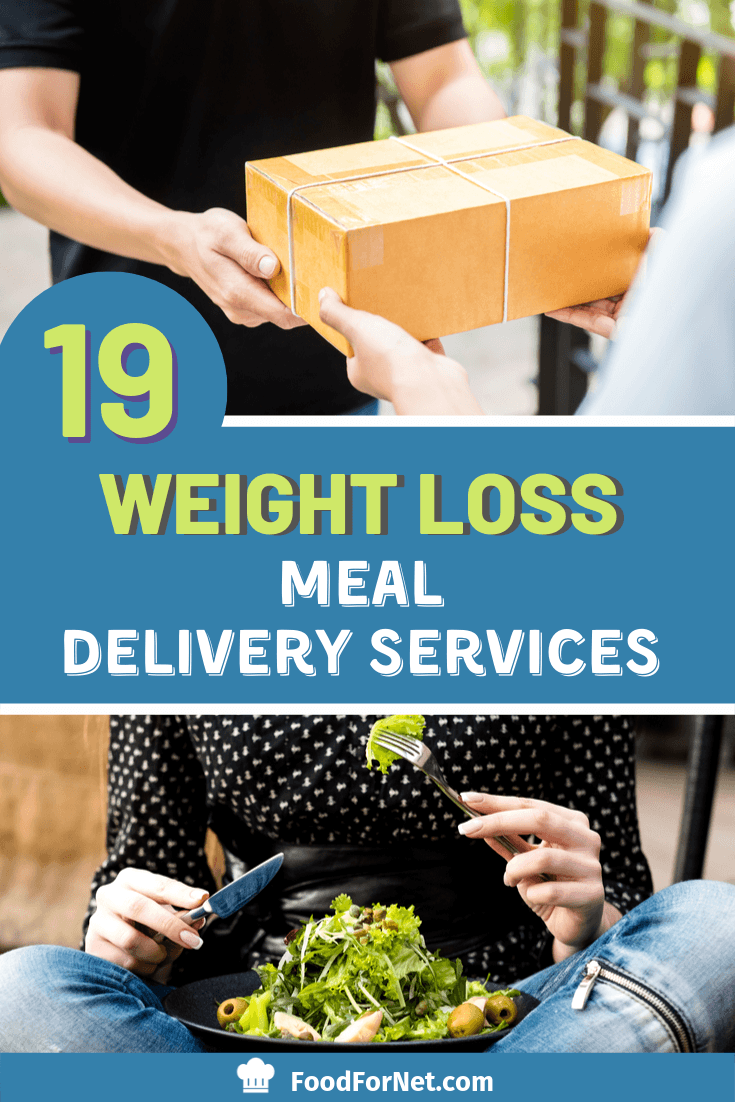 Can food delivery services such as Diet-To-Go help you get back in control of your weight? Are they even healthy? Everyone trying to lose weight tries to figure this out at one point or another.
The first assumption when it comes to ordering ready-made food is that it's bad for you. With good reason too. In our modern age of pizzas and fries, being skeptical about food delivery services just makes sense. After all, they're all making money from customers. However, skepticism aside, there are food services out there that deliver portion-controlled, nutritionally balanced and affordable food that can help you lose weight faster.
These food services can help you if you have a busy lifestyle and just do not have the time to prepare healthy meals. They can save you time that you would spend shopping and cooking. What's more, most of these services enlist the opinion of professionals. As such, at the price of a meal, you get the opinion of a nutritionist about your dietary needs and what you should be eating. The meals are also portion controlled. So, you don't have to worry about overeating.
My personal favorite on this list Sunbasket. They offer the most variety of high-protein, healthy-fat foods, and meals with only about 550 calories per serving.
Weight Loss Meals
Diet-To-Go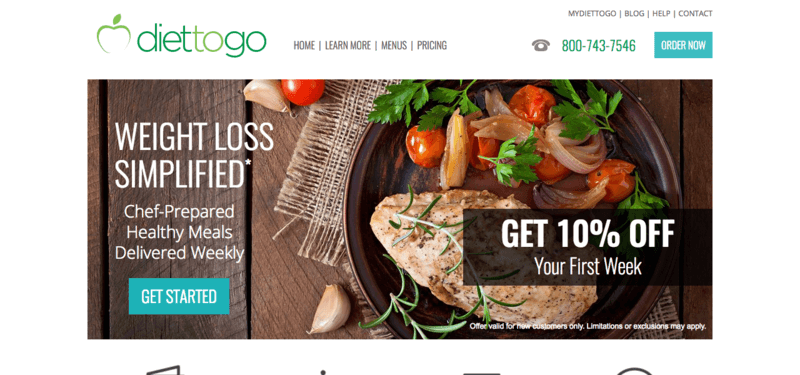 Having branded themselves as a weight loss meal program, Diet To Go certainly lives up to its name. Their chef-crafted meals, designed by dietitians provide a real food solution that tastes good. Dieters within the program can choose the number of calories per day option from their traditional menu meal plan.
There are four meal plans to choose from. These are their Balance Menu, Balance Diabetes Menu, Carb30 Menu (low carb, an average of 30 net carbs per day) and Vegetarian Menu. Each of these plans seeks to provide nutritionally balanced food for a specific kind of people.
The vegetarian version of their recipes offers calorie-controlled and nutritionally balanced meals. They are low in sodium, carbs, fat, and cholesterol. They include protein sources such as dairy, eggs, beans, and soy.
The meals operate in a 5-week rotation. You can make some choices about the types of meals that you receive but you don't get the ability to choose specific options.
The idea is simple. You get high-quality meals that are satisfying and taste good, without the stress of having to plan and count calories. Honestly, the complexity of planning healthy meals is a key reason why dieters give up. Why not let someone else do it for you?
At first glance, the prices of this food service may seem high; what with the meals starting at $106.59 for a five-day, 1200-calorie plan that includes ten dinner and lunch meals. But when you run the numbers carefully, and top them up with additional benefits of a healthy lifestyle with little to no effort on your part, the price isn't that bad. Plus, the plan does provide you with every meal. That dramatically cuts down on your grocery shopping.
Veestro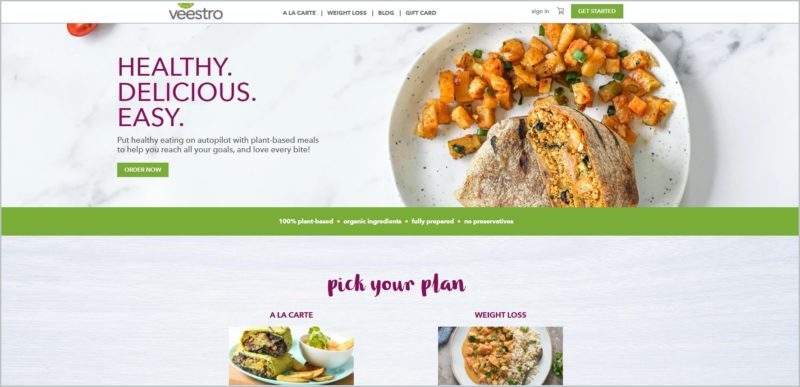 Like Diet-To-Go, Veestro delivers meals that you just need to heat and eat. This time, they're both plant-based and calorie-controlled. They're also free from preservatives, so they're much healthier than what you'd find at a grocery store. All of the plants are healthy in their own right but the weight loss plan is what gets Veestro on this list.
With the weight loss meal plan, you get two weeks worth of meals with one shipment. According to their website, they feed the body and soul.
Of course, this may be an oversell, but you have to admire their plant-based diets and how much they contribute to weight loss and health. Plant-based diets are also tough to plan, especially for beginners. Having a company do all of the planning and cooking for you just makes things so much easier.
Veestro customers can choose to buy meal packs or buy individual dishes. Meal packs are especially advisable for people trying to lose weight. They have a high protein meal pack, a gluten-free meal pack, and a full plan for people who to choose from, giving you plenty of options.
The weight loss program is designed to give you not more than 1200 calories per day. Dieters get to choose from three plans on the number of meals per day that they want.
With a total of $7.83 per meal, you can get a comprehensive meal plan consisting of over 40 meals every two weeks. Top that with free delivery and weight loss becomes a walk in the park.
There is also a juice cleanse plan on offer, something that most other companies don't have. I'm not a fan of juice cleanses myself. But, many people do rely on them to kickstart weight loss. For some people, this may be another reason to choose Veestro.
Thistle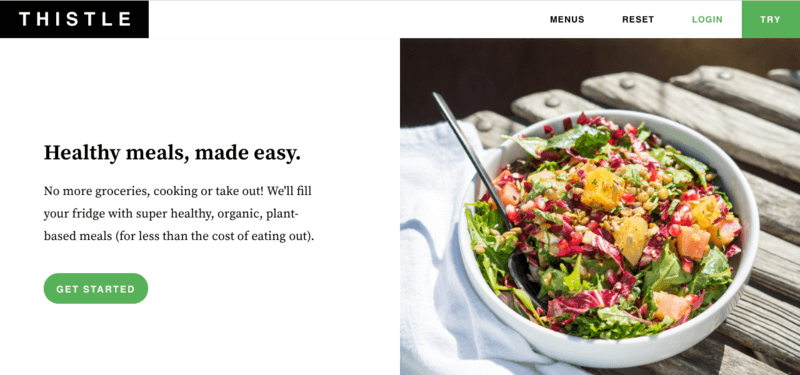 Thistle is another plant-based company. All their ingredients are 100% organic, GMO-free, and without preservatives. They also have a strong focus on superfoods, including options like spirulina, hemp, chia, and matcha. This emphasis is unusual and isn't found in most similar services.
The meals themselves are also unusual. Some examples include an Acai Bowl, along with a Beet Poke Bowl. Both of those wouldn't be out of place on Pinterest or Instagram.
Their meals are designed by their chefs every week based on the ingredients that are in season. The idea is for them to give you variety, freshness and weight loss in one package. The low glycemic index foods that they offer play an essential role in promoting energy burning.
They help your body work so that you do not have frequent blood sugar spikes. They make a point of using healthy fats in their meals to fuel your brain, combat stress and balance your hormones. You can also make some specifications, such as choosing whether you want your protein to be meat or plant-based.
Justin, the founder of the company, says that they aim to 'solve food' for you. As such, they seek to provide precisely what you need nutritionally without compromising taste. While they don't have a specific weight loss plan, their meal choices are perfectly suited to losing weight.
In most cases, the meals will be much healthier than what you were eating previously. The choice of ingredients also means that you should experience more energy and greater satisfaction. This should help decrease snacking and provide ample energy for exercising. Both patterns strongly contribute to weight loss.
Nutrisystem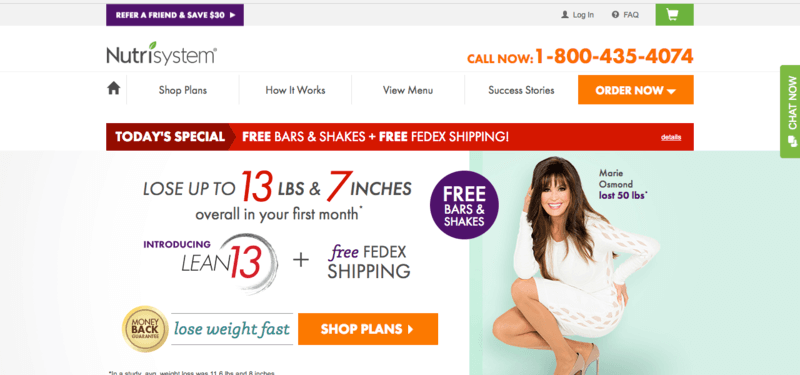 The prepared meal service offers portion control and balanced nutrition to help you lose weight. The Nutrisystem program is different because it is much more strongly focused on weight loss than the other companies. In fact, this one emphasizes weight loss first and food second, which is highly unusual. It is also an entire diet plan and system, rather than just meals.
The meals themselves are promoted as being high in fiber and protein. These aspects should help keep appetite at bay, making weight loss much easier. The marketing suggests that the program can help you lose 13 pounds and seven inches in the first month.
The plans offer three meals a day, along with one snack for women and two snacks for men. But, they don't deliver all the meals you require. You will need to do some shopping for fresh fruits, vegetables, and grains. They do help you out by preparing a grocery list for you. If you need to eat out during the program, Nutrisystem has a comprehensive eating out guide to keep you on course.
The food delivery service also doesn't seem to be big on taste; most of their meals are very bland. The various meals can be seen on the site and many of them don't look especially impressive. Additionally, you should not attempt the program if you are pregnant or have chronic kidney issues.
They have three plans; Basic (starting at $9.82 per day), Core (starting at $10.54 per day) and Uniquely Yours (starting at $11.96 per day). The main difference between the plans is that the Basic plan gives you a pre-selected menu, the Core plan gives you the option of choosing some items and Uniquely Your allows you to customize your meals.
Lean Box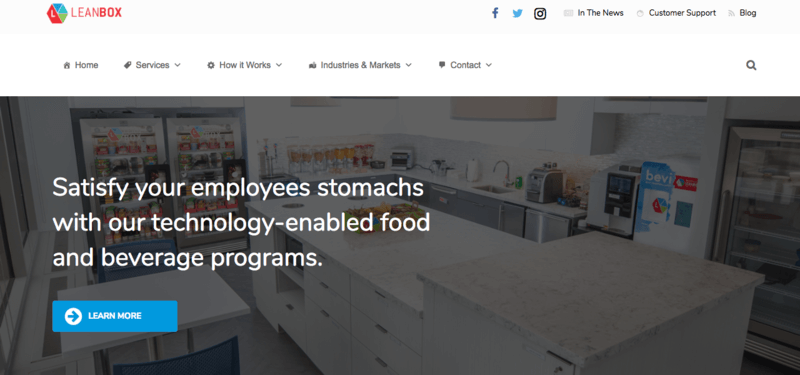 Lean Box focuses on the idea of grazing for weight loss. This means eating smaller meals more frequently, roughly every three hours or so. They pre-portion the entrees which allow you to focus on losing weight rather than counting calories. None of their single meal offerings exceed 80 ounces. Their food has no preservatives, and they only deliver for up to four days to ensure the food remains fresh.
You get to create your preferred Lean Box, choosing between four or six meals a day. Once you have selected a program, you then select the specific meals and tailor your order according to your preferences. If, for any reason, you do not want to order from their website, you can find one of their coolers in your vicinity. The coolers are basically vending machines but with healthier options.
Lean Box is unique in that it can also help employers keep their staff healthy. They have office packages where they install coolers in your office and feed your employees healthy, balanced and nutritious meals.
Their programs have helped overweight employees maintain their weight which in turn increased their productivity immensely. The four and six meal packs cost $16 and $18. Individual meal prices start at $6.
Balance by Bistro MD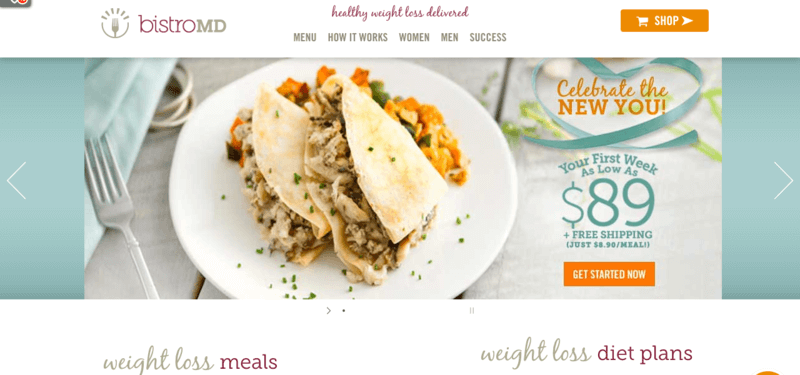 Balance, by Bistro MD, is a prepared meal service that ensures that you lose weight the healthy way by feeding you lean proteins and complex carbohydrates. Their dietitians make sure you have the right plan for your ideal weight. Most importantly, the founder Caroline J. Cederquist M.D is a Bariatric Physician.
Dr. Caroline has been helping her clients lose weight for over 20 years and oversees the designing of all your meals. The food service delivers frozen meals that you only need to heat in a microwave or oven, and you're ready to eat.
Bistro MD meals are low sodium, have no trans fats or simple sugars. These aspects help to promote weight loss. There is a focus on taste and quality too, so the meals should be enjoyable. They're also portioned for weight loss, so you don't have to count calories or worry about overeating. Their portions are also filling and the meals should keep you satisfied.
The amount you pay depends on the options you choose. You can have one, two or three daily meals for either five or seven days each week. Three meals a day will cost you $179.95 for seven days and $149.95 for five days. If you elect to have two meals a day for seven days, you will part with $149.95 and $119.95 for five days. One downside is that Bistro MD does surcharge you for the second week as soon as your first shipment arrives.
Top Chef Meals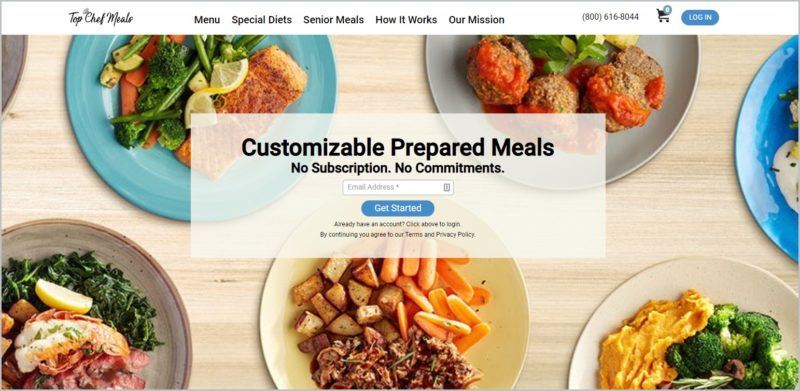 Basically, Top Chef Meals cooks the meals you order and then flash freezes them before they are shipped out. This gives you much more control over exactly what goes into a meal. This company is one of the most flexible prepared meal services that I've seen.
In particular, most dishes provide one entrée (such as Turkey Meatloaf with Mushroom Gravy), along with two sides. The sides fall into types, like starches and vegetables, and you get to choose which sides you want. With the Turkey Meatloaf, the defaults are Sweet Potatoes and Green Beans, but you might choose Citrus Quinoa or Herb Lentil Rice as your starch instead.
This level of control is amazing for weight loss, especially as nutritional details are provided for each side and entrée on the site. There are also specialty diets, including a low-fat diet, a weight loss one, and a paleo option. You could choose any one of those for weight loss, depending on your personal preferences. Regardless of your choice, there are plenty of items to choose from and a large amount of flexibility.
With this company, you mostly order meals individually. Prices vary depending on the meals but many are between $7 and $8. There are also gourmet and premium lines that are more expensive and have more elaborate dishes (such as Surf & Turf Lobster Flank Steak for $15.65). Even then, the prices are reasonable for what you receive.
There are also easy order packs, which contain sets of meals. But, the prices seem to be much the same. The main difference is that the packs make ordering simpler. Even so, none of these are themed around weight loss, so it might be better to choose your meals individually.
Fresh n' Lean

Another good weight loss option is Fresh 'n Lean. In this case, the company states that all of their ingredients are natural and organic. The protein provided is also high quality, with the company relying on wild fish, grass-fed beef, and bison, along with all-natural poultry for the animal protein.
The company is also interesting for the plans and menus it provides. There are four different types of menus to choose from. Two are performance-based and include animal protein.
The other two are vegetarian. One of those is tailored toward weight loss, while the other is simply a general plant-based plan. The cost per meal ranges from $7.99 (for basic plant-based) to $11.33 (for the weight loss plant-based plan).
Once you've decided on a plan, you get to choose the number of meals per day (one, two or three) and days per week (five or seven). You can add on various items as well, like snacks or extra meals. The actual meals you receive are chosen for you, based on the menu for the week. However, you can ask for up to three ingredients to be omitted per meal plan.
Beyond this, you can also order meals individually. But, if you do so, the minimum order size is $90.00.
If you're trying to lose weight, the weight loss plant-based plan would be the most effective. Additionally, one of the performance plans is paleo and low carb. This could be an effective way to lose weight as well, especially if you're following one of those diets. Those meals are also high in protein. This should support weight loss too, helping you to stay satisfied until your next meal.
MealPro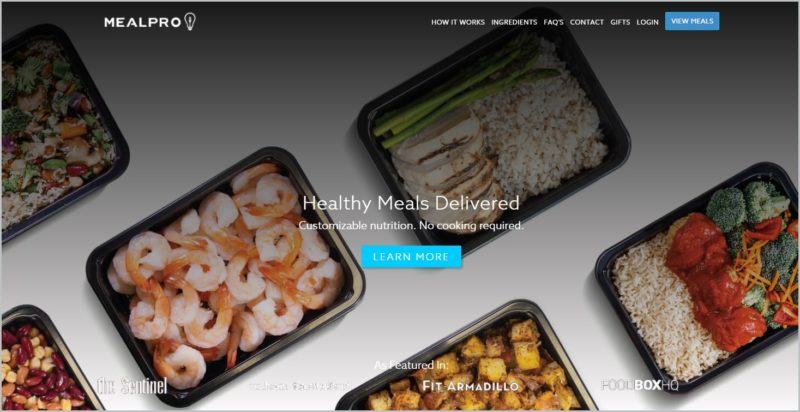 The main reason for including MealPro in this list is the company's claims. The company offers workout meals and diet meals. The diet meals are all portion controlled, while being low in fat, containing slow-digesting carbs, and offering 'clean' calories.
Those aspects should help you lose weight. However, the same claims could be made about any of the companies on this list – and most other meal delivery services, for that matter. In fact, most of the claims that MealPro makes are vague.
My biggest problem is that MealPro sounds great but it offers very little. All of their proposed plans (including diet meals and workout meals) link through to the same menu. Here, you select a meal box that contains either 10 or 15 meals. Shipping is free for the 15 meal option and around $10 if you want 10 meals.
You then manually select which meals you want. There are only 14 meals to choose from here. That selection includes two breakfasts and two soups. Nutritional information is available for each but there are no details about whether allergens are present. There also aren't any diet-specific dishes, such as paleo, dairy-free, or gluten-free.
The meals don't look appealing either. Most are simply a type of protein (such as herb salmon or bbq steak) and two sides. They're not exciting and they're similar to what you might cook at home. The prices for the dinners range from $9.99 to $12.49.
Of course, you could still lose weight with the meals. They are all portion controlled and they use healthy ingredients. But, this list includes many better options including ones that are more interesting.
Magic Kitchen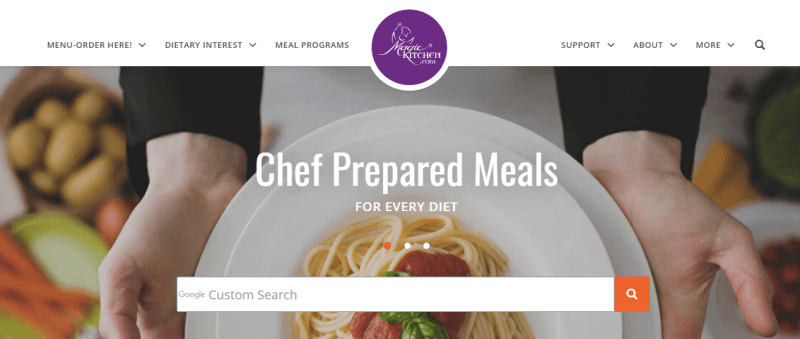 The main focus of Magic Kitchen has to be variety. The service caters to many different diet types and food allergies. It also offers various ways to purchase, including an A la Carte menu, meal programs, and bundles of meals.
The most significant aspect for weight loss is the Portion Controlled Meals. These were designed by a dietitian to be nutrient balanced, healthy and low in sodium, while also promoting weight loss. They typically include one entrée and either one or two side dishes.
Additionally, the meals also use smaller portions and there is just one portion per container. This prevents you from overeating and should make weight loss easier overall.
If these meals aren't filling enough, there are also other options. For example, Magic Kitchen has low-fat meals, along with other single serving dishes. These have many of the same benefits as the Portion Controlled Meals, helping to make sure you cannot overeat.
The price varies but many of the meals cost between $11 and $13. This is fairly expensive when you consider the serving size, especially as the ingredients aren't organic. But, the style may still be perfect for many situations.
Sakara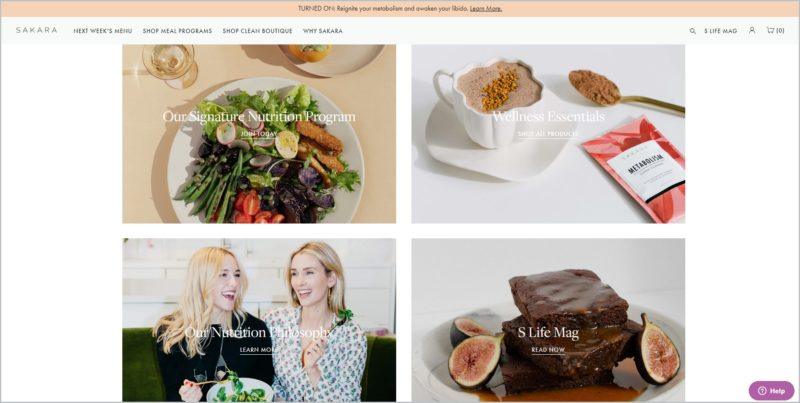 Sakara is a clean eating and detox company, which makes it a natural fit for weight loss as well. The meals provided are all organic, plant-based, dairy-free, gluten-free, and contain no refined sugar. Sakara even aims for between four and six cups of greens per meal.
The meals themselves act as a great way to get extra nutrients. They also include a combination of raw and cooked vegetables, which is a powerful idea nutritionally too. The finished dishes often look like something off Instagram and many can be eaten chilled or just briefly heated.
Of course, this style of meal does take some getting used to. It also won't be a good fit for everyone. But, if you want to dramatically improve your diet (rather than just cutting calories), Sakara is a direction to consider.
There is only one menu available, which changes weekly. You get no control over the meals that you receive and no ability to state preferences. You can ask for exclusions if you have allergies but the company will charge you a fee for doing so.
You sign up for breakfast, lunch and/or dinner for either three days or five days. There isn't much pricing information available but if you want all meals for three days the plan costs around $239, while the total is $420 for five days.
Foodflo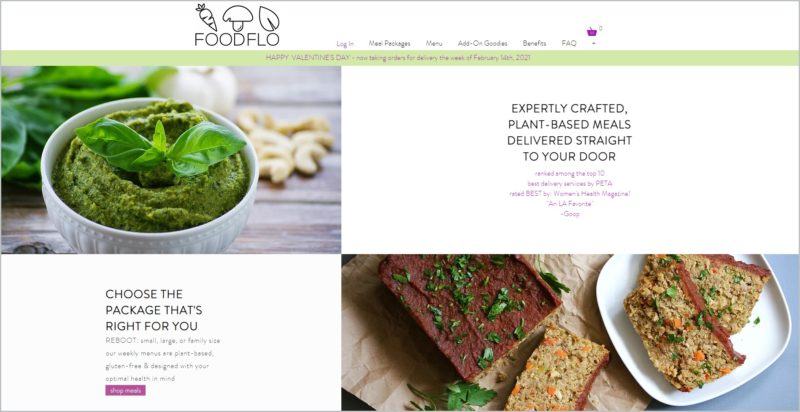 FoodFlo is a vegan company, offering organic, gluten-free, and unprocessed meals. All of their products are also alkaline, made with Kangen alkaline water. The meals from FoodFlo are pretty impressive. They're visually stunning and use a wide range of fresh ingredients.
The main mechanism for weight loss is simply that the meals are healthy. The choice of ingredients should mean that they're relatively low in calories as well. And, of course, they're all portion controlled. The company does use the term weight loss in their marketing, which should mean the meals are created with this goal in mind.
Ordering is simple. You can buy a one-week delivery for $139, or you can order four weeks at a time for $499. In each case, you get one soup, two side salads, four entrees, four side dishes, and four snack bars. That's roughly enough for four or five meals. There are no options to change the frequency or to alter the specific items that you get.
There is an A la Carte menu but this is designed to add extra items to your order. The selection here is limited. You can choose an extra entrée and side dish combination – but what you get is based on the current menu, you don't get to choose.
The FoodFlo website also doesn't provide nutritional details for any of their meals. This makes planning difficult, especially if you're trying to keep within a calorie goal. There is also no ability to choose your meals. Instead, you get what is on the menu for the given week.
The company has a limited delivery area, mostly serving Los Angeles, Orange County, California, Arizona, and Nevada. You get your meals in a cooler bag with ice packs. These are then exchanged each week. The company charges $15 for each cooler bag that they leave with the customer.
NutriFit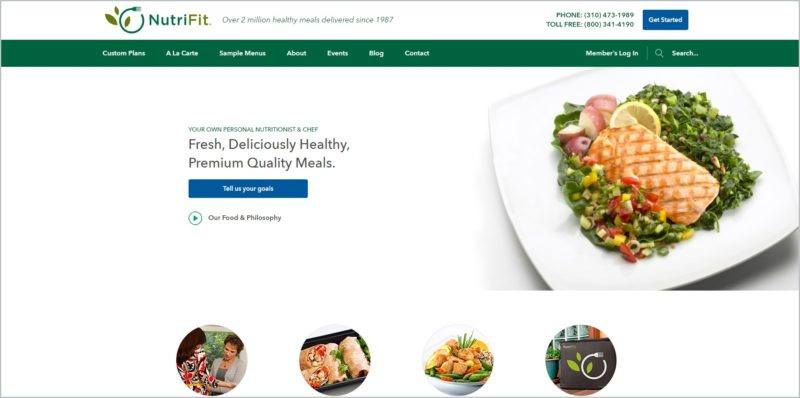 With NutriFit, there are two general options to choose from. The first is an Essentials plan. This gives you some options but you can't choose the meals that you receive. For weight loss, you can choose between 1,200, 1,500, and 1,800 calories per day if you're getting three meals. This makes it easy to stick to calorie goals.
The other option is their Premium plan, which is completely customizable. The plan can also be personalized for weight loss based on your own biometrics. This can help ensure the plan actually suits what you need. The Premium plan can also be tailored toward specific diet approaches, such as paleo. These can be other ways to lose weight.
The idea is powerful – but the NutriFit site mostly offers vague information. To find out specifics, you have to talk to the company directly and create a tailored plan.
NutriFit does provide standard pricing, which suggests that individual dinners cost $19.95 on an Essentials plan if you pay daily and $17.95 if you are on a 28-day plan. For Premium, those prices jump to $30.95 and $28.95. The difference is partly because the Premium gets an extra soup/salad and dessert, or evening snack (which you may be able to opt out of).
Either way – the prices are high for weight loss meals. There may also be extra charges, depending on what your specific plan ends up being.
Paleta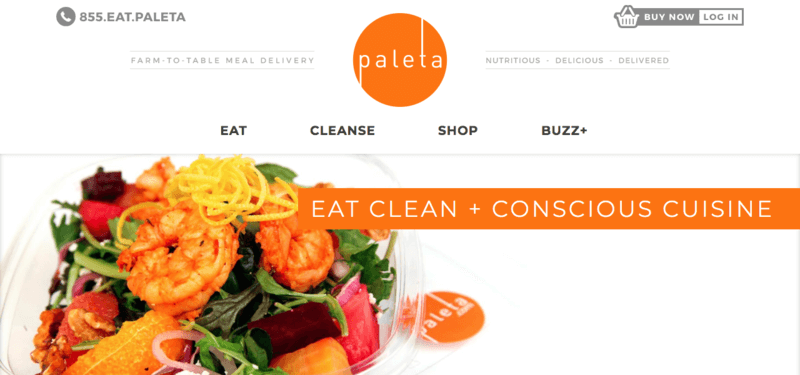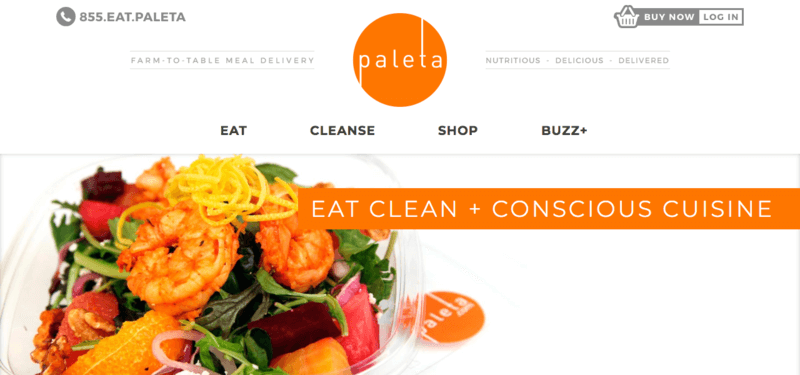 Paleta promotes itself as being a farm to table, which creates a strong focus on healthy ingredients and sustainability. While the company includes organic ingredients where they can, they also source from many small local farms that do not have the certification.
There are two key ways that Paleta suits weight loss. First, you can choose various plans, including a paleo-inspired plan and one that uses Mediterranean styles. These plans have three sizes based on the meals that you want. The first of these is Fit, which offers 1,200 calories per day. This is perfect for weight loss and helps you stick within your weight loss goals. There is also a Lifestyle plan at 1,600 calories per day. This one may be relevant if you want to lose weight but are very active as well.
The Fit plan is $49 per day, while the Lifestyle one is $59 per day. Both contain all three meals and a dessert. The Lifestyle plan offers a snack as well. You can also change these so that you're getting fewer meals per day – although there is a $25 per day minimum.
Paleta also offers some weight loss specific plans. One is their 14-Day Kickstart, designed to promote accelerated weight loss. This one uses a combination of meals and shakes, along with herbal teas. The program costs $649 for the 14 days and there is a $719 version as well for people trying to lose weight and see gains in the gym.
There is also a Purify Cleanse program that may help to promote weight loss. This focuses on detoxing, along with whole foods and healthy ingredients. Marketing suggests that many people do lose weight with the program. If nothing else, it is another direction to try. This starts at $399 for a five-day program and $645 for a ten-day. The program is expensive but it's only meant to be short-term. You do also get a decent number of products for the price.
Sunfare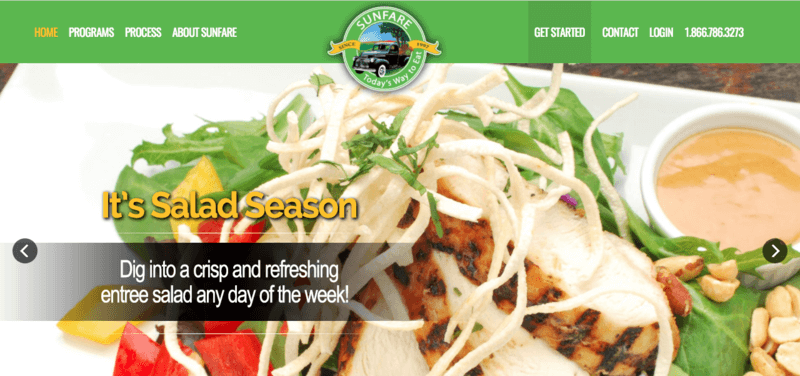 Sunfare is a particularly relevant meals program for weight loss, simply because the company focuses on this area. This includes one meal plan called The Signature Diet, which is designed to help people lose weight. There is also The Cleanse and Paleo Fit. Both of those plans could be relevant to weight loss as well.
Sunfare has used The Signature Diet as their main plan since operations began in 1997 – and they state that it is still their most popular plan. The plan operates off a 42-day rotating menu, although you can customize the meals that you receive as well. You can also make other changes, such as controlling the number of calories that meals contain and the macronutrient composition.
This type of flexibility is powerful for weight loss. People do differ in their requirements, with some needing fewer calories per day for weight loss. Sunfare also allows you to see the menu before you sign up for anything, so you know exactly what to expect. You can also choose to cancel any days that you need.
There are two ways to order. The first is through monthly plans, which can be 20-day or 28-day. In each case, you get breakfast, lunch, and dinner, along with two snacks. For LA, the price per day is $63.95. That totals to $1,279 for the 20-day and $1,790 for the 28-day. For PHX, the daily price is $58.95. The 20-day totals to $1,179 here and the 28-day totals to $1,650.
The other option is A la Carte. With this, you get to pick which days you get meals and the types of meals you receive. For example, you could get dinner only on Monday, Wednesday and Friday, along with breakfast, lunch, and dinner on Tuesday and Thursday. This is incredibly unusual. However, there is a $24.95 minimum order per day.
The main limitation is the food itself. Sunfare isn't organic and there are no details about where the ingredients are sourced from. The meals also look unimpressive and there is nothing unusual about them. If you're only worried about weight loss, this pattern may be fine. But, if you want food that you can get passionate about, Sunfare probably isn't the company for you.
The Vegan Garden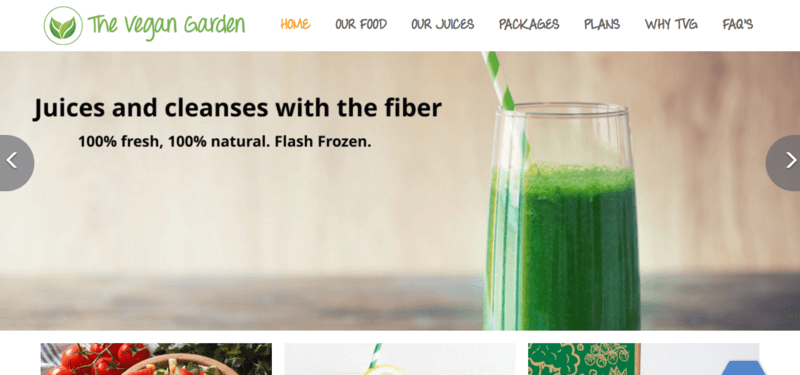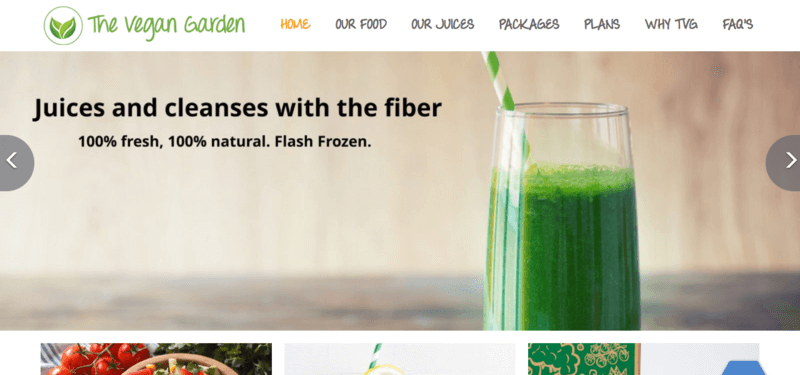 The Vegan Garden focuses on whole food vegan meals, ones that don't contain fillers or preservatives. The meals are promoted as 100% fresh and 100% natural, although they don't appear to be organic. Dishes are all prepared and then flash frozen. This is a way to lock in freshness, although meals that have been frozen never taste quite as good as those that are fresh.
A vegan diet itself can work well for weight loss. But, The Vegan Garden also focuses on weight loss specifically. The company offers multiple packages and plans for weight loss. For example, they have a Two Week Slim Down Package, a Get Slim Meal Medley, and a package called Slim & Trim. They also have a 5-Day Weight Loss Meal Plan and a Taste Great Lose Weight plan.
This actually highlights one challenge with the company – it's complicated.
There are multiple different meal packages and plans, along with the ability to order meals A la Carte. If you take the A la Carte option, regular dinners cost around $8.95 or $9.95 for a serving. Most meals are available in a single serving, while some have four-serving options as well.
The plans and packages are more complicated. Each has a set price and their own features. For example, the 7-Day High Protein Weight Loss Plan contains seven breakfasts (they're all protein smoothies), seven lunches and seven dinners per week, for $580 a month. You get absolutely no control over what those meals are. The company doesn't tell you either.
Another option is Slim & Trim, which contains five breakfasts (smoothies), 5 lunches, 5 dinners, and 5 light desserts for $210. Again, there is no information about the meals and you cannot choose anything.
Many of the packages and plans are inexpensive per meal. Some are even less than $20 per day – and you're getting multiple meals per day. But, the lack of information is a challenge. This makes it hard to know how well the plans fit into your current weight loss goals.
Muscle Meals 2 Go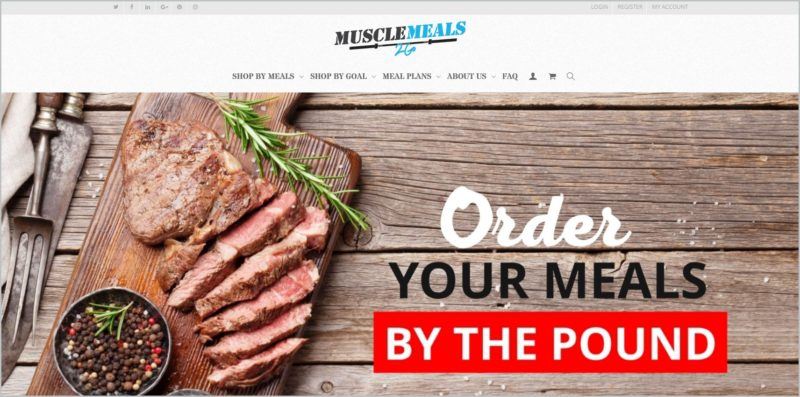 The focus of Muscle Meals 2 Go is really on performance and muscle gain – but they do have a weight loss plan as well. Basically, there are three different options with the company: Lean, Maintain, and Gain. If you want to lose weight, you'd go with the Lean plan.
The performance focus is actually relevant to weight loss too. As part of this, Muscle Meals 2 Go uses high levels of protein in their meals. This helps to make them satisfying. Extra protein can mean you're hungry less often and makes a weight loss plan much easier to stick to. The meals are also portioned in size, at 3 oz of protein each.
There are three ordering plans. The first gives you 12 meals a week for $99 (an average of $8.25 per meal). The next gives you 18 for $144 (an average of $8.00 per meal). The last gives you 24 for $180 (an average of $7.50 per meal). The idea is that these represent two, three, and four meals a day for six days each week.
You can specify any allergens when you order and the company will avoid these. You can also substitute protein types, such as relying on chicken, rather than red meat. In fact, you even get to choose the specific meals that you get.
The style works well and the meals are pretty inexpensive. It's easy to see how they would be effective for weight loss. But, just be aware that they're not exciting. Most are basically a serving of protein, a carb side, and a veggie side. This is completely fine for many situations – but check out the meals first, to make sure they suit you.

Sunbasket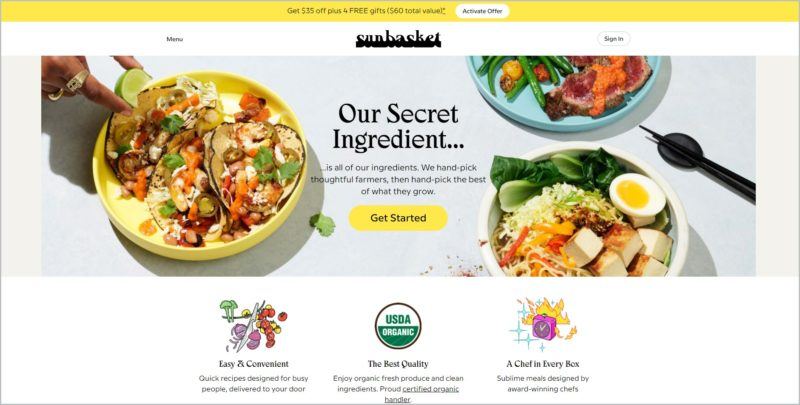 Sunbasket is actually one of my favorite meal kit delivery services I've ever tried. Granted, I haven't tried all of them (but I'm working it LOL). I tried the regular meal kit plan with Sunbasket, but I'll update as soon as I try the one they call Lean and Clean.
With the regular meal plan, I really liked the variety of styles of cooking and complex flavors that Sunbasket offered. With the lean and clean, as you can see below, they maintain this effort, even for their low calorie meals.


These meals certainly don't look like they are only 550 calories! High protein, healthy fats, and fiber are the tenants of a paleo-style or keto-style diet (though these are not specifically paleo or keto). That means they'll keep you full for longer, and get your body the nutrition it craves.
Sunbasket also offers a $35 discount on the Lean & Clean version, meaning you can test out this meal kit for super cheap and see if the meals live up to their promises and my review 🙂
RealEats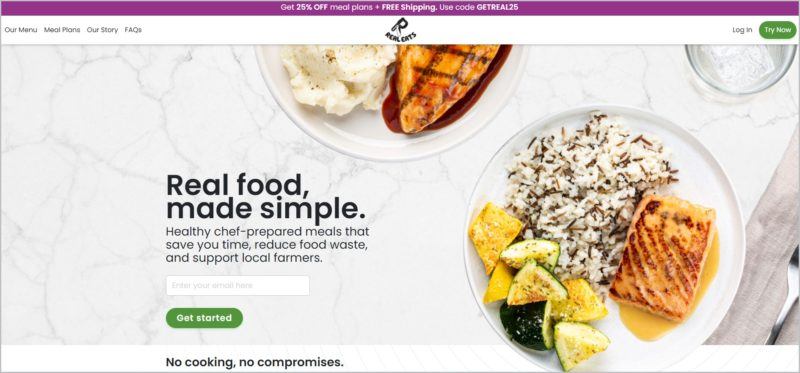 RealEats is a little unusual, as their meals are delivered in pouches. These can be heated up in a pot of boiling water or dumped out and heated via the microwave or on the stovetop. The pouch approach should help to keep the meals moist and may mean that they heat up more easily.
The company doesn't focus on any specific diets, but they do rely on healthy whole food ingredients. This aspect alone makes the food relevant to weight loss.
There are also icons on each meal, highlighting key features. Some, for example, are gluten-free, dairy-free, or vegetarian. A handful at any given time is tagged as low calorie or as high protein. Either of those meal types could be ideal for weight loss.
RealEats offers two plans for ordering meals. If you want dinners only, you can choose between 4, 6, 8, and 12 dinners. The price ranges from $10.99 to $14.99 per meal.
There is also the option of ordering dinners and breakfasts. You choose between 4, 6, 8, or 12 days here, which means you're getting 8, 12, 16, or 24 individual meals. This time, the pricing ranges from $7.99 to $9.99 per meal. Shipping is free for both plans.