Preparing a meal from scratch can make you feel like a superhero of sorts. However, cooking your favorite meals become monotonous and time consuming, especially if you are busy with other family duties.
You can get some great recipes online to switch things up, but making new recipes week after week can take up a lot of time searching on Pinterest or cookbooks, while also requiring more time at the grocery store as you check and double-check your list.
This is why family size meal kits make the most sense for busy parents.
Below I've collected 14 services that allow you to customize your meal kits to account for small, to medium-sized family. If you've got five or six grown kids, sorry. Costco is the way to go, otherwise you're going to spend $100 or more per meal using a meal kit!
Sunbasket is currently my favorite option for families. Why? They simply offer the best tasting food in my opinion. But of course, opinions vary, and you might have to try a couple of services to find out what your kids & family like best.
The cheapest option is going to be Platejoy (shown below), but it's not a "meal kit" per se. Rather, Platejoy creates recipes for you, then does your online shopping and delivers groceries to your door.
Because you aren't paying for the standard meal kit experience, you pay less overall. You still get the fun of new recipes every week, and the time-saving aspect of having food delivered though, so this is a great option for someone on a budget. They also have extensive meal plans for anyone with food allergies or specific dietary requirements.
Some of the kits below let you toggle "servings", while some let you toggle "number of persons". It may take a couple weeks of delivery to get the portions perfect, but you can always save extra for leftovers, or supplement with a dessert until you get it just right. Let's get started!
For many young professionals and couples, this awesome new idea has made their cooking life a lot easier. Delivering 2-3 servings of vegetables and meat with a delicious recipe attached means you can cut back on shopping time and recipe searching duties.
But there's rarely enough for an entire family to eat. Feeding two hungry adults and a couple of kids takes more than one small pack of ground beef and a few broccoli sprigs.
The fact is, most of these meal kits only enough for 2-3 people eating small portions! Luckily, some services have begun to offer family sized meals, catering to 3-6 people. Many also have options for specific dietary needs like egg-free, gluten free, dairy free, paleo, and more.
Family Size Meal Kits
Green Chef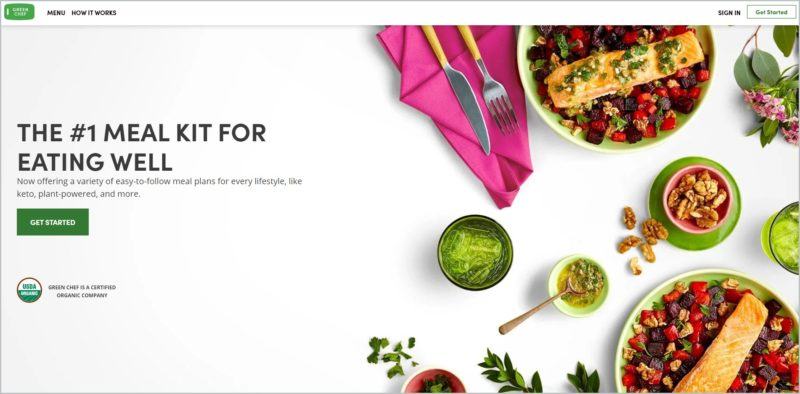 Green Chef is a USDA organic certified meal kit delivery service and is the first to receive gluten-free certification. They deliver fresh pre-portioned, healthy natural ingredients to your doorstep every week.
They have one of the most extensive varieties of meal plans available, outpacing most competitors. Green Chef's plans include gluten-free, paleo, keto, omnivore, carnivore, vegan and vegetarian. As such, they cater to most diet types, along with many meal preferences.
The delivery service offers generous portions that should fill you and your family up. The meals are easy to prepare and take between just 30 and 40 minutes to make. They also chop and dice ingredients for you and even mix sauces, saving a lot of time and effort.
I know this from experience too. You can see more details in my review of Green Chef. But, in general, this is one of the more appealing services. The main disadvantage is that they do have a lot of packaging. Still, much of the packaging can be reused or recycled, which cuts down on waste.
The amount you pay for meals depends on the plan you choose. They have two family options: Family Omnivore and Family Carnivore for which you will pay $11.99 and $12.99 per meal($25 off first order through my links). Vegetarian meals cost $10.49 per meal, vegan meals cost $11.99 per meal, while both keto and paleo meals are $14.99 per meal. To cancel the subscription or change your order, you need seven days' notice.
The presence of family plans is particularly appealing and these seem to contain more servings than the regular plans. The meals themselves are a good balance of complex and simple.
For example, one option is tandoori chicken. The flavor is one that many kids would find appealing, although there are adult-focused ingredients as well (including almond-raisin quinoa). The assumption is that both adults and kids will be eating the same meals.

Marley Spoon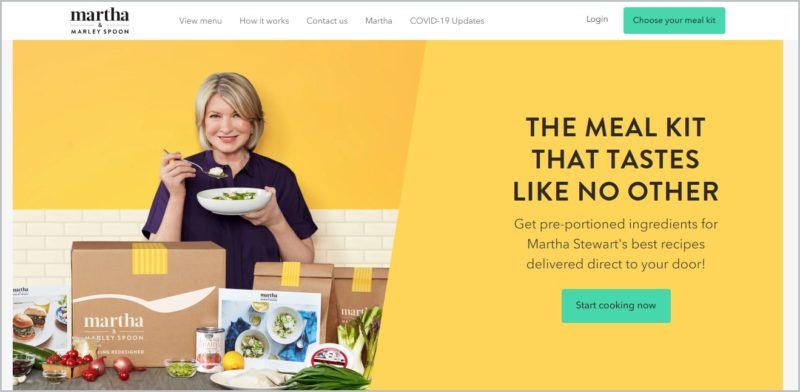 When you hear Martha Stewart, you most likely think, the fantastic cook. Martha has recently teamed up with Marley Spoon meal kit service to ensure you can cook just like her. The food delivery service brings you fresh and sustainably sourced ingredients for Martha-inspired meals. Their offerings include grass-fed beef, Berkshire pork, American-caught shrimp as well as artisanal cheeses. They also cater to carnivore, vegetarian and gluten-free diets.
Unlike most other prepped ingredients delivery services, Marley Spoon is also available in the Netherlands, Belgium, Germany, and Australia. However, they do not deliver all over said counties and even in the US. You will need to confirm from their website whether they ship to your area.
They have two plans: a two-person box and a family box. Both boxes allow you to choose either two, three, or four servings per week. You can also plan your meals up to five weeks in advance and have up to five days to review your order once you make it. The company is very green and has minimal packaging. They even offer tips on how to recycle each packaging item.
The minimum you can order is four servings. For the two-person box, you will pay $48 for two meals, $61.50 for three and $76 for four meals a week. The family box contains four servings per dinner. For $76 you get two meals a week. You will part with $106.80 and $139.20 for three and four meals a week.
The service also uses tags to help people pick the best meals. This includes tags for meals that are dairy-free, spicy, gluten-free, require less than 30 minutes and also those that are kid-friendly. That last option is powerful. It helps make sure you get meals the kids will actually eat. Meals that require less than 30 minutes of work are also perfect for busy families.

One Potato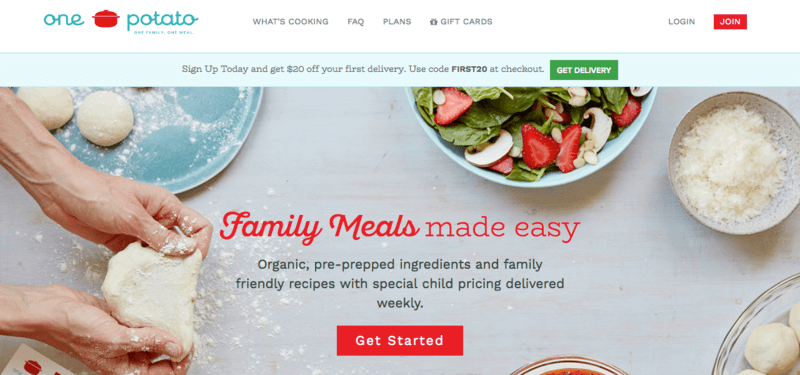 Started by Catherine McCord, One Potato delivers fully prepped meal kits for busy families. Their recipes are based on the cookbooks written by the company's founder. Subscribers get to choose one of five meal plans.
First, you tell them the size of your family and your meal preferences. Then, they send you an email outlining your preferred meals and let you schedule the meals you want to have each week.
One Potato promises to deliver meals that appeal to everyone in the household. True, the ingredients may be new, but the outcome will be nothing short of lovely, they say. The meals are kept exciting but are still friendly for kids. One such meal is herb-roasted chicken and polenta fries.
The company focuses on providing a healthy alternative to dining out, frozen dinners, or takeout for families. As a result, the meals are fast to prepare, typically taking 30 minutes or less. Customers also get free shipping and a discount on their first delivery.
There are multiple plans to choose from, each designed for different situations. For example, the Two Potato plan is ideal for families with either 1) two adults, 2) one adult and one teenager or 3) one adult and two small children. Larger families can go for the Six Potato plan or the Five Potato plan.
Each of the plans has been outlined on their website so that you can quickly pick the one that fits your needs. The site also breaks down the cost per serving, along with the weekly total.
The names of the plans simply refer to the number of servings per night. So Five Potato includes five servings and Six Potato includes six. This makes it easy to get exactly the right size each time.
The great thing is that this service is specifically designed for families and kids. That's something many of the others don't do and is an immediate advantage.

PlateJoy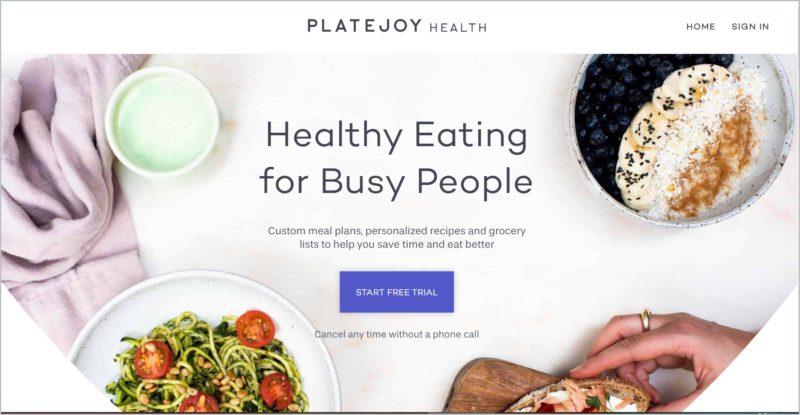 PlateJoy is a service designed to save you money, energy, and time. They aren't a "kit" like the ones above. Instead, the company uses your preferences to create a customized meal plan for you and your family.
To do so, they use 50 data points to work out the best meals for you specifically. This includes considering whether you want kid-friendly options and whether you tend to batch cook. PlateJoy also offers free dietary advice from a professional nutritionist.
However, the service is also a little different. They generate a list of groceries and a couple of grocery stores near you (via Instacart) with different offers. The meals are customized to include ingredients, portions, cooking and prepping time allowances within your range. As such, it functions as a digital pantry and is more complex than the other services.
The pricing of every element varies depending on the number of adults and children you are serving and the estimated portion per person. They offer small, regular, and large options for every meal, making it perfect for families.
There are two packages on offer, either a semi-annual or an annual subscription. The semi-annual subscription goes for $69 (about $11.5 per month) while the yearly service goes for $99 (about $8.25 per month). The pricing is because you are still paying for the ingredients in a separate step.
What are some of its downsides? Unlike most meal-kit services, PlateJoy does not provide prepared ingredients. The service also only offers the ingredients available on Instacart in 31 US states. But, if you don't mind this step, the style does make things easier.
After all, you can also purchase whatever ingredient you want from whatever grocery store, within your desired budget with any limitation and have it delivered to your doorstep. You also have more options to tailor the ingredients, which may be appealing.

Good Eggs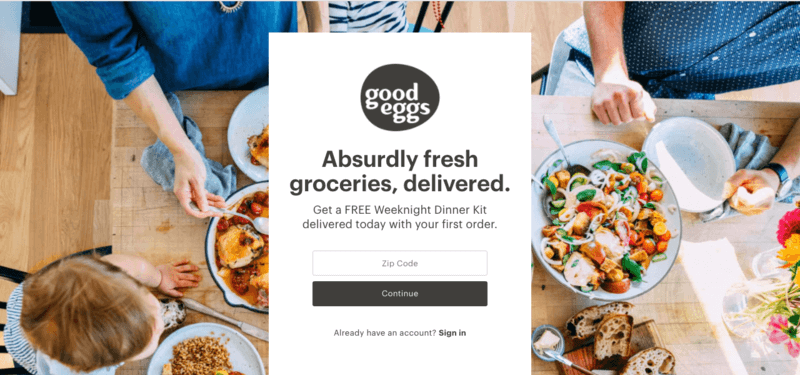 This company started out in San Francisco and expanded its market to other regions around the world. A plummeting profit almost led to their shut down in 2015, due to the expansion to various states. Today, it stands out as a leading meal-kit delivery service.
The Good Eggs website oozes an aura of professionalism at first glance. You can find your way around this online market and make your order in a jiffy. Good news!! You can order anything; you don't have to order an entire package. Their services are available in most Bay Area Zip codes from 10 am to 9 pm every day of the week. Just place your order by 1 pm, and it will be at your doorstep on the same day.
They have several meals broken down into 3-Dinner Kits, Reorders, Market, Produce, Dairy, Meat, Fish, Snacks, Bakery, and Pantry. For easy small family meal planning, the weeknight dinner kit would be the best option at $69.99 per week. It comes with three meal options and three servings each at $7.77.
Nevertheless, the kits aren't specifically designed for families or for kids. So, you're just getting larger servings of adult-focused food. You do get to see the meals in the kit before you order, so you'll know whether a kit is right for you.
If you need more flexibility, you can focus on the individual meals, which tend to provide three servings. Many of these are more kid-friendly, including a selection of 15-minute pizzas. You can also order kids lunch kits from the site.
Beyond this, you can explore their market for different types of produce and even go for bulk options such as the family brunch with fish. They offer generous portions as well. Your order comes in a sturdy cardboard box that is partitioned into sections and kept cool for a few hours with the help of ice packs. All orders above $60 come with free shipping. The service gets consistently good reviews and is a very flexible option.

HelloFresh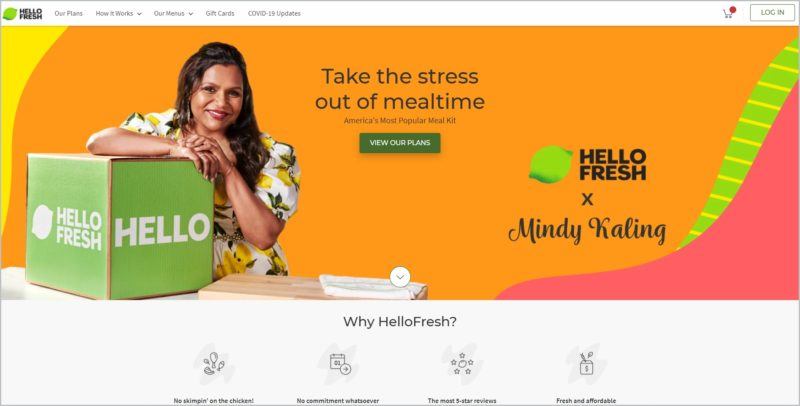 HelloFresh started when two friends were having a conversation about meals and busy lives. They concluded that life hassles have made it difficult to eat healthy meals and thus HelloFresh came into being. This meal kit service picks fresh and wholesome ingredients out, pre-portions them, and ships them to your home. You will still enjoy cooking but without having to go to the grocery stores.
They have three plans; classic, vegetarian, and family. One fantastic thing about their menu is you can filter for fit, quick, seafood-free, pork-free, or beef-free meals. Unlike some other services, they just focus on dinners. So, there are no breakfasts or lunches to choose from.
Though the food is delicious, the recipes are fairly basic and unsurprising for meals stated to be prepared by chefs. That isn't necessarily a bad thing. Simpler recipes are often good for novice cooks and families with picky children. This is also a relatively inexpensive service, which may be another reason to consider it. I tried this service myself, so you can see more details in my full HelloFresh review.
The family plan provides four servings for two or three nights a week. You can also get four servings with the classic or the veggie plan, so these are an option too. With a maximum of four recipes per week, you'd have to shop for yourself the other nights.
The company doesn't allow you to customize meals either. Instead, they come in a bundle. That aside, you get to enjoy seasonal ingredients all year round and each week has a different menu.
The family package price is $7.89 per serving, while the other plans are $8.99 per serving. Shipping is free on all orders irrespective of location. Note that you may have to cancel subscriptions by phone or give a week's notice.

Sunbasket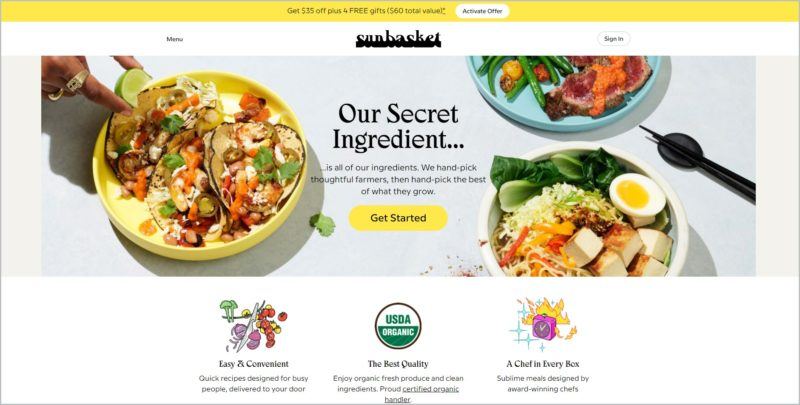 Sunbasket has a strong focus on healthy meals and includes a Family Plan that consists of vegetarian, paleo, gluten-free, and Chef's choice options. Families can receive a box with either two or four recipes every week, where each meal serves four people.
The boxes come with tips on how kids can chip in to help prepare each meal. This is an excellent option to help busy parents bond with their kids over meal preparation. They also offer weekly themes such as taco night or pasta night.
According to the company, quality is at the heart of all their ingredients. Additionally, each of the options for the family plan can be customized. For instance, if you are eating paleo, your kids do not have to.
You can place an order that will give your kids the ingredients they crave and you, your paleo meal. The same applies for vegetarian and gluten-free meals. The Chef's choice is an option to get hand-picked recipes by their chefs.
The downside to this family plan is that it feeds four. If you are a family of three, you can refrigerate what remains to consume later. But, there are no options for larger families. You can also find out more details about precisely what you get in my Sunbasket review. In that post, I talk about my personal experiences with the meal kit service, including the parts that I enjoyed and the parts that I didn't.
At only $9.99 per person, regardless of the number of meals, you can get to enjoy a well-balanced and fresh meal with your family. Delivery for each of the meals costs $5.99 per week. This is a little bit high but at least, the dreaded question 'what are we having for dinner' becomes unnecessary.
Great news though – they are running a promotion where you can get 50% off of the Family Plan! That's an awesome deal. For individuals, they offer smaller discounts, but Sunbasket really rocks the family plan deal. The deep discount is one excellent reason to start off with Sunbasket if this is your time trying a family meal kit.

Blue Apron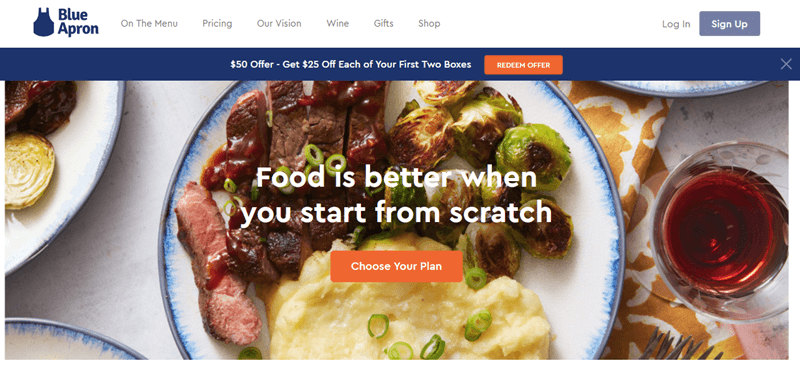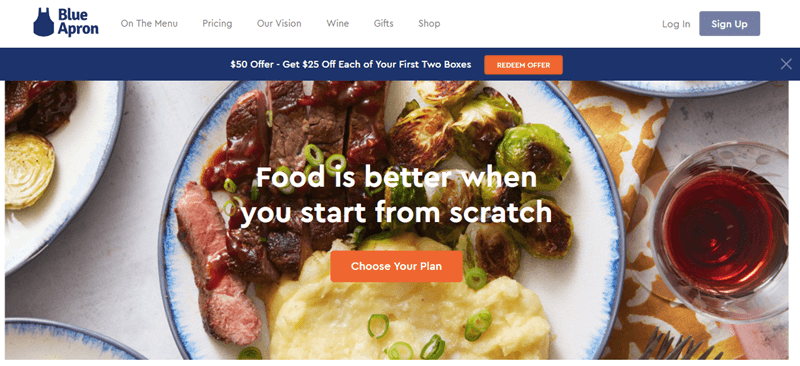 Blue Apron must be the most famous meal kit service out there. With the amount of advertising they've been doing, that's not surprising. The company is easy to use and offers delicious meals. Following their recipes isn't any problem at all, as the instructions are clear.
There are two plans to choose from – a two-person and a family plan. The family plan is designed to serve four people. It offers two, three, or four recipes each week for either $8.99 or $9.99 per serving, depending on the number of meals you order. Shipping is free in each case.
Once you have checked out, you are able to choose what meals you want. These are based on the weekly menu – and there is a limited selection for family meals (I only spotted four when I looked!). This may be completely fine if you don't have picky eaters. But, if your family members have strong preferences, the selection may simply be too limited.
This is also a service that I reviewed myself. I've even gone back to them multiple times, which says something about the quality of their food. Blue Apron still isn't my favorite meal kit service but it is a decent one – and a good place to begin. My main issue was that some of their meals were boring, similar to things that I could make myself.
There is also very little customization. You can select the meals but that's really it. The main specialty diet option is for vegetarian meals and that's only available for the two-person meal plan, not the family one.

Gobble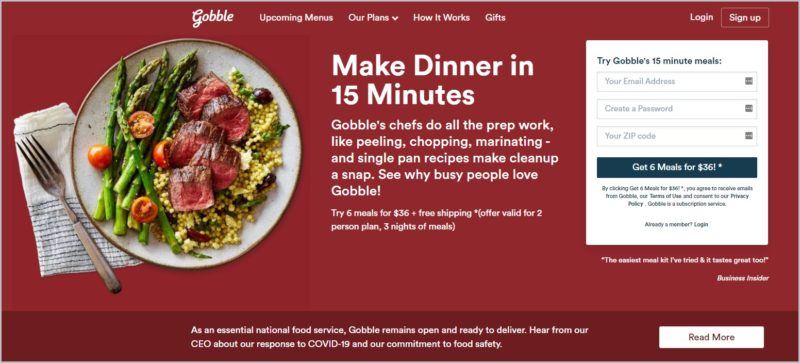 The biggest thing that makes Gobble stand out is the ease of cooking. Meal kit companies are all over the place when it comes to time. Some are simple and easy. Others require multiple steps and some fairly complex cooking processes. With Gobble, all meals take 15 minutes (or less!) to prepare.
They really do too. I tried Gobble out for myself and wrote a review on it. I found the meals truly were easy and fast. I personally love cooking, so the style felt a little bit like cheating to me. In all honesty, I'd rather go for meals that are more complex and take a bit more work. But, it's easy to see how Gobble would be appealing if you're short on time.
Gobble is extremely relevant for families because you can add on more servings – all the way up to 12 servings per meal. Most of the other kits on this list only support a family of four. But many people do have larger families.
Besides, the meals are all very fast to prepare. That's always a good thing with a family. Cooking dinner is often the last thing on your mind when you get home – and I've seen some meal kits take close to an hour to put together.
Another feature is kid-friendly meals. This includes options like baked mac and cheese, which would be perfect in many situations. You could even choose to order a kit for the adults and another for the kids. After all, they only take 15 minutes to prepare.
Ordering is simple enough and you do get to choose your meals each week. There are only two plans, and each gives you three full dinners each week. One plan is for two people, the other for four. The meals average out at between $11.95 and $13.95 per serving, depending on your choices. Of course, the total price will change depending on whether you add any extra servings, snacks, or desserts.

Home Chef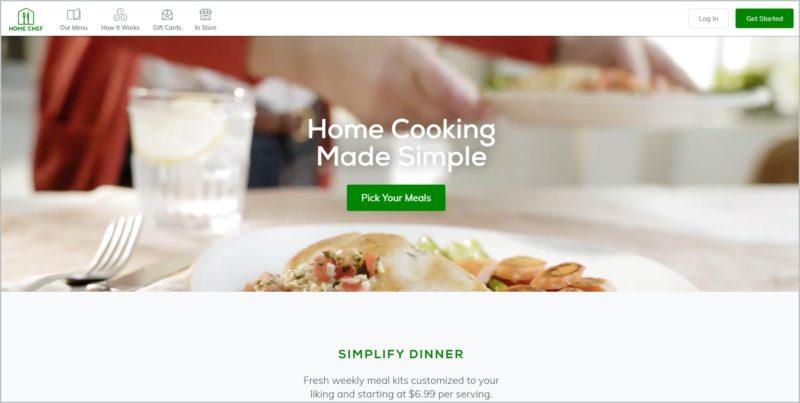 Home Chef (discount link) is a solid choice for families because they don't venture too far into "cultural" foods that a lot of kids don't like. While other services travel around the world and have you make things from Africa, Asia, and all the spice that come along with that, Home Chef pretty much sticks to familiar favorites.
That being said, they aren't boring! I really enjoyed their meals like pork chops with pine nut compound butter with kale and parmesan or shrimp lo mein.
The smallest setting they have for meals is 2 meals per week for two people, but you can expand it up to six meals for six people! That's a pretty large food delivery, so it's perfect for bigger families or families with big appetites.
At about $20 per meal, it's right in the middle-range for prices, and you won't get much of a discount for ordering in bulk. This company would be great for a healthy-living-style adult who wants to meal prep for a couple of days in the week, or for someone with kids who aren't terribly adventurous but like more than just plain spaghetti.
EveryPlate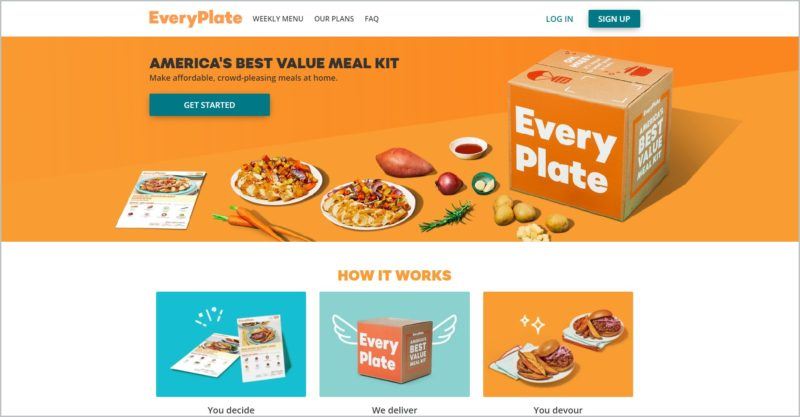 EveryPlate offers incredible dinners for only $4.99 per serving. So unlike other meal kits which can get really pricy sometimes, EveryPlate makes it affordable for everyone. Since everything comes pre-portioned you practically save money by only getting what you exactly need. You also save time because they make sure their dishes are simple, doable, and will take no time to prepare.
They have a flexible meal kit subscription service, you can skip a week or cancel your subscription up to 5 days before your next delivery is scheduled. Dinner for 4 for 3 times a week plan costs $68.87, that's $4.99 per serving plus a fixed weekly shipping fee of $8.99. This plan actually has adult sized portions that can be enough for a family of 5.
Nutritional information for the meals are provided in estimates per serving. Since they purchase ingredients from several different suppliers, nutritional details may vary slightly. They also provide allergen information on the recipe detail page as well as on information cards in the actually delivery package. Unfortunatley because their priority is to keep pices low, they don't cater yet for spicial diets like keto, gluten-free, vegetarian, vegan, paleo, or low carb.
EveryPlate offers a range of 16 diverse and delicious recipes every week. Meal comes with easy-to-follow instructions for filling, classic, and home-style recipes. All the ingredients are carefully packed and insulated to ensure freshness. They teamed up with nationally recognizes suppliers to ensure only quality ingredients are delivered to your doosteps.
EveryPlate has quite a reputation with over 8,500 positive reviews on their Facebook page and with an average of 4.4-star rating out of 5.
Purple Carrot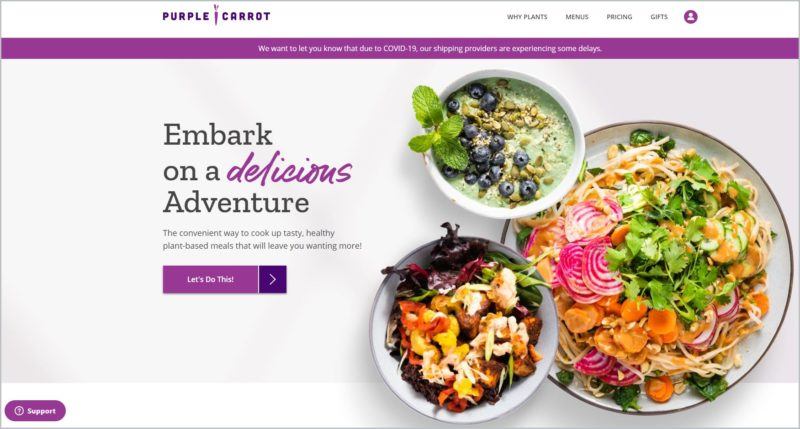 Purple Carrot is a plant-based meal kit service that is geared specifically toward the vegan community. They offer breakfast, lunch, and packaged snacks. You can mix and match your meals according to your preference and choose from Quick & Easy, High-Protein, Gluten-Fee, or Chef's Choice.
Their meals on average, contain 500-800 calories per serving and include complex carbohydrates from vegetables, seeds, legumes, nuts, and fruits, and healthy fats and lean proteins. Other nutritional information for each meal is readily available on their menu page.
Purple Carrot's 4-person serving plan cost $79.92 for 2 dinners per week (first week discounted price is $59.92) or $119.88 for 3 dinners per week (first week discounted price is $99.88). There is no membership fee and you're free to cancel any time. Upon completion of sighing up for a subscription, you'll receive automatic weekly Purple Carrot deliveries. You can skip any deliveries that you're not too keen on receiving, or add an Extra to your weekly order after checkout.
As to meal planning, if you're feeling adventurous or experimental just leave it to their culinary team. They will curate meal plans each week composing of new and flavorful dishes but then again, you can always choose your meals. Just make edits to an upcoming order before 11:59 PM EST Tuesdays, the week prior to your next shipment. You can choose recipes according to cuisine, ingredients, dietary needs, or dish type. Their weekly box will include labeled ingredients needed to prepare dinners, breakfasts, and lunches along with the weekly recipe booklet with 8 dinner, 2 breakfast, and 2 lunch recipes.
Delivery from Purple Carrot is always free and most of their packaging is recyclable. They even provide information on how to recycle their packing materials. Meals are packed and protected in an insulated box equipped with non-toxic ice packs to ensure quality and fresh ingredients – they recommend though to cook the meals within 3-5 days upon receiving for optimal freshness.
Dinnerly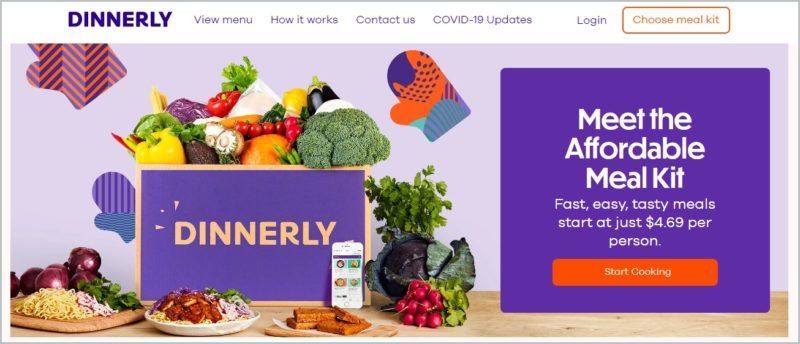 Dinnerly ensures that more people who enjoy homemade cooking but still want to stick within a budget afford meal-kit services. It's perfect for busy individuals or homemakers because they have simple, fast recipes with only a few ingredients per dish. They also have an app for both iOS and Android available through iOS App Store or Play Store. I actually did a review about this meal kit delivery service here.
Each week, they offer 16 different dishes that include vegetarian, dairy-free, low carb, and healthy options. They put up the menus 4 weeks in advance so you can plan ahead what you want to have or if by any chance you would like to skip a week. As for breakfasts, lunches, and desserts, the recipes aren't available every week. Although during special occasions like Mother's Day or Thanksgiving, for instance, they do offer brunch and desserts.
From $4.69 per adult-sized serving, Dinnerly meals is truly affordable. Their subscription is very flexible allowing your to skip any week or pause subscription if you wish to. Their Family Box with 4 servings and 3 meals a week costs $68.87 including a shipping fee of $8.99, there is also an option to make your box vegetarian. You can opt for the Family Box for up to 6 meals per week.
Dinnerly uses the same quality ingredients as the other meal kits but to make it more affordable for the average consumers, they take the simpler approach. They use simple packaging, digital recipe cards, and fewer ingredients per dish. They also opt-out on fancy marketing campaigns. They have an Ingredient Hub, where they list all the recipes and the ingredients with the allergens and specification as well as to what else do the facility it was made from has.
Dinnerly is up for earth-friendly choices, their boxes, as well as the separator inside the box, are SFI certified which means that they are made of paper sourced from sustainably managed forests. Bottles and containers are made of recyclable plastics. They are available for deliveries nationwide covering 93% of the US population.
Hungryroot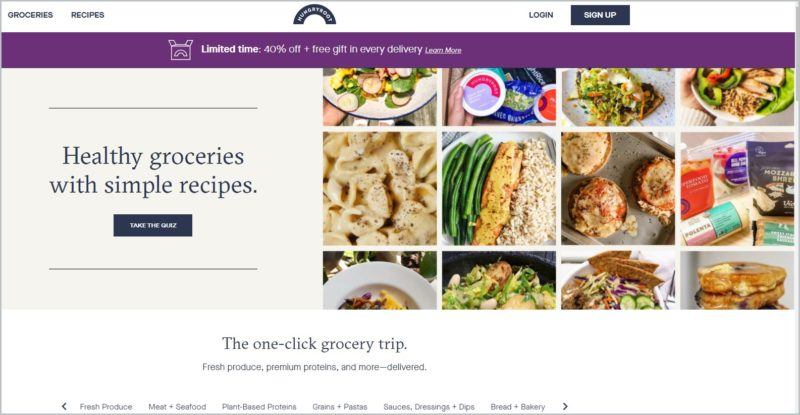 Hungryroot is not exactly a 'meal kit service' but a personalized grocery service that helps you eat healthy easily. By telling them a bit about yourself, they can then deliver you healthy groceries with chef-designed recipes. By taking the quiz, they will learn more about your goals, how many people you're feeding, any dietary needs you may have, and what you like to eat for dinner. They will then create a grocery plan and fill your cart with suggested groceries along with recipes that fit your needs. You can either take their suggestions or choose from their more than 100 top-rated products.
Their team of food sourcing and personalization experts looks for the most nutritious options available out there. They believe that health is personal and in addition to that, all the food they carry is free of partially hydrogenated oils, artificial sweeteners, high-fructose corn syrup, artificial colors, and artificial preservatives.
Their meal plans start at $59.94 which consists of three, 2-serving meals. For families of more than 3, the 4-serving recipes for the plan will be perfect. The size varies depending on the number of breakfast, lunches, dinners, snacks, and sweets you want for the week. Their plans are very flexible, you can skip, pause, or cancel your next delivery if you wish to.
The delivery fee for plan sizes that are less than $70 is $6.99 but it's absolutely free for plan sizes that are more than $70. Their shipping materials are recyclable. The box, paper cooler, and food protector can be recycled with your cardboard and paper materials, while the Enviro Ice can be used for plant food when diluted in water.
Hungryroot is great for busy people who find grocery shopping and meal planning a super time-consuming task yet they enjoy cooking and would love to eat more healthily. They make it easy and hassle-free to restock your fridge every week and feed you with really great recipes that will make cooking and dining even more exciting.
---
These family meal kits can be really fun to experiment with. They're a great way to spend time with the family, and begin teaching your children a useful life skill. No matter who you are or where you live, you have to eat. Knowing how to cook delicious meals for yourself is something they'll be able to enjoy for the rest of their life.
This is also a great way to ease them into the idea of taking over responsibilities at home! Being responsible for cooking one meal per week from their favorite meal kit program could be fun for them, and free up some of your time.