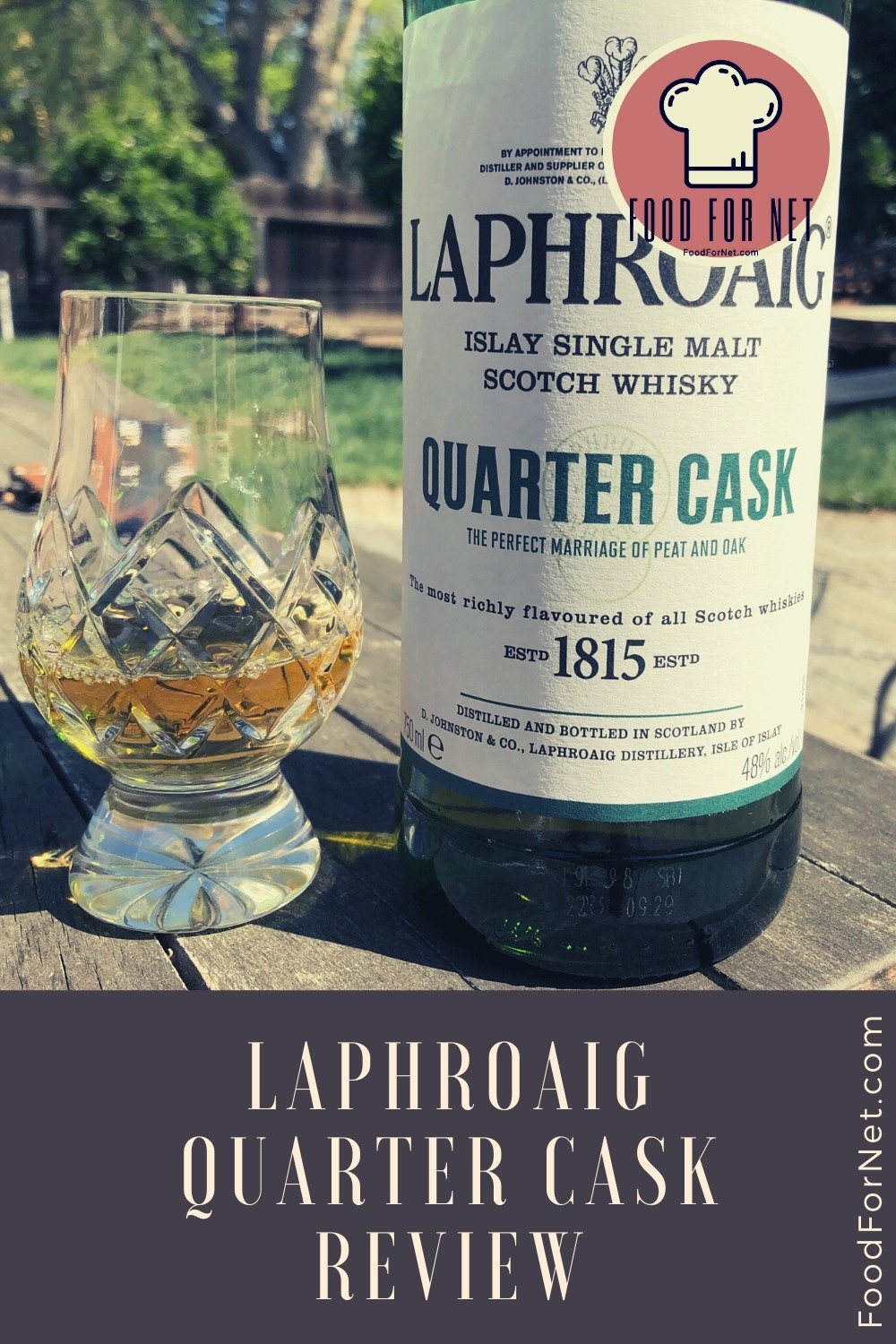 The Laphroaig Quarter Cask is a relatively new scotch whisky made by Laphroaig in replacement of the Laphroaig 10-year-old. In small circles, the Laphroaig 10-year-old was a much-loved dram, but Laphroaig is keen to grow their fan-base and provide a more accessible whisky.
That fan-base expansion also comes at a cost though, as you will find out in this Laphroaig Quarter Cask review.
Laphroaig Quarter Cask Review
About the Laphroaig Distillery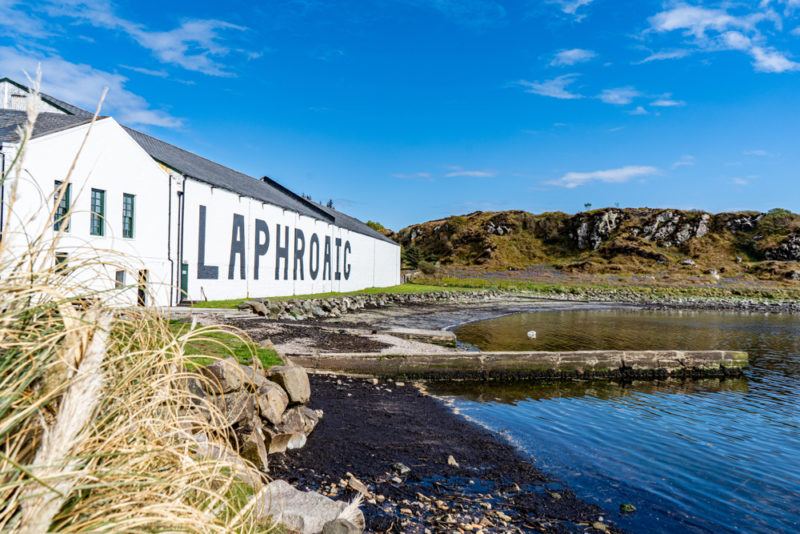 Laphroaig was established in 1815 and is one of the oldest operational distilleries on Islay. Originally, around the distillery, there was a heavy farming community that specifically grew barley that would be sent to be made into animal feed among other things. Farmers realized that they were able to make more money from their harvests by selling whisky than by selling feed for livestock and whisky making had already gained traction by the time the distillery opened its doors.
The original distillery was owned by two Johnstons, a family with ties to other distilleries on Islay and is certainly a big part of Islay whisky history. Laphroaig opened with substantial floor maltings (at the time) and even today, Laphroaig still uses these floor maltings for approximately 20% of their product. The rest of the malt is sourced from the floor maltings at Port Ellen.
This floor maltings is not only important today to Laphroaig but it has been crucial historically. One of the reasons that Lagavulin was unable to replicate the product of Laphroaig during a bitter feud to put them out of business, was because they couldn't replicate the Laphroaig maltings. It may even be so significant a part of Laphroaig that without them, they may well have closed production many years ago.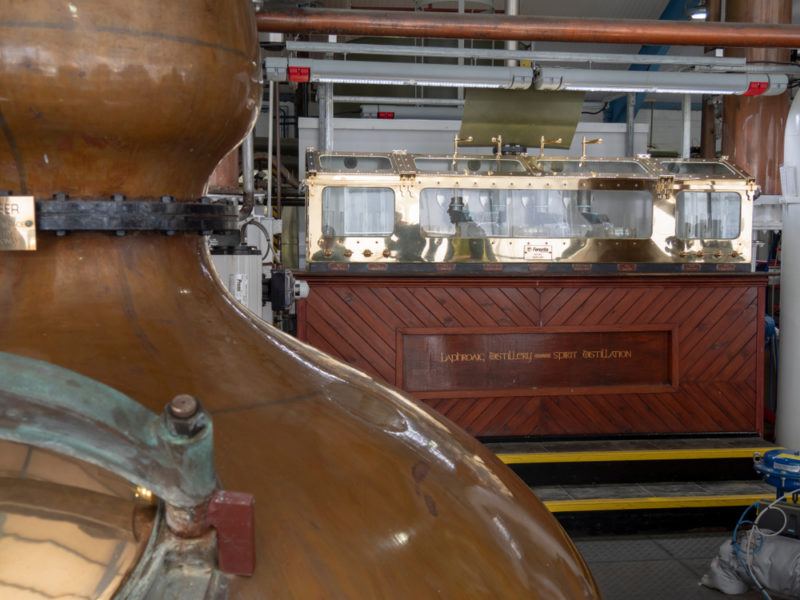 Although a famous Islay distillery, Laphroaig has never quite reached its potential commercially. This is in part because of the unique taste of the whisky which is extremely divisive among whisky experts and amateurs alike. It is also because the company hasn't made a real effort to reinvest in the production and while other distilleries are expanding to produce more whisky, Laphroaig has remained fairly static throughout its history.
This means price-wise, Laphroaig is one of the Islay distilleries that have to charge a high price for their product and because the product has a bit of a love/hate reputation, very few people actually make it to trying Laphroaig. Which is a terrible shame.
One thing that does stand out about Laphroaig is how attentive they are to the products they're putting out and in terms of consistency, few Islay distilleries can compete. Laphroaig is now owned by Suntory, a Japanese drinks company that also owns one other Islay distillery.
Laphroaig Quarter Cask Review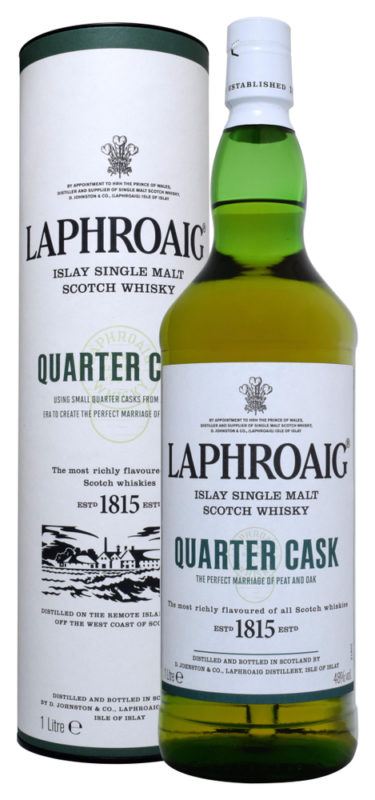 Laphroaig Quarter Cask is a bit of a different whisky in the Laphroaig core line-up and it is the successor of the Laphroaig 10-year-old which is still available, but presumably will eventually be removed from Laphroaig's core offering. Regardless, Laphroaig Quarter Cask has now been available for several years and according to Laphroaig, it is to be considered their entry-level whisky.
It takes its name from the fact that part of the maturation is completed in a quarter cask which is a cask that is quarter the size of a standard cask. The reason for using quarter casks is much like a chef reducing down a sauce to intensify the flavors: the quarter cask is smaller and therefore can more intensely inform the flavor of the whisky.
Interestingly, the quarter casks look like elongated full-size casks rather than miniature casks. This is because the quarter casks have been made from the full-size casts with the rings removed and cut down. Quarter casks at Laphroaig actually resemble long wooden pipes. Maturation in the quarter casks is much faster with only six months needed to impart the same amount of oak as a three-year standard maturation process.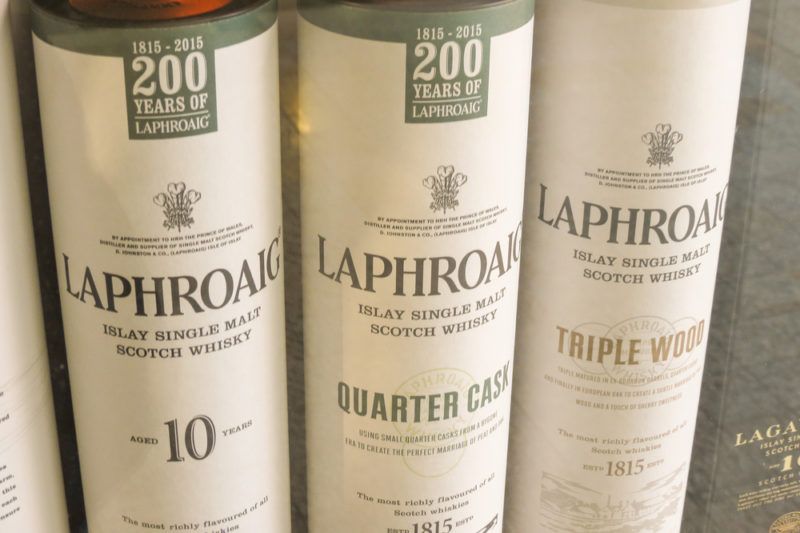 This means that Laphroaig has been able to streamline its maturation process, produce more young (cheaper to make) whisky, and sell it to meet demand without needing to expand the distillery further. Unfortunately, this has meant purists who like age statement whiskies are not happy with Laphroaig and feel like the distillery is cutting corners and not really cutting prices.
A common misconception is that the Laphroaig Quarter Cask uses sherry quarter casks, but this is not the case and you will be disappointed if you're expecting a sherry influenced whisky. The Triple Wood would be the Laphroaig you're looking for. Laphroaig Quarter Cask is matured in American oak casks.
Let's see if that is a fair assessment and taste.
Tasting Notes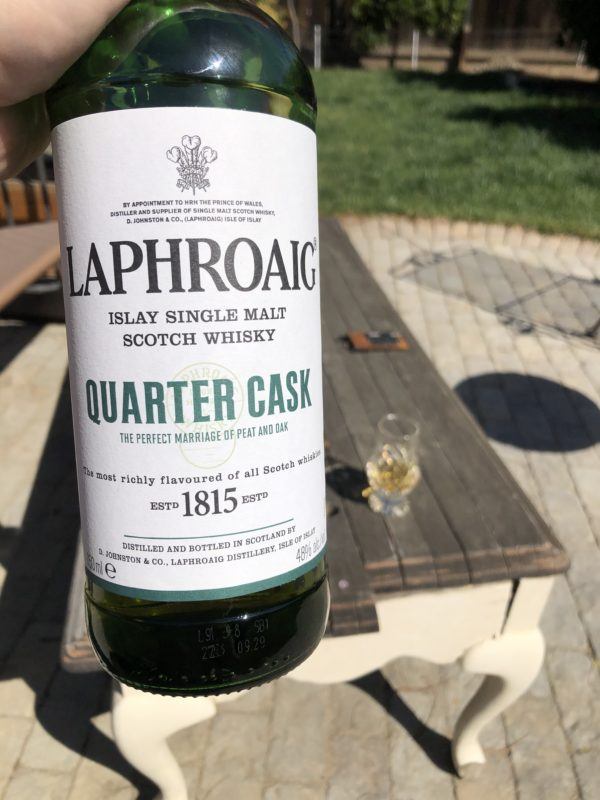 Unsurprisingly, as Laphroaig is guilty of doing it with their other whiskies, they use artificial colors in the Laphroaig Quarter Cask. Surprisingly, even with the additional coloring, it doesn't look the amber brown you would want it to be and instead it is paler gold.
Dry, smoky, and punchy
Rich tropical fruit with intense Laphroaig smokiness
Slight spice finish
Flavors: Ash, dry smoke, bananas, salted caramel, honey, coconuts
On the nose, there is the usual smoke, ash, and bonfire that you expect from a Laphroaig. It has also exotic and tropical fruits that are in the background, like over-ripe bananas that are mushy but extra sweet. Coconuts and toffee caramel sweetness. Laphroaig Quarter Cask is immediately very different from the Laphroaig 10-year-old which has almost exclusively an intense and abrasive smoke aroma. There is more depth in the Laphroaig Quarter Cask.
To taste, it has a substantial alcoholic impact that comes from the 48% ABV bottling. After the initial slightly burning burst of smoke and alcohol, a wave of tropical fruits floods in. Those bananas make an appearance with lots of sweet sugars taking the edge of the smoke and alcohol. They do say a spoonful of sugar makes the medicine go down and it seems they have emulated this with the Laphroaig Quarter Cask.
The finish is drier and spicier and the ash returns, it is not a huge finish but perhaps that is because so much aggressive flavor came before.
Pros and Cons of Laphroaig Quarter Cask
When discussing the good and bad points of Laphroaig Quarter Cask, it is hard not to compare it to its predecessor, the Laphroaig 10-year-old. In many ways, it fares much better than the smoky devil that came before, but it has shortcomings as well.
Pros of Laphroaig Quarter Cask
Affordable Laphroaig offering.
Much more depth compared to Laphroaig 10.
Much more accessible for everyone than Laphroaig 10 because it is less aggressive.
Cons of Laphroaig Quarter Cask
No age statement and corners cut in maturation.
Price isn't much different to the 10-year-old and the Laphroaig Quarter Cask is presumably a lot younger.
Still too smoky to be everyone's cup of tea or drop of whisky.
You Might Also Like…
Laphroaig Quarter Cask has a few similar whiskies from Islay to try which is great if you want to explore the island and find other treasures. If you like Laphroaig Quarter Cask you will like:
Caol Ila 12 – Same smoky flavors but with an age statement and a bit more depth than the Laphroaig Quarter Cask.
Bowmore 12 – Less smoky, more balanced, roughly the same price, a good alternative if Laphroaig Quarter Cask isn't quite what you want from a daily dram.
Laphroaig 10 – It would be rude not to mention the Laphroaig 10. Smokier and more of a kick in the teeth than the Laphroaig Quarter Cask, which is a real treat for smoky whisky lovers that feel a bit let down by Laphroaig Quarter Cask.
The Laphroaig Quarter Cask Verdict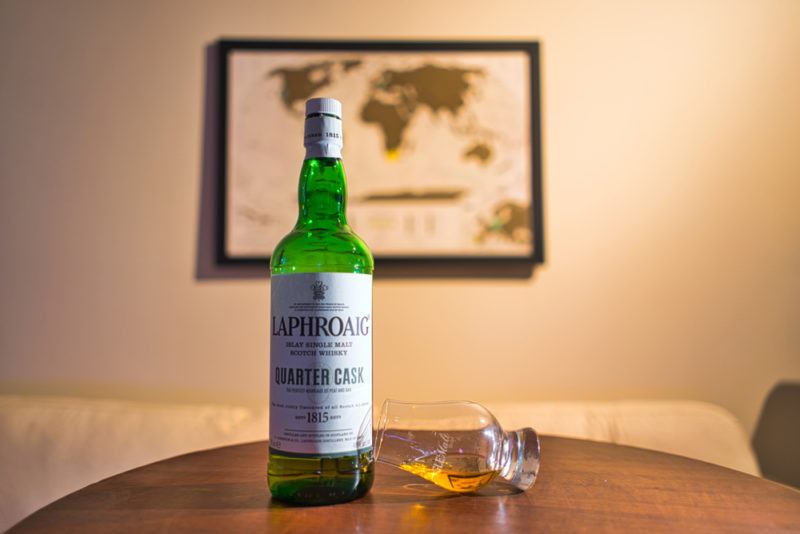 Laphroaig has been incredibly successful in doing several things with the Laphroaig Quarter Cask.
They have created a more accessible whisky that more people will enjoy more often than the Laphroaig 10.
They have significantly reduced the maturation time needed so they can concentrate on getting whisky out of storehouses and into shops.
Presumably, the quarter casks themselves will be refilled and be cycled in a way that will pay off flavor-wise in a few years to come.
They have also alienated a few of their core group of fans and in the short term that is likely to be seen as a bit of a smear on the brand. In terms of profitability and ensuring the whisky keeps flowing long term, this has been a great business decision by Laphroaig and the Laphroaig Quarter Cask is pretty tasty too.