When it comes to scotch whiskies, there are a few brands that stand out in terms of quality. Highland Park should always be considered at the very top of the tree in terms of the absolute quality that they create consistently across all their whiskies. Unfortunately, Highland Park is a distillery that few have heard of and is often overshadowed by more successful distilleries.
Tucked away on the Orkney Islands, one of the most far-flung reaches of Scotland, Highland Park has been producing whisky for centuries and the Highland Park 12 is their entry-level offering. How good is it? Read this Highland Park 12 review to find out.
Highland Park 12 Review
About the Highland Park Distillery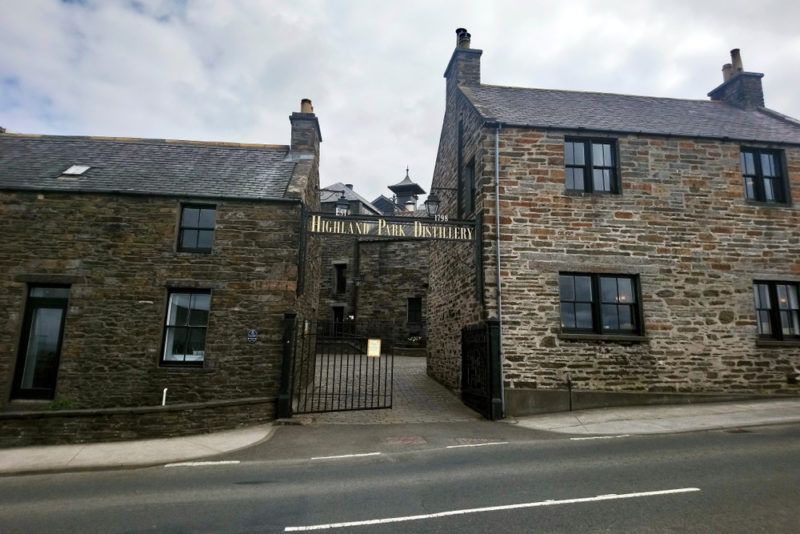 There are lots of things that are unique about Highland Park, but perhaps the most unique thing is its location on the Orkney islands, making it the northernmost scotch distillery in the world.
If the rugged, wind-swept, and harsh island backdrop wasn't enough to entice you, perhaps the fact that they are now considered (alongside Macallan) to be the most sought after whisky producer at auction will.

The Highland Park special releases and limited releases frequently and consistently command very high prices.
The history of the Highland Park distillery is equally impressive. We can trace its roots back to 1798, when Orkney butcher Magnus Eunston was caught illegally distilling whisky on the site that thirty years later would finally be granted an official producer's license.
A common misconception is of course that Highland Park is in the Scottish Highlands, when in fact it is simply situated on a high parkland which it gets its name from.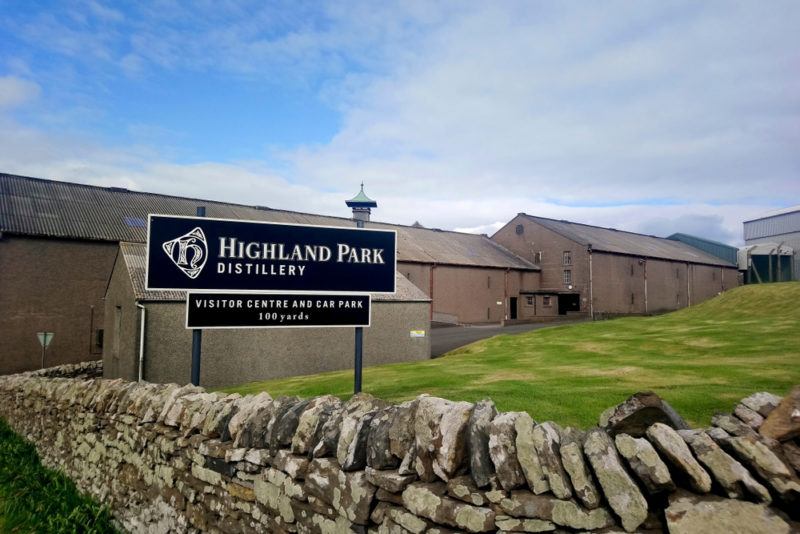 Highland Park peats their whisky, but not to the same high level as the famous peaty whiskies made on Islay. Also, the peat that is produced on Orkney is exclusive to the islands with a distinctive heathery quality that makes the peat smoking particularly floral and invites an additional complexity of aromas into the bottle.
Something else that makes Highland Park that little bit special, is that they prefer to mature their whiskies exclusively in sherry casks.
The Highland Park whiskies are characterized by a light and delicately floral smokiness with plenty of fruits. If you ever wanted to bridge the gap between a mainland distillery and the smoky Islay whiskies, then Highland Park would be an easy choice. The problem is, although you may plan to make the leap, you might not get further than Highland Park itself.
Let's get to grips with the Highland Park 12 and see how good it is.
Highland Park 12 Review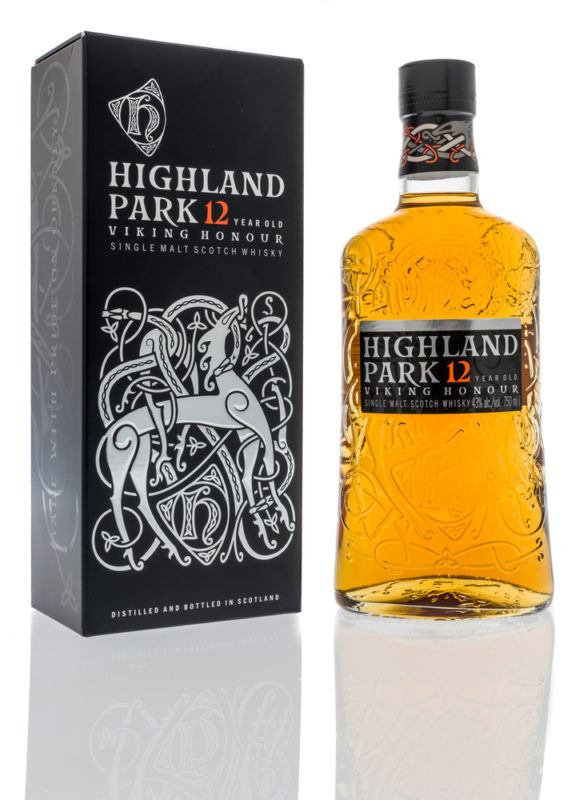 Currently, there are two variations of Highland Park 12 on the market, but the only difference is the branding and packaging. The old bottles are less decorative, with the new bottles bearing engravings and the striking title 'Viking Honour'. Between the two batches, there is no taste difference, with a slight color difference which has been noted as likely because they are from different batches.
Highland Park doesn't artificially color their whisky, so color variations will occur over time. In terms of quality and flavor, rest assured nothing has changed. Highland Park 12 is made in first and refill sherry casks, which gives it a very fruity quality.
Bottled at 40% ABV, it just meets the requirements to be classed as a scotch for alcoholic content and it is surprisingly cheap for such a prestigious distillery, retailing at around the $40 mark depending on where you are in the world.
Highland Park 12 has a screw cork that is designed to keep the whisky fresh and this is an innovation that isn't common across other scotch brands but will likely be taken up as it provides the same initial seal that a cork provides but additional ongoing freshness once opened.
What does it taste like though?
Tasting Notes

Highland Park is a really awesome whisky – so good in fact, that I finished the bottle before I was able to write the review. I display my empty bottles in an outdoor display and they tend to get faded and dirty over time. This one has gone through a rainy winter and a few mud puddles from the wind!
Marvelously sweet and toffee nose
Sweet, delectable, rich, spicy, and a really good treat
Rich and full-flavored from the first sip to finish
Flavors: Toffee, vanilla, double cream, dark chocolate, delicate smoke, Christmas cake, spices, coffee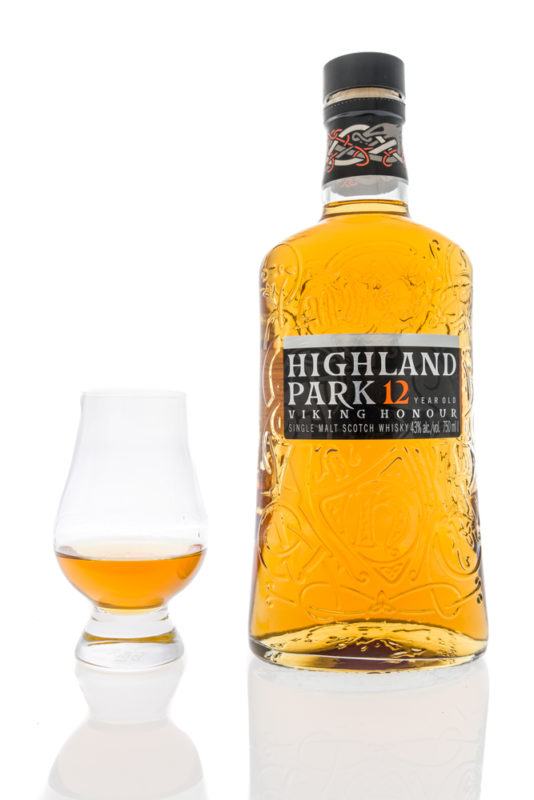 On the nose, it is a highly complex dram with so many different aromas to pick out. Vanilla, toffee, fudge, and cream are immediately there, then you detect the wonderful floral heathery peat smoke. Beyond that, you have the sherry fruits that you can really get lost in trying to discern all the myriad of fruits packed into the bottle. Lastly, there is a little hint of pepper and spice and a tiny bit of oakiness. You won't get much in the way of alcohol smell, as it is not a high ABV scotch.
To taste, it is mouthwatering. It makes you salivate as you drink with plenty of sweetness and fruit that is deeply rich. It tastes like maple syrup, vanilla and toffee all rolled into one. This evolves on the tongue and becomes a spicy and hot cocoa bean and it is similar to a very rich dark chocolate. The smoke is still there and a hint of salt that makes it a little like salted caramel too. The spiciness builds and you enter a gauntlet of 'do you swallow or do you let the heat build further'.
The finish is equally mouth-watering, your mouth washes after swallowing and you are left with a lingering and rewarding roasted coffee bean and rich slightly bitter finish. The bitter note really makes you crave your next sweet sip.
This is a whisky you can't help but smile around as you drink it.
Pros and Cons of Highland Park 12
This is a remarkable entry-level whisky and once you have tried it, you will be astonished to find out that the older whiskies in the Highland Park range are even better with the 18 being particularly great. There are a couple of bad aspects though, so this section tackles the good and bad of Highland Park 12.
Pros of Highland Park 12
You really will be very hard pressed to find a whisky at a similar cost that is as good as this.
Price point is fantastic considering the maturation time and remote location.
For anyone that has a low smoke tolerance but wants to build it, start with Highland Park 12.
Cons of Highland Park 12
Branding and packaging with the Viking aspects seem a bit cliché and cheap.
You will want to try the other Highland Park whiskies and that is going to set you back a pretty penny.
It isn't hugely available across all markets due to limited distillery output.
You Might Also Like…
If you like Highland Park 12, then you should make your way further into the Highland Park range or beyond that, venture over to the wonderfully enthralling world of Islay.
If you like Highland Park 12, you will like:
Caol Ila 18 – Has about the same smoke level (because it had more smoke going in to start) as the Highland Park 12 and will no doubt leave you with the same big grin on your face.
Lagavulin 16 – An older and smokier whisky that has a different combination of flavors but also has the same depth and complexity.
Highland Park 18 – Under $100 which is staggering value, the Highland Park 18 is the Highland Park 12 with an extra 50% maturation time. Heavenly.
The Highland Park 12 Verdict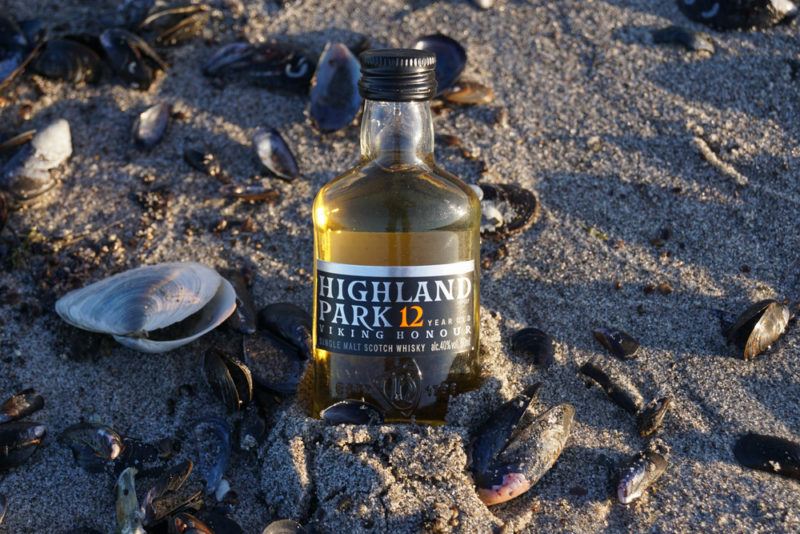 There are plenty of whiskies that can leave you speechless because they have just burned the back of your throat out, but there are extremely few that can do it because of how good they taste.
The most insane thing about Highland Park 12 is that it is aged longer than most Islay entry-level whiskies, is cheaper than those whiskies on the whole, and it is without a doubt better than every entry-level whisky from Islay. It is no wonder that it is many experts favorite inexpensive scotch, and it is also little wonder that the Highland Park 18 is so decorated in terms of awards.
Going further, it is no wonder that the top Highland Park whiskies easily command tens of thousands of dollars per bottle. Is the Highland Park 12 better than the aged Islay single malts? Nope, some are excellent, but the truth is, in a blind tasting, Highland Park 12 would compete with even the very best premium aged scotches.
The downside is the silly Viking marketing, which Highland Park could do with dropping. Nobody wants to pay a premium for a whisky with a horned helmet gimmick. It really is difficult to pick fault with it. Try it and let us know your thoughts!