Kilchoman is a unique distillery on Islay for a few reasons. First, they are the only Islay distillery to not be situated immediately on the coastline and their distillery is actually a bit further inland.
Second, they have a vision of terroir that sets them apart from the other distilleries, believing that Islay whisk should be 'from farm to fork' a 100% Islay product.
This Kilchoman Machir review tackles a highly popular young whisky that has had a few teething difficulties along the way. Let's find out if it is worth the effort!
Kilchoman Machir Review
About the Kilchoman Distillery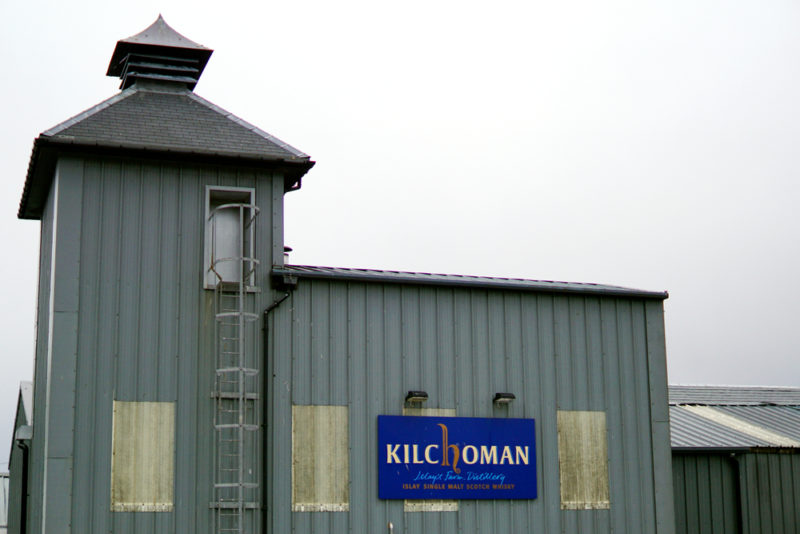 Normally in the whisky review, this section is filled to the brim with long and storied histories dating back centuries. With the Kilchoman distillery, this won't be possible, as we only have just over a decade of history to go into. As you may have now guessed, Kilchoman is a very young Islay distillery that first began production in 2005.
It was the first distillery to be built on Islay in over 120 years and it does things a little differently to the other distilleries. In fact, despite its young age, it does things a bit more traditionally than the other Islay distilleries. That is because the whisky product is grown, malted, distilled, matured, and bottled at the Kilchoman distillery.
While they still make use of the Port Ellen maltings to subsidize their stock, Kilchoman is one of only six distilleries in Scotland that still use a traditional floor malting. Being such a young distillery, this obviously meant that there would need to be a lot of investment to keep the whisky being produced over the initial three years before it could generate sales.
2005 saw the first casks being filled and the first Kilchoman bottling was completed in 2009 – a 3-year-old single malt.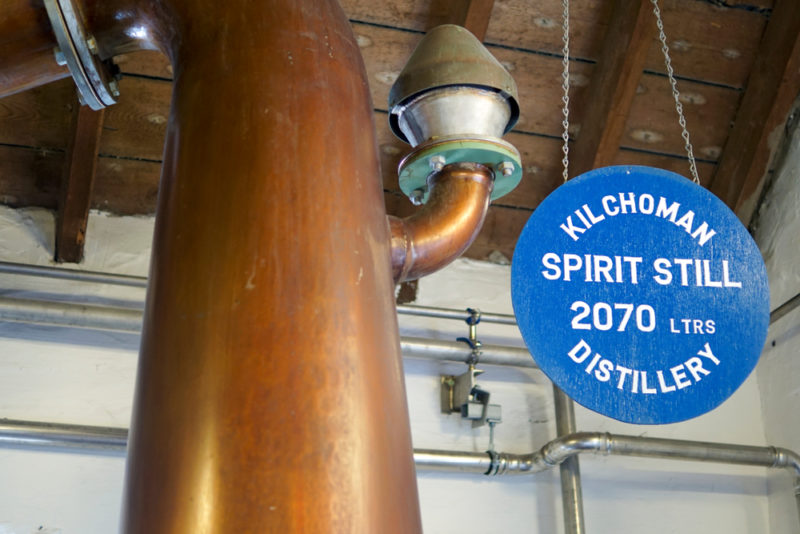 Kilchoman has two variations of smoke in their whisky due to the use of the Port Ellen maltings. The Port Ellen maltings provide Kilchoman with a 50-phenol ppm malt, while the malt that they make in-house at Kilchoman is typically less peaty with a 20-phenol ppm.
Aside from the Kilchoman Machir which is being reviewed here, the Kilchoman distillery is famous for making a 'grain to glass' single malt 100% Islay whisky that celebrates the entire whisky-making process and the terroir of Kilchoman.
Kilchoman Machir Review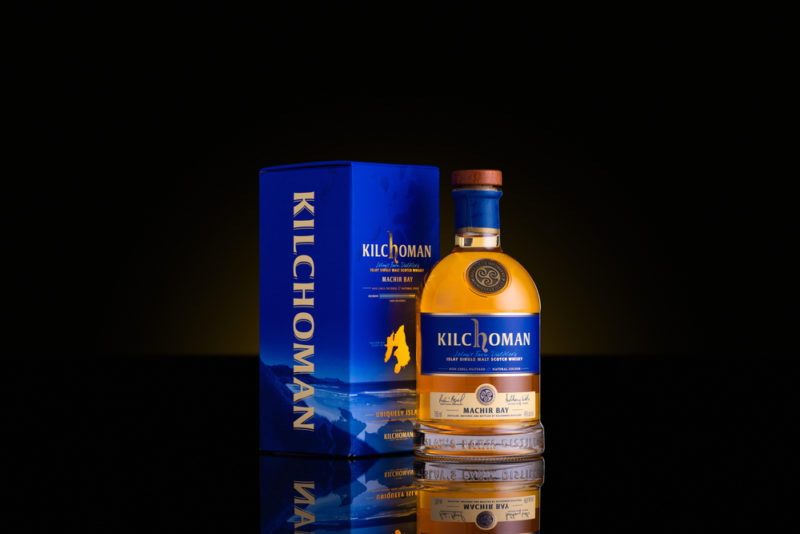 But, enough of the 100% Islay whisky, let's get stuck in with the Kilchoman Machir. Kilchoman Machir, or the Kilchoman Machir Bay as it is sometimes known, is not a 100% Islay whisky because Kilchoman had difficulties making the product.
Essentially, Kilchoman is an immensely popular brand and has had a resounding amount of success straight away. This has meant that demand for the product and the amount of malted barley that Kilchoman could produce on their own floor maltings didn't match up and they had to turn to Port Ellen maltings to get some malt.
Ordinarily, the barley for the Kilchoman whisky is grown on Islay on their own farm, but Port Ellen (although situated on Islay) sources most of its barley from mainland Scotland.
It is for this reason that the Kilchoman Machir and practically all other Islay single malts aren't 100% Islay malts. That is with the exception of the Kilchoman 100% bottlings.
Kilchoman Machir is aged in bourbon (used) casks and sherry casks and is matured for 6 years according to Kilchoman with some younger whiskies added to make up the dram. What proportion of the Kilchoman Machir is 6 years old and how much is younger (cheaper to produce) whisky? Who knows apart from Kilchoman themselves.
Tasting Notes

Kilchoman Machir is uncolored and non-chill-filtered which means, of the Islay single malts, it is very pale. It is as pale and light as sun-bleached straw that has been allowed to sit for weeks in the field after cutting. Being only 6 years old and given the cask types used, this is to be expected, but it doesn't look appetizing.
The question then is should they use artificial colorings, or should they let their whisky go out looking weak and sickly?
Smoky, peaty, and brash
Hints of spice and fruits that round out the smoke
Finish is shortish and a bit sharp with a little alcohol burn
Flavors: Fried fish, lemon, smoked kipper, salt, oysters, prawn cocktail
On the nose, Kilchoman Machir is exactly what you expect from a 50-phenol ppm whisky, smoky, powerful, and dominated by the peat. This smoke doesn't overwhelm entirely and there are plenty of smaller aromas that come out to play. Lemon drizzled pan-fried salmon, smoked kippers and a hint of sea air are all detectable.

The smell is very pleasant given its smokiness and is certainly enticing. It gives your mouth a high level of excitement and expectation.
To taste, it isn't as pleasant as the nose suggested. First, there is a full smoke bomb that detonates on your tongue and then the other flavors emerge. Oysters and prawn cocktail dressing feature a little, so does that bright citrus note. It isn't a smooth whisky and you can half imagine the grains of barley washing around in your mouth. There is also not much depth of flavor, it is there and then it is gone, with no hidden gems in between.
The finish is hot with a short flash of the alcohol that was present with it being bottled at 46% ABV.
Diluted or on ice, Kilchoman Machir is transformed into a much softer, smoky but sweet experience and the finish is smoother too. Neat, given its young age and less than ideal cask type for its age, it is a bit problematic and although it shows promise, it highlights inexperience at the family distillery.
Pros and Cons of Kilchoman Machir

When summarizing the good and bad points of any Kilchoman available currently, you have to be a little forgiving because they are in the unenviable position of getting fully established. Equally, you do need to look at other producers on Islay and assess where Kilchoman fits in.
Honestly, it has a lot of promise, a lot of demand (more than they can cope with currently) and it will one day be a premium Islay brand without a doubt. It has a long way to go though and a lot of catching up to do.
Pros of Kilchoman Machir
It is reasonably priced, although not quite good value for the quality and age.
It celebrates tradition and carries the Islay flag well.
The smoke doesn't drown out other flavors.
Cons of Kilchoman Machir
Packaging and appearance of the actual whisky are not good against competitors.
New brand having to make do with what whisky they have, to meet demand.
Kilchoman Machir will never be anyone's favorite dram.
You Might Also Like…
Kilchoman Machir is a smoky whisky so that immediately puts it in the arena of Ardbeg, Laphroaig, and Lagavulin. If you enjoyed Kilchoman Machir, you will without question like the Lagavulin 16 and the Laphroaig 10.
But there are also other smoky whiskies you will like. These are:
Coal Ila 12 – A smokey and slightly flavored whisky that isn't too dissimilar from the Kilchoman Machir.
Bruichladdich Octomore – If you can get hold of it, this will showcase what a super heavy peated whisky tastes like and would be a good way of tasting an extreme Islay whisky.
The Kilchoman Machir Verdict

The 'farm to fork' concept of Kilchoman is both admirable and endearing. The problems come when profit margins and meeting demand lead to an output of lower quality whisky. Any young distillery has a balancing act of staying operational and keeping quality high, and Kilchoman is currently in a very precarious position.
The reason being, if you are charging $50 for a bottle of Islay scotch then it better be worth that. If it isn't, people will not want to put money into the brand again. It is really hard to say that Kilchoman has the price point right, in fact I would say they definitely don't, but then at the same time, I don't know what their overheads are.
In the future, they will need to either produce a better product that matches the price point, or they will need to cut overheads and put out the lower quality product they are currently.
That isn't to say that it isn't a good whisky, it just isn't as good as other whiskies at a cheaper price. Kilchoman may well be enjoying the fruits of initial excitement but translating that to long term success is going to be tricky without a decent and competitive product.