After reviewing the Caol Ila 12, it seemed logical to move onto its older companion and complete a Caol Ila 18 review.
The Caol Ila 18 asks an important question; what do an additional six years in the barrel do to a whisky? Will it be more flavorful than the younger Caol Ila 12? Read on to find out and much more!
Caol Ila 18 Review
About the Caol Ila Distillery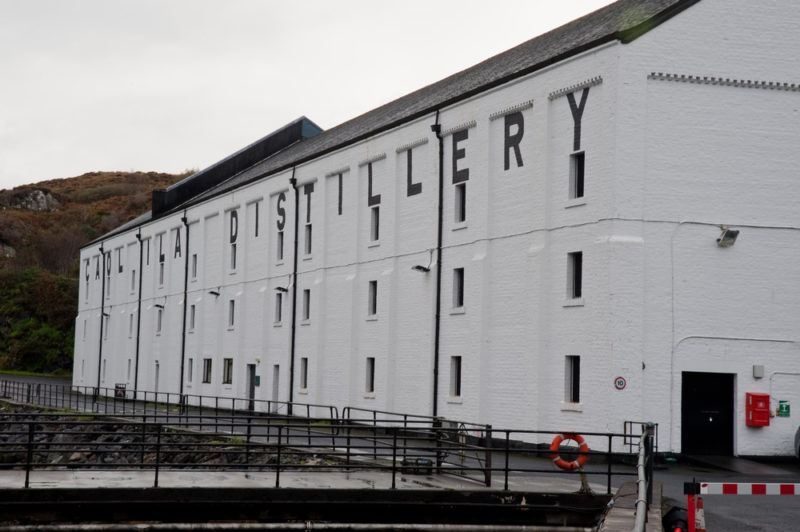 In the Caol Ila 12 review, there was a detailed history of the Caol Ila distillery. This time around, the focus is on how the distillery operates today.
Caol Ila is on the north-east coast of the Islay island and is operated by the multinational drinks company Diageo. It has four bottled whiskies that it produces, with 12, 18, and 25-year-old single malts and an especially boozy cask strength. Despite the popularity of these four bottles, the Caol Ila distillery focuses the bulk of its production on producing single malt for blended whiskies.
Around 95% of their single malt is shipped off and sold wholesale to other whisky producers like Johnnie Walker, Bells, White Horse, and Black Bottle.
Production today is a large-scale commercial enterprise and the distillery is the largest distillery on Islay. On average it produces a staggering 2 million liters of whisky each year, with only a small fraction being bottled and branded with the Caol Ila logo.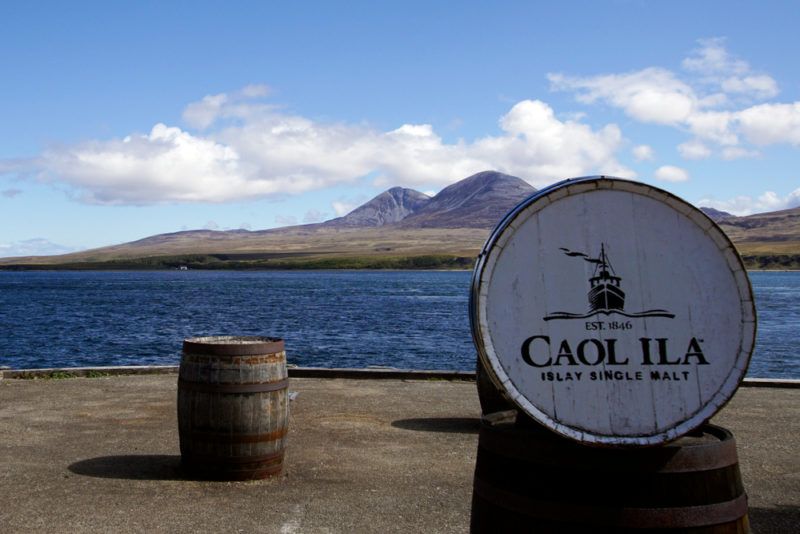 Don't be fooled into thinking the Caol Ila is some modern, mechanical leviathan that has no soul, the distillery still retains a lot of original features and machinery as well as the original pier. The four bottles it produces are to showcase the distillery and are not considered to be a profit-making endeavor, instead they are a labor of love.
Caol Ila is also seen as an outlier among Islay whisky distillers as it produces a non-peated whisky called 'Highland Spirit' and experiments with different casks including American oak casks and occasionally sherry casks. These experiments are bottled and available on whisky exchanges with names like 'Rare Malts' and 'Manager's Dram'.
Caol Ila 18 Review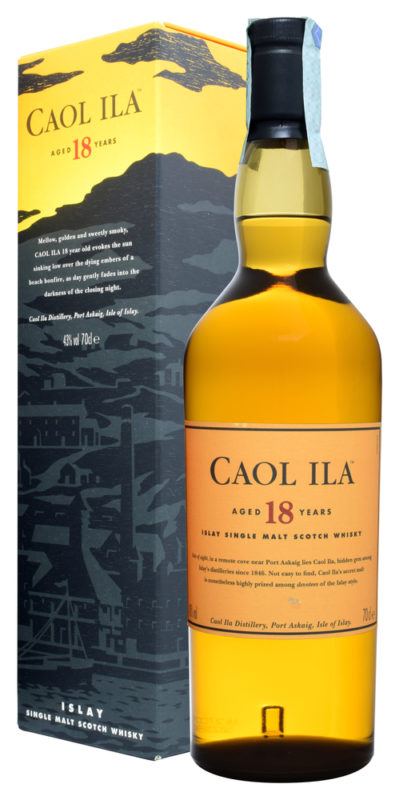 Interestingly, the Caol Ila 18 is discontinued officially and has been withdrawn from most marketplaces. Fans of the whisky in the US are finding it increasingly pricey and difficult to get hold of while European markets have more in the way of stock.
This means that Caol Ila 18 is becoming a rare whisky and one that you should get round to buying and trying sooner rather than later.
There are a couple of theories as to why this is, but the main and most persuasive one is that the blended whisky market has experienced a lot of growth. And, Caol Ila simply doesn't have the capacity to produce enough to make the Caol Ila viable when production could instead be focused on supplying other companies who had increasing demand.
That is a very sad thing though because the Caol Ila 18 is a phenomenal whisky and an enlightening whisky drinking experience that is now going to be relegated to the confines of history.
The whisky was discontinued in 2008 and now the bottles available are those that were sold in the six years it was in production between 2002 and 2008. Given the bottles are still readily available in Europe in 2020, it is fair to say they haven't been flying off of the shelves.
But enough of the swansong, what is Caol Ila 18 and how does it taste?
It is a single malt, stored in American oak bourbon barrels for 18 years. It is a scotch whisky that is heavily peated.
Tasting Notes
The first thing you will notice about the Caol Ila 18 is that it has a bit more depth of color with a more golden hue than the Caol Ila 12. It still carries the straw-like color, but there is a bit more richness now. It also has a fair amount of beading.
A salted caramel taste sensation that has complex layers.
Fruity and mildly smoky with a hint of acidity.
Finishes with a burnt bacon, mild and warm spices, and lingering vanilla.
Flavors: Vanilla ice cream, maple syrup, honey, steeped cherries, oak smoked ham.
Oh boy, this is a really good whisky drinking experience with so many subtle but delightful flavors that are interwoven to create a truly remarkable tapestry of tastes. Better still, there are no frayed edges, the drink is smooth neat and diluted, and doesn't lose character either way.
On the nose, it has as much complexity as it does in the glass, but once again without conflict. Expect bright lemon zest, Christmas spices like cinnamon, and a vegetal, herby undertone that rounds of the smell tremendously.
Taste-wise it is one of the best whiskies in this price range and possibly one of the best whiskies in any price range too. It has deep cherry fruit flavors that have a lovely honey glaze as well as the peaty smoky underpinnings you expect from an Isley whisky. It also has the same salty kick that the Caol Ila 12 has, but with plenty of sweetness to balance it out this time.
Lastly, the extra six years in the barrel has really imparted a real woody oaky body, and the Caol Ila 18 is reminiscent of tucking into a honey glazed pork spit-roast that has spent a little too long over the fire and picked up a wonderful charred quality. The rich oil and smoke finish is nicely laced with sweet vanilla and seals in that wow factor.
Pros and Cons of Caol Ila 18
There are some really outstanding positives for Caol Ila and also a few big setbacks. With whisky making, it is oftentimes the commercial aspect of the process that gets in the way of casual enjoyment among enthusiasts, and this certainly seems to be the case with Caol Ila 18.
Pros of Caol Ila 18
Some whiskies are hard to describe how good they are, Caol Ila 18 is one of those!
It is currently priced very competitively, and stocks are still reasonable in European warehouses.
It has a consistent flavor both when neat and diluted.
Cons of Caol Ila 18
It is pretty much unavailable in the US now with the exception of a few small marketplaces.
It is going to become more of a commodity and prices are likely to increase over the next few years.
It is a fantastic single malt whisky product that has been discontinued despite it really showcasing the distillery's whisky-making prowess.
You Might Also Like…
When looking for whiskies that can compete with Caol Ila 18 for its sheer drinking pleasure, you will be hard pressed to find a bottle of the same quality at the same price point.
The whiskies that are on par at the same price point are:
Bowmore 18 – A slightly less sophisticated whisky that has a lot of the same flavor notes and a better price per bottle.
Talisker 18-Year-Old – Similar in price to Caol Ila 18 and equally as exciting and pleasurable to drink. When the Caol Ila 18 runs out, this might well be the single malt that fans turn to.
Whiskies with that are more expensive but are sensational too are:
GlenDronach 21 Parliament – A pricy but amazing whisky drinking experience that is easily on par with Caol Ila 18.
Bruichladdich 25 – Much more expensive, and as rare as Caol Ila 18 soon will be with only 8,500 bottles produced, this is a really special whisky drinking experience.
The Caol Ila 18 Verdict
So often with whisky, the phrase 'you had to have been there' is used to describe a bygone but amazing whisky product. Caol Ila 18 is one of those last chances to taste a whisky before it is extinct, and it is a whisky sensation that isn't easily equaled elsewhere.
Many other whiskies have become mythical on the back of their reputation like the Bruichladdich 4X, and young whisky enthusiasts are deprived of the opportunity to have those life-changing experiences.
Caol Ila 18 is a whisky that you should be clambering to buy in the first instance so that you can taste it or preserve that little bit of whisky history. It deserves all the praise it gets across countless reviews online and given the price, it surpasses expectations. Don't be fooled into thinking the Caol Ila 12 is comparable to the Caol Ila 18, they are two very different animals.
Caol Ila 18 has that sense of occasion and arrival, it has found its place in the world and staked out its territory, only for the distillery to cruelly deprive us of any more. It is hope and despair in a whisky glass and it is worth every penny and then some.