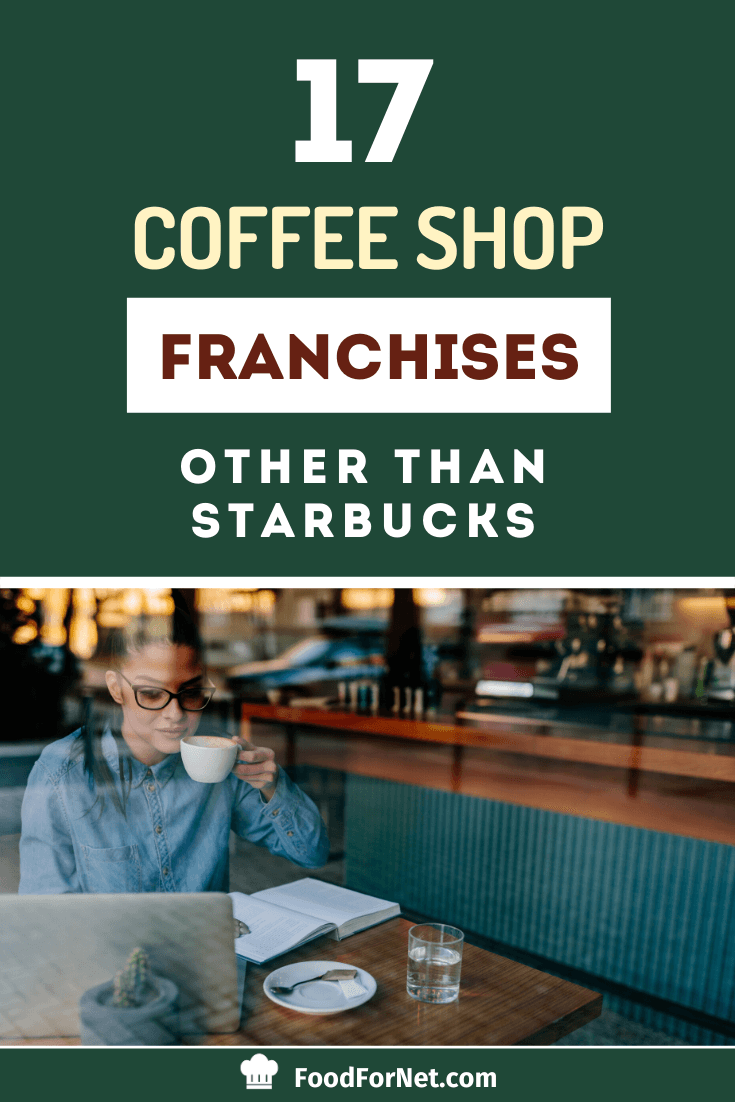 Starbucks has been established as the mainstream chain that serves classic espresso drinks, coffee, tea, pastries, and the frozen delicacy known as Frappuccino since the early 2000s. They have set the standard for what specialty coffee means for many people. This has led to success for many other coffee spots for customers to partake in flavorsome caffeinated beverages and other goodies, all while enjoying a carefully curated café atmosphere.
Many people already frequent their favorite Starbucks location, but there are so many available options that are comparable to this standard. If you are tired of your Starbucks routine, but want a place that has your triple shot, half-caf, skinny, four pump sugar-free caramel mocha, look no further.
When you are ready to branch out and try a new venue for coffee, here is a list of 17 alternate franchises that offer similar drink, pastry, and merchandise options to shake up your routine, with a few specialties of their own. Try one of these shops located all around the US and beyond.
Going North? Here are 19 more coffee franchises you can find in Canada.
Going East? Here are 10 native UK Coffee chains to hit up.
17. Biggby Coffee
This East Lansing, Michigan based chain is quickly becoming the popular spot to get your caffeine fix across the Midwest. Biggby Coffee has 100 locations that span from Wisconsin through Ohio.
They offer espresso based iced and hot drinks, smoothies/milkshakes, brewed coffee, and light food such as pastries and fruit cups. Try their seasonal specials such as the Peppermint Stick Mocha. Also get a free drink on your birthday or surprise your friends by having Biggby Coffee cater your next gathering.
url: http://www.biggby.com/index.php
16. Caribou Coffee
Located in many Southeastern states as well as Colorado and the Midwest, Caribou Coffee has many classic coffee drink offerings such blended Caribou Coolers or even tea lattes.
They have a list of lighter drinks for the calorie conscious and also the old favorites like the Americano. You can also find their coffee beans for sale in the form of K-Cups or by the pound in the grocery store.
url: https://www.cariboucoffee.com/home
15. Colectivo Coffee
With 16 locations in the Wisconsin locales of Milwaukee and Madison, Colectivo is a state specific station for caffeinating beverages and food. They have an extensive breakfast and lunch menu that exceeds the ready-made options Starbucks is known for, including a smoked salmon bagel and substantial falafel burger or grilled cheese.
Their menu is simple, but they have a selection of flavored syrups to add to beverages like the latte or Italian soda. Try the espresso shake, which is scoops of vanilla ice cream blended with shots of espresso.
url: http://colectivocoffee.com/
14. The Coffee Bean & Tea Leaf
Operating since 1963, this store not only serves popular coffee and tea drinks, but is also one of the oldest specialty coffee and tea retailers in the United States. They have over 1000 locations worldwide and also sell their products online.
The Coffee Bean & Tea Leaf has a large presence in the home brewing coffee market. Look for their products in the grocery store or sign up for a subscription service to have your favorite blends in the form of K-Cups mailed directly to your home to use with your Keurig machine.
url: http://www.coffeebean.com/
13. Crazy Mocha Coffee Company
Taking inspiration from the surrounding areas of Pittsburgh, Pennsylvania, this coffee company designs each location to compliment the feel of the neighborhood. Visit one of the 29 locations in the region and get a glimpse of the different themes this shop embodies.
They allow extensive use of their wireless internet, which is a particular draw for customers who like to work remotely. Try the frozen hot chocolate or their chai latte, both of which have been highlighted as fan favorites.
url: https://www.crazymocha.com/
12. Dunkin' Donuts
This long-established chain got the attention of coffee lovers in the early 2000s by offering a selection of hot and iced coffee drinks that pair very well with their doughnuts. Dunkin' Donuts offers coffee for home brewing and is especially known for their iced coffee.
Try the Caramel iced coffee, which is comparable to the well-known Starbucks Caramel Macchiato. They also serve lattes and gallon sized Box O' Joe for parties.
url: https://www.dunkindonuts.com/dunkindonuts/en.html
11. Gloria Jean's Coffee
Started in Chicago in 1979, this franchise has 100s of locations in the US and around the world. Known for their frozen chiller drinks and other classic espresso drinks, be sure to try the specialty crème brûlée latte with whipped cream.
Gloria Jean's Coffee is also available for purchase with K-Cups available for Keurig brewing machines. You can purchase online or in the grocery store.
url: https://www.gloriajeans.com/
10. The Human Bean
If you like the drive-thru aspect of Starbucks and want to try something new, the Human Bean is easily a top choice for this convenience. Serving a complete range of hot or iced espresso drinks, coffees, and smoothies, they have all the specialty items you love with the ease of drive-thru only service.
Order an eggnog latte hot, iced, or as a frosty granita to feed cravings for this seasonal treat. With locations across the Western US, Colorado, and North Carolina try this tiny coffee house out.
url: http://thehumanbean.com/
9. It's a Grind Coffee House
Featured in the Showtime TV show "Weeds", It's a Grind Coffee House has numerous specialty espresso drinks, traditional coffee, smoothies, and baked goods at its many locations across the United States. Relish their pumpkin caramel pecan latte and enjoy the cozy atmosphere of this popular café.
url: http://www.itsagrind.com/
8. Jittery Joe's
This coffee shop is localized to the state of Georgia and has just celebrated their 21st anniversary and have a special blend to commemorate it. They serve everything from lattes to baked goods and even do coffee catering for offices or parties.
If you don't live in this region, you can purchase their beans online in vintage 12 ounce tin cans that make excellent keepsakes. They also do coffee subscriptions for the adventurous.
url: http://www.jitteryjoes.com/
7. Joe Muggs
If you like browsing books or magazines at your coffee shop, why not visit Books-A-Million and drink coffee too? Located in the popular bookstore, Joe Muggs is a great choice for book lovers and has a larger selection of reading material than most coffee shops.
They also have adorable book and movie themed travel cups for sale. Taste the spicy gingerbread mocha adorned with whipped cream and chocolate syrup or one of their cookies.
url: http://www.booksamillion.com/joemuggs
6. Peet's Coffee & Tea
This California coffee company pre-dates Starbucks and even provided a storefront model for the popular company. They also were one of the first roasters to introduce darker roasts, which are loved by so many coffee drinkers today.
They have over 100 storefronts located mainly in the West coast states. If you aren't nearby and want to try their rich, dark brews or flavored coffees and teas, check out the dedicated retailers at many hotels and grocery stores around the country where you can get K-Cups or bags of beans at many locations all around the country.
url: http://www.peets.com/
5. PJ's Coffee of New Orleans
Located mainly in New Orleans, PJ's Coffee is a local favorite. As a symbol of French heritage, they feature the fleur-de-lis on their cups.
They are known for their special smooth cold brew coffee and also serve a selection of smoothies and organic hot tea. Try the Vienna Crème latte for a taste of New Orleans. A large selection of different coffee roasts and blends are available for purchase online.
url: http://www.pjscoffee.com/
4. Port City Java
Primarily situated in North and South Carolina, Port City Java is a growing chain of coffee houses. They serve your favorite hot and iced coffee drinks with a copious selection of specialty beverages such as the black and tan mocha or the almond joyful latte. If you want to try their offerings, order their coffee beans or merchandise online.
url: http://www.portcityjava.com/
3. Saxby's Coffee
Saxby's is headquartered in Pennsylvania and has locations across the North and Southeastern US. They have a swanky atmosphere, but serve your coffee favorites and have specialty selections on the menu at each location.
Sample the classic caramel macchiato or the British Islander, which is a delightful blend of macadamia nut, English toffee, and white chocolate with espresso and milk.
url: http://www.saxbyscoffee.com/
2. Seattle's Best Coffee
Headquartered in the coffee capitol of Seattle, this coffee company has been around for more than 40 years. They not only have storefronts with treats such as the s'mores mocha topped with mini marshmallows, but also sell beans by the pound or as K-Cups in most grocery stores.
You can get a taste of their coffees and snacks at one of the many locations across the United States or at your local food store.
url: http://www.seattlesbest.com/
1. Tully's Coffee
Billed as the friendly neighborhood shop, Tully's began in Seattle, like many a famous coffee house. They sell brewed coffee, espresso drinks, and also have K-Cups and whole bean coffee for sale where you like to buy groceries. They have an excellent intense dark chocolate mocha that is divine. Find a storefront on the west coast or buy their coffee online and taste for yourself.
url: http://www.tullyscoffeeshops.com/
---
Personally, I think Starbucks is alright. They get a bad rap as being too corporate, and if you stick to real coffee instead of the Pumpkin Spice Latte or Frappuccinos, it's decently priced. A doppio machiatto is only $2.05 where I live, and a tall cup of brewed coffee is about $1.75. I'd rather drink that than gas station coffee or McDonald's coffee for sure!
Also, when you travel, you know 100% where to get a reliable cup-o-joe. When I lived in rural China (5 years), I couldn't get coffee anywhere but McDonald's, and I had to take a 2 hour bus ride to the nearest city with a Starbucks!
I do love supporting local businesses when I can though, and I sure do wish we had some 3rd wave coffee chains out here in the Central Valley of California. Oh hey, and if you end up traveling to Canada, here are 19 more coffee franchises you can find there.
What's your opinion on Starbucks and the state of coffee or coffee franchises?