Lagavulin 16 was mentioned in the Lagavulin 8 review as a whisky you might prefer to try instead. There are many reasons for this, which were all covered in the previous review, which means all that remains to be done is to tell you all about Lagavulin 16.
Lagavulin 16 is a whisky that has had an interesting history and is considered a classic single malt whisky that is a must-try for anyone remotely serious about trying whisky.
It is also (although Laphroaig might dispute this) considered the most popular smoky whisky available and frequently outperforms other Islay whiskies in sales.
Of course, popular doesn't always mean it is the best, and it might not even be good. This Lagavulin 16 review gets to the bottom of this scotch and the bottom of a few drams too!
Lagavulin 16 Review
About the Lagavulin Distillery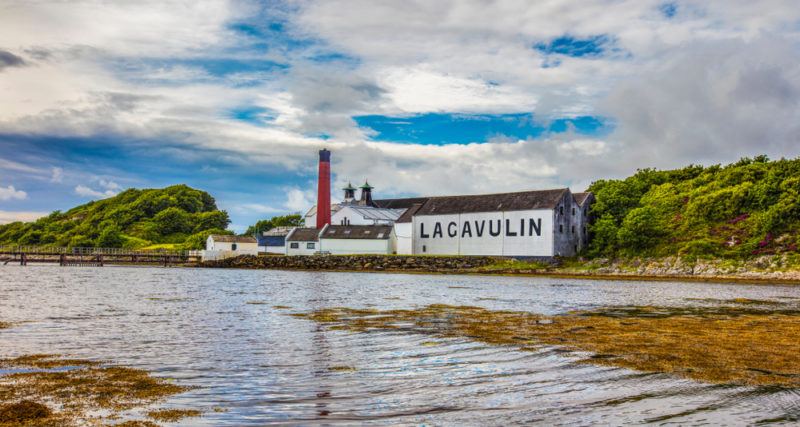 For a detailed early history of Lagavulin, check out the Lagavulin 8 review, this will pick up where that review left off, and rather fittingly with the fierce rivalry between Lagavulin and Laphroaig.
Both the Lagavulin and the Laphroaig distilleries sit on the south coast of Islay, in very close proximity to one another. Both produce smoky heavily peated whiskies and both have a bitter resentment of one another.
This resentment has no doubt subsided over the years, but it is definitely fair to say that today there is a lot of healthy competition with both looking to produce the finer whisky product.
On a commercial basis (not a limited run or distillery special) the Lagavulin 16 is the Lagavulin's flagship product. On the other side of the fence, Laphroaig produces a 10-year-old scotch that is aggressively smoky and although not as well-received commercially, is adored by whisky enthusiasts.
You may think that it stands to reason that two local distilleries would have a rivalry, but this runs a little deeper and started just before 1900 when Sir Peter Mackie took over the Lagavulin distillery and then did everything within his power to put Laphroaig out of business.
As if putting the rival distillery out of business wasn't enough, Mackie secretly coveted the famous Laphroaig whisky and wanted to steal the recipe and make it at Lagavulin instead.
Court battles ensued that cost both distilleries a lot of money but especially for Laphroaig. This is because among other things, Mackie had tried to disrupt the water supply to Laphroaig and there were times when Laphroaig found themselves unable to produce as much whisky.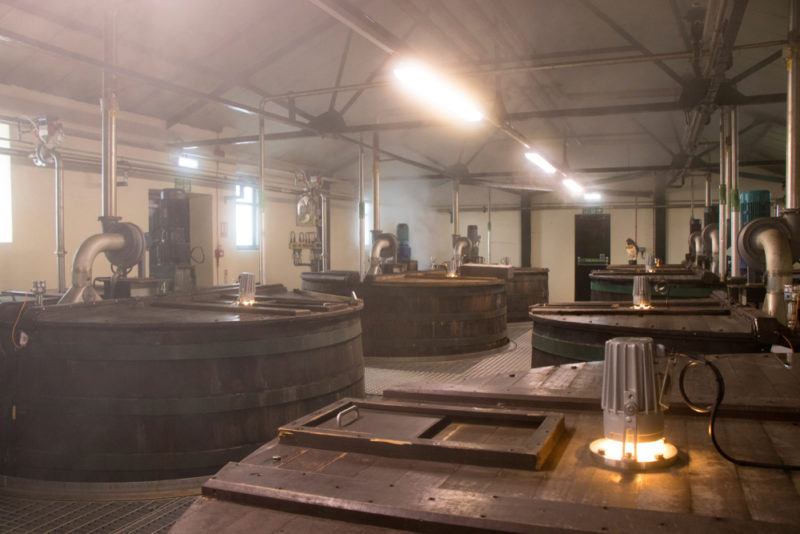 Without a water supply, there can be no whisky. Mackie also stole processes and equipment designs (including their stills) and tried desperately to replicate the Laphroaig whisky at Lagavulin.
The problem is that he couldn't. Laphroaig had some natural advantages that Mackie and Lagavulin simply couldn't recreate. First, the water that was available to Lagavulin wasn't the same as the water that Laphroaig had in terms of composition.
Secondly, Laphroaig had their own peat fields and lastly, they had their own original floor malting. This meant that the Laphroaig product could only realistically be produced by the Laphroaig distillery.
Eventually, after legal battles that went on for several years, Laphroaig gained the right to operate without interference from Lagavulin. And, today although the whiskies share some similar qualities, the single malts produced by both distilleries are very different from one other.
Lagavulin 16 Review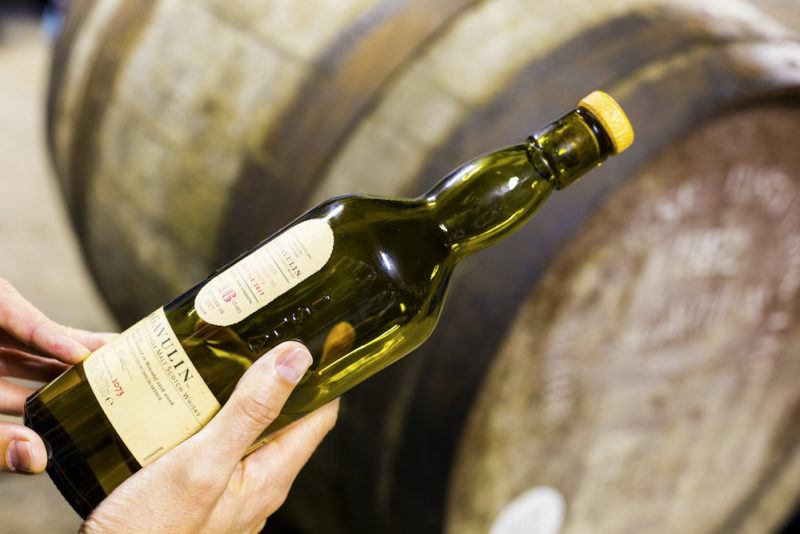 The Lagavulin 16 itself is a whisky with plenty of accolades and a history all of its own. In fact, among the world of single malts, you will be hard pressed to find a bottle that has consistently bought in awards year in year out. That is a remarkable achievement.
Lagavulin 16 is a twice distilled single malt whisky. The first distillation process is through a wash still for around 5 hours, then it gets passed through a spirit still for a further 9 hours.
This double distillation is actually the slowest distillation of any distillery on Islay. The Lagavulin distillery is also renowned for its unusual pear-shaped stills which are used to concentrate the flavors and aromas of the whisky.
Once distilled, the whisky is stored in ex-Bourbon (US) casks and sherry casks. The final product is then a combination of the two cask types to maintain a consistent taste and sweetness. Lagavulin no longer operates a malting floor (this closed in the 70s) and now use a local maltings called Port Ellen.
The Lagavulin 16 is of course aged for 16 years in the barrels which is a longer than average time frame for a flagship product. Most commercial whisky producers will opt for a 10 or 12-year maturation process because this allows them to keep costs down and market the bottle at a competitive price. Lagavulin 16 is not a price-driven whisky which we will address further down in the pros and cons.
It is also the oldest whisky in the modern Islay line up with over 60 years of service so far and given its success, many years to come.
Tasting Notes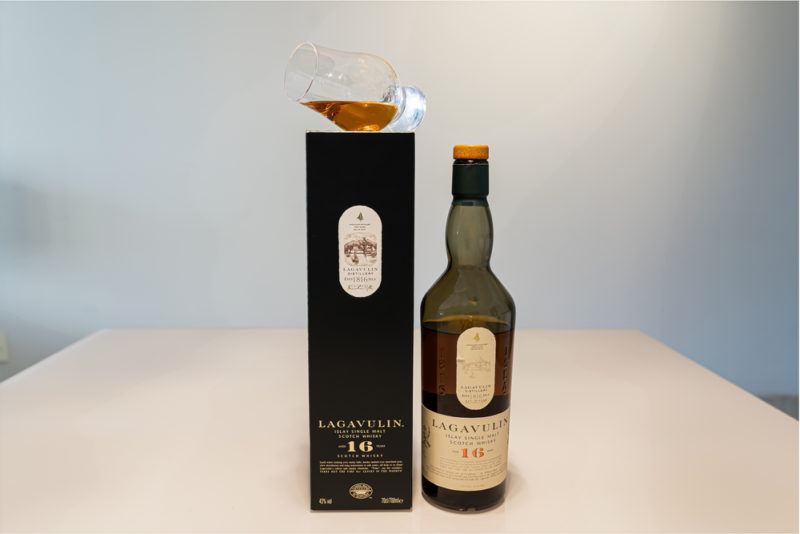 The Lagavulin 16 is a caramel-colored whisky that doesn't have quite as much color as you might expect from a 16-year-old whisky. It still retains some light coloring.
A strong peated and smoky flavor
Plenty of complexity imparted by the casks during the long maturation
Bold and intelligent – really showcasing Islay style whiskies
Flavors: Smoky peat, tropical fruit, hint of citrus lemon/orange, smoked kippers, brine/saltwater
On the nose, as soon as you open the bottle you will be overwhelmed by a warm and enticing heavy smoke aroma that is pervasive. It is a heavy smell that is so dense that it may take a little while to discern other aromas that come through. It has another smaller but characterful smells that skip along merrily after the smoke has bulldozed their path.
These aromas are seaside salts and a dancing sweetness. The last smell that is detectable is one that is a little unfortunate as there is also a rotten seafood smell that seems to be a marriage of the bitter salts and the heady sweet notes.
To taste it is an intense peaty smoky flavor that is not for the faint-hearted. Lagavulin 16 is not a whisky for those that don't like smoky whiskies. The interesting thing about Lagavulin 16 is that it carries a lot of dryness into the mouth, which is a result of the dry peat smoke.
Although the distillation process removes the salt content from any water used, there is a wisp of saltiness to the whisky which is like an imprint of what was once there – but isn't there anymore, as salt isn't in whisky.
After the smoky flavor disperses across the tongue, the dryness goes into a warm almost spicy dryness that then ushers in a decadent sweetness that is rich and juicy like tropical fruit. Thankfully, the rotten fish aroma doesn't translate into the flavor. There are also dry oak notes present.
Diluting the whisky tapers the smoky flavor a little and allows other smaller flavors to appear. It also allows the bittersweetness to ring a bit more clearly.
Pros and Cons of Lagavulin 16

Lagavulin 16 is a must-try for any self-respecting whisky taster and is considered the cornerstone of Islay scotch whiskies. If you couldn't tell from the pictures, I actually finished the bottle before writing this review, so that may be an indication as to how good this whisky really is. I like to save my bottles on an outdoor display, so they tend to get faded in the sun and rain!
It is also a south Islay whisky, known for the heavy smoke process and a whisky that shouldn't be ventured into too soon as a result. If you try Lagavulin 16 without having tried other more mellow smoke-based whiskies you may be put off.
Interestingly, despite the long maturation process, the intense smoking process before storage has meant that even after 16 years in the barrel, the smokiness hasn't diminished considerably which is normal for long-aged Islay whiskies.
Pros of Lagavulin 16
No whisky expert could claim to be one without trying Lagavulin 16.
Award-winning and widely enjoyed.
If you have a smoky whisky palate, then Lagavulin 16 will without doubt be one of your top 10 whiskies.
Cons of Lagavulin 16
It is really expensive for a mass-produced single malt whisky and it is hard to justify the price compared to other mass-produced Islay whiskies.
It is not going to be a good whisky experience if you don't tolerate smoke flavors well.
Lagavulin 16 doesn't have good flavor consistencies over the years with some being much smokier than others, this means returning fans find it frustrating if they liked a previous batch's flavor.
You Might Also Like…
If you enjoy Lagavulin 16 you will most likely be buying Laphroaig 10 more often than you purchase Lagavulin 16. This is because the Laphroaig has the same rich smoky quality (more so) and has a much friendlier price point.
Other than the Laphroaig 10, there are a few other Islay whiskies you might want to try if you love Lagavulin 16, these are:
Lagavulin 8 – A brighter, simpler Lagavulin that is limited edition and carries the same smoky quality.
Ardbeg Uigeadail – A less smoky but equally delicious Islay whisky drinking experience.
Laphroaig Lore – A 2016 distiller's whisky that has all the aggressive smoky quality of a Laphroaig with a lot more complexity due to mixed cask storage.
The Lagavulin 16 Verdict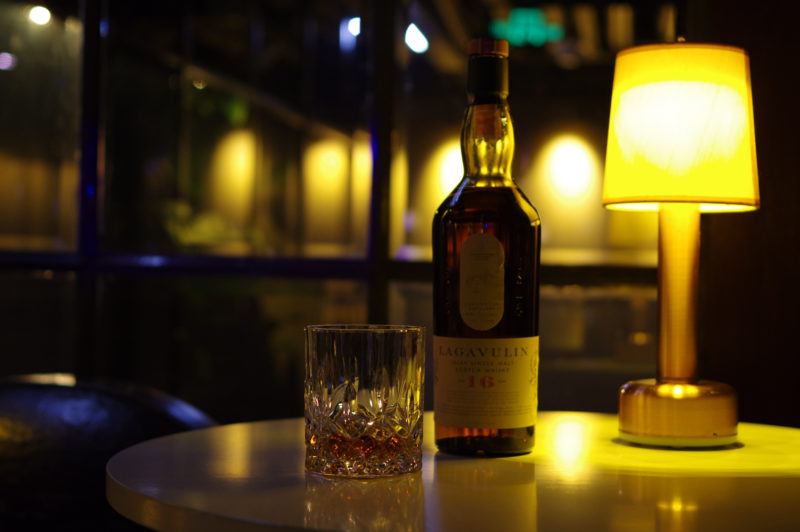 There is an expression among whisky tasters and connoisseurs that you can always tell whether someone likes a smoked whisky or doesn't with Lagavulin 16. If they do, it will be among their favorite whiskies because it is that good, but if they don't it will be among their most disliked whiskies.
Lagavulin 16 is the marmite of whisky, you either love it or you hate it. There is no in-between here.
The recommendation would be to build up to a Lagavulin by trying less smoky Islay whiskies first like the Caol Ila 12. Once you have built your palate and know what flavors to expect as well as what flavors to look for, then Lagavulin 16 will no doubt be a fantastic drinking experience (for better or for worse).
Finally, Lagavulin 16 is a fine whisky with a lot of character and complexity that has won the hearts and minds (and awards) of many. It isn't going to be for everyone though, you just need to work out which side of the smoky fence you fall on as a whisky drinker.