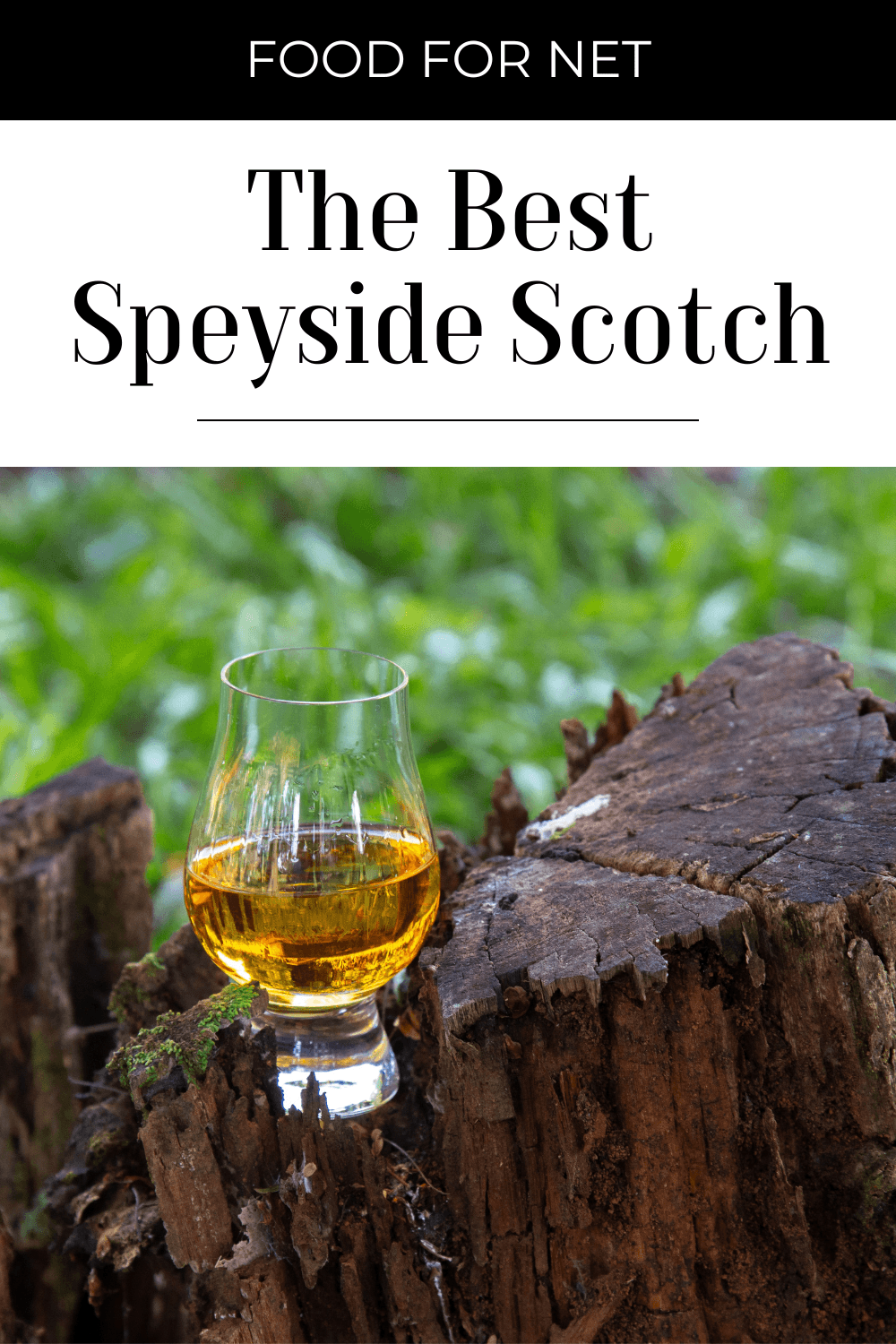 If you're a whisky lover, you've probably tried at least a few Scotch whisky expressions. You might have even signed up for a Scotch whisky of the month club. But, did you know that there are five different Scotch whisky regions, each with its own unique characteristics? Today, we're interested in highlighting the best Speyside Scotch distilleries.
Speyside is found in the northeast of Scotland, around the River Spey. It is actually a sub-region of the Highland whisky region but is distinct enough to have its own designation.
What's more, Speyside is crammed with distilleries. The small area hosts more than 60 individual distilleries, making it more densely packed than any other part of Scotland. There are even more distilleries here than in the rest of the Highland area, even though Speyside is much smaller.
Whisky produced in this area tends to be fruity, often with notes of pear and apple. Vanilla, spices, and honey can feature as well. Peating tends to be limited, so these aren't very smoky expressions. However, distilleries do tend to rely heavily on sherry casks. These create a distinct flavor in the whisky, one that many people love.
The Best Speyside Scotch
The Macallan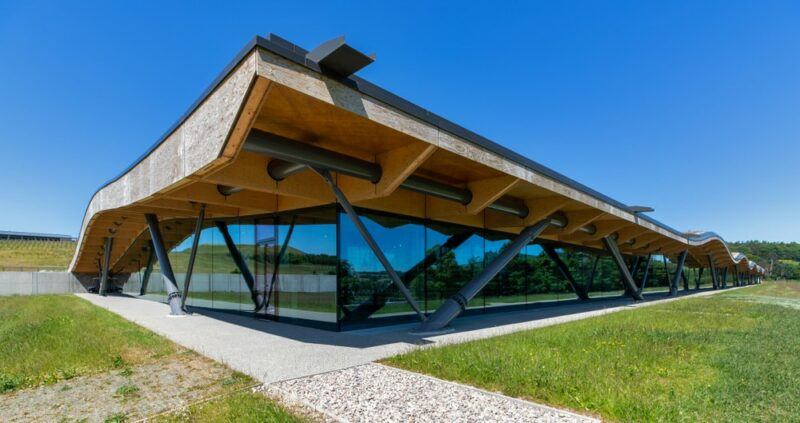 The Macallan is well-known as a refined Scotch whisky brand, with a strong focus on quality and craftsmanship. Their ranges include The Macallan Double Cask, Sherry Oak, Triple Cask Matured, Rare Cask, and more, not to mention their limited releases, each of which is unique and tells its own story.
The whiskies are aged in seasoned sherry casks, which creates a refined flavor profile. The Macallan isn't the only whisky brand to age their whisky in this way, but they're easily one of the most famous.
The Macallan was established back in 1824, so the distillery has a long history to call on. It's no wonder that they consistently produce popular whiskies. The distillery is even known to experiment and some of their experimental releases can be truly incredible.
Expect a smooth and balanced whisky with The Macallan. It's also an easy-to-drink single malt, with minimal peat, making it an ideal place for beginners.
While the most famous entry in The Macallan's lineup continues to be The Macallan 12 Years Old, it's also a little overpriced compared to similar whiskies. Because of this, it may be better to say and start with one of the versions that has been aged for longer (like the 18 year).
Of course, there's no shortage of expressions to try. You can easily experiment over time to find the type you enjoy the most.
Glenfarclas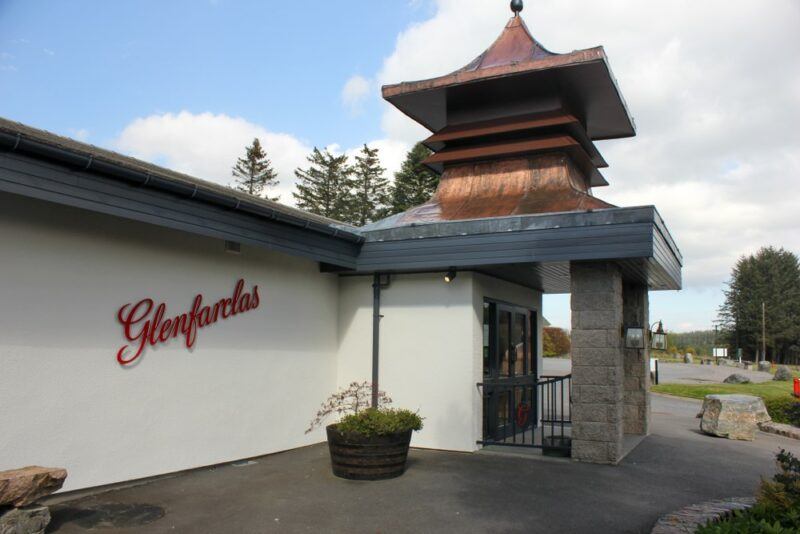 Founded in 1836, the Glenfarclas distillery is steeped in history. The distillery is even one of the oldest in Speyside, giving Glenfarclas a long time to refine their processes and create consistently divine whiskies. Like The Macallan, Glenfarclas whisky relies on sherry casks, which create a complex and layered flavor profile.
The Glenfarclas 25 Year Old is particularly impressive for those who love aged whiskies. The flavor profile includes notes of citrus and chocolate, with nutty notes from the casks. It's also a surprisingly reasonable aged whisky, often coming in at between $150 and $250.
That's only one whisky in their collection. The 17 Year Old receives good reviews as well, particularly for the sherry flavor profile that comes from the casks.
Glen Moray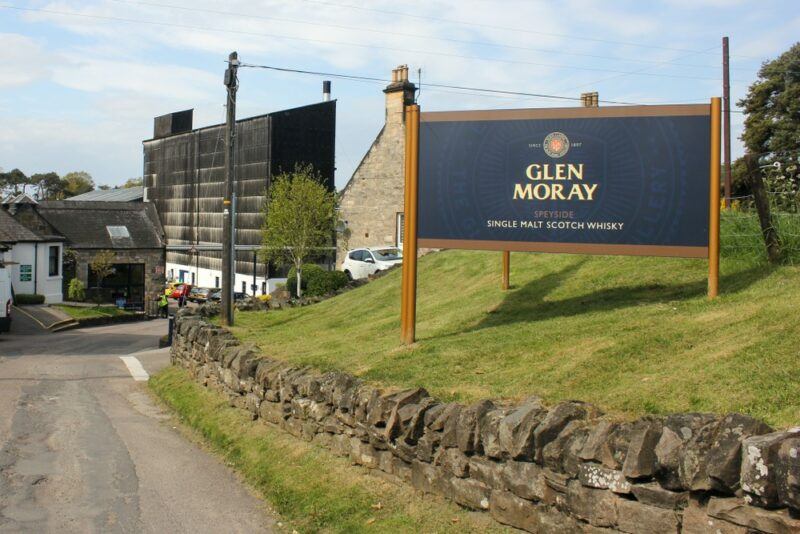 Don't be fooled by the relatively low price of Glen Moray expressions. While the price point can make Glen Moray seem like a low quality choice, the distillery continues to make high-quality and renowned single malt whisky.
What's more, Glen Moray retains a strong focus on creating approachable and easy-to-enjoy whiskies. This can be seen in the profile of the Glen Moray 18 Year Old, which is floral and fruity. It's a whisky you could just as easily drink on its own or include in a cocktail.
The distillery dates to 1897, meaning that Glen Moray has a long history of refining their techniques and pleasing Scotch whisky connoisseurs. It's no wonder that Glen Moray remains a popular and famous brand of Speyside Scotch.
The GlenAllachie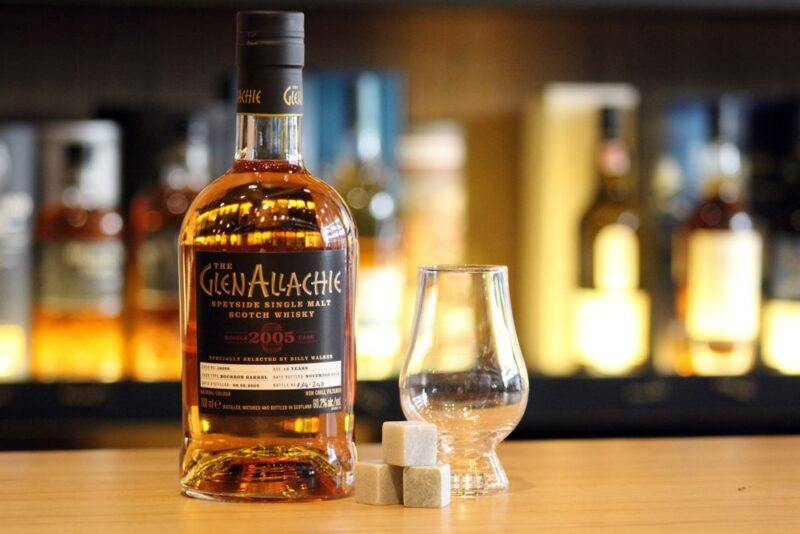 The GlenAllachie isn't a household name. Yet, it's arguably one of the best distilleries not just in Speyside, but globally too. It was founded in 1987, making it much newer than many other distilleries in the region. What's more, GlenAllachie hasn't had a stellar history, as it was mothballed for a while, before finally sold to Billy Waler, Trisha Savage, and Graham Stevenson in 2017.
The 2017 sale dramatically changed things for The GlenAllachie, as the distillery switched from focusing on whisky for blending and started focusing on single malt whiskies instead.
The GlenAllachie 12 Year is an exceptional entry level single malt, with rich flavors, including chocolate and leather, plus a fruity nose. The flavor profile is unusual for a whiskey so young, which is enough of a reason to try it for yourself.
Plus, the 12 Year is just one expression in GlenAllachie's lineup. Like other distilleries, GlenAllachie has a variety of series and a plenty of individual whiskies in each.
Glenfiddich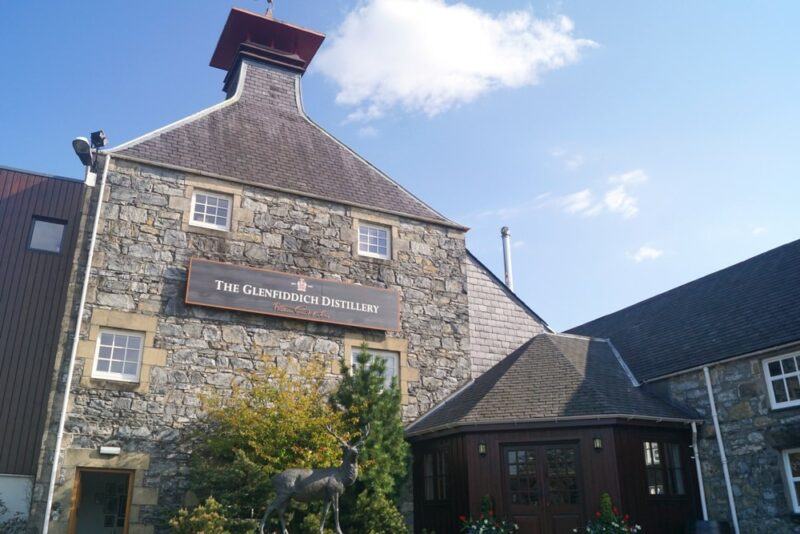 Glenfiddich is one of the most famous of the Speyside Scotch distilleries and for good reasons. It was founded in 1886, making it more recent than some other entries, but still a mature and well-respected distillery.
Glenfiddich's popularity partly comes from marketing, but is also linked to their balance of affordability and reliability. Their whiskies are relatively affordable, easy to find, and always deliver quality. This makes them much more accessible than expensive Scotch whiskies, especially as novices often don't want to shell out large amount of money for an unfamiliar product.
The distillery is most famous for its Our Original Twelve whisky, which is a 12 year old expression. Their flagship line also includes a 14 year old Bourbon Barrel Reserve, a 15 year old Our Solera Fifteen, and an 18 year old Our Small Batch Eighteen. Then there are various more exclusive product lines, such as Time Reimagined, Grand Series, and Experimental Series.
Not surprisingly, there's plenty of variation between these individual bottles and series, including differences in the flavor profile and price. That's not unusual. Many Scotch distilleries take a similar approach, where they have a core product line and then some more notable entries.
The Balvenie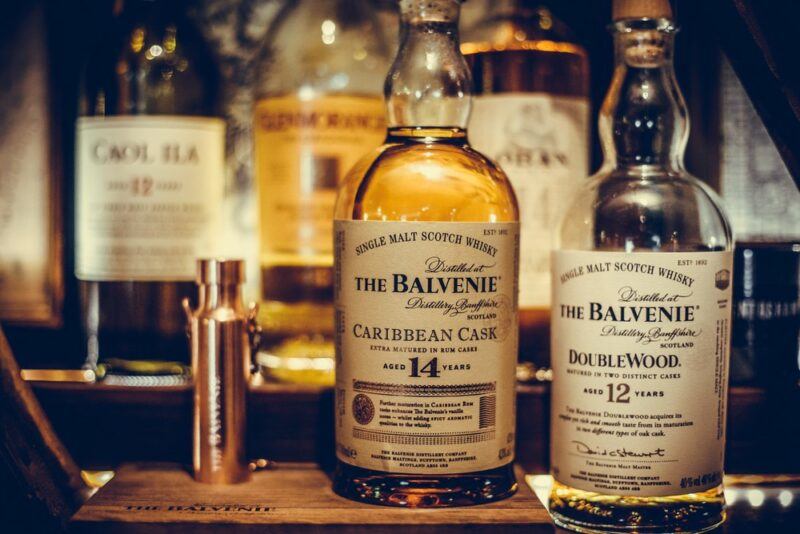 The Balvenie is famous as a refined distillery that focuses on making high-quality refined whiskies, with depth and nuance that's difficult to beat.
Their most famous expression is The Balvenie DoubleWood 12 Year, which is an entry level single malt that was aged first in ex-bourbon barrels and then in ex-Oloroso sherry casks. This double barreling approach gives the whisky flavors from two different types of wood, making it more complex than normal.
For those with a higher budget, The Balvenie 21 Year Old Portwood is tough to beat. This expression successfully balances many different elements, including notes of fruit and grain, plus subtle smokiness. It's a delicious sipper, one of many sipping whiskies that The Balvenie offers.
The Glenlivet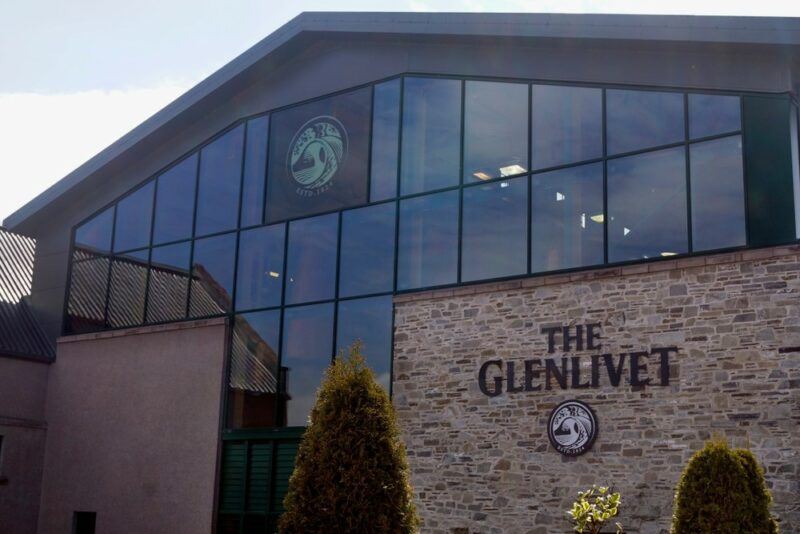 The Glenlivet has an impressive history. This distillery was founded in 1824 and has only stopped operating once in that entire time – during World War Two. What's more, the distillery continues to do well and is now almost as well-known as Glenfiddich as a single malt Scotch.
While The Glenlivet has plenty of expressions to choose from, they don't get too complicated. Most of their expressions are predictable sippers, ones that even entry-level whisky drinkers can enjoy without stress.
The Glenlivet 12 Year Old is one of the best places to begin, offering delicate flavors, with fruity notes and a long creamy finish. Or, you may prefer one of the longer aged expressions, which often bring more flavor notes and additional nuance.
Differences Between Highland And Speyside Scotch
Speyside is the most famous whisky producing region in Scotland. It's also the dense, with more than 50 distilleries in a fairly small area. Whiskies from Speyside are often characterized as being elegant, with a focus on soft fruit flavors, while those from Highland may be seen as more rugged instead.
Yet, those distinctions are overly simplistic.
For one thing, both regions have many distilleries that each create a variety of expressions. This means there's a whole range of flavor profiles and styles within each region. You'll find some rugged single malts in Speyside, along with fruity expressions from Highland.
Plus, Speyside and Highlands aren't as different as you might expect. Because Speyside is technically a subregion of Highlands, any Speyside whiskies actually fall into the Highlands category too.
Some of the distillaries highlighted on this list, including The Macallan and Glenfarclas even choose to market their whiskies as being Highlands, even though they're produced in Speyside.
Are Any Speyside Whiskies Peaty?
Speyside whiskies usually keep peat to a minimum. Instead, the products are dominated by fruit flavors, including apple and pear. Islay is a much better location if you're looking for peated whiskies.
That said, every rule has some exceptions and there are indeed some peaty entries from Speyside. For example, Glenfiddich released a Vintage Cask in 2010 that was heavily peated. Glen Moray also produced a Elgin Classic Peated whisky with light smokiness, which is an excellent choice if you're new to peated whisky.
Because there aren't many peaty Speyside whiskies, you'll need to carefully look at the collections of distillers to find ones that match your preferences. You may be able to find reviews online too. These can give you details about what to expect and how the peat levels compare to other products.