Cocktails tend to rely on spirits, like whiskey, tequila, and rum, but this isn't the only approach. Wine and champagne cocktails can also be incredibly delicious. They end up with a completely different balance of flavors, many are also easy to make, requiring just two or three ingredients.
You may notice that the cocktails come in various strengths. Some rely on wine and a mixer or multiple mixers, so you're getting less alcohol than in a regular glass of wine. Such cocktails are ideal on a hot summer's day and even before noon.
Others include a spirit as well as the wine. This notably increases the alcohol content, especially for cocktails that don't use many mixers – like the B2C2. With these cocktails, the wine is just one ingredient that adds to the overall balance of flavors.
Another difference is how specific the recipes are. Some make a general suggestion, such as using red wine or sparkling white wine in the cocktail. Others are much more specific, highlighting a single type of wine, such as merlot or champagne.
While you can often substitute for a different type of wine, doing so will change the flavor profile of the drink. Because of this, it's often best to first make the cocktail using the recommended wine. This will give you a sense of the flavor profile. Once you are familiar with how the cocktail tastes, you will have a better sense of how a different wine would affect the drink.
Wine And Champagne Cocktails
Champagne Cocktail
Bellini
Mimosa
Scarlett Miss Charlotte
Champagne Sidecar
French 75
Kir
White Wine Spritzer
Aperol Spritz
Negroni Sbagliato
Kalimotxo
Red Wine Spritzer
Dodo
New York Sour
White Wine Siesta
B2C2
Vintage Champagne Cocktail
Bacchanalian
Sangria
Bishop
Mulled Wine
Frozen Rosé
Champagne Cocktail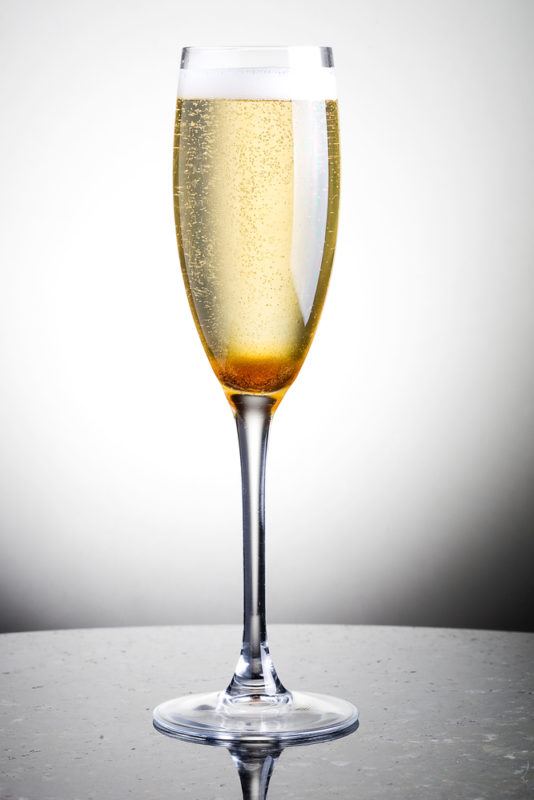 This aptly named cocktail relies on champagne as the main alcohol of choice. Preparing the cocktail is simple. You place a sugar cube in the bottom of the champagne flute, drizzle a few drops of bitters over it, and then add one measure of brandy. You then fill the flute up with champagne or any other type of sparkling white wine.
This type of cocktail is particularly popular as a celebratory drink – and ends up being more interesting than a simple glass of champagne or sparkling wine.
Bellini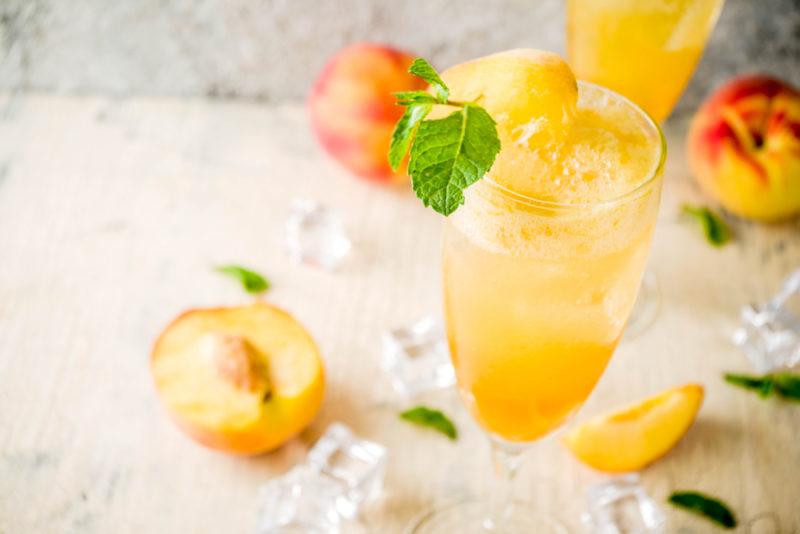 The classic bellini cocktail is traditionally made using prosecco, which is a name-controlled sparkling white wine from Italy. However, you can easily replace prosecco with another type of sparkling white wine if you would prefer.
The cocktail is often made by adding white peach puree to the bottom of a champagne glass and then topping the glass up with the wine. Peach juice can be used instead, although doing so changes the mouthfeel of the drink.
Some recipes call for peach liqueur, such as crème de pêche.
There are countless variations of the cocktail. These often use a different type of fruit puree or fruit juice, along with one or more types of liqueur. Examples include a lychee bellini, a kiwi bellini, a feijoa bellini, and a mango and vanilla bellini.
Mimosa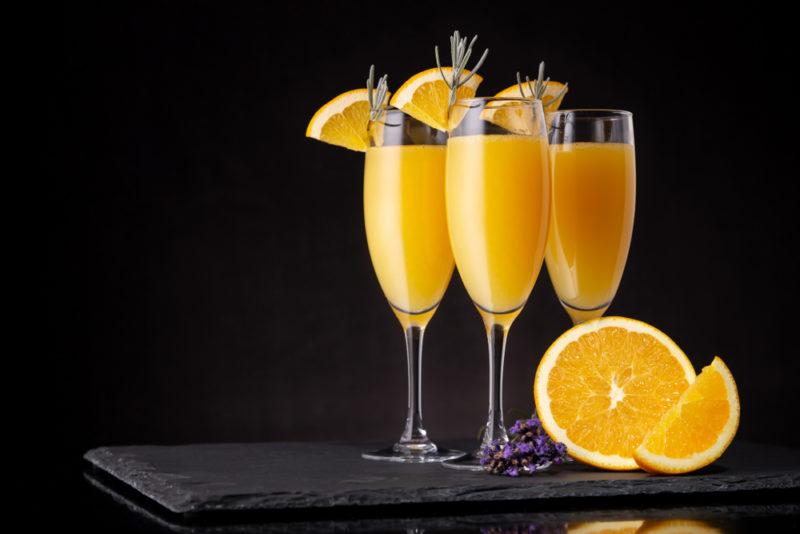 The mimosa is another famous champagne cocktail. It's also very easy to prepare, as the cocktail just relies on two ingredients – orange juice and champagne. Mimosas work particularly well if you're focusing on dry champagne or sparkling white wine, as this helps to limit the sweetness of the drink.
A classic balance is two parts of orange juice to four parts champagne, which creates a refreshing drink that isn't too sugary. You can change the balance based on your preferences.
For example, some people prefer a half and half mixture. The half and half approach is especially good if you're serving mimosas with brunch, as the alcohol hit isn't too strong.
Scarlett Miss Charlotte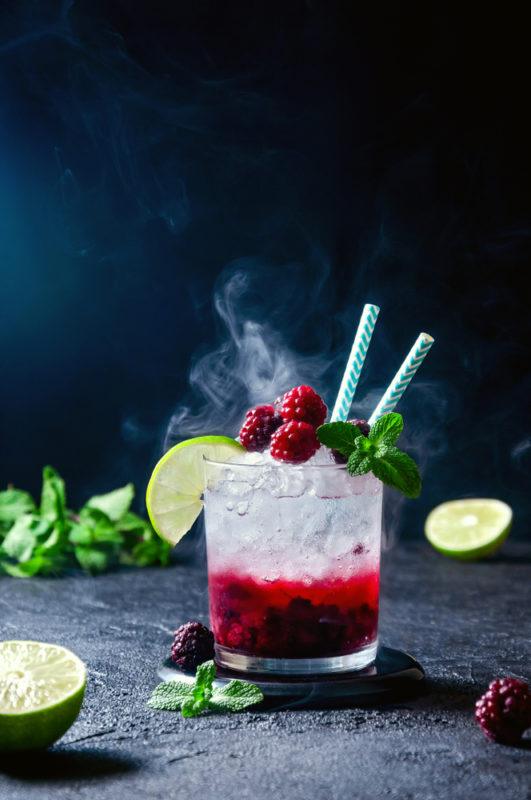 It's hard to go past this drink if you're looking for something vibrant. To make a Scarlett Miss Charlotte, you add two parts fraise, two parts strawberry pulp, and one part Cointreau to a cocktail shaker.
Mix the ingredients thoroughly and then double strain them into a champagne flute. Top the finished cocktail up with champagne to create a delicious, fruity and vibrant drink.
Champagne Sidecar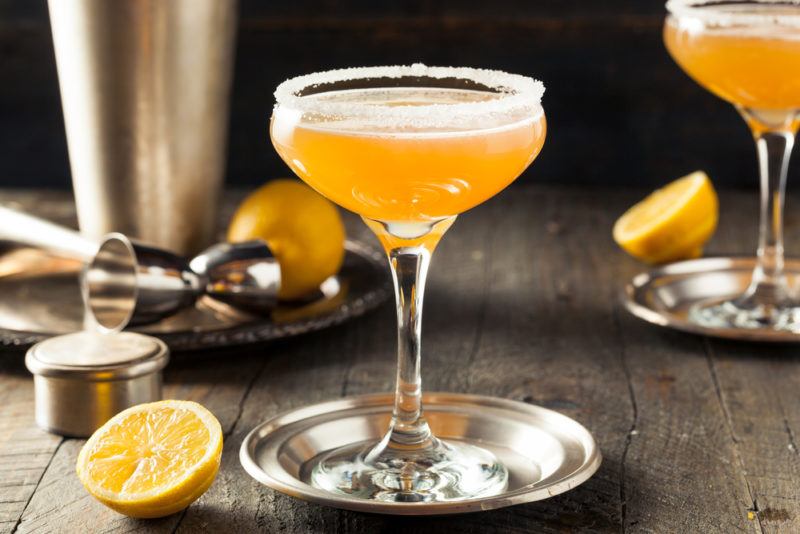 This cocktail is a variation on the classic sidecar. The only difference is that you're topping the sidecar with champagne, rather than drinking it as-is.
The sidecar itself can be made by shaking together brandy (four parts), triple sec (two parts), and lemon juice (two parts) over ice, straining, and then serving. As always, there is some wriggle room in those ratios and the drink isn't always made exactly the same way.
Adding champagne to the top of a sidecar changes its intensity, while also creating a bubbly drink. You could also do the same with one of the many sidecar variations, like the Boston sidecar, Polish sidecar, or Chelsea sidecar.
French 75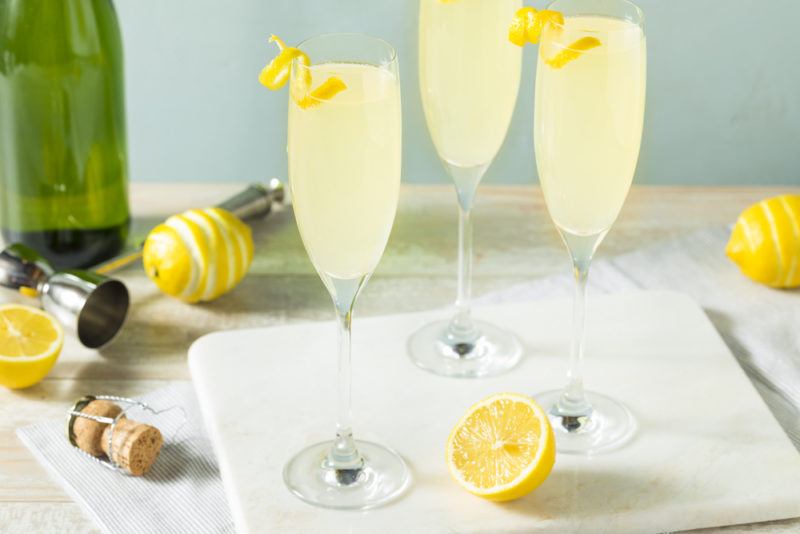 The French 75 cocktail was apparently named for the kick that this cocktail provides. Champagne makes up the bulk of the drink, while gin, simple syrup, and lemon juice are included as well.
The other ingredients provide a lovely balance of sweet and sour, while the gin also helps to boost the alcohol content of the cocktail.
Kir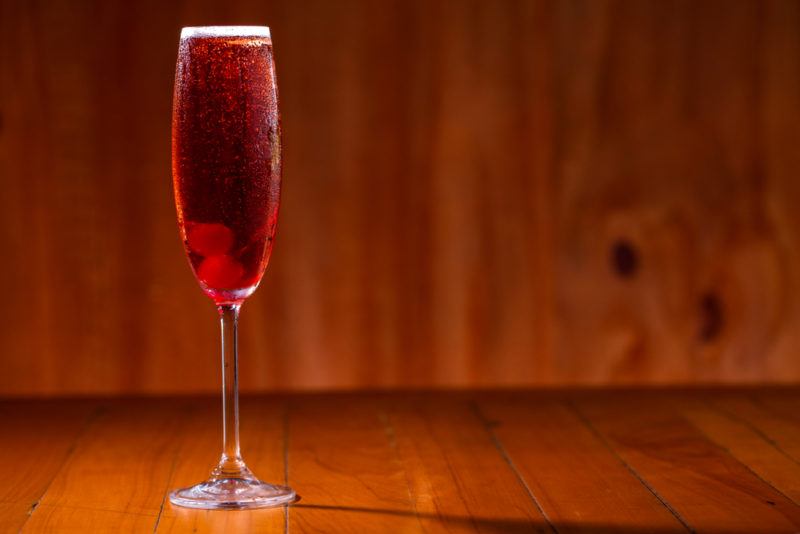 Kir is a simple cocktail that just relies on blackcurrant liqueur and dry sparkling white wine. The blackcurrant liqueur adds a little extra flavor and color to the wine, creating a cocktail that is easy to drink.
A variation on this is the kir royale, which uses Champagne instead of white wine. You could do something similar with another type of sparkling white wine too. Berries are a common garnish for both versions of the cocktail.
The appearance and flavor of the cocktail means that you could easily enjoy it in the evening. It's also a great celebration drink, as it's much more interesting than a plain glass of bubbly.
Kir Rose

A less common approach is the kir rosé, which is made using sparkling rosé rather than sparkling white wine. The liqueur is different too, as Giffard Pamplemousse is often recommended for the cocktail, which is a grapefruit liqueur.
Using grapefruit liqueur instead of a blackcurrant one creates a more vibrant drink. Plus, the flavors of the liqueur and the rosé wine complement each other well.
White Wine Spritzer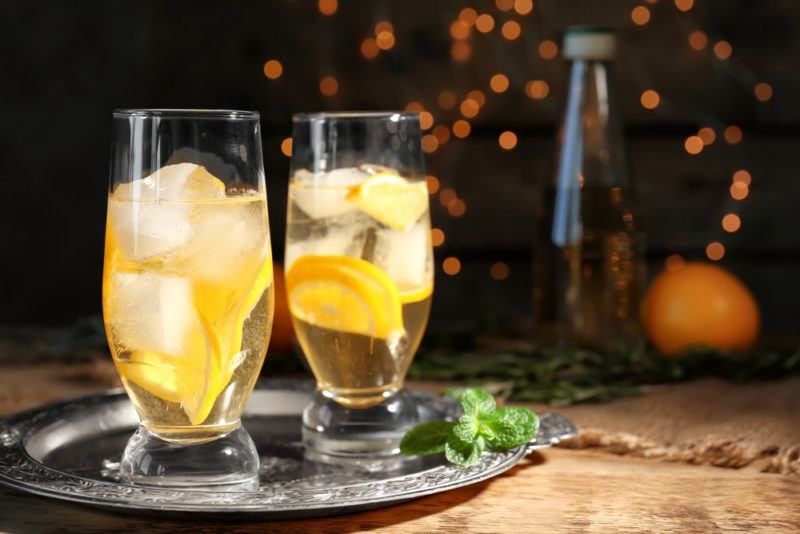 It's hard to go past a white wine spritzer if you're looking for something simple. The cocktail simply involves filling half of your glass with chilled white wine and the rest with soda water.
This is an easy way to make wine more refreshing and enjoyable. The drink also ends up being low in calories, as long as you keep an eye on your portion sizes.
You don't need to stick with a basic cocktail either. You can easily liven the drink up, such as by adding in some bitters, a liqueur, or flavored schnapps. Even just squeezing lime juice into the cocktail can help to make it more vibrant.
In fact, there are countless variations on a classic white wine spritzer, ranging from the simple to the complex. A ginger lime spritz is one example. This cocktail uses freshly cut ginger, lime juice, simple syrup, dry white wine, and club soda to create a refreshing flavor balance. It's easy to see how this would make an idyllic summer's drink.
Rosé Spritz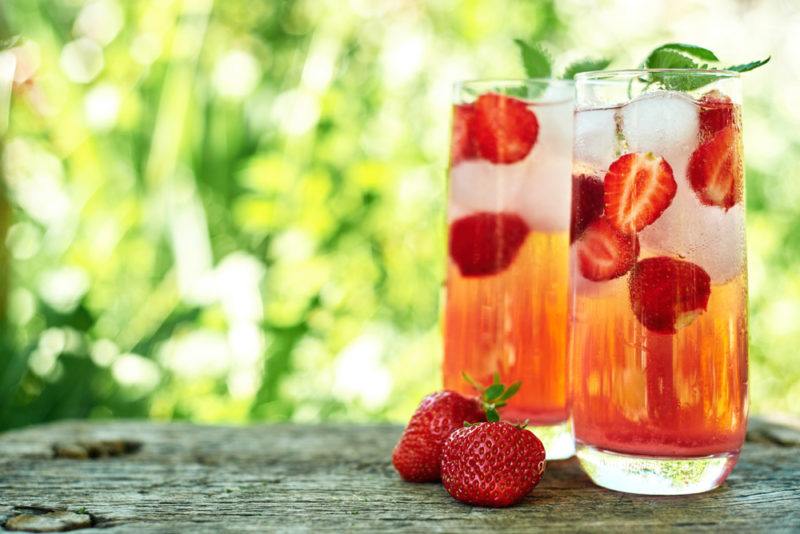 Rosé wine works well as a spritz too. It is a better choice than white wine, in some cases, as rosé has a stronger flavor. This means that you don't need to worry so much about other ingredients.
Of course, some variations add in extra ingredients for more flavor, such as a rosé spritz that uses grapefruit soda rather than plain soda water.
Aperol Spritz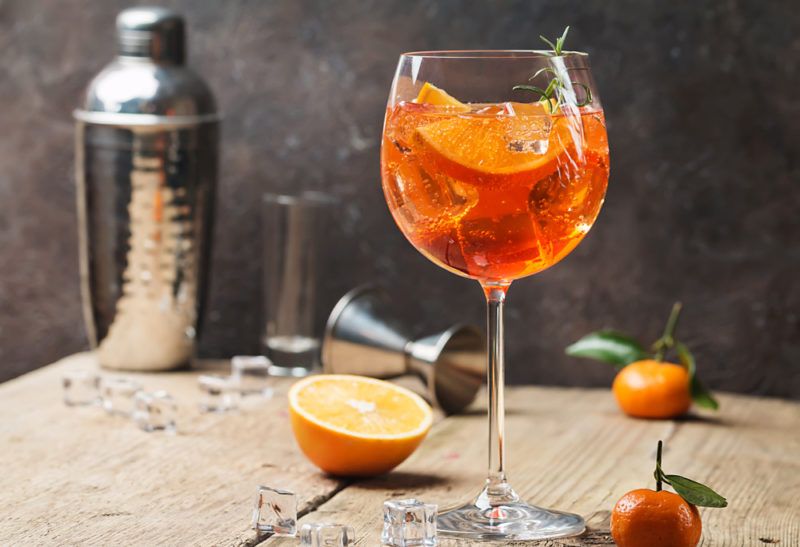 Here's another simple cocktail. This one relies on equal parts of Aperol and sparkling white wine, with prosecco being a common choice. The drink has become surprisingly popular, often as a refreshing summertime cocktail.
Negroni Sbagliato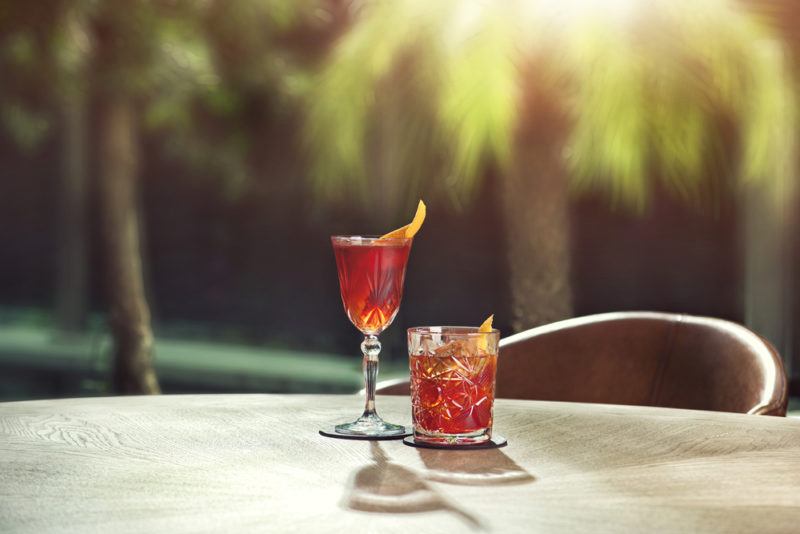 This cocktail is sometimes called a mistaken negroni, as the Italian term sbagliato can translate to mistake. The source of the name is easy to understand, as the cocktail is an unusual variation on a negroni.
It uses equal parts sweet vermouth, Campari, and sparkling white wine. Prosecco is often used as the wine or even just regular sparkling white wine. With Campari and sweet vermouth to provide flavor, there's no need to splash out on Champagne.
Kalimotxo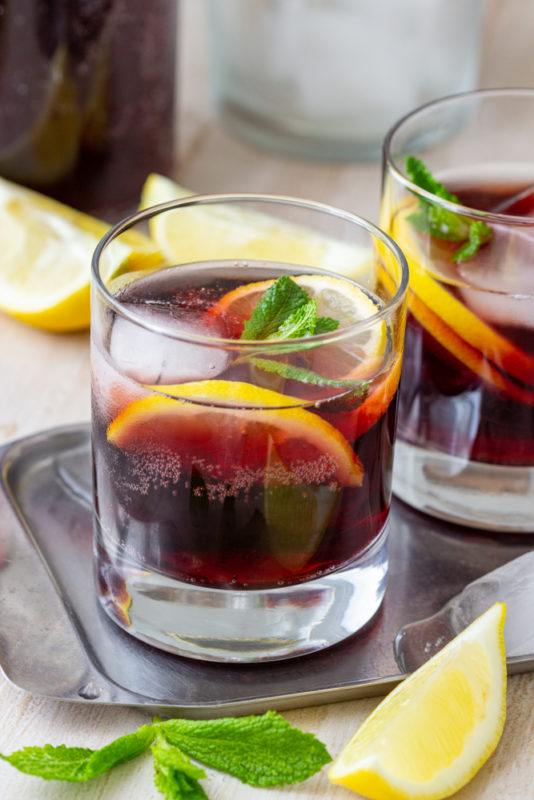 A kalimotxo is a simple two-ingredient cocktail. It's similar to a white wine spritzer in a way, except that you're using red wine and… cola.
This combination sounds incredibly strange at first glance, but the flavors do seem to work together. You end up with something that is a little similar to a sangria, but is faster to make.
The cocktail is also a useful choice if you have a bottle of red wine that isn't amazing. The flavors of the wine become less distinct when the wine is mixed with cola, giving you a way to still enjoy the wine.
Red Wine Spritzer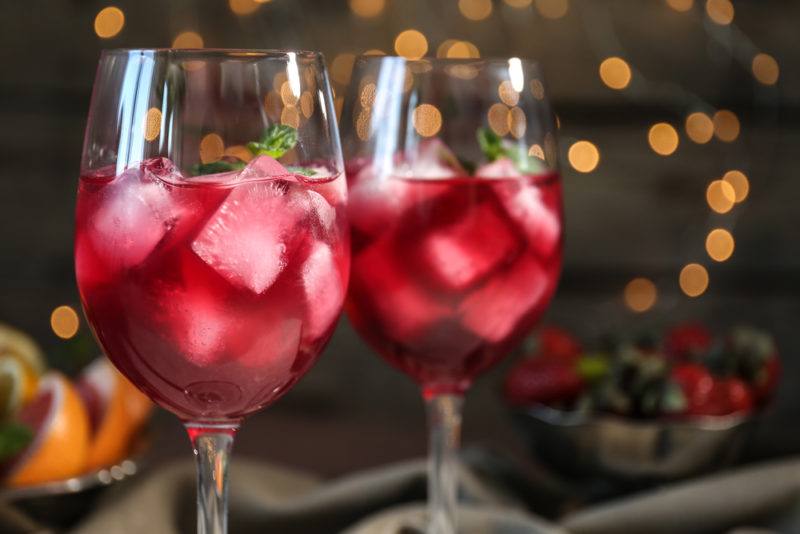 If a kalimotxo sounds too extreme, you could try a red wine spritzer instead. This cocktail isn't nearly as common as the white wine equivalent, but it can still taste just as good.
An easy way to make the cocktail more interesting is to include various fresh berries in your glass.
You're not limited to soda water either. Some people prefer to make spritzers with lightly sweetened lemonade. The extra sweetness can make the cocktail more enjoyable, especially for people who find that red wine is a little too intense.
Dodo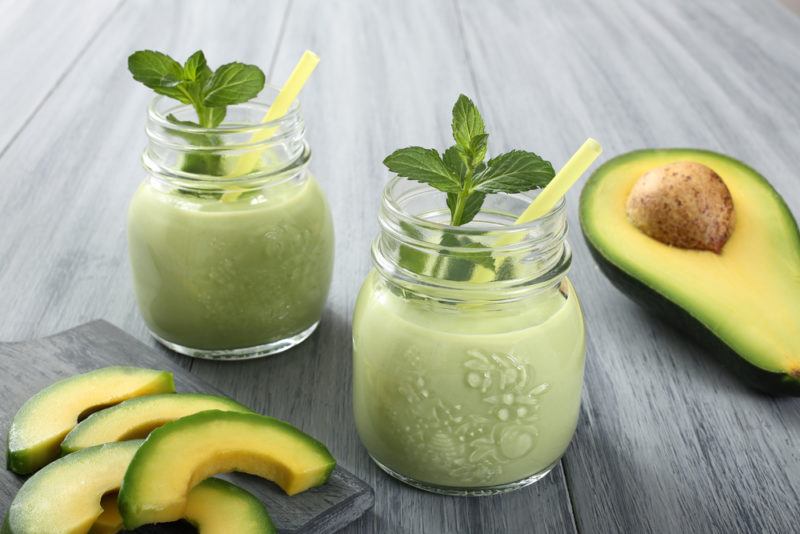 This unusual drink doesn't just look like an avocado smoothie. It basically is one – except that the smoothie has been spiked with champagne.
Avocado and champagne aren't the only ingredients. The recipe also calls for shiso syrup and shiso leaf. This Japanese plant is part of the mint family and is sometimes used in a similar way to mint, although it has its own unique flavor profile.
If you have access to shiso leaves, then the cocktail is worth trying for yourself. You could also try leaving out the shiso entirely. The drink would taste different, of course, but it should still be quite delicious.
New York Sour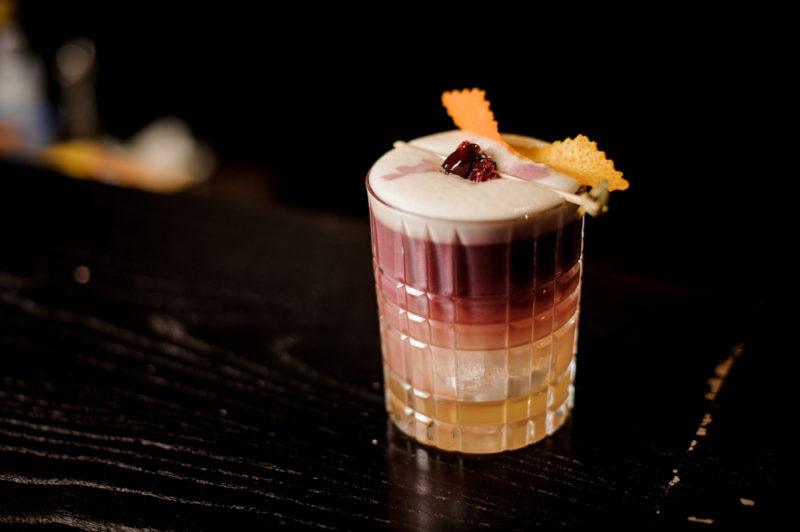 Wine is a secondary ingredient in this cocktail, which is a variation on the classic whiskey sour.
Just like a whiskey sour, the cocktail uses whiskey, lemon juice, simple syrup, and an egg white as the main ingredients. These are mixed together in a shaker with ice, then strained into a glass over ice.
Once you have done so, a little red wine is poured onto the cocktail. Use the back of a bar spoon and pour slowly. This should create a distinct layer of red wine.
The egg white in this cocktail is optional, so you can leave it out if you don't like the idea. The egg white is mostly used for texture. You'll end up with a delicious drink regardless of whether you use the egg or not.
White Wine Siesta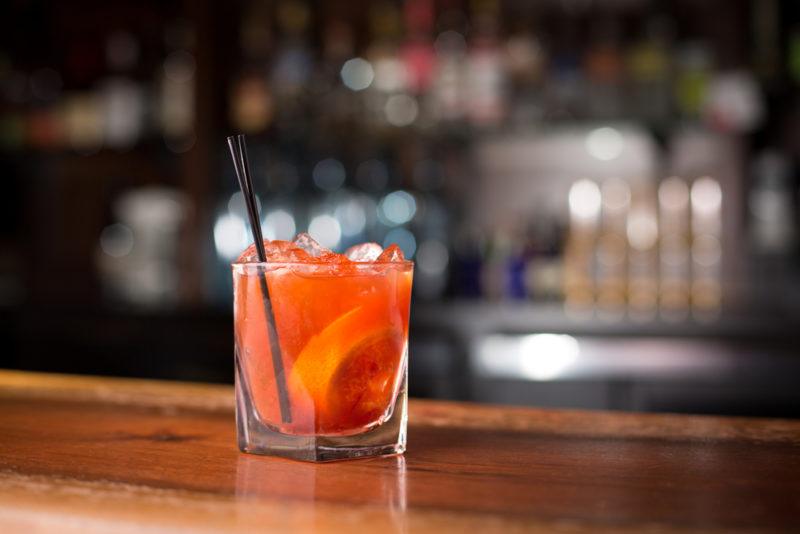 This interesting cocktail is a variation on the classic siesta cocktail, which is made using tequila, grapefruit juice, Campari, and a few other ingredients.
A white wine siesta, as you may have already guessed, uses white wine as a key ingredient. Pinot grigio is the preferred white for the recipe, as this complements the other flavors well.
You're still using tequila, Campari, and grapefruit juice, along with lime and simple syrup, making this a fairly complex cocktail. Still, using many ingredients like this helps create a more enjoyable flavor profile too, so the end result is worth the effort.
B2C2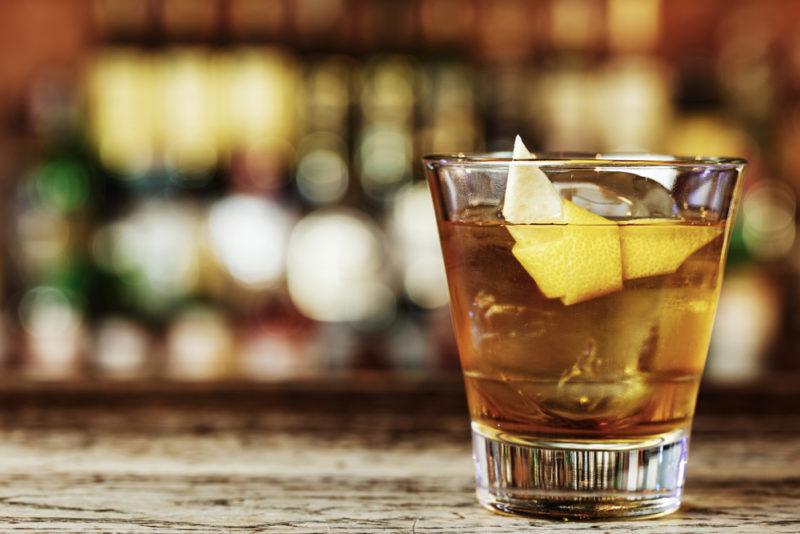 This drink is normally served in a cocktail glass. It uses equal parts of brandy, Benedictine, and Cointreau, and is then topped up with room temperature brut champagne.
You end up with something that looks and tastes like a traditional cocktail, yet uses champagne as one of the ingredients. Because there are four different ingredients involved in the cocktail, it should be easy to sub out the champagne for another type of sparkling white wine if your budget demands.
Vintage Champagne Cocktail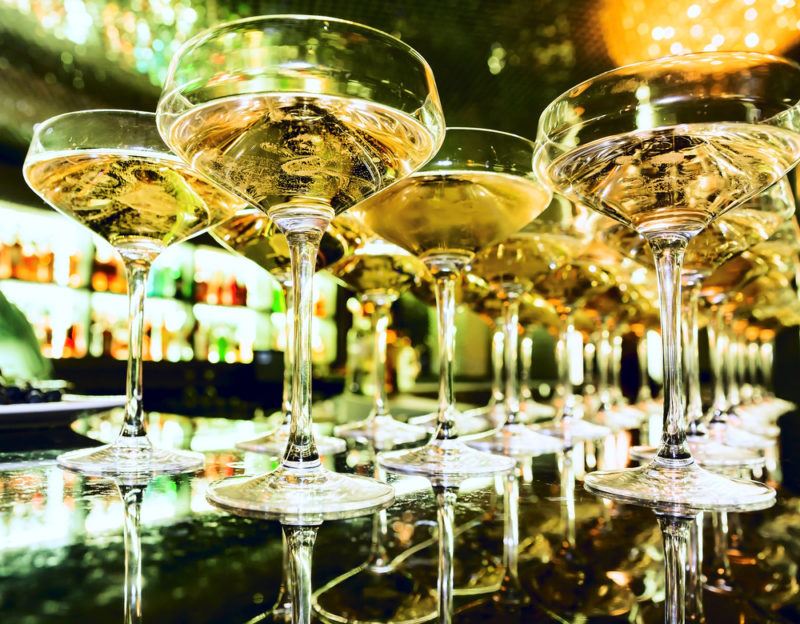 This cocktail is a modern invention and comes from the husband of food blogger April Harris. The recipe is a three-ingredient cocktail that uses brandy, an orange liqueur, and champagne.
The brandy and orange liqueur are added first into the bottom of a glass and left to sit. Each glass is then topped with champagne. The cocktail can then be consumed as-is, without stirring, giving a delightful balance of flavors.
This would be a fun cocktail for celebrations. You could easily prepare many glasses of it and share them out among party guests.
Bacchanalian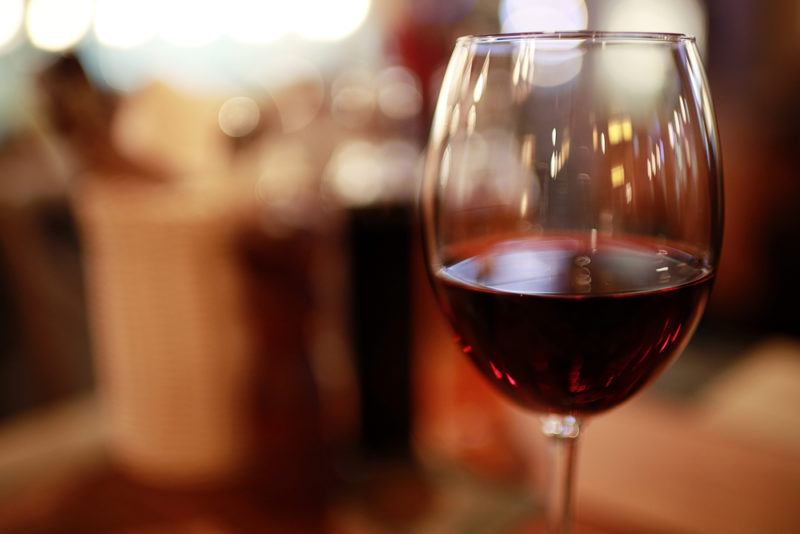 The bacchanalian is a popular choice in New Orleans, especially during Mardi Gras season. The cocktail uses cognac and a fruity red wine as the main ingredients (merlot is a good choice here).
A little fresh lemon juice and brown sugar is included too. These help to give a nice sweet-tart balance. The cocktail works best if you make a brown sugar syrup first, rather than just adding brown sugar to the cocktail directly. This way you can be certain that everything dissolves.
Sangria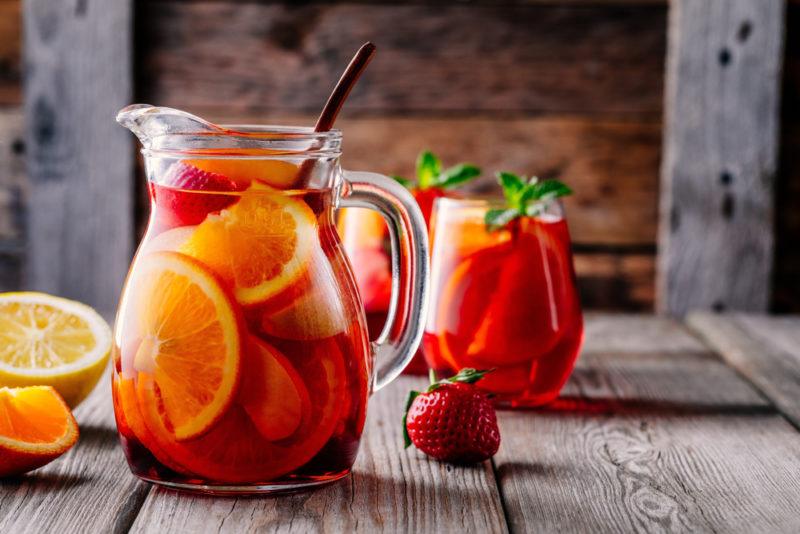 A sangria is one of the classic wine cocktails, a drink that is perfectly suited to a party or another event. It is a very flexible cocktail, which gives you the chance to adjust the ingredients and quantities as you see fit.
Most sangrias involve red wine, fruit juice, and various pieces of cut-up fruit. Lemons, oranges, and limes are particularly common fruits, but you might other additions too, like berries and mint leaves.
Some sangria recipes add rum or another spirit into the mix. This helps to bring up the alcohol content of the finished drink. The spirit adds extra depth to the flavor profile too. That's an added bonus.
Bishop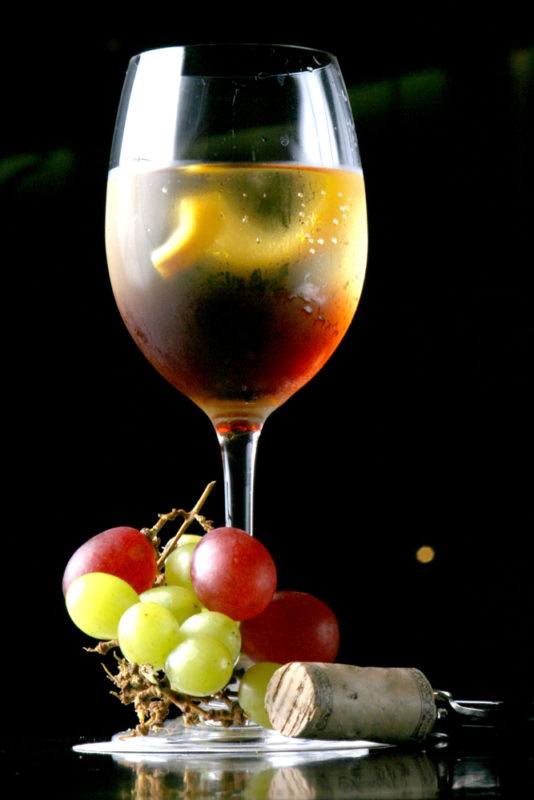 The bishop cocktail is often prepared as a basic version of a sangria. This may mean that you have some fruit juice in there and fruit pieces, along with some type of syrup.
There's another interesting variation too, one that relies on red wine, rum, simple syrup, and lime juice. A notable feature of this version is that rum is the main ingredient by volume, rather than the wine. You'll often end up with a ratio of three parts rum to one part red wine, or something similar.
This approach means that the red wine provides nuance to the drink, while rum acts as the dominant flavor.
While you could prepare a bishop as a single cocktail, preparing a punch bowl full of the cocktail works well too. And, if nothing else, it's nice to be serving your guests something different than sangria.
If you are serving the cocktail as punch, try inverting the ratios. Doing so makes red wine the dominant ingredient and also lowers the alcohol concentration of the drink. This is essential for parties, as the cocktail version of the drink would be far too strong to serve as a punch.
Mulled Wine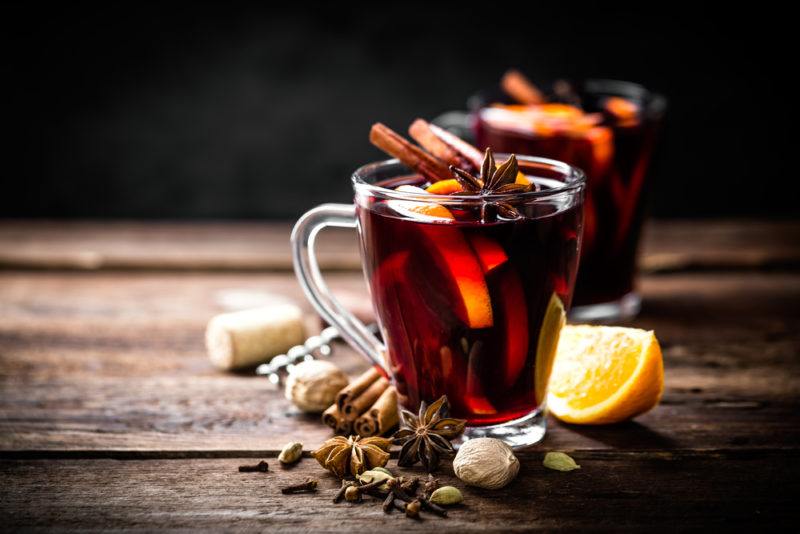 Mulled wine is probably the most well-known wine cocktail and it's another one that comes in countless variations. The basic idea is simple – you're heating up red wine with spices and serving the drink hot.
Some versions add in some sweetener, like brown sugar, honey, or fruit syrup to prevent the drink from being too tart. You can also add in a spirit, like rum or whiskey. This helps to keep the alcohol content of the drink high, as some alcohol might be lost during the heating process.
Mulled wine is a flexible drink, giving you the chance to experiment with different quantities and ingredients. You might end up finding a version that you make time and time again or perhaps you might prepare mulled wine differently every time.
Frozen Rosé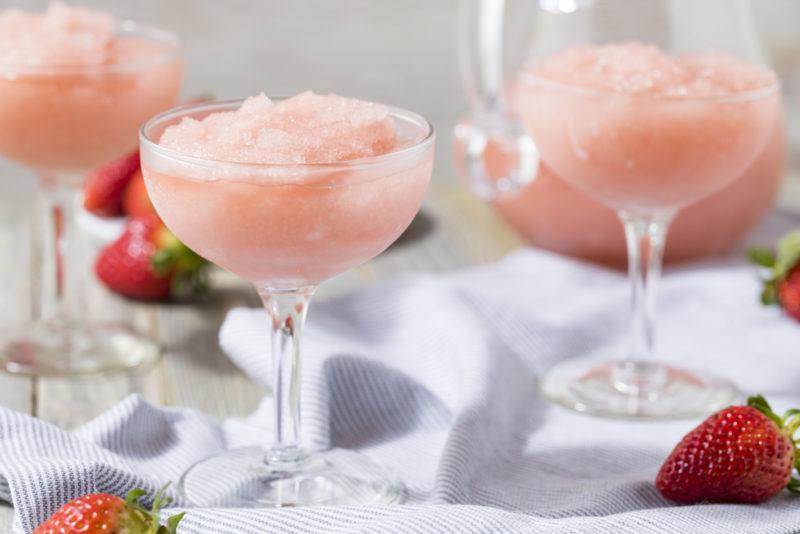 Here's a fun choice for the summer. Frozen rosé (or froze) is exactly what the name suggests – you're freezing rosé wine to create a slushie-like drink.
The process isn't quite as simple as sticking a bottle of rosé in the freezer (don't do that!). You'll first need to make up roughly a quarter cup of sugar syrup and combine this with a bottle of rosé in a large pan. Stir the two together and then place the pan in the freezer.
After six hours or so the mixture will have mostly frozen. You can then scrape it out of the pan and use a blender to create the desired consistency. Don't worry about leaving the wine in the freezer for too long. The alcohol content should mean that the wine never freezes all the way.