Salmon is a delicious, healthy dinner choice that can be made in a huge variety of ways, but we are going to focus on some quick and easy salmon recipes today. Steamed, grilled, baked, fried, hot, or cold – there are recipes abound for this rich, protein packed fish. Unsaturated, Omega-3 fatty acids which are found in salmon can help prevent heart disease, as well as keep blood vessels healthy.
Other important minerals you're taking advantage of when you eat salmon are selenium (thyroid), phosphorus (kidneys, heart, nerves), potassium (bones, digestion), and protein (muscle growth).
I love salmon, and it's on my shopping list every week. Personally, my favorite method of cooking salmon is sous vide. It's nearly impossible to get the same buttery-soft texture at the perfect temperature.
But I don't have time to make a big production every time. So I created these 10 quick & easy salmon recipes for you to try at home. I plan on adding more in the future, but for the time being I tried to get a wide variety of ingredients and cooking styles so you can choose the few that suit  you best.
Quick & Easy Salmon Recipes
Do you have extra time to cook tonight? Try one of these other amazing salmon recipes that might take more time, but are totally worth it!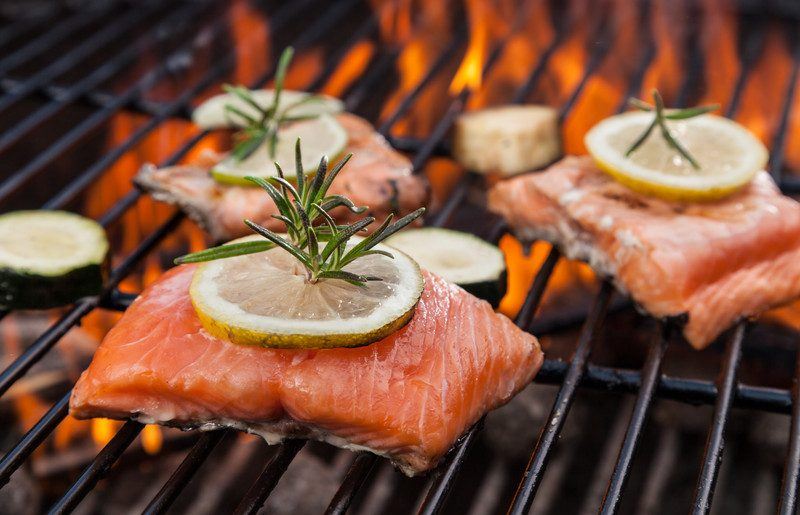 Steamed Salmon en Papillote
Quick & Hearty Salmon Chowder
Olive Oil Poached Salmon with Fingerling Potatoes and Tarragon
Fried Salmon Cakes with Lemony Aioli
Grilled Salmon with Basil-Lime Aioli & Summer Vegetable Medley
Blackened Salmon Tacos with Mango Salsa
Creamy Corkscrew Pasta with Salmon and Peas
Smoked Salmon, Asparagus & Herbed Creme Fraiche
Crispy Asian Salmon Noodle Stir Fry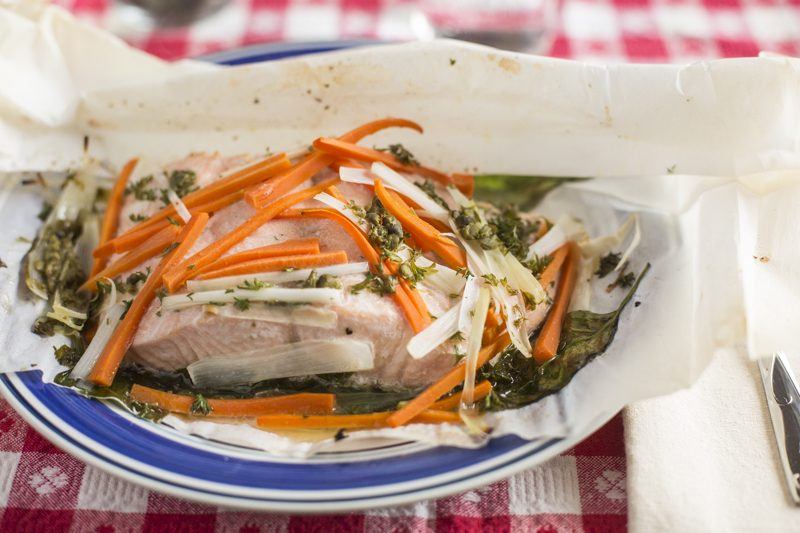 Papillote means paper! This is basically salmon and veggies steamed in parchment paper. Sounds simple, but it's a classic French cooking technique that you can use to impress your friends with a unique cooking skill, or whip something fancy up for the fam.
What's neat is that you can completely customize this to your own taste, switching out flavors and veggies very easily (no substitution calculations!). Plus, each packet makes an individual serving 🙂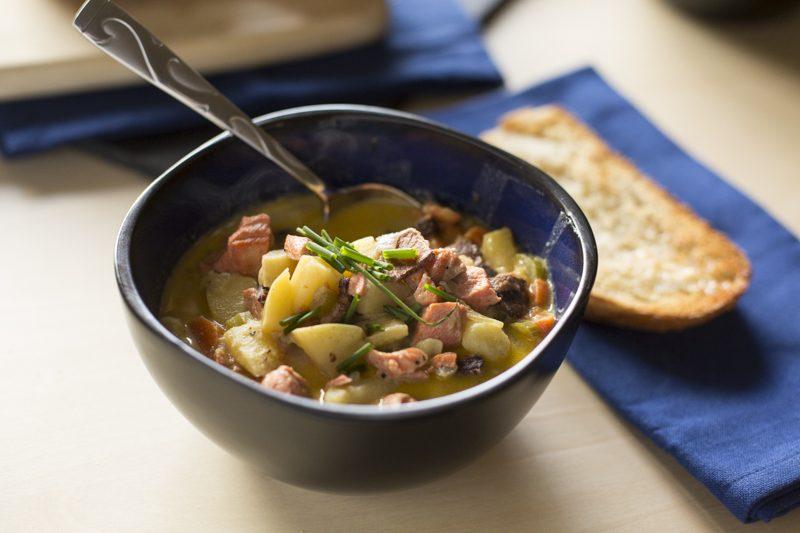 One-pot meals are magic for time saving, but they aren't all tasty. Well, this one is. Skip the clams this time though, and make a salmon chowder. Double the recipe and take it to work or have a lazy Saturday lunch!
I also like to use a an immersion blender to chop up the potatoes to make a thicker soup (than featured in the photo). Serve with toasted bread for a hearty winter meal.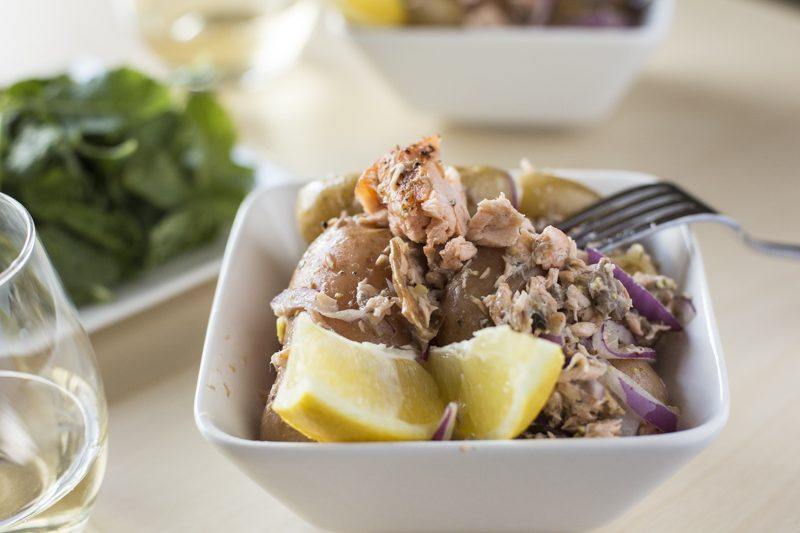 Got some extra tarragon in the kitchen that never seems to get used? Practice using this tasty herb with this salmon and potato salad recipe. Don't let the amount of oil used in this recipe scare you though, the photographer got a bit overzealous and used a lot. Just use enough to cover the salmon.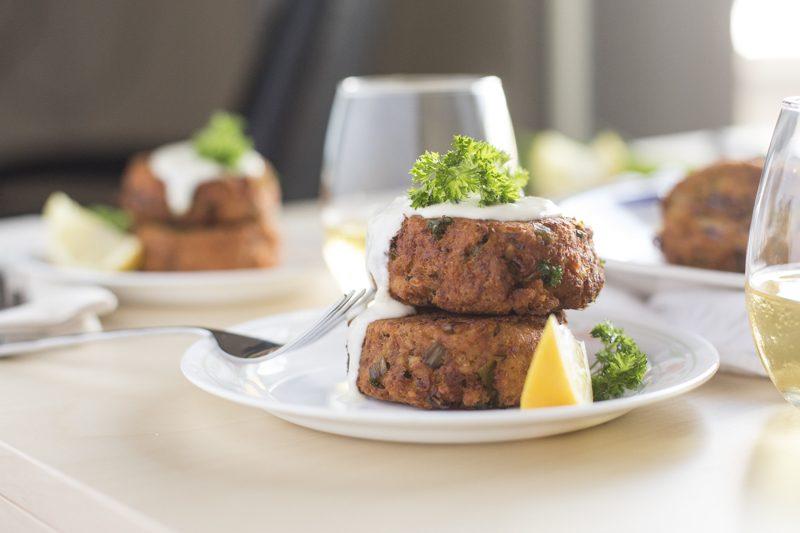 These will take a little longer since you have to chop everything up and make the cakes, then fry them. But you do get to cheat a little by buying canned salmon! Anything fried is always a crowd pleaser, and this is one of the favorite salmon recipes according to website statistics! Make these for your next party, but don't forget to save a few for yourself 🙂 That lemony Aioli is to die for.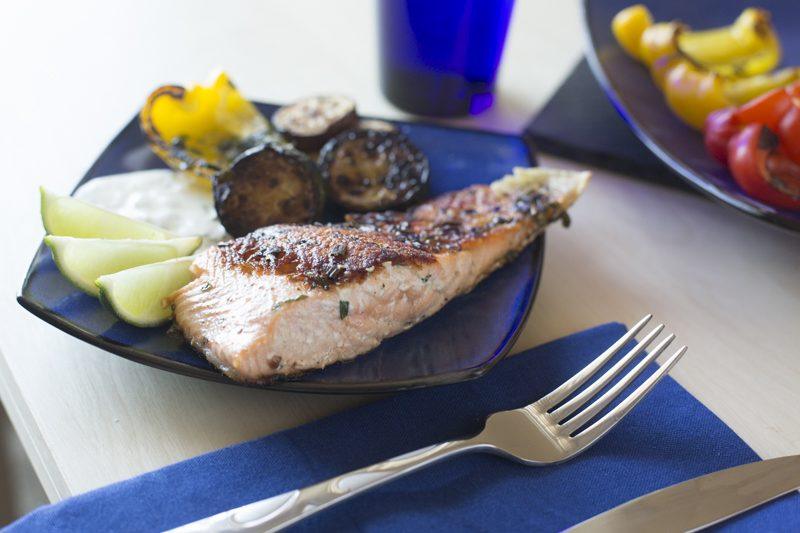 An easy grilled salmon recipe that's great for the summer months. The basil lime aioli might not be a flavor combination you expected, but it works. I'm partial to the grilled zucchini featured in the photos, but you can decide which veggies you want to grill up this weekend.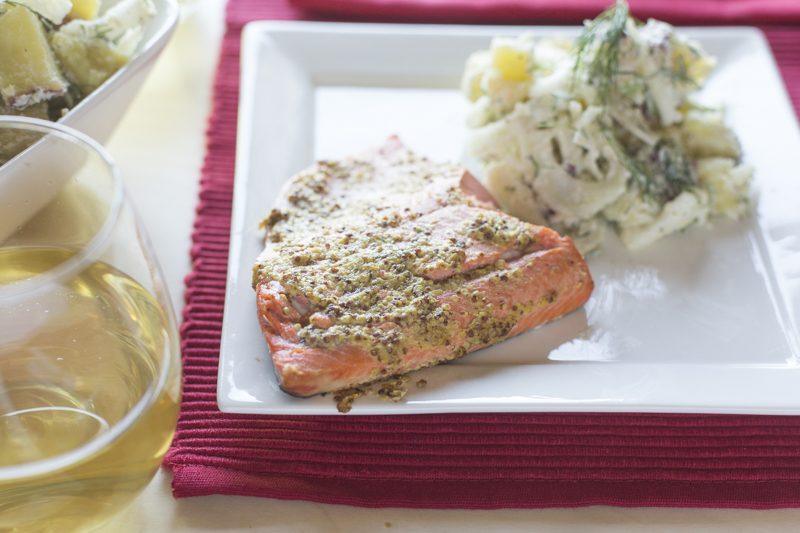 Though the salmon with lemon dijon mustard sauce is certainly delicious, the real winner here is the potato salad. Featuring dill, greek yogurt, and fennel, it's a popping flavor combination that you won't find pre-made in your local store.
Salmon is a fish that can be served with red or white wine, but this is a great combination to combine with your favorite dry, chilled white wine. I love the colors featured in these photos as well, so at least check out some of the final shots featured in this recipe.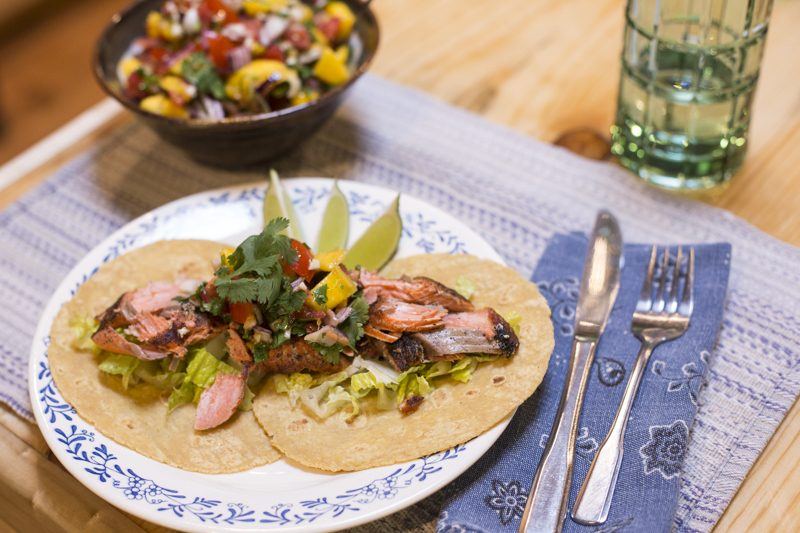 Charred, black salmon? Yes, you can use it for a delicious Ameri-Mex style recipe. Combined with a sweet and spicy mango chili salsa, this is a fun recipe to whip up on a weeknight. Make the ingredients, then have everyone create their own tacos for a taco-bar style dinner. Do you prefer corn or flour tortillas? I prefer corn!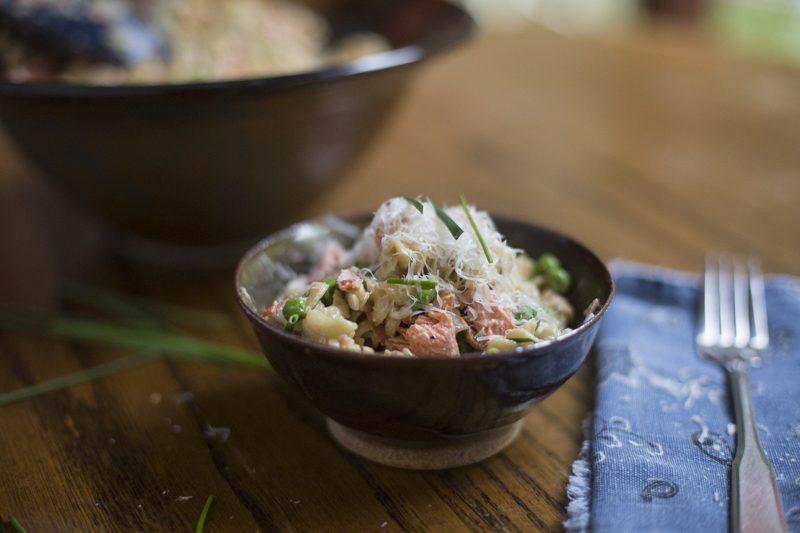 Here's a recipe for all the pasta lovers out there. The concept is simple: Salmon, pasta, peas, and a cream sauce. Add a bit of cheese, and it's a crowd pleaser immediately. I mean, who doesn't like pasta and cheese?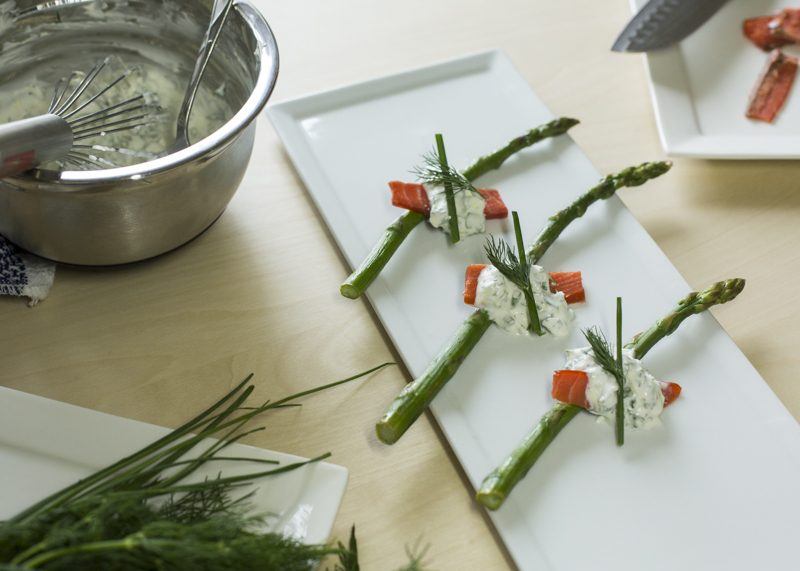 Technically not a full "dinner", but this does work as a great appetizer or as part of a light lunch. A great thing to make if you have some smoked salmon on hand, especially since the stuff lasts long enough!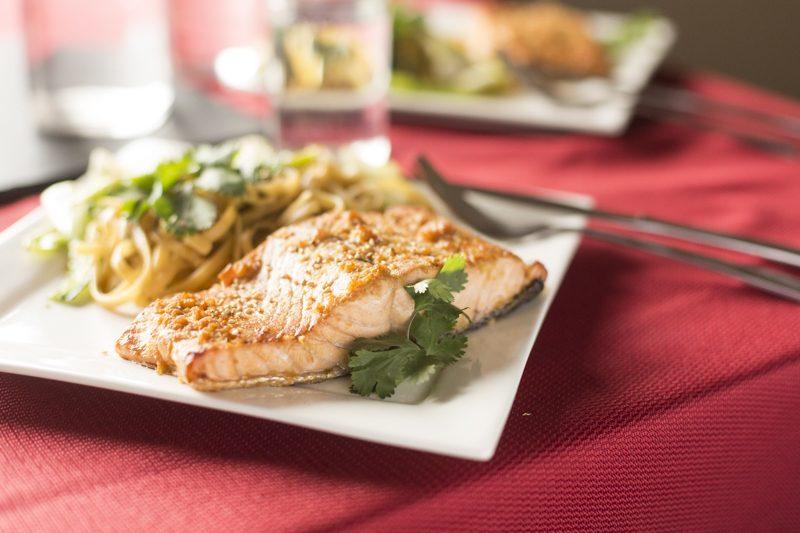 A delicious Asian style meal that features salmon. Love ginger? You'll love these noodles. Bok choi, snow peas, sesame oil, and sesame seeds are a guaranteed way to make any noodles taste and look like a dish from East Asia.
I know that low-sodium soy sauce is en vogue now, but I like the full strength stuff 🙂 Another one of my favorites featured here on this list of 10 quick and easy salmon dishes for dinner! Which recipe do you think looks the tastiest?
All the recipes I featured here in this post were original recipes, developed with the team here at foodfornet.com. But I do have another awesome recipe roundup of other bloggers from around the net that have created their own delicious dishes. Here are 32 must-try recipes for salmon lovers