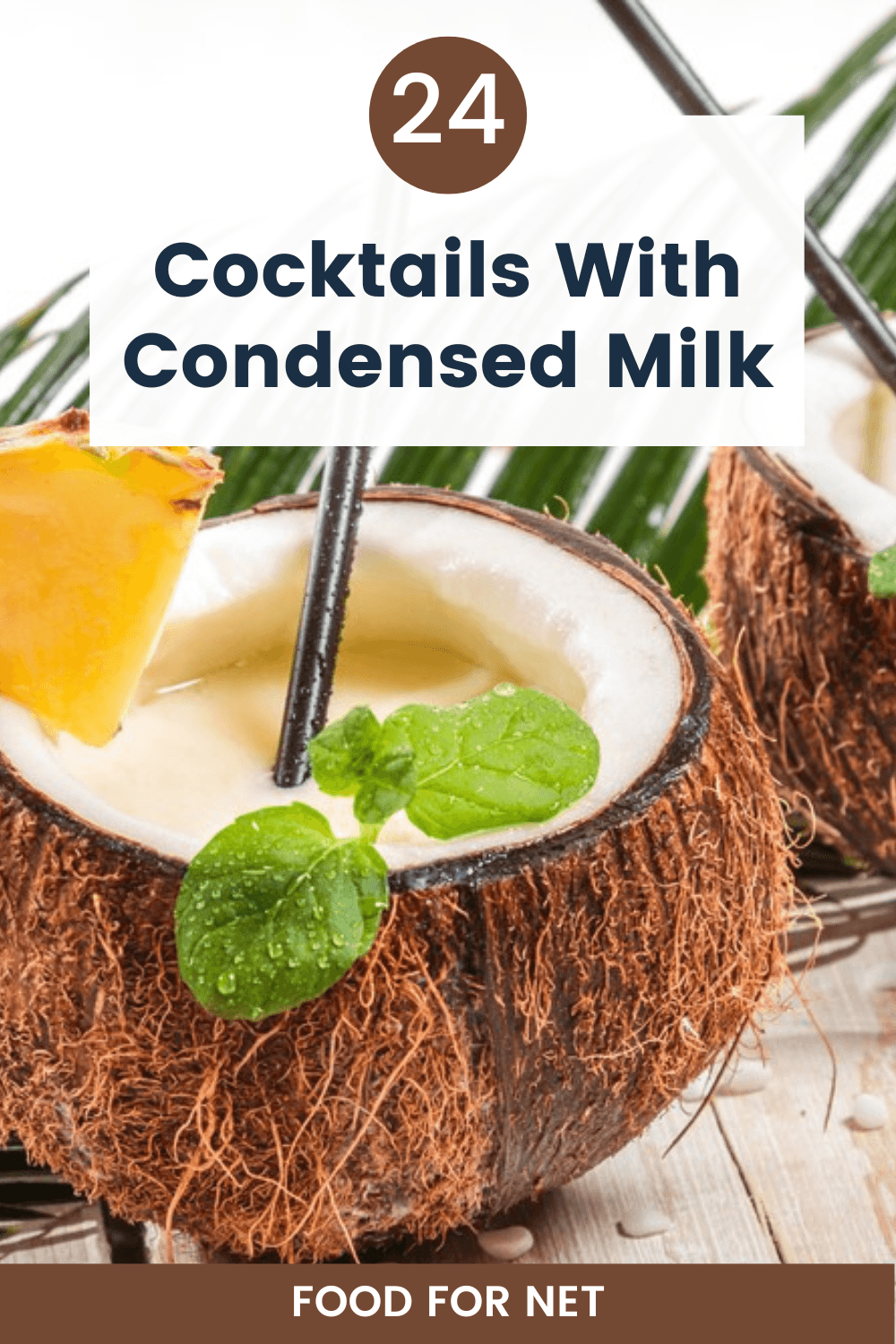 Creamy cocktails can be amazing. They're often rich, making them a perfect choice for dessert. Many such drinks are milk cocktails, while others rely heavily on cream or coconut cream. Condensed milk is a much less common ingredient and doesn't sound like it belongs in mixed drinks at all. Yet, there is a surprising number of many cocktails with condensed milk.
Why not? Condensed milk is both sweet and creamy, which are both features you need in a cocktail. It also lasts for more than a year unopened, without needing to be kept in the fridge. This is perfect if you want to make a creamy cocktail while away from home.
While condensed milk doesn't feature in as many cocktails as milk or cream, it's a surprisingly versatile ingredient. Check out these ideas for more recipes to add to your repertoire.
Cocktails With Condensed Milk (With Pictures!)
Key Lime Pie Margaritas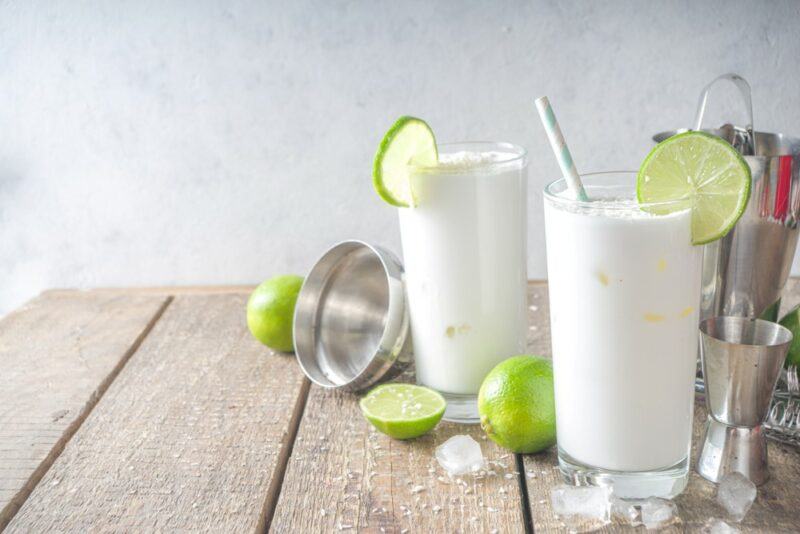 This delicious cocktail aims to mimic the flavors of key lime pie. The recipe itself is much like a traditional margarita, except that you're using key lime juice instead of regular lime juice.
The other difference is the use of sweetened condensed milk. This provides a richness that you simply don't get in most margaritas. Swapping the salt rim with a rim of graham cracker crumbs enhances the key lime pie association even further.
If you can't find key lime juice, you could use regular lime juice with the cocktail instead. The flavor profile won't be quite the same, but you'll still get a delicious drink.
Coquito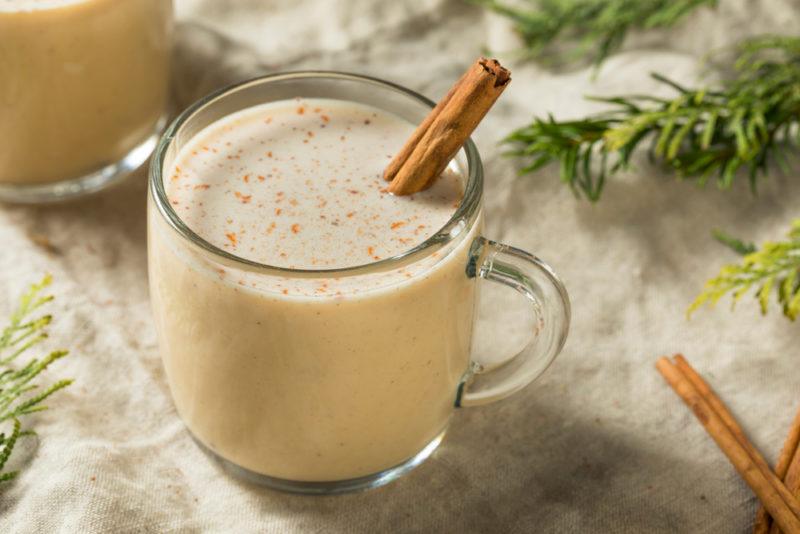 This traditional Puerto Rican drink has plenty in common with eggnog. In fact, the standard recipe even includes egg yolks.
The biggest difference is that eggnog uses milk as its base, while coquito focuses on coconut milk instead. Sweetened condensed milk is used as well, which helps with both the texture and the flavor of the cocktail.
Also, the eggs aren't essential in a coquito. Many recipes skip them entirely.
Sky Juice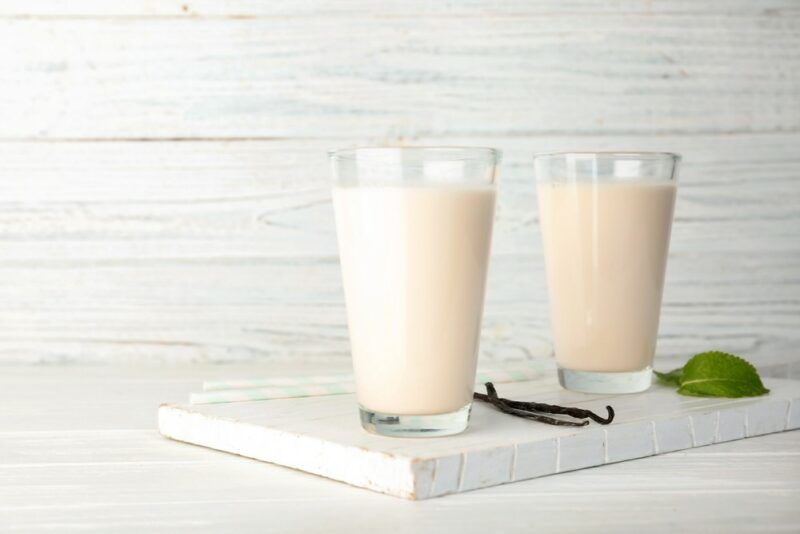 Sky juice is a refreshing, somewhat tropical drink, that defies expectations.
For one thing, it uses gin as the base spirit. Other similar drinks tend to focus on rum instead.
Then there's the combination of coconut water and condensed milk. The coconut water provides a subtle coconut flavor, while the condensed milk adds creaminess.
A twist on the recipe is the Bahamas sky juice. Along with the basic ingredients, this version includes muddled pineapple and strawberry. These fruits elevate the drink to an entirely new level.
Horchata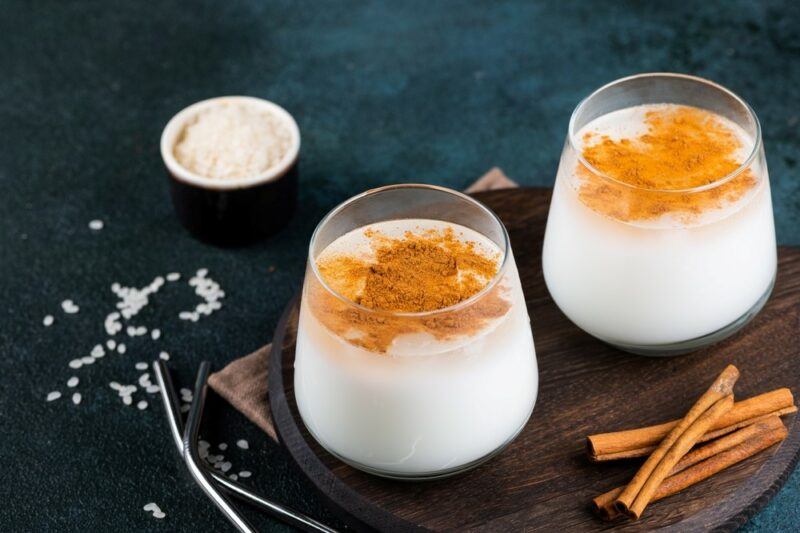 The horchata is a traditional drink, yet it can also be made in plenty of ways. Some versions rely entirely on plant-based ingredients, while others include some dairy too.
One delicious approach is to use rice milk (either homemade or store bought) combined with evaporated milk and condensed milk. The evaporated and condensed milk provides the drink with a distinct creaminess.
You can serve the drink as-is or spike it with rum to make it even tastier. Spiced rum is particularly good, as the spices complement the cinnamon in your drink.
Pink Panther's Milk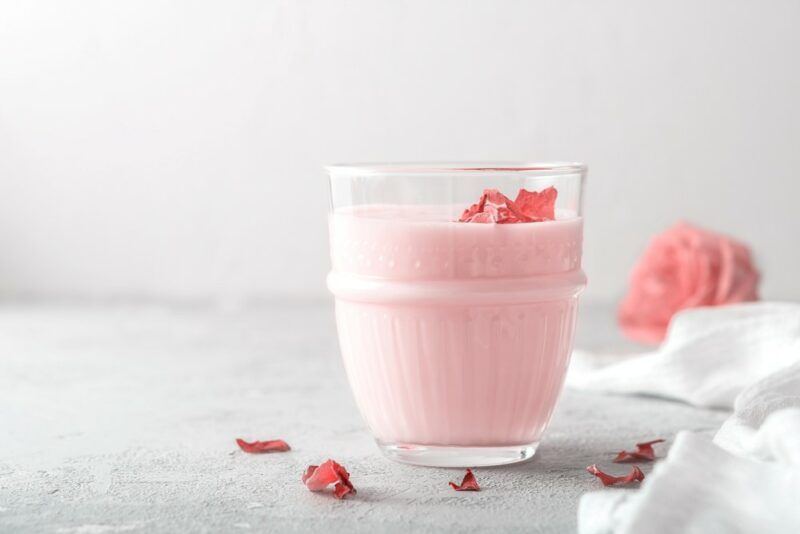 This pink cocktail isn't as modern as you might expect. It was originally inspired by an older drink, one first created back in the 1920s.
This version uses equal measures of gin, brandy (or rum), and condensed milk. The whole thing is then topped with plenty of milk to give you a creamy treat.
The pink color comes from mixing in a spoon of grenadine. This grenadine adds some tartness to the cocktail, but you're not using much, so it's a subtle flavor change.
Batida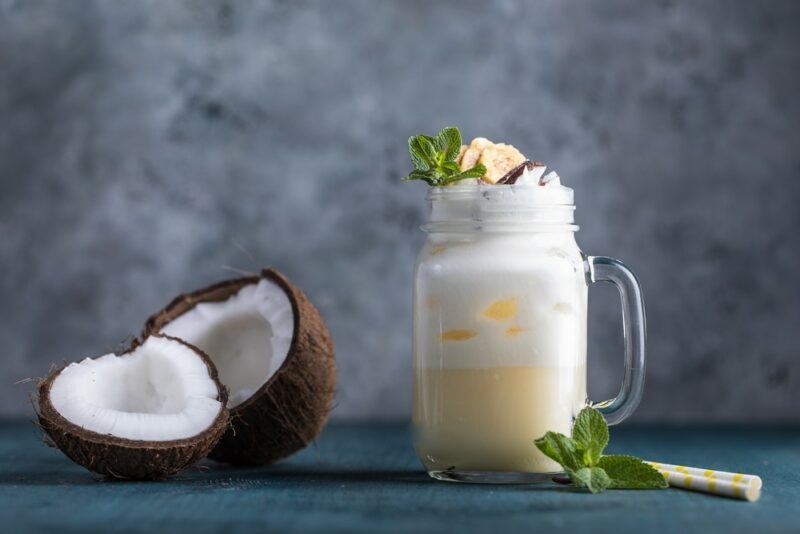 The batida is a classic Brazilin cocktail. It relies on cachaça, which is a sugarcane-based spirit that adds an interesting flavor to the cocktail.
The cocktail just relies on the cachaça, plus coconut water, condensed milk, and lime juice. You end up with a creamy drink that has a touch of coconut and lime flavor. Delicious.
If you don't have cachaça, you can use white rum or vodka instead. The flavor profile won't be quite the same, but it's close enough.
Batida De Coco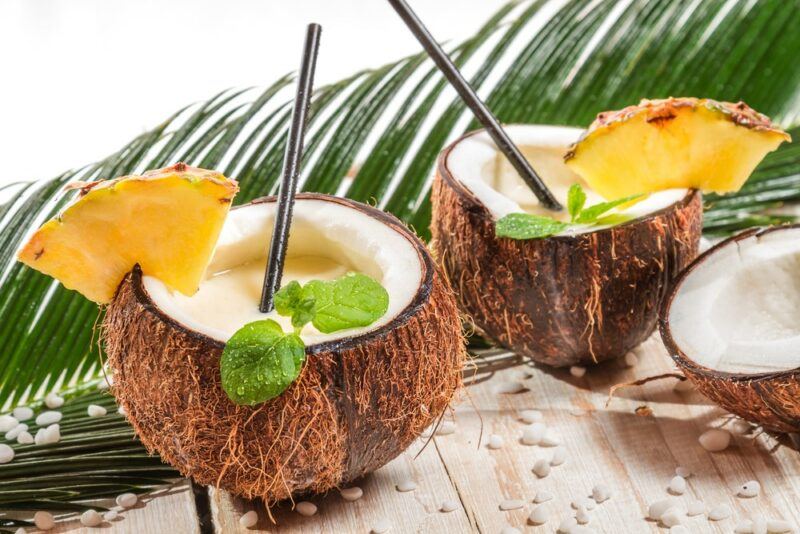 The classic batida can be varied in plenty of ways. This one is a coconut version. It drops out the lime juice and adds coconut milk instead.
There's also a simpler version that just combines cachaça with cream of coconut and condensed milk. This one is richer and even more delicious.
Okay, let's face it, you're basically making a coconut milkshake. It's hardly surprising that the drink tastes amazing.
Batida De Carneval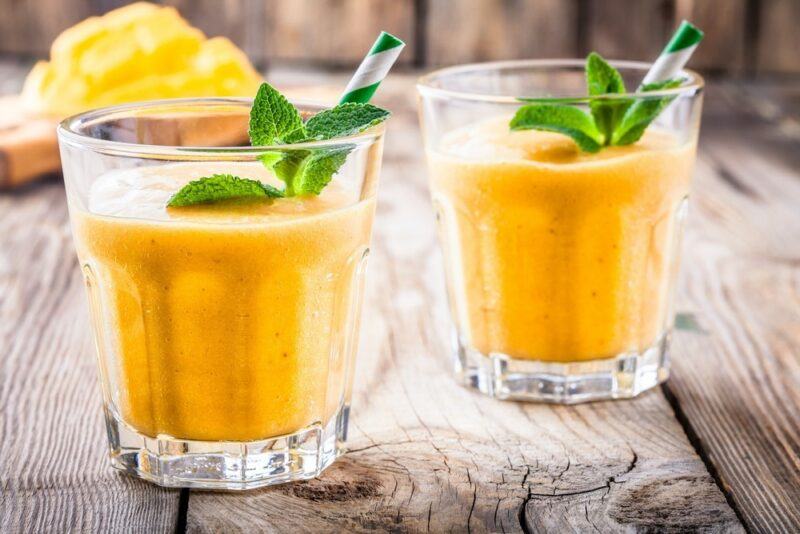 This batida variation isn't as obvious, but it's just as tasty. This time you're combining cachaça with mango puree, orange juice, and condensed milk.
It's a fantastic choice if you love fruity cocktails or if you just want something a bit different.
Other Batida Variations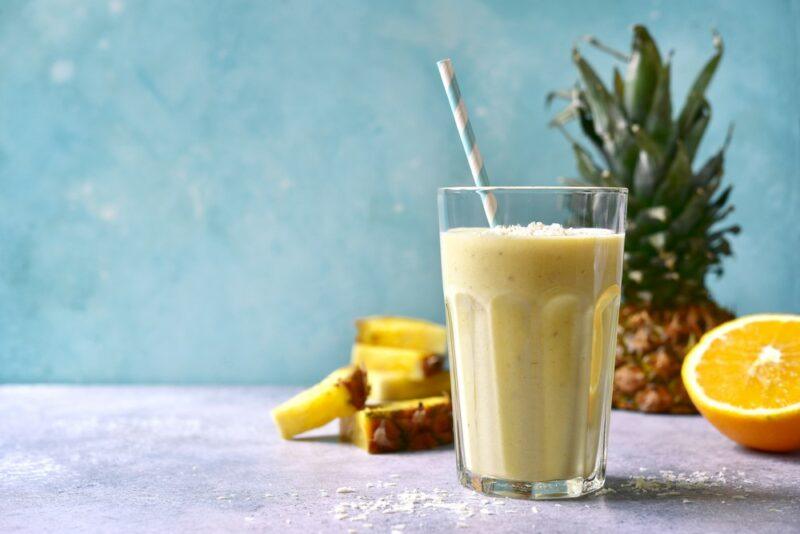 The basic recipe of cachaça and condensed milk can be varied in plenty of other ways too. There's the batida de banana, which literally just blends an overripe banana into the cocktail. Or the batida de abacaxi, where you're using pineapple juice and a little sugar syrup.
Honestly, you can use any type of fruit (or combination of fruits) in your batida to create a delicious cocktail. Blending the ingredients together with ice works well too.
Big Youth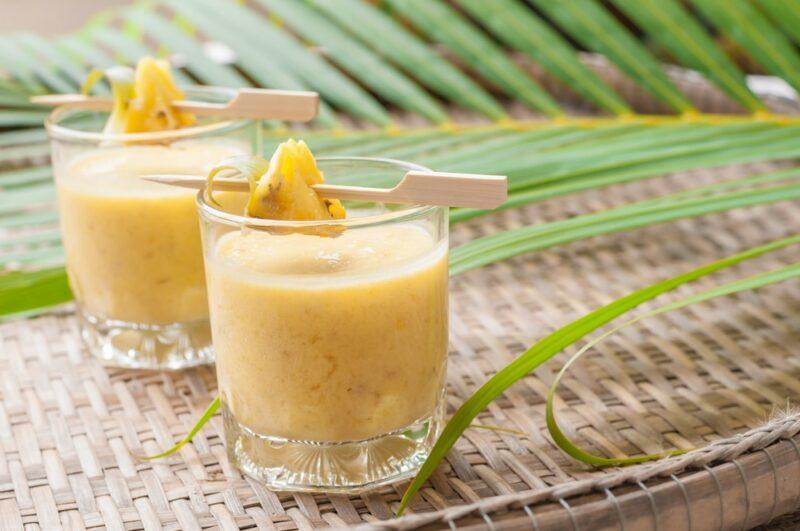 This cocktail is a poorly known classic. It combines Jamaican rum with sweetened condensed milk, bitters, and coconut cream. The combination of condensed milk and coconut cream gives you a rich drink, while the bitters help to balance things out.
Some tweaks on the recipe use either water or coconut water rather than coconut cream. Doing so dilutes the drink somewhat and stops it from being so intense.
But, either way, you're in for a treat.
Ponche De Algarrobina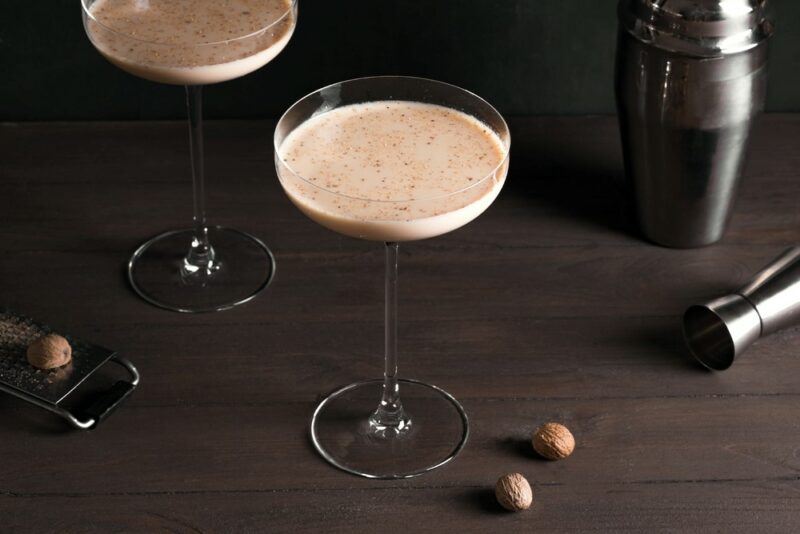 This four ingredient cocktail is unexpected, as it includes algarrobo extract (which can be substituted for milk extract), plus pisco.
Pisco is a light colored brandy that's made in Peru and Chili. It has some similarities to grappa because of how it is made, while the flavor profile is more like tequila. In practice though, pisco is its own beast. This cocktail won't taste the same with any other spirit.
The rest of the drink is simple, you just need egg white and condensed milk. All four ingredients are blended together with ice to give you a delicious frozen cocktail.
Ginny The Cheetah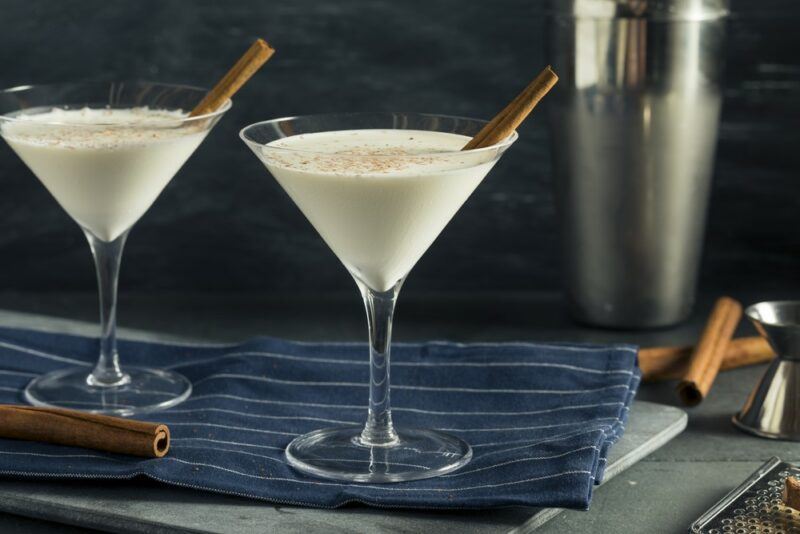 This cocktail isn't at all what you might expect. The recipe combines gin, condensed milk, and chocolate sauce, which all sound familiar enough.
The twist is that you're blending these ingredients together with sweetcorn. Yes, really, sweetcorn.
While corn isn't a common cocktail ingredient, it isn't unheard of either. Other cocktails also rely on sweetcorn or sweetcorn syrup to impart a distinct flavor and sweetness.
How well does it work? You'll need to try to cocktail for yourself to find out.
Dulce De Leche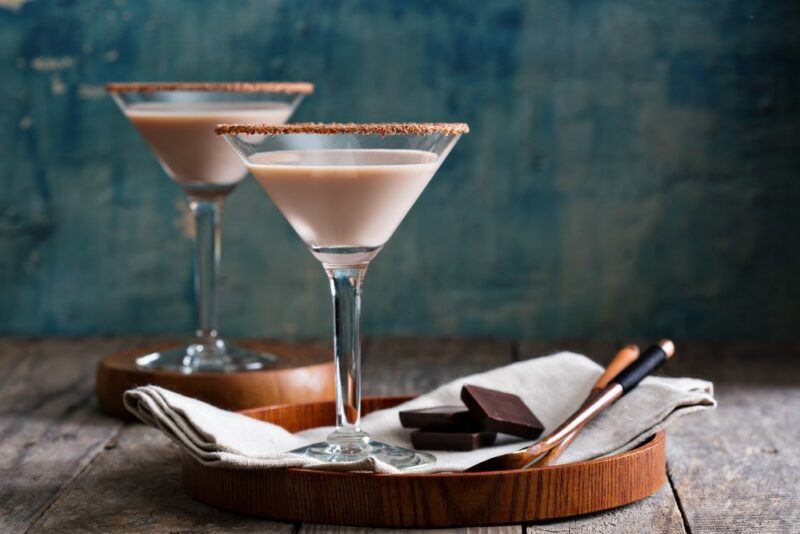 This is a drink for anyone who loves dessert in a glass.
It starts with rum and then adds sweet chocolate liqueur and sweetened condensed milk. These ingredients give you a rich and chocolaty cocktail that doesn't taste much like alcohol at all.
The cocktail is most well known for its inclusion in Guys and Dolls, where Sarah Brown thinks that it's a milkshake with Bacardi as a preservative. Needless to say, after a few such 'milkshakes', things start to get interesting.
The recipe for the specific cocktail featured in Guys and Dolls has been lost to time. However, there have been plenty of riffs on the idea, including the one we just talked about.
Tres Leches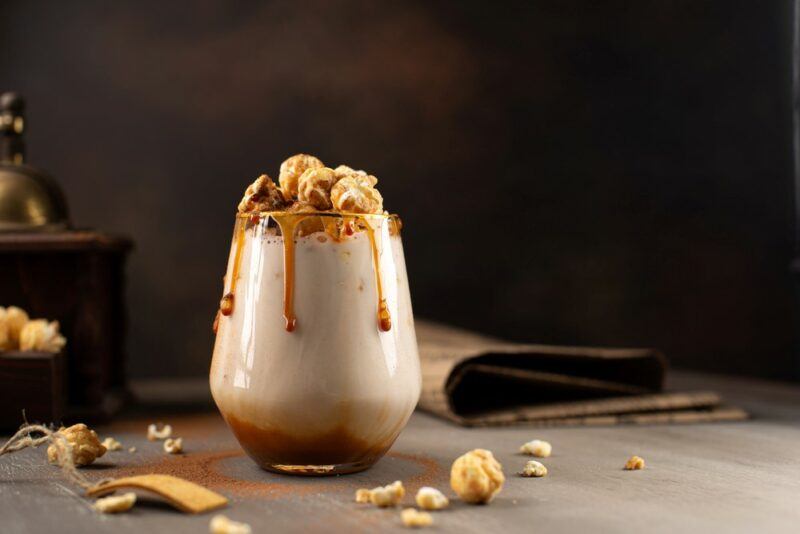 Here's another dessert idea. This one focuses on caramel rather than chocolate and was inspired by the classic tres leches cake.
One version can be made with vodka, rum, bourbon, or whiskey. The spirit is then shaken together with equal parts of sweetened condensed milk, evaporated milk, and heavy cream. It's a rich drink that works particularly well with cream and caramel sauce on top.
Here's an even better version. This time you're using whipped vodka, the three milk-based ingredients, plus dulce de leche sauce. The dulce de leche adds a caramel flavor to the cocktail, making it much richer and tastier.
Punch De Crème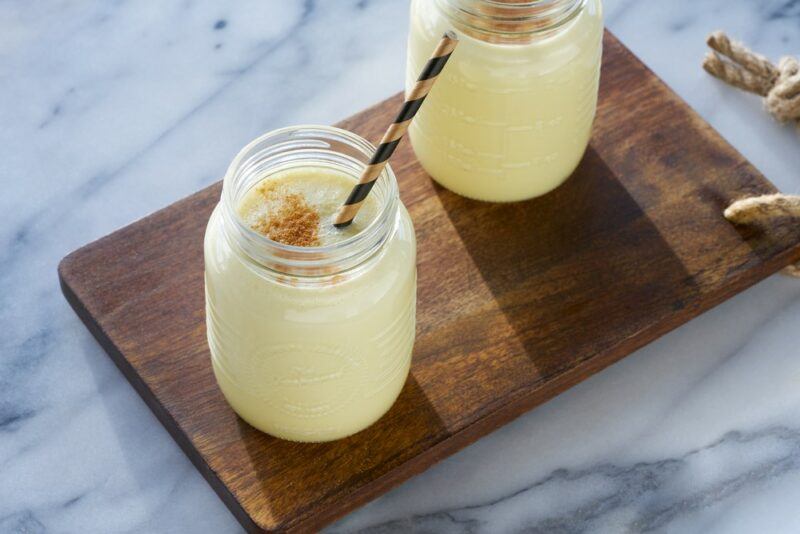 This recipe is a fun twist on traditional eggnog and hails from the Caribbean.
The ingredients selection includes eggs, evaporated milk, sweetened condensed milk, either lemon or lime juice, and some angostura bitters. So, there's a mix of familiar ingredients and some unexpected ones.
Rum is the spirit of choice. The cocktail tastes best if you turn to dark rum, although other types of rum add their own nuances to the drink.
While you can prepare punch de crème and drink it immediately, it tastes much better when left to chill for at least 24 hours. Doing so allows all the flavors to meld together.
Ponche a Crème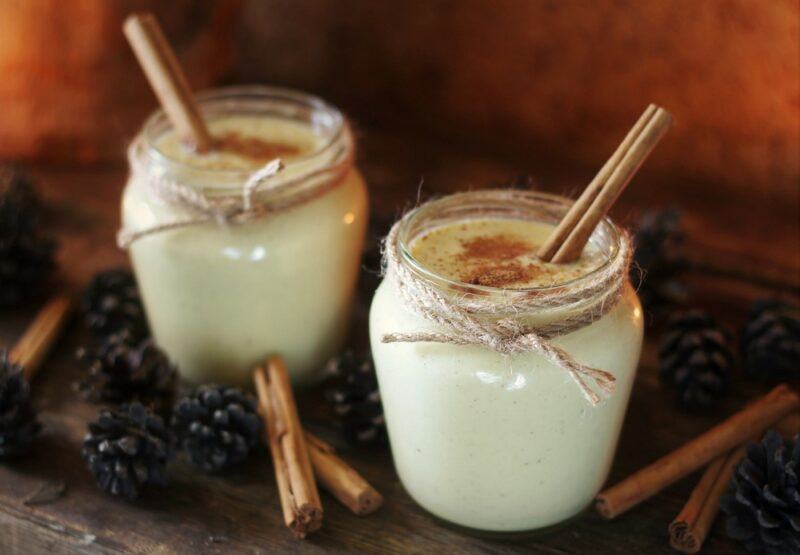 This recipe comes from Trinidad and is similar to the previous one. The biggest difference is that you're skipping the fruit juice and just using lime zest instead.
The zest provides a punchy flavor hit without changing the texture of the drink. This time, the recipe works particularly well with white rum.
You end up with a surprisingly complex drink that contains more flavors than eggnog and is better balanced.
Bourbon Milk Punch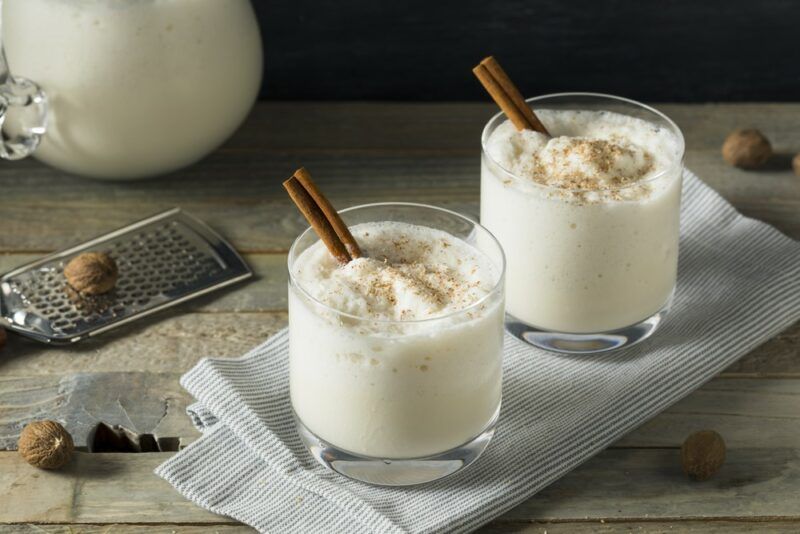 The traditional milk punch is a delicious alternative to eggnog, as it's creamy, boozy, and doesn't rely on eggs at all. The ingredients tend to be simple too – just milk, brandy or bourbon, simple syrup, vanilla extract, and perhaps some cinnamon.
Some versions add sweetened condensed milk to the mix. Doing so allows you to skip the simple syrup and adds considerable creaminess to the cocktail.
You don't need much sweetened condensed milk either. The cocktail is excellent if you rely on mostly milk, then just add in a tablespoon or two of condensed milk.
Eggnog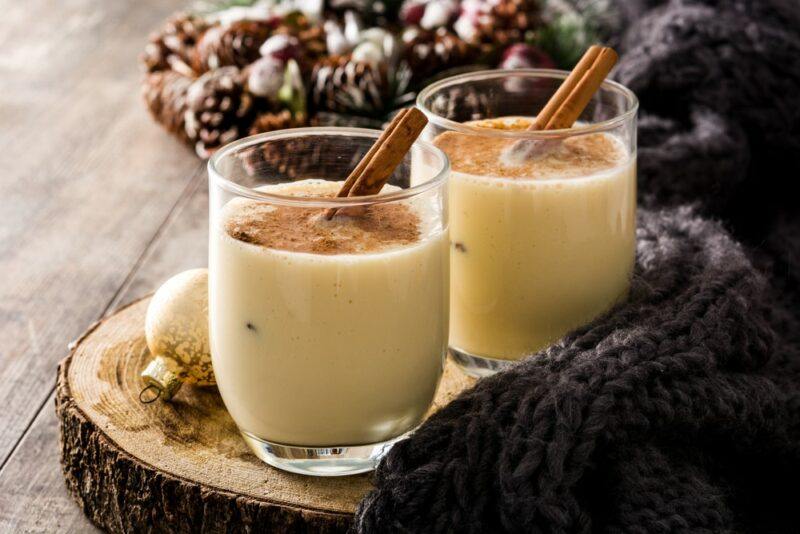 We've talked about plenty of eggnog alternatives, but what about eggnog itself? This rich holiday drink can easily be spiked with rum or brandy, making it a delicious cocktail.
The traditional version of the drink relies on milk, cream, eggs, sugar, and cinnamon. However, plenty of recipes add sweetened condensed milk too, often in the place of cream.
This switch is helpful if you don't keep heavy cream in the house. After all, sweetened condensed milk has a much longer shelf life. The condensed milk also provides plenty of richness and sweetness to the drink. Honestly, it's a version that you should try at least once. You might even prefer it to the original.
Homemade Baileys Irish Cream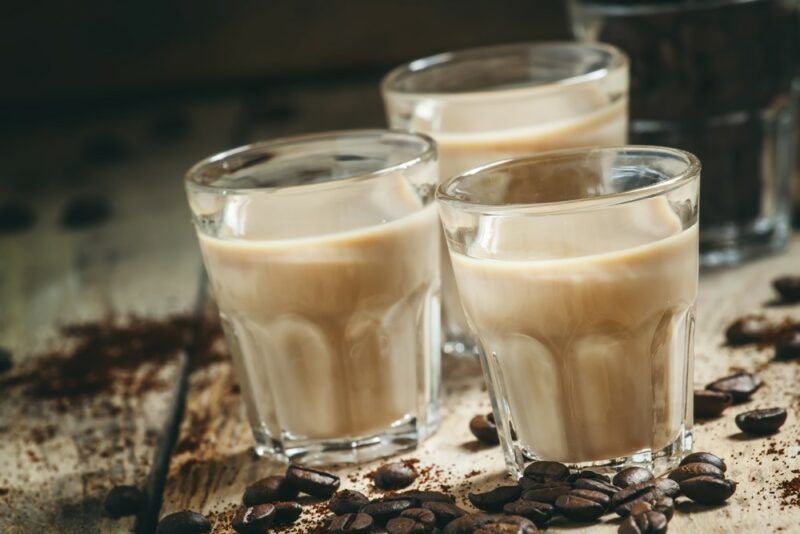 Why buy Baileys when you can make your own? This cocktail can help. It relies on Irish whiskey, half and half, sweetened condensed milk, espresso, and chocolate sauce.
You need to be a little careful with preparing it, as being haphazard can lead to the ingredients curdling.
The final flavor profile isn't exactly the same as Baileys, but it's pretty close. You could easily use this in any cocktail that calls for Baileys or simply sip it over ice.
Creamy Guinness Cocktail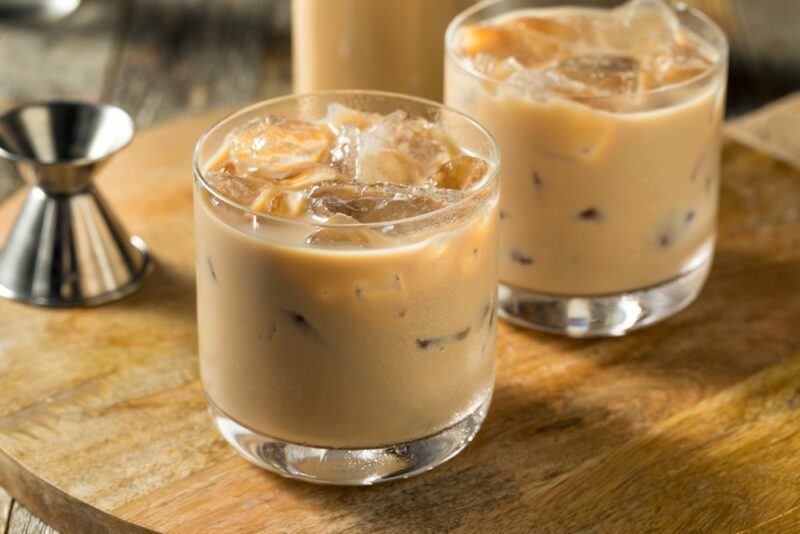 Guinness and condensed milk might seem like a strange combination, yet this cocktail works incredibly well. There are only three ingredients too – Irish whiskey, Guinness, and condensed milk.
Together, these three ingredients taste a little like Baileys, except that you're getting much more alcohol per serving.
Jamaican Guinness Punch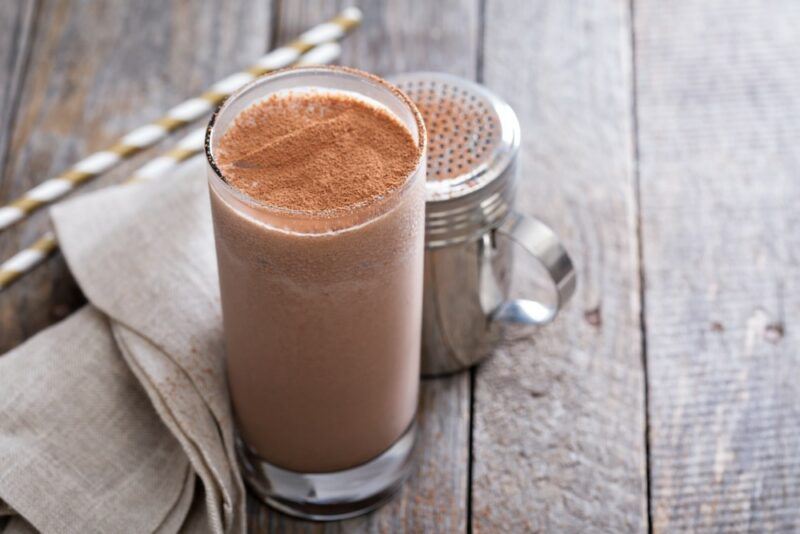 Here's another Guinness-based cocktail to experiment with. This is a little more complex than the previous example, as it combines Guinness with regular milk and condensed milk.
Various spices are added too, which provide the drink with plenty of nuance. You could even add a scoop of ice cream to the top to create an ice cream float.
Eggnog Ice Cream Float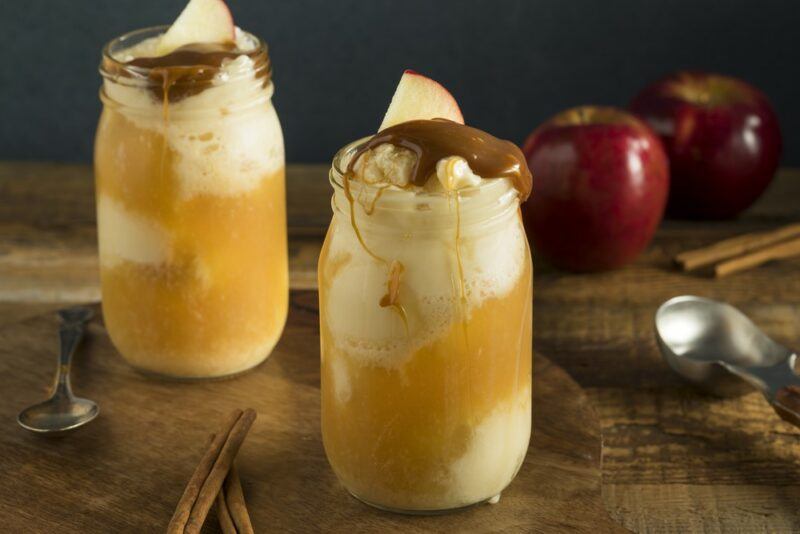 We talked about eggnog earlier, so what about taking the idea further and making some eggnog ice cream floats?
The simplest approach is to take regular eggnog, then add a scoop of vanilla ice cream and some soda water. Don't forget the booze too.
For a richer and tastier cocktail, why not make your own eggnog ice cream? Some versions even include alcohol within the ice cream itself, giving you a double hit of booze. Pretty impressive, right?
Whiskey Strawberry Horchatas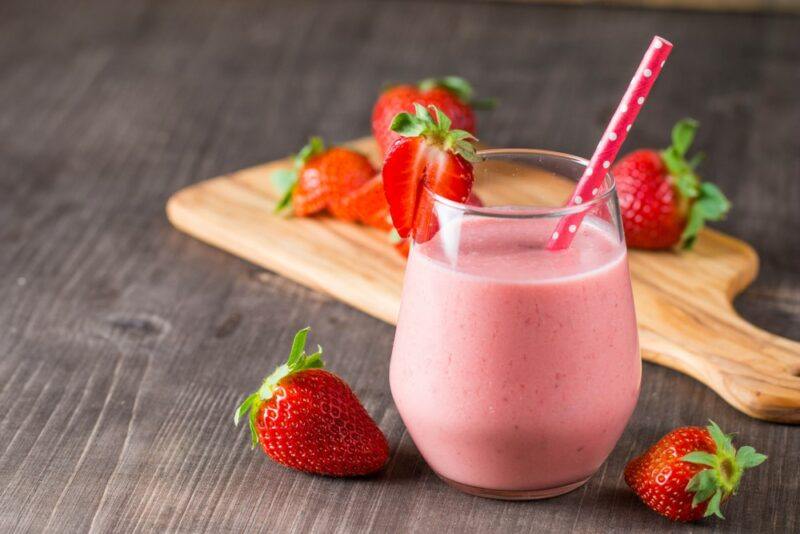 This cocktail is a simple variation on the idea of a horchata – using blended strawberries and red food coloring to create a version that looks and tastes amazing.
You could try this approach with any horchata recipe, which gives you plenty of flexibility. Also, the food coloring is completely optional. You could skip it entirely if you prefer a more natural drink.
St. James Flip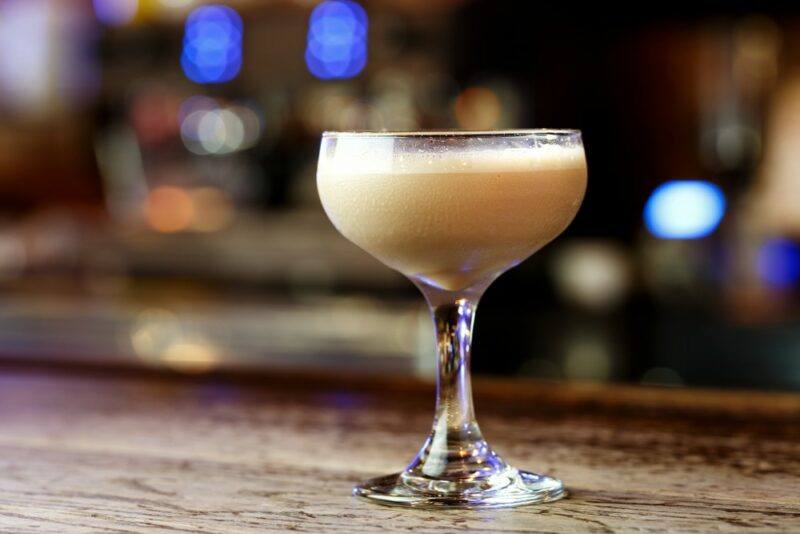 This final cocktail balances bitter and sweet flavors to give you an unexpected drink.
As the name suggests, this is similar to a traditional flip cocktail. However, the ingredients chosen are unusual. You're actually using blackstrap rum, Guinness, and sweetened condensed milk, along with an egg. You'll need to do a decent amount of shaking to get the right texture for this cocktail. Still, the drink isn't too tricky and it's a fun test of your barmanship skills.