It's hard to believe, but we're already getting close to the holiday season, with Thanksgiving coming up fast, then Christmas and New Years hot on its heels. There's still a lot of worry and stress throughout the world right now, but those issues only make these holidays even more important.
Whether we're enjoying Thanksgiving in person or catching up with family members long-distance, this holiday still matters. So, let's make it count with delicious Thanksgiving drinks.
For this roundup, we're focusing on… you guessed it… alcoholic drinks. Most of these boozy delights are cocktails, so you can easily skip the alcohol to make an alcohol-free version for some of your guests.
Thanksgiving Drinks
Caramel Apple Martini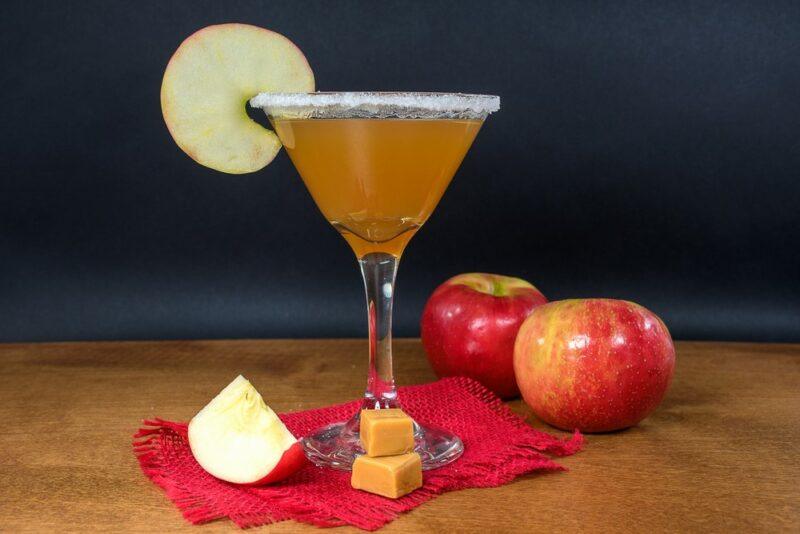 How can you go wrong with apple and caramel? Those two flavors seem destined to go together and this cocktail combines them most excellently.
While there are multiple caramel apple martini recipes out there, most rely on caramel vodka and apple cider. You could even turn to salted caramel vodka to add some more complexity to the drink.
I've also seen versions that add butterscotch schnapps to the mix. It's easy to see why too, as the buttery caramel nature of butterscotch schnapps complements the other flavors perfectly.
Cranberry Mulled Wine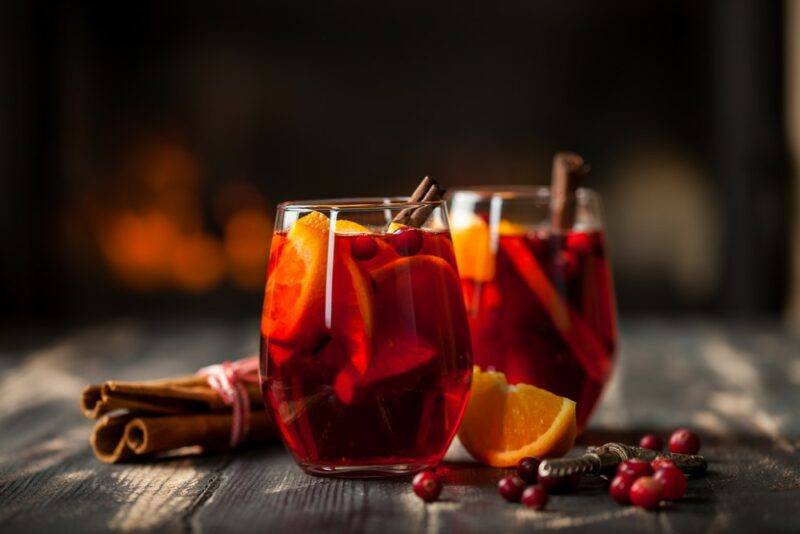 Thanksgiving drinks don't all need to be exceptionally unusual or complicated. Sometimes it's better to choose something that's simple and familiar, especially if you're serving a crowd. After all, who has the time to make a dozen or more individual cocktails?
Enter mulled wine.
It's a cold weather classic that can be easily scaled up to meet any party size. You can even prepare it in the slow cooker, which helps to keep it warm for hours on end.
Regular mulled wine should be instantly familiar. It relies on red wine, spices, some orange slices, and perhaps a dash of brandy or another spirit to give it some extra oomph.
For a more holiday-themed version, why not try a cranberry orange mulled wine recipe instead? The simplest way to do so is to add some cranberry juice into your mulled wine. You could garnish it with cranberries too.
You may need some type of sweetener as well, like brown sugar or honey. This helps to offset the dryness of the red wine and the sharp flavor of the cranberry juice.
Some recipes take things a step further and include orange juice in the mix. Doing so brings out a fantastic orange cranberry flavor. Plus, orange juice is naturally sweet, so you might be able to use it instead of extra sugar.
Baileys Apple Pie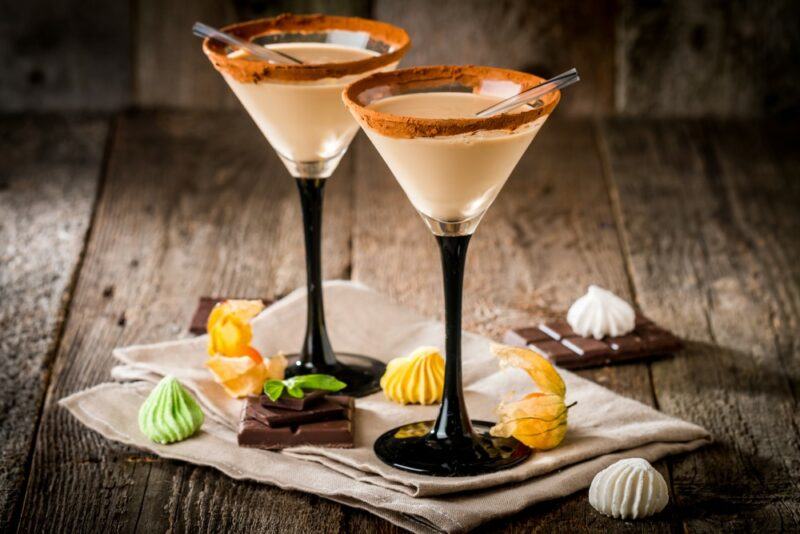 Why go to the work of creating a cocktail, when you can get all the flavors of fall in a single ready-made drink? Baileys Apple Pie is one such drink.
As the name suggests, this liqueur is a variation of the classic Baileys Irish Cream liqueur. It still has the underlying Irish cream flavor that we've come to love, but there are also hints of cinnamon, spice, vanilla, and apple.
You end up with a creamy and delicious treat that is perfect when sipped over ice. Some people even add the liqueur to coffee or a chai latte. Doing so gives you a delicious flavor without too much creaminess.
Pumpkin Spice White Russian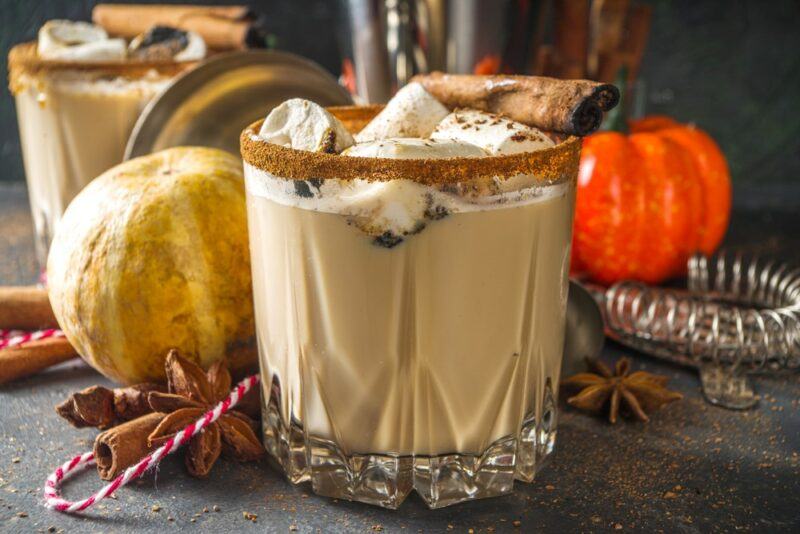 We've featured this cocktail in a few lists already, largely because it is just too good to pass up. You're basically just taking a regular white Russian (vodka, Kahlua, and cream), but preparing it with pumpkin spice creamer, rather than cream.
You can take things a step further by making a pumpkin pie spice and graham cracker rim. That's entirely optional though. Even the simple version of the drink is perfect for Thanksgiving.
To make it more interesting, why not use vanilla vodka instead of regular vodka? This would give your drink a pumpkin pie like flavor.
Sparkling Apple Cider Cocktail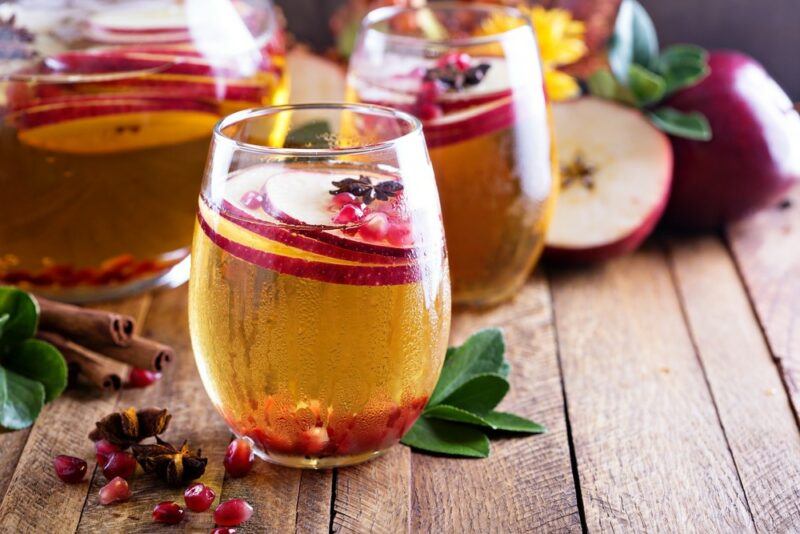 Looking for something vibrant, bubbly, and fit for a celebration? A sparkling apple cider cocktail could be perfect.
There are multiple ways to prepare such a drink, starting with an apple cider mimosa, which combines apple cider and sparkling white wine. Some versions include a little dark rum to add complexity to the flavor profile.
Another trick is to use apple cider, sparkling wine, and Aperol. This gives you a fall-themed version of the Aperol spritz, one that may be even more delicious than the original.
Or, how about a gin version? Try combining sparkling apple cider with gin for a truly interesting cocktail. This drink gives you plenty of interesting aromatics from the gin, which nicely play off the flavors of your apple cider.
Try adding a dash of bitters and some lemon juice as well, to kick the cocktail up a notch. You won't be disappointed.
Boulevardier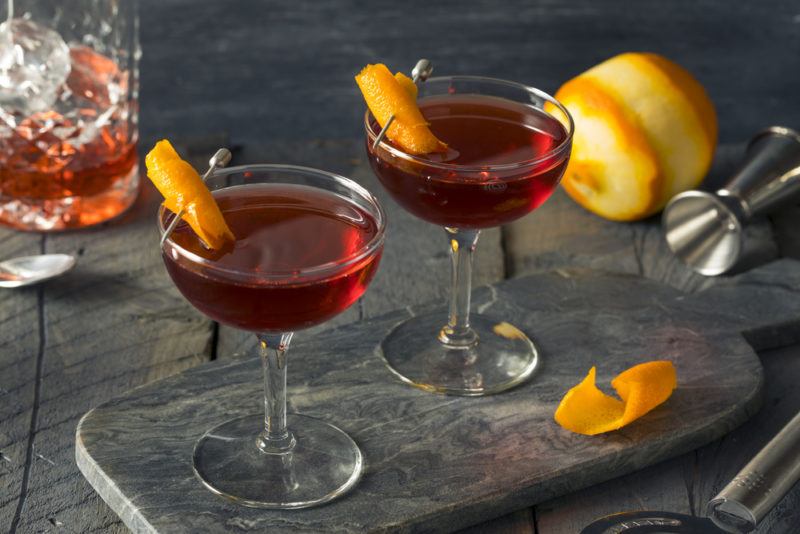 This stiff cocktail is best served to a small audience, perhaps after dinner during a family gathering. It's basically a negroni, except that it uses bourbon instead of gin. Focusing on bourbon gives the drink a smoky edge, one that's perfect when the day's festivities are coming to a close.
You just need three ingredients for the cocktail – bourbon, Campari, and sweet vermouth. You don't even need a cocktail shaker, as this drink is best prepared by stirring the ingredients together over ice.
Be warned though, the cocktail packs a punch.
Cranberry Moscow Mule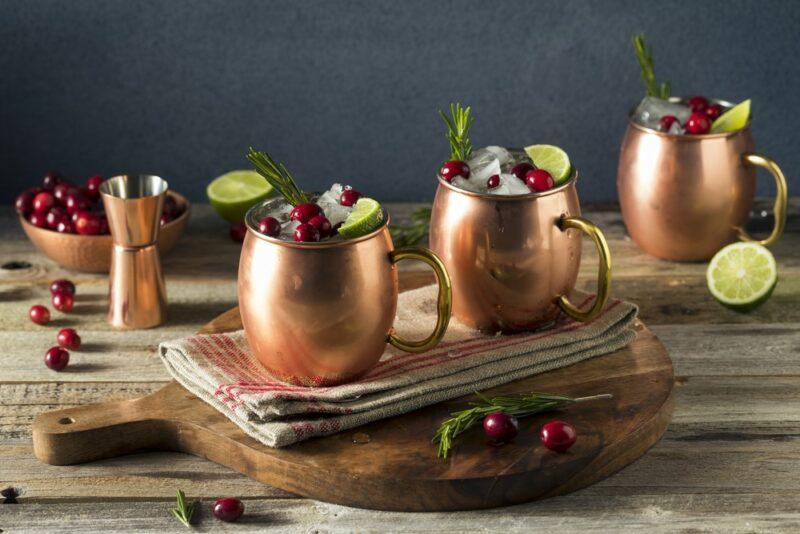 This drink is ideal when you need something that's both simple and seasonal. A regular Moscow mule simply relies on vodka, lime juice, and ginger beer.
To make a cranberry version, you're just adding cranberry juice and perhaps some cranberries as a garnish. That's it. Nothing could be simpler.
While the combination of ginger beer and cranberry juice might sound strange, the flavors go together very well indeed. You can also experiment with the type of alcohol to change the flavor profile of the drink. Rum is an exceptional choice, giving you a depth of flavor that you simply don't get with vodka.
Pumpkin Pie Shots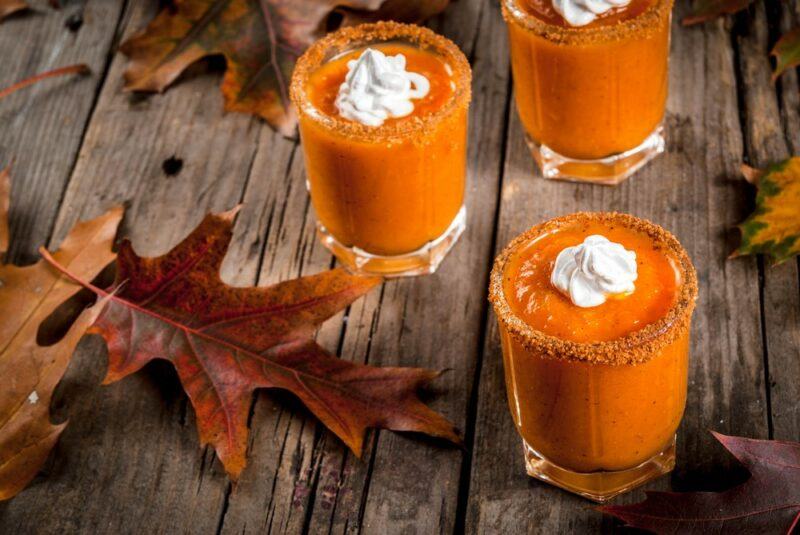 If your event has more of a party style to it, you could try making pumpkin pie shots. The name says it all really, as these little shots give you all the flavor of a pumpkin pie, along with plenty of alcohol.
There are many versions to play around with too, like one that relies on caramel vodka, pumpkin spice liqueur, and RumChata. Using vanilla vodka instead of caramel vodka would work well too.
Another version, from A Night Owl Blog, changes things up again and includes both pumpkin puree and pumpkin spice creamer in the recipe. Not surprisingly, you end up with a strong pumpkin flavor that's certain to please.
Apple Cinnamon Old Fashioned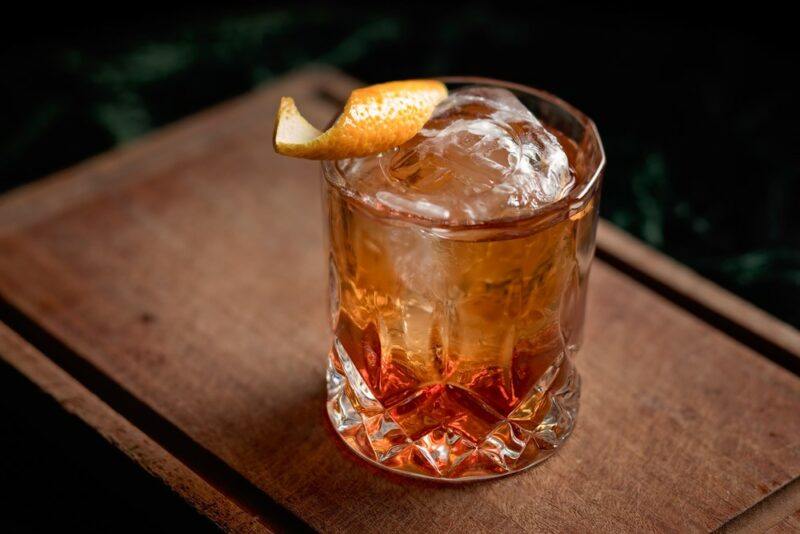 Some of the best cocktails are those that take something familiar and mix it up. That's exactly what this apple cinnamon old fashioned does. Just like a regular old fashioned, the cocktail includes bitters, a sugar cube, and bourbon.
However, there are some extra additions, including apple butter and club soda. The recipe gives you a drink that's taller than a regular old fashioned, with a notable apple flavor. There's a slight sweetness to it too, enough to tempt pretty much anyone.
Pumpkin Beer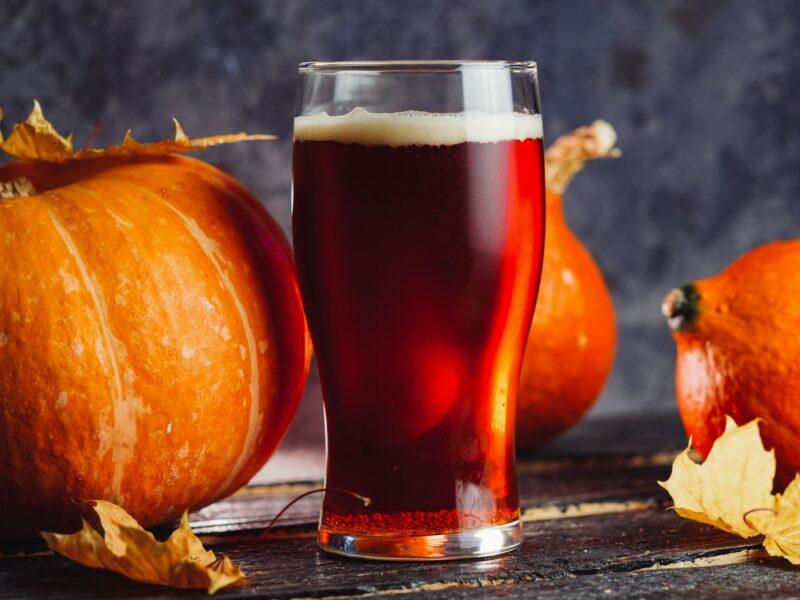 To keep things simple, why not serve pumpkin beer? That's right, just the beer itself. You don't need to turn it into a cocktail (although, there are some delicious pumpkin beer cocktails out there).
While pumpkin beer can seem like a bit of a gimmick at times, the right bottle can be pretty amazing. Besides, pumpkin pairs well with most other Thanksgiving flavors, including spices, so pumpkin beer should complement whatever you happen to be serving for Thanksgiving.
Fireball Apple Cider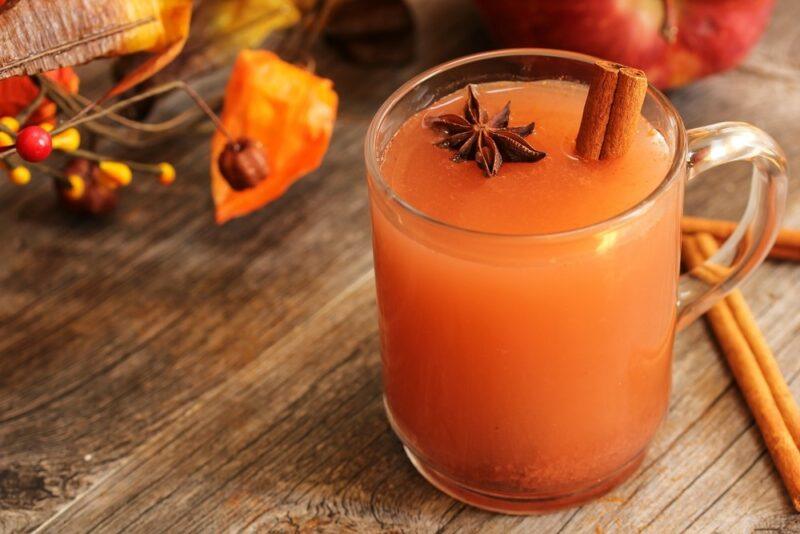 Want a fun two-ingredient cocktail? Try combining Fireball Whisky with apple cider. Well, to be honest, any type of cinnamon whiskey will do the trick. It's easy to see why this cocktail works, as whiskey and apple cider naturally complement one another, while the cinnamon just brings the whole drink up a level.
Rather than serving the drink as-is, why not try warming the apple cider first? This will give you a delicious warm drink that's perfect for the cool weather.
If warm cocktails aren't your thing, what about making a slushie? Blend the ingredients together with ice to give you a delicious cold drink.
Apple Pie Whiskey Float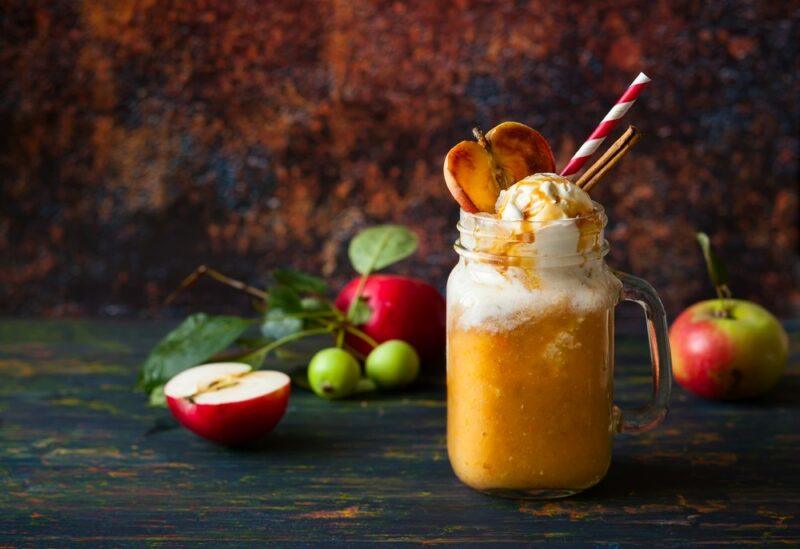 Here's another drink that combines apple cider and whiskey. This one is a great dessert drink, as you're even using vanilla ice cream to make a float.
The drink itself is incredibly simple. You just need the apple cider, some vanilla vodka, and some apple whiskey. A little cinnamon complements the flavors nicely, while the vanilla ice cream just makes the whole drink that much better.
You could make the drink without the ice cream and it would still taste amazing. You might even choose to warm the cocktail up.
Spiced Hot Chocolate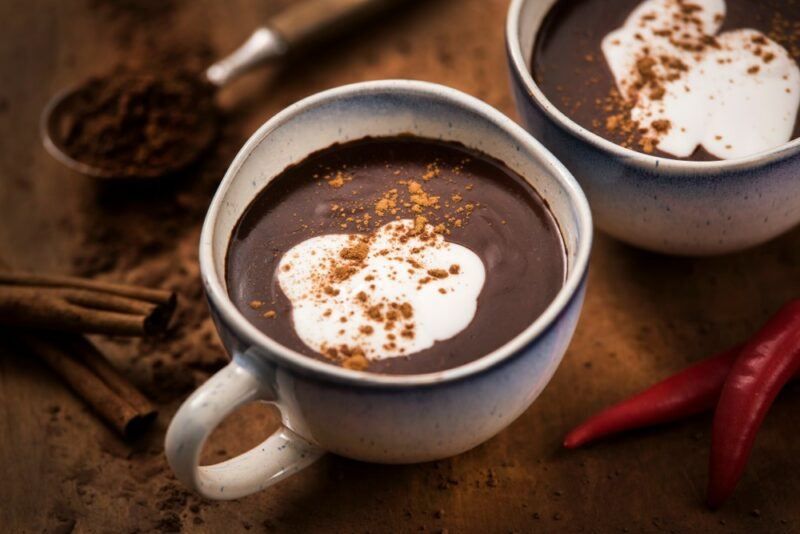 When made well, hot chocolate is an age-old favorite for cool evenings. The trick, more than anything, is to rely on high-quality ingredients, like cocoa powder and fresh milk or cream. Try to avoid the powdered mixes, as these always give you an inferior drink.
Making a spiced version might be as simple as adding a cinnamon stick into your drink, along with some spiced rum. Or, you could skip the spice and just add alcohol. Bourbon would be an excellent choice, providing a sweet smokiness that complements the other ingredients well.
Fall Punch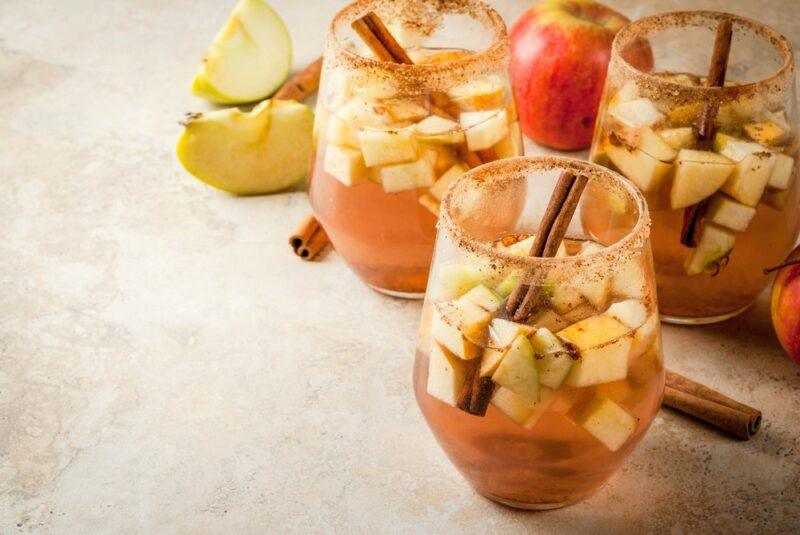 Fruit punch is a regular party feature, largely because it's easy to make a large amount. After all, preparing individual cocktails gets silly fast when you have a dozen or more guests.
Why not change things up a little by making a fall-themed fruit punch? One way to do so is to combine apple cider, prosecco, vodka, and ginger beer, along with plenty of sliced fruit and some cinnamon sticks.
Apples and oranges are the best type of fruit to choose here, as they complement the fall theme and flavors perfectly.
Vodka isn't your only option. You could also try bourbon. This would change the flavor profile, but not in a bad way. Honestly, it's hard to go wrong with apple cider and bourbon. That combination is just too perfect.
Cranberry Zombie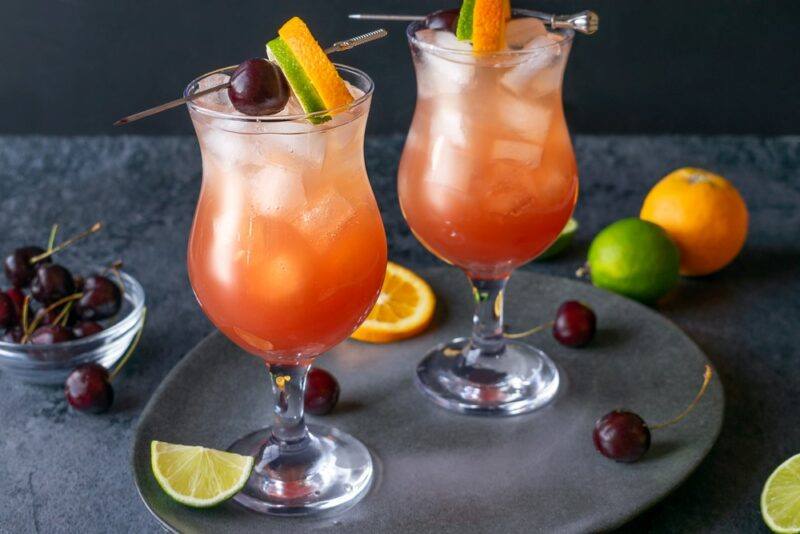 Want a drink that's really going to pack a punch? Look no further. This cocktail is a variation on the zombie, which is one of the strongest mixed drinks you can order anyway.
Just like a regular zombie, this cocktail uses four types of rum, including one overproof rum. Aside from that, you're just adding in some lime juice, a little cranberry juice, and some sugar. What could be simpler?
Let's be clear though, this cocktail is heavy on the rum and light on the mixers. Seriously, this version only uses two teaspoons of cranberry juice – enough to give it an orange-red color and a hint of cranberry flavor.
Hot Buttered Rum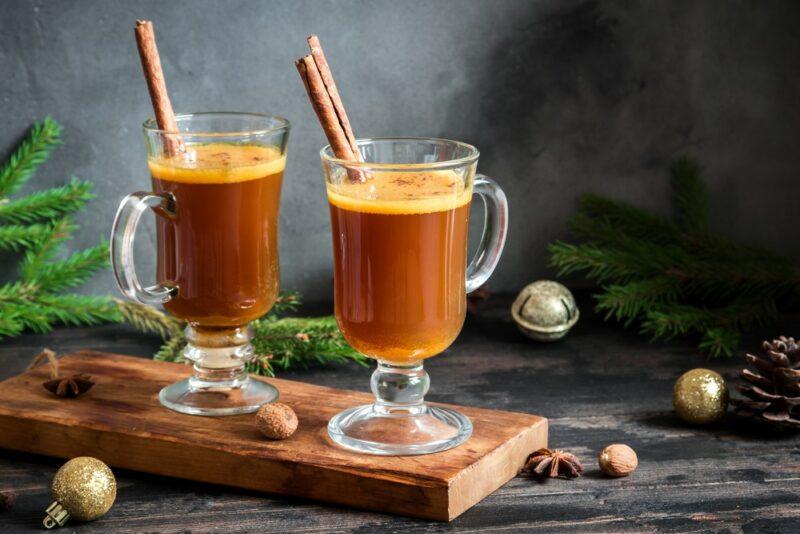 Hot buttered rum is more well-known than most of the other cocktails on this list. Still, that doesn't make it any less special. There's a reason that we keep coming back to the drink time and time again – it's just that good.
There's another advantage too, hot buttered rum is easy to serve during an event. Most of the work is in the initial step of making the spiced butter mixture. You can do this ahead of time. As long as you prepare enough, spiced butter, the drink is a breeze to put together.
To change things up, why not prepare this drink in the slow cooker? Doing so helps to keep the drink hot and will fill the room with a delicious smell. It's also an easier option, as you don't need to prepare anything ahead of time. Simply mix all the ingredients in the slow cooker and leave it on low for an hour or two.
Apple Pie Martini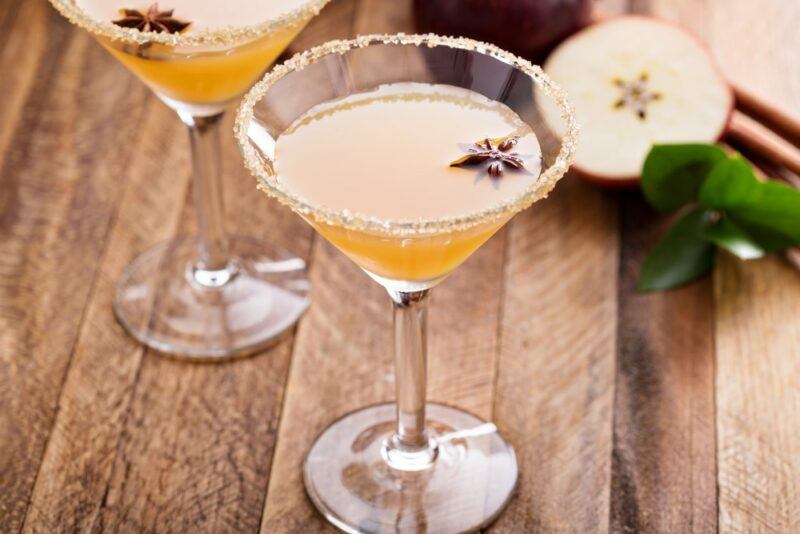 This cocktail can be as simple as combining vanilla vodka with apple cider and a little cinnamon as a garnish. Those three flavors get surprisingly close to an apple pie.
If the drink ends up being too sweet, try adding a tiny bit of fresh lime juice. This has just enough tartness to offset the sweetness of the cocktail, without changing the flavor profile too much.
You can introduce the same flavors in other ways too, like using apple cider, plain vodka, and vanilla liqueur. Or, how about using apple cider, vanilla vodka, and cinnamon schnapps?
Honestly, once you know the flavors you want, you can easily play around with the specific ingredients. You might even find a way to use cinnamon whiskey in the cocktail somewhere.
Pumpkin Pie Martini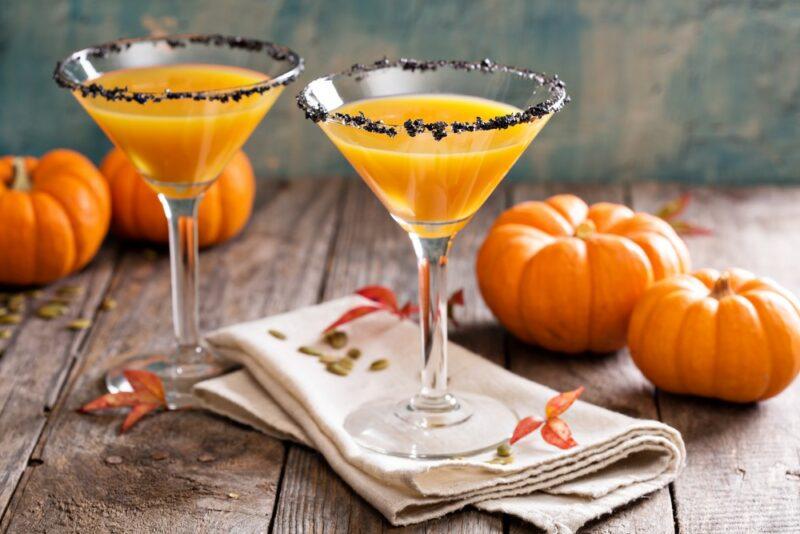 Here's another martini variation to play around with. This time, we're looking at pumpkin spice flavors.
Once again, there are plenty of ways to make the cocktail. Most of the time, however, you'll be wanting a creamy drink. So, some type of cream liqueur is in order. Baileys Irish Cream liquor is a surprisingly good choice, as the Irish cream flavor is subtle and should nicely complement your desired pumpkin flavors.
Vanilla vodka is another good addition. Beyond this, you'll need to add the pumpkin flavor, perhaps with a little pumpkin pie spice and pumpkin puree.
There is also a Baileys Pumpkin Spice flavor. If you can get your hands on this, then the cocktail could be as simple as combining Baileys Pumpkin Spice with vodka.
Apple Cider Margarita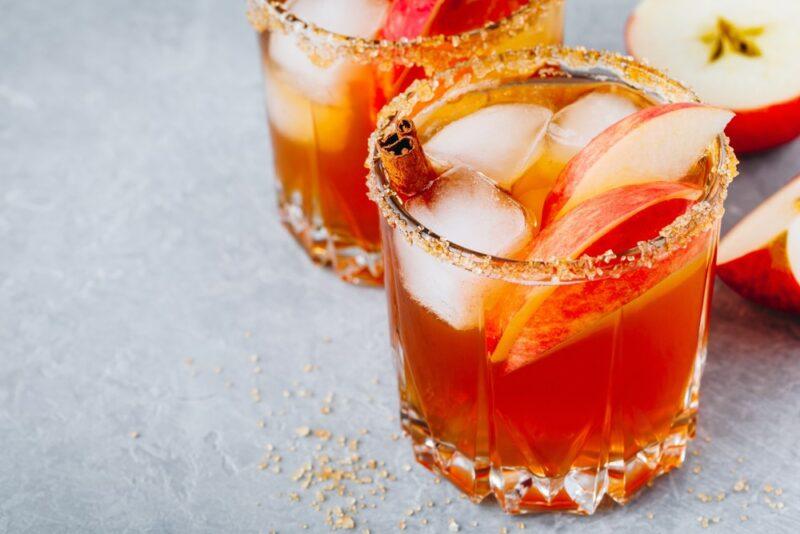 Have you ever used apple cider in a margarita? If not, you're missing out. The apple cider doesn't just provide a delicious flavor. It also helps to balance out the sourness of the drink, giving you something that's easier to enjoy.
A regular margarita relies on lime juice, silver tequila, and an orange liqueur like triple sec. With an apple cider margarita, you'll often be using lemon juice, silver tequila, and apple cider instead.
You can play around with the rim too. Margaritas are traditionally served with a salted rim. This approach still works here, but why not try a sweet rim instead, like one made using cinnamon and brown sugar?
Garnish the drink with a cinnamon stick and apple slices to make it even more seasonal.
Sea Breeze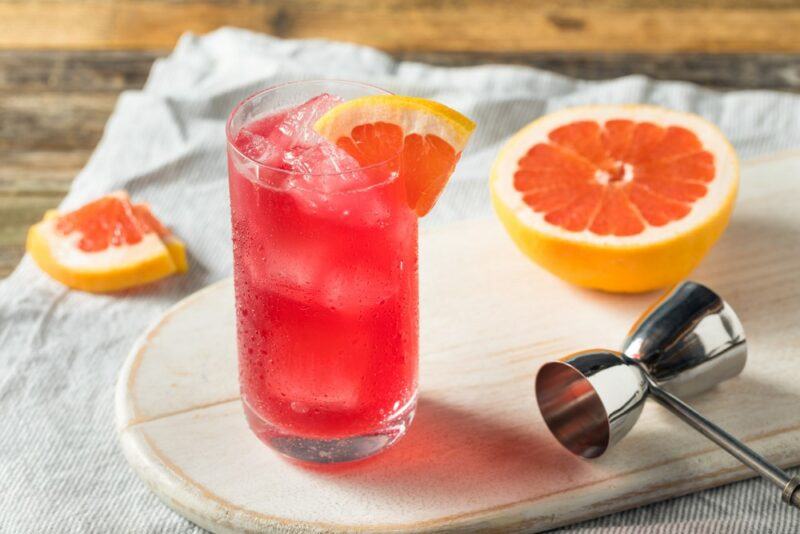 The sea breeze is a classic cocktail and a delicious one. It's also ideal for Thanksgiving, as you're using cranberry juice as one of the main ingredients.
This isn't an overly sweet cocktail either, as it also features lime and grapefruit juice. This combination of ingredients gives you something that's vibrant and delicious.
Plus, the alcohol in this cocktail is plain vodka, so all of the ingredients are very easy to find. You probably already have them at home. Just make sure that you're using decent cranberry juice that isn't too sweet. Cranberry juice is the dominant flavor, so the quality of the juice will make a huge difference to the final cocktail.
Cranberry Gin Cocktail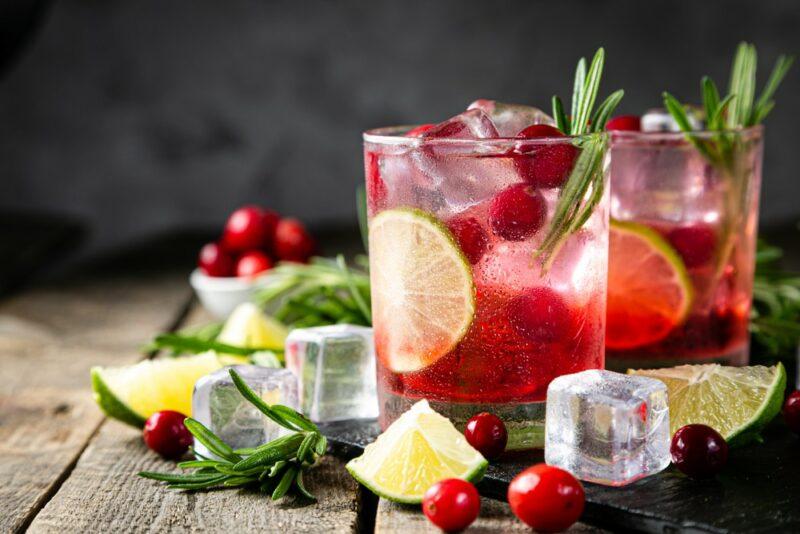 Speaking of cranberry juice, here's another seasonal drink to try. This is a simple one, as it just relies on gin, cranberry juice, and a little lemon juice. It ends up being a fairly tart drink, one where the botanicals of the gin shine through.
The proportions really are up to you. Some people might prefer a long drink, where the cranberry flavor dominates, while the gin sits in the background. Others might prefer more gin and less cranberry juice, which gives quite a different flavor profile.
Boozy Pumpkin Spice Latte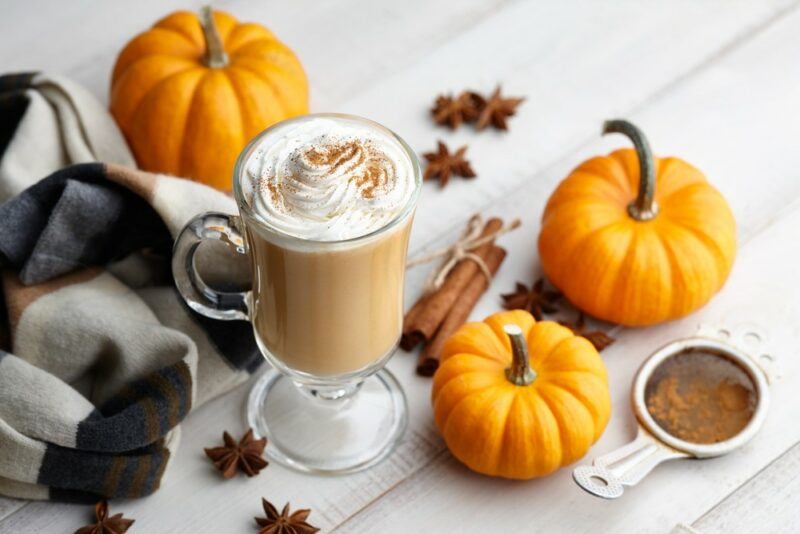 Let's round this list off with a crowd favorite. For many people, pumpkin spice lattes seem to signify the beginning of fall. The flavor profile is so perfect for these cooler months, especially as you're also getting plenty of coffee in the mix.
Why not take things one step further and create an alcoholic version of the drink? This way you get all the flavors of fall, plus both alcohol and coffee. Doing so is as simple as making your own pumpkin spice latte, then spicing it with some type of alcohol.
Cinnamon whiskey is a fantastic choice here, as you already have some cinnamon in the latte itself. To get even more elaborate, why not use both vanilla vodka and cinnamon whiskey?
It doesn't matter if you don't have many flavored spirits on hand. Even just using spiced rum or any type of whiskey will give you a delicious drink. If you don't want to make a pumpkin spiced latte yourself, why not buy one from Starbucks (or somewhere similar) and add your own whiskey to it?