Folate also goes by the names folic acid and vitamin B9, but whatever you call it, it's clear that the vitamin is important for human health. While most of us know folate as a vitamin that pregnant women often need to supplement, getting enough folate is important for everyone else too. Thankfully, there are many folate rich foods to turn to. 
Most adults need around 400 mcg of folate every day. As you'll see, getting this much folate from food isn't too difficult, as long as you have the right foods in your diet. 
Getting this vitamin from folate foods makes sense. After all, it's always best to get your nutrients from food rather than supplements – if possible.
When you rely on food, you're getting a range of healthy compounds all at once. These help to promote your health in various ways. You'll see some of those patterns as we go along – as many of these foods are often recommended as being very good for you.  
Folate Rich Foods
Asparagus 
Dark Leafy Greens
Brussels Sprouts
Broccoli
Artichokes
Eggs
Beets
Citrus Fruits
Legumes
Avocados
Durian
Guavas
Mangos
Pomegranate 
Sunflower Seeds
Hemp Seeds
Walnuts
Peanuts
Coconut Milk
Egg Noodles
White Rice
Quinoa
Alaskan King Crab
Salmon
Lamb Liver
Beef Liver
Asparagus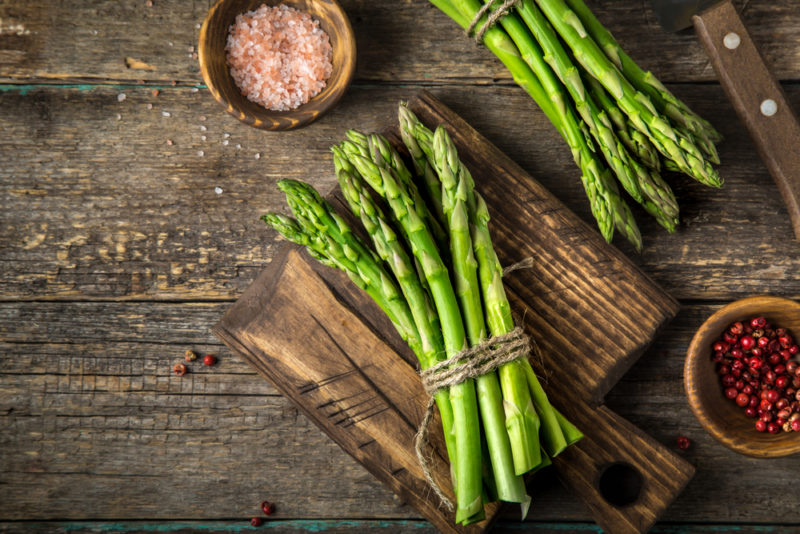 Asparagus might be largely popular for its flavor, but the vegetable is also very nutritious. When asparagus has been cooked, a half-cup serving provides you with slightly more than a third of your daily folate intake. 
You're getting a decent amount of fiber at the same time, along with antioxidants. Like most vegetables, asparagus also happens to be low in calories. The low calorie content is ideal for anyone trying to lose weight. 
Dark Leafy Greens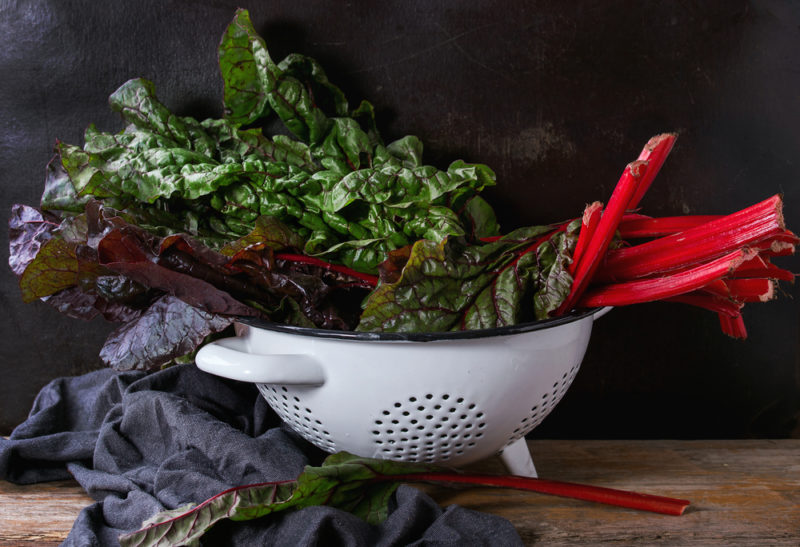 Most of us don't need to be told that dark leafy greens are healthy. That idea is an obvious one. The folate content of the greens is one more reason to be eating them regularly. 
For example, in a cup of raw spinach, you're getting around 15% of your daily folate intake, along with vitamin K, fiber, and vitamin A. 
But, don't just stick to spinach, as the leafy green is high in oxalates. It's much better to include a variety of greens in your diet. That way you're consuming a wide array of nutrients and plant-based compounds. Besides, there are plenty of dark leafy greens to choose from.
Brussels Sprouts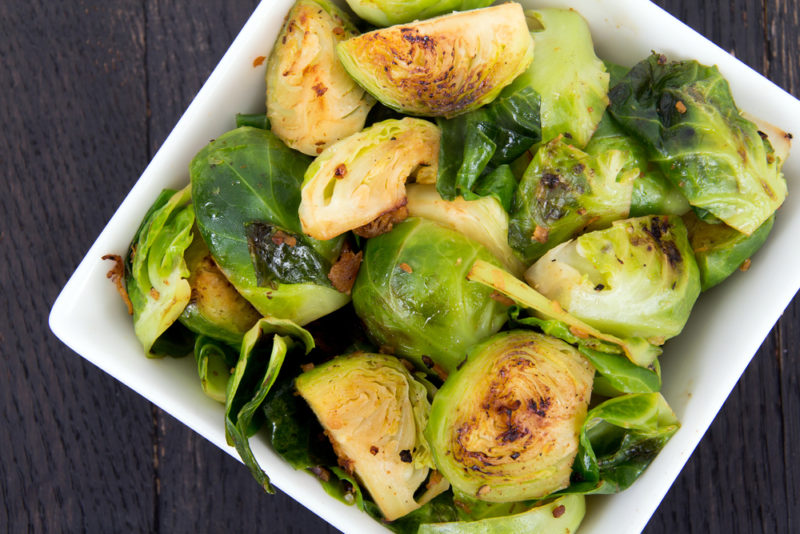 Brussels sprouts are interesting. They come from the cruciferous family of vegetables, just like the leafy greens from above. This alone makes them important, as regular intake of cruciferous vegetables has been linked to improved health. 
Brussels sprouts are also more controversial than most other vegetables. Countless children had horrible experiences with poorly cooked Brussels sprouts that were often slimy and tasted horrible. 
Thankfully, Brussels sprouts can taste very good when they have been cooked well. Don't worry if you don't know how to do so, you can find good recipes online, including step-by-step instructions to help you get your Brussels sprouts right every time.
Broccoli

Speaking of cruciferous vegetables, broccoli is another delicious green vegetable that you can enjoy regularly. Interestingly, cooked broccoli tends to be higher in folate than raw broccoli, providing you with around 20% of your daily folate intake in a half cup serving. 
Broccoli contains sulforaphane as well, which is one of many interesting plant-based compounds. Sulforaphane may help to lower cancer risk and could have various other impacts in your body too. 
And, of course, broccoli is an easy-to-find and inexpensive vegetable that most people already know how to cook. There are creative broccoli-based recipes out there too, giving you plenty of variety to your meals.   
Artichokes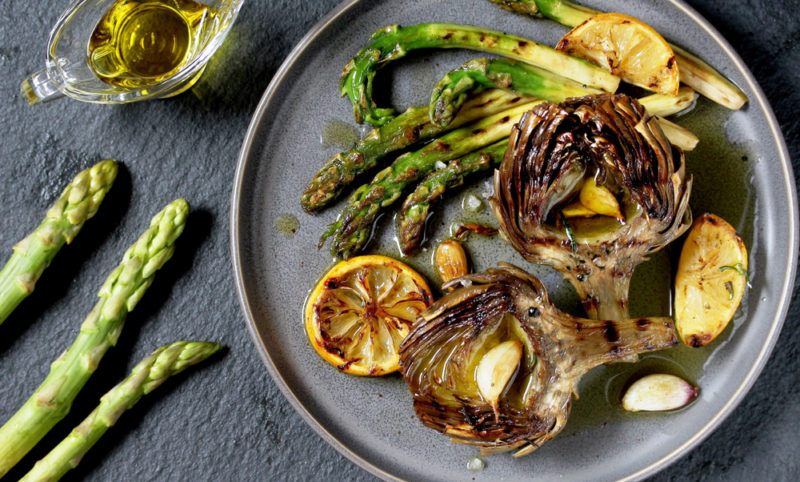 Vegetables don't need to be green to provide you with folate. Other types of vegetables offer folate too, including artichokes. Artichokes are unusual because they're actually the bud of a thistle. Much of the time, you'll be eating artichoke hearts, which is the tender edible center of the artichoke. 
But, if you're focusing on young artichokes instead, then you might be eating other parts of the artichoke too, as young artichokes tend to be more tender than mature artichokes. 
Regardless of the type that you choose, artichokes are delicious. While they're not as nutrient-packed as some other vegetables, there are still many nutrients present. They also happen to be rich in antioxidants and polyphenols (despite their somewhat boring appearance). 
Eggs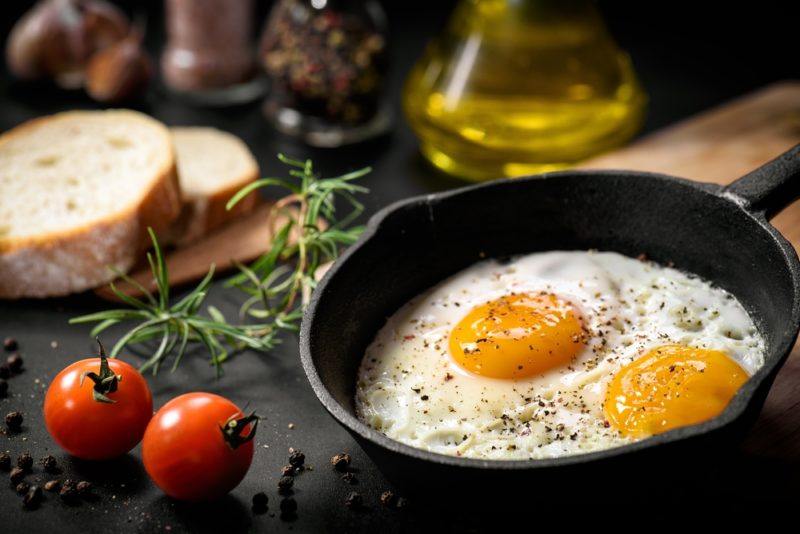 You might have noticed that eggs pop up on many nutrient-rich food lists. This isn't surprising, as eggs are a powerhouse of nutrients. After all, they're meant to feed a growing embryo, so the nutrients are essential. 
The folate content in a single egg isn't huge. You're getting around 22mcg of folate, which is a little more than 5% of your daily folate intake. Still, an egg or two is an easy way to add to your folate intake. 
Other important nutrients in eggs include protein and vitamin B12. There are some interesting antioxidants present too, including some that may help to promote eye health. 
Beets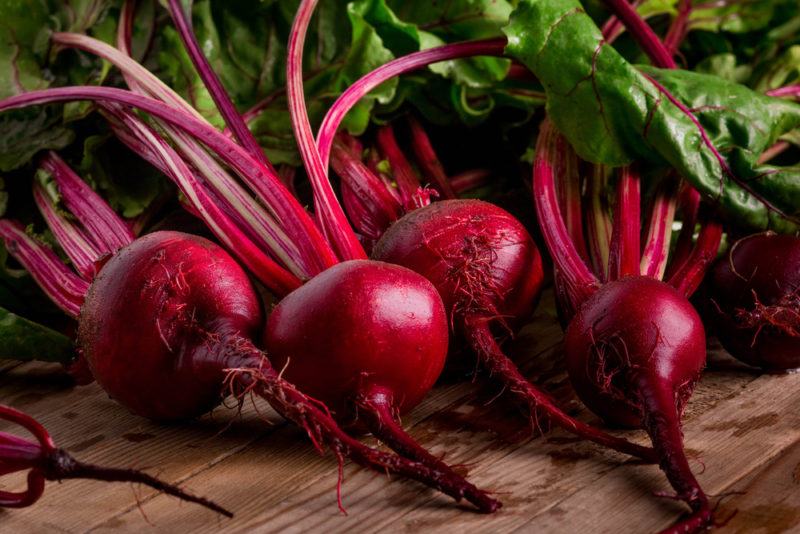 The bright red color of beets is a strong sign that they're rich in antioxidants and there are plenty of nutrients to be found too. As for folate, you get roughly 37% of your daily intake from a cup of the raw beets. 
The folate content might change somewhat if you cook the beets, but you'll still be getting a decent amount of folate either way. And, if you don't want to rely on beetroots themselves, you could try beetroot juice instead. 
Beets are also interesting because they contain nitrates. Nitrates can be controversial, as they're often added to foods to help preserve them. In that context, nitrates can be a bad thing. But, when you're getting nitrates naturally through foods like beets, nitrates can provide health benefits instead. 
Citrus Fruits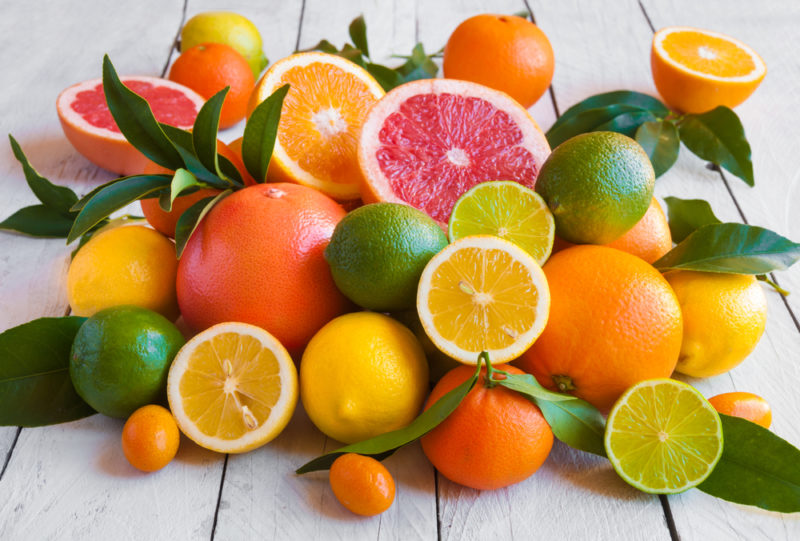 All types of citrus fruit provide you with some folate. For example, you get a little under 15% of your daily folate intake from a single large orange. Grapefruit, lemons, and limes are other common choices. 
While you can turn to fruit juice, it's generally best to eat fruit whole instead. This way you're getting all of the nutrients that the citrus fruit have to offer, including the fiber which is lacking in fruit juice.  
Fruit juice can also be challenging, as it's easy to consume a lot in a serving. After all, a glass of orange juice contains the juice from multiple oranges and it doesn't take long to drink at all. 
Legumes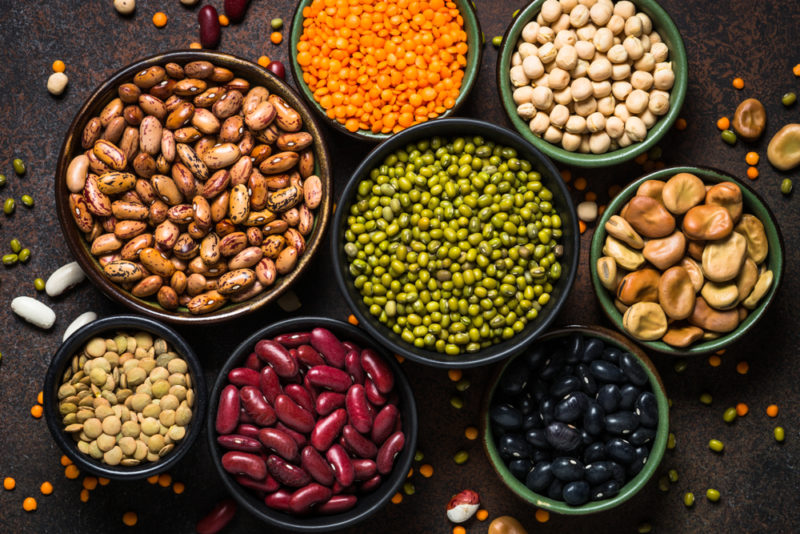 Legumes are an easy go-to choice for folate, as many legumes are a fantastic source of the nutrient. For example, a cup of cooked lentils contains around 90% of your daily folate intake. Other powerful legumes for folate include cranberry beans, black-eyed peas, mung beans, chickpeas, black beans, and navy beans.
Another advantage is that you can easily include beans in a meal. Most types of soups or stews, for example, would benefit from added beans. You might use the beans as well as meat in some meals. In other cases, you could skip the meat and just focus on the beans.
Edamame can be a very good choice as well. This is a popular snack that simply consists of boiled immature soybeans. You can include them in bento boxes or simply eat them as a snack.  
Avocados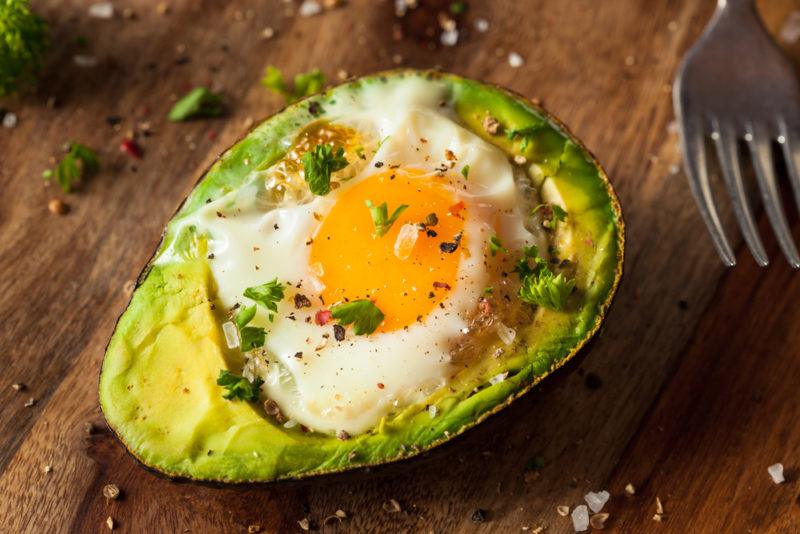 Avocados aren't your typical fruit at all. They're rich, creamy, and high in fat, so it's not surprising that they are so popular. 
Besides, there are countless ways to prepare and eat avocados, whether on their own, as part of a recipe, or combined with one or two other foods (like avocado on toast).
Avocados are also the single best fruit for folate. You end up with around 40% of your daily folate intake from a whole avocado. Even if you only eat half of an avocado in a serving, the folate still contributes to your daily intake. 
Durian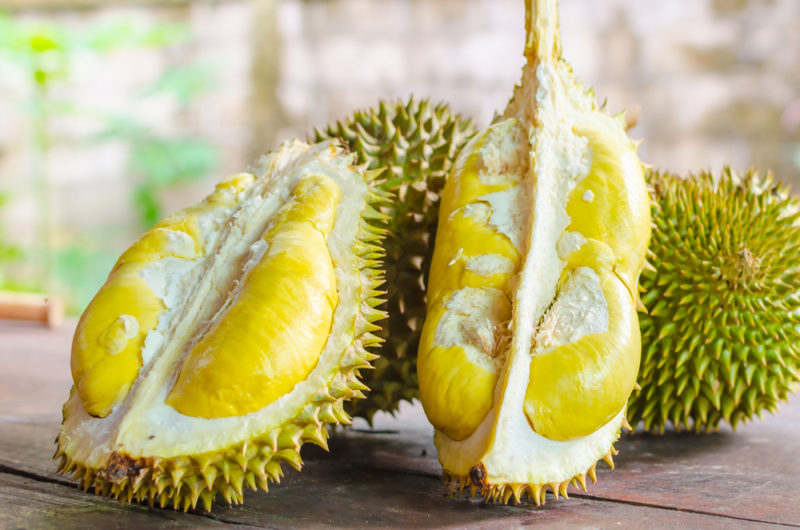 Durian might not be a type of fruit that you see everyday, but this doesn't stop it from being a good choice. A cup of chopped durian provides you with around 22% of your daily folate intake. While this is less than you get with avocado, it's more than you get with many other fruits. 
Don't worry if you can't find durian locally. The fruit is something that you can order online instead. 
Guavas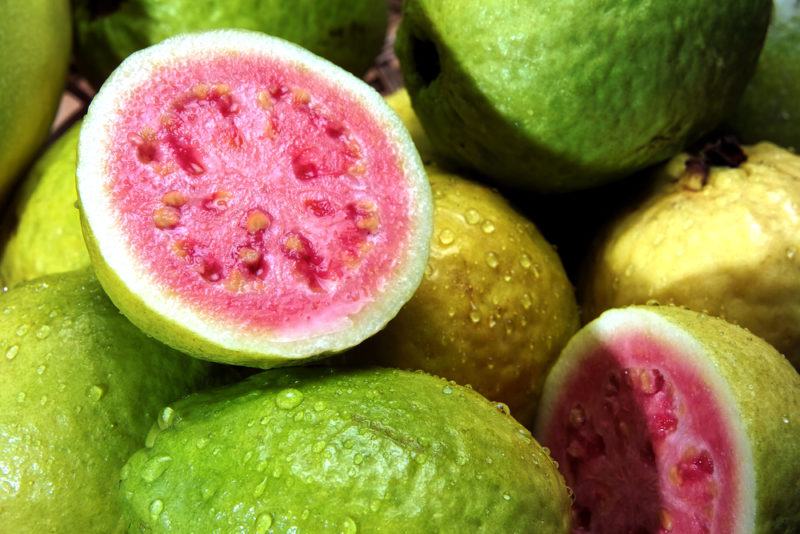 While we're on the topic of exotic fruit, guavas are another good option. A cup of fresh guava contains 20% or so of your daily folate intake. 
Guava has other advantages too. The fruit is delicious, with a distinct flavor that you don't find in other types of fruit. You also get a decent amount of niacin per serving. 
Mangos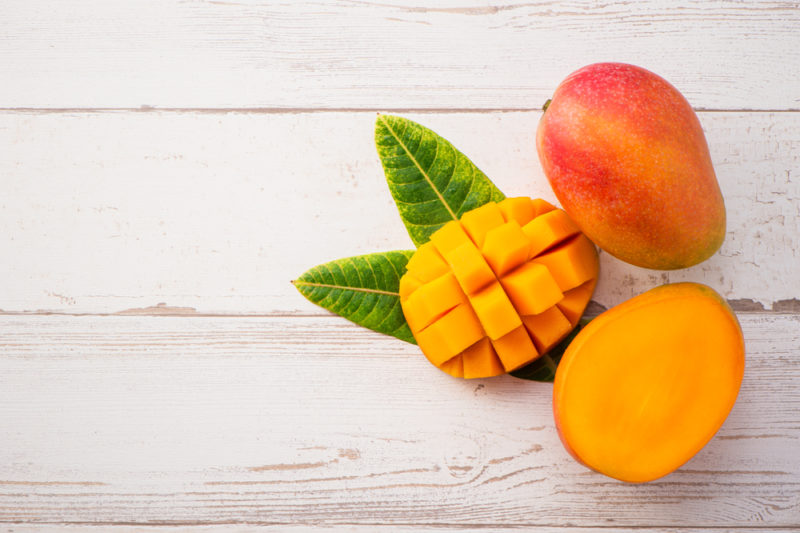 If you enjoy tropical fruit, then mangos are a fantastic choice. This time, a cup of the fresh fruit gives you roughly 18% of your folate intake. 
You could also turn to dried mango instead. Dried fruit tends to be a more concentrated source of nutrients than fresh fruit, so it's even easier to get the folate that you need. Just be careful about the amount of dried mango that you eat, as dried fruit tends to be high in sugar.
Pomegranate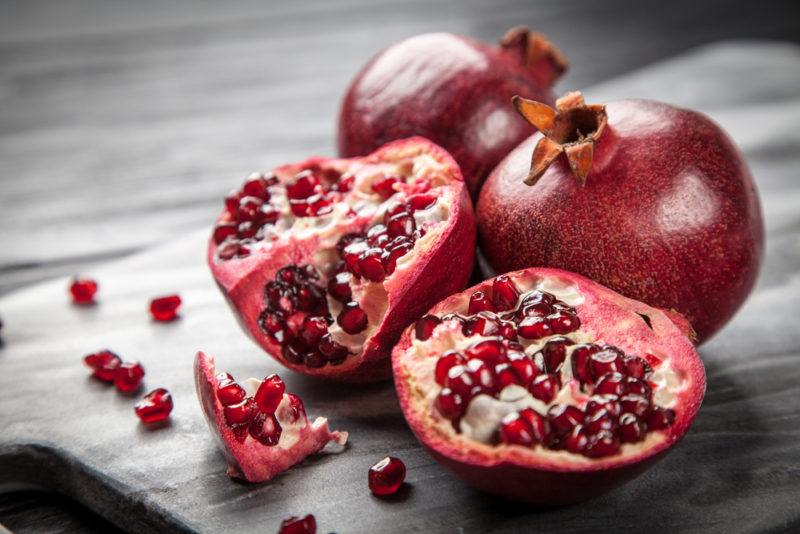 Many types of fruit contain some folate, but pomegranate is the last type of fruit that we're to highlight in this list. With pomegranates, you get around 17% of your daily folate intake in a cup of the pomegranate arils. 
Pomegranates are also a powerful source of antioxidants and other plant-based compounds. 
However, the fruit is very unusual. As you can see from the image, a pomegranate is full of tiny sacs of juice that each contain a seed. This is vastly different than the flesh that is present for most other types of fruit.   
Sunflower Seeds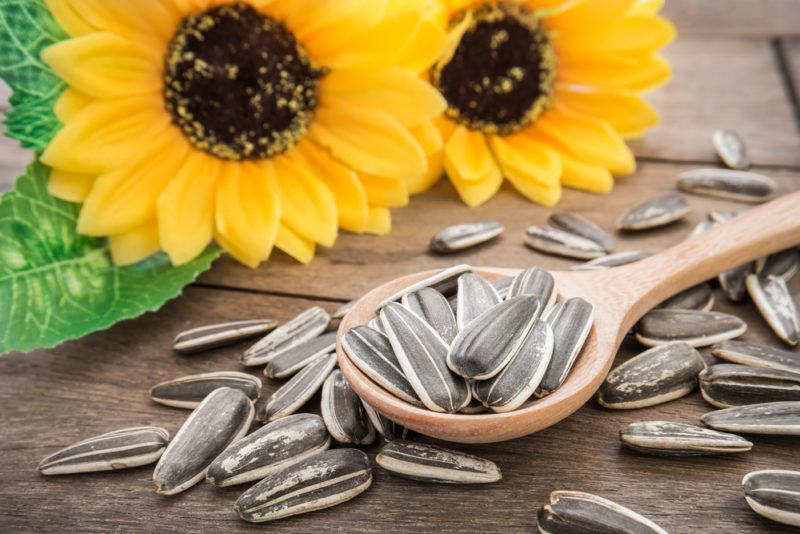 Nuts and seeds don't provide as much folate as fruit and vegetables, but don't write them off just yet. After all, nuts and seeds both make an easy and delicious snack. They're rich in protein too, which is how they can keep you going between meals. 
Sunflower seeds are the absolute best choice for folate. An ounce of the seeds provides you with around 17% of your daily folate intake (the amount is similar for dried sunflower seeds and dry roasted ones). 
17% might not sound like much, but it's a pretty good amount when you think about how easy sunflower seeds are to eat. 
Hemp Seeds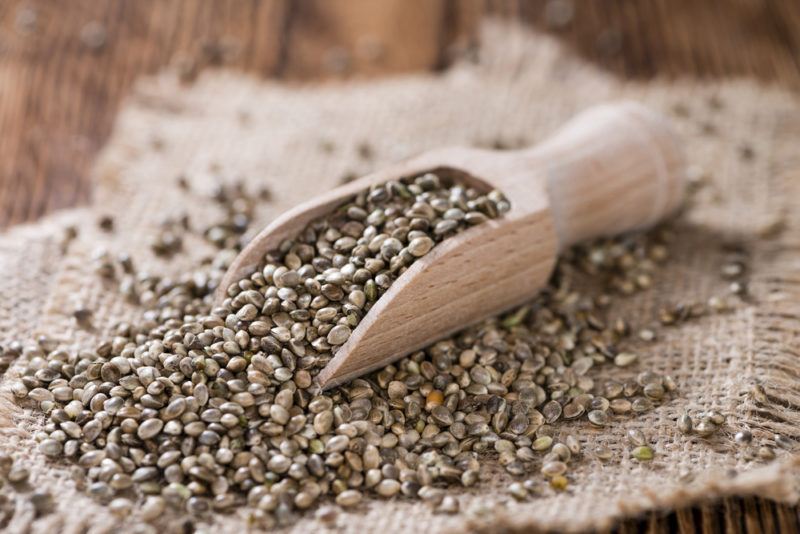 When it comes to folate, hemp seeds aren't nearly as powerful as sunflower seeds. This time, you only get around 8% of your daily folate intake in an ounce of the seeds. Still, an ounce is a small serving size, so it's easy to get the seeds into your daily eating. 
You don't need to snack on the seeds either. You could use them in a recipe or even sprinkle them on top of a meal.
Walnuts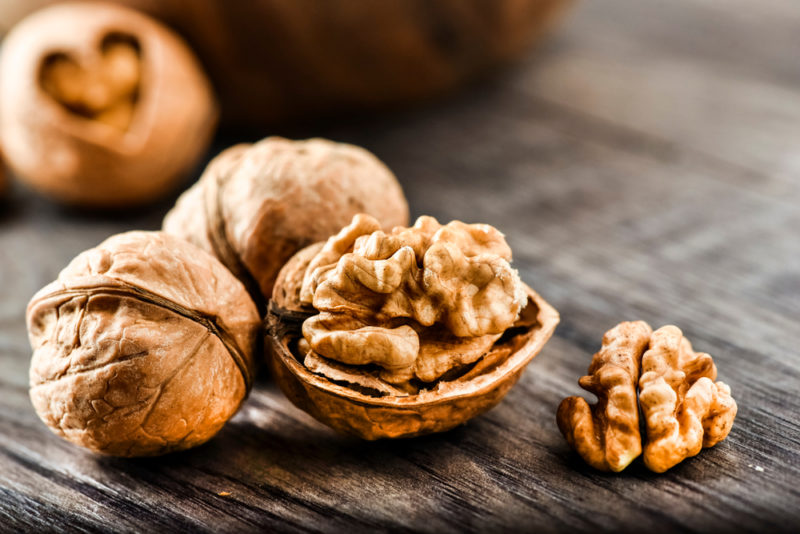 Walnuts contain a similar amount of folate to hemp seeds. They're also well-known for their nutrients and health benefits. For example, walnuts are often linked to improved brain health. They even contain melatonin, so having a few walnuts in the evening might just help you drop off to sleep. 
On a side note, walnuts aren't the best nut for folate – they're simply the best choice out of the common nuts. If you want more folate per serving, you could focus on chestnuts, hazelnuts, dried beechnuts, or dried ginkgo nuts instead.  
Honestly though, with so many folate foods to choose from, there's no need to maximize your folate intake. It should be enough to include a variety of these foods in your diet most days. 
Peanuts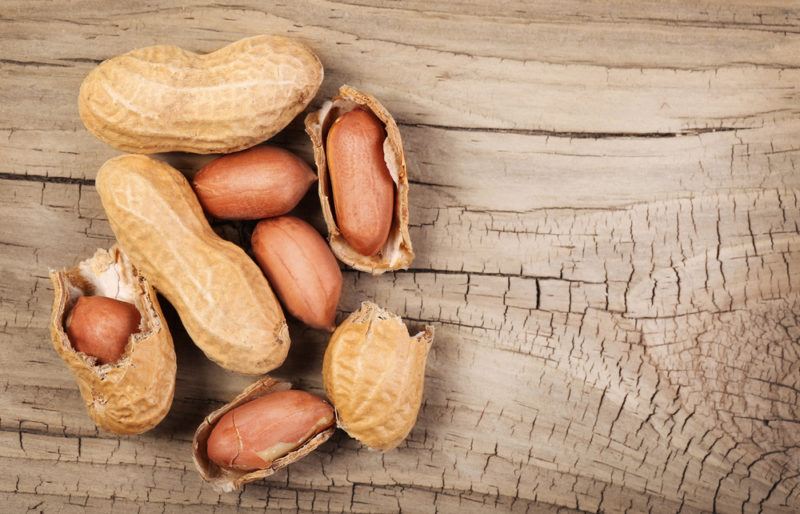 We want to talk a little about peanuts too. Peanuts are a little controversial, partly because they're a type of legume, rather than a tree nut. Plus, peanuts are often considered to be less healthy than alternatives like almonds and walnuts. 
This difference in reputation is a shame, as peanuts can still be very good for you. They do have many of the same nutrients as other types of nuts. 
And, even more crucially, peanuts are cheap. They cost much less than cashews, almonds, and walnuts. This can make them an easier way to get the nutrients that you need. You could also look for peanut butter, just make sure to find a brand that doesn't add sugar or any other undesirable ingredients. 
Coconut Milk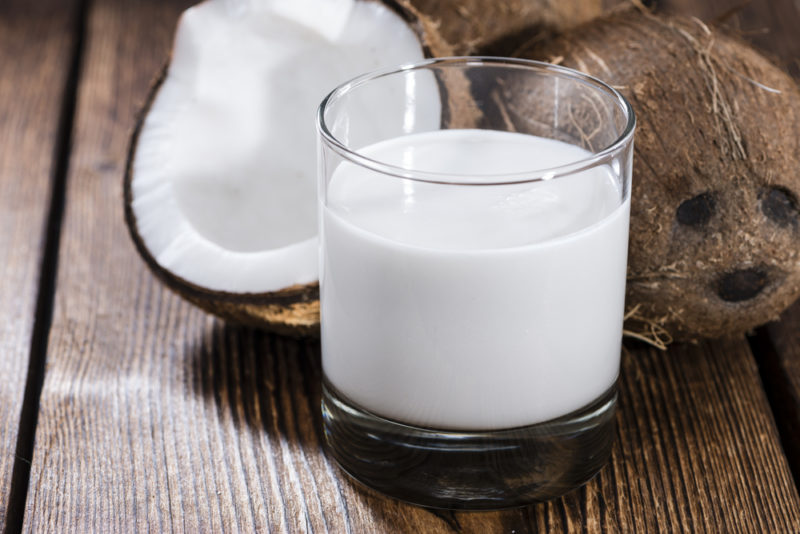 While coconut milk is a drink rather than a type of food, it's worth talking about for a moment. A cup of the milk provides you with 8% of your daily folate intake. That's decent when you think about how easy it is to get coconut milk in your diet. Many people already use the milk as a plant-based alternative to dairy milk. 
You can also use coconut milk in countless recipes, including ethnic foods and more familiar favorites. Or, how about using it as a smoothie ingredient? You could add a few other folate-containing ingredients to your smoothie at the same time.  
Egg Noodles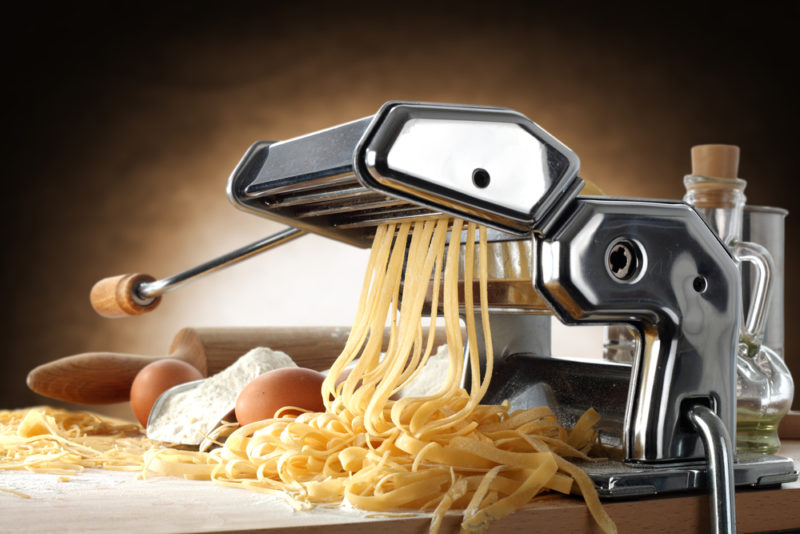 Egg noodles are what the name suggests. They're a type of pasta that relies on flour and eggs as the main ingredients. Butter is often used as well. The noodles can then be used in many meals, especially as they cook very quickly. 
The amount of folate in the noodles will vary depending on the recipe that is used. There will also be differences between egg noodles that you buy in the store and those you make yourself. But, as a rough average, you're looking at around a third of your daily folate intake for a cup of the cooked noodles. 
While there is folate present in spinach egg noodles too, the amount tends to be less (often around 25% of your daily folate intake in a cup of the noodles). Still, the folate difference might be worth it if you want the other nutrients that spinach noodles have to offer.
White Rice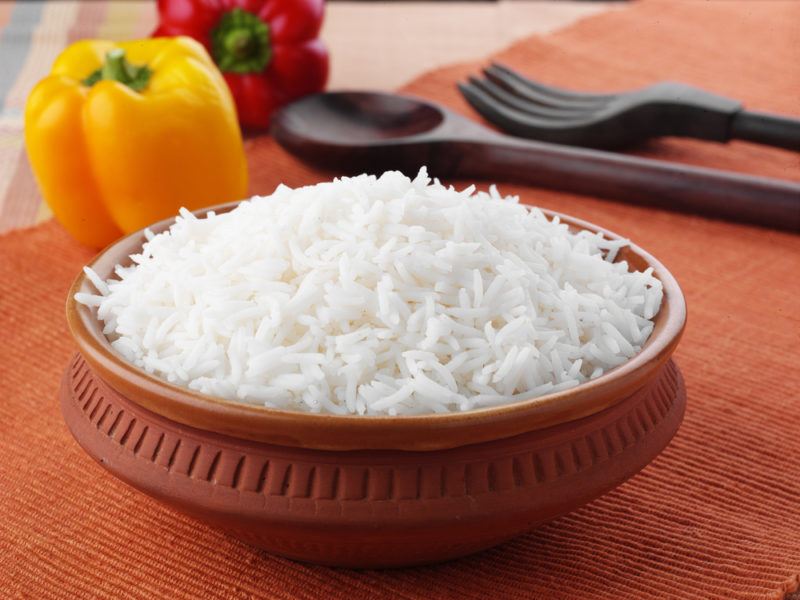 Surprisingly, white rice offers folate too. A cooked cup of the rice gives you more than 20% of your daily folate intake, although the amount may vary a little depending on the type of rice that you choose. 
Quinoa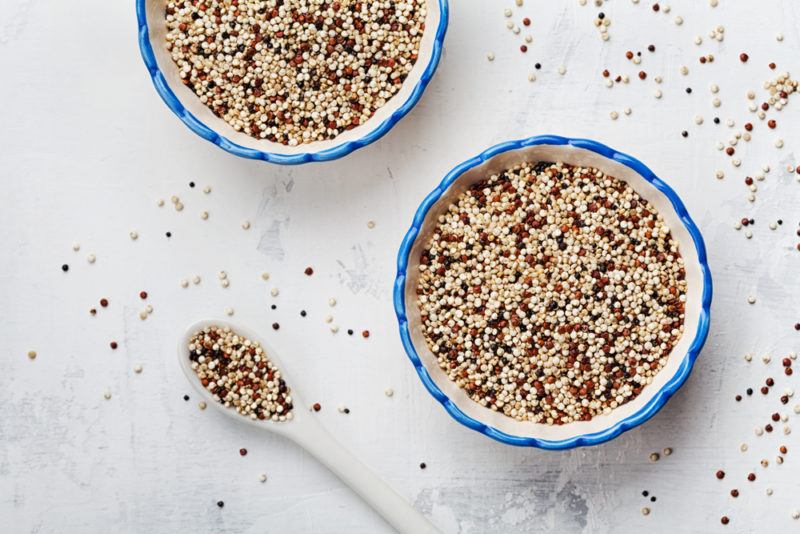 Quinoa is a pseudocereal that's often thought to be healthier than rice and pasta. One advantage is that quinoa is naturally gluten free. It also contains more protein and other nutrients than white rice or pasta, making it a good alternative. 
Some people think quinoa tastes better than rice too, as it has a slightly nutty flavor. When cooked, a cup of quinoa provides a little less than 20% of your daily folate intake. This is a little less than you get with white rice, but the extra nutrients in the quinoa make the tradeoff worth it. 
Alaskan King Crab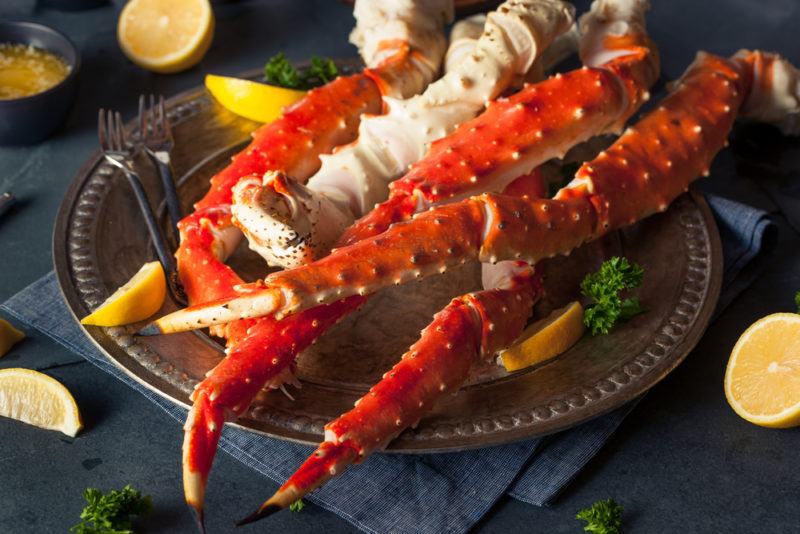 You'll generally get some folate when you eat seafood, but the amount per serving often isn't that high. Alaskan king crab is one of the best choices, with a leg of the crab providing more than 15% of your daily folate intake. 
Other types of crab can be good too, along with mussels and crayfish. You will get some folate in shellfish that we haven't listed too, but the amounts tend to be lower. 
Of course, the exact amount of folate will vary from animal-to-animal. This effect isn't just because of the size of the crab either. Nutrient level estimates really are just estimates, as many things can influence the levels of nutrients in an animal or plant.  
Salmon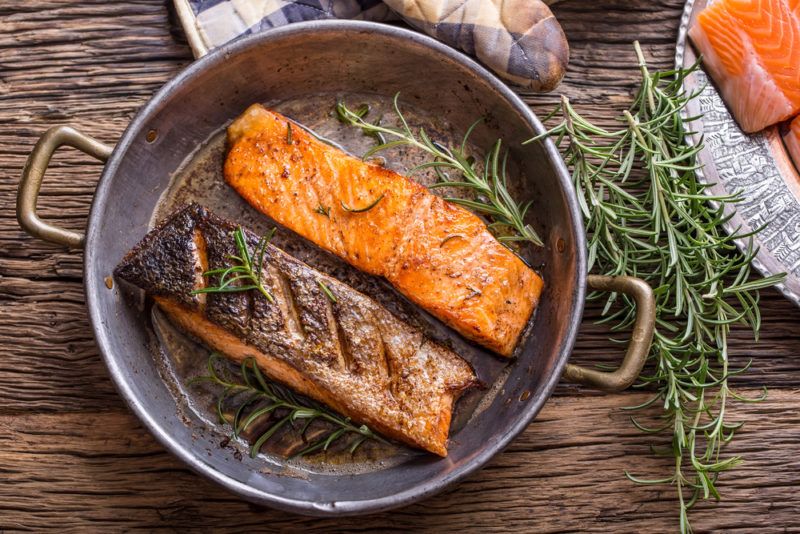 If you're looking for folate from fish, then salmon is a good choice, providing around 14% of your folate intake in a serving. 
The folate content is hardly the only reason to eat salmon. This fish is famous for being a powerful source of omega-3 fatty acids and a variety of other important compounds.
Besides, salmon tastes amazing. It has a different balance of flavors and texture than other types of fish. Try pairing it with wine for an even more delicious experience. 
Lamb Liver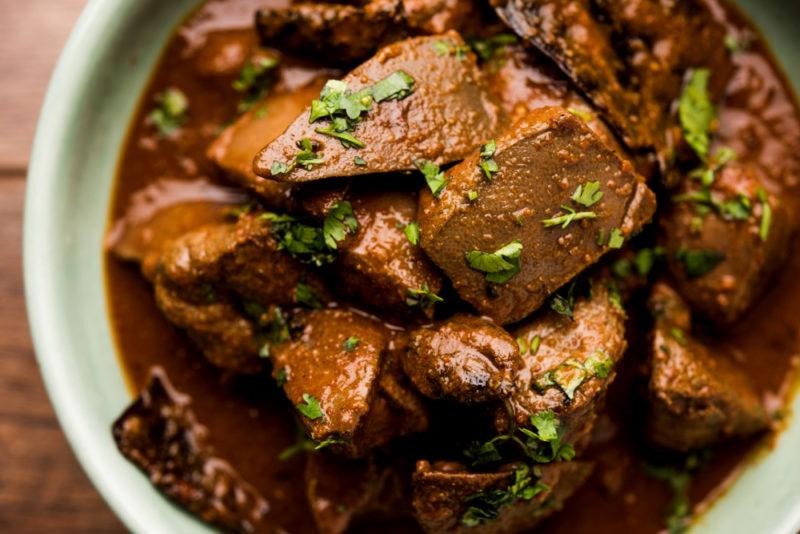 Meat doesn't generally offer much folate, but liver is the exception to this rule. Cooked lamb liver, for example, provides 85% of your daily folate intake in a single 3-ounce serving. 
This is even more impressive when you think about the serving size. After all, 3 ounces isn't all that much meat to have in a serving. 
Don't stress too much if you're not a fan of organ meats. While the flavor is a bit unusual, you don't need to eat the meat on its own. An easy trick is to mix the organ meat in with other meat, perhaps as part of a meatloaf. That way you get the nutrients without worrying about the texture or the flavor of the liver. 
Beef Liver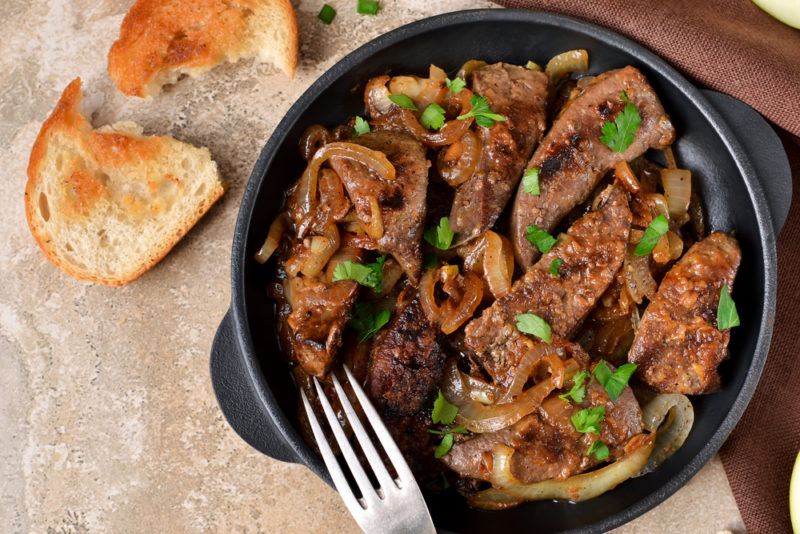 Here's a second type of liver that will give you a decent amount of folate. This time, you get a little over 50% of your daily folate intake in a slice of the liver. That figure might make beef liver sound less powerful, but remember that the serving sizes are different. 
There is less information about the amount of folate in the livers of other animals. However, you're likely to get a decent amount of folate from most, if not all, types of liver.