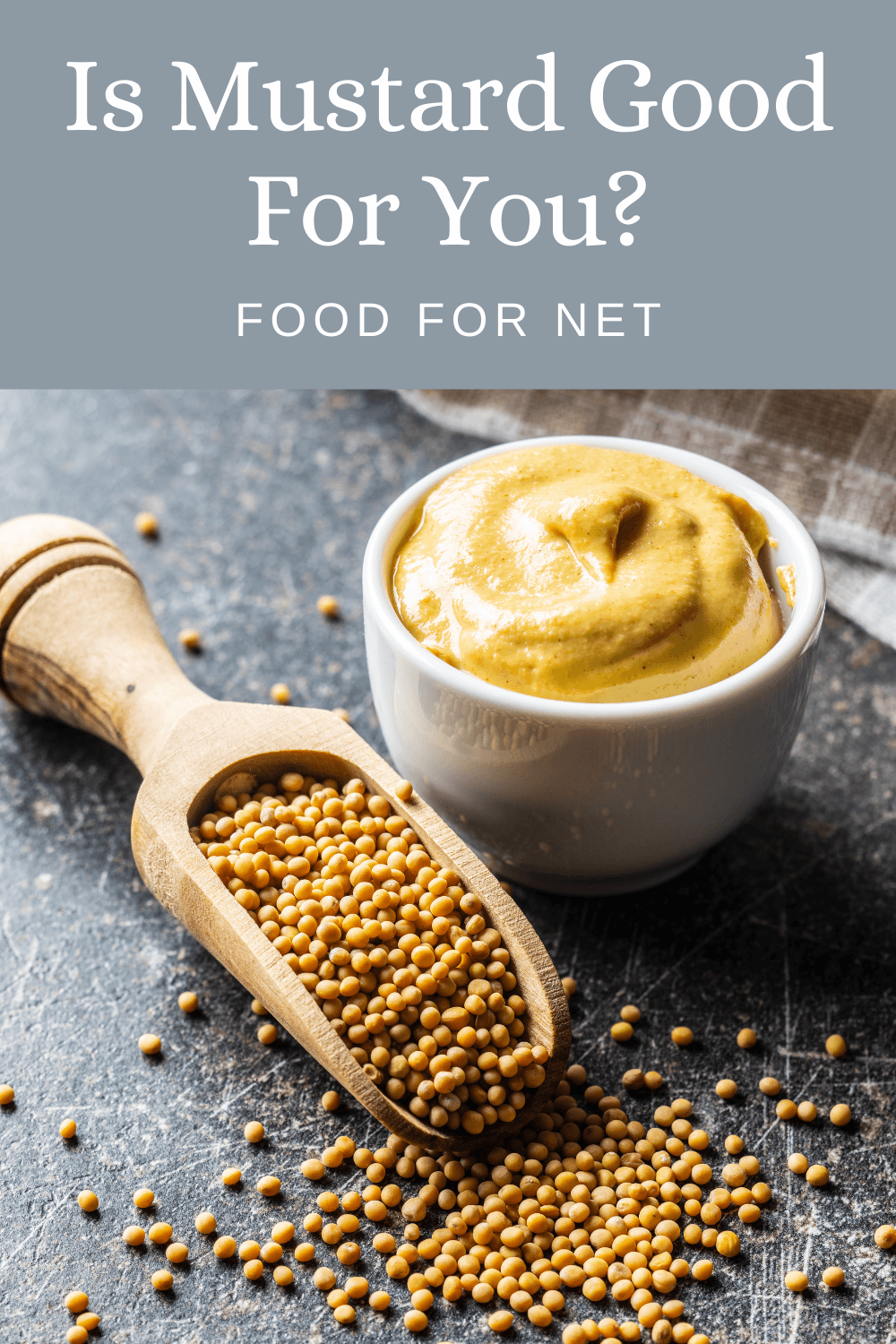 Mustard is much more than just a condiment you use on your hot dogs. Instead, the mustard seeds that it's made of could have unexpected health benefits. Mustard has even been used as folk medicine, which is pretty impressive. So is mustard good for you?
This is the same kind of pattern that we're seeing with many herbs and spices, including cinnamon, turmeric, and even black pepper.
Mustard seeds also have an interesting flavor, making them fantastic in cooking. The seeds and condiment are both versatile and easy to find. It's no wonder that they're used so often.
What about health then? Is mustard good for you? Do the potential benefits of mustard seeds mean anything – and even if they do, are those benefits still present with the mustard you're using every day?
Is Mustard Good For You?
Mustard Seeds 101
Mustard As A Condiment
Benefits Of Mustard
The Problems With Mustard
What About Honey Mustard?
Is Mustard Low FODMAP?
Final Thoughts
Mustard Seeds 101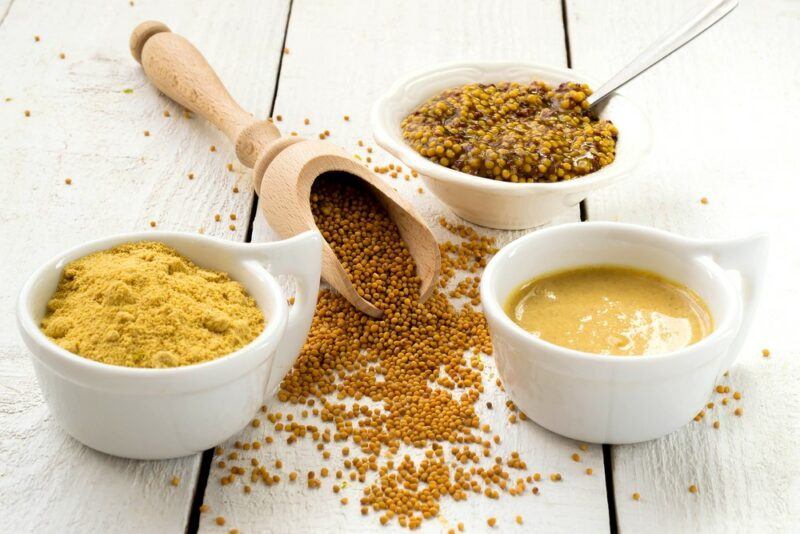 Mustard seeds are the tiny seeds that come from any of the mustard plants. There are actually more than 40 varieties of these plants. However, only three of them are regularly used for cooking and making mustard.
The first is black mustard seeds, from the species Brassica nigra. You'll most often see these used in Indian and Pakistani cooking, although they're rarely used to make mustard itself.
White mustard seeds come from Sinapis alba, which is also called the white mustard plant. Because the seeds are lightly colored, turmeric is often added when making mustard, to create the familiar yellow color.
Finally, there are the brown mustard seeds. These ones are from Brassica juncea. There is plenty of variation in these seeds, including dark yellow seeds, dark brown ones, and everything in between.
The black seeds are the most pungent variety, while white mustard seeds are the mildest.
You'll generally see white mustard seeds used to create the classic bright yellow mustard, while brown seeds are used for Dijon mustard instead. This is also why Dijon mustard tends to have a stronger flavor.
Mustard As A Condiment
The condiment version of mustard starts with the seeds. What happens next can vary, but the different types of mustard all combine the mustard seeds with water and some other source of liquid.
The approach means you're getting all the nutrients and plant-based compounds found in mustard seeds. However, mustard preparations vary dramatically, so the health implications can be different as well.
Some mustard recipes add other ingredients too, such as citric acid and spices.
Types Of Mustard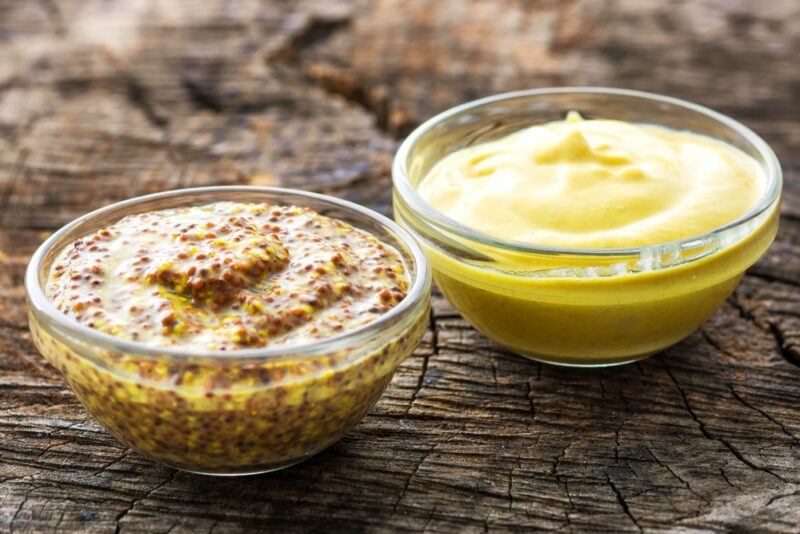 Before we look at the benefits and risks of mustard, let's talk a bit about the different types.
Yellow mustard. Made from ground white mustard seeds, this type of mustard has an acidic edge, but it isn't spicy.
Dijon mustard. This version focuses on brown mustard seeds. It varies in intensity, with the American version being milder than you may find elsewhere.
English mustard. Made from white mustard seeds, this mustard is often sold as a powder that needs to be mixed with cold water.
Chinese mustard. This mustard can be purchased as a powder as well, but because it is made from brown mustard seeds, it is much more intense than English mustard.
Whole grain mustard. As you might expect, this type of mustard combines creamy mustard with whole mustard seeds, giving you more texture variation. Some versions are relatively mild, while others are intense.
Hot mustard. Mustard seeds offer an intense natural heat. Most types of mustard try to decrease this in some way, often by using some type of acid or hot water. However, some products and recipes are designed to give you as much heat as possible. Be careful with these, as they can be intense.
Honey mustard. As the name suggests, honey mustard combines honey and mustard, giving you a sweet edge that you'd never get with mustard on its own. Combining the two gives you an excellent dipping sauce, although some versions of honey mustard end up being high in sugar.
Of course, there's plenty of variation between products, even those that fall into the same category. You may also run into other types of mustard, with their own interesting characteristics.
Benefits Of Mustard
Could Reduce Oxidation And Inflammation
Mustard seeds contain antioxidants and anti-inflammatory compounds. Such compounds are starting to become famous, as we're realizing that too much oxidation and inflammation can lead to increased disease risk.
To make matters worse, modern diets tend to promote both oxidation and inflammation. This is particularly true if you're relying heavily on processed foods and carbs.
One important class of compounds are glucosinolates. These are sulfur-containing compounds that are found in other cruciferous vegetables as well and are even thought to decrease the risk of cancer. Other important compounds include various carotenoids, kaempferol, lutein, and zeaxanthin.
The compounds could offer a broad range of health benefits, including helping to decrease blood sugar, lower cancer risk, protect your heart, and even reduce the risk of dementia.
Mustard seeds aren't likely to have dramatic effects on their own. Even so, the compounds present help to push your health in the right direction, leading to subtle improvements.
You're often getting some turmeric or paprika in your mustard too, as many companies use these for flavor and color. These spices contain powerful plant-based compounds as well, including antioxidants.
Generally Low In Sodium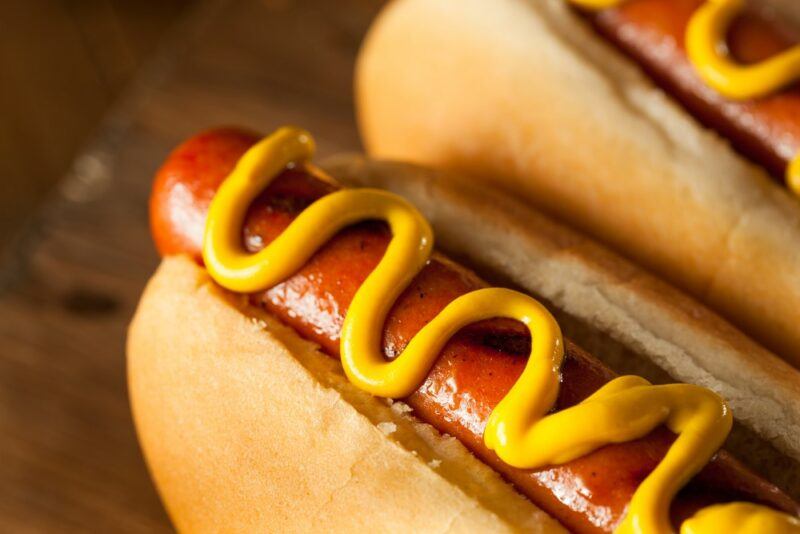 Sodium is becoming a serious problem. While it's an important electrolyte, it's also incredibly common, particularly in processed foods. As a result, many of us are consuming too much sodium.
Doing so can lead to serious issues, including high blood pressure, fluid retention, and an increased risk of heart disease.
Condiments are often high in sodium, but mustard is a useful exception. Regular yellow mustard just contains around 55 mtg of sodium per teaspoon. Dijon mustard is often higher in sodium, but even then the amounts aren't too bad.
You may also be able to find some low sodium or sodium free products.
Normally Made Without Sugar Or Additives
Condiments are tricky, as most of them are made using additives, often with some extra salt or sugar along the way. Mustard is different, as even the processed versions tend to skip the additives.
Take French's Classic Yellow Mustard. This inexpensive mustard in a bright yellow squeezy bottle seems like it should be incredibly bad for you. Yet, the only additive is 'natural flavors'. The company avoids preservatives entirely and simply uses turmeric and paprika for coloring.
It's still worth checking the ingredients label, as some companies buck the trend. Even so, mustard is more reliably healthy than most other condiments.
An Easy Way To Add Flavor
Mustard is perfect if you want to add some intensity to your meals or snacks. After all, it can have a pretty strong flavor and tends to be low in sodium. There are also plenty of varieties, making it easy to find one that matches your preferences.
Mustard has a decent shelf life too. If it is unopened, then it can easily last a couple of years. Once opened, it may last a month or two in the pantry or even longer in the fridge.
American yellow mustard tends to last even longer than that. You even be able to store it for a year or more. Mustard is inexpensive too, so it's hardly surprising that many people have a bottle or jar of it on hand most of the time.
Low In Calories
Mustard is pretty low in calories too. You're often looking at just 5 calories per teaspoon, which is impressive. This is excellent news for anyone trying to lose weight. After all, weight loss food can be a little boring at times.
Being able to spice your meals up with some mustard is pretty fantastic.
The Problems With Mustard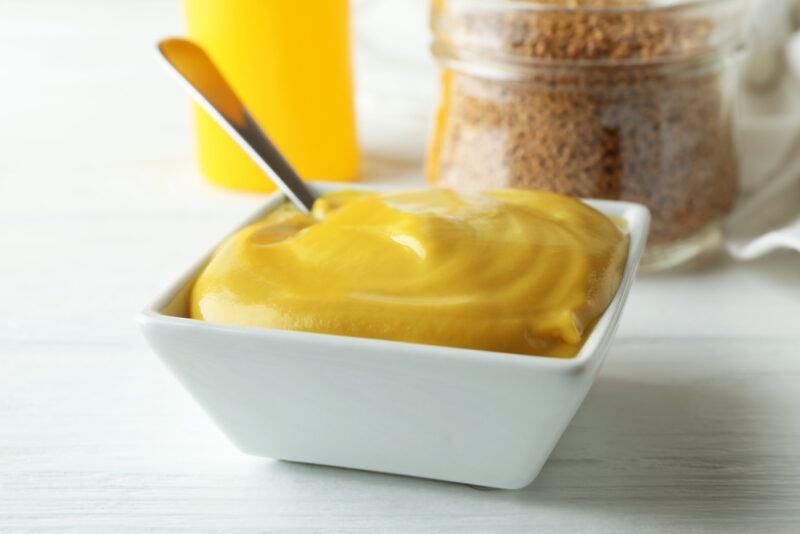 The Sodium Content Can Creep Up
While mustard tends to be low in sodium, there are plenty of exceptions. Some companies end up giving you more than 100 mg of sodium per serving.
This isn't an excessive amount, except that a serving of mustard is often just a teaspoon. Many of us regularly use more than a teaspoon of mustard at a time.
So, if you choose mustard that's fairly high in sodium and use it regularly or in large amounts, the sodium content would add up quickly. This starts to be a problem, as too much sodium can raise your blood pressure and put your heart at risk.
There Can Be Unexpected Additions
While mustard is generally low in additives, some companies still use ingredients that you mightn't expect.
For example, Colman's Prepared Mustard contains wheat flour, which makes it unsuitable for anyone sensitive to gluten. That same product contains added sugar as well. The sugar content is very low, as you're getting less than a gram of carbs per serving. Even so, this isn't ideal.
Some companies use natural flavors and more sugar than you might expect.
These patterns aren't ideal, especially as natural flavors aren't as natural as they sound. The manufacturers of the flavors don't even need to be upfront about the ingredients or processes they use, so you don't really know what you're eating at all.
What About Honey Mustard?
The benefits and risks we've been talking about apply to traditional mustard. Things change once you start to look at flavored versions, like honey mustard.
Because honey mustard has added honey, it contains more sugar than regular mustard.
This mightn't sound like a problem because honey itself is healthy, isn't it? While honey does offer some trace minerals and other benefits you don't get with processed sugar, it still comes with many of the same issues.
Plus, many honey mustard products use honey for flavoring and high fructose corn syrup for sweetness. That's a concerning pattern and makes the mustard much less healthy.
You'll often find that such mustards contain more fat than regular mustard too, which ramps the calorie content up still further.
There are some healthier products out there, ones that contain a small amount of honey, no other sources of sugar, and no additives. These can be good for you, especially if you're only using a little bit of the mustard at a time.
As always, the trick is to pay attention to the product labels. Look for versions that keep the sugar content low and don't rely too heavily on additives. These will give you the most benefits. Alternatively, you can make honey mustard at home and choose how much sugar you include.
Is Mustard Low FODMAP?
Mustard is a great condiment for anyone with irritable bowel syndrome, as it's naturally low in FODMAPs. The low FODMAP serving is actually a full tablespoon, which should be more than enough for most situations.
However, mustard isn't all the same. There's a lot of variation from one brand to the next. Some manufacturers will even add high FODMAP ingredients like onions or garlic, which could lead to side effects.
Checking the ingredients label mightn't be enough to avoid issues either, as onions and garlic are sometimes listed as natural flavors or spices. You may need to check with the manufacturer to ensure a given product is truly low FODMAP.
Final Thoughts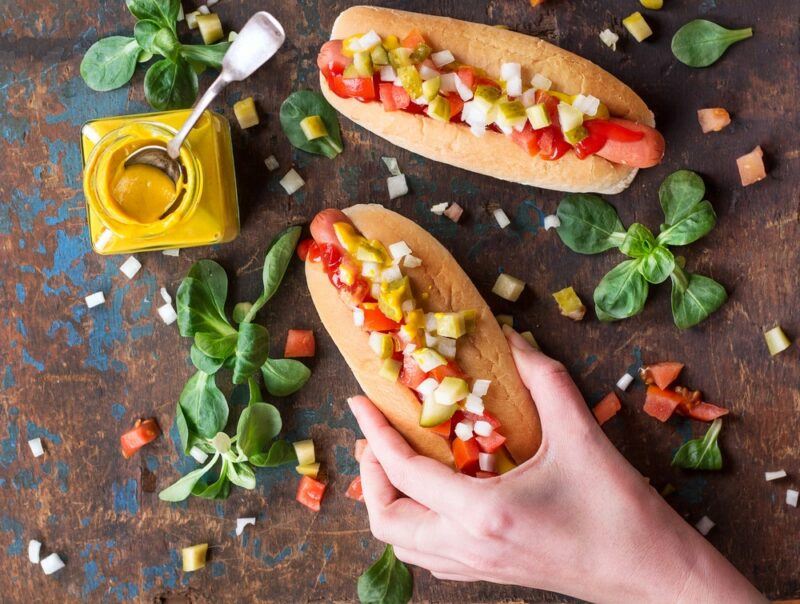 Mustard is a surprisingly healthy condiment, one that often avoids additives and manages to be low in sodium as well. Store bought versions also tend to be inexpensive and long-lasting, making them one of the simplest ways to add more flavor to your meals.
Of course, if you want the best health outcomes, it's better to make your own mustard. This way you have full control over the ingredients and the final nutrient profile.
Homemade mustard might not last as long as the version you buy from the store, but it tends to taste better. There are countless recipes to experiment with. This one is a good starting point.
Frequently Asked Questions
Does Mustard Go Bad?
Mustard is generally made using a combination of spices and an acidic liquid, so it naturally resists mold and lasts a long time. However, mustard does still decrease in quality. After a year or two it gets to the point of not tasting very good at all.
Of course, there are many different types of mustard – with varying ingredients and processes. These differ in their shelf life and precisely how the flavor changes over time.
Is Mustard Gluten Free?
The mustard plant itself is, of course, gluten free. Many ingredients in the mustard condiment are naturally gluten free as well. However, you still need to watch out, as some products use wheat flour as an ingredient.
To find safe products, it's best to read the ingredients list closely or look for the term gluten free somewhere on the product's label.
Does Mustard Need To Be Refrigerated?
Some types of mustard can be safely left at room temperature, even after the container has been opened. This is particularly true for Dijon mustard and any that include horseradish as an ingredient.
Other types often survive at room temperature too, but they're likely to start drying out and decrease in flavor faster than is ideal. Of course, keeping mustard in the fridge will always help it to last longer and maintain better quality.
What Is Prepared Mustard?
Prepared mustard is simply the term for the ready to eat mustard condiment that you buy in the grocery store. So, Dijon mustard, yellow mustard, and all the other types fall within this classification.
Is Mustard Vegan?
Mustard is generally vegan friendly, especially as it largely relies on mustard, vinegar, and spices. The main exception is honey mustard, as most vegans avoid honey entirely.
You should also be cautious with Dijon mustard, as it sometimes uses non-vegan products during the filtering process. Thankfully, there are some vegan friendly Dijon brands, so you don't need to avoid this type of mustard entirely.