Copper is an important trace mineral, one that helps our body with energy production, the creation of red blood cells, and immune system function. Copper is also essential for iron absorption, to the extent that insufficient copper can lead to iron deficiency. Thankfully, there are many copper rich foods for you to include in your diet.
In fact, some of the foods high in copper are ones that you'll probably already be eating most days. And, if that's not the case, simply add a few of these foods to your diet and you're good to go.
Doing so is important, as copper deficiency does have some notable side effects, including joint pain, iron deficiency, vitamin B12 deficiency, and weak bones.
While you can find copper as part of a supplement too, getting the mineral through your food is a much better choice, as food provides you with many nutrients at the same time.
Besides, too much copper has negative effects too. Side effects include cramping and diarrhea. Thankfully, it's hard to get too much copper from food alone, as the upper limit for adults is around 10,000 mcg (10 mg).
Current recommendations are 900 mcg of copper (0.9 mg) per day for adults, while pregnant or breastfeeding women need more. Many of the foods on this list provide 50% of your daily requirements, if not more, which makes it very easy to get enough copper from your diet.
Copper Rich Foods
Oysters
Liver
Crab
Shiitake Mushrooms
White Mushrooms
Sweet Potatoes
Lobster
Tofu
Boiled Soybeans
Spirulina
Toasted Sesame Seeds
Cashews
Sunflower Seeds
Other Nuts And Seeds
Chickpeas
Beans
Salmon
Sardines And Herrings
Turnip Greens
Beet Greens
Other Leafy Greens
Sprouts
Avocados
Dark Chocolate
Oysters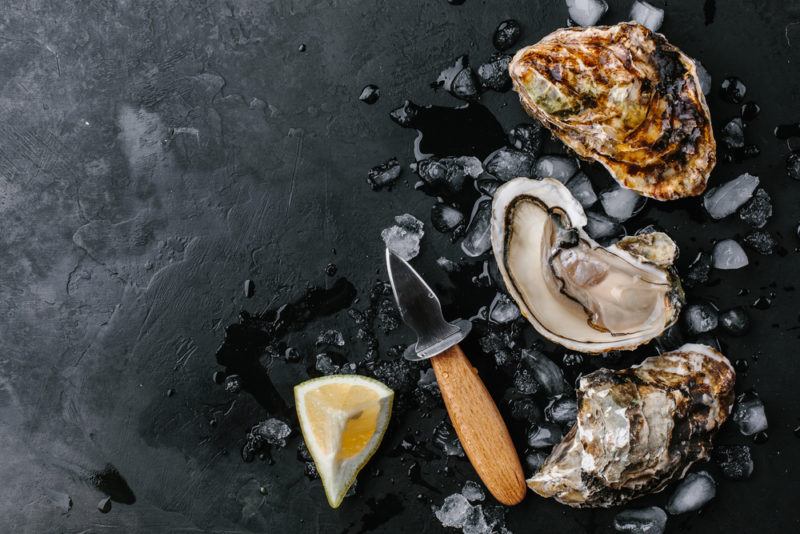 Oysters are one of the best choices for copper, although the amount does vary depending on the type of oyster that you choose and where it is harvested from. A similar pattern happens with other nutrients too and isn't something to worry about.
Regardless of the type, you're generally getting more than 250% of your daily copper intake in a 3-ounce serving of oysters. If you're eating medium oysters, then it only takes around 3 oysters to hit this serving size.
And, of course, copper isn't all you're getting from oysters. The shellfish is an exceptional source of zinc and vitamin B12, while also providing you with some iron and omega-3 fatty acids.
Liver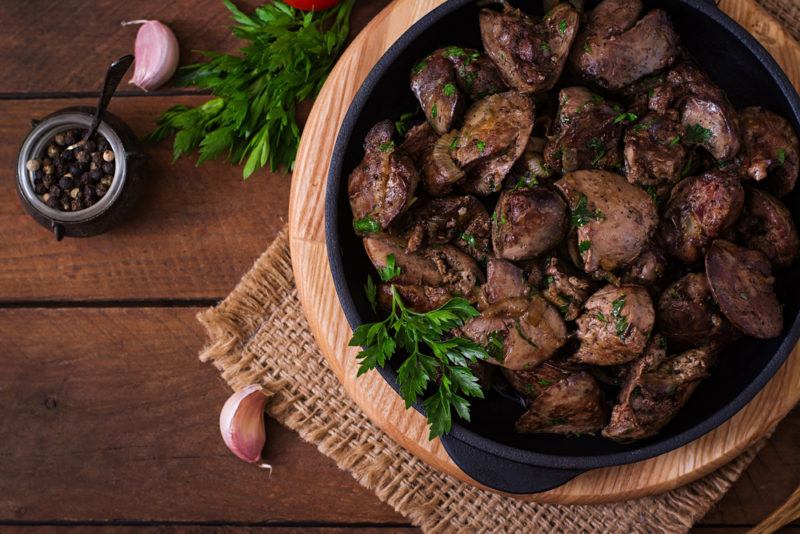 Liver is an even more powerful source of copper. You end up with more than 1,000% of your daily intake from a single slice of fried beef liver, and more than 900% of your daily intake from a 3-ounce serving of lambs liver.
The serving size is for the two types of liver, so beef liver ends up being a slightly more powerful source of copper. Still, either way, you're getting much more copper than you need.
This is fantastic, as a 3-ounce serving isn't all that much liver. You'd still get far above your daily copper intake from a single ounce of liver. Think about how easy that is to get into your diet. You could cook the liver, chop it up into small pieces, and then mix it in with a strongly flavored meal.
What about including the liver as part of a beef stew or meatloaf? You might not taste the liver at all.
While we've just talked about beef and lamb liver, you should get a decent amount of copper from any other type of liver too.
Liver is rich in other nutrients too, but that doesn't mean that it's always a good choice. For example, the high amount of vitamin A in liver isn't good for unborn babies, so pregnant women will need to be careful with their liver consumption.
Crab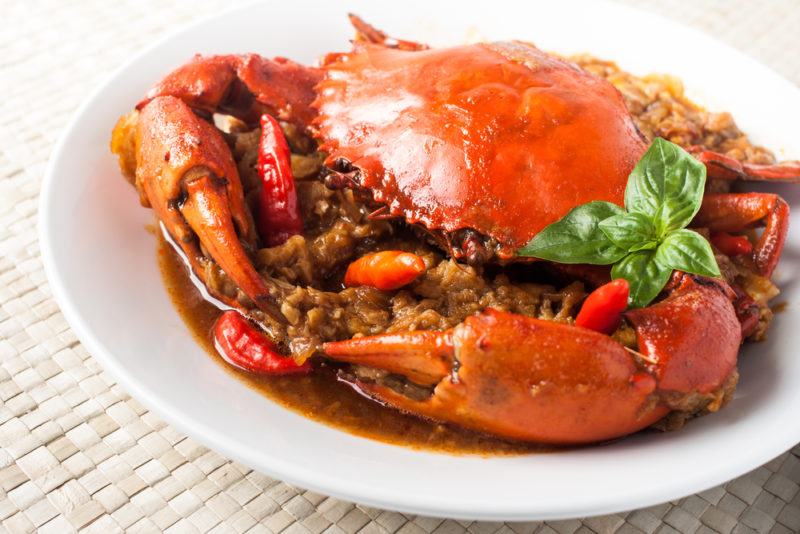 If you're a shellfish fan, then crabs are worth considering too. Alaskan king crab tops the list here, providing more than 170% of your recommended daily intake in a single leg.
Other types of crab can be appealing too. For example, a cup of blue crab pieces still gives you more than 100% of your daily intake.
You don't need to eat crab on its own either. Plenty of recipes use crab as a key ingredient, like crab cakes. You'll still get a decent amount of copper when using crab as an ingredient.
Shiitake Mushrooms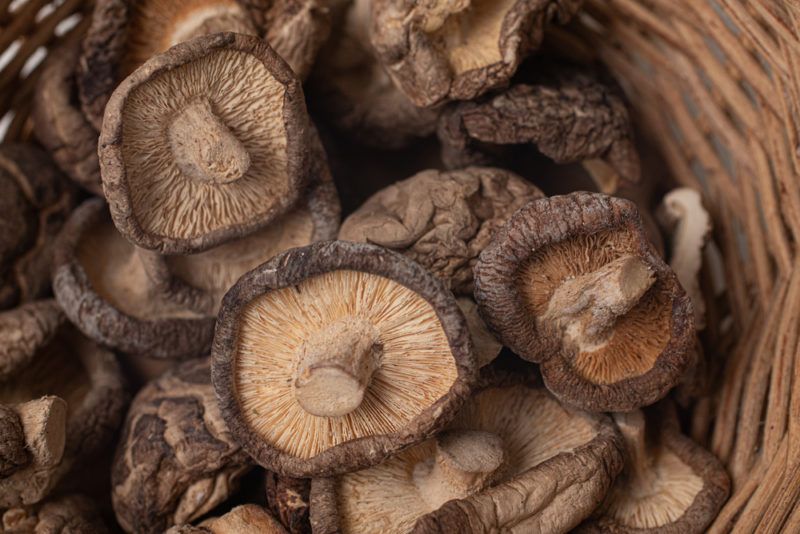 While most types of mushrooms offer some copper, the amount varies notably. Shiitake mushrooms are easily the most powerful, giving you more than 140% of your daily intake in a cup of the cooked mushrooms.
This type of mushroom has been linked to other benefits too, including the potential to improve immune system function.
Besides, shiitake mushrooms are tasty too. They have a delicious rich savory flavor that goes perfectly in many recipes. Just be sure to watch your intake. Eating too many shiitake mushrooms in a serving can lead to digestive problems like stomach cramps.
White Mushrooms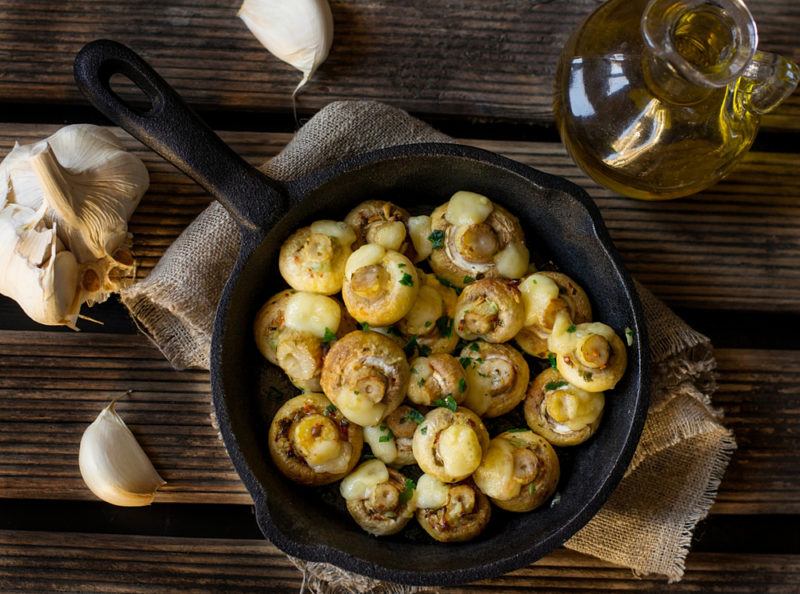 White mushrooms aren't as powerful as shiitake mushrooms for copper. This time you get roughly 87% of your daily intake from a cup of the mushrooms. Still, that's a pretty decent amount.
White mushrooms are also the most common type of mushroom. They're easy to find and can be cheaper than more unusual alternatives. These features all make white mushrooms an ideal choice for copper.
Sweet Potatoes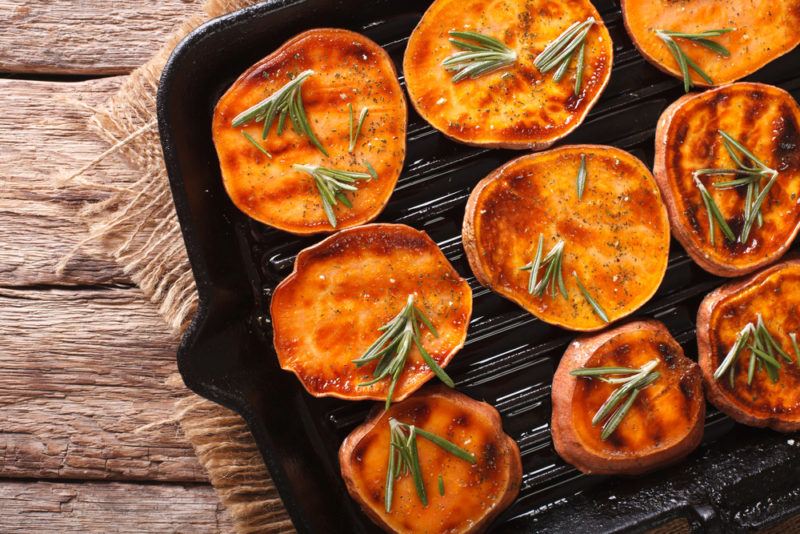 If you cook and mash your sweet potatoes, then a cup of the tuber will give you close to 80% of your daily copper intake. Of course, that's far from the only way to serve the potatoes. Baking them is another option. You can then stuff them with whatever ingredients take your fancy.
Sweet potatoes don't need to be boring either. There are countless ways that you can cook them and you may find sweet potatoes in some surprising dishes.
For example, there are variations on tater tots, biscuits, tamales, quiche, and gnocchi that use sweet potatoes. You can even make a type of sweet potato toast, then add a variety of toppings to it.
Lobster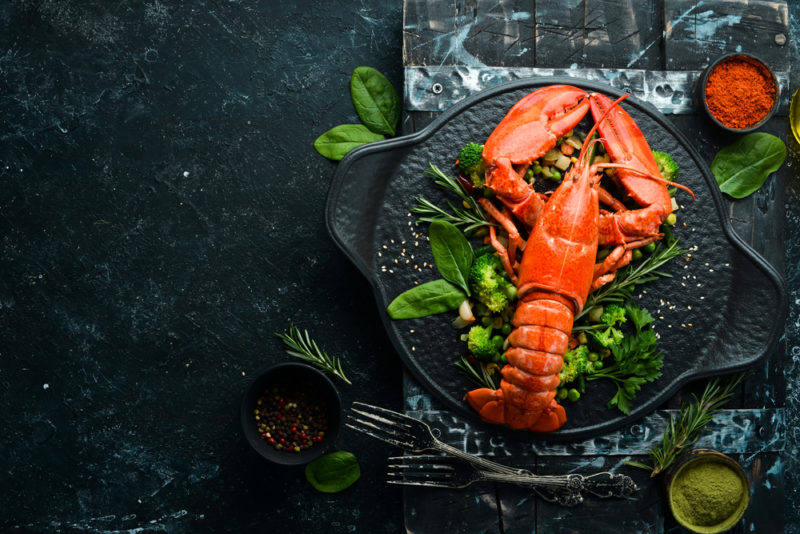 We've already talked about a few types of shellfish, but lobster is too delicious to pass up. It's a bit of a luxury dish too, especially if you're pairing your lobster with wine.
As for copper, a 3-ounce serving of cooked lobster provides close to 150% of your daily copper intake. There's a decent amount of selenium and zinc present too, which could make the shellfish a good way to increase testosterone levels.
Besides, who doesn't need another excuse to eat lobster?
Tofu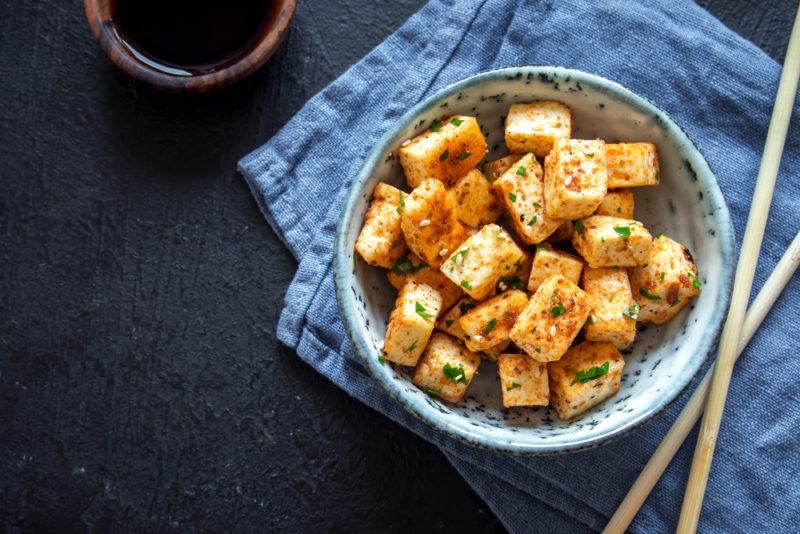 The amount of copper in soybeans means that many soy products are a decent source of copper. Tofu is a fantastic example, but the amount of copper varies depending on the type of tofu that you choose.
For firm tofu, you get slightly more than your daily copper intake in a cup of the tofu. For medium tofu, on the other hand, the amount of copper is closer to 50% of your daily intake.
Still, even 50% is pretty good. Remember, you don't need to get all your copper from a single type of food. You'll probably be eating multiple copper rich foods each day.
Boiled Soybeans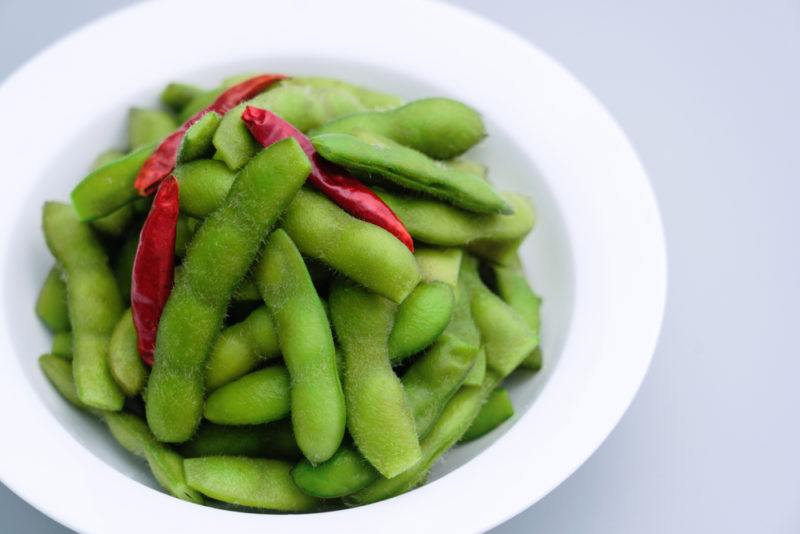 Boiled soybeans can be decent for copper too, giving you a little under 80% of your daily copper intake in a cup. This way of eating soybeans could be even more appealing than other options, as you can enjoy the beans as a snack, rather than part of a meal.
The soybeans are also less processed than tofu, which could be reason enough to try them.
We can't talk about soybeans without mentioning the controversy that surrounds them. The legumes contain multiple compounds that could be a problem, including anti-nutrients and compounds that may mimic estrogen. Plus, soybeans are often genetically modified, which is an entirely different can of worms.
While concerns about soy are common, there isn't much science supporting any of these issues. We also know that soybeans have many benefits. So, for most people, the advantages should far outweigh the risks.
Still, watching your soy intake isn't a bad idea. If you regularly eat multiple soy-based products, it might be worth cutting down on some of them and looking for alternatives instead.
Spirulina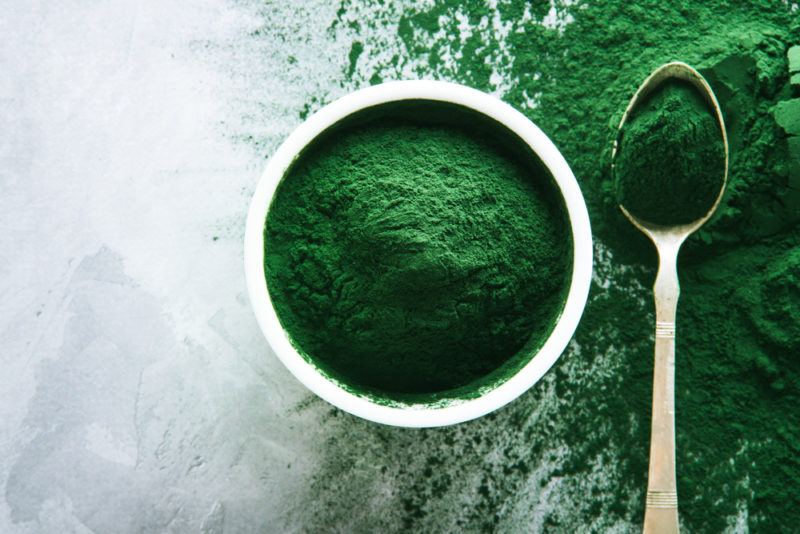 Spirulina is a type of single-celled algae that grows in freshwater and saltwater. It's often called a superfood, as it is rich in vitamins and minerals. It can also be used for food, as the protein content by weight is high.
Spirulina tends to be sold in tablets or as a powder. Many people use the powder as a smoothie ingredient, but you can also mix it into either water or juice and drink it that way.
The algae is a potent source of copper, providing you with around 66% of your daily copper intake in a 100-gram serving. The catch is that spirulina tends to be eaten in small quantities, often just a few grams per serving.
Still, the copper content can add up.
Toasted Sesame Seeds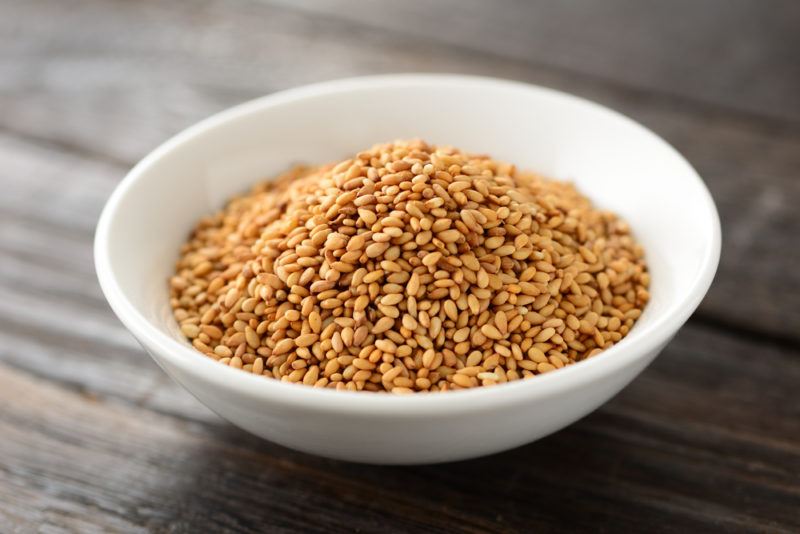 Nuts and seeds can be a fantastic way to get more nutrients, partly because their small size means that they can easily be used as a snack. You can often include them as part of a recipe too. Or, in the case of sesame seeds, you can sprinkle them on top of a meal.
We're talking about sesame seeds first, as these give you close to 80% of your copper intake in a 1-ounce serving. An ounce isn't all that much, so the seeds are a very easy way to increase copper levels.
Tahini is a good option for copper too. This is similar to peanut butter, except that it relies on sesame seeds instead of peanuts. You might find tahini easier to use than sesame seeds too. Relying on it as a spread or dipping veggies into it are just two options out of many.
Cashews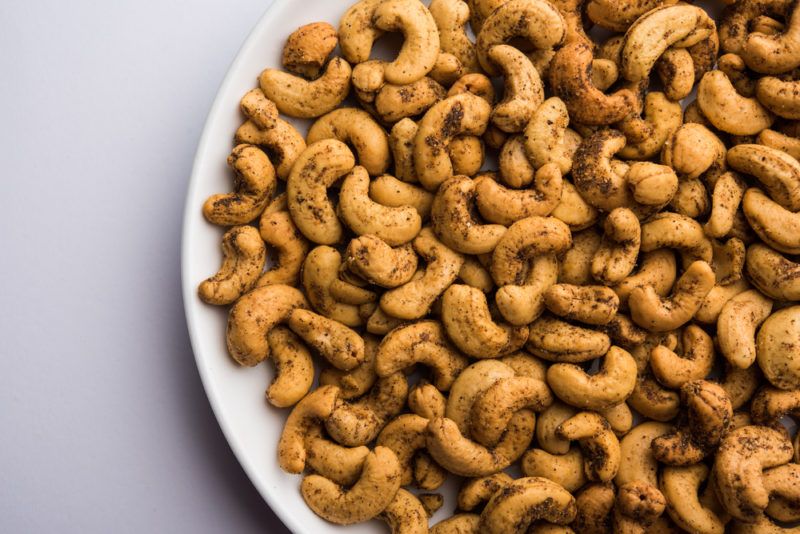 Cashews top the list for copper rich nuts. This time, a 1-ounce serving gives roughly 70% of your daily copper intake. While this is a little less than you get with toasted sesame seeds, cashews are easier to snack on, which gives them an advantage.
The copper level does vary a little depending on whether you're eating the cashews raw or roasted. The method of roasting can make a difference too. Still, the differences shouldn't have a dramatic impact and you can choose whichever type you like the best.
You could also turn to cashew butter instead. This is fantastic on toast or as part of a smoothie. Even just spreading some cashew butter on a piece of apple can be delicious.
Sunflower Seeds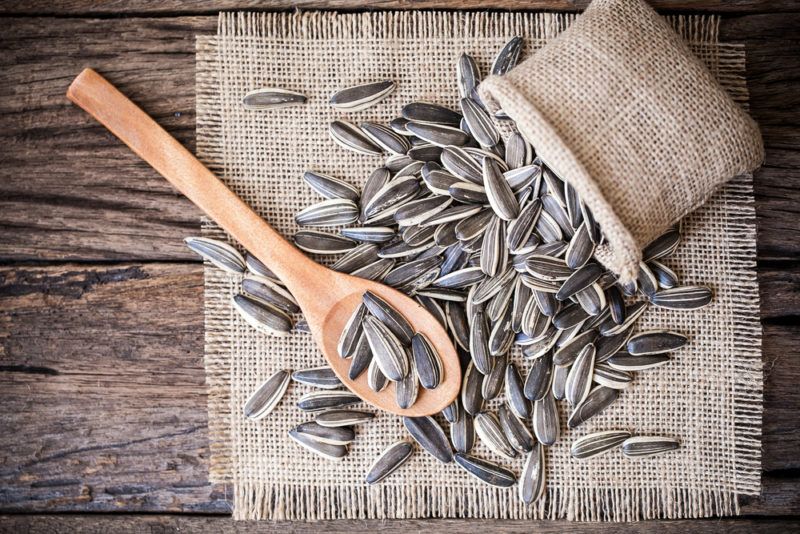 Most of us find sunflower seeds easier to eat than sesame seeds – and the copper content isn't too bad either. This time, that classic 1-ounce serving gives you more than half of your daily copper intake.
They contain a decent amount of vitamin E too, along with protein and fat. The protein and fat content is what makes sunflower seeds satisfying as a snack.
Other Nuts And Seeds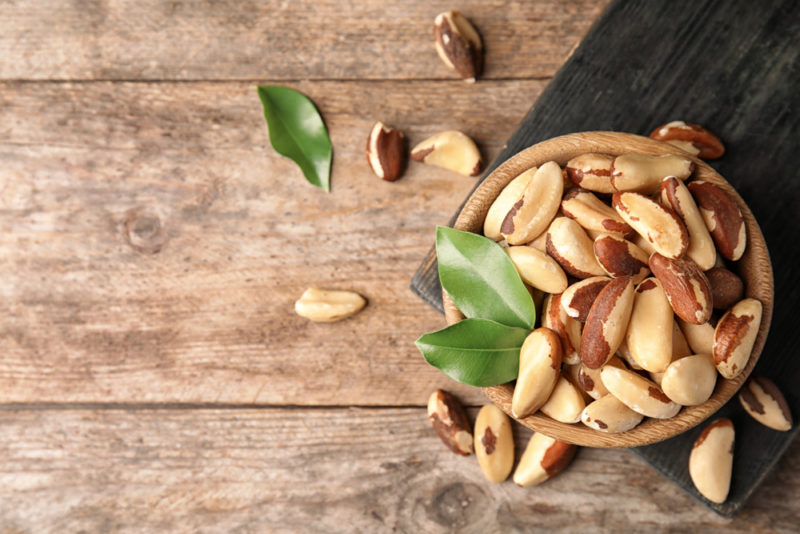 While sesame seeds, sunflower seeds, and cashews are the best for copper content, many other nuts and seeds are notable too. This means that you can get much of your copper by eating nuts and seeds regularly.
Brazil nuts deserve a special mention here, as these nuts are unusual. They're larger than other common nuts. They have a distinct flavor and texture too.
But, what really makes them stand out is selenium. The nuts are incredible sources of selenium. You actually get more than your daily selenium intake from a single Brazil nut. The high selenium content is great for your health. Just don't overdo it, as too much selenium can cause problems.
Hemp seeds can be enticing too. These give around half of your copper intake in a 1-ounce serving. The seeds may have important plant-based compounds too.
Chickpeas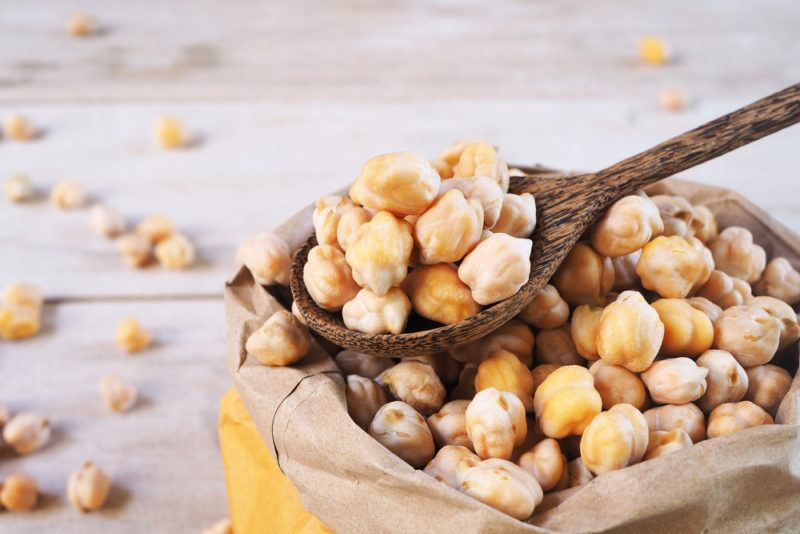 Chickpeas are versatile. This is one of their best features. They're most famous as the base ingredient for hummus, but you can also use them as part of a soup or a stew.
Or, for a different approach, what about roasting chickpeas instead and then eating them much like nuts? Chickpeas are lower in fat than nuts. This can make them more appealing as snacks for anyone trying to lose weight.
These days you can even find roasted and seasoned chickpeas at a grocery store. You can make them for yourself too. Making your own requires extra effort, but you do get to control the spices used, which could lead to a snack that tastes much better.
Beans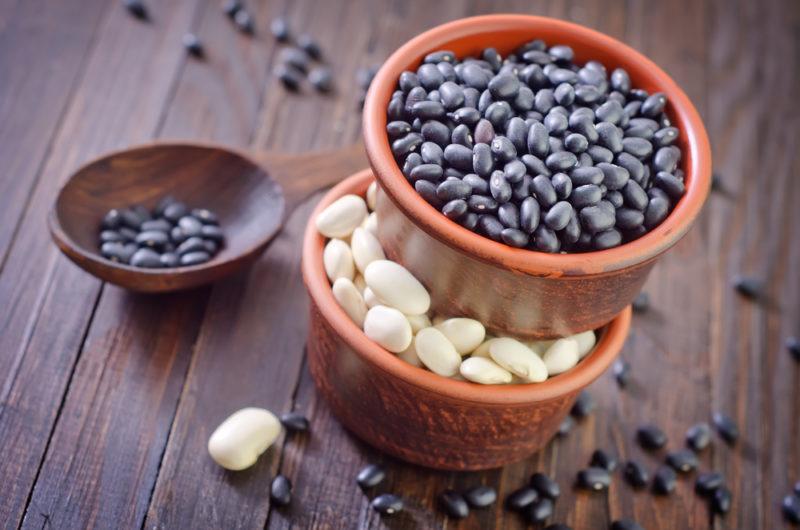 Copper can be found in many types of beans too. You're often looking at roughly half your copper intake per cup of the cooked beans.
The exact amount varies depending on the beans that you choose. Adzuki beans are the most powerful option, but these are obscure enough that many of you won't be using them.
More common options include red kidney beans, black turtle beans, white beans, lentils, and fava beans.
There's little reason to try and find the absolute best bean for copper. It's much better to include a variety of types in your diet. This way you get the widest range of nutrients and plant-based compounds.
Salmon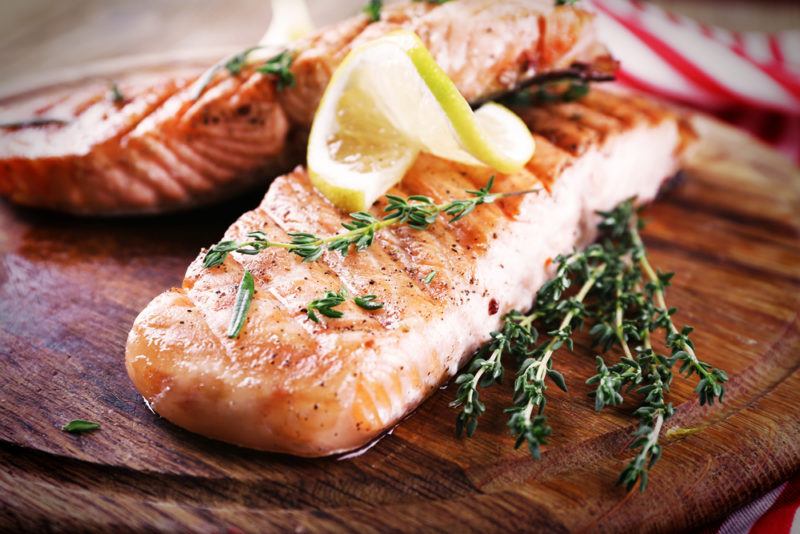 Shellfish tends to be a better copper source than fish, but you can still get some copper from certain types of fish. Salmon tends to be the best possibility, giving you around 60% of your daily copper intake from a fillet.
Of course, the amount varies depending on the type of salmon and whether it is wild-caught or farmed. Wild Atlantic salmon may be the most powerful types, especially as wild salmon tends to be nutritious than farmed salmon anyway.
But, don't worry too much if farmed salmon is your only option. Even farmed salmon is rich in nutrients, including the ever-important omega-3 fatty acids.
Sardines And Herrings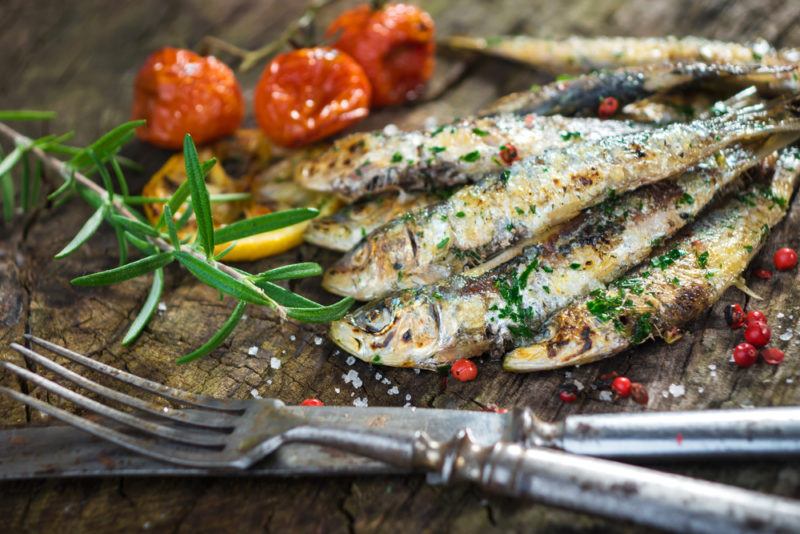 Sardines and herrings are small types of fish that come from the same family. They're another marine choice for copper, although the amount per serving is notably lower than with salmon and the shellfish we talked about earlier.
Still, sardines and herrings have some distinct advantages.
One is mercury content. These fish are towards the bottom of the food chain, so they don't accumulate as much mercury as larger fish. This makes them very safe to eat (compared to tuna, for example, where you need to be careful with how often you eat the fish).
Because of their small size, the bones of sardines and herring tend to be small and soft. This means that you can easily eat the entire fish – and many people do. Eating the whole fish provides you with some extra nutrients, including calcium from the bones.
Turnip Greens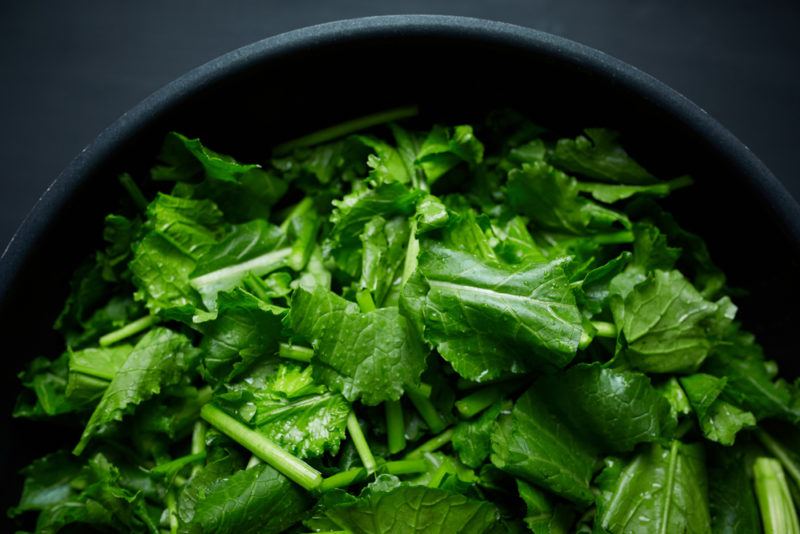 Leafy greens are well-known for their health benefits, but the classics like spinach and kale aren't your best choice for copper. That honor goes to some of the more obscure types of greens instead, including turnip greens.
As the name suggests, turnip greens are the green stems and leaves of the turnip plant. These tend to be bitter, but you can decrease the bitterness by using a little salt or soy sauce when cooking.
With these greens, you get around 40% of your copper intake from a cup of the cooked greens. There are other important nutrients present too, including fiber, vitamin K, vitamin A, and even some calcium.
And, like other leafy greens, turnip greens are low in calories. This is a useful feature. After all, relying only on high-calorie sources of copper could make your calorie intake much higher than it needs to be.
Beet Greens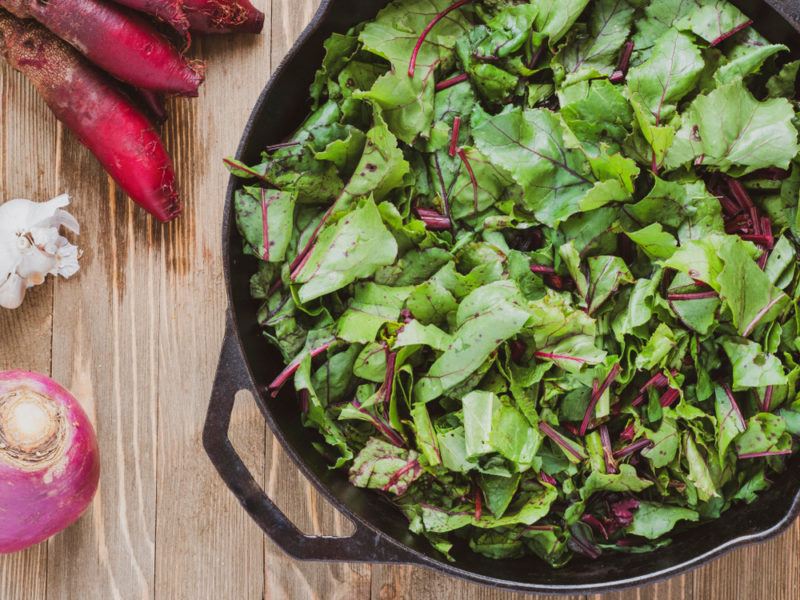 Not surprisingly, beet greens come from beets. They're more tender than most other types of greens. They're also slightly sweet with a mild flavor, making them a more delicious choice than turnip greens, kale, or collard greens.
Just like turnip greens, beet greens offer you many nutrients, including vitamin K and vitamin A. This time, potassium and magnesium are notable nutrients. There is some calcium and iron present too.
Other Leafy Greens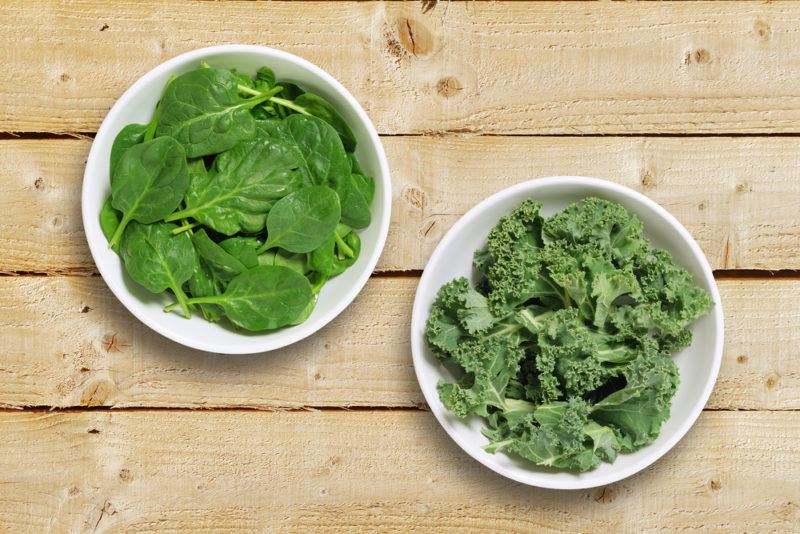 While other types of dark leafy greens contain less copper than turnip greens and beet greens, many of them are still notable. Spinach, for example, contains around 35% of your daily copper intake in a cooked cup of the green. The percentage is 32% for Swiss chard and 27% for kale.
These differences highlight why you should rely on a selection of different greens, rather than a single type. After all, the different greens all have their own nutritional advantages and disadvantages.
While we're on the topic, it's worth saying a quick word about spinach. Spinach might be a powerful source of nutrients, but the leafy green is also high in oxalates. Oxalate rich foods may contribute to kidney stones for some people, so it's important to not overdo it with spinach.
Other leafy greens, on the other hand, contain fewer oxalates.
Sprouts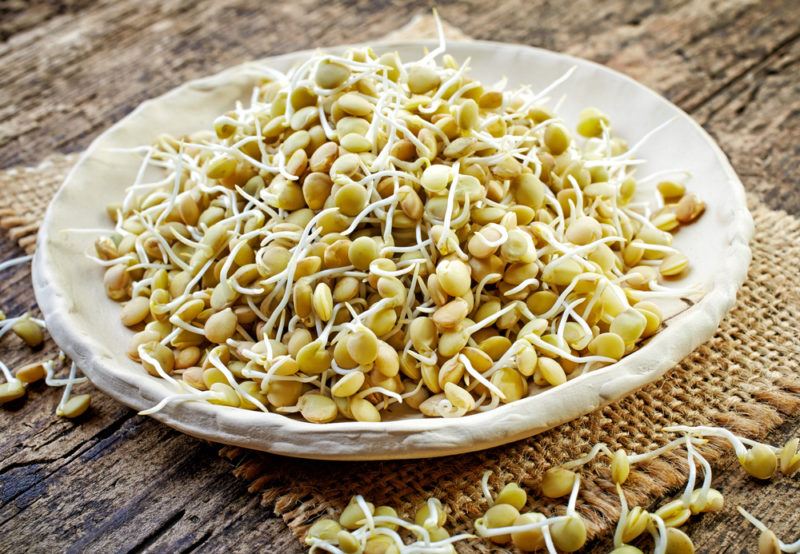 Sprouts from peas, lentils, and various types of beans can all provide copper too. Lentil sprouts are particularly interesting, giving you around 37% of your daily copper intake. Pea sprouts contain just a little less and soybean sprouts are slightly lower again.
Honestly though, the difference in copper content between the different sprouts is barely worth talking about. They all offer beneficial nutrients and you're getting some copper either way.
You might not be relying on a single type of sprout at a time anyway. Using a variety of sprouts at the same time can be delicious and it's not too hard to find packets of mixed sprouts in local stores.
Avocados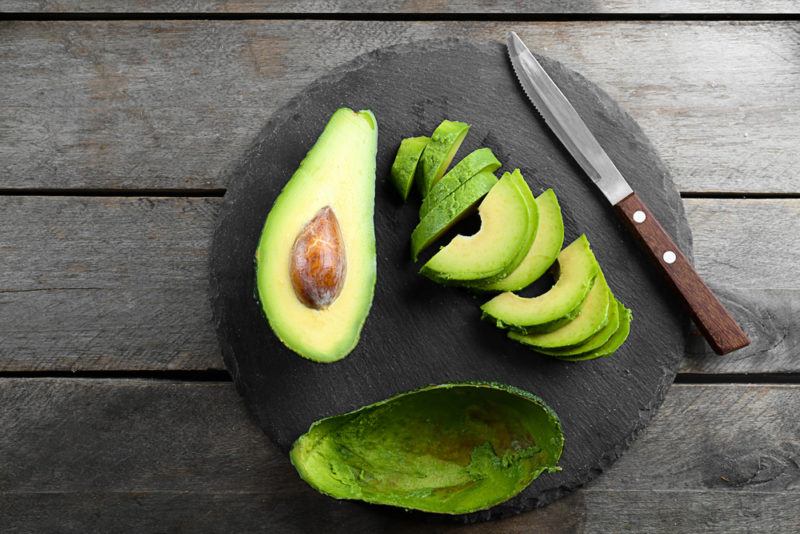 Rich and creamy, avocados are an incredibly popular fruit. They're also unusual, as avocados tend to be low in sugar and high in fat, which isn't the typical balance for fruit at all.
As for copper, a whole avocado provides a little over 40% of your daily copper intake. There's a decent amount of vitamin K and vitamin E present too, along with potassium and magnesium.
Avocados are also a versatile low carb food. You'll see them used in many different ways, including popular options like baked avocado and avocado on toast. Or, you can simply slice your avocado and include it on top of a meal. The creaminess of the fruit complements many dishes.
Dark Chocolate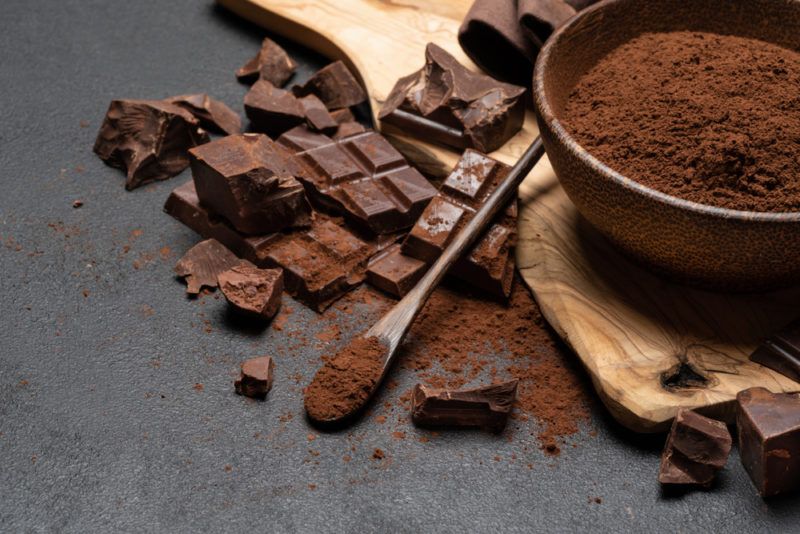 Here's an entry that you're certain to love. Dark chocolate offers a surprising amount of copper. A 1-ounce square, for example, may provide a little over 50% of your daily copper intake.
Of course, the copper content will strongly depend on the product at hand, as the nutrient composition can vary dramatically from one dark chocolate product to the next.
The amount of cocoa matters too. To get the most benefits, you're looking for dark chocolate that is at least 70% cocoa, ideally higher. The cocoa in your chocolate is what provides the polyphenols and other important compounds.