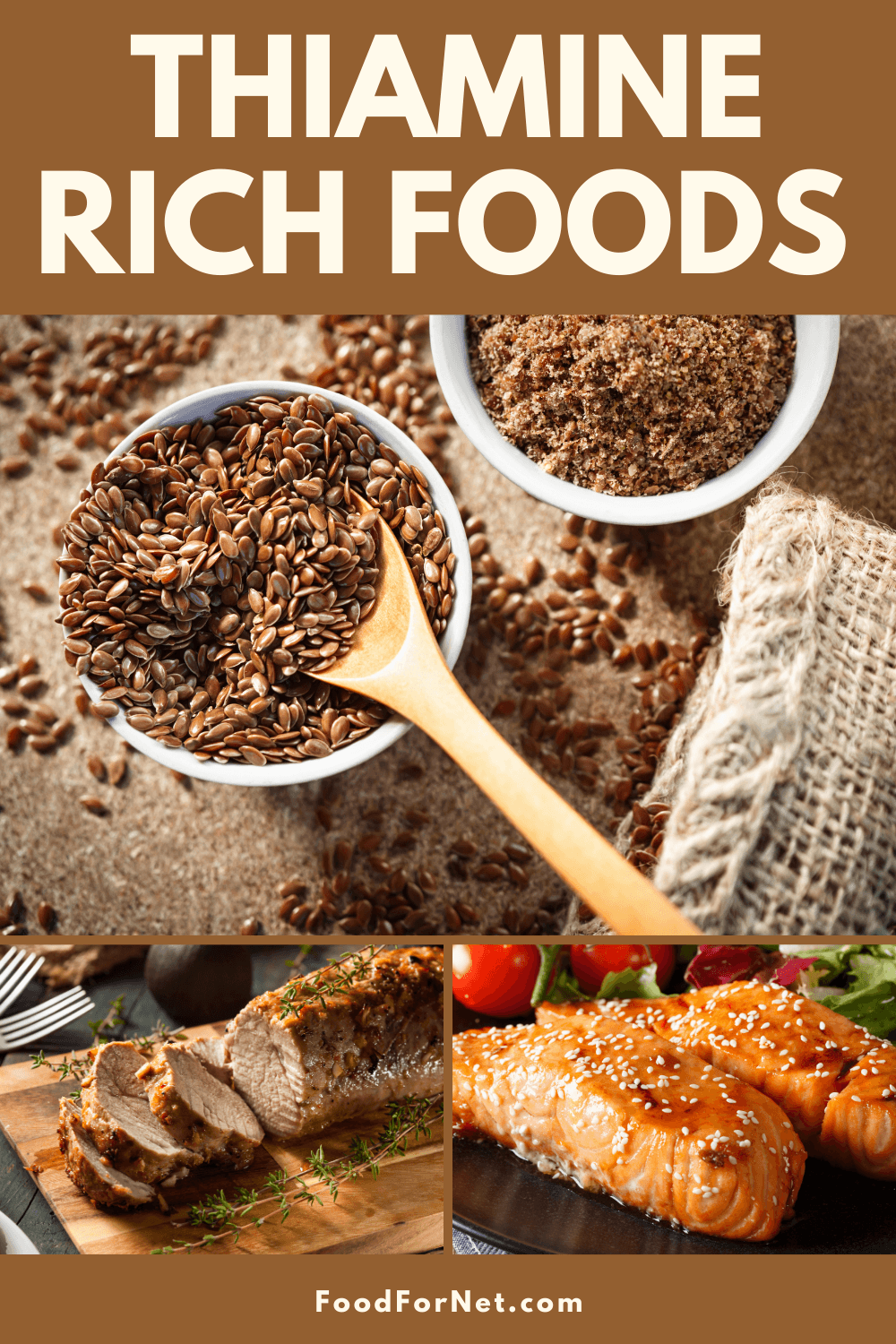 Thiamine is also called vitamin B1 and it is one of the B complex vitamins. Just like other vitamins and minerals, thiamine plays many roles in the body. It helps your heart and your muscles, and is even relevant for carbohydrate metabolism. There's no doubt then, thiamine rich foods are important for your health.
Thiamine mightn't be as well known as vitamin C or vitamin A, but it is very interesting.
It is called vitamin B1 because thiamine was the first of the B vitamins to be found. In fact, it was one of the earliest vitamins classified. That's very impressive.
Recommended daily levels of thiamine are around 1.2 mg per day for males and 1.1 mg for women. These targets are easy enough to hit from food alone, so there shouldn't be any need to rely on a supplement.
There are suggestions that thiamine may offer other health benefits too, like helping to decrease stress, improve the immune system, and prevent cataracts. For such benefits, you may need to be consuming more thiamine than the daily recommended dose. The foods on this list can help you do so.
Thiamine Rich Foods
Beef
Pork
Chicken and Other Meat
Liver
Salmon
Tuna and Other Fish
Oysters
Mussels
Flax Seeds
Sunflower Seeds
Other Seeds and Some Nuts
Soybeans
Soy Products
Beans
Lentils
Green Peas
Asparagus
Yellow Sweet Corn
Acorn Squash
Oats
Rice
Fortified Foods
Beef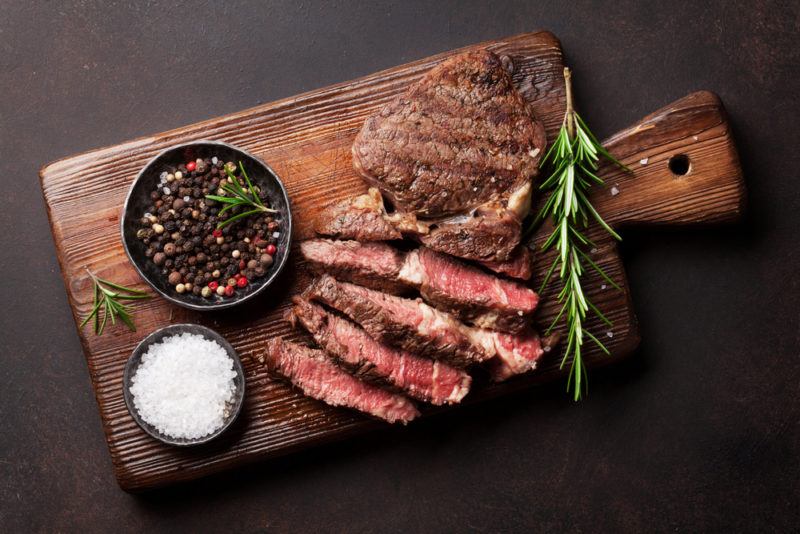 Red meat might have a poor reputation these days, but the meat still has some good points. It's rich in nutrients, after all, including vitamin B1
You can get the most benefits and derease the risk of problems by focusing on lean cuts of beef and being careful with cooking. In particular, it's best to avoid cooking red meat over high heat. You certainly don't want to be burning it, as this can produce carcinogens.
And, of course, everything in moderation. Having red meat for every meal isn't a good plan, but enjoying it once in a while is likely to have more advantages than disadvantages.
Pork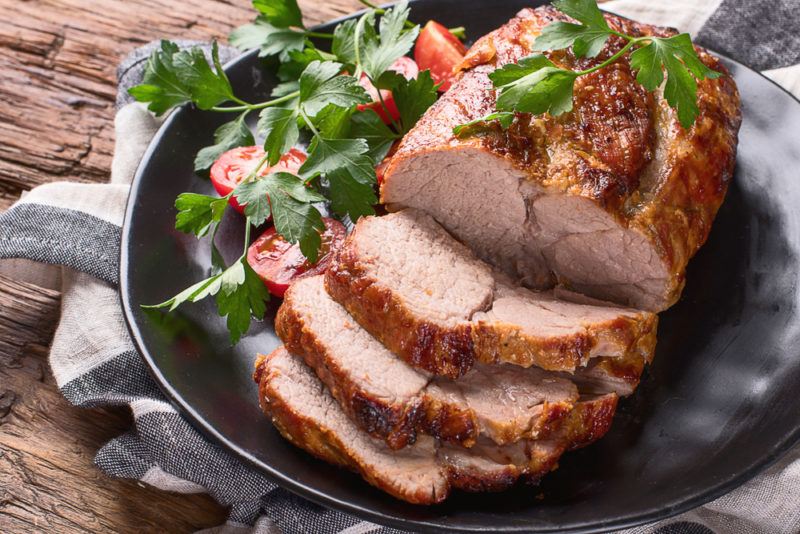 Pork is another good choice for thiamine. You get almost your daily intake of thiamin in a single 6-ounce chop, while a 3-ounce serving of pork tenderloin provides close to 70% of your daily intake.
Other types of pork products are relevant too, like salami or cured ham. Both these products are easy ways to add thiamine into your diet, as they're already cooked.
In fact, most types of pork end up with more thiamine than beef and other types of meat. This is somewhat unusual and may be a reason to eat pork more often.
Chicken and Other Meat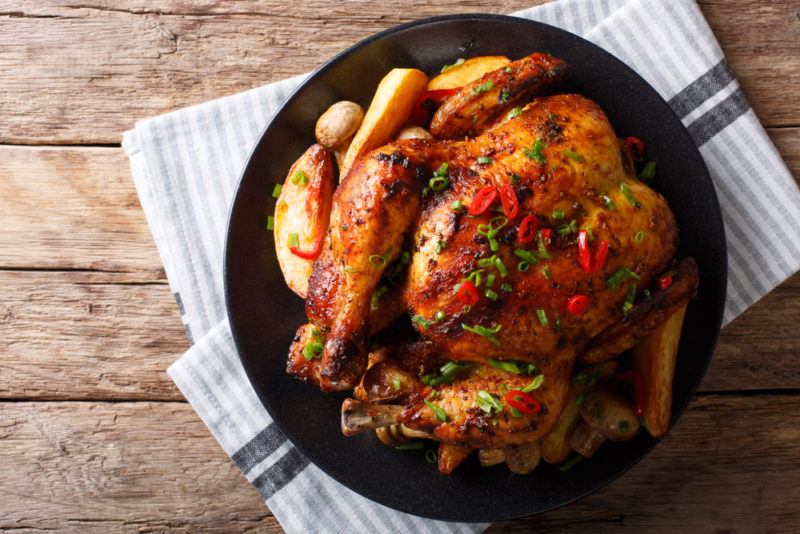 We can't forget about chicken. The thiamine content mightn't be as impressive as for pork, but chicken is a popular ingredient. It's a perfect choice in countless recipes, partly because it doesn't have a very strong flavor of its own.
Chicken also has a much better reputation than red meat. So, if the debate surrounding red meat concerns you, why not rely on chicken for your thiamin instead?
Other types of meat are notable too, including some of the more obscure options. Wild boar, ostrich, emu, and buffalo are all examples. The amount of thiamin does vary depending on the animal and the cut, but you'll normally at least 10% of your daily intake from a serving – often much more.
Liver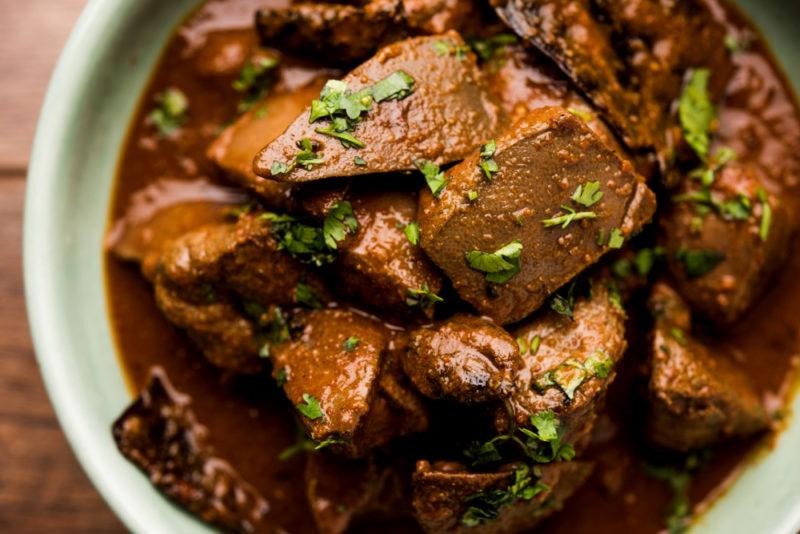 While we're on the topic of meat, liver deserves a special mention. As a type of organ meat, liver has a different balance of nutrients than regular cuts of meat.
Liver ends up being a powerful source of some nutrients, including thiamine.
Liver isn't as hard to use as you might think either. The flavor and texture can be hidden in some meals, especially if you have some other strong ingredients. Meatloaf and beef stew are two easy ways to get liver into your diet.
Or, if you're less worried, you could look for a recipe that uses liver as a key ingredient. There are many of these out there. Try a few searches on Google and see what you find.
Salmon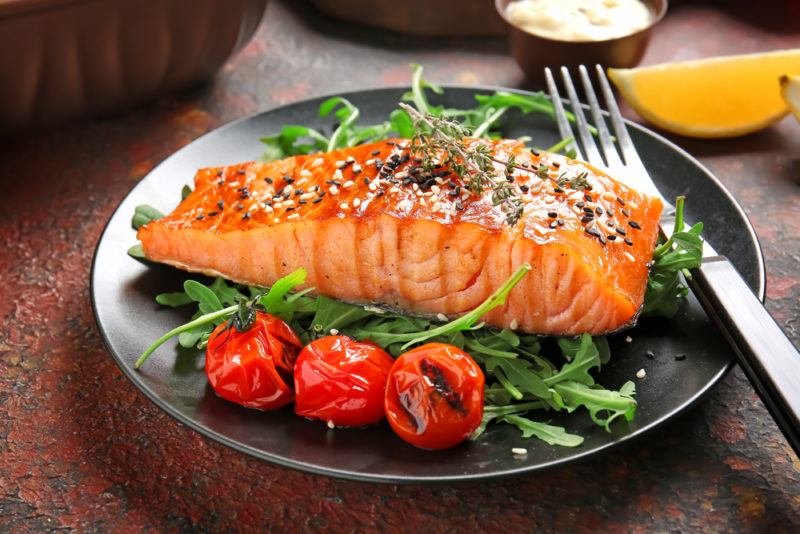 With the amount of thiamine in meat, it shouldn't be surprising to see the vitamin in fish too. Salmon is the best choice here.
Interestingly, you might get more thiamine in a fillet of farmed Atlantic salmon than in any other type (including wild Atlantic salmon). However, such details are only ever estimates. The amount of any nutrient can vary based on many factors.
Thiamine isn't the only reason to eat salmon regularly. The fish is renowned for its health benefits, as it is rich in omega-3 fatty acids, along with plenty of other nutrients.
Salmon also has an interesting balance of texture and flavor. It's often called 'meatier' than other types of fish.
The fresh fish isn't your only option either. You could turn to smoked salmon or canned salmon too.
Tuna and Other Fish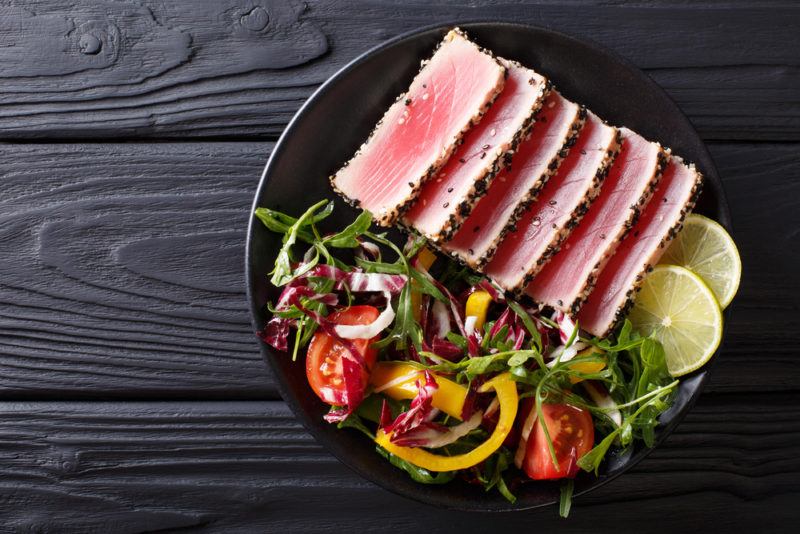 Tuna is the next notable fish for thiamine content. The amounts aren't too different from salmon, so you could go with one or the other. However, the mercury content of tuna is fairly high. You'll need to watch your tuna consumption so that you keep within healthy levels of mercury.
Other types of fish offer thiamine too. Pike, pompano, catfish, and yellowtail are some of the best sources for thiamine per gram of the fish.
You can also consider herrings. Herrings are lower in mercury than many other fish species, as they're further down in the food chain. This makes them safer to eat. The fish is popular too, often eaten as kippers, especially as part of an English breakfast.
Oysters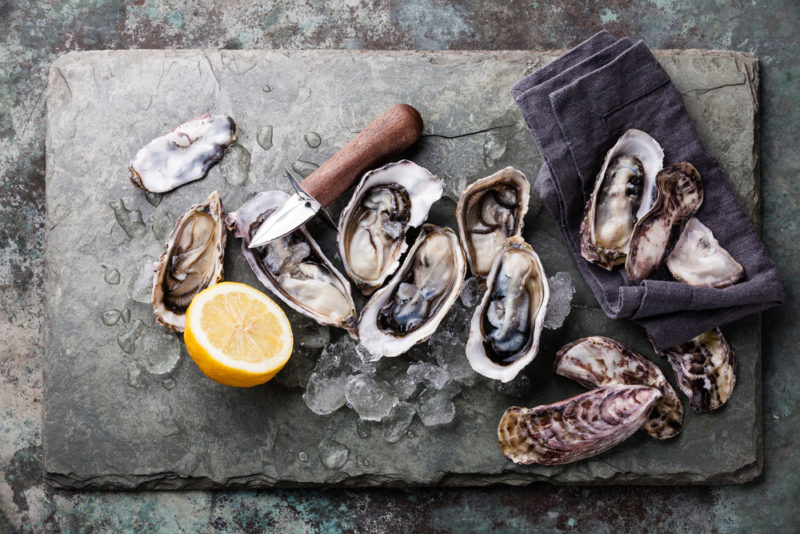 If you prefer shellfish to fish, oysters are one of your best options for thiamine. You end up with around a third of your daily thiamine intake from a 12-ounce can of oysters (if you're relying on canned oysters). Or, to look at it another way, a 3-ounce serving of cooked oysters can give you a little under 10% of your daily thiamine intake.
Of course, the amount of thiamine will be influenced by the type of oyster that you choose and how it is cooked. But, you're getting enough thiamine to make them worthwhile.
There are plenty of other nutrients present too, including protein, iron, zinc, and vitamin B12. In fact, oysters are a powerhouse for both vitamin B12 and zinc. You'll only need a few oysters to hit your daily intake for these nutrients.
Mussels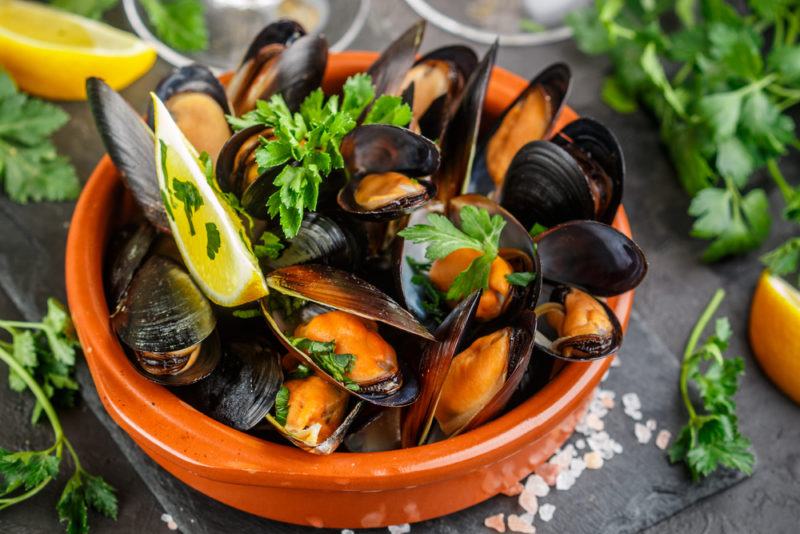 Mussels are the other type of shellfish to focus on for thiamine. You're getting many of the same important nutrients here too, including zinc, iron, and vitamin B12. There is some vitamin A and magnesium present too.
Mussels can be appealing as they have a mild flavor. They don't taste as strongly fishy or ocean-like as other types of seafood, making them an ideal choice for anyone just getting started with seafood.
Both mussels and oysters can be eaten raw. Doing so may give you more nutrients, as cooking changes the chemical composition of your food.
Just be careful, as eating seafood raw isn't entirely safe. There is always the chance of food poisoning. Choosing the freshest seafood possible helps to decrease this risk, but doesn't eliminate it entirely.
Flax Seeds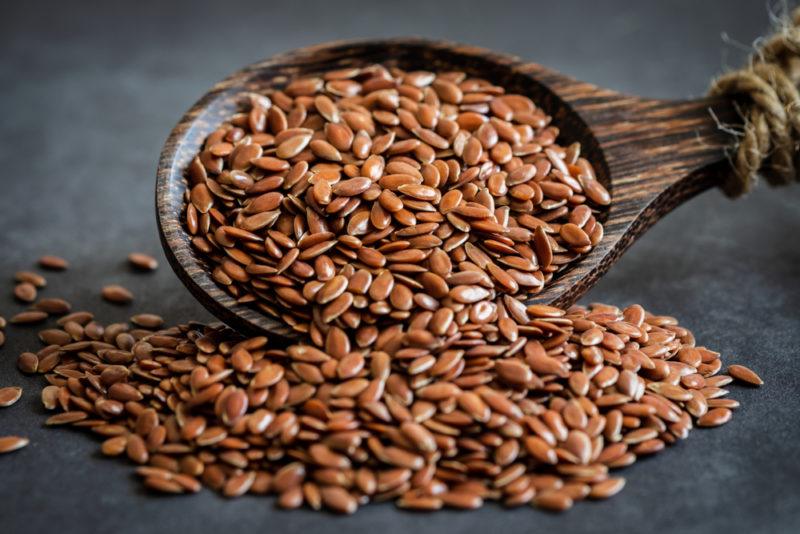 If you're interested in nuts and seeds, then flax seeds should be your first choice for thiamine. A 1-ounce serving of the seeds offers a little under 40% of your daily thiamine intake. This is more than most other nuts and seeds.
Flax seeds have other advantages too.
For one thing, they're high in ALA, which is a type of omega-3 fatty acid. The seeds offer a decent amount of fiber too.
It's easy to use the seeds, as they're small and don't have a strong flavor. You can even focus on flaxseed meal, which is where the flax seeds have been ground to create a fine powder.
Flaxseed meal is an easy way to boost your nutrient intake, as you can simply mix the powder into your meals. It doesn't tend to influence the taste or texture of your food at all.
Sunflower Seeds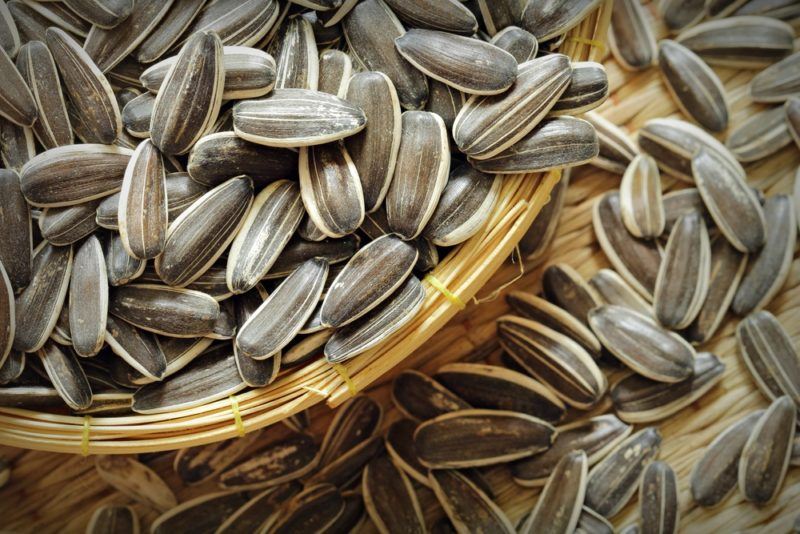 Sunflower seeds don't offer as much thiamine as flax seeds, but they're not far off. This time, you get around 35% of your daily intake in a 1-ounce serving.
Sunflower seeds can be used in different ways than flax seeds, as you won't normally be mixing them into your meals. But, dried and roasted sunflower seeds are common, these are often seasoned, so you can easily eat them as a snack.
You could also look for sunflower seed butter (or make it yourself). While this isn't as common as other types of nut or seed butters, it does have many of the same advantages. For example, you could spread the butter on toast or add it into a smoothie.
Other Seeds and Some Nuts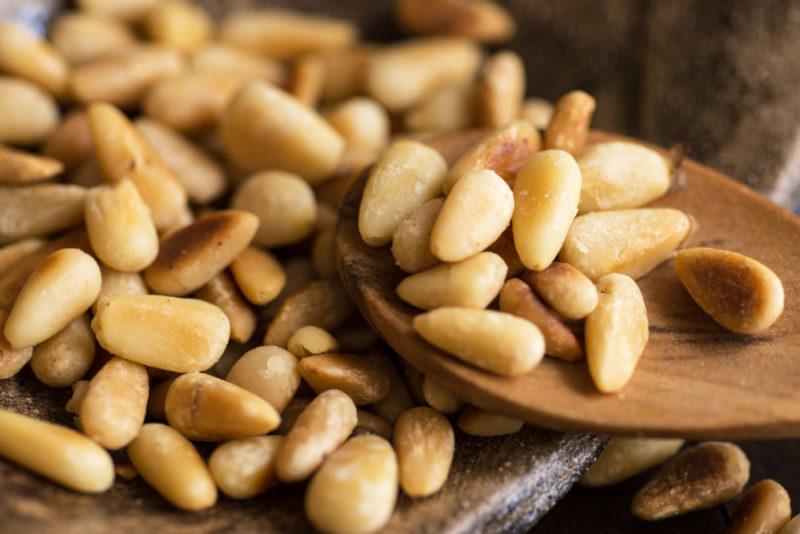 Pine nuts are another good example. These are a key ingredient in pesto, although you can use them in other ways too. Hemp seeds are just as appealing. These are popular as they offer many of the plant-based compounds that you find in cannabis, but, unlike cannabis, they're not going to get you high.
Chia seeds deserve a special mention too. These little seeds don't contain as much thiamine as the previous examples, but they are very unusual. For one thing, the tiny size makes it easy to include these seeds in meals. You can even just scatter them across the finished meal, as chia seeds don't have much taste either.
The seeds are notable for their ability to absorb water. They become gelatinous when they do so. This is why you can make a thick chia seed pudding, using chia seeds, some type of liquid, and little else. Chia seeds are used to thicken overnight oats too and in many other recipes.
Pili nuts and macadamia nuts are notable too. Interestingly, most of the nuts that you might eat regularly, like almonds and cashews, are relatively low in thiamine content. You'll still get some thiamine, but flax seeds and sunflower seeds end up being much better.
Soybeans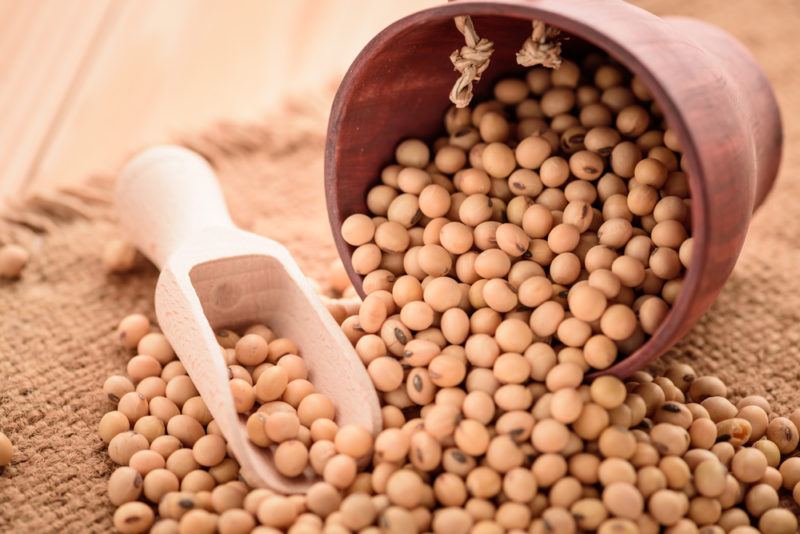 Legumes provide many important nutrients, including thiamine. Soybeans are a fantastic choice, with a cup of cooked soybeans giving you just under 40% of your daily thiamine intake.
Don't worry if you don't normally eat soybeans on their own – boiled soybeans can be delicious. They're not difficult to prepare either. The biggest factor is simply time, as it can take three or four hours to fully cook the beans.
Make sure that you use enough water, as the soybeans will almost double in size by the time that they're fully cooked.
Soy Products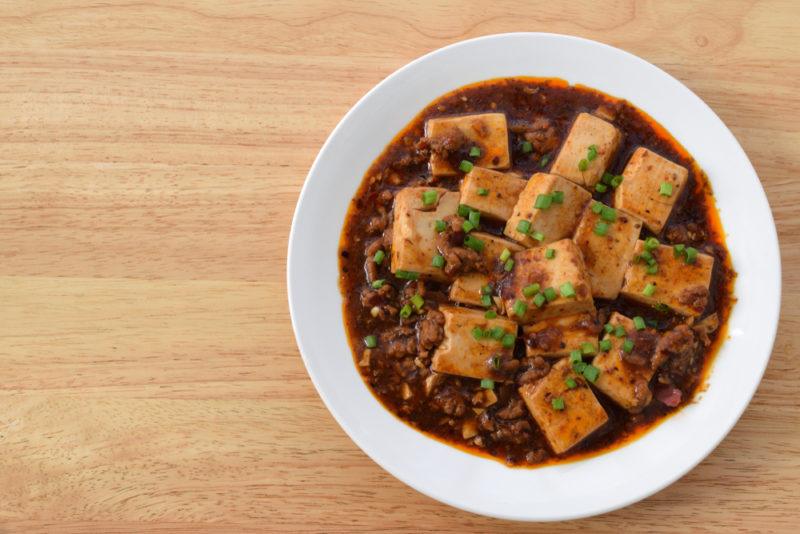 The thiamine content of soybeans means that soy-containing products often have a decent amount of thiamine too. This is an important outcome, as soy products are so common.
Soy milk and soy flour, for example, are used as ingredients in countless recipes. Then there are soy-based meat replacements, along with popular foods like tofu, tempeh, miso, natto, and a variety of other options.
The amount of thiamine will vary depending on the product and how it is made. Soy milk can be especially powerful, but the difference between one brand and the next can be dramatic. Tofu is notable too, which isn't surprising, as it is made using coagulated soy milk.
With so many products to choose from, soy ends up being an easy way to increase thiamine intake.
Just be wary about the amount you eat. Nutritious as soybeans may be, they are also controversial. While the concerns about soybeans are largely unproven, it's probably best to avoid excessive consumption over a long period.
Beans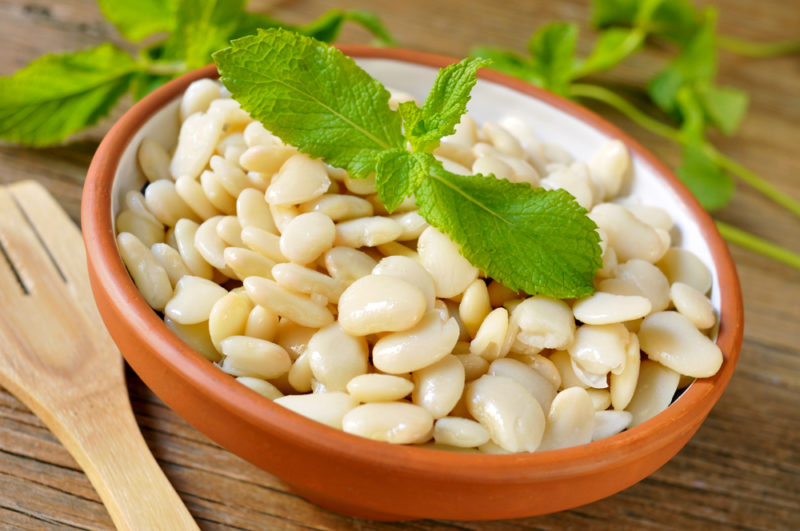 Beans are popular and it's easy to see why. They're a plant-based source of protein and are rich in fiber, nutrients, and plant-based compounds.
They also tend to be inexpensive and shelf-stable. Such features can make them much more practical than meat in many situations.
The nutritional content does vary from one type of bean to the next, and even between plant crops. But, this doesn't mean that there are 'better' and 'worse' beans. After all, beans that are low in some nutrients will be high in other ones.
For thiamine, black turtle beans, black beans, cranberry beans, navy beans, and small white beans are some of the best choices. Other beans offer some thiamine, just lower amounts per serving.
It's always best to soak your beans before you cook with them. This helps to decrease the amount of antinutrients present and can help you to absorb more nutrients from the beans.
On a side note, bean sprouts are powerful for thiamine too. For example, a cup of kidney bean sprouts offers more than half of your daily thiamine intake. Soybean sprouts are impressive too.
Lentils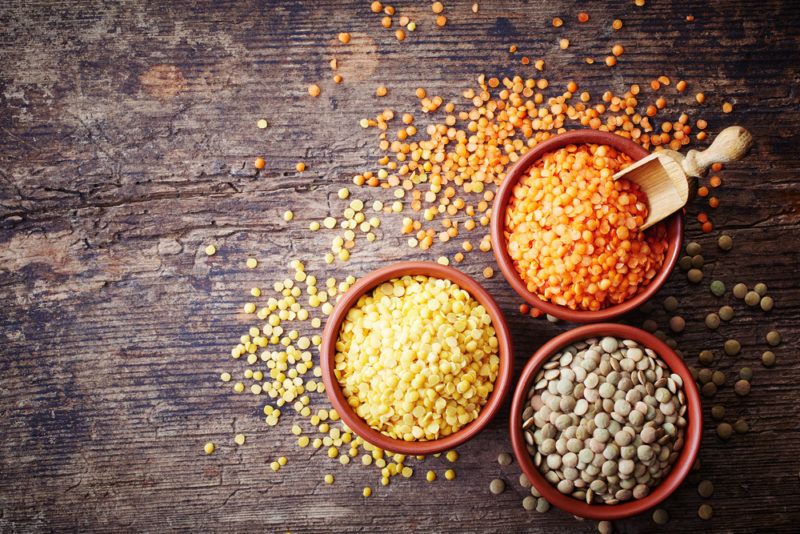 Lentils are another type of legume to consider. They can be easier to use than beans, as they tend to cook in less than 20 minutes. Split lentils are even faster, often cooking in around 5 minutes.
Soaking isn't essential for lentils, but soaking them does reduce the cooking time by about half.
As for flavor, lentils tend to have a slightly earthy and nutty taste. There will often be some peppery aspects too. However, the flavor does change depending on the type of lentil. For example, earthy notes are prominent in brown lentils, while peppery notes are more notable in green lentils.
While lentils do end up a little mushy after they've been cooked, you can minimize this by being precise with your cooking time.
Green Peas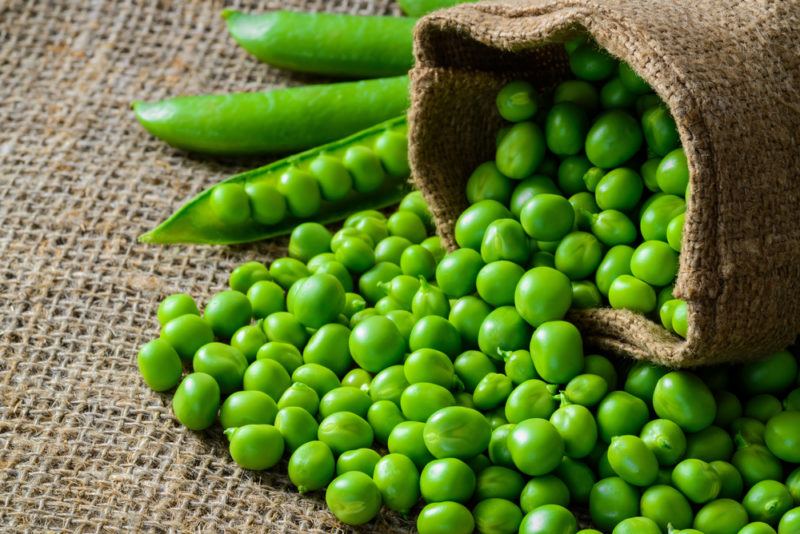 Humble and boring as they might seem, green peas are surprisingly powerful for nutrients. They provide you with fiber, vitamin K, zinc, iron, and even some vitamin C.
The thiamine content is decent too. You end up with around a third of your daily intake in a cup of the cooked peas. That's fantastic. After all, it's easy to cook a side dish of peas and eat the peas with whatever meal you want.
Peas also tend to be cheap, especially if you buy them frozen.
While we're on the topic, don't get fooled by the idea that frozen food is always unhealthy. Fruit and vegetables tend to get snap-frozen shortly after harvest. This process locks in their nutrients. Even if some nutrients are lost in the freezing process, this is often less than is lost in the transition from the farm to the grocery store to your home.
Asparagus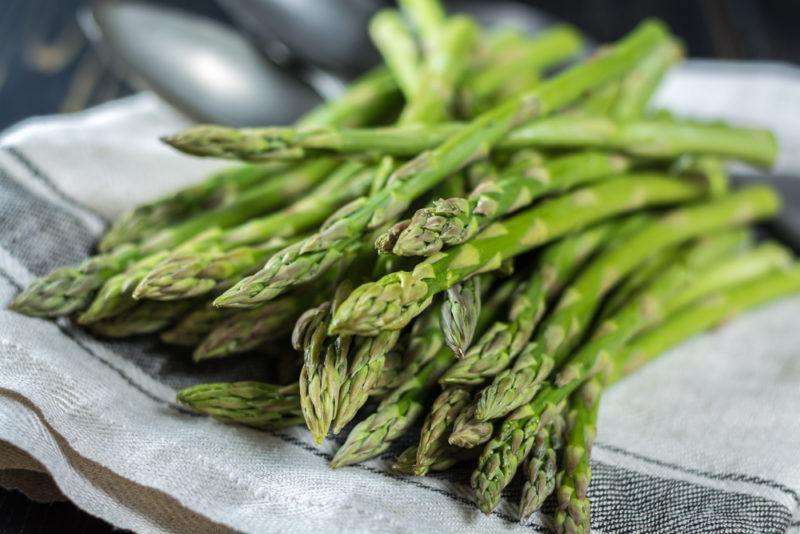 Asparagus is another green vegetable that you can turn to. Here you end up with roughly 24% of your daily thiamine intake in a cup. Asparagus is a decent source of fiber too and an exception vegetable for vitamin K and folate.
Asparagus is also promoted as a weight loss food, due to its high water content, low calories, and diuretic properties.
But, even if you love asparagus, you might want to watch your intake. Too much asparagus isn't dangerous, but you end up with some side effects, like gas and pee that smells strange.
Yellow Sweet Corn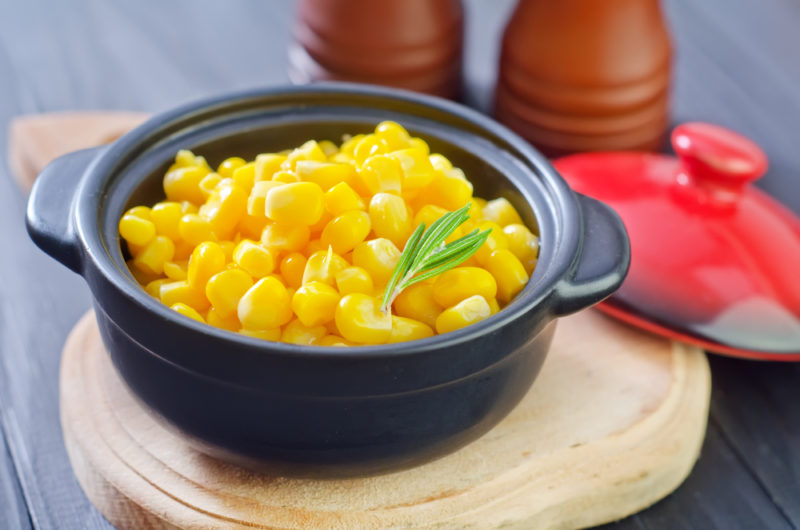 The sweetness of corn can make it seem less healthy than other options. Still, the vegetable offers plenty of important nutrients. All of the sugars are natural anyway.
Once again, you're getting plenty of fiber from your corn. Fiber is extremely important for health and many of us end up consuming too little. There's some potassium and magnesium present too, along with the thiamine.
Plus, if nothing else, corn is delicious. Whether you're eating it off the cob or as part of a meal, the flavor is tough to beat.
Acorn Squash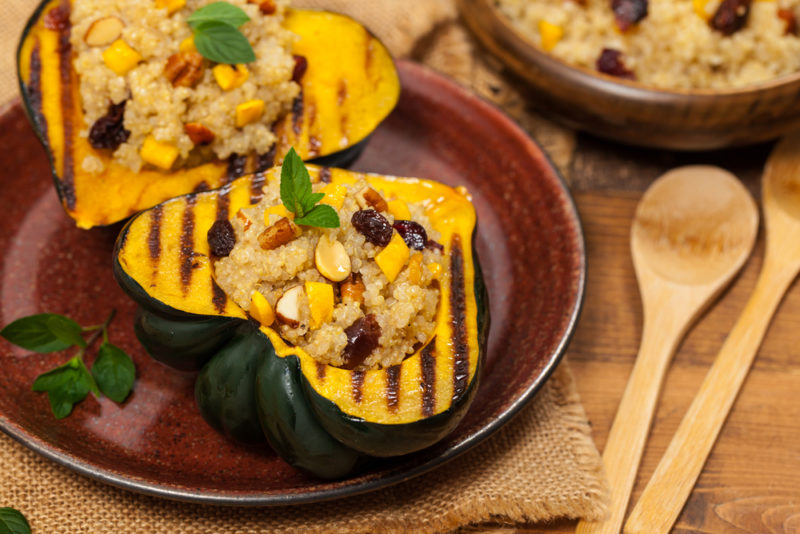 Acorn squash is another vibrantly colored choice for thiamine. A cup of cooked acorn squash cubes provides a little under 30% of that daily thiamine goal.
The squash is worth eating for other reasons too. It tastes delicious, after all, and can be used in a variety of recipes – especially in the cooler months. The bright color means that the squash is rich in plant-based nutrients as well.
Other types of squash contain thiamine too, but the levels vary. For example, a similar serving of butternut squash may only give around 10% of your thiamine intake.
Oats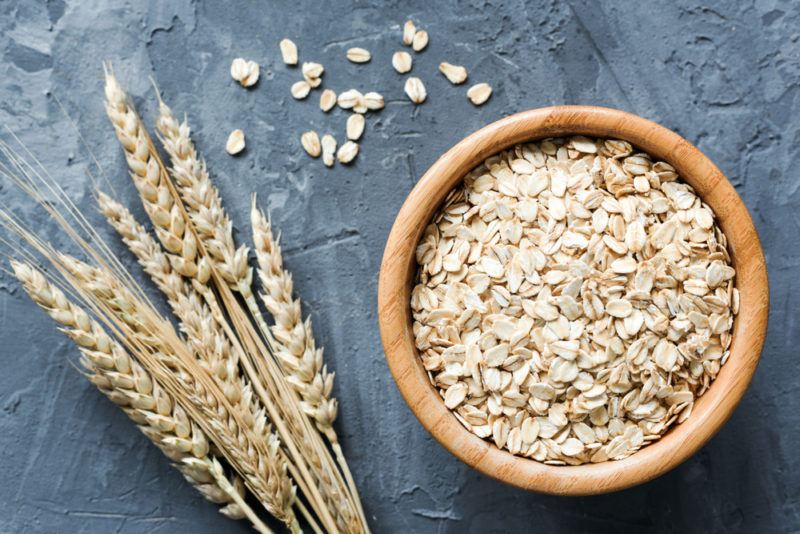 Did you know that some grains contain thiamine too? Oats are surprisingly powerful, giving you close to your full daily intake in a cup of uncooked oats.
Unfortunately, the amount will decrease if you cook the oats – and a cup of oatmeal only provides around 15% of your daily thiamine intake.
You can get around this thiamine decrease by eating oats raw instead. However, you shouldn't eat them as-is. It's much better to soak the oats first. Doing so reduces the risk of side effects.
Overnight oats are a popular approach for doing so. This meal involves soaking the oats in some type of liquid overnight, along with flavoring ingredients. Plant-based milk is often the liquid of choice. You can choose whatever type you like the most.
Rice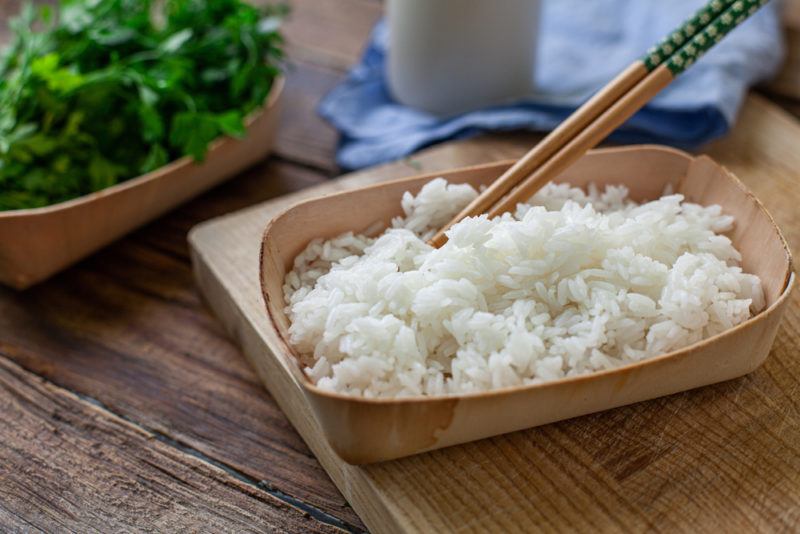 Rice has many advantages. It's easy to prepare, is versatile, and is a staple food in many parts of the world. It is also becoming less popular, as many people turn to pseudograins and other nutrient-rich alternatives.
Honestly though, preference changes or not, rice still offers plenty of important nutrients – including thiamine.
You end up with somewhere between 20% and 30% of your daily thiamine intake from a cup of cooked rice. The exact amount depends on the rice that you're using.
This is one of the few cases where, when cooked, white rice seems to contain more of the nutrient than brown rice. Still, details about thiamine content are never precise. The amount of thiamine can vary from one season to the next and may be influenced by where the rice is grown and the cultivar that is used.
Fortified Foods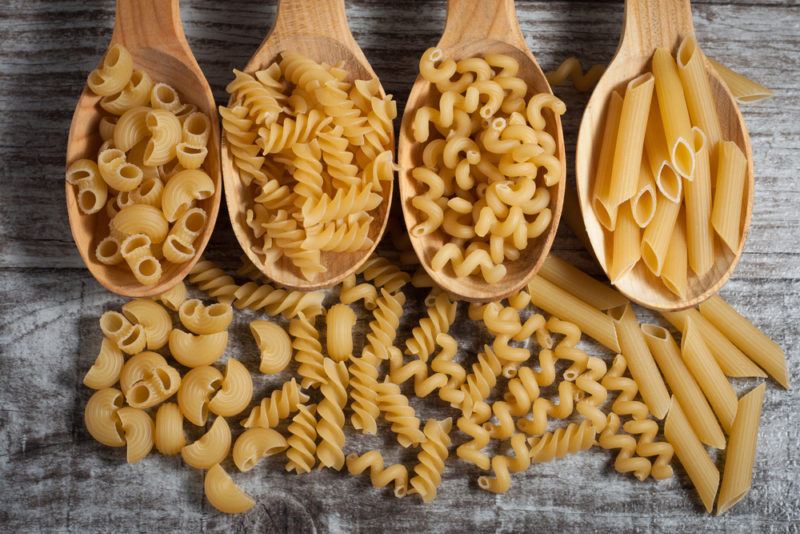 While many foods naturally contain thiamine, other foods are fortified with the vitamin instead. This fortification is one reason why thiamine deficiency is unusual in the United States.
Commonly fortified foods include pasta, bread, flour, and cereals. However, you'll need to read the ingredients label carefully, as some companies will fortify with thiamine and others will not.
It's also worth being wary, as the foods that are fortified are generally more fortified than the other entries on this list. While some fortified foods might be very good for you, others may have undesirable additives.