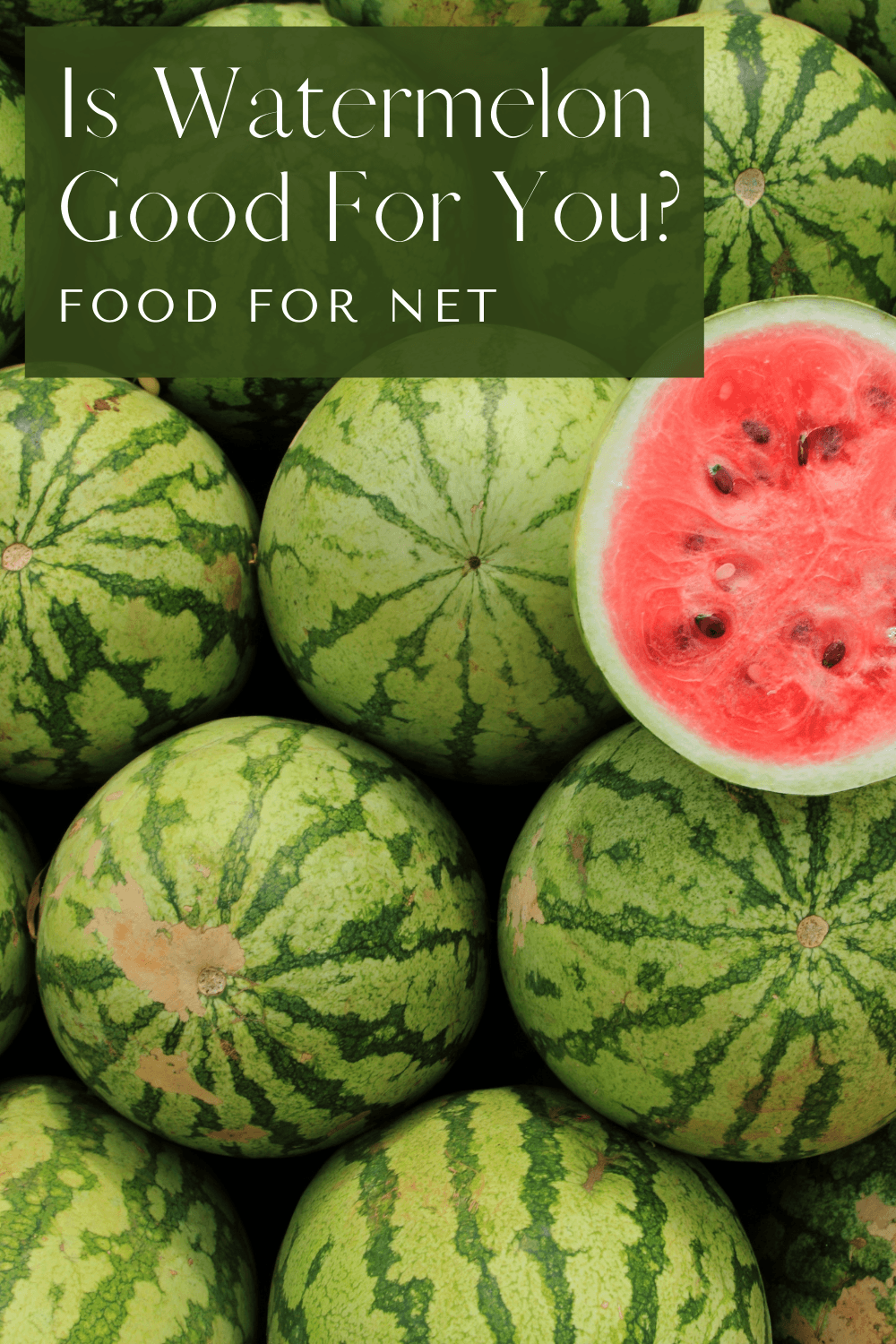 Watermelon is a delicious and sweet summertime treat, one that is perfect as a way to hydrate when the weather is scorching. Few other fruits are as refreshing, easy to find, and as well-loved as watermelon.
Watermelon is also one of those fruits that changed dramatically over time. Early varieties of the fruit had yellow-white flesh instead of red and a bitter flavor. Selective breeding has created the sweet red-fleshed version that we know and love today.
Of course, there are plenty of varieties to choose from, including seedless, picnic, icebox, and yellow fleshed watermelon. The seedless types are a roaring success, perhaps because they're easier to eat than the seeded varieties. Don't worry though, none of these varieties are genetically modified. They're simply the result of selective breeding.
Regardless of the type, there's one pressing question, is watermelon good for you? On one hand, we're talking about a natural fruit that's packed full of nutrients and antioxidants. But, there's still a decent amount of sugar, which might be off-putting.
Is Watermelon Good For Your Health?
Benefits Of Watermelon
How Watermelon Could Be A Problem
Can You Eat Watermelon Rind?
Can You Eat Watermelon Seeds?
Final Thoughts
Benefits Of Watermelon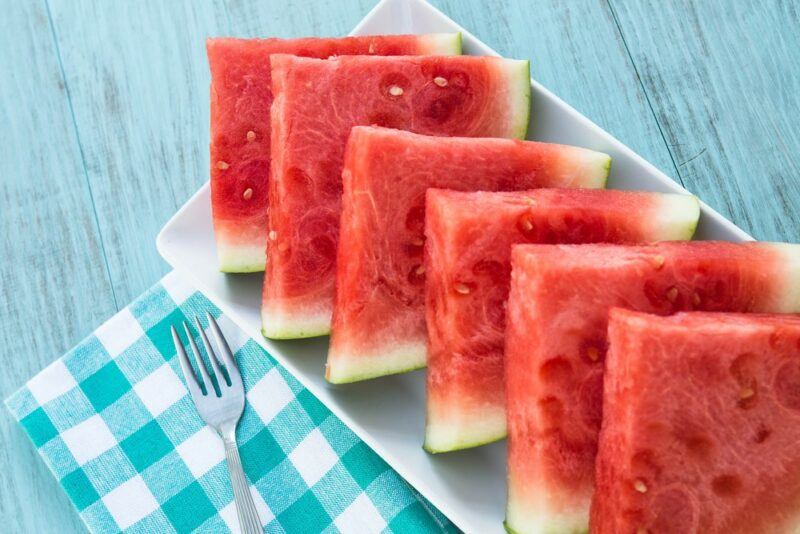 The Water Content
Watermelon is aptly named, as the fruit is roughly 90% water. That's more than most other types of fruit and is seriously impressive. In fact, eating a few slices of watermelon can be almost as powerful as drinking a glass of water. 
This effect is incredibly important. After all, water is essential throughout our bodies, playing countless roles. That's why we can only survive for a few days without water (and considerably longer without food).
For most of us in the developed world, water isn't difficult to find. We can get it on demand from the tap or buy bottled water in the store. Despite this, it's easy to end up dehydrated, especially if you're in the sun or are being active.
Kids are vulnerable to dehydration too. Summer is the worst for this due to the heat. Plus, trying to get kids to slow down and drink some water can be an exercise in frustration.
Watermelon is a great solution to that problem. It is sweet and delicious, so kids tend to see it as a treat. Indeed, watermelon works well for anyone who doesn't want to drink water.
Relatively Low In Carbs
Despite its sweetness, watermelon isn't exceptionally high in carbs. You're just getting 7 net grams of carbs per 100 gram serving. This is why the fruit tastes a little sweet, but not overwhelmingly so.
Keeping your carb intake low may prove to be very important for health. Modern research is increasingly showing links between carbs, inflammation, and chronic disease.
To make matters worse, in our efforts to avoid fat, we often end up consuming large amounts of carbs. Low carb fruits like watermelon are a useful way to decrease carb intake, without giving up all the important compounds found in fruit.
A Low Acid Fruit
Watermelon is also lower in acid than many other types of fruit. This can be extremely appealing for anyone with acid reflux, as acidic fruit risks making symptoms much worse.
There's even the chance that low acidic fruit could help with reflux. After all, fruit does have many important features, including antioxidants and fiber. These promote health and can improve digestion, and better digestion could easily lead to fewer acid reflux symptoms.
As always though, it's important to pay attention to your body. If watermelon tends to give you side effects, then it's best to skip it entirely. There are plenty of other nutritious foods to choose from. 
A Source Of Antioxidants
With its bright red coloring, it's hardly surprising that watermelon flesh is a rich source of antioxidants, including lycopene (which is commonly found in tomatoes). 
It's hard to overstate the importance of antioxidants. These compounds help to protect us from oxidative damage to our DNA, cells, and other parts of our bodies.
Getting enough antioxidants in your diet is an easy way to decrease the risk of disease. Plus, many antioxidant rich foods (like watermelon) are delicious, so why not eat more of them?
Can Improve Your Heart Health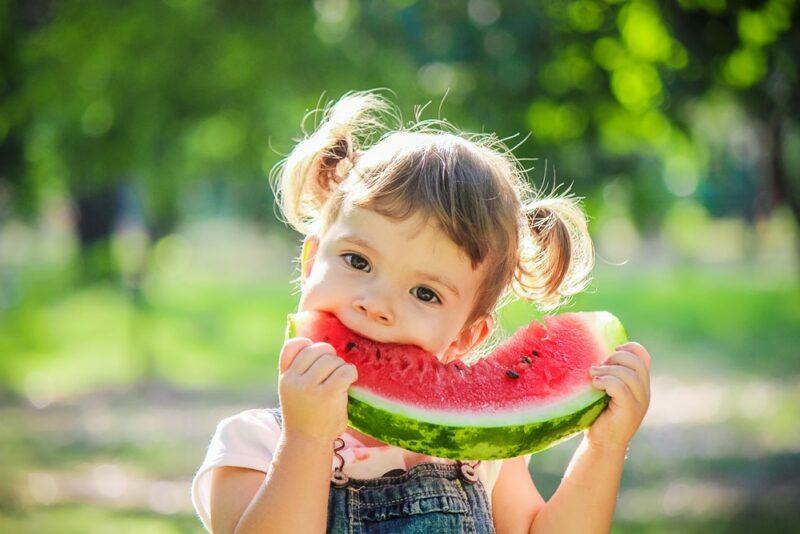 Watermelons have been linked to improved heart health too. Some of this effect comes from the lycopene that we talked about before.
Like many compounds, lycopene doesn't just act as an antioxidant. It has plenty of other effects too, like helping to decrease your blood pressure and cholesterol levels.
That's not all. Watermelon also contains citrulline. This amino acid can increase your nitric oxide levels, which is a desirable effect, as it leads to lower blood pressure.
And don't forget that diets rich in fruits and vegetables are consistently linked to better health and lower heart disease risk. 
Excellent For Weight Loss
Fruit can be surprisingly powerful for weight loss, as it helps to satisfy sugar cravings, but provides plenty of fiber and water at the same time. Eating fruit regularly may even help to decrease your intake of less healthy snacks, including candy and potato chips.
Watermelon is an excellent choice, as it's naturally low in sugar and calories. The high water content is a bonus too. Not only does this help to keep you full, but getting enough water is critical on your weight loss journey.
You can also turn to watermelon-based treats, like watermelon ice blocks, as a healthy alternative to higher sugar snacks.
Offers Some Nutrients
Watermelon isn't an exceptional source of nutrients. That's not surprising though, given that the fruit is mostly water anyway.
Despite this, you do get some nutrients, with a cup of diced watermelon giving you roughly 21% of your daily vitamin C intake and 17% for vitamin A. There are smaller amounts of other nutrients too, including potassium, magnesium, and iron.
While the amounts aren't anything to get excited about, these vitamins and minerals still contribute to your health. Plus, low calorie ingredients like watermelon are an easy way to boost your nutrient intake without leading to weight gain.
How Watermelon Could Be A Problem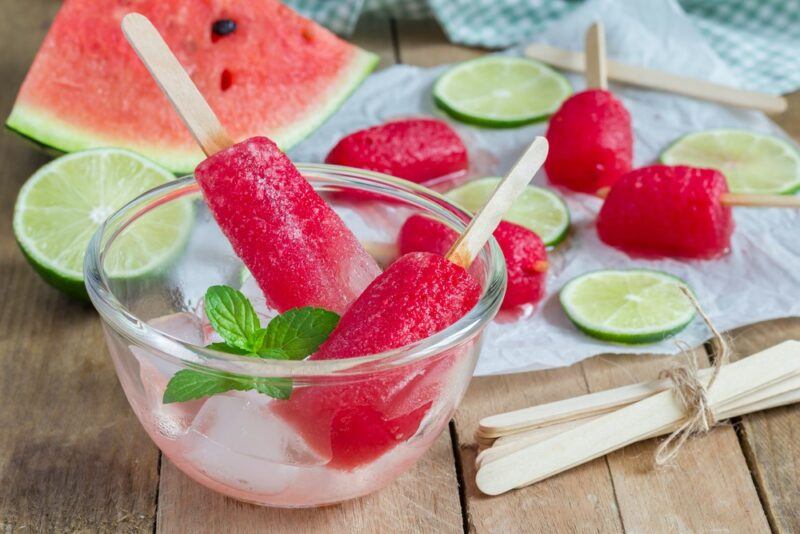 Relatively High In FODMAPs
While watermelon seems like a benign fruit, it contains a decent amount of fructose, more than many other types of fruit. This fructose can be a problem for anyone with irritable bowel syndrome (IBS), as fructose is a FODMAP and may trigger IBS symptoms.
Cantaloupe is a good alternative to watermelon, as it has some of the same features, but is much lower in FODMAPs.
Can Be Difficult On A Keto Diet
While watermelon is relatively low in carbs, the carb content is still on the high end for keto dieters (as a cup of watermelon contains around 11 net grams of carbs). Some keto bloggers go as far as to say that you need to avoid watermelon entirely, as even small portions contain a decent number of carbs.
In the end though, almost any food can fit onto a keto diet if you make the portion sizes work for you.
If you love watermelon and don't want to do without it, then you might need to drop down carbs in other areas. Also think about using watermelon as an ingredient, rather than eating it as a snack. This way it's easy to use a little watermelon at a time. 
The Fiber Content Is Low
Watermelon does contain some fiber, but not very much at all. Seriously, in a cup serving, you just get 0.6 grams of fiber. This is a shame, as most of us need more fiber in our diets. 
Can Raise Your Blood Sugar Levels
The balance of sugar and fiber in watermelon means that the fruit has a relatively high glycemic index (GI). This means that it can easily spike your blood sugar levels, particularly if you're eating watermelon on its own (as we tend to).
This blood sugar effect is a particular problem for anyone with diabetes.
To get around the problem, try having other foods at the same time, particularly those that are rich in fats, protein, or fiber. For example, a salad with watermelon, arugula, and feta would raise your blood sugar much less than watermelon on its own.
Remember too that the blood sugar effect is influenced by your serving size. So, if you're only having half a cup of watermelon at a time (or even less), the effect on your blood sugar levels mightn't be very strong at all.
Risk of Contamination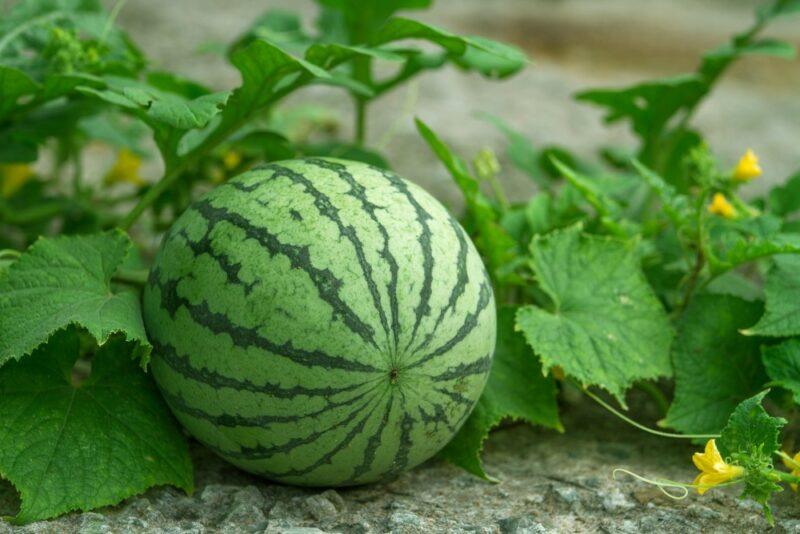 There's also the chance for your watermelon to become contaminated. This is particularly true for pre-cut watermelon that you buy in stores.
Salmonella contamination is the main area of concern here. This can lead to side effects like stomach cramps and severe diarrhea.
Contamination like this happens because melons are grown on the ground, so they're exposed to more bacteria than many other fruits. This bacteria may cling to the surface of the melon, then be transferred to the interior when it is cut.
Plus, the risk isn't well-known, so many people who buy watermelons don't follow best practices to reduce the risk of food poisoning. To avoid the problem, focus on whole watermelons rather than pre-cut ones and make sure that you wash them completely before cutting them.
Can You Eat Watermelon Rind?
The normal pattern with watermelon is to eat the bright red part of the fruit, but leave the white rind and green skin behind. Makes sense, right? The red part is where most of the flavor is.
Yet, the white rind shouldn't be underestimated, as it's completely edible and is packed with nutrients. In fact, the rind contains more potassium and fiber than the red watermelon flesh.
There's also a decent amount of citrulline in the rind. This amino acid has been linked to nitric acid production, making it relevant for decreasing your blood pressure and lowering your heart disease risk.
Watermelon rind doesn't have much flavor, so it's not that exciting to eat on its own. Thankfully, you can use the rind in plenty of ways, like including it in a smoothie, making pickles from the rind, or roasting it with seasonings.
Besides, if you're buying watermelon anyway, wasting the most nutritious part makes no sense at all.    
Can You Eat Watermelon Seeds?
Many of us spit watermelon seeds out or focus on seedless varieties of the fruit. Yet, the seeds themselves are incredibly good for you, as they're low in calories, offer some important nutrients like iron and magnesium, and are a source of healthy fats.
In fact, watermelon seeds are more nutrient dense than most other types of seeds – so we should be eating them much more often than we do.
The simplest approach is to eat the seeds at the same time as watermelon flesh. Alternatively, you can buy roasted watermelon seeds or even roast your own. If you do focus on roasted seeds, pay close attention to your portion size, as watermelon seeds are very calorie dense. 
Final Thoughts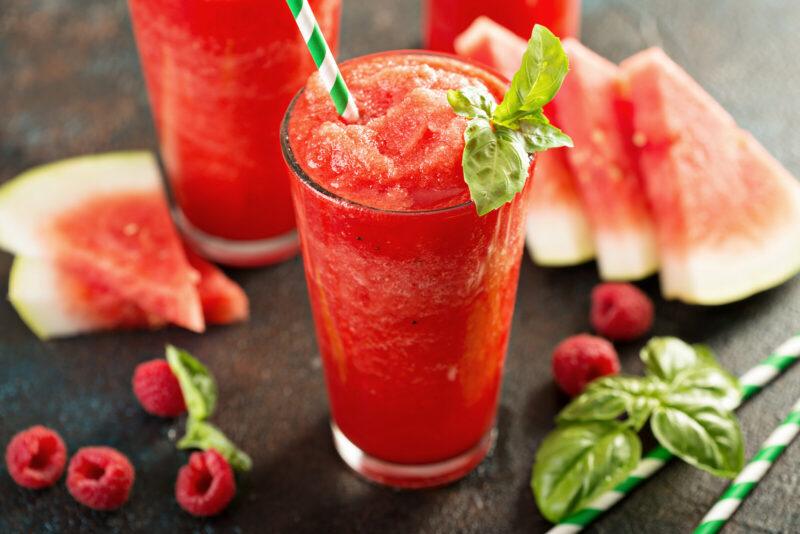 Watermelon initially seems like little more than a refreshing summer fruit. Yet, it's surprisingly powerful due to its high water content, the antioxidants, and the fact that it's pretty low in carbs.
There are a couple of issues though. One is the FODMAP content, which could be a problem for anyone with irritable bowel syndrome.
Another is how watermelon can cause blood sugar spikes, especially if you're eating a decent amount at a time. Thankfully, you can get around that issue by pairing watermelon with lower GI foods and watching your portion sizes.
Frequently Asked Questions
Is Watermelon Keto Friendly?
Despite being sweet, watermelon is pretty low in carbs. In particular, a cup of diced watermelon contains around 11 net grams of carbs.
This might sound like a lot, but remember, you don't need to eat an entire cup of watermelon at a time. Even just half a slice might be enough.
Is Watermelon Fattening?
Watermelon isn't fattening at all. In fact, it's a fantastic choice for weight loss, as you're getting plenty of water in one serving and not that many calories.
What Percent Of Watermelon Is Water?
Watermelon is one of the most water rich fruits, containing roughly 90% water. This makes it particularly good for keeping you hydrated.
Is Watermelon Good For Diabetes?
Watermelon mightn't seem like a good diabetic choice at first, as it has a glycemic index of 72. However, the glycemic load is much lower, which means that diabetics can easily consume small amounts of watermelon at a time.
In particular, a serving of 100 grams to 200 grams of watermelon should be fine for most diabetics.
Is Watermelon A Diuretic?
Watermelon does have some diuretic properties, partly because of the water content. This means it should gently increase your urine flow.
Natural diuretics like watermelon aren't incredibly powerful. This isn't bad though, as it means they won't cause any strain on your body.