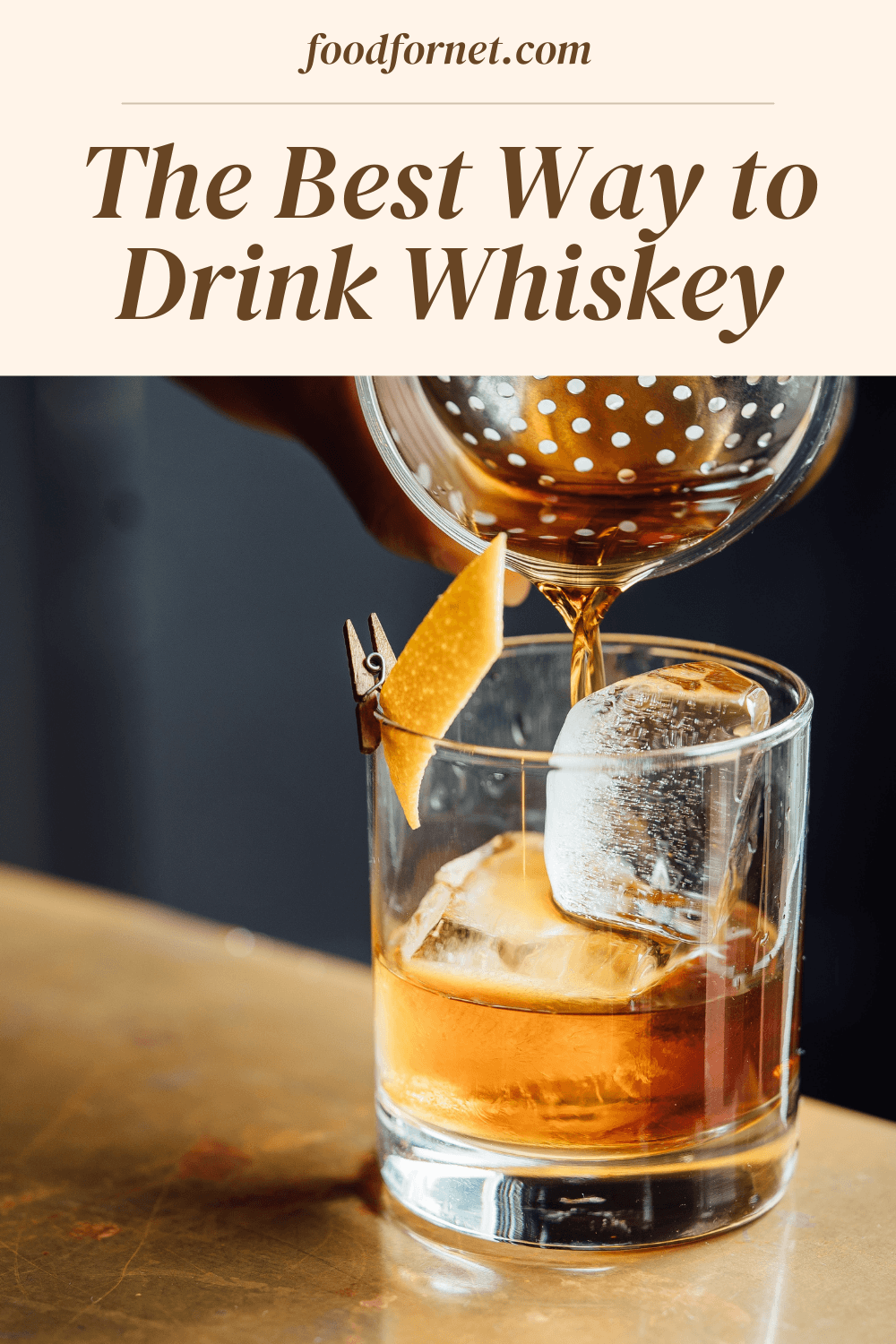 One of the best things about whiskey is how incredibly versatile it is. Not only are there so many whiskies out there to choose from that you're almost guaranteed to find at least one you like, but there are so many different ways to use and drink it. The best way to drink whiskey really depends on what you like, what type of whiskey you're drinking, and how much experience you have.
Drinking whiskey neat, for example, can be an exquisite experience but it is a bit of an acquired taste. If you have the time and patience to learn about sipping it neat, though, there's a lifetime of tasting experiences out there, from fruity expressions to the smokey goodness of a peaty Scotch. You can also use a whiskey chaser when you first get started, to make the experience a little easier.
Sipping may not be your thing, though, and that's fine. There are common practices and popular trends but there are no rules when it comes to drinking whiskey. Mix up your favorite cocktail every time or constantly try something new. Whether you swear by drinking whiskey on the rocks or condemn the practice entirely, there's room for everyone in the world of whiskey.
Familiarize yourself with the right tips and tricks, figure out which flavors go together, and enjoy the ride.
The Best Way to Drink Whiskey
1. In a Cocktail
One of the most common and popular ways to drink whiskey is, of course, in a cocktail! The options here are truly endless and so are the flavors. There are thousands of whiskey cocktails already in existence and new ones are being created all the time. If nothing you find looks appealing to you, you could even try making your own with whatever ingredients you want!
If you're new to whiskey, though, a good place to start is with a classic like the old fashioned. Using only whiskey, bitters, and simple syrup, it's an easy one to make. The drink does best when it's made with a nice bourbon or rye, such as High West Rendevous Rye Whiskey. This rye is aged for up to 16 years and was once considered one of the top 10 new whiskeys of the year. It was also given an impressive 95 points by Whisky Advocate and won a double gold medal at the San Francisco World Spirits Competition.
The expression offers bold notes of mint, fennel, and cinnamon on the nose with a touch of rye toast. The palate follows with sweet caramel, macaroons, woody spice, and vanilla, leading into a nice, warming finish.
2. On the Rocks
"On the rocks" is a fancy way of saying you'd like your whiskey with ice. Adding rocks to your whiskey is a simple thing that can change the experience entirely. The ice chills the drink, of course, but it can also change the flavor. As the ice melts and water enters the whiskey, new flavor notes appear, and harsh tones are softened. This is why many recommend using large ice cubes instead of the standard size. They'll melt a little slower and give you a little more control over the dilution.
Berkshire Mountain Distillers Bourbon Whiskey is a good place to start if you want a whiskey that's nice on the rocks. This expression's legacy began when founder and Master Distiller Chris Weld was only 13 years old. His father loved Scotch and he was inspired to create his own still for a school science project. He would have gone through with it, had he not quickly learned that distilling without a license was illegal! The dream wasn't killed though, and he started again in 2007, this time doing things the right way.
The bourbon is handcrafted in small batches and made from locally sourced corn. It's a bright and lively drink with notes of vanilla and fruit taking center stage with caramel and toasted nuts on the finish.
3. Neat
Next up is the age-old practice of drinking whiskey neat. This is a simple method that involves pouring the whiskey and drinking it with no other ingredients or additives. Done correctly, you experience every single flavor and aroma an expression has to offer. Because there is nothing else in there, though, you must choose a good quality whiskey.
There are many expressions suited to sipping, such as Knob Creek 9-Year-Old Small Batch Bourbon Whiskey. This bottle is one of the company's best sellers, known for its sweet, rich, full-bodied profile. There are notes of oak, vanilla, caramel, and earthy rye spice on the nose, with caramel, vanilla, and nutty notes on the palate with a touch of chocolate, peppery spice, and a long, spicy, slightly dry finish.
Fun fact: the distillery is named after the small water source known as Knob Creek that ran through the childhood farm of Abraham Lincoln. They chose this name because they wanted to create a premium, honest bourbon.
4. Mixers
Whiskey mixers are a great option if you want to sip on something a little sweeter, spicier, or flavorful than plain whiskey, without making a full-on cocktail. Or, perhaps you don't have enough ingredients for a nice cocktail but you do have some coke or ginger ale.
Mixers are great because not only are they easy, they're also versatile. There are recommendations out there for whiskey to mixer ratios, but the ratio is ultimately up to you. If you want to tone down the whiskey, even more, add more mixer. If you want a stronger drink with more whiskey flavors, add more whiskey. Things like soda and fruit juice are common mixers but you can mix your whiskey with whatever you think will taste good.
Bulleit Kentucky Straight Bourbon Whiskey is a fantastic mid-range choice for mixing. It's received several awards and high scores over the years but remains a moderately priced and versatile option. The aroma offers notes of charred oak, warm spices, and caramel. The palate is warm and spicy with notes of oak and cinnamon with creamy vanilla in the background and a touch of rye bread and roasted nuts. The finish is long and lingering.
5. Shots
Last but not least is shots! While shots are certainly not the most common way to enjoy whiskey, that doesn't mean you should count them out. Although shots are usually consumed quickly and without savoring, the complex flavors in whiskey can still offer an interesting experience. You can always shoot your favorite whiskey straight up, but it may be more fun and certainly more interesting to create some proper whiskey shots instead.
Because they're going down so fast, there is little time to appreciate the flavor. This means you have to be smart and crafty if you want to create something tasty and not just use shots as a means to quickly get drunk. When creating a whiskey shot, something known as the three wise men is a super fun place to start. This combines three classics – Jack Daniels, Johnnie Walker, and Jim Beam. Three brands named after legends. There's a lot going on in this shot, but the three of them come together quite nicely to create a powerful rush of flavor, depth, and intensity.
The Jim Beam Bourbon brings a particular sweetness to the table, with sweet notes of grain and fruit, balanced by a touch of oak and char.
If you don't feel like bringing ingredients together to create a tasty, fancy shot, don't forget to add some chasers to the mix if you're just doing plain shots. This will help keep flavors desirable and the burn at bay.
Whiskey Food Pairings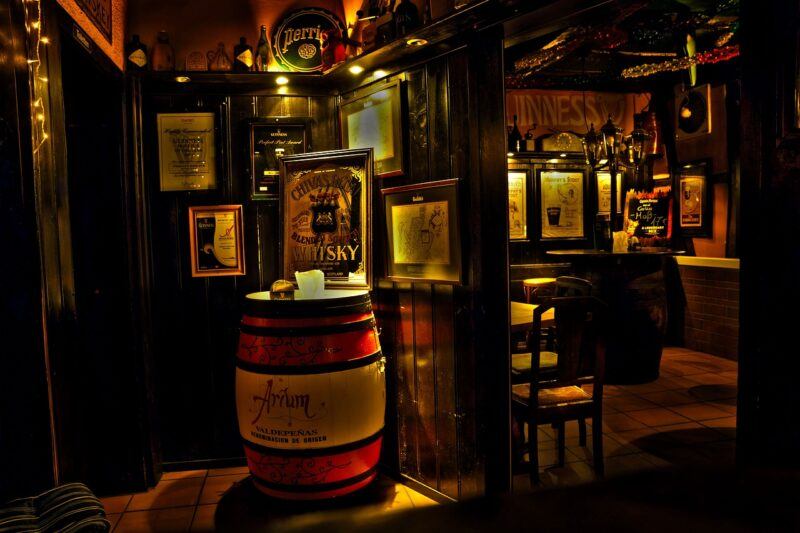 We've gone over the different ways in which you can enjoy whiskey, but what happens when food is added to the mix? If you're attending a dinner party or out to eat with some friends, knowing which whiskey goes with the food you're about to eat will make everything taste that much better!
Here are some basics to remember if you want to have some whiskey with your meal:
Lighter whiskies with soft, fruity flavors go well with seafood.
Medium-bodied, moderately intense whiskies go well with things like roasted pork, lamb, root vegetables, cheddar cheese, and denser baked goods like fruitcake.
Bold, intense whiskies with heavy peat and smoke on the palate should be reserved for smoked meat, aged cheeses, and intensely flavored dishes.
Spicy food does well when balanced with a sweeter whiskey.
Herbs go with herbs. If a dish is herbaceous and heavily seasoned, try a nice, herbaceous whiskey.
A quick tip: don't fall into the trap of thinking whiskey must always be served neat when paired with dinner. If you like it on the rocks, order it that way. If you prefer to tone it down with some soda, that's fine too. Always stick to what you like.