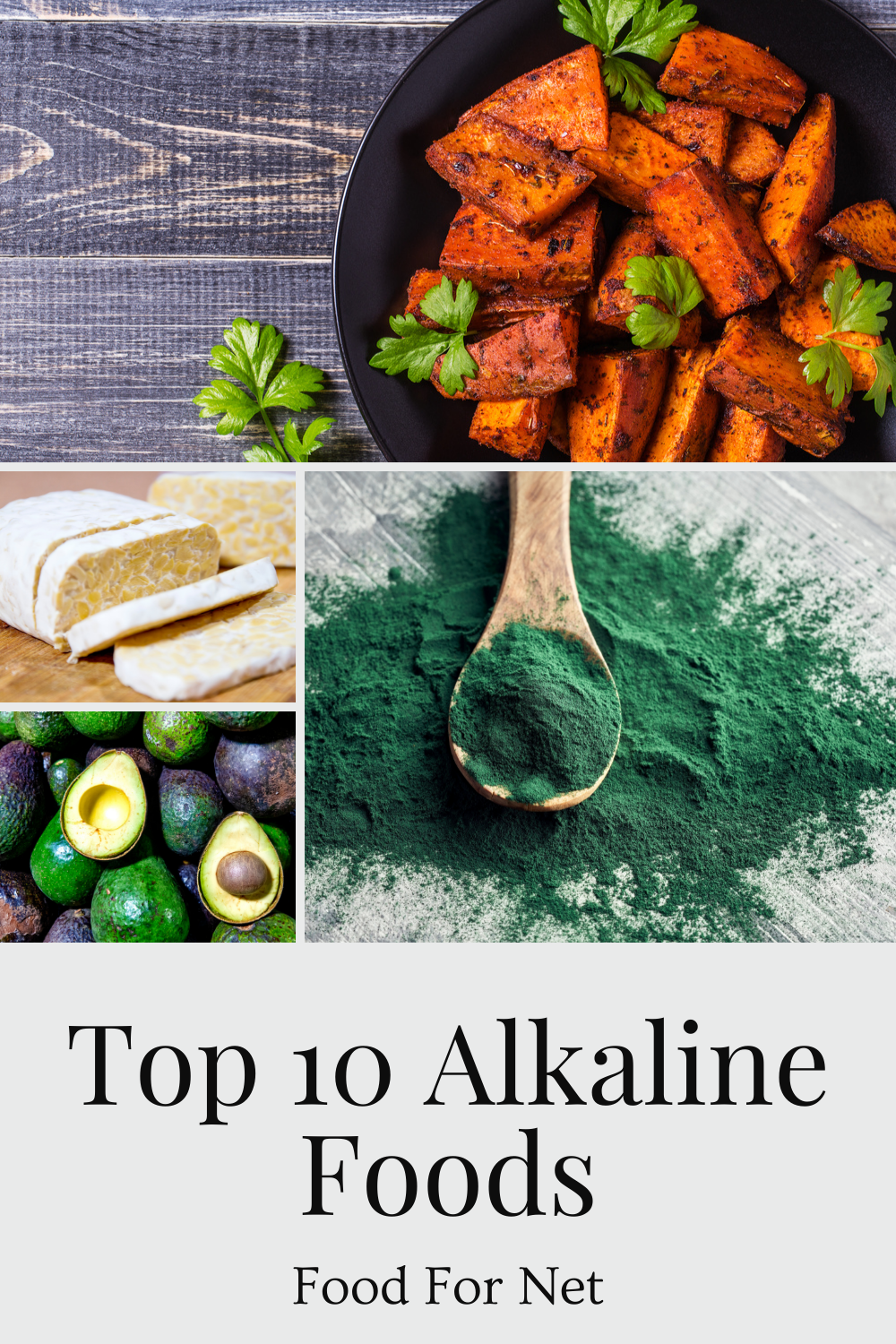 The alkaline diet is popular in some circles as a way to improve your energy levels, keep you healthy, and lower your risk of disease. There are plenty of every foods you eat that would count as "alkaline foods", but the diet can be pretty restrictive. Still, some people swear by it, so you may be wondering if it can help you get your health back, or solve some other kind of health issue you're having.
The alkaline diet approach could be powerful, as modern diets are heavy in acid-forming foods. There are plenty of alkaline foods to choose from, including alkaline breakfast foods. In fact, the number of options can get a bit overwhelming. That's why today we're focusing on the top 10 alkaline foods.
These foods aren't just alkaline. They also offer plenty of other benefits. Many are even called superfoods, which should give you some idea of just how powerful they are.
Before we dive into the specific foods though, let's talk a little more about the alkaline diet itself. It's based on the idea that acidic and alkaline foods have different effects on our bodies. If our diets are too heavy in acidic foods, then our bodies may need to work too hard to keep our pH in balance, a practice that could then put our health at risk.
Modern diets do also tend to be high in acidic foods, including processed foods, grains, red meat, processed meat, and seafood. So, if acidic foods really are a problem, then focusing more on alkaline ones could be important.
There's plenty still to learn though, as the alkaline approach isn't well supported by science and is highly controversial. It's also surprisingly difficult to know which foods have acidic effects and which ones have alkaline ones, as sites often vary in whether they call a specific food acidic or alkaline.
Even so, there are plenty of incredibly healthy alkaline foods, including the ones on this list.
The Best Alkaline Foods (With Pictures!)
1. Almonds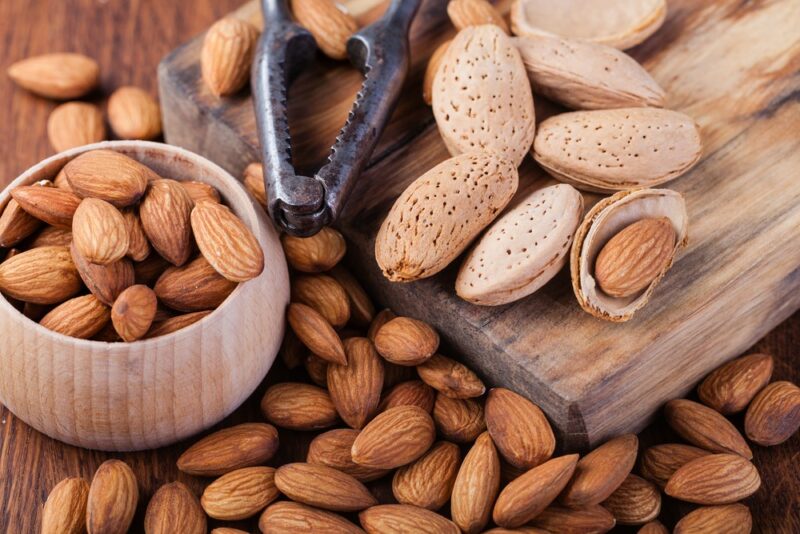 Despite their health benefits, most nuts and seeds are acid-forming. Thankfully, there are exceptions, including almonds. This is excellent news, as almonds are famous for being rich in protein and nutrients.
They also contain more calcium than any other nut. This is perfect, as an alkaline diet generally cuts out most sources of dairy.
Almonds are also rich in healthy monounsaturated fats. These fats can help to decrease your heart disease risk and protect your health. You get a decent amount of fiber in almonds too, which is critical for your digestive system.
2. Quinoa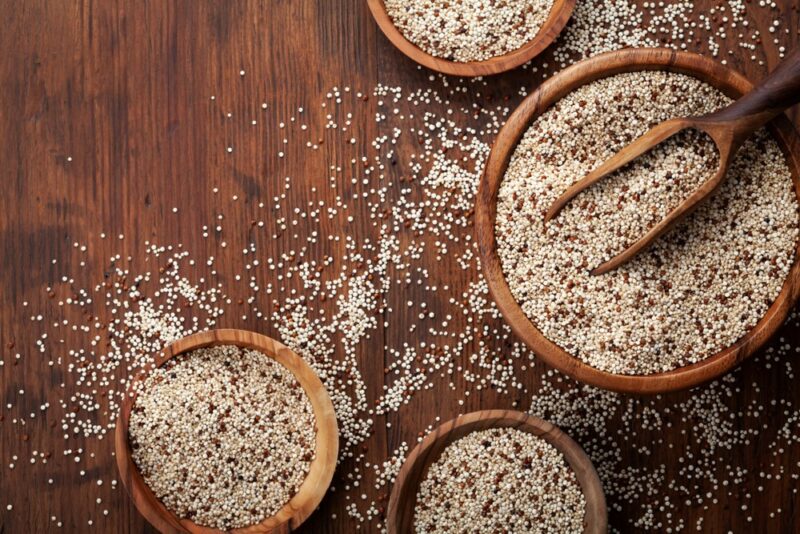 Quinoa also has a longstanding reputation of being good for you. It's easy to see why too, as the tiny seed is exceptional for nutrients, providing you with iron, magnesium, potassium, and plenty of others.
You're also getting a decent amount of both fiber and protein from quinoa. That makes the seed surprisingly filling and a perfect addition to your meals.
Including quinoa on this list might seem a little strange, as most grains are acid-forming. However, quinoa, millet, and amaranth are all alkaline-forming pseudograins. They can easily be used in the place of regular grains to reduce your intake of acidic food. It's even possible to make quinoa porridge, which is an easy alternative to oatmeal.
3. Egg Whites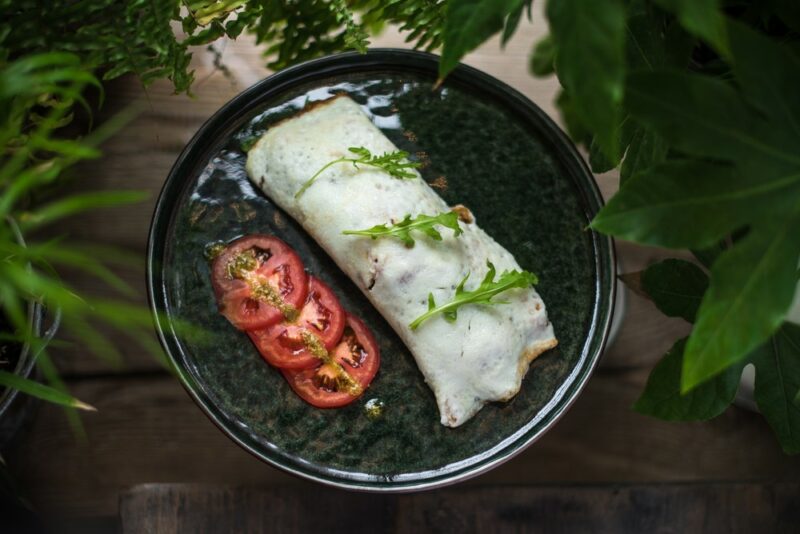 Hear me out on this one.
While eggs, dairy, and meat are normally avoided on an alkaline diet, egg whites are actually naturally neutral or even quite alkaline. Egg whites are also an easily digested source of protein, one that our bodies absorb well.
The protein even contains all the essential amino acids your body needs, making it excellent for promoting muscle growth, health, and more.
Obvious, perhaps, but protein is particularly relevant on an alkaline diet. You end up cutting out a ton of protein sources – especially if you're in the camp that avoids lentils and other legumes.
Egg whites are a perfect way to boost protein intake without going against your goals.
4. Chia Seeds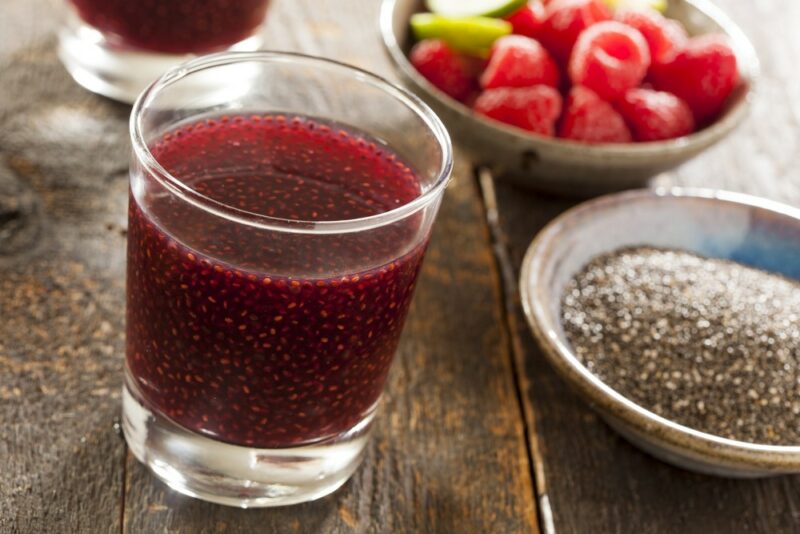 Like quinoa, chia seeds are often seen as a type of superfood. This isn't surprising either, as the tiny seeds are powerful for both fiber and protein. They're also a rich source of nutrients.
The protein is particularly interesting, as chia seeds contain all the amino acids your body needs, making them a complete source of protein. This is incredibly relevant on an alkaline diet, as most other complete protein sources are animal-based.
Chia seeds are also unusual, as they absorb a lot of liquid. Seriously. Some recipes call for a water to chia seeds ratio of 6:1, which gives you a pudding-like consistency.
As chia seeds absorb water, they swell up. This makes them useful in some unexpected ways. For example, you can create desserts using chia seeds, liquid, and some flavoring ingredients. You can even make a vegan egg replacement by combining chia seeds and water.
While you can eat chia seeds dry, it's best to soak them in water first. This decreases the risk of choking on them (especially as the dry seeds may absorb water while they're in your throat).
5. Dark Leafy Greens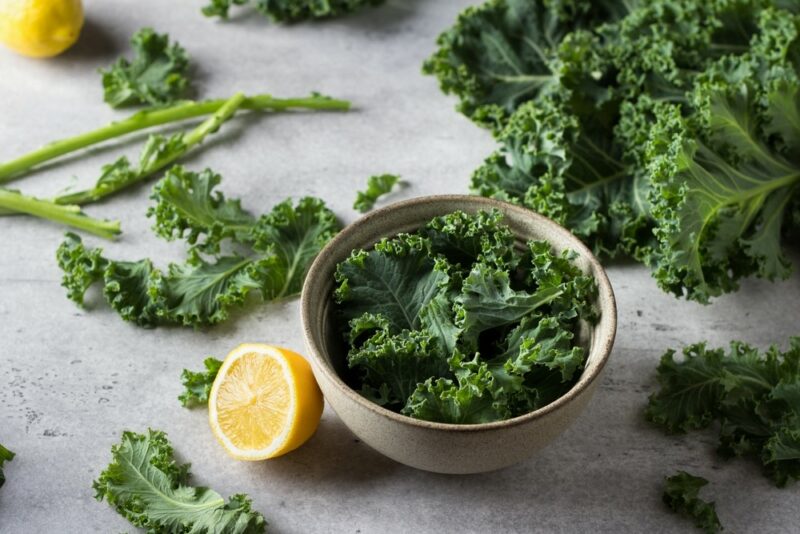 Vegetables tend to be alkaline and all make a fantastic addition to your diet. However, dark leafy greens are potent, due to their low carb content, their nutrient density, and all the antioxidants they contain.
These features can help boost your health and protect you against disease. Such greens are also low in calories, making them a great go-to choice for anyone trying to lose weight.
Each type of leafy green has its own benefits and characteristics. For example, kale is often called a superfood and is well known for being very nutrient dense, while spinach is versatile and easy to find (although it is shockingly high in oxalates).
While it's tempting to look for the best type of leafy green, including a variety in your diet is often much healthier. Doing so gives you access to a broader range of nutrients and decreases your exposure to any negative features.
You can also experiment with greens blends. Some companies focus on alkaline versions of such blends, which should work well as part of your diet. That said, real food tends to be much more powerful than powdered blends (partly because powdered products often have additives and could be contaminated).
6. Spirulina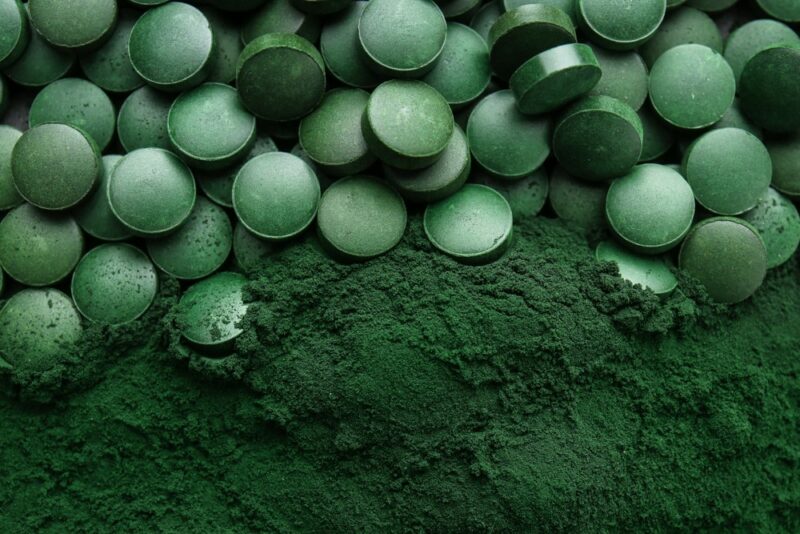 Here's an interesting one. Despite being a type of algae, spirulina is actually highly alkaline. In fact, spirulina and chlorella are two of the most alkalizing foods in the world.
Spirulina has some amazing properties, including being a rich source of antioxidants and nutrients. There is even some protein and omega 3 fatty acids present, which can boost your health still further.
Spirulina also doesn't have the cellulose walls that you find in plants. This feature makes spirulina much easier to digest, meaning that your body can access the nutrients much faster.
The vibrant color of spirulina also makes it an exciting ingredient to use. For example, you can use it to deepen the green color of a smoothie or to create a green chia pudding.
7. Tempeh And Tofu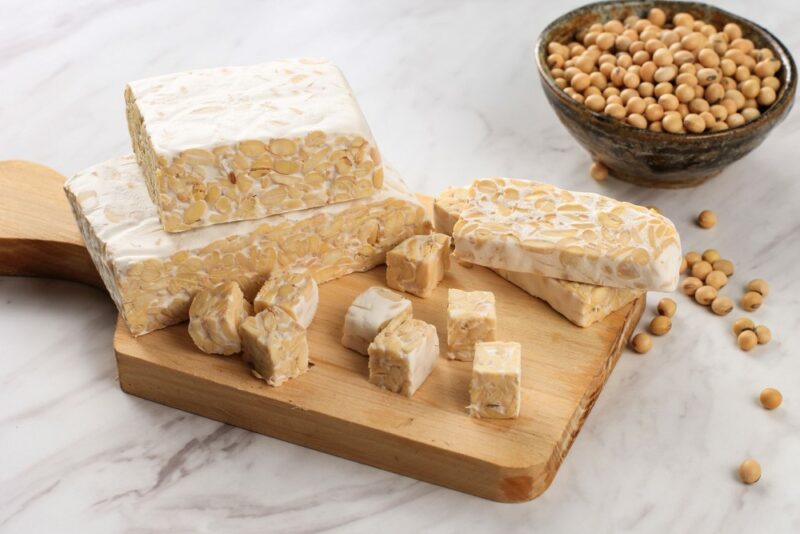 Tempeh and tofu are both soy products. Tofu is produced from dried soybeans that go through steps of soaking, crushing, boiling, separation, and pressing. Many versions are fermented, although you can find non-fermented ones as well.
Tempeh is different. It's always fermented and is made using whole soybeans that have been soaked and cooked, then pressed together to form a cake.
Both products are fantastic alkaline sources of protein. You can even use them instead of meat in many recipes.
The fermentation is particularly important. This process introduces healthy microbes and reduces the levels of antinutrients, helping to boost your health in the process. The fermentation may also help with the alkalinity, especially as there's much more debate about whether unfermented soybeans are alkaline or acid-producing.
8. Avocados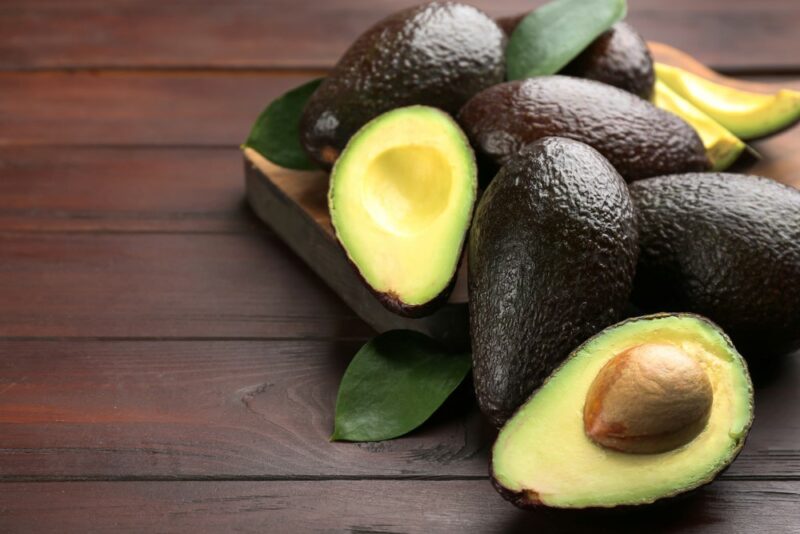 Avocados are incredibly popular for their taste, texture, and versatility. Seriously, you can even use avocados to make smoothies and desserts.
There are also plenty of health benefits, partly because avocados are rich sources of healthy monounsaturated fats. This type of fat can help decrease your risk of heart disease.
Plus, alkaline foods are often quite low in fat, so having some sources of monounsaturated fats could be exactly what your body needs. Just be sure to watch your portion size, as avocados are calorie dense and it's easy to overdo it.
9. Sweet Potatoes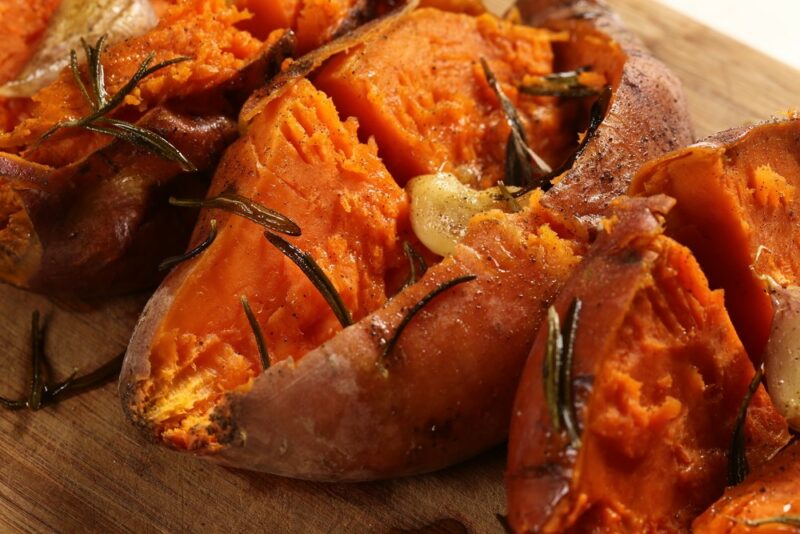 While regular potatoes are mildly acidic, sweet potatoes are alkaline instead. They're also rich in antioxidants, which is just what you need to stay healthy.
Sweet potatoes are also powerful for digestion, as they contain soluble fiber, insoluble fiber, and resistant starch. These compounds are relevant to the microbes in your gut too, which is another powerful feature.
Interestingly, the amount of resistant starch may be higher in white fleshed sweet potatoes than in the more common orange fleshed version. However, the orange fleshed version is more powerful for antioxidants, so you can choose whichever you prefer.
10. Pumpkin Seeds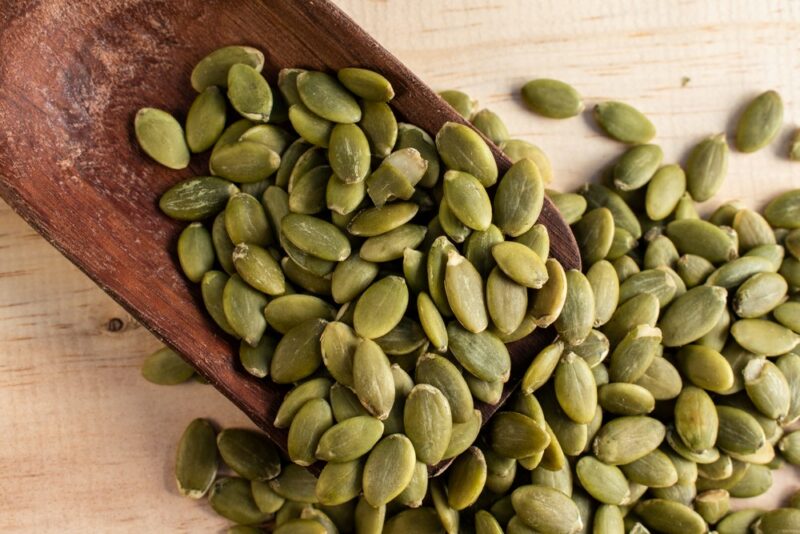 There are only a few alkaline seeds and pumpkin seeds are the most alkaline of the lot. They're also powerful, as you're getting a decent amount of protein and fiber per serving.
As we mentioned earlier, keeping up protein is critical on an alkaline diet. What could be simpler than a protein rich treat that you can snack on at will?
There are other benefits too, particularly because pumpkin seeds are rich in nutrients, including copper, zinc, and iron. They're even a source of antioxidants. Plus, the protein and fiber make pumpkin seeds satisfying, so they can be useful as a weight loss snack.
How To Stay Healthy On An Alkaline Diet
Alkaline diets often provide health benefits, partly because they rely so heavily on fruits and vegetables. However, strict alkaline diets can sometimes be a problem, as you're cutting out many food groups, including meat, fish, and dairy, along with grains and some legumes.
Doing so can easily cause health issues, as you don't have many sources of protein to choose from and you may be missing key nutrients. This is a particularly concerning pattern for anyone who already struggles to get enough protein in their diet.
One way around that issue is to focus mostly on alkaline foods, but still include some acid-forming foods in your diet too. You might choose a balance of 60% alkaline-forming to 40% acid-forming or perhaps 70% to 30%. Either way, you're getting more nutrients and protein than on an exclusively alkaline diet.
Also, remember that the nutrients in your food are often more relevant than whether the food is alkaline or acidic. As such, a more powerful approach may be to focus on whole foods, choosing them based on their nutritional content, rather than their acidity.