Tennessee whiskey as a style is one of the most popular in the world. It's a specific style and is only produced in its true form by a handful of distilleries. Dominating the world of Tennessee whiskey is, of course, the legendary Jack Daniel's. It all began with their original expression, which remains a bestseller today. From there, they went on to create an impressive collection of whiskies that vary in style and flavor, but all contain the iconic mark of Jack Daniel's.
The best Jack Daniel's whiskey is hard to narrow down because they all have something good about them. That said, some definitely stand out, in complexity as well as sentimentality. Gentleman Jack is named for Jack Daniel himself and they even have an expression made specifically to honor the legendary Frank Sinatra.
These bottles come with intention and the profiles don't disappoint. There's no surprise Jack Daniel's has dominated the whiskey market for so long, and their reign is far from over. The Old No. 7 is a staple in many homes, but don't be afraid to branch out once in a while. They know what they're doing and the others are a treat in themselves.
The Best Jack Daniel's Whiskey
1. Jack Daniel's Old No. 7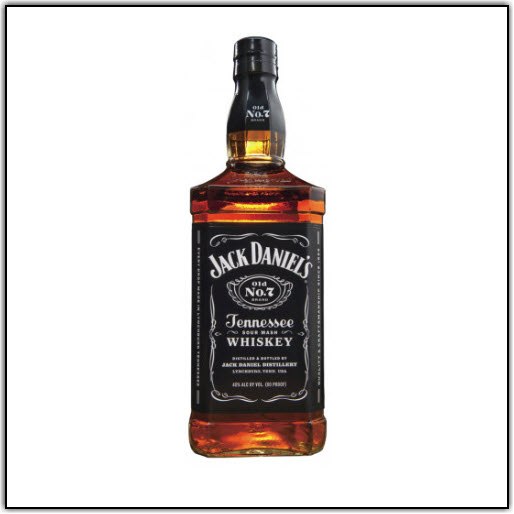 Affectionately called "JD" by loyal fans of the brand, this iconic flagship expression is a true classic. Jack Daniel's has come out with many expressions since this one, many of which are fantastic. But we'll never tire of the original – it's still featured on shelves around the world and its exquisite flavors aren't going anywhere anytime soon.
Although there are others that fans love, Jack Daniel's Old No. 7 still accounts for about 96 percent of the company's sales. The true meaning behind the number 7 in the name is unconfirmed, though many believe it's because the whiskey won seven gold medals back in the day, including its first one in 1904 at the World's Fair in St. Louis, Missouri.
Perhaps the most important step in the creation of this masterpiece is the charcoal mellowing. They call it "the extra blessing." It's a process wherein the distillate is filtered through handcrafted charcoal one drop at a time. It takes between three and five days and is responsible for much of the drink's signature smoothness.
On the nose, you'll find vanilla, caramel, dried fruit, toffee, and smoke. The palate is warm and smooth with notes of wood, butterscotch, chocolate, pepper, and a hint of orange zest. The finish is sweet with caramel, chocolate, and vanilla blending into one with a touch of oak.
2. Jack Daniel's Single Barrel Proof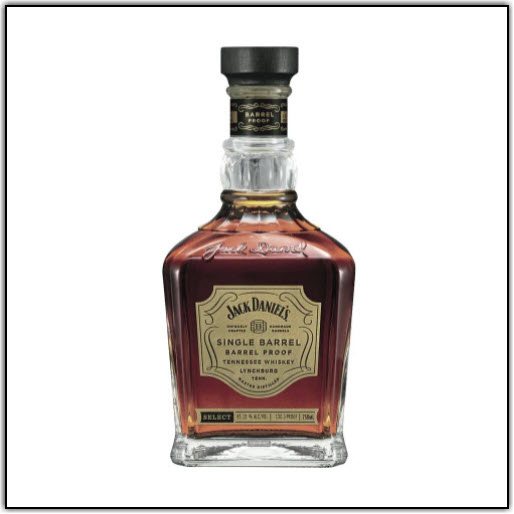 Jack Daniel's Single Barrel Proof Whiskey is aged in special barrels to impart deep, rich, and complex signature flavors. The barrels are handmade, toasted, and charred to perfection. The resulting whiskey is robust, vibrant, and unbelievably smooth.
This single barrel expression is bottled at 125 to 140 proof which further contributes to the intensity of the flavors. It's a strong whiskey that isn't for the faint of heart – it's one you must experience neat before trying it out in even the most premium of cocktails.
The aroma begins with sweet notes of caramel, vanilla, and brown sugar. The palate follows with woody notes in front of the sweet, rich flavors of toasted oak and vanilla. The long finish offers yet another layer with delightful notes of dark spice.
3. Jack Daniel's Gentleman Jack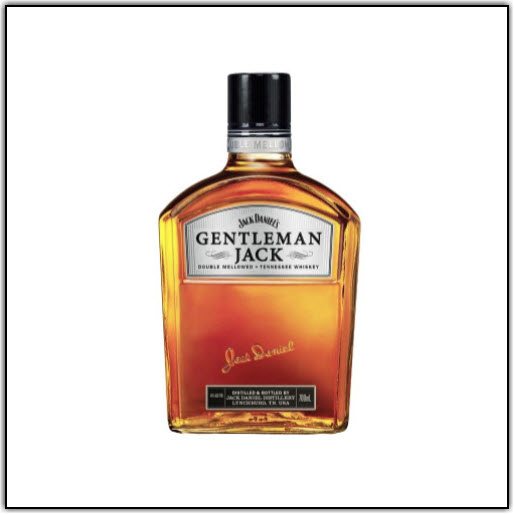 Gentleman Jack was originally released in 1988 and was the first new expression offered by the brand in several decades. The whiskey used for this one comes from barrels in the lower levels of their aging house. The expression is inviting, approachable, and named to honor their original gentleman distiller, Jack Daniel himself.
This whiskey gets a second round of filtration through their special, handmade process. This is part of what immediately distinguishes this spirit from others in the collection – it's incredibly smooth, super mellow, and perfectly sippable and sophisticated.
The nose is clean and soft with gentle notes of sweet vanilla, caramel, and honey. The palate is, of course, quite mellow and pleasant with sweet notes of honey and citrus with hints of nuts, pepper, and a slight touch of oak. The finish is perhaps the smoothest you've tasted.
4. Jack Daniel's Sinatra Select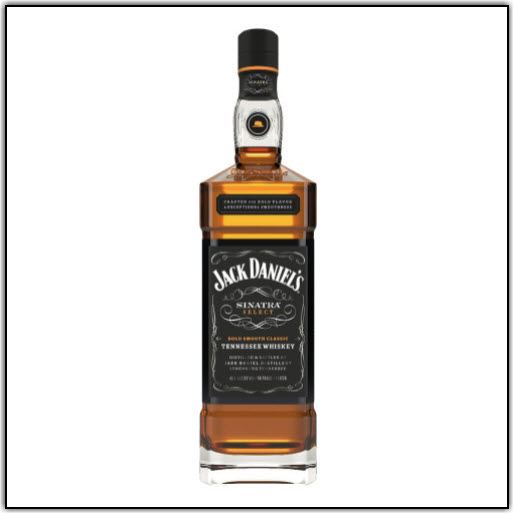 Jack Daniel's Sinatra Select was made in honor of Frank Sinatra himself, who had a long and thriving relationship with the distillery. He would begin each performance by toasting with a shot of Jack, an endearing ritual that fans came to love.
The special whiskey was made in collaboration with Sinatra's family. It's a smooth, delicious expression that everyone involved was quite proud of, and continues to honor the legend to this day. It's made from a mix of rye, corn, and malted barley and fermented with a proprietary strain of yeast and premium spring water. Once fermented and distilled, the whiskey is filtered through an impressive ten feet of charcoal, a special process that imparts deep, sweet, and smokey notes to the profile.
After filtration, it's aged in special Sinatra barrels outfitted with deep grooves on the inside. This increases the overall surface area, therefore giving the whiskey more exposure to wood. The careful, complex, and highly detailed process results in a beautiful whiskey that's not only smooth but sweet, rich, and complex.
The nose offers sweet caramel, vanilla, toffee, and oak. The palate follows with candied oranges, wood spices, and leather on the palate, which is thick and chewy. The finish is long with notes of tobacco, chocolate, clove, and spices.
5. Jack Daniel's Single Barrel Rye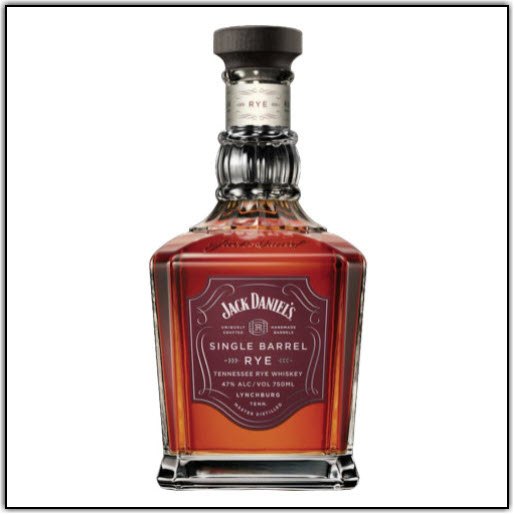 Jack Daniel's Single Barrel Rye Whiskey is made from a mash bill of 70 percent rye, 12 percent malted barley, and 18 percent corn. This combination represented the first brand new mash bill used by the distillery in more than 100 years! They went out on a limb with a new recipe and it was a resounding success.
The expression is matured in toasted, charred American white oak barrels that stay in the uppermost levels of the warehouses. This means they are stored in the highest possible temperatures, giving the whiskey more opportunity to interact with the oak inside the barrels.
It's bottled at 94 proof and offers notes of plums, apples, and other ripe fruits on the nose with a touch of charred oak. The palate has notes of caramel and butterscotch on the front which give way to peppery spice in the middle, followed by another burst of sweet with vanilla and maple on the finish.
Jack Daniel's Fun Facts

Jack Daniel himself has an interesting history – he ran away from home when he was young because he didn't like his stepmother very much. His real mother died at birth and his father died during the Civil War, so she was all he had left. He ended up working on a farm, which is where he learned to make the world's favorite whiskey.
This is only one of many interesting facts about this centuries-old company.
No One Knows Jack Daniel's Birthday
Record-keeping wasn't at its best in the 1800s and all his tombstone says is "September 1850." So, while we know it's in September, the actual day is lost forever. So, the company opts to celebrate his life for the entire month of September.
Sinatra Has a Bottle Forever
Frank Sinatra was a well-known fan of the whiskey and even contributed to the brand's growth in fame and success. He is the only non-family member or employee to have his name on a bottle. When he died, Sinatra was buried with a bottle of his beloved Jack along with a pack of cigarettes, ten dimes, and a lighter.
Jack Daniel Died a Bachelor
Jack Daniel was, apparently, quite the ladies' man and never wanted to settle down. He had no wife or children, that anyone knows of anyway!
Jack Daniel Learned From a Slave
After running away from home, young Jack Daniel found himself on a farm in Tennessee where he met Nathan "Nearest" Green, who oversaw the farm's still. He took Jack under his wing and taught him how to make whiskey.
After emancipation, Nathan Green stayed on at the farm. When they eventually sold the still to Jack Daniel, he made Green Jack Daniel's very first Master Distiller.
Every Single Bottle Starts From the Same Spring
There is a beautiful spring in Cave Spring Hollow, Lynchburg's greatest natural resource. It's a sediment-free spring with a temperature of 56 degrees Fahrenheit. Normally, iron would ruin the flavor and even color of whiskey, but this cave has layers of limestone that strip all minerals from the water.
Every single bottle of Jack Daniel's whiskey is made with water from this spring, no exceptions.
They Make Their Own Barrels
Jack Daniel's is one of the few distillers to personally make the barrels for their own whiskey. They do this to ensure quality and consistency, rather than counting on an outside source to maintain their standards.
They also use each barrel only once! Once the whiskey inside a barrel is fully matured, the barrel is re-purposed for tables, chairs, or other furniture. Perhaps because these barrels are so carefully crafted and iconic, they are one of the most sought-after used barrels on the market.