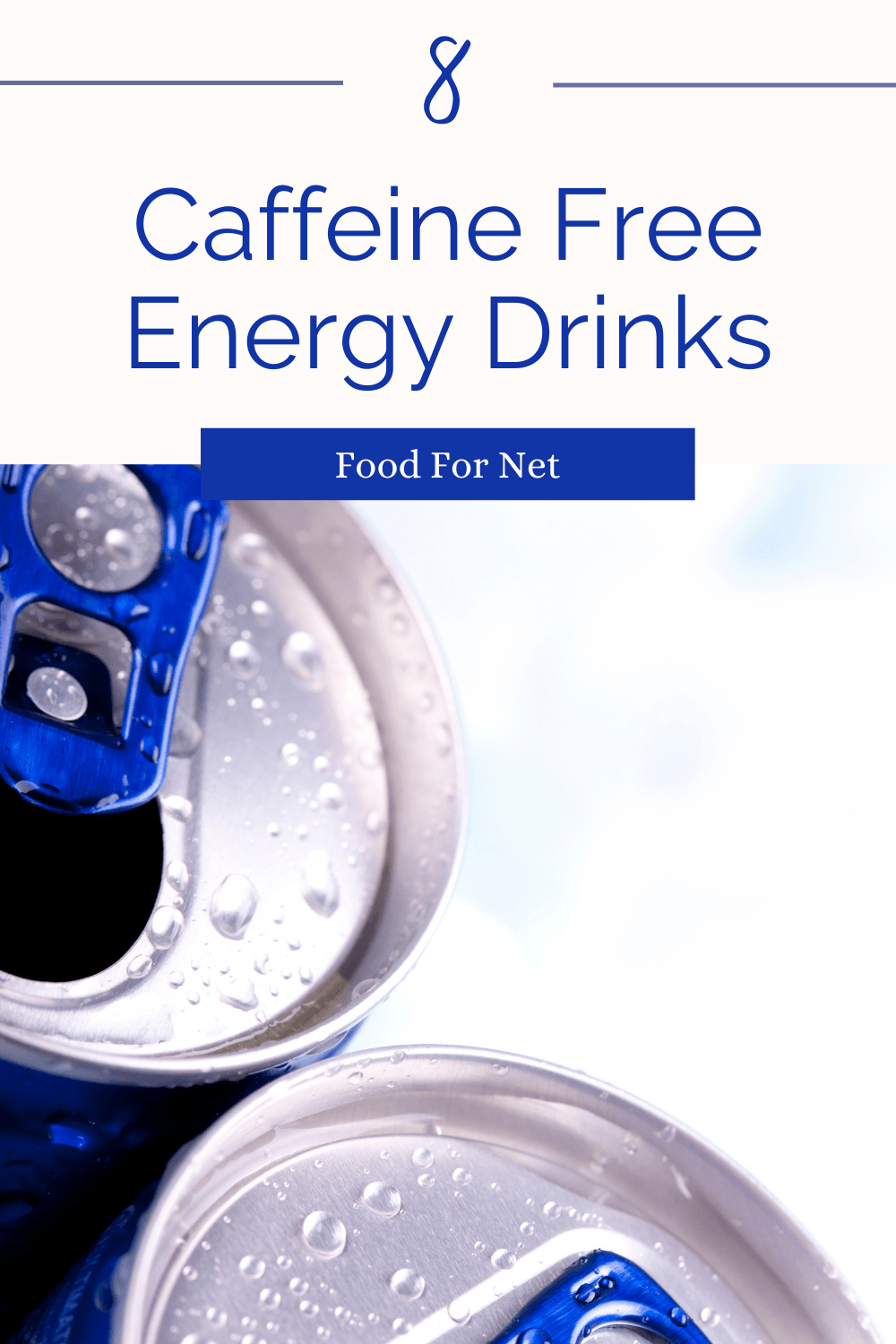 Energy drinks are synonymous with caffeine. The strongest ones often contain around 300 mg of caffeine per serving. The caffeine provides a powerful energy hit, but can also have some negative effects, like jitteriness, insomnia, and a rapid heartbeat. So, what about energy drinks without caffeine?
Not surprisingly, this style is unusual among energy drink brands, including mainstream and niche products. Even non carbonated energy drinks tend to rely on caffeine. However, there are some caffeine free products out there too.
There are some conventional energy drinks, like Bang, which actually has a caffeine free variety. Other products follow a different style, so they don't have the classic energy drink flavor. However, they can also be healthier than regular energy drinks and may still provide some energy.
Energy Drinks That Skip The Caffeine
Bang Caffeine Free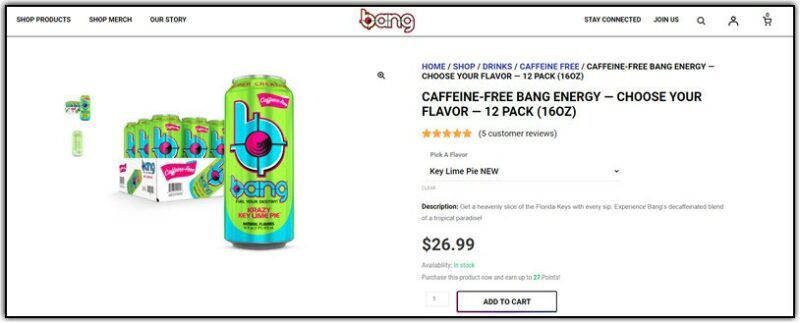 Bang is famous for its highly caffeinated energy drinks. However, they do have a caffeine free set of energy drinks as well. There are multiple flavors, including key lime pie, cotton candy, birthday cake bash, and Miami cola.
The products are all entirely sugar free and caffeine free. The energy comes from creatine, EAAs, and CoQ10.
These drinks are also helpful for people who love the original Bang energy drinks and can't drink them anymore. At least this way, you can still enjoy the flavor of the drinks and some of the helpful ingredients.
Bang is also your best bet if you want a caffeine free drink that tastes like a regular energy drink. As you'll see, most of the other options follow a different style. Of course, Bang energy drinks are highly processed, so it's best to only drink them occasionally. 
Synapse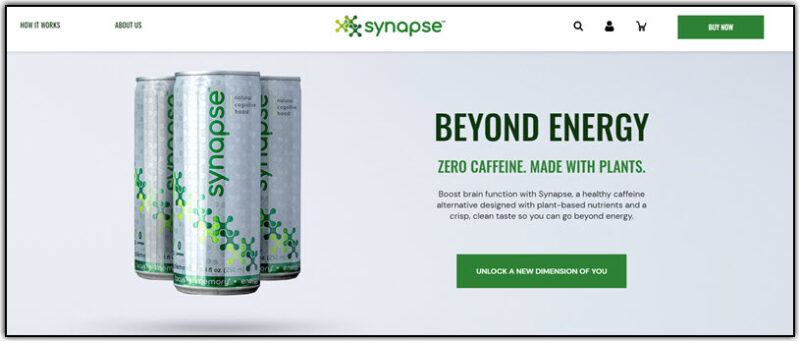 Synapse uses the phrase "beyond energy" in their marketing, which highlights their focus. Rather than relying on caffeine or other stimulants, the energy drinks use nootropics instead.
Alpha lipoic acid, l-theanine, alpha-GPC, and bacopa monnieri are just a few of the ingredients used. Collectively, the various nootropics should help to boost focus and alertness. The effects won't be exactly the same as caffeine, but you won't get caffeine-related side effects either.
Zinger Shots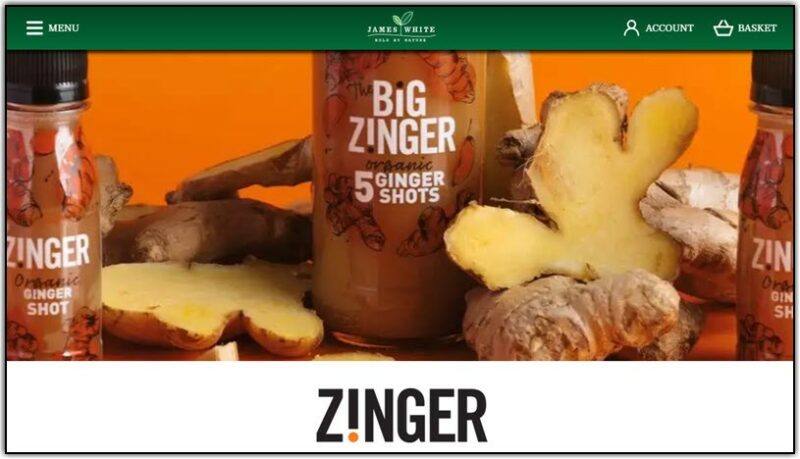 These shots take a completely different approach. They focus on using natural pressed juice. There's a ginger shot, a turmeric ginger shot, and a few less familiar styles, like a lime and chili shot and an extra hot ginger shot.
Chemicals within natural ingredients here could provide an energy boost, but that's not really the point. Instead, most of the boost comes from the intense flavors, which can give you a sudden shock.
This style can work well, as you often don't need your body to actually produce more energy, you just need a boost to your subjective sense of energy. A sudden shock to your system can do just that (cold showers are another way to see this effect).
While the shots are largely sold in the UK, you can often find them online as well.
G Fuel Hydration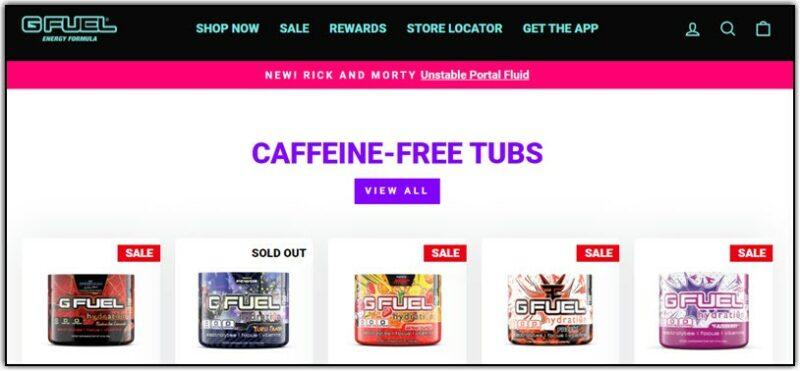 G Fuel has both an energy formula and a hydration formula. The energy formula is what you see in all their energy drinks and does rely heavily on caffeine.
However, their hydration formula still contains some interesting ingredients, while avoiding any caffeine and sugar. You're getting electrolytes, nutrients for your immune system, and some important amino acids. The hydration focus is actually relevant too, as being dehydrated can lead to fatigue.
You can find sparkling bottles of this formula or powders that you mix yourself. There's no shortage of flavors, which helps to keep boredom at bay.
5-Hour Energy Decaf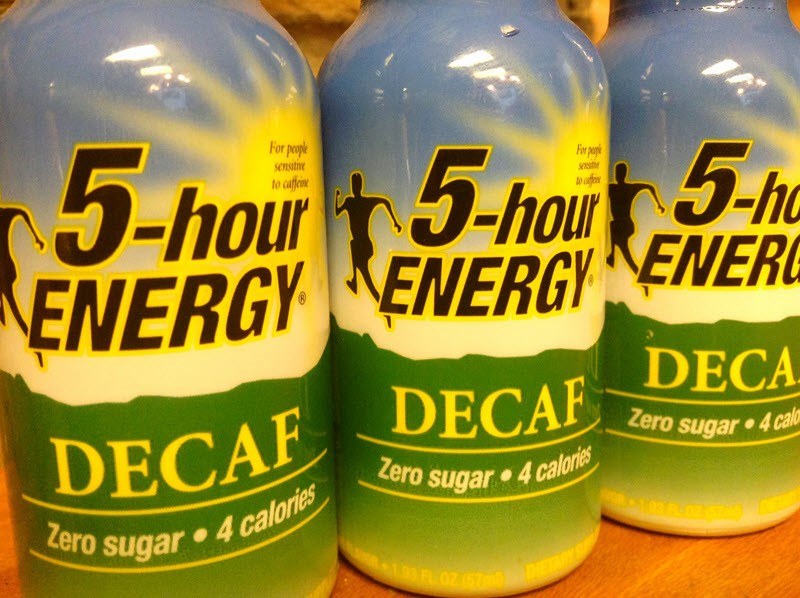 You guessed it, 5-Hour Energy Decaf is the decaffeinated version of the classic 5-Hour Energy shots. These shots are meant to still give you an energy buzz, without the same high caffeine hit that you get from their regular products.
That said, the key word here is decaf. Like decaffeinated coffee and tea, 5-Hour Energy Decaf does still contain some caffeine. The levels are low though, just 6 mg of caffeine per shot. This should be low enough for most people, even if you're very sensitive to caffeine.
There are other energy ingredients as well, including taurine and some amino acids.
Purdey's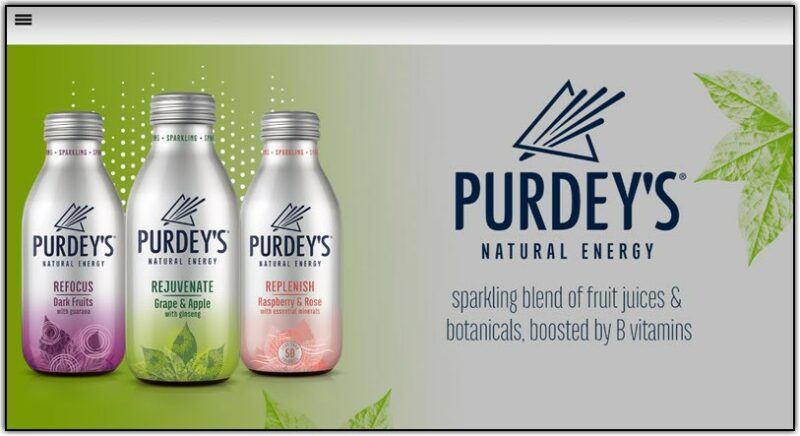 Purdey's is one of the few brands that focuses on natural energy, while avoiding caffeine. Their products rely on a combination of botanicals, fruit juice, and B vitamins.
There are three versions, starting with Refocus. This comes in a can or a bottle, focusing on dark fruits and guarana. Only natural ingredients are used, including carbonated water, fruit juices, and botanical extracts. There's some guarana to help with energy as well.
Rejuvenate is next. It comes in a can or bottle too, but focuses on grape and apple flavors. It also drops out the guarana and focuses on ginseng instead.
Finally, there's Replenish, which only seems to come in bottle form. This version has a raspberry and rose flavor. It's healthier too, with less than 50 calories in each bottle.
Purdey's is a British brand, so it can be difficult to find in the US. However, some import sites may ship the drinks to you. And, if you're in the UK, then Purdey's may already be familiar.
Make Your Own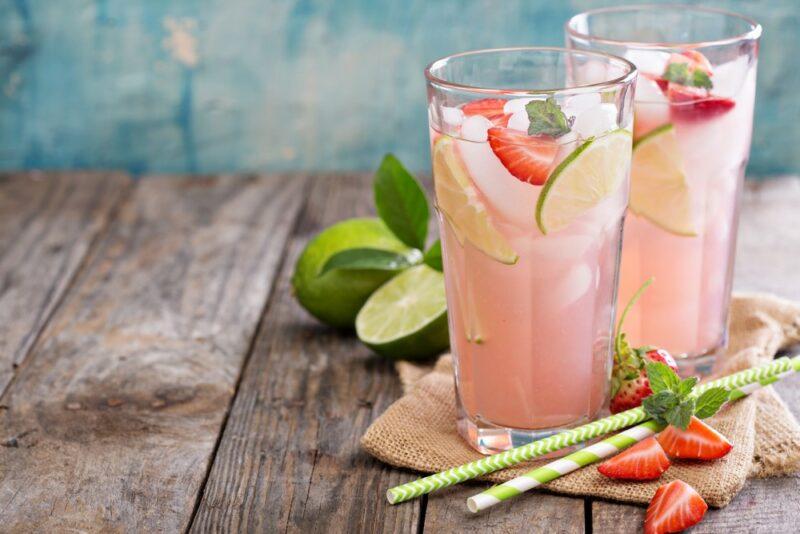 You could also experiment with making your own caffeine free energy drinks. There are plenty of recipes out there, including this one from mocktail.net.
Many such recipes rely on an energy powder to provide an energy boost without caffeine. For example, Now Foods offers an Instant Energy B-12 supplement. These focus on vitamin B12, but also include various other B vitamins and creatine.
[DISCONTINUED] Monster Unleaded
Monster Unleaded was discontinued back in 2014, although there are petitions to bring it back. You might sometimes find it in rare Monster auctions, but don't hold your breath, especially as rare Monster drinks can quickly get expensive.
We're talking about this version of Monster because it was so perfect. The drink was basically just regular Monster, without the caffeine. It tasted like the classic Monster flavor and still contained B vitamins and taurine.
The big thing here is the flavor. Reddit threads are filled with people who need to avoid caffeine, but miss the taste of energy drinks. Monster Unleaded was the ideal solution and it's such a shame that it is no longer produced. Hopefully Monster sees the light and brings it back.
Until they do, the caffeine free Bang drinks are the closest you'll get to the classic energy drink flavor without caffeine. However, those are sugar free, so they're not quite the same thing.
Do Energy Drinks Work Without The Caffeine?
Most of the energy kick from your drink comes from the caffeine. So, getting rid of the caffeine definitely makes these drinks less powerful. Many of them cut out the sugar as well. Doing so certainly makes the drinks healthier, but also means you won't get a sugar buzz.
So, what's left?
There's a variety of ingredients that might be included. Most of can provide some energy in some situations but aren't the powerhouses you might expect.
B Vitamins
B vitamins, particularly vitamin B12, are often used in energy products. There's some merit to the idea, as B vitamins are critical in our energy metabolism.
As such, B vitamins can sometimes help with energy levels. There's a catch here, though. You can't simply consume more B vitamins to get extra energy. Instead, B vitamins will only help if you're deficient in them.
If you aren't getting enough B vitamins, then an energy drink that uses these will give you an energy hit. However, if you get plenty of B vitamins in your diet, extra B vitamins aren't going to help much.
Electrolytes
Electrolytes follow a similar pattern. They're important in energy production, but excess electrolytes won't give you more energy (going overboard could even be harmful).
That said, electrolytes are often relevant, particularly for athletes. If you're losing a lot of liquid through sweat, then you'll need to top your electrolytes back up. The right energy drink might help with this and could give you a sense of increased energy at the same time.
Amino Acids
Amino acids sometimes feature in energy drinks too. Taurine and BCAAs are particularly common.
Essential amino acids, including BCAAs, can help your body to function well, which includes decreasing fatigue. These are particularly relevant for athletes, who may be pushing their bodies and need more from their diet than the rest of us.
Taurine is a little different. This amino acid is only conditionally essential and our bodies can produce it, so it isn't a huge deal. However, taurine is thought to increase energy and athletic performance in some situations.
Other Ingredients
There are plenty of other ingredients that might be included, such as herbal extracts. Such extracts do have potential, as we know that herbs and spices have many impacts on health.
You'll also see some products that focus on giving you a hit of flavor, like with the Zinger shots. The shock from these drinks really can be enough to make you feel energized. You could do something similar with homemade ginger shots.
That energy buzz might not last long, but it's often enough to get you moving and back into your day. The momentum you get from doing so may keep your energy at a good level for hours.
So Do They Work?
As you can see, many of the ingredients in caffeine free energy drinks do have potential and may work well in some situations. However, you lose a lot by dropping out the caffeine.
It's also worth noting that caffeine free energy drinks aren't always trying to provide energy. Some products are simply trying to recreate the flavor of traditional energy drinks, just without the caffeine. 
Final Thoughts
Caffeine free energy drinks will never give you as much energy as those with caffeine. There's no doubt about that.
But, they're not useless either. You could easily get some energy from the various ingredients, particularly if you were deficient in any area.
Caffeine free energy drinks could also be more sustainable. After all, heavily relying on caffeine never works well in the long term. You simply end up increasing your caffeine tolerance, which makes caffeine less effective.
Plus, focusing on caffeine can mean that you miss out on other healthy practices, like getting enough sleep and exercising. Caffeine free products may help you to keep a good balance, without giving up the pleasure of energy drinks.